This time we looked at things with a new perspective and a wider lens, and what came out was the story of a woman - a role like no other, The odd working hours, the balancing of work and family, juggling every role in between and still managing to get up and do it again the next day personifies not only the Real Fit, but also gives a fresh perspective to how we imagine Real Fitness to be.
VARUN CHANNA
Senior VP and Managing partner, Wunderman Thompson

We often come across individuals, who inspire us to go beyond the ordinary by challenging themselves at every step. It's their determination and resilience that keeps us going through our journey of donning multiple hats sometimes as a doting mother, a multitasker and more. Our new film is an ode to the spirit of such ordinary individuals, who strive to succeed in their ordinary lives – making their lives more meaningful and inspiring the larger audience out there.
DILEN GANDHI
Senior Director Marketing, Foods Category, PepsiCo India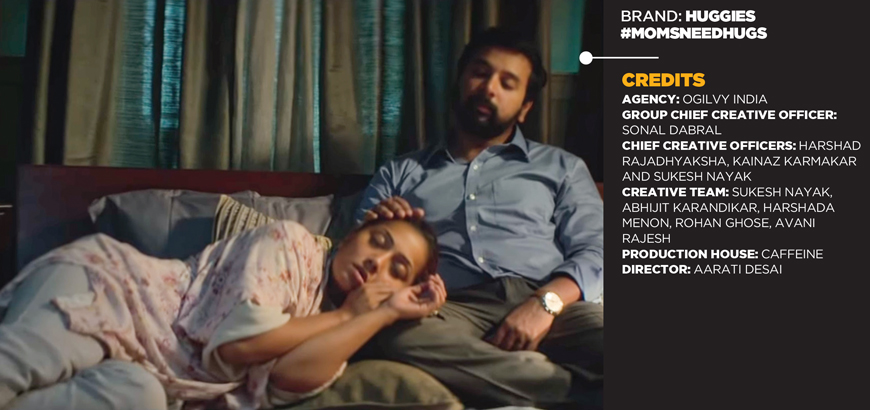 Moms are our muse and our inspiration. And so, we wanted to give the new moms some of the love back. #MomsNeedHugsToo is an extremely different point of view and we hope this campaign brings attention to the love & care that millions of new moms deserve.
SUKESH NAYAK
Chief Creative Office, Ogilvy India

Huggies has always been inspired by mothers. They are at the heart of everything we do as a brand - from how we design our products to how we connect with her. In this campaign, our attempt is to shine the light on her needs as a young mother.
CHELLA PANDYAN
Marketing Director, Kimberly-Clark India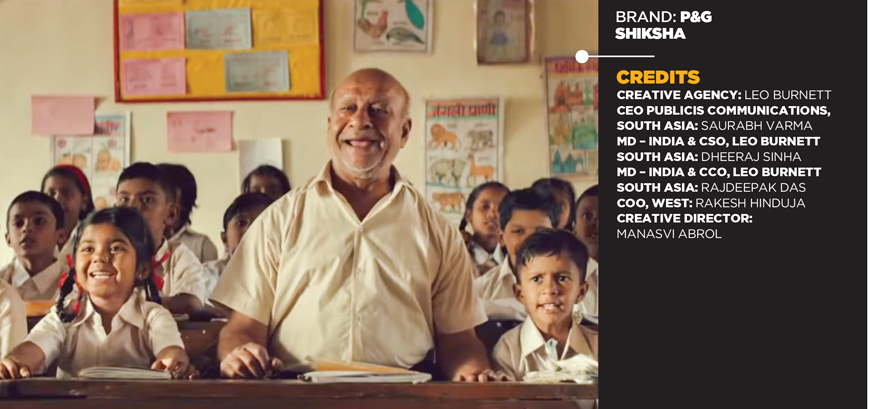 The new campaign is inspired by a true story and we have humanised the campaign by capturing the hopes and aspirations of 'Bittu' and how he is living his dream of attending school at the age of 75. With this emotional and thoughtprovoking story, we hope this campaign strikes a chord with everyone.
RAJDEEPAK DAS MD
India and Chief Creative Officer, Leo Burnett South Asia

Education is the foundation of an individual's development and the society at large. The film highlights the simple joy of learning and attending a school that no child should miss. P&G India is extremely proud to be working towards this and helping millions of children in India fulfil their dream.
ABHISHEK DESAI
Director – Marketing Operations, P&G India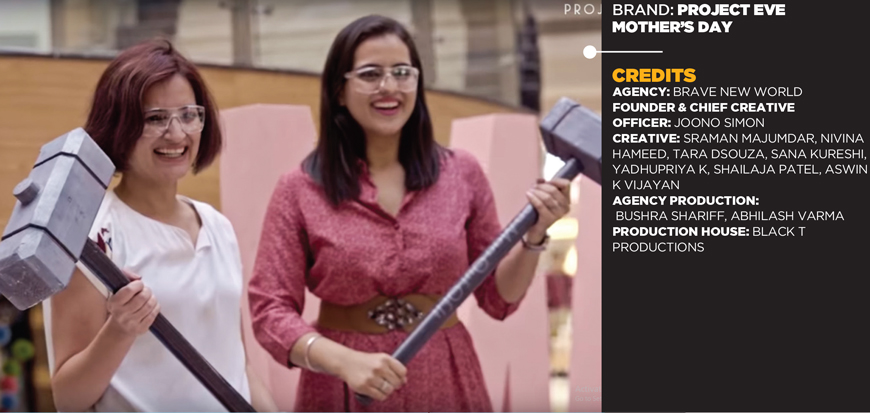 Abuses in the name of someone's mother like Te*i Ma* Ki should ideally provoke anyone who values and cherishes the notion of motherhood. But sadly, our society has callously been spitting out these abuses. These calci?ed habits need to be called out and broken down. That is precisely what Project Eve has done.
JOONO SIMON
Founder and Chief Creative Officer, Brave New World

Today, brands don't just sell products. They trade ideas for a better world. As a brand that has the attention of women and men across India, Project Eve holds a crucial responsibility of provoking meaningful discussion and inspiring change for good. If one act of respect can influence the collective to protect the purity of motherhood, then that's a chance Project Eve is gladly willing to take.
PRADEEP KUMAR RAMACHANDRAN
Senior VP and Business Head, Project Eve