Humans normally don't change their behaviour when given lots of information but do so with an insightful and emotional nudge. Ogilvy and the Corcoise team have done a fantastic job in providing the nudge through unique aquatic characters and humour. It definitely makes a person reconsider their thinking on water-proofing.
PIYUSH PANDEY
Chief Creative Officer Worldwide and Executive Chairman India, Ogilvy

People constructing new homes may have the right intention of waterproofing but often make the mistake of leaving it to others or ignoring it or cutting corners. This campaign featuring humorous interplay between Mr Bachchan and aquatic creatures aims to nudge people in the right direction of seeking total waterproofing from Dr. Fixit. Humor works best in changing people's attitude, and even better with Mr Bachchan.
VIVEK SHARMA
Chief Marketing Officer, Pidilite Industries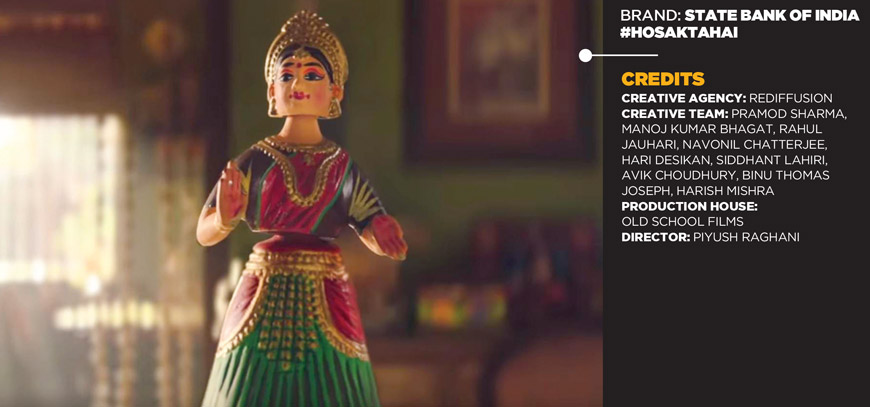 While the intention was to be different and clutter-breaking, we focused on bringing alive the constraints faced by aspiring home buyers. Very often they don't take the plunge because they don't have a loan option that suits their specific challenges. It was refreshing to have the client not just demand, but also back a brave idea to the hilt.
RAHUL JAUHARI
Joint President & Chief Creative Officer, Rediffusion

While home loan is a highly involved product category, most advertising in the category lacks adequate engagement and appeal from a communication perspective. Hence, it was important for us to not only ensure the brand story gets heard, but discussed and recalled as well, amidst all the clutter and fragmented media consumption.
DINESH MENON
Chief Marketing Officer, SBI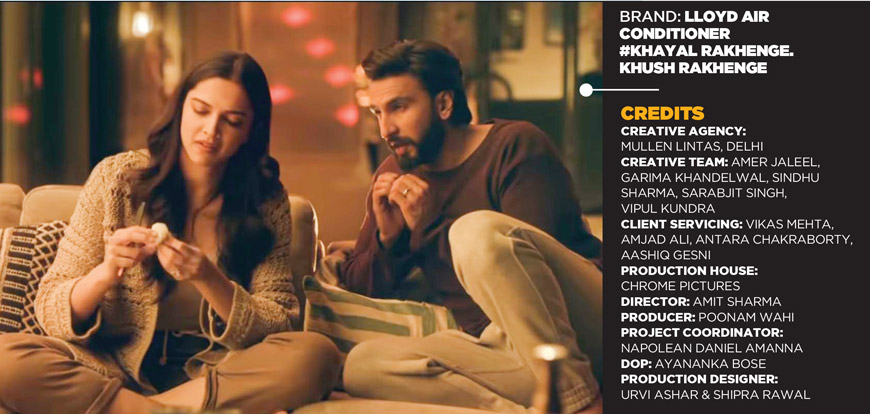 We felt that consumer durable brands are not able to reflect the millennialspeak that is so important to make brands relatable in this category. If you hear people and the brand, speak like you, you stop and listen, however much the clutter. We were helped by the chemistry between our stars which while being electric, is thankfully so normal.
AMER JALEEL
Group CCO & Chairman, MullenLowe Lintas Group

Lloyd is a crucial piece in our brand portfolio and we want to fuel this business as a strong engine for our growth. We felt the brand needed a fresh perspective and proposition at this stage in its journey and found the narrative shared by Mullen Lintas compelling.
AMIT TIWARI
Vice President Marketing, Havells India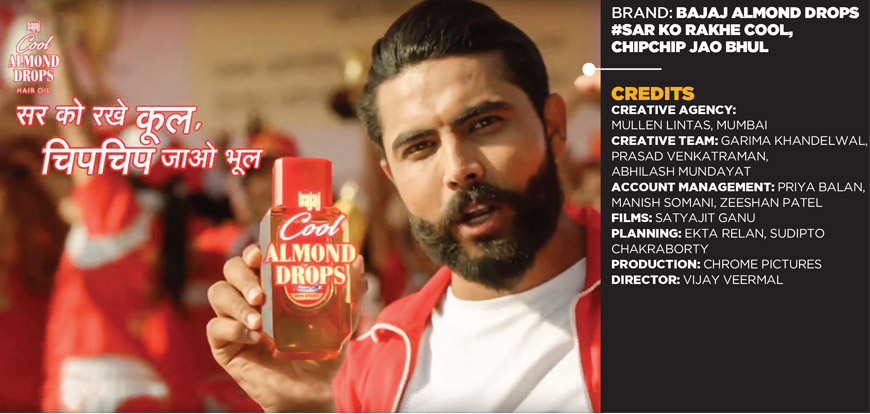 The campaign is based on a simple product truth that most cooling oils, while offering a cool feeling, may make your hair look sticky and 'chipku'. Bajaj Cool Almond Drops hair oil is a light cooling oil, that not only helps you keep cool, but also look cool. It was wonderful collaborating with Ravindra Jadeja as our brand ambassador, who we believe is a perfect fit for the brand philosophy.
PRIYA BALAN
Senior Vice President and Branch Head, Mullen Lintas

Bajaj Cool Almond Drops hair oil is an ideal hair oil for the hot summer. We found a genuine consumer need gap in the market for a cooling oil which is non-sticky and light. We are glad to collaborate with Ravindra Jadeja for this campaign. He is the ideal brand ambassador, since he has always kept his cool under high pressure situations.
SANDEEP VERMA
President Sales & Marketing, Bajaj Consumer Care