The video is an extension to the brand's #MainSeHum campaign which revolves around the instinctive moments of love, care, commitment and happy responsibilities that one embraces as they step from 'Main' se 'Hum'. We're happy to feature Cheteshwar Pujara for his reliable, dependable and responsible, both on-field and off-field, qualities.
RAJIV DINGRA
Founder and CEO, WATConsult

The #MainSeHum campaign communication aims to make consumers realize their own happy responsibilities towards their loved ones. Cheteshwar Pujara is an ever dependable figure in the Indian cricket test team and his remarkable quality of protecting and putting the team's interests ahead of his own, beautifully encapsulates the essence of #MainSeHum.
RAVINDRA SHARMA
Chief of Brand and Corporate Communication, SBI Life Insurance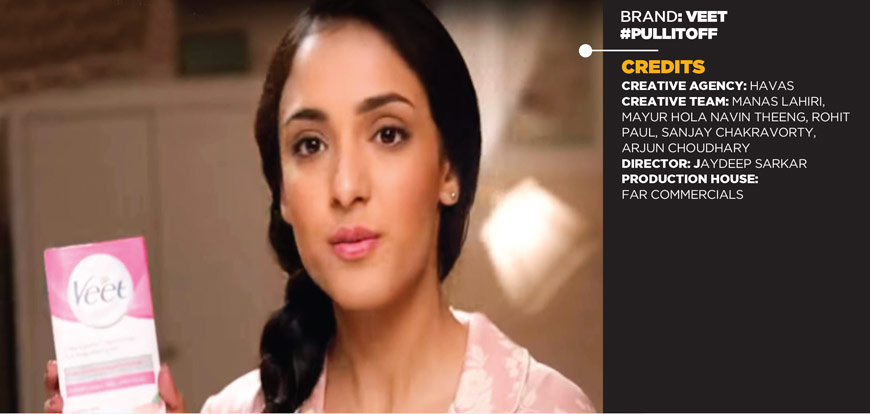 The Veet girl is up for anything and vivacious and Veet Cold Wax Strips match her world perfectly. They simply ensure she is always ready. Whether it's for a party, a meeting, a coffee date, or whatever it is she wants to do. #PullItOff is a philosophy that's all about taking on any challenge life throws at you.
MAYUR HOLA
National Creative Director, Havas

We are pleased to welcome Sara Ali Khan to the Veet family as the brand's newest ambassador. She is young and brings a freshness that will resonate with our target audience. We understand that the consumer today is looking for quick in-home solutions and Veet Cold Wax Strips are the perfect answer that can help achieve a salon like finish by following a simple three step process.
PANKAJ DUHAN
Chief Marketing Officer, RB South Asia Health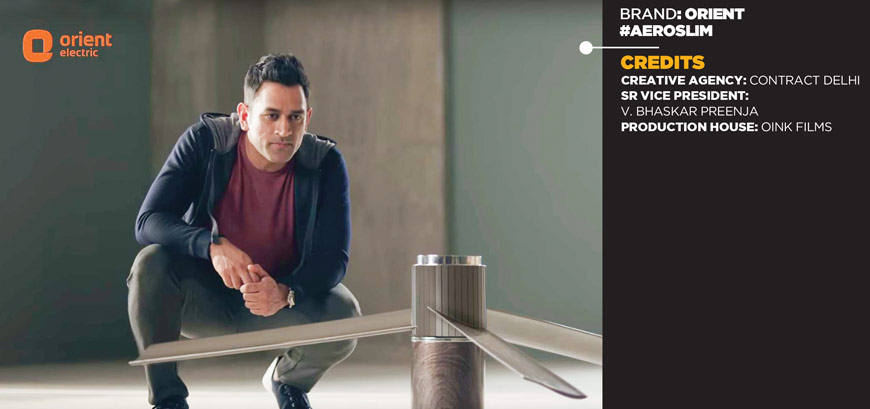 Over the years, Orient Electric has been surprising the customers and the industry by offering innovative products. When we were introduced to the Orient Aeroslim, the first thing that popped in our heads was, "Is that a fan?". The brief was simple – the Orient Aeroslim doesn't look like a typical fan and, that is what we had to communicate. The shoot was challenging and fun.
V. BHASKAR PREENJA
Sr. Vice President, Contract Delhi

It's a fan unlike any other fan, therefore the creative also needed a disruptive ideation. The teasers that were launched in January elicited an overwhelming response online and the launch of the TVC across mass and impact properties will provide further fillip. The TVC will be strongly flanked by digital and other mediums.
ANSHUMAN CHAKRAVARTY
Head Brand & Corporate Communication, Orient Electric Limited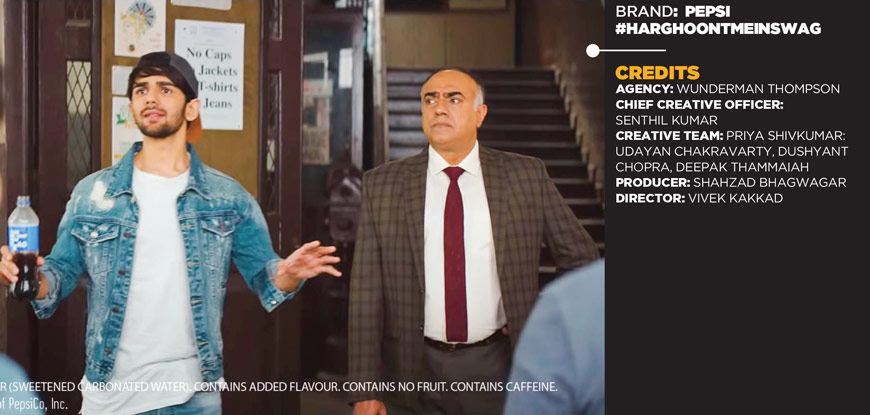 This summer, Pepsi celebrates the bubbling self-belief and sizzling swag of India's young with the campaign 'Har Ghoont Mein Swag'. And when this spirit of self-belief leads to self-confident action, every drop rises to the occasion, creating an ocean of youthful swag.
SENTHIL KUMAR
Creative Chief at Wunderman Thompson

Pepsi is a brand which has always resonated with the voice of today's generation. This summer, Pepsi is acknowledging and celebrating a word that defines today's millennials' – swag. 'Har Ghoont Mein Swag' is all about living in the moment, seizing new, interesting opportunities and doing it all with swag.
TARUN BHAGAT
Director-Marketing, Hydration and Cola, PepsiCo India