The films dig deep into human behaviour, extracting the hidden subtext of our relationships with the ones we love. From the point of storytelling, these are times of diminishing attention spans, and it is necessary to be able to hold down a viewer through sheer scripting power. These films do just that.
VINOD KUNJ
Managing Partner, thought blurb

A consumer research study that we conducted recently revealed that Parle-G has moved beyond being a staple or a habit and is more of an emotion. Through this campaign, we want to celebrate that emotion and the bond a consumer has with Parle-G, by showcasing how there are relations in our life which are never acknowledged, but have played a significant role in making us who we are.
MAYANK SHAH
Senior Category Head, Parle Products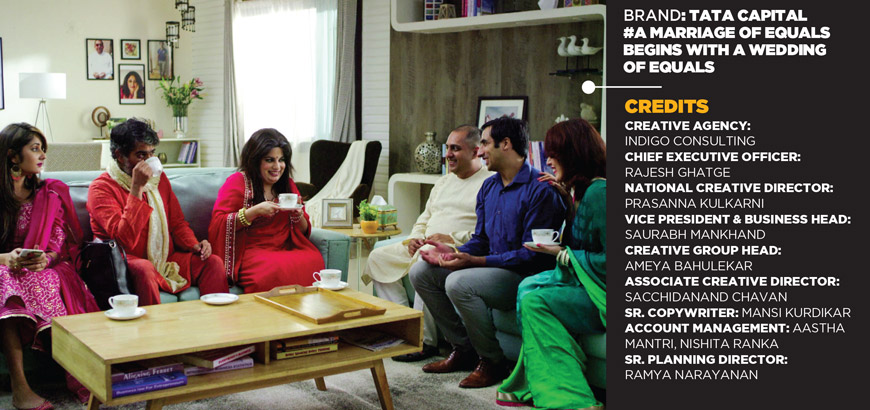 Today, most of us think of ourselves as progressive – believers in equality of the sexes. But one of the biggest institutions of partnership; marriage, says otherwise. Most of the time, it's the bride (and family) who bears the cost of the wedding. Cultural insights offer opportunities to create positive change.
RAJESH GHATGE
CEO, Indigo Consulting

A wedding is one of the most important events in a couple's life and young India today has different aspirations about how their weddings should be. We at Tata Capital, with our #WedEqual campaign aim to break the traditional approach of unequal spending at weddings. With Tata Capital's wedding loans, couples can also plan their weddings without any financial pressure and make it truly special.
ABONTY BANERJEE
Chief Marketing & Digital Officer, Tata Capital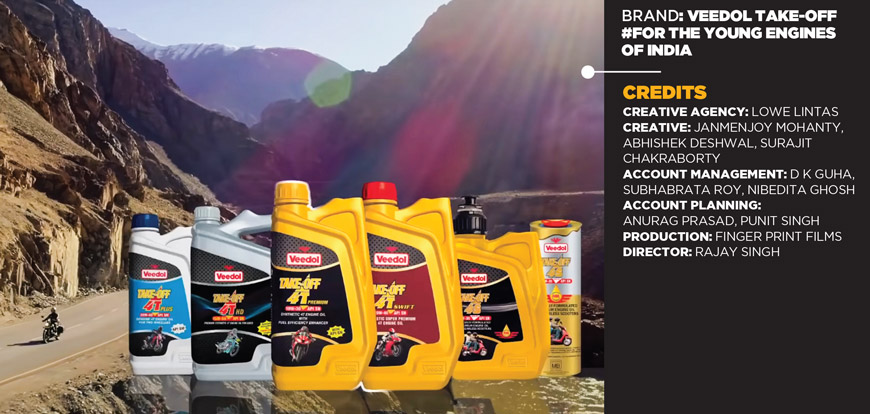 Veedol's new international packaging, as well as the introduction of highperformance oils, provided the perfect moment for launching the new campaign. Set against the backdrop of a young and restless India, the campaign captures the youthful energy and attitude of millennials - the driving force behind the nation.
D K GUHA
Executive Director, Lowe Lintas

The campaign showcases Veedol's full range of motorcycle and scooter engine oils in an upbeat, youthful ambience with an overriding sense of purposeful action built into the narrative. This would go a long way in enhancing Veedol's imagery, in step with several other brand interventions we have undertaken recently.
R N GHOSAL
Managing Director, Veedol India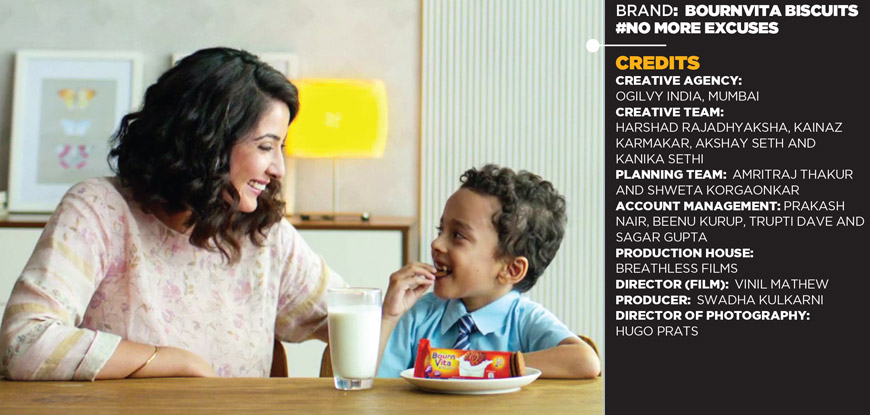 Most parents are faced with two challenges every morning; feeding their child a healthy breakfast and dealing with their child's creative excuses to avoid that breakfast. The Bournvita Biscuits campaign tackles both of them – it showcases the product as a tasty snack that children can't refuse, and a healthy eat that gives parents' peace of mind during their hectic mornings.
PRAKASH NAIR
Executive Vice President & Cluster Head, Ogilvy India

The latest campaign on Bournvita Biscuits appeals to all progressive mothers, who believe in collaborative parenting. Since mornings are always hustled, leaving barely any time for kids to consume the right foods, Bournvita Biscuits can help moms provide the right start to their kids' day with 'no more excuses' to skip the morning snack.
SUDHANSHU NAGPAL
Head – Biscuits Category, Mondelez India