We all have friends we want to be in touch with on an everyday basis but they come with their quirks. By accentuating those quirks, we found an interesting narrative that showcased how Truecaller can make life so easy for everyone. Three words captured the essence of our communication – 'Sab ke liye' – for everyone and for everything.
NAREN KAUSHIK
Senior Creative Director, Happy Mcgarrybowen

At Truecaller we have always strived to provide our users with the best experience across all modes of communication, in line with the objective of being a one stop communication platform. Taking inspiration from realistic scenarios, our TVC will portray how seamlessly one application can be used for multiple purposes.
MANAN SHAH
Director Marketing, Truecaller India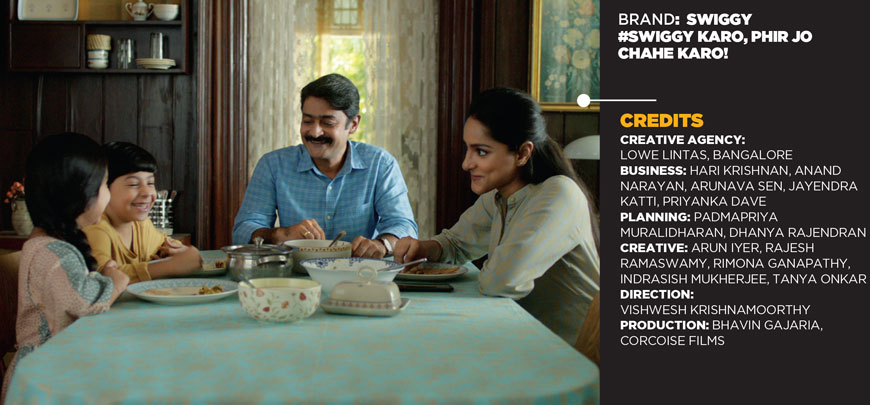 This is a campaign that is meant to increase penetration for Swiggy amongst the household segment, most of whom are non-users or infrequent users. We had to strike a balance as a brand that aids or enables great food experiences rather than replaces the food that is made at home.
HARI KRISHNAN
President, Lowe Lintas, Bangalore

The Swiggy karo, phir jo chahe Karo!, campaign celebrates three aspects of the modern Indian family- Super Moms, Food and Swiggy. It delves into how families of today are increasingly choosing to invest their time in connecting with loved ones, while leaving the task of getting a meal on the table to Swiggy!
SRIVATS TS
VP Marketing, Swiggy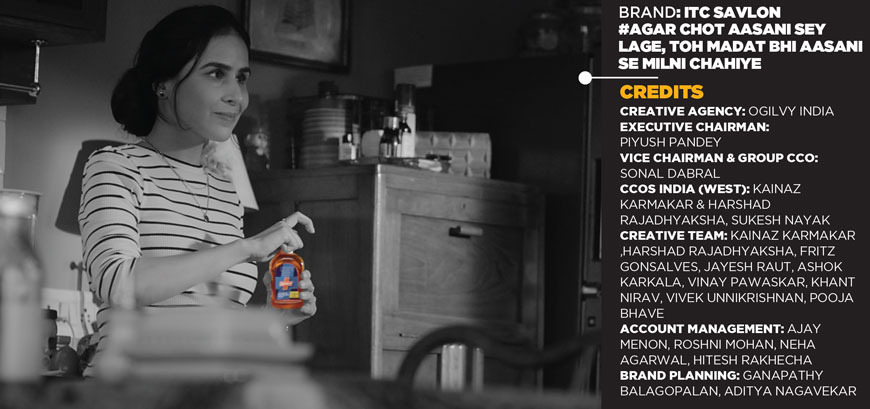 The concept of making the antiseptic bottle easily accessible through Braille to the visually impaired, is extremely empowering. I hope this marks a beginning in a category like FMCG which has a portfolio of everyday products!
PIYUSH PANDEY
Executive Chairman, Ogilvy India

In line with ITC's commitment to serve a larger societal purpose and to create enduring value for all stakeholders, Savlon launched this unique first-ofits-kind Braille-enabled packaging in the FMCG space. The initiative is a determined step forward to create a more equal and inclusive society by enabling access.
SAMEER SATPATHY
Chief Executive, Personal Care Products Business, ITC Limited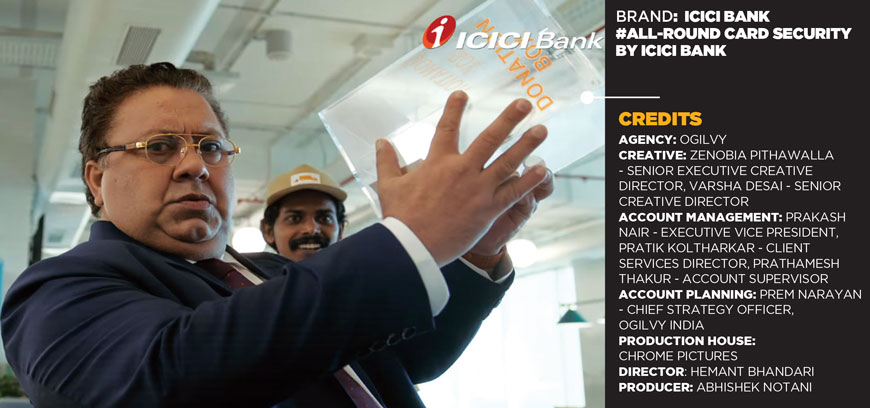 The 'Manage Cards' feature added to the ICICI's iMobile app enables customers to control the security of their cards, from their phones. To show how, in the absence of such a feature, people can be really hassled, we show the funny and silly things people do when they fear the misuse of their card.
ZENOBIA PITHAWALLA
Senior Executive Creative Director, Ogilvy

This campaign aims to address the barriers that keep people from proactively using cards, through clutter-breaking messaging. We want to reassure our customers that the safety of their transactions is paramount.
SUJIT GANGULI
Senior General Manager & Head – Corporate Brand & Communications Group, ICICI Bank