The campaign was about changing the category codes and conversation from just design and colour, to how American Standard uses superior design technology for better functionality, and unlike the competition, targeted the complete family instead of just an individual.
RAJESH AGGARWAL
CEO, Daiko FHO

We want to appeal to modern, young urban families. We know that decisionmaking has become more democratised in these families and relationships within the family members have become more friendly, equal and with a lightness of touch. We wanted to appeal to these sensibilities, but marry these insights with the core message of superior functional performance of our products.
APARNA DESHMUKH
Senior Director Marketing, Lixil South Asia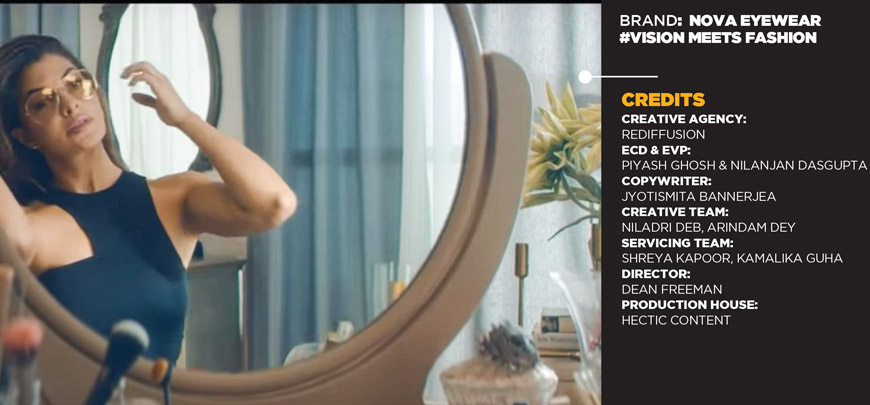 The core idea was to depict a day in Jacqueline's life where Nova lens and sunglasses are present in every occasion. It not only gives her a clear vision but also adds to her fashion quotient. This is the promise of the brand for its users.
NILANJAN DASGUPTA
EVP & ECD, Rediffusion

A famous face synonymous with international fashion, Jacqueline Fernandez, our first-ever global brand ambassador, is well known for her great sense of fashion and dynamic lifestyle. Jacqueline perfectly represents Nova's complete range of eye-care solutions which effectively address the need for clear vision and protection required for leading an active lifestyle.
PAMMI JAMALPURIA
VP- Corporate Marketing, Vision Rx Lab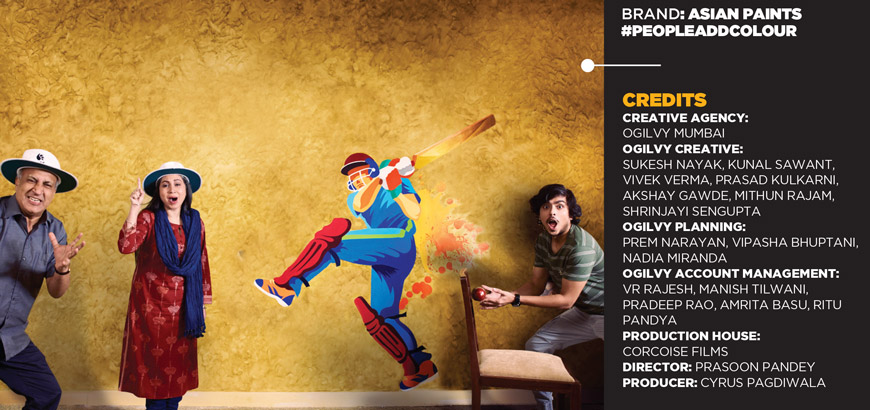 People make homes beautiful. #PeopleAddColour celebrates this thought and encourages people to make their homes happier. The launch film for this campaign is a beautiful story of an empty nester couple, who decide to redecorate their son's room when he leaves to study abroad and open it to other children.
SUKESH NAYAK
Chief Creative Officer, Ogilvy Mumbai

With the new corporate TVC #PeopleAddColour, our core objective is to recapture the essence of how people who live under the same roof bring colour to each other's lives, while highlighting the emotional equity a home holds.
AMIT SYNGLE
COO, Asian Paints Limited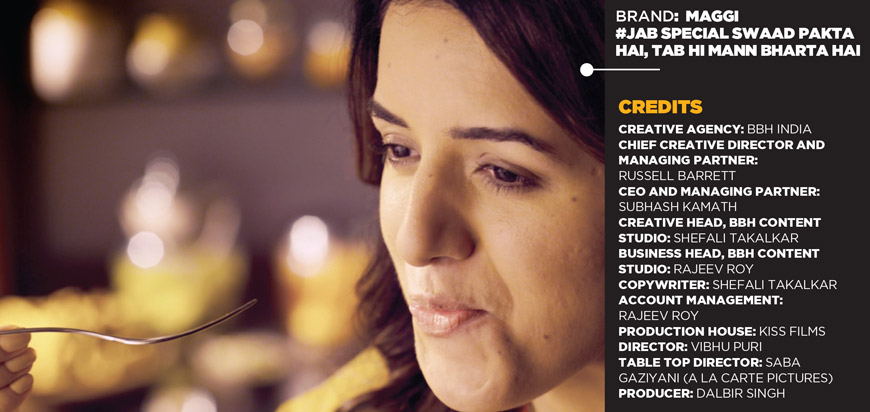 This new Maggi Special Masala launch gave us the perfect platform to pay tribute to the rich spice tradition of India and it took a brave client to break the format of food advertising and go on this journey with us and also allow us to add one very special ingredient - Mr Naseeruddin Shah's voice!
SHEFALI TAKALKAR
Creative Head - BBH Content Studio

The new Maggi Special Masala Noodles perfectly highlights the richness of Indian spices and herbs, with ingredients that consumers would know and find in their kitchen cupboards. We feel that this ad campaign perfectly captures the exact essence of the idea behind the product.
MAARTEN GERAETS
General Manager, Foods, Nestlé India