Digene as a brand, is perceived to be mature and medicinal, especially for younger consumers. The task was to capitalize on its expert credentials, while motivating youngsters to rely on a trusted, medically-approved brand, instead of blindly following other 'expert' opinions.
UMESH SHRIKHANDE
CEO, Taproot Dentsu

At Abbott, we want to help people live the best life with good health. After talking to doctors and consumers in India, we realized that people have multiple opinions on how to treat hyperacidity. Our new campaign for Digene reminds people to only trust their doctor.
AMBATI VENU
Managing Director, Abbott India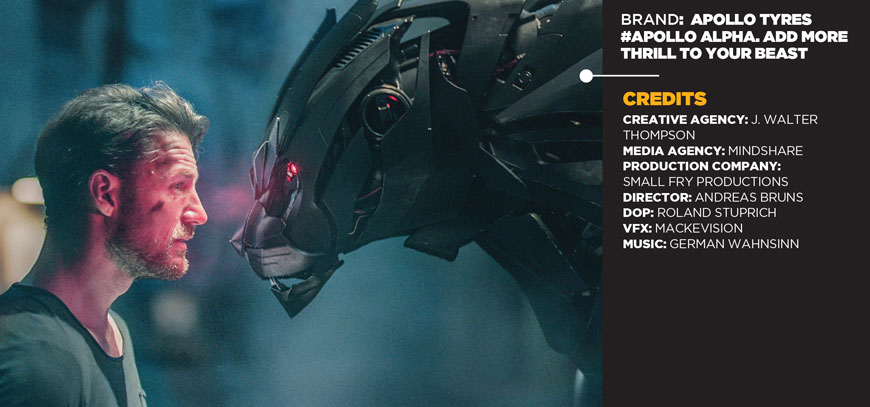 The adrenalin rush of speed, the exhilaration of a skilful cornering – any true blue biker will tell you that it's a rare thrill. He'll also tell you that a powerful bike isn't enough, if the tyre can't keep up. But the cutting edge technology from Apollo Alpha can take the riding thrill to another level. To connect with this biker though, the content needed to weave a world that he finds fascinating; to visualize the possibilities, to be thrills on a screen.
JOY CHAUHAN
Managing Partner, J. Walter Thompson, Delhi

This campaign on our two-wheeler radials is targeted towards those biking enthusiasts who like to ride carefree on their high-performance bikes, and would enjoy the cutting-edge technology of Apollo Alpha. Our brief to the agency was to convey Apollo as a big technology brand, which has category-leading products in its portfolio.
SATISH SHARMA
President, Asia Pacific, Middle East & Africa (APMEA), Apollo Tyres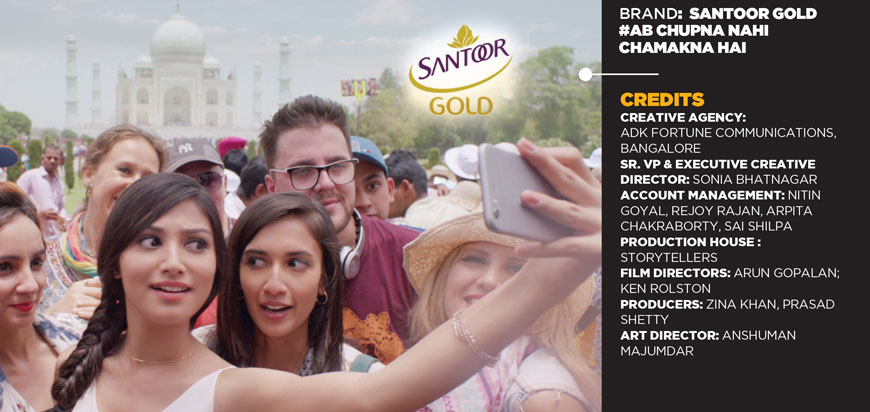 I saw this brief as an opportunity for Santoor Gold to encourage today's woman to go out there and shine. We used the Taj Mahal as a metaphor to say that no matter the pollution, your inherent beauty is timeless. The line 'Ab Chupna Nahi Chamakna Hai' made the idea stick and come alive at the same time.
SONIA BHATNAGAR
Sr. VP & Executive Creative Director, ADK Fortune Communications

Santoor, a leading toilet soap brand, has further strengthened its natural proposition and skin care protection by launching Santoor Gold, a new premium variant of soap. For over 30 years, the brand has delivered on the promise of 'Younger Looking Skin' through superior product offerings using natural ingredients.
ANIL CHUGH
Chief Executive, Consumer Care – India, Wipro Consumer Care & Lighting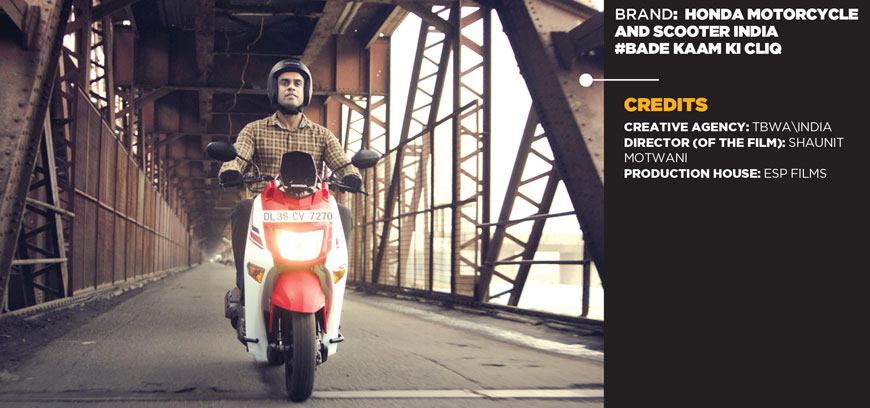 Bunty is a clear depiction of India's growth partners who are mobile and take pride in what they do for others and make a difference to their community. They are the real people of India who are pushing India forward every day.
ASHWIN PARTHIBAN
Managing Partner, TBWA\ India

CLIQ is a perfect blend of practicality, versatility and value for money. Breaking the price barrier of automatic transmission on two wheels, CLIQ is now becoming a consideration for rural motorcycle buyers.
YADVINDER SINGH GULERIA
Senior Vice President, Sales & Marketing, Honda Motorcycle and Scooter India