Kurkure has always been innovating with traditional Indian snacks and helping bring families together. In today's changing socio-economic structure of nuclear families, Kurkure offers yet another innovative snack and also shares an innovative method of creating an extended family in your new neighbourhood.
VARUN CHANNA
Managing Partner, J. Walter Thompson

With the recent launch of Kurkure Multigrain and through its TVC, we are communicating the power of the native grain ragi and how Kurkure is making the multigrain variant tastier. The initial response to Kurkure Multigrain has been very positive and we are confident that it will be a winning proposition for consumers.
GAURAV VERMA
Director Marketing – Indian Snacks, PepsiCo India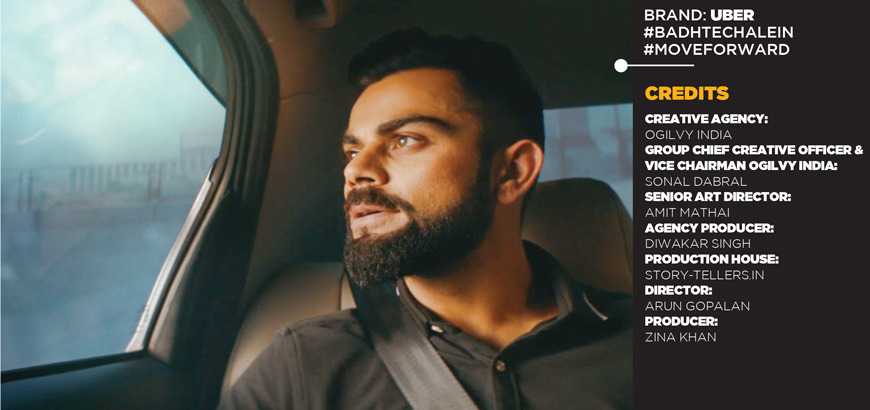 Bringing to life Uber's message of moving ahead with purpose, the integrated campaign is led by a set of interconnected films. Virat stars in the manifesto film along with a crosssection of everyday warriors who have their own four different stories told through four individual films.
SONAL DABRAL
Group Chief Creative Officer & Vice Chairman - Ogilvy India

The communication has been designed to be progressive in thought, aspirational in spirit, widely-relatable in manner. And with Virat – perhaps India's most inspiring model of personal progress – Uber has found a partner at the crease who embodies the drive we share with millions across India.
SANJAY GUPTA
Head of Marketing, Uber India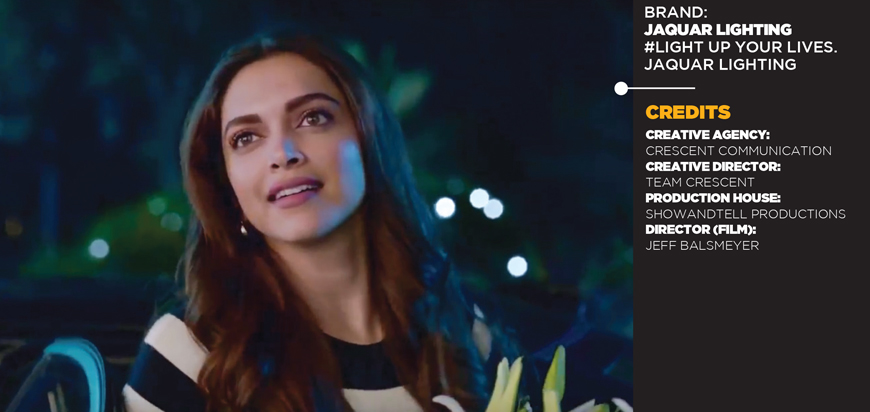 The creative thought behind the film was to present Jaquar Lighting in a completely fresh avatar and at the same time remain true to the brand's guiding philosophy- Complete LED Lighting Solutions. Deepika Padukone, the brand ambassador, apart from ensuring high visibility lends credibility and magical aura to the brand.
RAJESH LAIKH
Executive Vice President, Crescent Communication

Jaquar Group has always believed in creating products with the highest quality standards, an attribute that's synonymous with our products. Taking this philosophy forward with Jaquar Lighting and leveraging the popularity of Deepika as our brand ambassador, we have doubled the turnover of the brand to INR 200 crore.
RAJESH MEHRA
Promoter & Director, Jaquar Group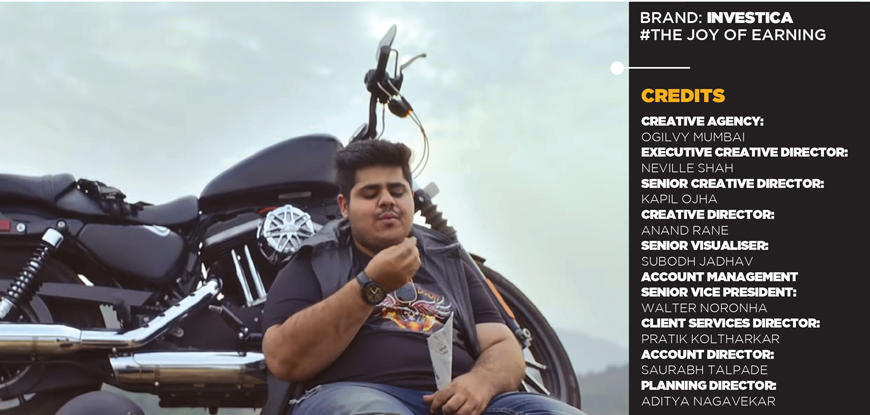 The world of financial communication is loaded with guilt, responsibility and even the rush to get it done. But the true fruit of investment is the joy of that earning. Investica allows you to make choices and understand your investments before you make them. We tried to capture the joy of investing in the treatment of the film.
NEVILLE SHAH
Executive Creative Director, Ogilvy Mumbai

Since the launch of Investica in May, we have experienced an overwhelming response from our customers. With this partnership, the aim is to write an unprecedented growth story and develop a best-in-market product for our customers.
AMIT SINGH
Chief Executive Officer, Investica