Every woman is unique with different needs for different days of the week or different times of the day. #KnowsMe is Jockey Woman's promise that she understands these needs. The idea extends to the campaign which celebrates women and their femininity without being stereotypical even in its portrayal of women in innerwear.
Debarjyo Nandi
Senior Vice President, L&K Saatchi & Saatchi

Jockey knows best when it comes to innerwear, and that comfort and fit are most essential. The Jockey Woman campaign only reiterates what Jockey brings to women in terms of knowledge, understanding and expertise with products that truly #KnowsMe.
M. C. Cariappa
President – Sales & Marketing, Jockey India
Creative Agency: L&K Saatchi and Saatchi
Creative Team: Rahul Nangia, Sreekumar Pv, Pritam Shettigar, Shahid Sheikh
Account Management: Debarjyo Nandi, Himali Shetye
Production House: Hundred Frames
Director: Mark Toia
Producer: Prashant Sampat, Shekhar Ravjiani
San Francisco Production: Ryde Studios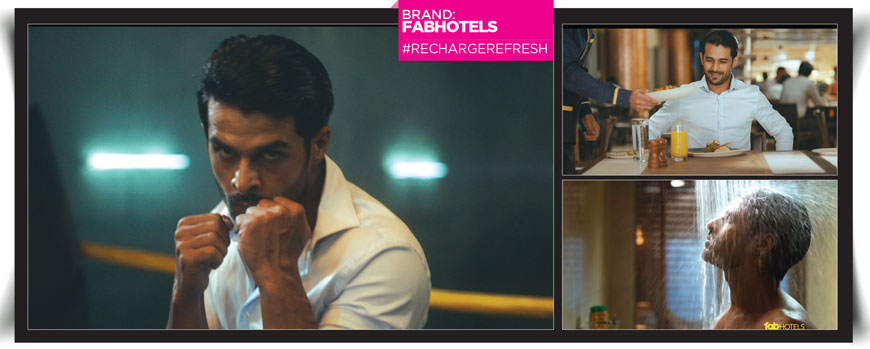 The film is about celebrating the perseverance of those who are constantly travelling for work. It illustrates their daily life and their march towards their goals, through the metaphor of boxing. We ask these warriors, tired after a day of battle, to take a pitstop at FabHotels. To recharge, refresh and then re-charge.
Vasudha Misra
Executive Creative Director, BBH

We've launched this new campaign to celebrate the spirit of the business travellers, who are essential for the growth and development of any organisation. We are a brand that is focused on anticipating and meeting their needs with a constant stream of innovative services that help the road warriors refresh and recharge.
Vaibhav Aggarwal
CEO and Co-founder, FabHotels
Creative Agency: BBH India
Chief Creative Officer & Managing Partner: Russell Barrett
General Manager: Shreekant Srinivasan
Executive Creative Director & Writer: Vasudha Misra
Strategy Director: Ankit Singh
Head of Production: Khvafar Vakharia
Executive Producer: Reema Asrani
Creative Partner (Art): Rodrigues Robert
Sr. Business Partner: Yashi Vikram


The Idea 4G unlimited plans are designed for a 4G generation. 1G. A generation that doesn't want to miss out. 2G. A generation that wants everything. 3G. A generation that wants everything here and now. 4G. A generation that wants all of the above, and some more! Here is to the 4G generation, this is their anthem.
Josy Paul
Chairman & Chief Creative Officer, BBDO

Idea is a strong 4G player and the new campaign is a celebration of endless video watching owing to Unlimited Recharges that offer abundant data on Idea 4G. The target audience for this campaign are existing data users, for whom online has now become a way of life.
Sashi Shankar
Chief Marketing Officer, Idea Cellular
Creative agency: BBDO India
Creative Team: Josy Paul, Hemant Shringey, Vishal Rajpurkar, Pooja Daga
National Creative Director: Josy Paul
Executive Creative Director: Hemant Shringey
Sr. Creative Director: Vishal Rajpurkar
Copy Writer: Pooja Daga
Lyrics and Music: Amit Trivedi
Director of the film: Vijay Maurya


"Kanjoos bana generoos" is the simple idea behind the campaign for Kotak Securities' Free Intraday Trading. The typical day trader looks to maximise his daily profit, unlike an investor who looks at more long term returns. When this plan makes it possible to save a considerable amount on daily brokerage, it makes him pleased enough to surprise near and dear ones with unexpected acts of generosity.
D. Ramakrishna (Ramki)
CEO, Cartwheel Creative Consultancy

Free Intraday Trading removes all worries related to paying brokerage, and offers a friction-free trading experience with research and a powerful technology platform. This is an aim to increase trading volumes of equity markets and also to double our customer base from 1.6 million to 3.2 million in 18 months.
Jaimit Doshi
Executive Vice President – Marketing, Kotak Securities
Creative concept: Cartwheel Creative Consultancy
Production House: UBIK Films