The challenge was to make a 100-year-old iconic drink relevant for the youth of today. As the idea 'ghulke jiyo' took shape, we knew we had something that would resonate with the entire country, across all ages.
Surjo Dutt
National Creative Head, FCB Ulka

Being a 111-year old drink and loved by consumers across all age groups and segments, Rooh Afza has stood the test of time, not only because it's a great refresher, but because at its core it stands for something far larger – togetherness! This TVC will connect directly with consumers' hearts and create a dialogue emphasizing the facet of togetherness.
Mansoor Ali
Chief Sales & Marketing Officer, Hamdard
Agency: FCB Ulka
President: Debarpita Banerjee
National Creative Head: Surjo Dutt
Creative: Abhijeet Ray, Arijit Sengupta, Arijit Gupta, SSrinath, Moumita Pal, Deepak Latwal
Films Team: Mazhar Khan
Production House: Bubble Wrap Films
Producer: Richa Lal, Ketaki Guhagarkar Surve
Director: Jaydeep Sarkar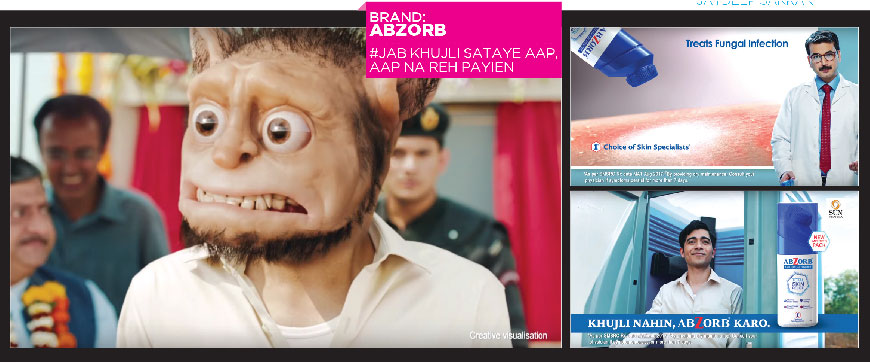 Through a visual dramatization, we create empathy around how an itch brings out a 'paagal' beast in you. We were able to talk about this seemingly taboo conversation in a direct, yet charming way. The sign off 'Khujali nahin, Abzorb karo' is a short, sticky way to make this a daily habit and keep the problem and brand intrinsic to the ad.
Madhu Noorani
President, Lowe Lintas

We are excited to offer consumers the Brand of Choice by dermatologists – ABZORB. The intent of the 360-marketing campaign is to raise consumer awareness regarding fungal infections and empower them to treat the infection and lead a healthier life.
Vidhi Shanghvi
Head, Consumer Healthcare, Sun Pharma
AGENCY: Lowe Lintas
BUSINESS: PARIKSHIT SHAH, SNEHA NAIR & REEMA BAHADKAR
CREATIVE: MADHU NOORANI, SANCHITA SINHA & VARSHA IYER
PLANNING: SAJI ABRAHAM & VARSHA CHAWDA
PRODUCER: EQUINOX FILMS
DIRECTOR: DEB MEDEKAR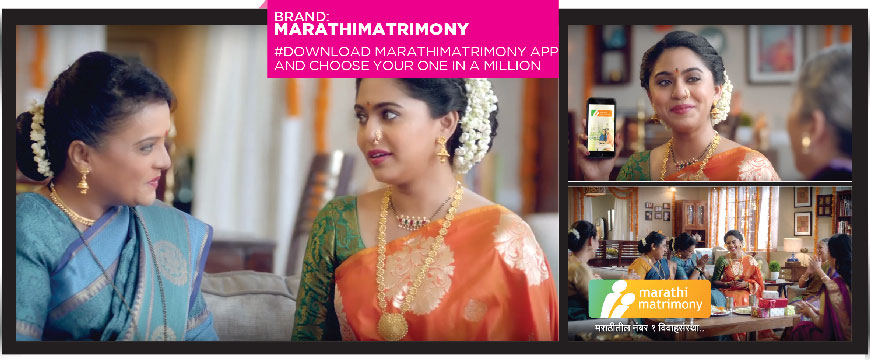 Adding to the fact that actress Mrunmayee married through MarathiMatrimony, we've brought the regional flavour in the communication by setting up the whole conversation around a very popular Marathi ritual "Ukhana". The mandate from the client was to bring about a regional connect with the Marathi community and I think we succeeded in doing it.
Bharat Daini

Script Writer

Mrunmayee Deshpande was the ideal choice since she found her life partner through us. Besides she's a popular Marathi celebrity who connects with the audience. Maharashtra is one of the fastest growing markets for us and we are the No. 1 Marathi Matchmaking service. The TVC is part of our marketing efforts to expand our reach.
Murugavel Janakiraman
Founder and CEO – Matrimony.com
Production House: Mystic Lotus
Script Writer/Creative: Bharat Daini
Director: Vishal Gupta
Producer: Pradip Das – Mystic Lotus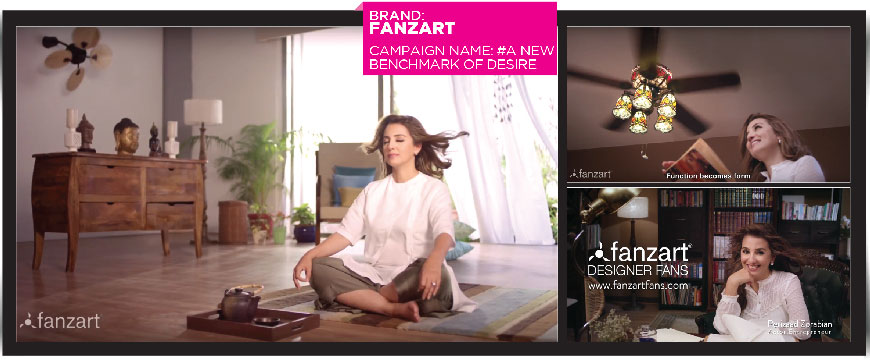 We thought the best way to get into people's mind, in this unexplored 'designer fans' category is to bring an experiential experience to them, to pay tribute to the fine traditions of exquisite craftsmanship and precision set by Fanzart. The communication with Perizaad, effortlessly inspires luxury, offering perfect harmony and elite-class technology.
Raj Kaushal
Director –Fuel Films

Our newest TVC has the most suited face to the Brand – 'Perizaad', the perfect fit whose simplicity resounds with our category. The TVC harps on the new 'Luxury of Indian Homes' that brings a stylish makeover with exquisite designs and persona. Our association with Perizaad is to emphasize the beauty of the products and to accentuate the brand to higher levels.
Anil Lala
Founder - Fanzart
Production House: Fuel Films
Director: Raj Kaushal
Story: Aman Khan
Camera Man: Shiraz