BRAND: IKEA India
#IKEAlifeathome
CREDITS
Creative Agency: Dentsu Impact
President: Amit Wadhwa
Chief Creative Officer: Soumitra Karnik
National Creative Director: Anupama Ramaswamy
Production House: BANG BANG
AGENCY

We have always looked outside our homes to do fun and exciting things. Life at home has unlocked endless possibilities and newer discoveries which were right under our noses all this while but went unnoticed. Hopefully this behaviour change in all of us will lead to stronger family bonds, and happier, brighter every day.
Soumitra Karnik
CCO, Dentsu Impact
CLIENT

We want to Make Everyday Brighter for the many people by speaking to the needs of their lives at home. With people stuck at home, during this time, we want to help them see that their home is full of possibilities. We want to show that home can be a place to be un-stuck and upbeat, not locked down. That's what we call #IKEAlifeathome.
Amitabh Pande
Marketing Head, IKEA India
BRAND: Tata Steel
The Washout
CREDITS
Client: Tata Steel
Agency: Wunderman Thompson
Project Head: Vijay Jacob Parakkal, Sr. VP & Managing Partner
Creative Team: Senthil Kumar, Chief Creative Officer, Arjun Mukherjee, ECD & VP, Nuzhath Enayath, Copywriter
Account Management: Nilanjan Sarkar, Client Services Director
Production house: Little Lamb Films
Executive Producer: Monalisa Mukherji
Producer: Avishek Ghosh
Director & Editor: Nobin Dutta
Music: Mayukh-Mainak
AGENCY

The idea was to highlight the hidden problem which will only increase with every hand wash. If the tap remains open, we end up wasting a lot of water. It is imperative to draw attention to this issue which can be easily overlooked because of the threat of Corona. While we build India's biggest bridges we also care about the water under the bridge.
Senthil Kumar
Chief Creative Officer, Wunderman Thompson
CLIENT

Driven by our commitment to the environment, we always used technology & innovation to drive sustainability. This film brings to the forefront a problem that we may be collectively catalysing if we are not careful, in our desperate need to protect ourselves.
Sanjiv Paul
Vice President - Safety, Health & Sustainability, Tata Steel Ltd
BRAND: Brooke Bond Red Label
CREDITS
Chief Creative Officers, India : Kainaz Karmakar, Harshad Rajadhyaksha, Sukesh Nayak
Group Creative Director : Akshay Seth
Sr. Creative Director : Chinmay Raut
Sr. VP, Account Management : Nikhil Mohan
Production House: Little Lamb Films
Director: Bauddhayan Mukherji
AGENCY

Social distancing is the need of the hour but the paranoia in people makes them act in an extreme fashion. This often leads to ostracism of the person suffering from Covid 19. Not only does she or he have to deal with the illness but also the stigma and rejection. You can be physically distant and find a way to care for someone.
Kainaz Karmakar & Harshad Rajadhyaksha
Chief Creative Officers, Ogilvy India
CLIENT

We can be socially connected even while we are physically distant is the message that Brooke Bond Red Label would like to convey through this new film. We strongly believe that a tasty cup of tea can help overcome prejudices that come in the way of bringing people together. Set in today's times, this film is yet another execution of our long-running Swad Apnepan Ka campaign
Shiva Krishnamurthy
Vice President – Tea & Foods, HUL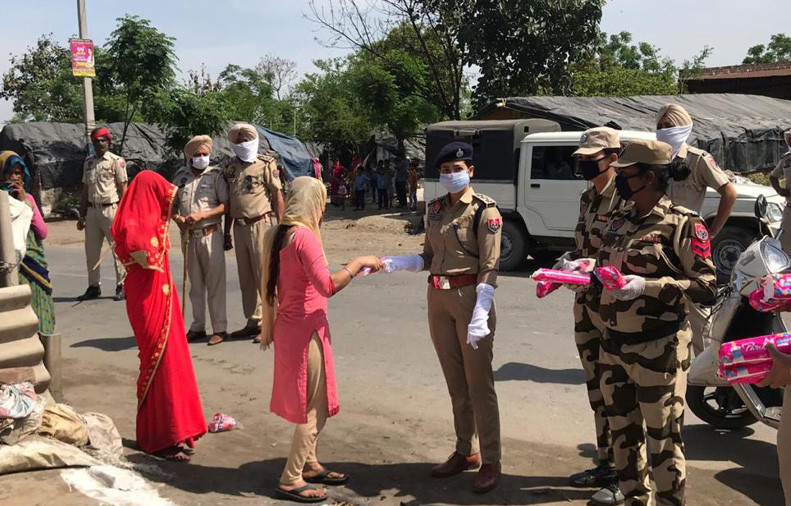 BRAND: Paree
#SheFirst #PadsAreEssential
CREDITS
Client: Paridhi Mantri, Shruti Kapoor, Aakansha Singhal
Agency: Gunjan Kar, Shweta Dayal, Tinishya Desouza, Rasesh Raja
AGENCY

We are looking to change the social stigma and 'black bag' mindset around menstrual hygiene. We wanted to go all out to create a campaign, which was thought-provoking and challenged existing social perceptions. This is stage one of the campaign and we have a long way to go and many a glass ceiling to break in order to address the issue of menstrual and women hygiene.
Nicky Singh
Vice President, GolinOpinion Delhi
CLIENT

A woman always put everyone else ahead of her own needs when in fact, she should come first. Our belief that pads are essential for every menstruating woman is driving the dialogue that at a time of crisis, She comes first. As a brand, I want to assure each woman that during COVID 19, we are with you and you can trust us. We are proud to have support from Punjab Police, CII IWN, Rasoi on Wheels and many others.
Sahil Dharia
CEO &Founder, Paree