On November 13, 2018, Zee Entertainment Enterprises Limited (ZEEL) took the industry by surprise when it announced its intent to divest up to 50% of its promoter group stake to a global strategic partner. In a statement filed with the stock exchanges, ZEEL said the move would help transform the company into a "global media-tech player" and also expected it to address "the Essel Group's capital allocation priorities".
The promoters currently hold 41% stake, which means they will divest up to 20% of ZEEL's equity to the partner. The market is abuzz about ZEEL's plans ahead. The company, which recently announced its financial results for FY18 Q2, posted a strong 24.9% jump in the operating revenue. Not just that, its OTT platform ZEE5, launched early this year, is believed to be doing extremely well.
Now, with Goldman Sachs on board as investment banker and LionTree as strategic adviser, it's wait and watch to see how the stake sale plays out.
Here are excerpts from a conversation Dr Annurag Batra, Founder & Chairman of the exchange4media Group, had with Dr Subhash Chandra, Chairman, ZEE & Essel Group, on the roadmap ahead for ZEEL:
Q]

Dr Chandra, you are the pioneer. You see things before anyone else sees them. So if you decide to sell a part of your company to be future-ready, it becomes headlines. Are you seeing something that others are not?
I definitely believe that others are not yet seeing what I can see. But I am sure they will see that slowly. I understand that it's not only this medium, but virtually every single business is going to change because of the way technological developments are happening in every single field. Even a construction company will have to rework their entire organisation and the working structure because of technology. For example, a call centre has a very simple job. My prediction is that five years from now, nobody will be working at call centres. There will be robots and machines answering calls. In the next 5-8 years, one billion people will be rendered jobless globally. So everybody has to reskill now. Even the education system should be restarted with a fresh approach. As a member of the Upper House of Parliament, I am going to raise this issue. Education has to be future ready.
Q]

Tell us specifically about media and content.
Coming to media, because of augmented reality and virtual reality, there will be a convergence of mobile, computer and other large screens. It will not be just an audio and video medium; this will be a full-fledged market. And you will get whatever you need in this marketplace.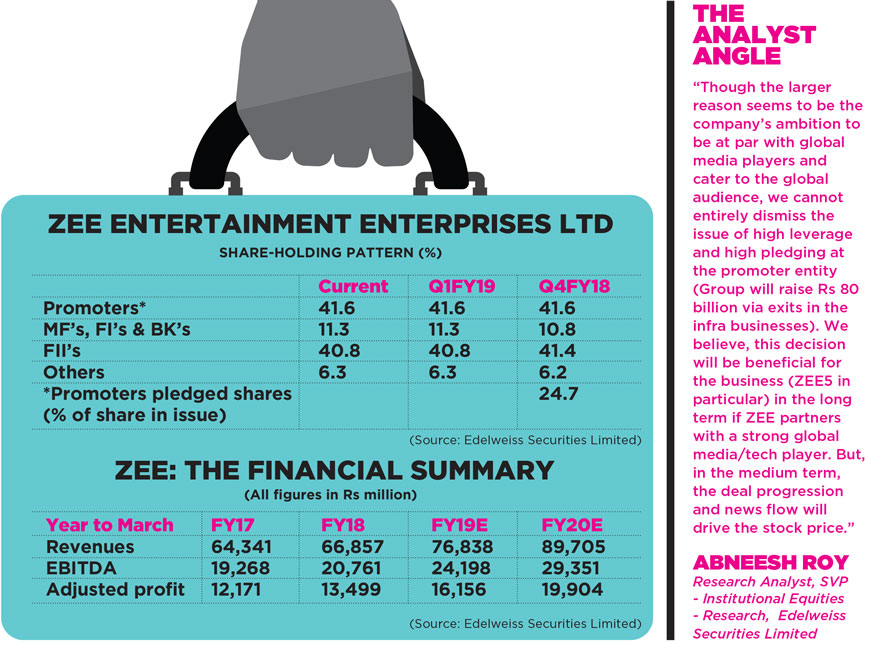 Q]

So you are saying content will be the glue that will create commerce, and services will be distributed using mobile screens?
Right, that's exactly what will happen.
Q]

Tell us about ZEE5. In the last 12 months, it has touched the 50 million-plus subscriber mark. You have said one of the reasons for the stake sale is to be able to work with technology partners to go global and increase ARPUs. Let's say, if a tie-up happens in the next 6-7 months, what will be the new ZEEL like? What will be different from what we have now post the deal?
We know how to make the best of content at the best of price. And that doesn't mean that the popular perception of Zee spending less on content is true. It's not true. Zee knows the expenses; the cost of equipment and the cost of artistes and studio. Our mindset and DNA is of a content maker, whereas the Netflixes and Amazons of the world -Amazon particularly - have a trading mentality.
Our people did an analysis of Netflix's Sacred Games in one of the monthly presentations, and concluded that the same show with the same artistes would have been done by us 40% cheaper. And yet my producer would have had 15-20% growth. And we have managed to do it in the international market. Today, we are running 12 foreign language services in the international market. In Germany, which is a very mature market, we already have 1.5% market share with our content from India repurposed and redirected with subtitles and dubbing. We have also started producing half an hour of original Russian content and two hours per week content in Arabic language in the Middle East.
ZEE will look at the partnership to get converged into a techno-media company which has a global presence, catering to American, Hispanic, Brazilian and major foreign languages, including the OTT platform. In India, we have 500 million ZEE5 subscribers and we feel we can add an equal number of people internationally with the partner. I would say we will add 100 million-plus South Asians. And in the next 7-8 years, another 400 million mainstream video watchers on OTT. So it will be an unbeatable and unparalleled media distribution company that will get the value that we can never get in India.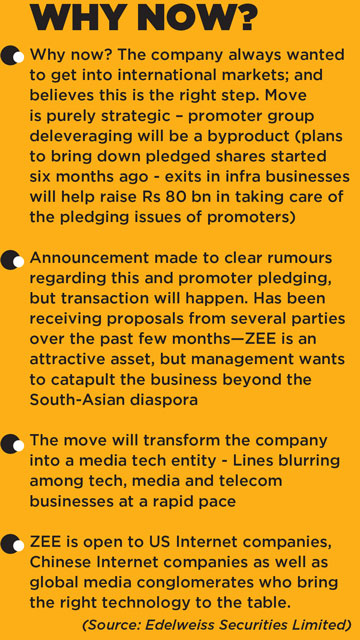 Q]

So, are you saying that you will get listed abroad at some stage?
Yes. Why not? That's why I am saying it will be a very different company 7-10 years from now. I can see that happening. I can see that going into the 100-plus league.
Q]

There is huge speculation about who your partner will be. Various names are going around. Would you like to share? Also, what would you look for in the partner?
I would say that this bride has many suitors. We know what we want; we want a technology partner with technology superiority and the mass and muscle to help us fulfil our dream to become a global media company.
Q]

The chemistry between two people doing business is very important. Have you already found this chemistry?
We have bankers; and one of them is international banker Goldman Sachs and the other is American banking advisor LionTree. So we have had this discussion. If it's American cooperation, we have to agree on a business model on the basis of what both of us expect 5-10 years from now. Once we figure that out, it's easier for this marriage to succeed. If you see our past record, we have had good partnerships.
Q]

You said American, so is it Amazon or Google?
No, I am saying that if it's American, we will have to do the same exercise of agreeing on the direction again. An American cooperation would have a separate kind of expectation from the future whereas a Russian company has a separate set of thinking. We have to align, and once it's done, there is no problem. Particularly with Amit and Punit running the company.
Q]

During discussions with me, you have always looked at two companies, Disney and Discovery…
Discovery is a traditional media company and has vast distribution globally. And I love the company for that reason. We are one step behind them in terms of the number of eyeballs globally. They have 1.5 billion and we are at 1.3 billion. On the other hand, Disney has a vast array of offerings that nobody has in India. They have amusement parks, cruise ships, children's programming and much more.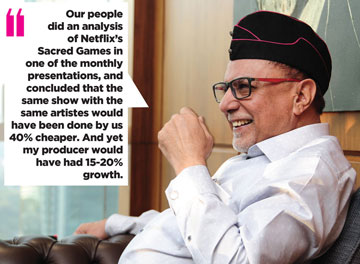 Q]

What do you think about Rupert Murdoch partnering with Disney?
Their objective was that 'I can't fight with this big techno media company who is spending billions in programming'. But my feeling is different. He would be the single largest shareholder of Disney with 5% holding and he has the right to choose the successor of Bob Iger. He is a smart businessman. To my mind, he has bought Disney rather than selling.
Q]

What do you have to say about Jio and its strategy of buying all distribution companies?
As a telecom company, they have done really well. Even their competitors say 'we never thought the way Jio thinks'. They admire them.
Q]

What if Mr Ambani and Mr Chandra come together?
You never know what would happen. I will not name anyone. It's early.
Q]

What are your predictions for the future of this industry?
Technology will change the business. By 2055, India will become a $ 100 trillion economy and number one globally because the demographics are in its favour. It will surpass China and America and that will be a hell of a lot for any kind of business.
(With inputs from Sonam Saini)