It has been a year of uncertainty. The impact of Covid 19 on lives and businesses has been immeasurable. Even the leaders of Media & Entertainment (M&E) Industry are attempting to weather the storm, trying to juggle between sustaining their traditional channels and increasing the digital base. Amidst all this, Zee Entertainment Enterprises Limited (ZEEL) that was already looking for ways to revamp itself, finally launched the Zee 4.0 plan.
The plan, announced in July 2020, is based on the '5G' vision with Punit Goenka, Managing Director and CEO being the driving factor behind it. Governance, Granularity, Growth, Goodwill and Gusto- the five pillars of the 5G vision will be the foundation on which a new ZEEL is set to be built. Each G bears a purpose and vision of its own.
The 5G plan
Talking about the first 'G' that stands for governance, Goenka says. "We were a public company previously as well but with a large family shareholding. But now we are predominantly a public company and therefore governance becomes even more critical going forward."
Till March 2019, the Goenka family had 38.2% shareholding in ZEEL which came down to 4.02% in 2020 after the debt-ridden company decided to sell off its stakes to Invesco Oppenheimer Developing Markets Fund (11%), OFI Global China Fund, LLA and its affiliates (16.5%) and another 5.93% stakes in the market. As per the quarter ended 30th September 2020, the family reportedly holds 4.02% of the shares.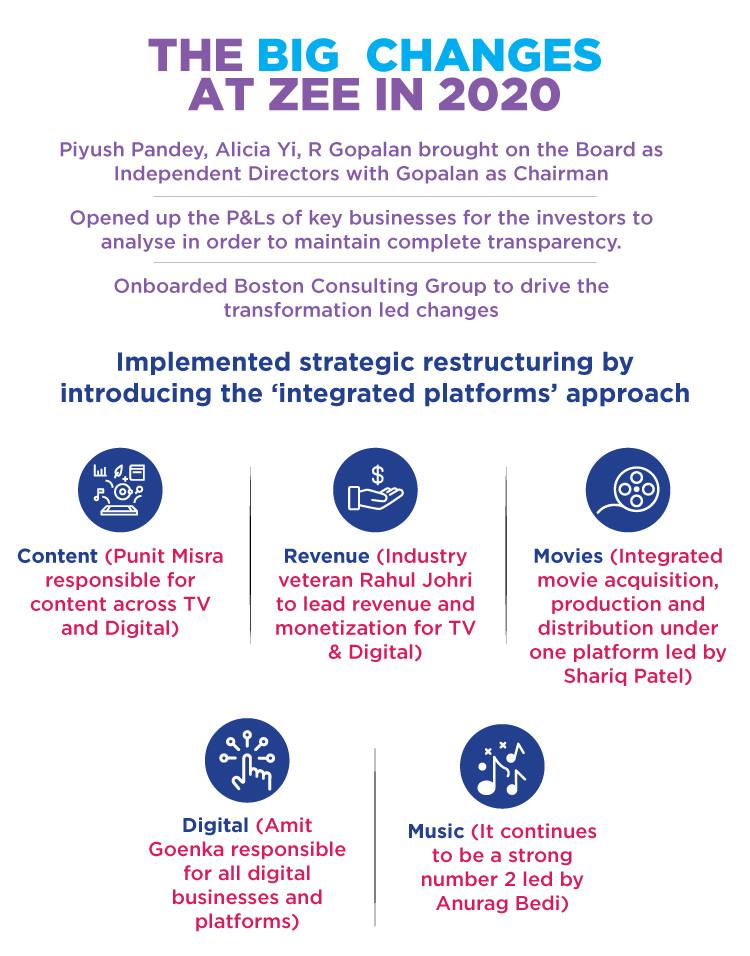 The move, therefore, has clearly changed the dynamics for the founder family, which is now banking on the second 'G' which stands for 'Granularity'. "We have realised that more the granularity we show to our shareholders in the business, the better it is for the company. Because the business model becomes that much clearer and predictable to them, which allows me to offer fewer explanations because they can clearly see what is happening," says Goenka. He asserts that going forward even internal policies which were previously not shared with the shareholders will now be put up in the public domain. "This time, we have updated all our policies and put it up there on our website. If suggestions are made, we will take them under consideration," he adds.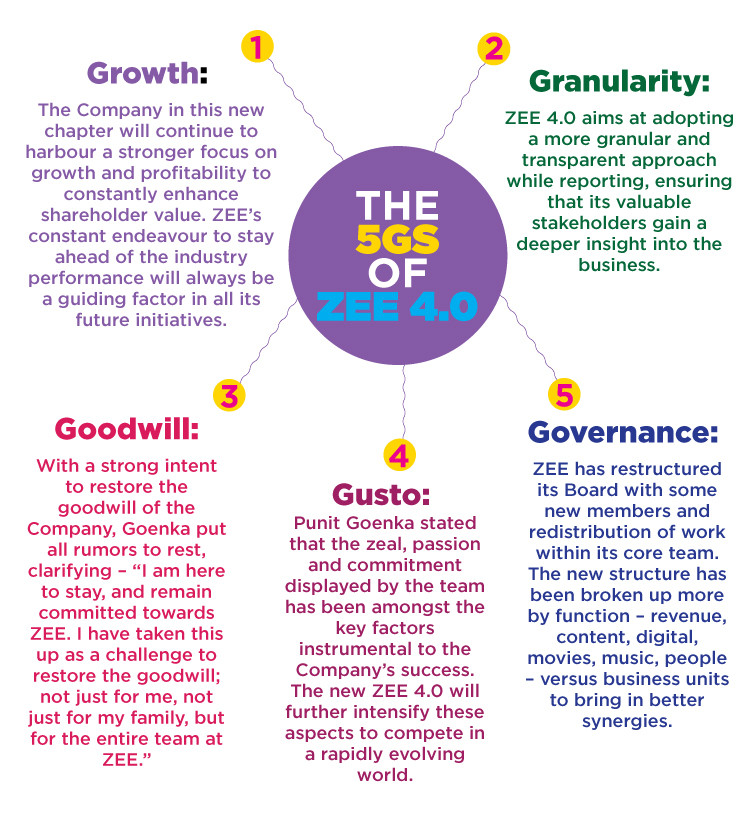 The growth story
Next in line is the 'G' that stands for growth. The company that is considered a pioneer in the satellite channel business went through a tough phase with its share price dropping significantly in the last few years. Hence, growth is one of the most crucial Gs for the group to pursue in the years to come. "This company has always been known to deliver growth beyond the industry standards. So we have to continue that discipline in our business," says Goenka.
Zee believes this much awaited growth will now come from newer regional and international markets and that the company can have more products in regional markets that so far only have one GEC channel. Talking about both these markets Goenka elucidates, "India still has only 60% odd TV penetration and it is growing at a four percent. In future, you will see a lot more coming from those markets. We don't have movie channels in our regional plan. Going by data, the movie business in this country will be as big as GECs. It has been only a year since we made our entry into the southern movie channels market and we are still making our inroads there. We are also considering many markets outside of India where we can replicate the India based model."
In the past two years, the company was in news for its debts more than anything else. Hence, 'Goodwill' is the next G the new plan wants to emphasize on. "Goodwill is purely from the perspective that a lot has been talked about both - the promoters and the company. Sometimes we take commercial calls which are good and at times bad. So this 'G' is more from a personal perspective to regain the goodwill for the family and the company. The passion for Zee doesn't come from our shareholding percentage, it comes from the passion for the business," explains the CEO.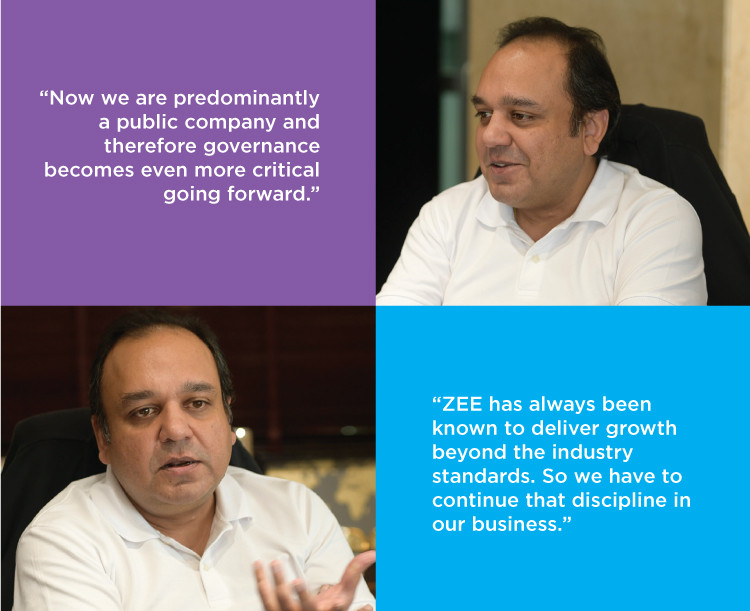 And the last 'G' of the much talked about growth plan stands for 'Gusto'. Goenka who has been at the helm of the affairs for a decade now, says the last G was for him and his team. "The reason I chose gusto is because when you go through this kind of a phase, there is a possibility that the morale goes down. I want to demonstrate that I can still attract the best talent. My team and I will continue to deliver the way we used to deliver pre-Covid-19, or through those times when we faced financial issues. We will continue to deliver with the same gusto," he adds.
Digital – The next big hope
It was in February 2018 when Zee made its re-entry into the OTT market with ZEE5. Both Netflix and Amazon Prime Video had already established themselves as platforms for the urban audiences. Zee, which was lagging behind, was quick to find an opportunity in Tier II and Tier III markets that were still raw in many ways. ZEE5 built its business on the back of regional language content helping it connect better with the semi urban audiences. The company is believed to be making heavy investments into the business and they are hoping to break-even by FY 2023.
To drive the growth, Amit Goenka, younger brother of CEO Punit Goenka, is now in charge as the new president for digital businesses and platforms. "ZEE5 needs to be in the top two content consumption platforms on the digital side in India. And internationally, number one for the South Asians living outside India. In 2023 I expect the industry numbers to go from Rs 8000cr to Rs 15,000cr. In this 15,000cr we are talking about a share of Rs 2,000cr which from a revenue standpoint is 15% of the total chunk. On the subscription side, in terms of value as the subscriber base might be lower, we feel consumer pricing may need to be dropped to attract more subscriptions," asserts Amit Goenka.
He also makes it clear that going forward ZEE5 will only focus on family entertainment content, while regional content will continue to be the growth driver. "I think that nobody has captured the regional space as of now. ZEE5 needs to play in this space and say that we are the largest content destination when it comes to content in your own language. We want to make South-Asian content across languages popular, not only in India but also internationally," says the younger Goenka while in the same breath adding that the company from an originals' perspective will only focus on three to four languages beyond Hindi as he doesn't see value in going down to every language.
The way forward
As one of the first steps towards implementing their 5G plan, the Goenkas announced a new restructuring that has reframed the organisational design into 'functional units' over 'business units'. The same has been explained as an organisation restructure built around 'simplicity and focus'. The restructuring has centrally aligned businesses. Earlier there was an integrated TV business and an integrated digital business. Both had business leaders with sales, revenue, distribution and content responsibilities. But unlike before heads will now manage broadcast and digital as one entity. The key reason behind the new structure is to bring synergies among all verticals.
"We have gone away from a vertical way of functioning. There will be a separate team for TV and digital content but they will have to work in the same ecosystem. ZEE5 used to run its own content. But going forward it is being merged into a single team under Punit Misra who will see the content for both broadcast and digital media. There is a good amount of learning that exists within the broadcast teams in terms of what kind of content works in each of the regional markets. TV being a mass media channel, you cannot push the boundaries beyond a point. The idea is to take the sensibilities of what people like and transform it to digital. That is the biggest synergy which we have not exploited so far," he added.
A key figure who contributed significantly to the plan is Animesh Kumar, Chief People Officer, ZEEL who explains that the Group has managed to marry its history and roots-- which are anchored in India-- as an Indian organisation and the potential future opportunity to become a global M&E powerhouse that emerges from India.
Kumar further divulges how the company is ensuring that the new structure works seamlessly and gives the desired results. "Moving from completely vertical to horizontal systems requires that the organisation works a lot more seamlessly and we are working with a bunch of hard and soft measures. Hard measures being review systems, the kind of incentive plans we build, the ecosystem we create where people are aligned towards a common goal and contribute to activities around that goal. Softer pieces include team interventions, capabilities etc. that will drive and enable that reality to be delivered," he says.
Content creation and monetization
The end game is to create a foundation that will propel the organisation to achieve its aspiration. "There is a content creation ecosystem that drives content creation across all platforms whether television or digital and is able to leverage its synergised content creation for all of these frameworks. It is able to use data and analytics across platforms, wherein the quality of content becomes a lot sharper and a lot more consumer centric. At the end of the day, the external ecosystem is very similar for content created for TV or digital. We are great storytellers, we have done that for over 28 years and leveraging that capability on the digital side will give us huge opportunities and play to the strengths we have already built," explains Kumar.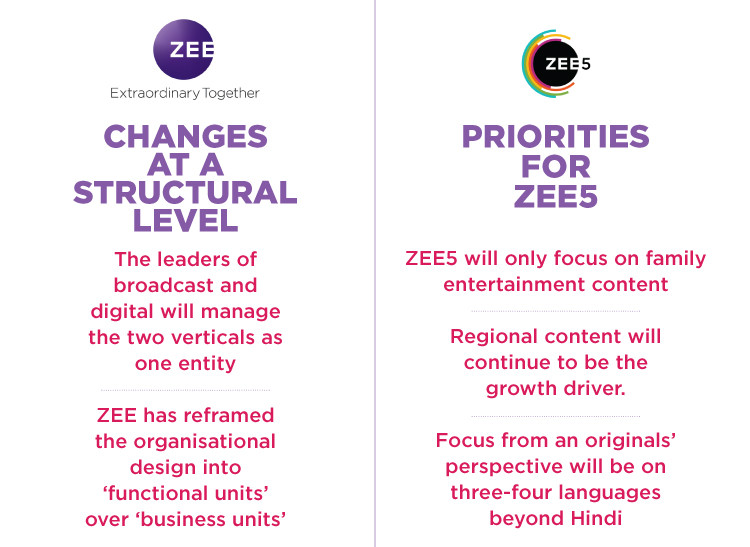 Once the content has been created comes the crucial part of monetisation. For this Kumar says, the company has the content monetisation engine which will make sure that when they go to the clients, it is with an integrated approach, "As we go into the next phase of restructuring, the taxonomy of the organisation and how we are going to build this ecosystem; it will help us to be a lot more customer centric, allow us to create integrated solutions, build a lot more operating efficiency internally and drive collaboration."
The last part is an entirely tech and product driven ecosystem. "The jury on that is still not out but we are moving to a world view that leadership in technology dominated and a digital commerce company is likely to come from tech and product leaders and not from the traditional finance and marketing backgrounds as it was in the non-digital ecosystems. So this ecosystem will be sharply focused on driving our user growth acquisition. We have big aspirations for our OTT and UGC platforms and believe that we have the potential to win in this market in that space. We are anchoring it around focused user acquisition be it in B2B, B2C formats or AVOD & SVOD," signs off Kumar.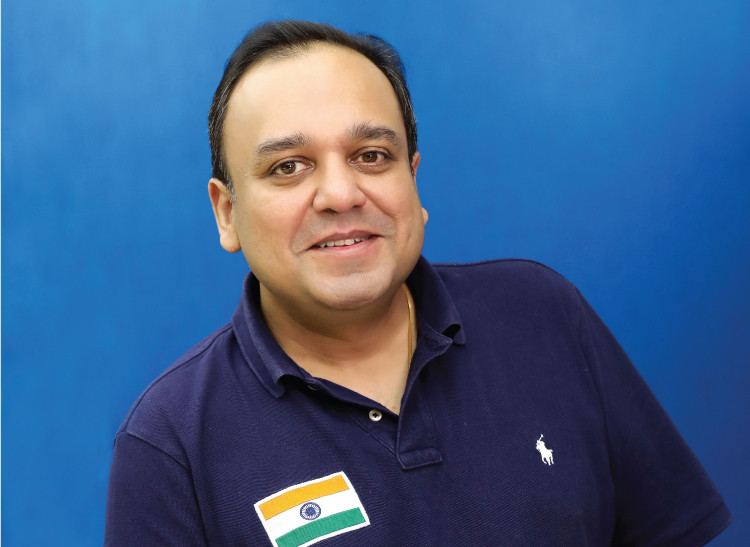 "As pioneers, we have had our share of ups and downs"
Five months ago, Punit Goenka, Managing Director and CEO of Zee Entertainment Enterprises Limited, unveiled ZEE 4.0 strategy elaborating the company's vision for the future. In his first ever interview since the announcement, in a candid conversation with Dr Annurag Batra, Chairman and Editor-in-chief of BW Businessworld, Goenka talks about the new synergies that will drive the company, positioning of Zee5 as a SVOD platform, company's valuation, its future, lessons learned during the pandemic induced lockdown and a lot more.
Q] You recently announced a ZEE 4.0 plan. Where did the need to announce a new strategy come from?
We are almost nearing three decades of our existence in this business. Being the pioneers in the industry we have had our share of ups and downs. It gave me the time and perspective to plan the next stage of this company. That is what I tried to roll out through the open letter that I wrote on the ZEE 4.0 strategy. The 4.0 was also more reflective on the last three decades and then talked about how the next few decades are going to be. Additionally it covered how we as a company have grown over these three decades. While we did grow structurally, most of the times it has been in a not-so-structured manner. Now was the time to think of how we are going to bring it all under one umbrella to get ready for the digital wave.
Q] Announcement of the new vision was soon followed by restructuring of your core team. Why do you believe the new structure is better than the older one for ZEEL?
It is purely to derive synergies. On one side content synergy to work across platforms is how one needs to drive it. Then on the other side monetization of that on multiple platforms has to take place. Whether we like it or not, TV+Digital advertising and viewership will come. Whether it happens in six months or a year is the only question. It is about synergies, making the company a leader.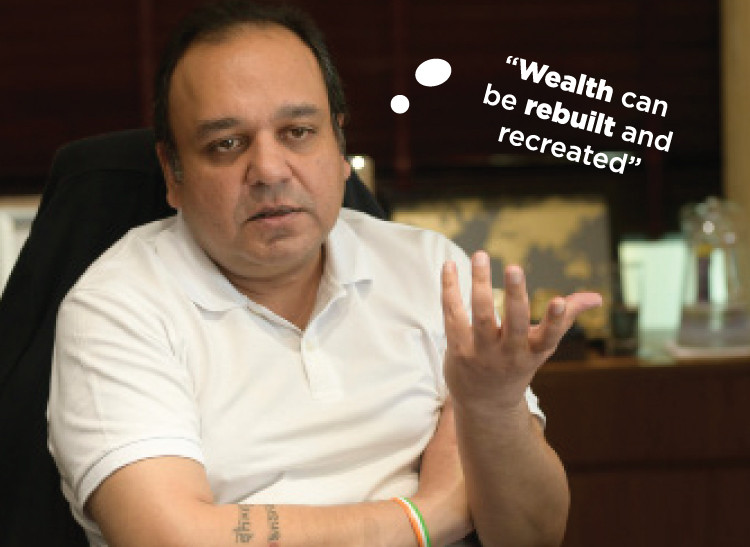 Q] A few of your competitors were technology companies who got into the business of content. For you it was the other way round. Will we see ZEEL investing in technology platforms?
We will have to explore this area going forward. Already we are evaluating a couple of companies which we had outsourced our work to and would like to take them in. That is the only way. A big learning from the lockdown is that it doesn't matter where you are. So we are now creating a technical hub in Bangalore. It is the first time that the entire technology backend will be in Bangalore. Travel is cheaper and you get better talent.
Q] What are your views on OTT regulations?
It will certainly impact content. Unfortunately, the government's outlook towards this is very myopic. They believe that if content is sitting in an OTT platform then it is available freely to the entire world, which is not the case. All of the SVOD content that we are talking about is sitting behind the paywall. There is tons of content out there that is of offensive nature on other platforms. They have started banning apps but there is a long way to go. I don't like regulation especially in content. Let us self regulate, we did that for broadcasting and BCCC (Broadcasting Content Complaints Council) has been running successfully for over seven years now.
Q] NTO 1.0 followed by NTO 2.0 came as disruptors for the media and entertainment industry. How do you think it impacted the industry?
It has stunted the growth this year. The prices of milk and other products went up but that of the channels remained the same. While we are classified as an 'essential service' our pricing remains constant and we are unable to do much.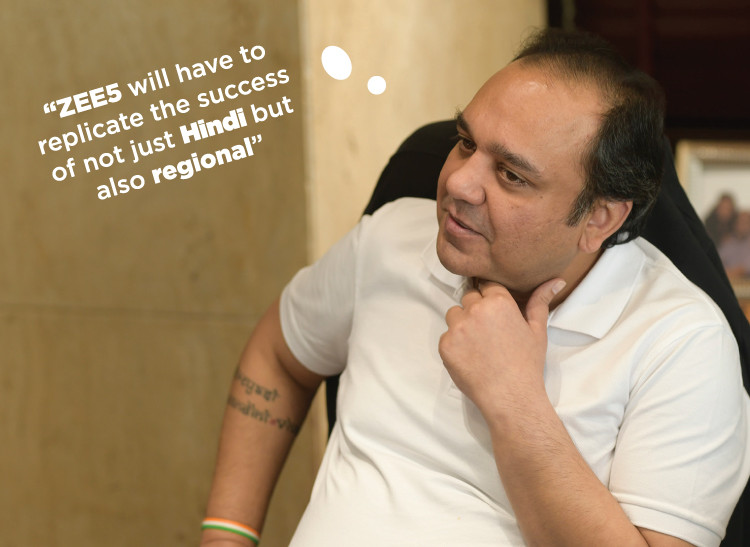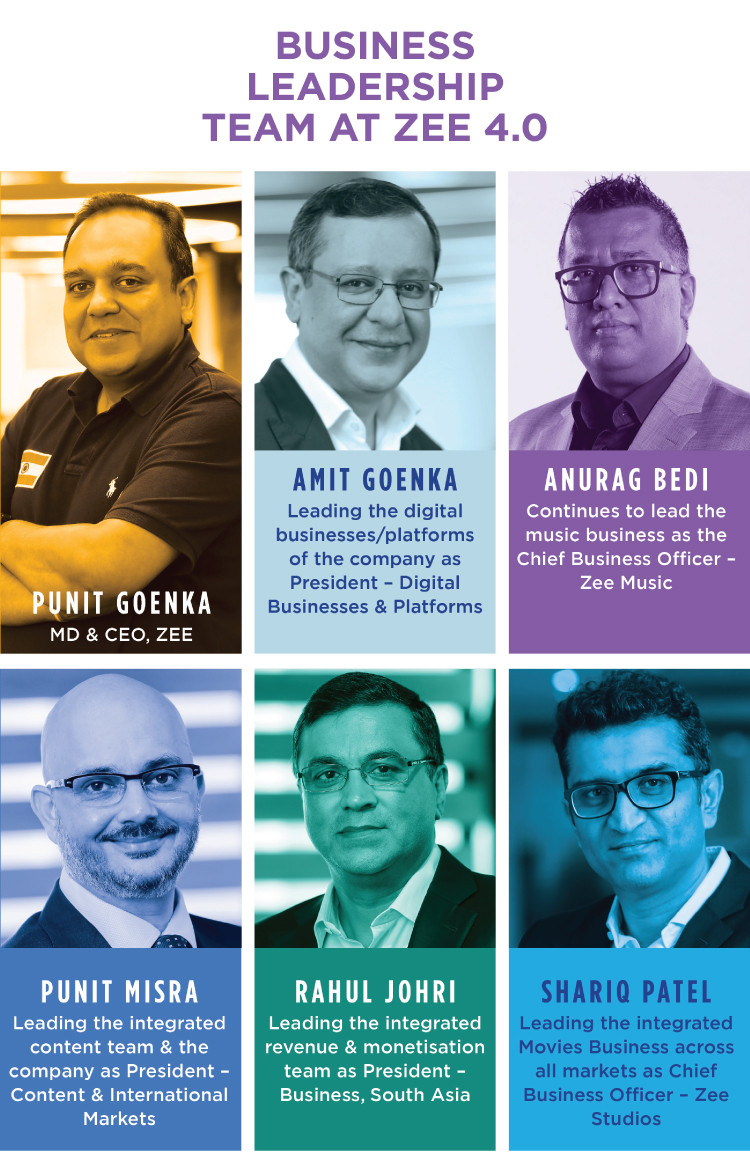 Q] Do you see ZEEL's share price coming back to its historic levels?
A lot has changed since January 2019, so the context is completely new. If we have to see those levels we have to succeed in parameters that didn't exist before and delivering back on our guidance that has been lost owing to a COVID year. Also, the general buoyancy of the economy has to come back for us to achieve those kinds of levels because the parameters have changed in a big way from then to now.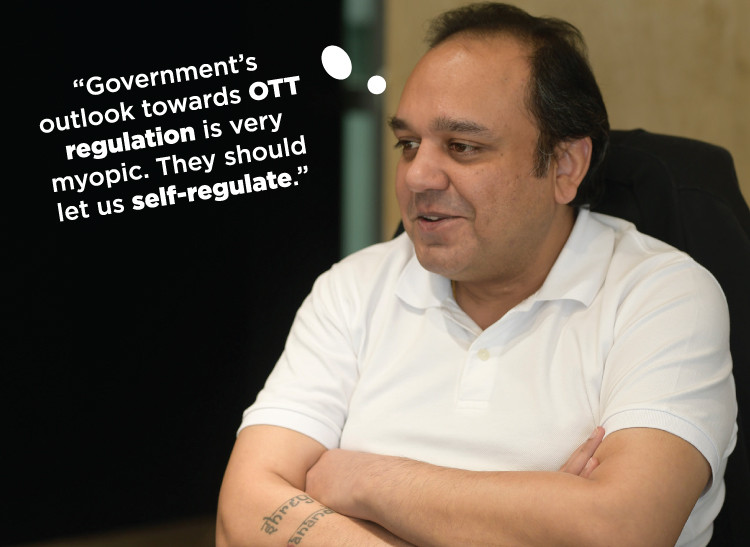 Q] This has been an unusual year for all of us. If you had to sum up a few lockdown lessons, what would they be?
The most crucial thing I learnt is that if you commit to something you need to stick to that no matter what. Wealth can be rebuilt and recreated, there is enough of a lifetime for that.

Q] What in your opinion are some of the key challenges you will face in 2021?
For us, women empowerment is very critical. Eradication of poverty, rural development and disaster management are the critical issues that are facing our country. If we don't address these issues we are not going to leave a legacy for our children. We have to do it within our company's DNA. We have a set target of how much we will give back to the environment and last year we received 100% green initiative results. We are the only Indian media company to turn 100% green.
Q] When will advertising growth return to pre-COVID levels?
First, we have to catch up to the base that we lost. It will take at least a year to bring it back to what it was, so in my view the next year will be all about resetting the base.


'OUR GOAL IS TO BREAK-EVEN IN 2023'
OTT platforms have been one of the biggest beneficiaries of the pandemic in 2020, and ZEE5 has not just successfully ridden the wave but also planned ahead with a strong regional focus. Amit Goenka, President, Digital Businesses & Platforms at ZEEL tells Dr Annurag Batra what he has in mind for the OTT platform for the year ahead
Q] What kind of targets have you set for ZEE5?
ZEE5 needs to be in the top two content consumption platforms on the digital side in India and internationally, number one for the South Asians living outside India. When I say top two, we do not have sports, which is a segment that we can't cater to from a content perspective. From a content and technology perspective, we need to be the number one or number two destination in India. We need to reach 50% of the audience that is consuming content digitally.

Q] What is the gameplan for expanding to markets outside the country?
I think the international piece has to be looked at market by market. If you see the western world, chord cutting is a real phenomenon; because we have seen our own numbers diminish. If we look at the Asian markets, TV is still growing, so there is a parallel strategy in place. It will be a joint strategy as far as going forth internationally is concerned.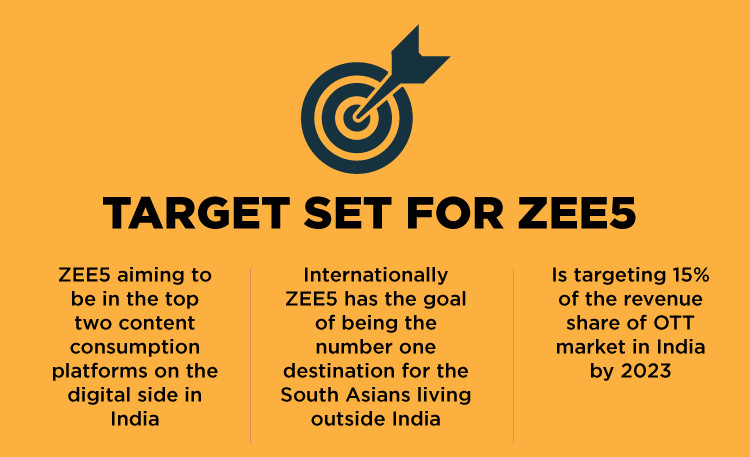 Q] So if Zee5 and your digital viewership grows, will you be cannibalizing on the broadcasting side of the business at some stage?
We at Zee have always believed in TV and digital, we have never said 'or'. At least for the foreseeable future I do not see that changing because there is a section of audience which wants to consume content by appointment viewing, while others want to consume it anytime. Today ZEE Networks' total reach is 600 million plus homes, the reach of TV will be much bigger and larger than digital.
Q] During one of our past conversations you mentioned that ZEE5 shall break-even in FY23, with Covid-19 here, will that happen sooner?
Our goal is to break even in FY23. In 2023 I expect the industry numbers to go from Rs 8000cr to Rs 15,000cr. In this 15,000cr we are talking about a share of Rs 2,000cr which from a revenue standpoint would be about 15 percent, because a large chunk goes to YouTube and the social media platforms. On the subscription side, a big chunk goes to Netflix and Amazon. In terms of value, while the subscriber base might be lower, we feel consumer pricing may need to be dropped to attract more subscribers.