While the Print industry rides on trust and high credibility, it has been battling continuous input cost challenges and depreciation of the rupee affecting profitability, with the entire industry having to re-look at things, introspect and find methodologies, ways and means to sustain itself and absorb the impact.
Talking to industry stakeholders, we seek to find out the uptake of the Print medium in the last couple of years and the efforts that companies are making to make Print more attractive to marketers today. Some points that emerge as important from the conversations are:
• Constant innovation in terms of content, technology employed and delivery
• Making content hyper-local
• Providing solutions to brands by integrating other services like on-ground and Digital
• Talking with creative agencies with various innovations possible on Print
• Experimenting with Digital subscription model
PROVIDING HOLISTIC SOLUTIONS
Publications are not leaving any stone unturned in offering holistic solutions to marketers. The solutions do not stop with Print. Native solutions are provided on Print, Digital, Social and TV.
"There is a physicality to the newspaper which no other medium can offer. Hence innovations in formats, value adds, technology injection and multi-sensorial communication are all possible in a newspaper for an advertiser who truly wants to make an impact with the consumer. Moreover, at a marketing level, we are constantly introducing content-based initiatives to create a deeper engagement of the reader in our newspaper, which directly impacts his/her response to advertising in the newspaper," says Sanjeev Bhargava, Brand Director, Times of India.
Over the last 18-24 months, several market disruptions have compelled marketers to allocate their marketing spends with much more precision and purpose. We are seeing allocations that are much more granular and analytical, for example, by specific geographies or customer segments that have higher growth potential and tend to drive more sales or stronger brand salience. "Within Print, marketers are increasingly choosing contextual and content-based advertising to connect with their target consumers as well as integrating across multiple media – Print, Digital, on-ground – for amplified outcomes," says Sathya Sriram, Head of Strategy, The Hindu Group.
B Srinivasan, Managing Director, Vikatan Group says they offer advertisers a bouquet of content, context and medium (platform) to reach consumers. "Through us, you can connect to a reader consuming automobile content, having spent time online on an e-commerce portal, or a subscriber of our personal finance magazine who is attending an investor awareness programme – we can sharp-shoot as well as carpet-bomb," he adds.
No other medium can provide the large scale ground connect with people on a daily basis that Print can. "The industry is leveraging the connect capability to help advertisers reach customers through a plethora of solution services according to customer type and demography. This has helped the marketer move to a solution conversation from an only-space discussion. It is pretty much the norm today for large Print companies to present media-agnostic content ideas and bring them to life by stitching together multi-media vehicle execution," says Kaacon Sethi, Chief Corporate Marketing Officer, Dainik Bhaskar Group.
TECH TO ADD VALUE
Publications are investing in technology right from gathering and reporting of news to digital mediums like websites, apps, news alerts, newsletters, email listings and e-papers. "I wonder if there is much technology innovation on the distribution side, but certainly there has been significant improvement in printing. That's generally where the application of technology has improved printing a lot, so speed and ability to carry, to print faster, and therefore print later, makes the product lot more vibrant. Also, from a news gathering perspective, we are using several tools which help us report and produce news faster and keep pushing the standards," says Anant Goenka, Executive Director, Indian Express Group.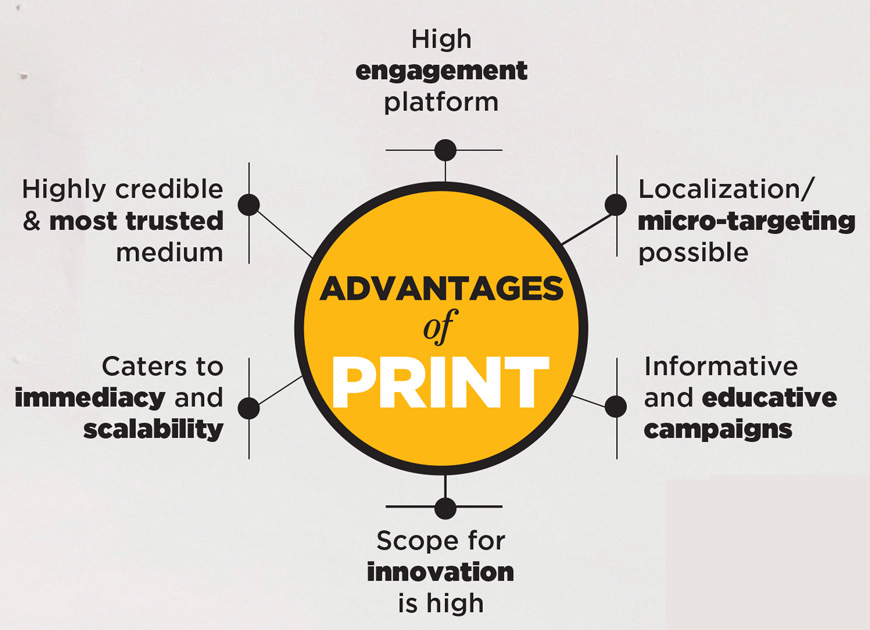 "Basically, you do multiple-fold innovations. You link digital medium with Print through QR codes and AR. Users can scan images from their smartphones and watch videos through this medium. It enhances the entire experience. Digital media have been a large driver of change. Rather than competing, the Print medium is accepting ways to integrate the two," says Krishna Menon, CMO, Sakal Media Group.
The Indian Readership Survey (IRS) released in January this year has brought to the table specific reach, genre, TG demarcations, etc. So if a brand looks at that data, it can target a particular segment or focus group specifically, through a structured campaign with minimum spill-over. "Innovation and solutions to talk to a specific group in a clutter-free environment or one where your message goes directly to that TG – starting from jackets to customized solutions for each brand and specific communication for specific TG – can work as consultants and experts to the brand," says Karun Gera, President-Sales, Lokmat Media.
Deepak Lamba, CEO, Worldwide Media, says on similar lines: "Advertising depends on the nature of advertisers; there are some categories which are naturally drawn to Print like fashion, etc. At the same time, just a Print solution is not enough to reach a certain audience. It is important for Print publishers to provide a sustained solution to advertisers through brand extensions."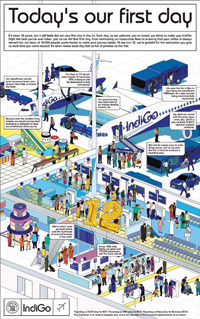 CREATING HYPER-LOCAL CONTENT
In a country as diverse as ours, newspapers customise themselves as per the required regional flavour. They will offer unique content in each geography as per the specific requirements of local markets. At the same time, newspapers have thriving digital versions which are read across the globe by the language franchise they cater to.
"The industry is attempting to make content hyper-local. Also, it is trying to figure out how every marketer relates his or her brand when it goes to various geographies" says Krishna Menon. "For example, take the state of Maharashtra. The culture, customs and the way of living changes every 100 km. We ensure that we offer that kind of differentiation for the marketers to reach out to their audience," he adds.
Similarly, Dainik Jagran and Nai Dunia between them have over 300 editions and sub-editions. "We have expedited the rise of the local economy. This is the real India that is powering growth from within. These small markets are the new Samurais, and the Hindi newspapers are the very centre of this economy," says Basant Rathore, Sr VP, Strategy, Brand & Business Development, Jagran Group.
"Many marketers do not realize that Print can be a very high engagement platform. The physical paper is in front of you, is very active and engaging, and you can deliver an ad very effectively through it. Moreover, the amount of localization you can do geographically in today's micro-targeting world is far better than many other mediums. These things make Print very attractive for advertisers, but I think advertisers are not realizing the full benefit or utilizing Print," says Prasun Basu, President, Nielsen, South Asia.
FACTORS THAT AID PRINT
Print has the inherent advantage of putting the reader in control of time. It allows the reader to reflect and form an opinion. "For large value transactions, Print is still very attractive, like for real estate or automobile, especially if you are able to sell even one large value transaction as a result of advertising in Print. Secondly, there is nothing that substitutes the understanding of benefits and features of a product as well as Print can. Also, on TV in 30 seconds, it's difficult to describe the benefits and features of a product. Lastly, when people see advertising in Print, there is a certain degree of trust; it is not as congested a medium like TV and you can hold the ad in your hand," says Rajiv Verma, Advisor, Hindustan Times.
According to Sam Balsara, Chairman, Madison World, "Print is clearly preferred by the advertiser if he has something new to say, if he wants to announce a new launch or variant, a promotion or price reduction. It is also a preferred medium for marketers who look for immediacy and lead generation, for example, in sectors like real estate."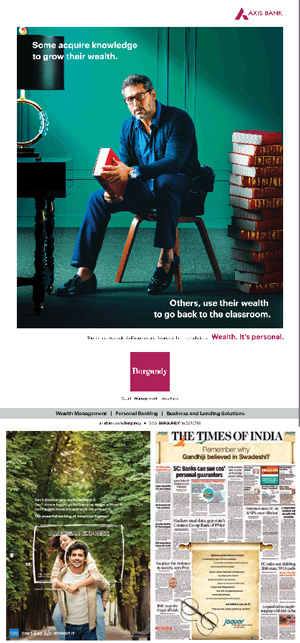 TRUST & CREDIBILITY
Trust and credibility of Print publications is actually helping them gain traction on their digital sites. For example, Indian Express as a group has achieved 130 million unique visitors a month which makes them one of the largest digital news players in the world, says Anant Goenka. "If it wasn't for the trust and credibility that comes with our brand, it wouldn't have been possible," he says. Moreover, across the Tier II and Tier III markets, brand loyalty towards Print brands is very high, and this translates into the adoption of digital offerings from the same brands.
"One of the biggest challenges of Digital is credibility – be it the forwards, fake news, etc., and somewhere down the line, while every medium has its advantages, the credibility or lack of credibility of the medium is really starting to have an impact and that is where Print has an important role to play. One of our key international clients, in fact, has specifically told us that his brand is withdrawing spends on Digital and TV and instead focusing on Print because it is a much more credible medium. People hold the editorial team accountable for what is printed in the paper and that is why Print is such a credible medium today. In fact, worldwide advertisers such as P&G and Unilever pulled out a chunk of their ad spends on other mediums and put in Print instead for the same reason," says Karun Gera.
"Credibility is there but hard to define, but people trust in what appears in Print. Journalists themselves want their story to be published in Print. The tactile experience in picking up the product - there is something there, that ensures that people want to consume it, but the fact is that young people aren't picking up Print products," says Indrajit Gupta, Co- Founder, Founding Fuel.
REACH & ENGAGEMENT
Apart from credibility, reach is another factor for advertisers to still have faith in Print. Also, readers are most engaged with the Print medium. "For the duration of time a reader reads a printed publication, he/she is completely engaged with the product and is actively seeking information rather than in a passive mode as with TV/Digital/Radio," says Varghese Chandy, Vice President, Marketing, Advertising Sales, Malayala Manorama.
"You can use display Print for impact (with innovations) or small format high frequency engagement, content marketing and contextual marketing for increased relevance with your target consumer, link an article or advertisement to a corresponding digital rendering (with our Print Play Augmented Reality service or simply a QR code or bit link). Knowing how to use Print is both an art and a science! Those who have mastered it are consistent advertisers, using a mix of formats, sizes and positions, to engage with the reader," says Sathya Sriram.
THE WAY FORWARD
While the industry has embraced the Digital medium and is driving additional benefit out of it, how do things look for the coming years? "In future, somewhere the physical and the digital transition will happen and both will co-exist," says Navin Khemka, CEO, MediaCom South Asia. "If you look at all the global big Print brands today, they actually offer subscriptions of both physical and Digital together. So, while in India Digital content is still free, eventually Print publications, big Print houses such as Times of India or Hindustan Times will start offering joint subscriptions, which is both physical and Digital. They can't sustain a free subscription on non-Digital forever," Consolidation is also something that we will see in the coming years explains Karun Gera: "The industry is at a cusp because there is a pressure on bottomlines, because of increased costs of newsprint, rate bills go up with inflation and simultaneously single digit growth on an average across the industry, though English may have negative growth. This means that the industry will go through some sort of a consolidation – maybe after a couple of years, as people choose whether to stay in the business or leave if they find it unsustainable, if they don't have the size, scale, etc. This will be on a market-to-market basis."
"However, credibility, the ability to go hyper-local with cost-effective rates and the ability to deliver specific solutions for brands will thrive and grow, while those who don't do so will have a challenge. The second half of the year seems to be a bit more promising for Print in terms of ad spends with elections and launches in the auto space and FMCG sector to also increase revenues," he adds. As Sam Balsara, Chairman, Madison World says, "Print has to intelligently cut the coat according to the cloth they have. No doubt they are besieged with challenges such as high cost of newsprint and so on, but once newsprint gets down to a reasonable level, I think Print players will have to recast their business plans to work within the resources they have. I am sure a viable, profitable, successful business model can be worked within that."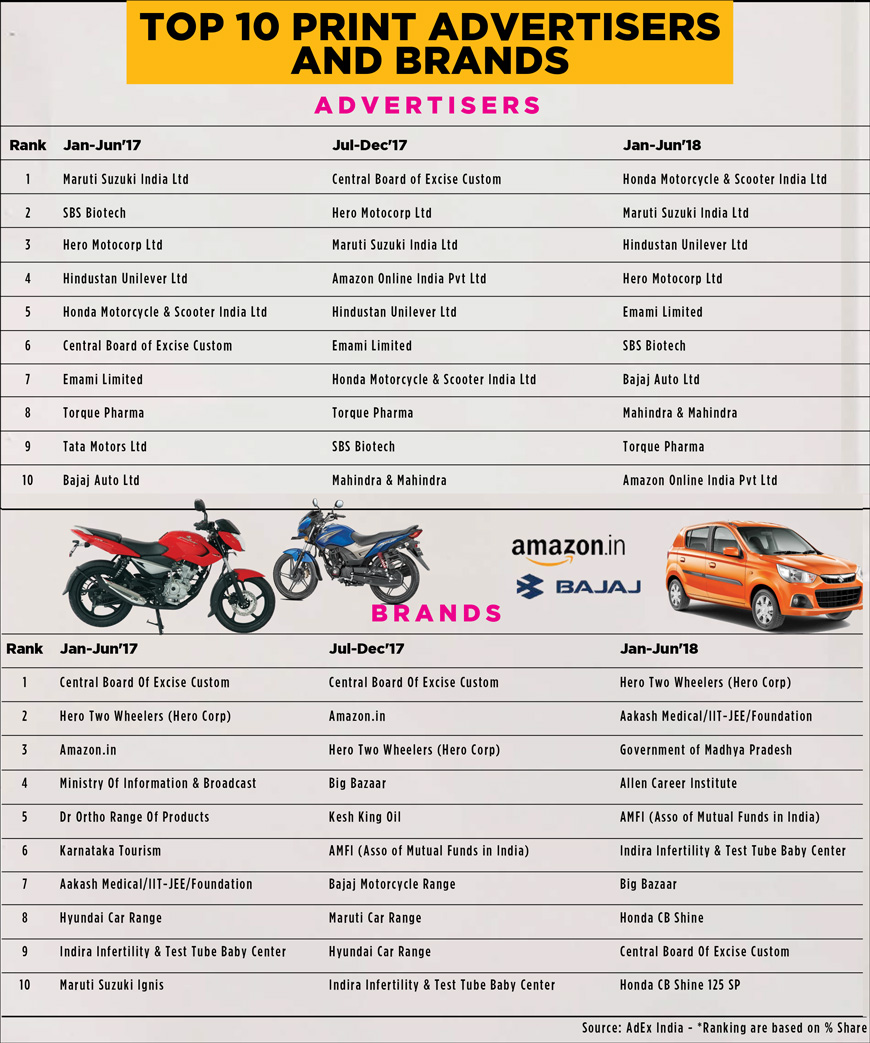 What does the progress report for Print look like over the last couple of years?
On the back of strong market presence and continued growth shown by Print, marketers have continued to look at Print as a core part of their media strategy. According to the Pitch Madison Advertising Report (PMAR) 2018, Print Adex continues to be the second highest contributor to Adex, after TV, with a share of 35%.
"The Indian Readership Survey (IRS) in fact has shown that between this round and the previous round, which is over the last three years, total readership has increased by nearly 40%. That's the good news for us. However, when you look at the growth overall, it is not even. Regional and Hindi Print has grown a lot more than English Print. So, I feel that Hindi and regional Print will grow and continue to do much better than English Print," says Ashish Bhasin, Chairman & CEO- South Asia, Dentsu Aegis Network.
"For certain categories, Print is an extremely critical part of the media mix today. While there is a lot of talk going on in the industry about Print dying, Print spends going down, so on and so forth, I don't think that is really true, because if you look at the role of Print and what it does for you, and what it does for the brand in certain categories – it is so critical," says Navin Khemka, CEO, MediaCom South Asia. "Also, if you see the way the literacy rates in our country are going up, today people are actually compromising on their own basic needs as they want to educate their kids and want them to have a better life. Therefore, literacy levels are rising, and because of that one key factor, the readership of Print also is rising," he adds.
Advertising in Print is growing overall at an absolute level, says Sanjeev Bhargava, Brand Director, Times of India. "As a share of spends, there is a proliferation of media and understandably the share would have declined. The more seasoned marketers understand the value of Print advertising while the challenge is that the younger generation of marketers need to be educated about it," he says.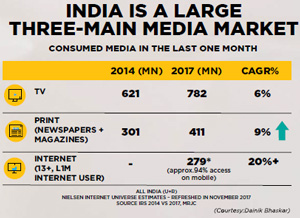 According to the Audit Bureau of Circulation (ABC), Print circulation has a 4% CAGR over the last 10 years. So when the circulation is growing, readership is growing and readers are paying more for reading newspapers, what is the crisis the industry is talking about? "The problem for us is on the cost perspective, not on a revenue perspective. The problem is on the newsprint prices. On a revenue perspective, we are still doing very well. The industry has been growing at 5-6% year on year, our topline growth has been better than that. And there is really no reason to say that it won't keep growing. We have a long way to grow, we are only at 15% of penetration as an industry. I think we have a long way to go and we will keep growing and we have been growing. So, it's pushing through the clutter as a medium to advertisers," says Anant Goenka, Executive Director, Indian Express Group.
According to IRS, in the last four years, Total Readership of magazines has grown by 95% (+3.8 crore), however according to PMAR 2018, magazines as a medium failed to gain advertiser interest for the third year in succession. "Post demonetization, 2017-18 posed a big challenge for the advertising industry as a whole, but Print magazines suffered the most. Last year, we lost ground – we lost clients, pages and business, rather ironically, as our subscriber sales and readership (refer IRS 2018) showed that our readers and customers were intact with us, our stickiness having improved by leaps and bounds," says B Srinivasan, MD, Vikatan Group. "This Q1 2018-19 has seen a comeback in terms of more clients, renewed business and reversal of exited clients back into magazine advertising. However, there is a clear shift in how the advertising buck is being spent on Print. Plain vanilla pages are no longer the mainstay; ROI-based solutions are," he adds.
"We are targeting the most affluent 1% and what we have seen in India so far is that the pressure on Print revenue has not hit us. Of course, all the growth is being driven by Digital, but Print has been stable and growing in our case," says Gaurav Mishra, Chief Digital Officer, Conde Nast India.
Basant Rathore, Sr VP, Strategy, Brand & Business Development, Jagran Group says, "The Print medium has worked well for several marketers, and we have constantly seen new categories opening up to Print. FMCG and e-Commerce players have relooked at their usage of Print."
But the Print industry has to work hard now, says I Venkat, Director, Eenadu. "Increase the readership, increase the circulation but that alone is not going to give us everything. I suppose we have to do a lot more hard-sell to the advertisers today, which the Print industry has started doing," he observes.
The more seasoned marketers understand the value of Print advertising while the challenge is that the younger generation of marketers need to be educated about it
Sanjeev Bhargava
Brand Director, Times of India