On his second visit to India since taking charge of the company globally,
Mark Read, Chief Executive Officer of WPP, reiterated his confidence in India as the fastest growing market in the network. The importance of India to the company was also evident from the fact that last week, WPP held its annual Global Exco in Mumbai, bringing together its entire global executive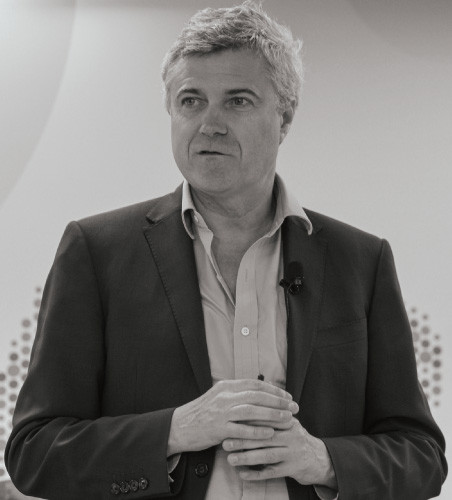 committee members for a week-long visit to engage with key clients, partners and local WPP teams and to experience India's vibrant technology and commerce landscape first hand.
"WPP is as much a technology company as it is a creative marketing company, and that's really critical to our growth in future. India has been a technology leader for the last 20 years," said Read. "We have seen strong growth around the world and our business in India grew 10% in 2019. This has been one of the standout markets for WPP in the past year and I hope and expect to see the same in 2020.

"What makes WPP special is our secret sauce which differentiates us from other professional services. However, every company needs to understand and embrace technology," Read added.
Striking a positive note amidst all the 'slowdown' gloom and doom that the industry is going through at present, and despite a slight dip in WPP's revenues this year, not only did Read declare that WPP has delivered along estimated lines of growth of his 'Radical Evolution Plan', but is well poised to meet its objective by 2021.

Singling out CVL Srinivas, Country Manager, WPP India, for his leadership, Read said, "We are delighted to have Srini lead our business in India. We can see the difference that he is making. India is today, by revenue, our fifth largest market globally."

Read also praised the power of creativity in India, saying, "Our purpose is to use the power of creativity to build better futures for our clients, people and for our communities. Nowhere is it better than in India."

On whether he sees India among the top three markets for WPP in a few years, Read said, "It's too early to say that. What I love about India is the ambition of going from the Top 10, to Top 5 currently and then to the Top 3. It will contribute in ways that aren't measured necessarily just by being in the Top 3 or Top 5.

It's fantastic to have one of the world's most prestigious agency networks, creative networks, capability centres in technology and media production here. They are strategically important to WPP."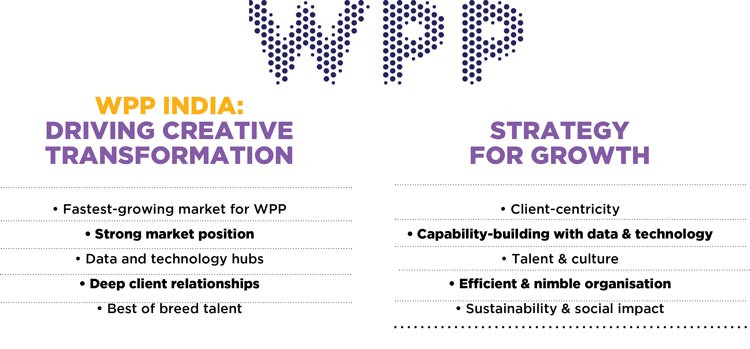 "Our business in India grew 10 per cent in 2019. This has been one of the standout markets for WPP in the past year and I hope and expect to see the same in 2020."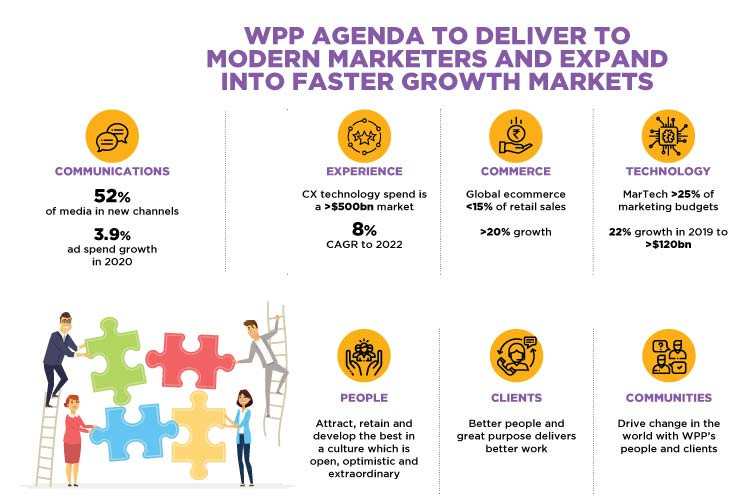 ON IMPACT OF CORONAVIRUS OUTBREAK
Coronavirus is a challenge for the world and for WPP, including our clients and people. We have had some experience in China where it started and we have been working a lot with our clients to help mitigate the impact. We are in phase one today, where people are concerned about traveling around the world, and face travel restrictions.

We are very quickly moving into phase two where it will be about the precautions we can take every day and how we can slow down the spread of the coronavirus within our own communities. We are working with each of our country managers by addressing how do we communicate with our people on what precautions they should take as part of everyday life.

We expect some change in people's behaviour over the next few weeks. It is too early to say how it will impact our business. The simple answer is, we don't know. If it impacts the global economy, then WPP and every other company may be impacted, and we'll have to manage that as we have in the past, in the best way possible.

At this point, statistics say that global growth will be down by half a percentage point to 1% in 2020. We will have to see whether that turns out to be pessimistic, or optimistic.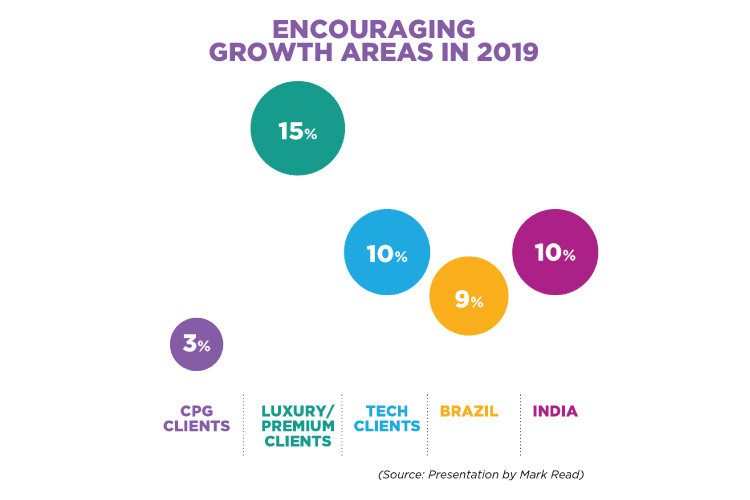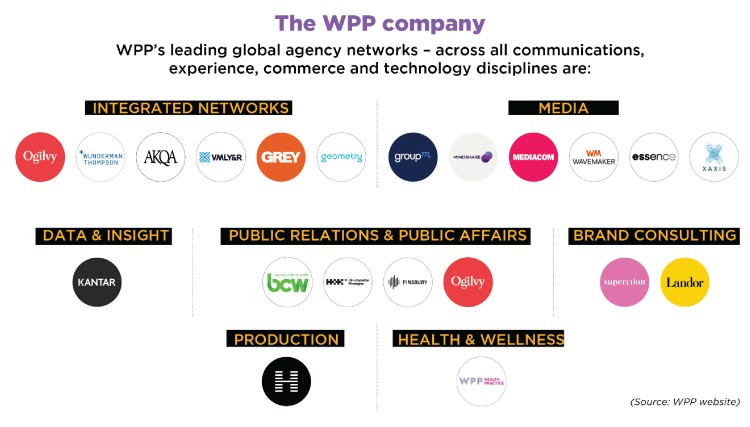 UNDER ONE ROOF
As WPP moves to make the organization more 'client-centric', Read said its structure needs "to be simpler, easier to do business with", and cited BAY99, the newly inaugurated WPP Campus in Mumbai, as an example of how the company will be able to do that.

"Our clients can come here and access all of the skills and talents from WPP, not just metaphorically under one roof, but literally under one roof. The possibilities for collaboration always work. We already have teams to work with HUL and Colgate. So many of our brands operate in this market. The Campus really made our life much easier in terms of running the business.

To date, we have 17 campuses around the world, with more rolling out. The purpose is to enable people to work in a company that has purpose, and is part of the new WPP," Read declared. "I'd like WPP to be the company that clients come to for purpose embedded in the work. If you work with us, you will think much more about purpose than maybe at other places."

Meanwhile, after the WPP Campus in Mumbai, the second one in Gurugram is due to launch at the year-end; both campuses will house innovation hubs, partnering with established technology enterprises and start-ups.

These hubs will drive the adoption of new and emerging technologies and co-create innovative solutions for brands. This will be coupled with capability centres with specialised offerings in martech, content, production, commerce, data and analytics. To build a culture of innovation, the hubs will also host learning and development workshops, hackathons and demo days.

The appointment of WPP veteran Shubha George as Chief Client Officer in India is one more step towards ensuring client-centricity as WPP moves to execute Read's Radical Evolution Plan.
For some of its clients, WPP handles pretty much all the marketing services, through a dedicated, completely integrated team, run by one leader. In other cases, where it doesn't handle all of the marketing services, the WPP hub helps with anything to do with strategy or the overall portfolio while managing individual clients, and the different models that have emerged, working quite differently than it did even a year ago.

Read is upbeat about doing great work for clients even in the face of pressure on WPP stocks at the bourses: "WPP is focused on achieving the financial metrics that we need in the current time, and the stock market has its challenges with the recent uncertainties around, that had an impact on the stock price. But all of us inside WPP are really focused on our clients, and on doing great work for them,"


THE RADICAL EVOLUTION PLAN
In December 2018, WPP set out a new plan to return the business to sustainable growth, repositioning it as a creative transformation company with an offer extending beyond communications. The four pillars of this plan are:

• Creativity: Renewed commitment to creativity, including a plan to invest an incremental £15 million a year for the next three years in creative leadership.

• Data and Technology: WPP has forged strategic partnerships with tech giants such as Adobe, Amazon, Facebook, Google, IBM and Microsoft, etc., while working to harness the best of its own agencies' technology and data to make them available across the business.
It also plans to train 50,000 people in Artificial Intelligence expertise, and to accredit 5,000 data scientists, engineers and creative technologists in the key marketing technologies.

• Simpler Structure: The new organisation is based on three principles: an absolute focus on the needs of clients in everything it does; fewer, stronger WPP companies, each positioned to grow; and more closely integrated operations at the country level to facilitate collaboration and leverage collective strengths

• Culture: WPP is working towards a unified cultural vision across the company, through a clear common purpose, as well as an increasing commitment to collaboration. It has achieved an equal gender balance overall in the workforce, and 50% of senior managers are women (2018: 49%).

Workplaces are changing to WPP campuses to foster collaboration and develop attractive working environments; the goal is to co-locate over half of the WPP workforce in campuses by 2023; as of December 2019, WPP had campuses in 17 cities, including New York, Amsterdam, Madrid and Mumbai. WPP has also pledged to phase out single-use plastics from all its offices by the end of 2020, and to work with clients to tackle plastic waste.

MARK READ ON PROGRESS OF THE PLAN: The year 2019 was a fantastic year in India and from our financial results, you can see that it was perhaps a more challenging year for us globally. We are really focused on a three-year transformation for WPP

We made really excellent progress in the first year and we are on track to deliver what we said over the three-year period. Our clients want partners to understand both the power of creativity and the way the world is changing with technology. WPP provides both and I am confident about the strategy.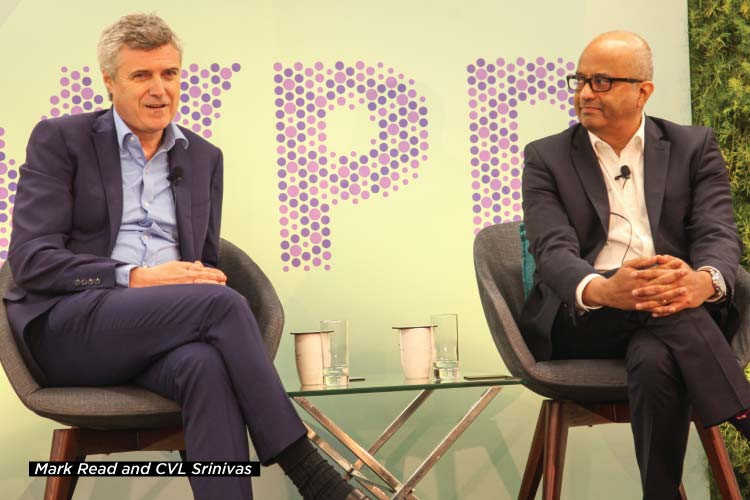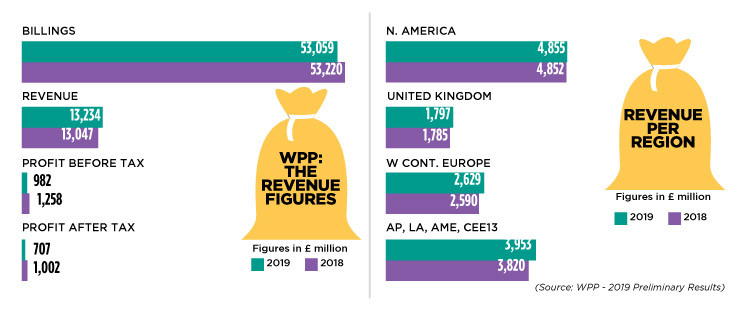 THE WPP CULTURE
Honing talent and culture is another focus area for Read, as he guides WPP companies to adopt a unified cultural vision, through a clear common purpose, as well as an increasing commitment to collaboration. WPP has achieved an equal gender balance overall in the workforce, and 50% of senior managers are women (2018: 49%).

Workplaces are changing to more collaborative spaces and attractive working environments; the goal is to co-locate over half of the WPP workforce in campuses by 2023; as of December 2019, WPP had campuses in 17 cities, including New York, Amsterdam, Madrid and Mumbai.

In India, WPP is looking at having an 8,000-strong employee base by the end of 2020, and cultivating an open, optimistic culture, besides making individual companies within its folds "extraordinary places to work in". The focus is on upskilling, mobility, hiring and retention, along with the need for more unconventional platforms such as WPP Stream.

To lead on the culture front, WPP has just appointed Apoorva Bapna as Chief Culture Officer, and her mandate is to instil a growth culture and to help build a better future for the company's people, clients and communities.
"It's going to be a tough 2020. But we are up for the challenge. We have a really strong foundation at WPP"
CVL Srinivas
Country Manager, India - WPP
GOOD FOR ALL
Corporate Social Responsibility is a big thrust area for WPP, and Read has announced that WPP will phase out single-use plastic across all its offices by the end of 2020. "We are very focused on all the elements of CSR. So, in the work that we do, the way we communicate, in marketing responsibly, in using consumers' data responsibly, in the practices we have within WPP and in terms of promoting women, we have a much more inclusive and diverse culture and have made some progress here in India. This country is very passionate and is very important to me personally, across WPP," Read declared.

An important part of WPP's strategy in India is to drive sustainability and social impact in the market and there are many initiatives in this direction. One is called India 2022 - a consortium of nine companies.

WPP is the only company from the marketing services industry, which is a part of this consortium that drives the sustainability agenda across corporate India in the realm of value, healthcare, sustainable mining and clean energy. WPP helps amplify India 2022 stories through its media and a lot of its agencies work closely on these impact tracks to build a shared narrative.

The WPP CSR Foundation that channelizes the CSR investments of all its operating companies is headed by Rama Iyer. WPP staffers work with schools for the underprivileged sections of society, spread between Mumbai and Delhi, providing not just educational skills, but also vocational skills. Interestingly, WPP has also bought into a lot of the schools and built a digital lab called the Tinkering Lab in one.