Q]

What role do you envisage for your tech/media partner? What prompted you to go out and seek a partner to divest part of the promoters' stake, given that you are fundamentally strong on some of the key aspects of media?
The aspirations of the family and company are to not only be a very successful South Asian diaspora media power, but also go beyond the South Asians, to the global frontier. We do believe that we understand and can create content for the world, if we get partners to help us in the two areas concerning technology and geographical reach. We have captured and conquered the South Asians across the world and dabbled with some of the non-Indian languages in key markets like Middle East, South Africa, etc.
Our objective is to enable people to consider ZEE as a mainstream media company like a Disney or a Fox or NBC. Technology, though a commodity, can be bought, although customizing it to the consumer's need requires a lot of effort. For instance, ZEE5 is our third attempt at the OTT world. Our first two platforms did not do as well as they should have.
Q]

If you look at companies like Apple or Netflix or Amazon… globally, they have tried to disrupt the traditional broadcast model, which has been ZEE's stronghold for the last 25+ years. Given that, what would they see in a company like ZEE to become a partner?
The content capability of our company is not replicable in any way. Today, if you look at any media tech company operating in India, you'll notice that they operate in a very niche market segment. They at best look at 1-2% of this country because their content spread is restricted to 90-10, i.e. 90% international, 10% domestic. Whereas, in India, the consumption pattern of an Indian consumer is their own preferred language content. Our own ZEE5 platform has 55%+ content in regional languages, not just Hindi, within the short span of 6-7 months of its launch. The attractiveness of ZEE is going to be the inherent capability of ZEE to create local content, plus ZEE5 has become the No. 2 OTT platform within six months of launch because of the inherent value of the content that we possess, investments we've made in the film libraries, etc., which are making original content for the platform. That's the benefit we see.
Q]

Now, your ambition is to scale up to be a global media company, and also start serving non-Indian diaspora. So, where does the fit for a global tech media company come in there? Because ZEE does not have enough content or the depth and width of content to excite them.
That's something we can create and we've been putting together teams to build that capability.
Q]

So, for instance, what kind of content would have a global audience?
The Karenjit Kaur series that we made, has no reason to not be a product that can be sold on a global landscape. Some of our other original tentpoles, be it Taj Mahal or some other key properties, are stories relevant to global audiences, and not just to South Asians. A Gandhi story is relevant to all of the world, not just India. They have that inherent capability of creating content for global audiences.
Q]

ZEE share prices closed at Rs 444 last Friday (Nov 16). What is the tentative figure that you have in mind for the divestment?
That transaction will have to be off the market.
Q]

So, is there a price band that the family has decided?
We're not thinking from that perspective. We are looking for the right partner for ourselves first and the value will be the secondary thing, because we are not selling out the business. If I was selling out the business completely, your question would be very pertinent, with regard to the number in our mind, because, that's when we would want to extract the maximum value from selling the whole thing. I am selling only half of my stake, and therefore the balance, according to me, can create a larger piece to create wealth for the family.
Q]

You also said that you would be open to selling more than 50% of your stake, but the kind of agreement arrived at within the family is that currently you are looking at selling only up to 50%.
Up to 50% if the strategic partner desires.
Q]

Where does the family plan to deploy the cash? Are you looking at new business verticals? There were some talks that you might be looking at getting into the BFSI sector or launch some products there?
We are already in the BFSI sector in our SL Finance portfolio, which will be one place for us to use the capital. We want to look at other new age technology areas where we can deploy or have aspirations to expand the business. But, that's something perhaps better explained by Dr Subhash Chandra. I am focusing on choosing the right partner and taking ZEE to the next level over the next five years.
Q]

What kind of partner do you have in mind? When you tie up with this company, are there any things that are not on the table when it comes to the discussion or signing up certain kinds of rights, etc?
First and foremost, the most important thing is the value system, irrespective of whether the partner has the same value system as us, as long as the meaning of what the two hold are the same, which is going to be critical for this partnership. It's a once in a lifetime kind of a partnership that we create and therefore it's critical for both organizations to have a similar value system. Willing to give them equal partnership with the family means they will have equal rights, because eventually we will run this business jointly.
Q]

But, the family currently heads the business ops; what happens to that?
I value the family's contribution and management of the business to help bring it this far. The plans for the South Asian diaspora are already in place for the next 3-5 years. I don't see any reason why those need to be changed, they can at best be shored up, in terms of bringing those investments forward. I don't see why a strategic partner should need to get rid of the family running the current business in its current form. But, if they choose to do that, we have a very good professional management team to run each of these verticals.
Q]

Do you have a structure in mind? Since you are looking at expanding your global ops through this strategic investment, do you look at a structure wherein there is a domestic India op at a certain scale and the global ops are dealt with on a different scale?
Today, we are structured in a way that we have Punit Misra running the Domestic Broadcast business, and Tarun Katiyal running the ZEE5 domestic business. We will also be creating a separate structure for the global audience space, both for the broadcast and the digital piece. The broadcast piece for South Asia in the international market will be the current structure itself, because it's a very lean operation and has not been growing significantly. Therefore, the focus will be all on the digital space for the international part.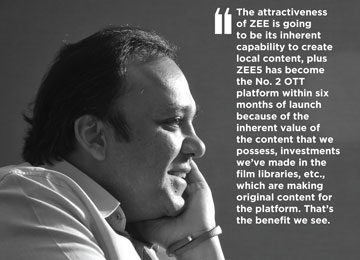 Q]

What has been the internal reaction to this decision? How have people who work closely with you received the news? Is there excitement, is there apprehension?
They have received it with excitement and the only caution is what happens to the family stake in the business. As long as I run it transparently for both share-holders, there is no reason for me to go away. But, if both the share-holders feel that's the optimum thing, I will abide by that.
Q]

But, there is another 60% of the share-holders who are also going to be part of the decision…
And to whom I hopefully have delivered!
Q]

OTT has been kind of a frenemy for the broadcast industry. It has been taking viewership share away for certain categories of channels. At the same time, it's also helped broadcast companies take the next leap. How do you see the OTT space? Do you think that for broadcast companies, 10 years down the line, OTT is going to be bread and butter? That the majority of the broadcast companies of today will be OTT-driven tech media?
They would have to be, if they want to survive in the long term and if they want to remain only broadcasting companies, they will be at the bottom of the pyramid, because that's where broadcasting will come down. Whether that happens in 10 or 15 years is anybody's guess, but the way I look at OTT is that it will become the top and the middle of the pyramid, while the bottom of the pyramid will remain with the broadcaster.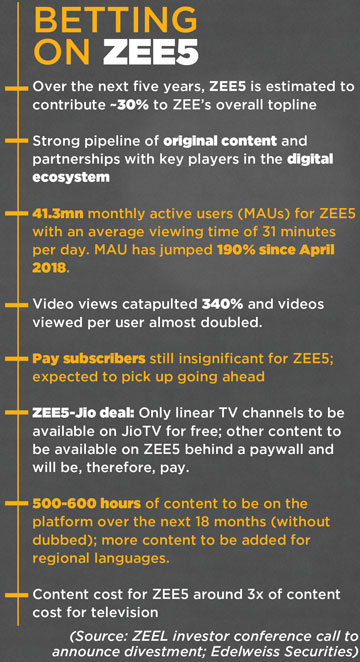 Q]

Recently, you said ad growth in H2 is likely to be slower as compared to H1. How do you see ad growth in H2, especially as elections are imminent?
I am optimistic about ad growth in H2…. though it may not impact the entertainment sector much, the news networks will definitely benefit from the elections… ad growth on an average for the industry should be at least 12% in H2 and we will be ahead of the curve.
Q]

Is there scope for a Hulu type service in India where different broadcasters come together on an OTT platform?
I'm sure some people have been exploring that in private…we will have this industry go through its own timelines of turmoil and burn a million dollars before it comes together and says maybe now it's time for us to consolidate. There is no virtue in the assumption that this country can support 35 OTT players.
Q]

Yes, it's a long tail but the real ecosystem is just made up of 6-7 players…
I am sure it will happen at some point of time… why would people just want to waste money doing the same thing?
Q]

Being a leading broadcaster and now one of the leading OTT players, is that an agenda at some stage?
Yes, I'm sure at some stage I would consult with my peers in the industry and ask if there is a fair model to create that… after all, Hulu was created in the United States, so why should we assume that it cannot get created here? The India market is as competitive as the American market is, if not more…
Q]

But if ZEE5 starts giving you 30% of your total revenues that you are expecting from it in 3-5 years, then there may not be a need for multiple players to come together...
When these alliances form, they are formed to take the business from x level of topline to a similar level of profitability… scale creation is therefore what we are looking at...the real estate space on this is very limited and that's what we are all fighting for… Eventually if it's one real estate that is serving all content owners, that helps the consumers, the content creators, the content owners… and makes it an easier ecosystem to deal with.
Q]

When you sold Ten Sports 18 months back, you made a conscious decision to stay away from sports, and one of the reasons was BCCI cricket being out of the purview. When it comes to OTT, do you think lack of sports makes a material difference?
I don't think so. Netflix and Amazon Prime in the United States don't have sports and they are the most successful OTT platforms in the world. The same logic that applies for TV, applies for OTT too. What is changing in OTT vs TV is that you can cater to a smaller community along with the mass community. Sports is event-driven; it brings in traffic and eyeballs at that event, but it's not sustainable. The numbers fall off the moment the event is over. Plus, there's the cost of acquisition. But it's on the entertainment side that you have repeat customers coming every day, which is far more profitable than just having sports properties.
Q]

Reliance has been aggressive with Jio in the past few years. You also had some issues and now you are back together with them. That's another company that you see as a frenemy. They are already a technology company and they own a little bit of media. Do you see them becoming extremely aggressive over the next 2-3 years, acquiring more media and media content, becoming direct competition for you?
Anybody who is in the B2C business is competition. With ZEE5, my business is transforming from a B2B business to a B2C business, where I now interact with my consumer directly and I monetize that directly through advertising or subscription. So in the ZEE5 scenario, there is no cable operator and no DTH operator. There is a telecom company that is enabling it, but my interface with the consumer is direct. So from that perspective, Jio's content, Airtel's content, Vodafone's content, Hotstar's content – all of these are competition. Jio is a telco but that is not competition. But Jio through its content products like Voot, Viacom, AltBalaji and Eros – these are all competition.
Q]

Through OTT platforms, you are able to do more targeted servicing of content. What is your opinion on the paper that the Government has circulated on OTT content regulation?
If you read it, it is largely to do with OTT services that are in direct competition with telecom service providers. So the voice and messaging OTT is being regulated. It is not covering the video part of OTT. That they are still leaving open.
Q]

Do you think the Government will interfere there too?
I don't know how you can exercise control in today's environment in India where the Internet has become open. I mean, can they control Google or block porn sites? Even if they've shut down 300 sites that doesn't mean that porn is not available on the Internet, right? If they had started those kind of controls 20 years ago, they would have achieved it today. But if they do it today, it will take them another 20 years to achieve that. We don't want to create another China, which is a closed world in itself. It is not in the consumer's best interests.
Q]

You have been at the helm of ZEE since 2008… What are the biggest challenges that you have faced in transforming this company?
In 2008, I took over as CEO, and in 2012 I was made MD. This is a human capital business and if you do not take care of your people, this business is not doable. My view has always been consumer first, followed by your own people. These are two things, which if you take care of, the business will flourish. To take this company to where it is, I don't think it would have been possible to do it single-handedly. My role has been to hire the right people to do this for me. I have managed to get the right people and to retain them by empowering them and incentivizing them. Today, I am pretty confident that all 3,500 of my people are proud to be part of the ZEE family.
Q]

And where do you see Punit Goenka three years after the divestment is done?
I am tired of people telling me that companies with deep pockets have come to our country to compete with you. I want to go compete with these people wherever they are now in whatever small manner I can. I am not saying I want to become Netflix, but I am saying I want to compete with them. I have earned the right to do that. I want people to say that this is the first media company from an emerging market that has come and given us some competition. I want to make that mark.