Challenging could be one word to describe the year gone by for the Times Network. While the entire media industry was recovering from the effects of demonetization and the implementation of the General Sales Tax (GST), Times Network also saw other challenges - competition in the form of the newly launched Republic TV and moving its operations to New Delhi from Mumbai, in a bid to end duplications. The year 2017 had ended with its office premises being locked down due to a fire and the hunt for a new office space. Despite these challenges, MK Anand, CEO and MD, Times Network says that in terms of performance, last year was a landmark year for the network. Though in terms of actual growth, Anand calls the last year a flat year, he is confident that the network will clock over 20% growth going ahead, with big bets on Digital, Branded Content and the English Cluster.
ENGLISH NEWS: THE BATTLE IS ON
Talking of the English News genre, Anand acknowledges that Republic TV has impacted the genre overall, but downplays the impact it has had on Times Now. According to him, the launch of Times Now HD helped mitigate any revenue loss for the channel, and post Arnab Goswami's exit, the gameplan was not just to look at the 9 pm prime-time slot, but also to strengthen the 8 pm slot with Rahul Shivshankar, Editor-in-Chief, and then lead the way to a known face on the channel, Navika Kumar, Managing Editor, Politics, Times Now at 9 pm.
Says Kumar, "A new entrant in the market should never be underestimated. We worked and planned for the entry of the new player and also did not underestimate other competitors in the field. We worked hard and intelligently to a plan. And the plan was just one-quality content that sets the agenda. When Arnab left with a few in tow, the challenge for the remaining 300 team members was to make sure the ship sailed as smoothly as before with the same confidence and sense of purpose."
A DARK HORSE WINS
English News is very niche in India, and accounts for only 1% share of news viewership at an All India level, according to a BARC report, Breaking the News Story (News genre contributes 8% to total TV viewership). So, when there was news that Times was launching one more general news channel, Mirror Now, it was met with a certain level of scepticism. However, critics were quickly proved wrong as a differentiated positioning, segmentation and "a great execution of a fantastic concept", as Anand terms it, saw Mirror Now emerge with its anchor Faye D'Souza, in particular, garnering attention and appreciation. The channel has steadily made its way up the ratings ladder, and is now among the top five channels, while the topline monthly run rate is still a small number, but growing.
The success of the channel has Anand confident that there is still room for differentiated offerings in the English News space. He says, "Mirror Now's positioning has helped the channel make a strong impact in just one year. I can look at at least two or three more positions where we could launch English news channels. I am not saying we are launching more channels but it is possible to have a different cut and a channel for a particular interest group and make a success of it." What worked for the channel is sticking to its brief of putting the citizen first and making a concerted effort to stay away from the Fox presentation style that has become the norm in TV news in India, says Faye D'Souza, Executive Editor, Mirror Now: "We make it a point to keep the noise to a bare minimum on Mirror Now. Also, we have no legacy journalists on the channel at all - only fresh young faces with zero baggage. At 9 pm, we offer the Indian citizen the news without fuss."
The attempt to differentiate was also seen at ET Now, which modified its programming to go beyond market and finance. With the positioning of 'Rise with India' as an editorial filter, the attempt at ET Now is to put the spotlight on development issues and developmental economics. So, while markets remain sacrosanct during stock market hours, post 4 pm, the content also focuses on general news. However, competing with general news channels has its own set of challenges. Admits Supriya Shrinate, Executive Editor, ET Now, "Initially, it was tough because viewers associate business news channels with stock markets from 9 am to 4 pm and business news beyond that. We broke that and the fact that competition is trying to emulate what we are doing is validation. We redefined prime-time and got intelligence back into debates."
Anand says that in an otherwise bad ad sales year, "ET Now has been phenomenal in terms of revenue". The channel has done particularly well in terms of revenue from Branded Content.
A STRATEGIC TIE-UP
Moving on to entertainment at Times Network, Zoom announced a synergistic brand partnership with the leading online fashion e-tailer, Myntra. In its new avatar, 'Zoom styled by Myntra', the network is betting on its huge followers on various social media platforms and the brand is being sold as a media neutral piece. The focus is on creating IPs and experiences with events built on music and entertainment, fashion, concerts and lifestyle. The aim is to build 30% of revenues from Branded Content. For Zoom, the company is looking at a 40% growth and moving towards a 25% increase in yield.
THE DIGITAL PLAY
Though Times Now had a digital presence earlier, it was only when Digital natives Shouneel Charles, Senior Vice President – Digital and Akrita Reyar, Chief Editor, Digital came on board last year that Digital got a big push for the network. "We have seen great success in Digital. We got the team in place only in the last quarter of FY16 and within a short span, by September we were ready with an improved platform," says Anand.
Besides English, the new revamped single digital entity of Times Network, www.timesnownews.com, is also available in Hindi and Marathi and the plan is to expand it to other regional languages. Anand candidly admits that a strategic error earlier was that the Digital mandate was given to people whose core expertise was Broadcast. With Digital natives now driving the show, the benchmarks are also clear. "It has been a hockey stick growth for Digital. Our FY19 targets and Q1 performance are through the roof. The change in management in 2016 on the editorial side helped a lot of these corrections. Product-wise, this has been our best year," Anand states.
Looking ahead, on the Digital front, it will be interesting to see the traction that the Television arm of the media behemoth Times Group (BCCL) gets once the much-awaited OTT video service from Times Internet is launched. For the moment, digitally Times Network has a presence on the Jio platform and is in the process of tying up with other OTT and distribution platforms.
THE GROWTH DRIVER
With growth on the News genre being flat, the big driver for the network has been the English Cluster - comprising three SD channels, Movies Now, MNX and Romedy Now, and four HD channels, Movies Now HD, Romedy Now HD, MNX HD and MN+. Currently, two channels, Movies Now and the latest launch MNX – the revamped Movies Now 2 – are regularly among the Top 5 English movie channels. However, the most important driver for growth of the English business has been distribution. In India, distribution has been a challenge for all networks, particularly the smaller ones, but Times Network has been able to up its distribution revenue from 7% four years ago to 16% of the overall revenue today. This growth has been attributed to the growth in the numbers of movie channels - from two to seven (including HD channels) in four years. Says Anand, "Overall our entire distribution growth has been driven by the English Cluster and this year we will be profitable in distribution. This is the growth that we were after when we expanded in the movies space. With efficient utilization of the movies in our library, we launched multiple channels at low marginal cost and that has paid off." Currently, the network has long-term deals with NBCU, Disney, WB, Miramax and MGM. While the genre as a whole witnessed a drop in Adex last year, the movie channel launches helped Times Network up its share of the pie. Prior to demonetization, till 2016, the movie category growth was 16-18%. Times Network on the whole grew by 22% as the movie cluster grew by 40-50% on account of strong product performance and new launches. Looking ahead, this year, it is estimated that the movie growth will be higher than 20% with MNX being the main growth driver.
Currently, the recent launches have been bundled with the older existing channels and are not operating on a carriage-fee model. Explains Anand, "The new channels, MNX and Mirror Now have come in the existing cost. We have not taken a drop absolute, but in reality it has dropped because we have more channels placed at the same cost." With new markets being covered, the carriage fee has also seen an increase along with promotional arrangements on EPG marketing, for example, on landing pages, which increased the outlay.
Industry sources indicate that the overall revenue for Times Network for the last fiscal was Rs 550-Rs 650 crore, and if one were to do a simple backhand calculation, Anand's expectation of 20% growth would mean Times Network clocking up to Rs 800 crore this year. That would take the company close to the avowed target of over Rs 1,000 crore, and contribute to at least 15-16% of BCCL's revenues.
WHY WOMEN RULE PRIME-TIME @TIMES NETWORK
Switch channels across the English news genre at 9 pm and what you notice is that all news channels of the Times Network have women leading prime-time. Even though Indian news channels have seen many women anchors helming prime-time over the years since the days of Doordarshan, of late it has primarily been the male anchors garnering all the attention. According to MK Anand, while replacing a lead face who had been strongly attached with the channel and the brand itself until about a year ago, a conscious decision was taken by the network to have women leading the charge to break the clutter.
Says Navika Kumar, Managing Editor-Politics, Times Now who hosts The News Hour @ 9pm & Frankly Speaking, "With a very hectic political season ahead in the run-up to the 2019 elections, we will continue to keep Times Now as the election news headquarters of the nation. My focus in the coming months would be the same as in the past - keeping Times Now ahead as being the No. 1 news brand in the business."
Kumar faces competition not just from other news channels but also from the sister channel Mirror Now as Faye D'Souza, Executive Editor, Mirror Now, who anchors The Urban Debate has similar goals. She says, "I see Mirror Now as Number 1 in this market. This is a channel that has introduced a new way of presenting news in the country. We are the youngest channel, in age and personality. The way we have been accepted and received on Television, social media, and Internet, makes me believe that we will only grow. We did not have a big bang launch, we didn't have huge resources and we didn't spend crores of rupees on hoardings. We actually came in and went band by band, strength by strength and kept adding to our strength. We are going now into our next phase, where we are increasing and improving our programming, all with the sole focus of becoming Number 1."
Tanvi Shukla, News Editor, Mirror Now, who anchors The Last Word, says, "Hosting a show is a daily challenge ensuring that you pick up a story that connects with people and also ensuring that you don't miss the story that gels with your channel and brings about a change. The Mirror Now brand is about people issues. We don't necessarily pick up the biggest political story of the day, but a story that impacts most people and interests them."
Meanwhile, ET Now has Supriya Shrinate, Executive Editor, driving prime-time as co-host on India Development Debate with Sandeep Gurumurthi. Talking about the biggest differentiator for ET Now, Shrinate says, "The biggest differentiator is that we do agenda-setting journalism that picks up issues and we tilt it on the lines of development. Some of the biggest influencers vouch by our programming. Our newsroom is extremely independent and unbiased. I don't think a viewer cares about manufactured outrage.
It may get you the numbers, but it is not a sustainable proposition. The response to our programming has been very good." With the monetary stakes being huge in the business news space, Ayesha Faridi, Senior News EditorMarkets at ET Now who anchors The Market, Closing Trades says, "We inform people on where they should put their hard-earned money, and we have to advise them right. We also try to simplify news so that we reach a target audience that is wider than the male 25 -45 years target audience. We have programming that specifically targets audiences other than our regular male business corporate honcho kind of programming."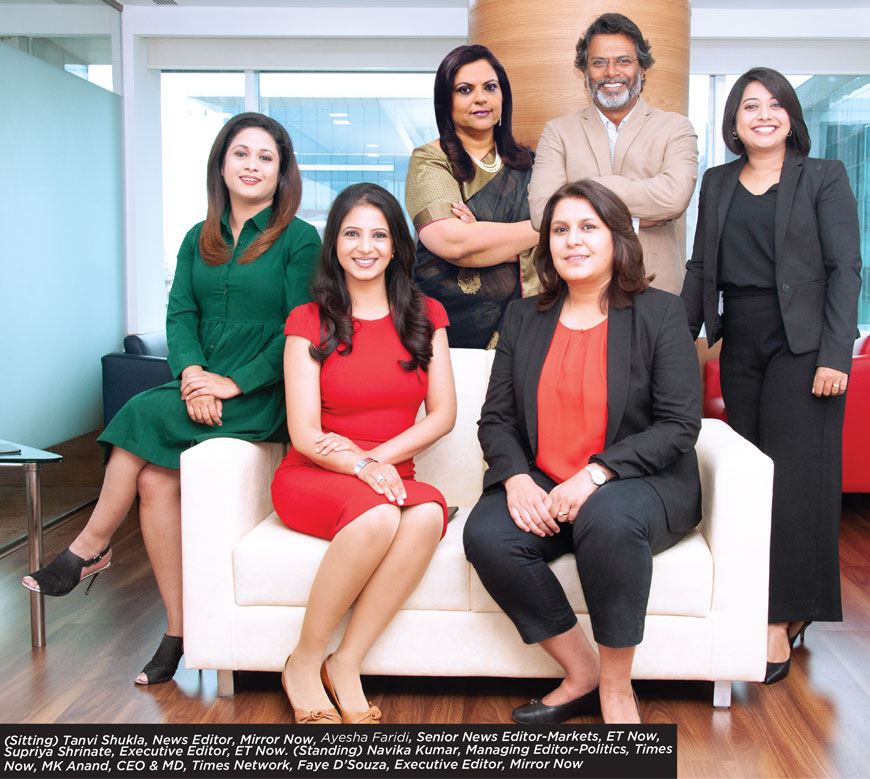 WHERE ARE THE WOMEN VIEWERS?
Times Network asks why the English News genre is measured only in terms of the All India Male 22+ NCCS AB audience

If one were to look at BARC ratings for the English News television genre, the sample cut used for English news for public reporting is All India Male 22+ NCCS AB. One must keep in mind that this cut had been collectively decided by the concerned stakeholders. This is also because earlier reports revealed that the gender ratio indicates that the news genre is skewed towards male audiences, as opposed to total TV, where the split is seen to be equal.
A recent BARC report, 'The Changing Face of TV in India', released at FICCI Frames 2018, throws up some interesting findings. As per the report, women make a significant contribution to news genre viewership, with female viewership pegged at 44%. This raises the question as to why the female viewership of news is not reported in the public data for the genre. Saying that Times Network has made it an agenda to attempt to change this, MK Anand explains,"With consumption patterns changing, there is only one genre in the TV landscape that looks at only male TG definition when it comes to measurement. The assumption was that women were not watching news. I can understand this sample cut if women accounted for even 20-25% of the total news viewership. However, the reality is that over 40% of the viewership comes from women and this is a significant number."
Anand reiterates, "We are not looking at this as a revenue-seeking opportunity. I am only saying that whether it is Print or Television, you look at audience by quality, then why is it that you have a gender bias in only one genre that excludes women while measuring viewership?"
However, the other news networks and even media planners and advertisers do not seem to share Anand's excitement. Media planners and advertisers we spoke to mostly say that as ratings are a currency that determine ad spends, their objectives for targeting women viewers are better met advertising on GECs because of their reach and higher time-spent. According to Navin Khemka, CEO designate, MediaCom South Asia, "India is predominantly a single TV household, so the news viewership by women could be passive. While they are interested in following some amount of news, if you ask me where their passion is, it is definitely not news. Also, we can reach them more effectively on other genres. So viewership numbers will not necessarily result in advertising in categories predominantly targeted at these audiences."
WHERE ARE THE WOMEN VIEWERS?
However, one planner who gives the male+female TG for English news a headsup is Saumya Agarwal, AVP, Vizeum. He says, "Having women counted into news genre is more of a pending job and I am glad that Times Network has taken the initiative. Women are increasingly getting interested in daily happenings due to their economic progress, independent lifestyle and growing career consciousness. News as a genre is no longer a domain dominated by men."
Rajiv Dubey, Head of Media of Dabur India, adds, "Women do switch on the news and watch it, but when it comes to targeting for advertising, one doesn't look at news channels for women because women are anyway high consumers of GECs. If I were to target a woman, for example, in my core TG, I would look at something which is available to me at a cheaper cost and GECs, movie channels, music channels are available to you at one-tenth of the cost, or may be less, as compared to English news or Hindi news. Although it might be offering some numbers, but those numbers are coming at a very high cost."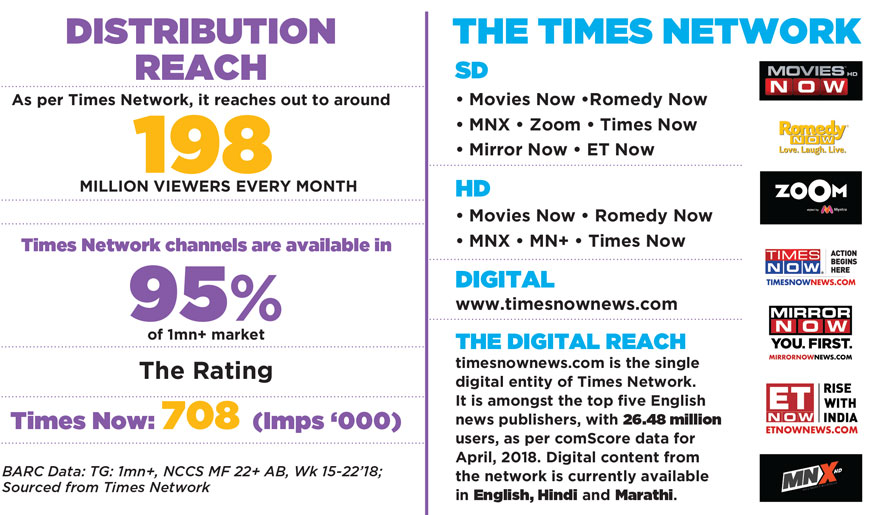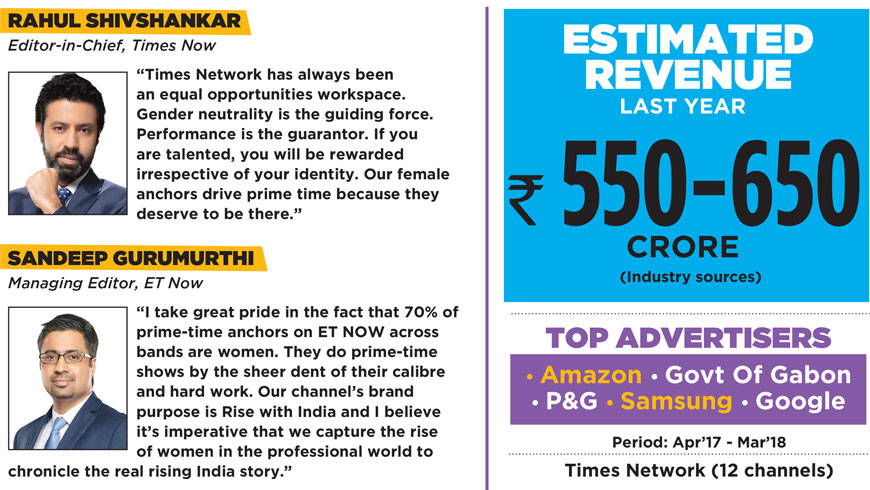 In a statement, a BARC spokesperson said, "As a Joint Industry Committee (JIC), we are guided by stakeholder consensus. We had sought views of our English News subscribers on the cut for which we publicly report the genre. The majority have indicated they do not want a change in the current cut. Also, this is only for what we report in the public domain. Our subscribers have the full database with all cuts." While Anand does not counter the views of the advertisers and media planners, Times Network on its part has already started releasing ratings data that includes both the male and female viewership cuts on its channels.
'In 2 years, I see Times Now and Movies Now contributing to 30% of our revenues'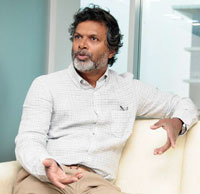 A sense of urgency is in the air at the new corporate offices of Times Network at Equinox Business Park near Bandra Kurla Complex, perhaps to catch up on lost time since they vacated their over decade-old office at Kamala Mills after a devastating fire. MK Anand, CEO and MD, Times Network is proud that when it came to managing that crisis, every employee put up his/her hand, because of which the network's work did not suffer at all. In a candid chat, Anand talks of upping the growth rate after a rather flat year, the launch of Republic TV, the recent TRAI tariff order and more…
Q] What were the positive take-aways from last year?
On the News side, we started last year in a state of preparedness as we were looking at competition for the first time in the genre. The way Times Now has been able to keep its Number 1 position is a testimony to all that preparation and the strength of the brand, not to forget the effort Rahul (Shivshankar) and team put in. Then, there is the launch of Mirror Now and fantastic success. It's a product that is showing the way forward to the genre in more ways than one - Content, Purpose, Infrastructure, Cost, all areas. ETNow's new purpose 'Rise with India' resonated very strongly with our constituents, both on air and on ground. Our Digital platform took off spectacularly. In just one year, we have now become one of the top 5 news platforms. We have also come out of FY18, with a lot of positive vibes, a new office, consolidated News ops, optimized costs. All in all, I think FY18 was our best year till date.
Q] What has been the impact of Republic TV on Times Now?
The overall reach of English News has substantially increased due to the vigorous competition. Besides that, there has been no other significant impact to the genre. We didn't find any content innovation. It was total duplication of existing format. I had expected more. In fact, English News content has been impacted by Mirror Now and not the other new channel. From the business point of view, overall the industry has dipped due to the general drop in TV adex in the last 18 months post demonetization. The new entrant was quite active from a revenue stand-point, there were more people drinking from the same pond, so the monies for other players has come down. Times Now, however, did not suffer. Prime-time sponsorships are annual deals and we have not lost a single sponsor, nor did we drop our ad rates. Currently, we are at our pre-demonetization run rate.
Q] How did Times Network's growth pan out in the year gone by? What are the targets you are looking to achieve for the year ahead?
Last year, revenue was flat and in low single-digits. Our five-year plan since FY15, was to grow at an average CAGR of 20%. In the first 2 years we grew at an average of 20%-22%. In the last 2 years, due to macro-economic reasons, Adex has been sluggish. We were able to grow because we continued to launch channels – MNX+, Mirror Now, Times Now HD - . On the distribution side we grew at our usual 15%-16%. This year we are setting a 20% + growth rate target again.
Q] You have been very vocal about other news channels adopting dual and multiple frequency feeds...
Dual and multiple frequency are illegal. We don't subscribe to that. We have actively campaigned against it; whenever we have found evidence of it, we have reported it. In fact, if you remember the original reason that we decided to keep out of the BARC measurement of Times Now - in the initial week of Republic's launch - was because of multiple frequency. Multiple frequency is still there. There are two networks who continue to do it. Meanwhile, we are optimizing and spending a lot on EPG (Electronic Programming Guide) marketing. I expect this to continue. I believe that true business can be built only when you have the real consumer fully with you, and that is why in the last four years we have upped our distribution game.
Q] What is your take on the recent Madras High Court judgment on TRAI tariff order?
Personally, I am against any price regulation. Why should someone tell at what price should we be pricing a channel? The tariff order by nature is a price control, and price control is anti- business. However, with reference to this particular order, I don't think it's going to make such a big difference. I think in any case our tariff structure requires a change as we are stuck at the same price-point for over 15 years.
Q] What do you see to be the future growth areas for Times Network?
Digital is extremely important. In addition, News and the revamped Zoom styled by Myntra will be an important piece. This year we would be looking at the consolidation of revenue positions of MNX and Mirror Now. Currently Times Now and Movies Now are our lead horses; looking ahead we see both of these channels contributing about 30% of the revenue in about two years. Then, our network will have double engines with these four channels leading the revenue share and the rest of the channels pitching in.