The media industry in India has witnessed a flurry of action in the past few months, especially with the consolidation of two media majors Zee and Sony. And now at a time when media rights renewal of cricketing properties like IPL, BCCI and ICC are in the pipeline, the former Star and Disney India Chairman, Uday Shankar along with former CEO of 21st Century Fox-James Murdoch are believed to have plans to infuse Rs 12,000 crore into Viacom18. They are likely to hold a 40% stake in India's fourth largest TV network in terms of revenue. Viacom18 is a joint venture between Reliance Industries and ViacomCBS with 51:49 stake ratio. The speculations on investment of Rs 12,000 crore by Uday Shankar and James Murdoch will take the valuation of Viacom18 to Rs 30,000 crore. Once this development sees the light of the day, media insiders say the stakes of ViacomCBS may be diluted to 10 per cent.
Uday Shankar's return to the media industry will change the dynamics in many ways. The cricket rights in India and globally is estimated to be worth around $7 billion. Sale of these rights have traditional bidders like Sony-Zee and Disney-Star who are keeping a close watch on the developments. Meanwhile, the e-retail giant, Amazon as an OTT platform has shown a keen interest in the sports rights market. In November 2020, Amazon Prime also became the first streaming service in India to bag the exclusive match-streaming rights from a major cricketing board- and has been streaming cricket played in New Zealand live.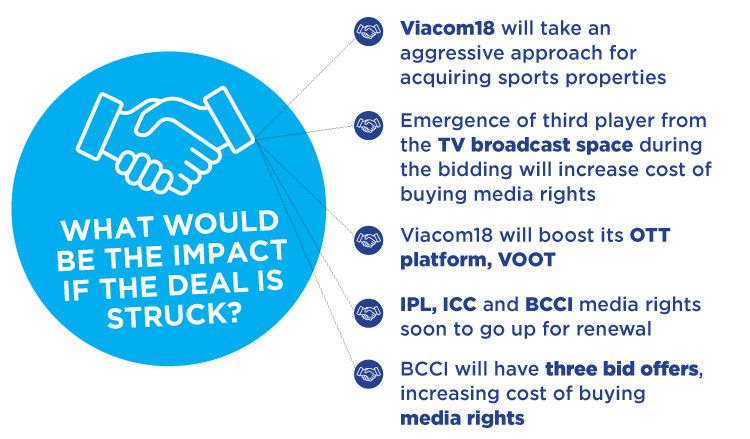 Looking at the growth of cricketing properties, speculations on new players entering the bidding fray is highly inevitable. American telecom conglomerate Comcast, Temasek Singapore- a state holding company which manages portfolios worth US $400 billion and Blackstone- a New York-based alternative investment management company have been incessantly trying to make a dash here in the Indian markets.
Recently in an interview with IMPACT Magazine, K Madhavan, Country Manager and President of The Walt Disney Company India and Star India conveyed that they are all set to bid aggressively on media rights of the IPL, ICC and BCCI which are coming up for renewal.



"We remain bullish about the upcoming media rights. And we will bid till it makes business sense," said K Madhavan. When asked if IPL has further scope to grow, he added, "Sports consumption in India is still low compared to international markets. With the right strategy, there is definite scope to further grow the property."
On the other hand, Punit Goenka, ZEEL MD and CEO after announcing the merger with Sony Pictures Networks India (SPNI) had said, "We will be aggressive in sports acquisition independently as well as jointly as and when the companies come together but keeping prudence in mind that eventually we have to deliver shareholders' value." The company re-entered the sports broadcasting business by acquiring UAE T20 League rights for 10 years for an estimated $150 million.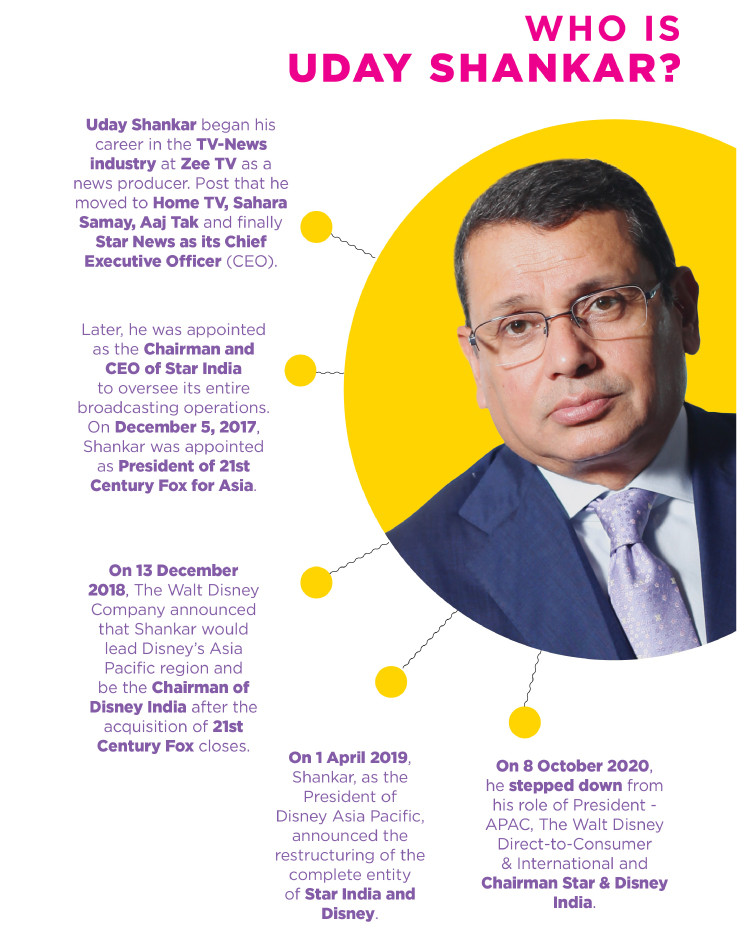 Media commentators say the deal will be a win-win situation for Viacom18 as Shankar and Murdoch will not only infuse funds but will also bring in their expertise, after all, they both have been major players in the cricket and sports category.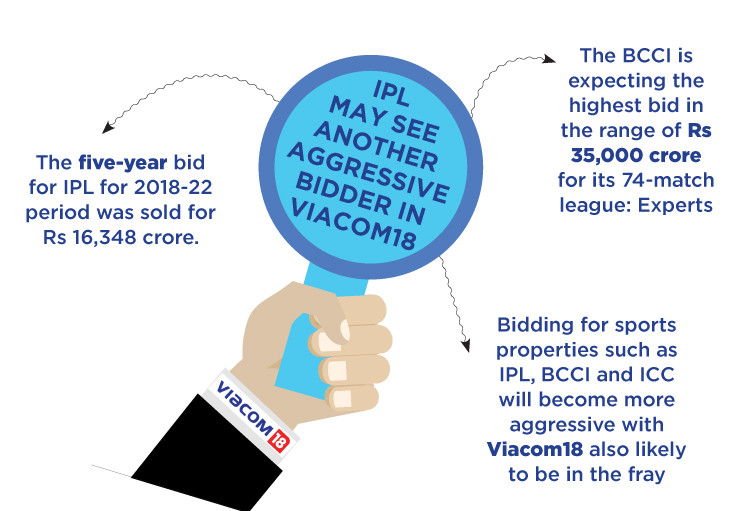 Dr. Sandeep Goyal, Owner- Promoter of the Mogae Group and MD at Rediffusion says, "The entry of Shankar and Murdoch at Viacom18 means that the race of acquiring prime sports properties will expand from a two-horse race to a three-horse race. Uday has been a prime player in marketing of sports since the past decade. He understands the space extremely well and has wide experience in the business of sports broadcasting. I believe that he entering this space will fundamentally change the bidding game for IPL and other sports media rights in the days to come."
Goyal further says, "Uday will play a pivotal role in this new equation when it takes shape. Uday Shankar's experience makes him a critical player in this investment move. Viacom18 will be among the top contenders for media rights of sports properties. Bidding for sports properties such as IPL, BCCI and ICC will become more aggressive."
Viacom18 recently ventured into sports broadcasting with the appointment of former Star Sports Ad Sales Head Anil Jayaraj as the CEO of the division. These developments at Viacom18 have made industry insiders place their bets on the network's plans to launch Sports18 and Sports18 HD in a few weeks from now. The network has already acquired rights to properties like FIFA World Cup, La Liga, Serie A, Ligue1, NBA, and Abu Dhabi T10 series.
Will Uday Shankar lead Viacom18?
The talk of a deal comes close on the heels of a merger between Sony Pictures Networks India (SPNI) and Zee Entertainment Enterprises Limited (ZEEL). The Sony-Zee deal has created a media behemoth with a strong presence across TV, digital and film segments. Punit Goenka continued to be the MD and CEO despite Sony having a majority stake.
Shankar and Murdoch together run a private investment company- Lupa Systems. Lupa Systems is helmed by former Star Sports CEO Nitin Kukreja. Experts believe Lupa Systems will play a crucial role during the transition. When IMPACT contacted Kukreja to confirm the role of Lupa Systems' involvement in the deal, he refused to comment on the developments.


When asked if Shankar would be seen driving Viacom18 like he did during his stint at Star India, Karan Taurani, Senior Vice President, Elara Capital says, "Uday has been one of the minds behind the creation of Hotstar and Star's other sports channels. Secondly, cash infusion will help them bid for IPL and other sporting properties. Viacom18 has always been lagging in the sports category. Going ahead, sports will help boost Viacom18's Voot as an OTT platform. This being a strategic movie, Uday will be looked up as the main person to run the company. With the given expertise, Uday will play a key role in shaping Viacom18."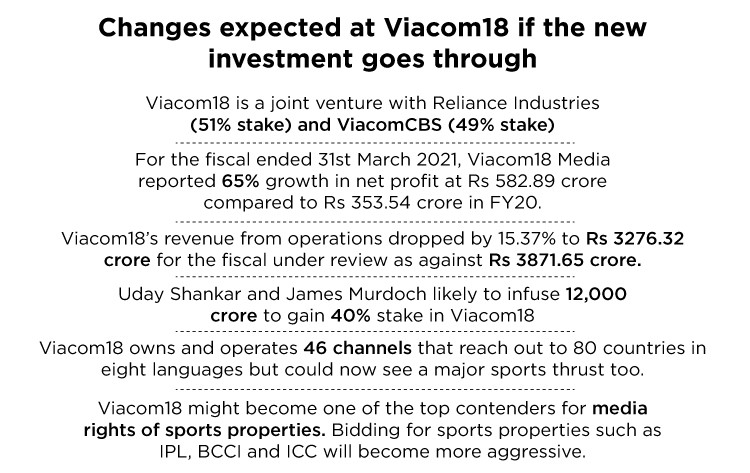 With Uday Shankar and James Murdoch likely to acquire 40% stake in Viacom18, industry insiders have a strong opinion that Uday Shankar will be at forefront to lead Viacom18. A senior media analyst said it would be interesting to watch out for Uday Shankar's role in Viacom18. He says, "If the deal goes through, an interesting aspect would be Uday Shankar's capability to expand Viacom18 into a larger space. He has already proven his expertise at Star India and we won't be shocked if a similar arrangement is made between Shankar and Viacom like the one done in the Zee-Sony deal."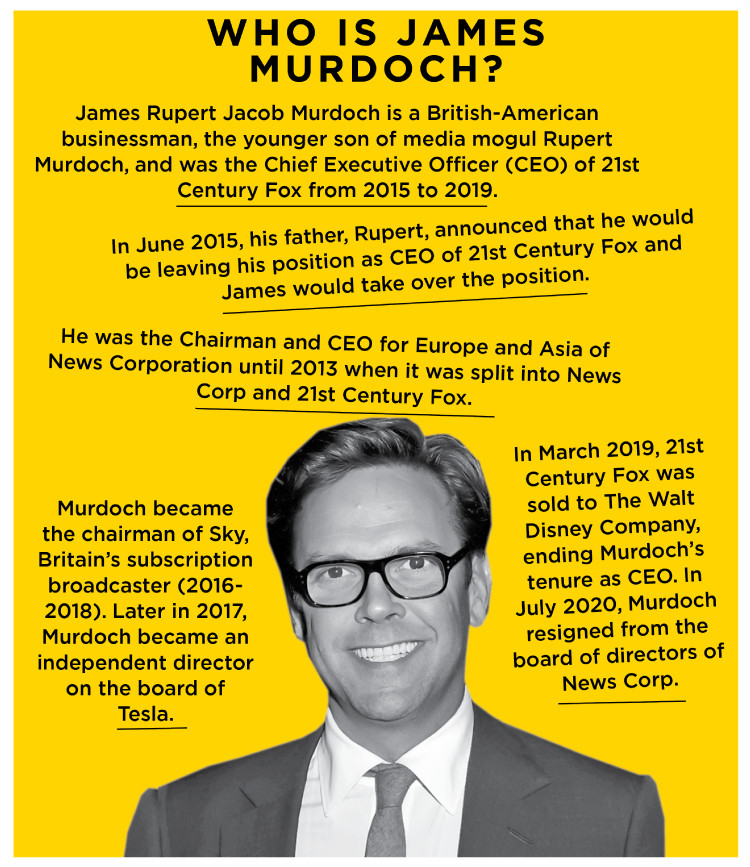 Another media veteran pointed out that the development highlights that ViacomCBS doesn't see India as a key market. "ViacomCBS would have felt that it was not worth investing billions of dollars on cricket rights. If IPL requires a Rs 40,000 crore bid then that is a huge commitment, which ViacomCBS wouldn't have been comfortable with. Internationally, ViacomCBS has its own priorities as they are working closely with Comcast to build a global streaming business."
IMPACT contacted Viacom18 to confirm the developments to which Viacom18 spokesperson said, "As a policy, we do not comment on media speculation and rumours. Our company evaluates various opportunities on an ongoing basis."
How will the media ecosystem change?
Sony and Star India were the top contenders for bidding for media rights of cricketing properties. This strategic partnership with Uday Shankar and James Murdoch, if it fructifies, will place Viacom18 amongst the list of top contenders for IPL, ICC and BCCI media rights. The media rights of Indian Premier League (IPL), the International Cricket Council (ICC), and possibly BCCI will be coming up for renewal this year. All three of these cricketing properties are currently held by Star India (now owned by Disney). In 2012, Shankar with the support from Murdoch as the 21st Century Fox CEO had turned Star Sports into a mega platform for sports business.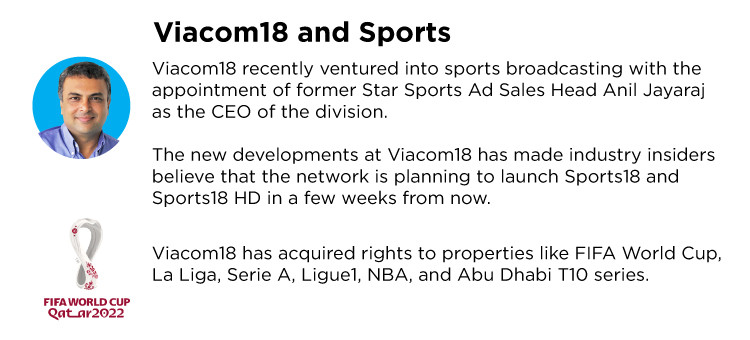 "Viacom18 will be a big contender for IPL and other cricket rights. The entry of Uday Shankar and James Murdoch will give a major boost to Viacom18. Uday's experience will be invaluable to the organziation. Currently, Viacom18 is at the third spot after Star and Zee-Sony, but it will look to grow its presence in the market," said Kunal Dasgupta, Founder and CEO, Triplecom Media iTap. "ViacomCBS might not be keen on India as they have their own set of problems in the US," he added.


Vikram Sakhuja, Group CEO Media & OOH, Madison Media says, "It is a very exciting move. They both are fantastic media professionals. They will give more power to the Viacom Group. This will strengthen their sports credentials. Uday has always done new things and at this point of time if the deal goes through, it will place Viacom18 as a strong contender among the list of Zee- Sony and Disney-Star. With IPL, ICC and BCCI rights renewal coming up, the cricket arena will warm up. With three players in the race, the distribution of rights will take place among these networks."
Viacom18 has a huge presence across the Hindi General Entertainment Category (GEC) and niche segments such as youth, kids and English GEC. In the Hindi GEC space, it operates channels such as Colors, Colors HD, Colors Rishtey, and Rishtey Cineplex, while it is present in the English GEC segment through Comedy Central, Vh1, and Colors Infinity. In the youth genre it has channels like MTV and MTV Beats.
In the children's genre the portfolio is represented by channels such as Sonic, Nickelodeon, and Nick Jr. In the regional category, it operates entertainment channels in Marathi, Bengali, Gujarati, Odia, Kannada, and the Tamil markets.
Undoubtedly the entry of Uday Shankar into the game will ensure that Viacom has a steady wicket in sports as well, and make the media dynamics more interesting. The speculation will be high, with many wondering what would be the big strategy of James Murdoch and Shankar if they are planning to return to the very space where they were undisputed market leaders just a few years before they decided to bow out.