Exactly seven years ago, when Sudhanshu Vats took charge as the Group CEO of Viacom18, the company was going through a low phase, having earlier stunned the industry with a rare kind of success, its channels topping the charts in multiple genres. Then, the competition had closed in and made the going tougher for Viacom18 channels. The task before Vats was to regain lost momentum and structure the future growth path for the network. Cut to 2019, and it's a much more streamlined and profitable company that we are talking of, with Vats' clarity of thought and strategy having guided it out of the rough patch. Today, though there are some pain points like the flagship Colors slipping considerably in the race to hold the top slot in the Hindi GEC space, Vats is busy setting the agenda for the next phase of growth, and betting big on the appeal of local language story-telling and platform-agnostic regional content to grow the network. "For us, regional is top priority, because we want to reach out to every Indian. If I were to describe our mission at Viacom18 in one sentence, it is to connect every story to its audience and every audience to its story. That is the purpose of our existence," declares Vats, Group CEO and MD of Viacom18.
Vats aims to build a company of "excellent story-tellers, whether they are creating stories or curating them", conscious of the fact that the vast majority of India consumes stories in their mother tongue. "About 59% of Indians communicate in what we call 'regional languages'. And that's why this is an area we are driving very aggressively in our television, digital and film businesses," he says.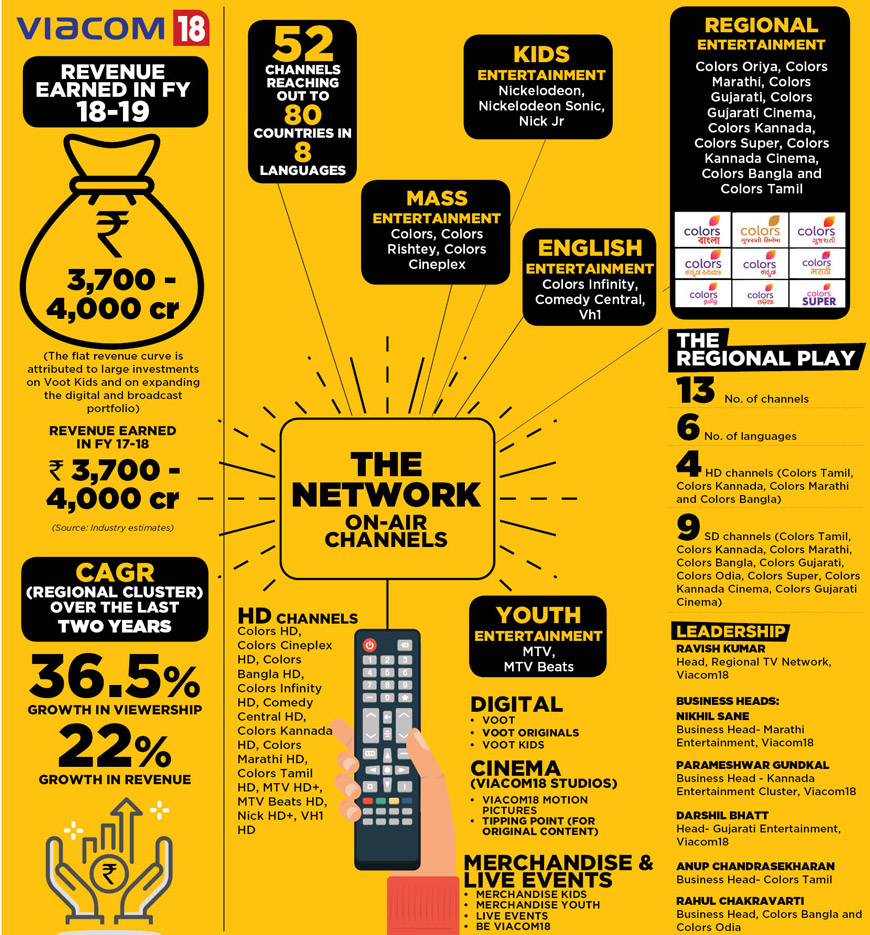 THE REGIONAL DRIVE
Ever since Viacom18 brought four regional channels from the erstwhile ETV into the Colors fold in 2015, the network has more than doubled the number of regional channels in its broadcast play. On the movies front, Viacom18 moved from the occasional language movie release to crafting an annual slate of regional movies spanning across Marathi, Bengali, Kannada, Tamil, Telugu and Malayalam. The network recently recast its movie business into a holding brand called Viacom18 Studios and launched a sub-brand called Tipping Point to produce original content. Tipping Point's first foray was to create 12 short films for Voot.
Over the past year, Viacom18's regional television portfolio has seen 36% annual ad revenue growth. Talking about the growth drivers, Vats says, "Growth has come quite uniformly from our entire portfolio, as we now have presence in six language markets - Tamil, Kannada, Marathi, Gujarati, Bangla and Odia. And amongst these, we have 13 channels up and running. All the markets have grown, although the only one which saw the first full year of the market was Tamil Nadu. It's been a very robust growth all across."
Ad sales for the regional channels takes place at a regional cluster level. So, all the regional pieces are driven by one head of sales, which now is part of the overall Viacom18 ad sales cluster. At present, Viacom18's regional channels contribute about 22% to overall network revenue. Reportedly, Vats aims to grow the contribution to 50% and is encouraged by the fact that the regional portfolio continues to be quite strong post implementation of TRAI's new tariff order. "Our strategy is to keep inching up in terms of overall growth for the portfolio - to continue to widen and deepen our presence. We keep looking at markets where we are not present, keep deepening our presence in the markets where we are present. To give you an example, in Karnataka we had our flagship GEC Colors Kannada. We then introduced our second GEC called Colors Super. And then we introduced Colors Kannada Cinema. The entire portfolio now is a very robust one with upwards of 50% share in that market. We have a similar case in Gujarat where we were the only entertainment player. We recently introduced Colors Gujarati Cinema. While we are doing well in most States; we have a few challenges in some States, and we have to manage both as we go forward," he says.
DEPENDING ON DIGITAL
Viacom18 has also strengthened its digital business over the last two years with its digital platform Voot – from lining up original content, to going international through partnerships to building up a fandom ecosystem and devising interactivity for broadcast content. With Voot Kids, the platform has just launched its full-fledged subscription play targeted towards the kids' ecosystem.
Viacom18 is also looking at the next phase of growth in the international space to happen through Digital. While Vats is looking at the market through a filter of where the content will be relevant, and what is the go-to market approach he can take, he has identified 21 geographies - countries or even a cluster of countries - where Viacom18 will offer solutions. "Most of these will be bespoke solutions. We are progressing in some of those spaces. We are also going to have our international product available both on Google store and Apple store, for people to access it anywhere," Vats explains.
'BUILD A BUSINESS TO LAST'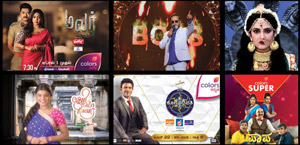 Sudhanshu Vats, an avid marathon runner, leads a unique engagement programme - Donate a Mile - where Viacom18 employees are encouraged to run with him once a month. As part of Donate a Mile, employees train along with Vats to run the Mumbai Marathon. Proceeds from this initiative go to Akanksha Foundation, a non-profit organisation working for education of underprivileged children. "Marathon running teaches you perseverance. It teaches you courage. And it helps you develop a mindset where you need to adapt. You also need to have discipline, fitness and courage. These are qualities which a runner always possesses. It allows you to build a business which is run like a marathon, so you build a business to last," says Vats, who abides by the mantra that the first thing all of us should take care of is health. That's a message which goes across the organization, and apart from a fitness culture, there is a growing tribe of serious runners at Viacom18 as well.
SYNERGY WITH RELIANCE JIO
Viacom18 - a joint venture of Mukesh Ambani-controlled TV18, which owns 51%, and Viacom Inc., with a 49% stake - saw TV18 increasing its stake in Viacom18 to 51% in 2018, buying an additional 1% from Viacom Inc. for $20 million. The move was aimed at accelerating growth through synergy with TV18's parent Network 18 Group and its affiliates, including the booming telco Reliance Jio, to access the many Indias through multiple consumer touch-points.
While Viacom18 looks at catering to the demand and tailoring its content for the telco's requirement, on leveraging synergies with Reliance Jio, Vats says, "We continuously work with the Reliance Jio team; that's an important partner and parent, in our case. Our ability to give our content on a pilot basis wherever certain pilots have to be done is an area of synergy as we continue to explore synergies in all possible areas."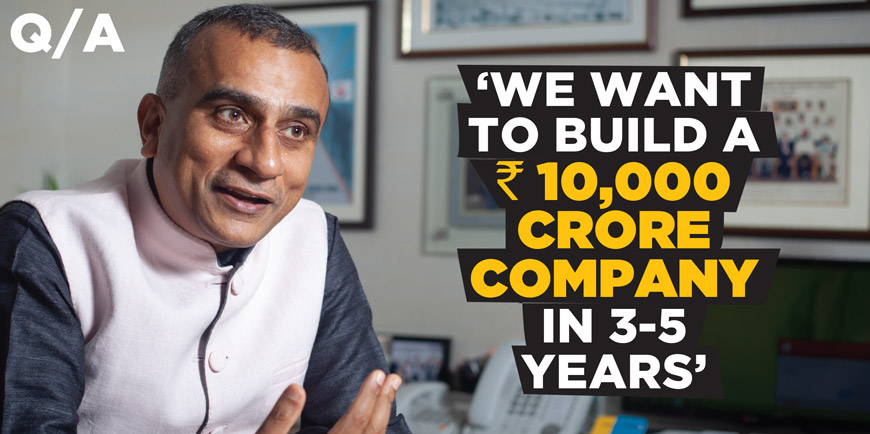 Sudhanshu Vats, Group CEO & MD, Viacom18, talks about navigating the Regional markets in the face of competition, aligning the films business under Viacom18 Studios, plans for Voot and the network as he sees it in 2020
Q]

If you were to compare the regional markets that you are in, what are the similarities or differences that you note? And what is the synergy that you have within the regional portfolio?
We look at Regional in two buckets. First, we have to be very culture sensitive, language sensitive, and tell stories which are relevant to that culture, to that part of the country, because each of our States is like a country on its own, from the sheer number of people, the language, the diversity and the richness in culture and food. We have to preserve that, and tell unique stories in each region. Then there are areas where we find similarities and we are able to synergize. The synergy comes in the form of formats. So, we examine how to take the format - either international or home-grown - to different parts of India. If there is one particular story doing well in one geography, we find a way of adapting that story into another region.
Q]

Are you looking at any new market to launch in this year?
This is something which we don't divulge, as a policy. We keep continuously looking at different regions and different opportunities.
Q]

What is the upside you see from these regional markets in cinema? And what went into your decision to invest in regional cinema channels?
One clear trend is that there is a continuous growth in movie channels, whether these are Hindi movie channels, or regional cinema channels. So, driven by that growth, we are looking at areas where we could add value and build a strong library at a reasonable cost. That's how we are systematically going about building our cinema channels.

Q]

How big a challenge was it to draw Hindi content-consuming viewers from markets like Maharashtra and Gujarat into the regional language offerings?
Our mother tongue in India is very important. And most Indians can communicate in more than one language. At the same time, our proclivity to consume content in our own language, our mother tongue and to look for content in our own language, is very high. When there is an overlap between Hindi and Marathi, or Hindi and Gujarati, the scope to highlight the culture of that State or the nuances of that particular language and culture is huge. So, if you look at Hindi, you are catering from Maharashtra at one end to Bengal at the other… almost all States north of the Vindhyas. In an attempt to cater to all of them, you are not able to cater to one specific geography with their language and culture in a very deep sense. That's where the language comes into play. And that's how you are seeing Marathi and Gujarati continuously growing, and Bangla started growing well before that. South, of course, never has been a problem because there isn't an overlap. In places where the overlap was very high, our ability to bring in the nuance and depth of that culture, and tell those culture stories very well, drives those markets.
Q]

In the regional space, there are some major established television players that have deep regional play. How do you differentiate yourself and what are the challenges that you face right now?
There are competitors everywhere. But, there is room for competition. Also competition keeps you alert, makes you do things better. We will have to find ways of making ourselves unique, relevant and contemporary. Therefore our focus is on these three pillars - uniqueness, relevance and being more contemporary. In markets where we have been able to make headway, we have played the three levers quite well. Wherever we have not been able to play any of the three levers, we have had a challenge.
Q]

You recently appointed Mahesh Shetty as Network Sales Head and Gourav Rakshit to head the digital business… how is the team looking like just now and what are your expectations?
These are two new faces, but both slightly unconventional hires. They will bring fresh energy and a fresh perspective to the team. Mahesh Shetty comes with a lot of experience in FMCG through Pepsi, followed by a decade of General Management experience in Radio. His ability to look at brand solutions is very good. I feel the future of our ad sales is in the area of being able to sell solutions, because just selling FCT may not be enough. We have got to take the game a notch higher. And Shetty is very well equipped for that. Gourav Rakshit brings in a fresh perspective too, coming in from Shaadi.com; but before that he has also worked in FMCG and technology companies. So, he understand technology quite well, and has built a platform which understands consumer and digital. Most importantly, he is amongst very few people in India who understand a paywall. I believe the future of digital is going to be two-pronged - while advertisement will be important, over a period of time we have got to build businesses which are direct to consumer, and many of these businesses will have to be behind a paywall. Being able to build direct to consumer behind paywall, subscription-led businesses is the future of our digital business as well. So, his experience in that space is very useful while he learns video that is new to him.
As for the overall team, in television we continue to look at our homogeneous clusters, and commonalities in which viewership is measured. Ravish Kumar continues to effectively lead the Regional foray. Hindi Mass Entertainment and Kids as a business is now led by Neena Jaipuria after having led the Kids cluster successfully for a decade. Over a period of time, we have to build a content engine which becomes more and more platform-agnostic. In order to dial up our capability of that content engine, it's important that Manisha Sharma looks at content more holistically, and she brings in that depth and proven expertise in this space. At the same time Youth, Music and English, which is a business with a lot of potential, continues to be driven by Ferzad Palia. Ajit Andhare has led Viacom18 Studios profitably for the last five years, setting a trend of content-led cinema that is commercially successful and is now producing Digital content under Tipping Point.
Q]

You recently recast the movie business into a holding brand called Viacom18 Studios, and launched also a sub-brand called Tipping Point for content. How has it fared so far?
With Viacom18 Studios, now we will be doing the big films under Viacom18 Motion Pictures, and we will be doing Digital originals under the sub-brand Tipping Point. Our first round of originals and short films have been received very well. Even in films, Regional is very critical, so we will continue to drive our expansion into Regional cinema. We have taken very strong steps in Marathi. Last year, we did five films with Aapla Manus with Nana Patekar, Cycle, Ani Kashinath Ghanekar and Pula Deshmukh's biopic, Bhai - part one and two. We will continue to dial up Marathi substantially. We have entered other Regional markets with Devdas, our first film in Telugu and films in Malayalam and Bengali. Our regional slate will continue to grow.
Q]

How has Voot fared and what are the biggest focus areas for Voot going forward?
Our journey on Voot has been very good. We have 150 million plus downloads so far. But, more importantly, there are now close to 60 million monthly active users. The watch time we have - about 50 minutes per user per day - is arguably one of the best in the industry. All of this put together gives us a lot of confidence from the metrics of revenue, we have been doubling revenue every year for the third consecutive year and our plan is to continue to double it.
For Voot, there are two focus areas for growth – Regional and building a portfolio through segmented offerings. Regional is very critical where we know that the next three to four hundred million Indians, the people who will consume video on Internet, will come from our language markets. So we are driving regional very hard. Our regional consumption on Voot has grown 6x in this period. We will go deeper into it, and look at each of these markets independently. We are building UI and UX which is capable of that. We are building a geo stacks so that discoverability of our regional content becomes better. If you are in a certain geography, we should be able to throw that language content to you. Work is happening from a technology point of view on that. The second thing is building a portfolio for Voot. We are looking at a Voot Freemium service which will be behind a paywall. We are in beta testing now on our Voot Kids service, where we have gone well beyond video. In Voot Kids, we have developed a Watch, Read, Listen and Learn section in a very safe environment. So, while there are 5,000 plus videos in the section with close to 200 characters, there are over 500 books available too, and we are continuously populating that as we go forward. The other small innovation we have done in Digital is bundling books for children, whereas normally books are available per title. Kids can also listen to their favourite stories, as these are audio books and jingles. Finally, there is a section on Learn, with feedback available to the parents. This will be behind a paywall and is in beta testing, available on Google Playstore.
Then we are looking at Voot Freemium which will come in September.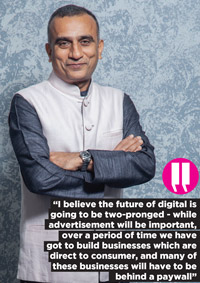 Q]

Do you think the Indian consumer is ready to pay for content, and how do you see the role of FTA channels in the industry?
I just met one of our digital partners, one of the big global digital majors, they have recently introduced their own paywall along with their music service. The number of Indians that are paying for it is phenomenal. For the paid services to take off, the payment mechanisms in India need to get better, and the good news is they are continuously getting better. If we deliver value, we will be able to get people behind paywalls. I also believe that the Indian digital market will model itself or grow like the Chinese market. Consider China about 5-6 years back, say in 2012 - it had 400 million internet video users, most of them free. In 2018, it had 800 million Internet video users, and about 15%-20% were behind paywall. So, when you say 15%-20% of 800 million, the number is 120-160 million. Now, if you look at India, we have about 400 million Internet video users and almost all free. By 2022, we will have about 750-800 million Internet video users, and thereafter very quickly, a billion users. Within that, even if you look at 15% to 20% as behind paywall, you are talking of 150 million users, even 200 million. This paywall in India will be a mild paywall. What is critical in India is pricing. For the value which you are offering, depending on the scale of the business you are looking at, you got to price yourself well. If we do that, we are definitely going to be in business.
Q]

Do you see subscription revenues growing significantly on the back of TRAI's new tariff order?
We see substantial growth in subscription revenue post NTO, and that is something we will continue to see. The first round has been good for Viacom18 because in general we have been under-indexed on subscription. Therefore the growth in subscription revenues post NTO is a welcome step. We need to build on that, although we are coming from a small base, but the growth is going to be quite healthy.
Q]

Since sports has become such a big play for your competitors, aren't you missing a sports vertical? And is there any plan to get into sports?
We keep evaluating. And depending on what is right for us, what is available and if we are able to put together a play, we will be open to it. One thing which Viacom18 prides itself in is that we have built a company with a profitable growth model. Starting from FY 2014, year on year we have been profitable as we have doubled our revenue and trebled the number of TV channels while making a successful Digital entry. The numbers will change depending on the investments we are making in that particular year. But, we are fully conscious that we need to grow the business in a disciplined fashion so that we remain profitable. You see reasonably large businesses faltering if they are not disciplined enough and if they don't have a business model which can deliver profits and generate cash. Having said that, we continuously look at opportunities. Sports is an opportunity. We must look at it and keep evaluating it.
Q]

Coming to the organization internally, you have your in-house ideation lab, Big Belly. What are some of the interesting ideas that would have come out of it so far?
I have always believed that ideas are not the hegemony of one particular department or area or function. Ideas can come from anywhere, and we source some really good ideas on Big Belly, be they ideas on content, ideas on cost management, or on revenue growth, sometimes ideas on new business opportunities or even brand name. We are currently sourcing ideas on revenue growth or the bottlenecks thereof as well as some stuff in the area of brand solutions from Big Belly.
Q]

What are the three game-changers that you see going ahead for the entire network as it gears up for Viacom18 2020?
So, 'Viacom18 2020' or should I say 'Viacom18 2025', 'Viacom18 of The Future' is actually going to be based on three key pillars. The first pillar which we spoke about is around regional. It's about being able to reach every nook and corner of the country to tell wonderful stories in their native language, recognizing their culture, and therefore representing India in its vast diversity, and in all its glory. The second important thrust is going digital. We are building a strong portfolio through Voot.
Our third and most important thrust is building data and technological capability in the company - looking at data, analytics, technology as we gear up for the future because we have got to be story-tellers who are contemporary, who basically understand not only the culture, and build the story from their gut, but are able to embellish it and strengthen it with data and insights. That's the journey we are on.
Q]

What is the CAGR that you would like to see in the next three to five years for the network?
We want to build a robust Rs 10,000 crore company, which would have a healthy double digit CAGR while continuing to remain profitable.
(With inputs from Rahul Kamat)