Even as the Indian broadcast industry is set to enter a new era, with the impending implementation of the new tariff regime mandated by Telecom Regulatory Authority of India (TRAI) from February 1, experts predict that much will depend on how consumers react. In fact, depending on consumer behaviour, individual value packs announced by broadcasters now may have to be recalibrated in the months ahead.
According to the new framework - aimed at empowering consumers with the choice of paying only for the TV channels that they want to watch - all DTH and cable channel subscribers will need to subscribe to a base pack of Rs 130+ taxes to watch 100 freeto-air (FTA) channels that users can select out of 500 channels. However, this base pack will not include some of the popular channels offered by major broadcasters. Most broadcasters have already unveiled their value packs along with their a-la-carte prices that consumers will need to select from. Some broadcasters have had to convert a few FTA channels to pay in the new bouquets.
However, the industry is still trying to figure out if the primary purpose of the entire exercise will be served by the new tariff regime. Considering the steep discounted rates that are being offered on bouquets, experts feel that consumers might not be interested in opting for value packs individually and will eventually end up paying for bouquet offerings. Currently, the bouquet pricing is much lower than the a-la-carte pricing, and if a consumer has to buy channels individually, in case a bouquet does not contain the channels of his choice, he might end up paying much more.
So far, a lot was also dependent on the 15% discount cap on which the Supreme Court verdict was awaited. However, on January 4, 2019, the special leave petition (SLP) filed by TRAI seeking clarification on the 15% bouquet discount cap was dismissed as withdrawn in the Supreme Court.
A recent report by Edelweiss predicted that if consumers end up paying more than they were initially paying, broadcasters will need to re-look at their packages which could lead to price recalibration or bouquet trimming. This means that the initial packages launched by each broadcaster may not really be the final package. Each player will wait to observe consumer behaviour and modify their plans and packages accordingly, with time. Most broadcasters believe things will take around six months to a year to settle down, both from the perspective of consumers as well as the DTH players and LCOs.
THE TARIFF PACKS
Star India has introduced the Star Value Pack at Rs 49 in Hindi and is running a campaign with its most popular faces to inform viewers about it. Viacom18 and TV18 have joined hands to address the issue of price rise as they launched their Value Pack, comprising top channels across genres at Rs 1 per day. Zee too has launched its communication initiative 'Channels Ka Chunaav 2019'. It will be offering three types of packs to cater to different viewer needs. While Prime Packs are based on core regional language consumption, Family Packs will offer top genres and All-in-One Packs will provide all genres. The Zee Family Pack is targeted at the Hindi Speaking Market (HSM) and has been priced at Rs 45 per month for 24 channels.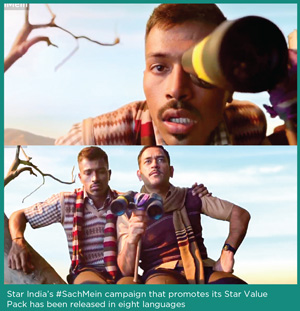 Sony Pictures Networks India has launched the Happy India pack priced at Rs 31 per month for nine channels. Sony has introduced 16 bouquets, starting from Rs 31 for the Sony Silver Pack which will have Sab, Set Max, Max 2, Sony Yay!, Pal, Sony Wah, Mix and Sony Marathi to Rs 90 for the Sony HD Platinum Pack, offering 18 channels. Times Network announced its channel packs in three categories - Times Network News Pack, Times Network Value Pack and Times Network HD Premium Pack where the value pack includes a mix of channels including Times Now, ET Now, Mirror Now, Zoom, Movies Now, MNX and Romedy Now. The other variant packs include Times Network News Pack at Rs 5 that includes English news channels, their Bollywood entertainment channel Zoom and Times Network HD Premium Pack at Rs 20 which includes all SD (non-simulcast) and HD channels of the network.
In the South market, major players have come up with individual pricing too. Moreover, major DTH operators like Airtel Digital TV and Dish TV have also announced their new channel pack pricing.
GUIDELINES & IMPLICATIONS
As part of the new regime, pay and FTA channels cannot be a part of the same bouquet, which has resulted in broadcasters converting some of their previous FTA channels to pay channels/bouquets under the new regime. The aim is to make sure that people subscribe to some of the less popular channels too.
Data from the Broadcast Audience Research Council (BARC) India has revealed that out of the 300 channels bundled together, 50% of consumers do not watch more than 30 channels. In such a scenario, is there a chance of less popular channels slowly phasing out? Karan Taurani, VP- Research (Media sector) Elara Capital, feels the move will have a negative impact on niche channels. "Niche channels of large broadcasting groups, which are not included in any bouquet, will fade out in terms of viewership as consumers will not look at buying them on a-la-carte basis," Taurani says.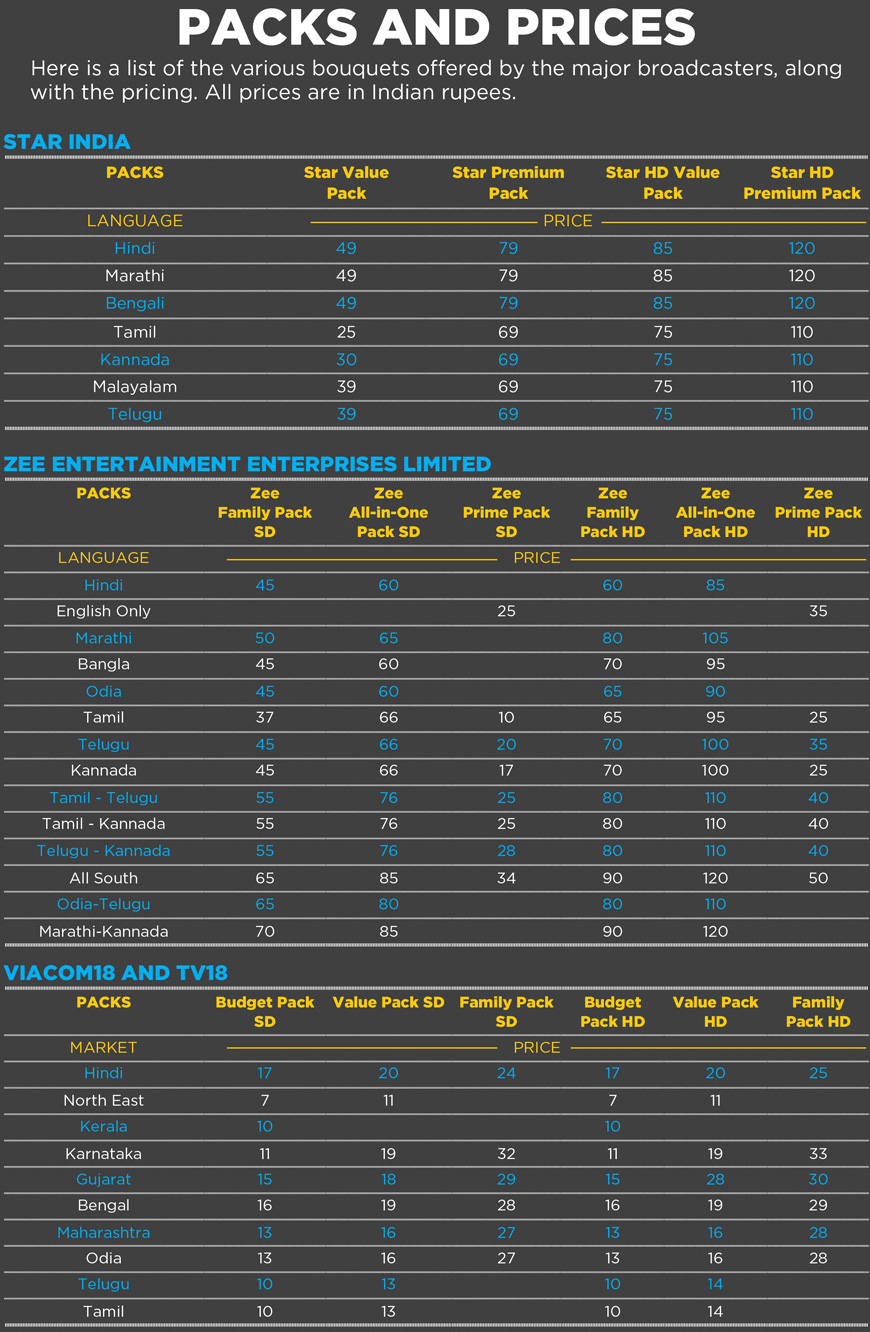 However, Prathyusha Agarwal, Chief Marketing Officer, Zee Entertainment Enterprises Ltd (ZEEL) is not too worried about this, saying the move will help up the content game. She says, "Reach numbers have already shown that consumers don't watch all the channels. Random content being pushed has never worked. And when it doesn't work, you have to shut down those channels. Any good broadcaster committed to putting together a good content offering always evaluates his offering. Through consumer feedback, we will now know what is being consumed. In an open market, only the quality of your offering will help you stand in good stead."
Sanjay Gupta, Managing Director, Star India too says that as the new tariff regime shifts power to consumers, they will make a statement by choosing or rejecting good or bad content, which will eventually lead to growth of the industry. "The real big change is power to the consumer. The consumer will have the choice to decide. The less performing channels cannot come to the consumers if they don't like them. Now, if you perform better in order to be recognized by the consumer, the business will be forced to work better and better. If the channels are powerful, the consumer will buy them but the real question is 'Is the content on those channels powerful enough?' This will up the game in the industry to perform better and the kind of content they offer," Gupta explains.
Broadcasters now also need to declare a Maximum Retail Price (MRP) for all their pay channels offered on a-la-carte basis for all platforms. This step will ensure that all platforms are brought to a level playing field. This will result in same content costs for platforms, irrespective of the subscriber base.
Moreover, the guideline which prevents broadcasters from putting SD and HD channels in the same bouquet will ensure that consumers don't have to pay for the same content twice. Analysing the effect of this guideline, Taurani says, "SD and HD channels cannot come in the same bouquet post the order. This will negatively impact viewership as earlier both types of channels were sold together in a bouquet. This, in turn, means that the order is pushing for consumers moving to channels on a-la-carte basis."
Most broadcasters feel that while the new regime will take some time to be implemented, and it will also take time to assess the consumer's behaviour, in the long run, the changes will work in favour of all stakeholders.
Sudhanshu Vats, Group CEO & Managing Director, Viacom18 says, "TRAI's new tariff order is a pioneering move that will benefit players across the broadcast value chain. Consumers will now have the choice to select channels of their choice, broadcasters can see greater transparency in the value chain with under-reporting getting curtailed and distributors stand to benefit from the commissions and incentives they will earn. After the Digital Addressable System (DAS) implementation, this mandate will go a long way in bringing equity into the industry."
Predicting the positive impact the new regime will have on the industry, MK Anand, MD & CEO, Times Network says, "TRAI's tariff order is a transformational shift which will lead to a coherent framework that safeguards consumer interests and strengthens the offerings of broadcasters. As we transition into this new phase, we see this as an opportunity that enables transparency and flexibility in the TV viewing experience and benefits the entire TV ecosystem. We consistently create disruptive and engaging content for progressive Indian consumers and we are confident that we will continue to be the preferred English network that offers differentiated content at a compelling price."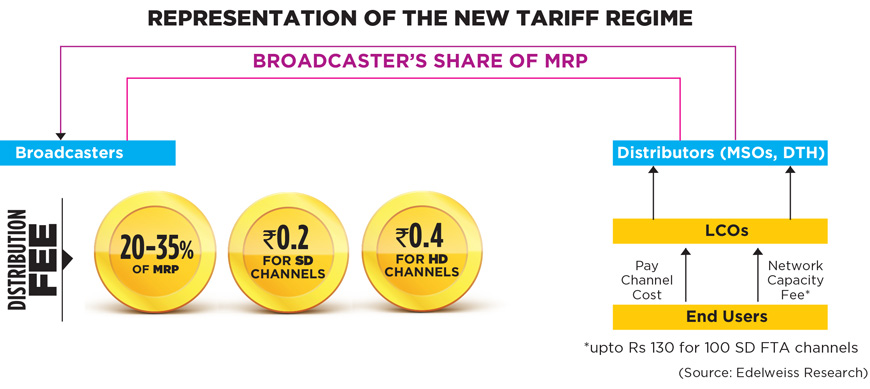 THE DTH AND LCO COMPLICATION
While the primary aim of this massive drive has transparency at its core, consumers are currently not sure how things will play out. Most of the broadcasters have been coming up with campaigns to talk to consumers, to educate them about the value packs, but a lot will also depend on how the DTH players and LCOs reach out to their customers.
The new regulations prescribe sharing of distribution fee and network capacity fee in the 55:45 ratio between MSOs and LCOs. In the basic pack of 100 FTA channels, which comes at a price of Rs 130, MSOs get 55% share whereas the LCOs will be able to take home 45%.
However, currently there is a lot of discontent among the LCOs who fear that the new regime will pull down their earnings. As a mark of protest, the LCOs recently blacked out TV signals too. Vineet Sodhani, CEO, Spatial Access feels that the LCOs might be impacted negatively. "The way it looks, LCOs may stand to lose. Hence, the dharnas everywhere. The new order has split the ratio of revenue share in favour of MSOs. Earlier, the LCO would keep the lion's share. Hence, the LCOs would try to defer the new tariff regime as much as possible. Now, the DTH operators' Average Revenue Per User (ARPU) is on the higher side. Since the pricing is now standardized across the spectrum, they may have a situation where they are losing on higher ARPU customers. Hence, they may try to defer it as well," Sodhani says.
While TRAI has said in a statement that the new framework will bring in a structure of assured revenue for both the MSOs and LCOs under the network capacity fee, experts feel the initial few months after the implementation will be chaotic.
Abneesh Roy, Research Analyst, SVP, Institutional Equities - Research, Edelweiss Securities Limited says, "We expect the initial months to be tumultuous, given the uncertainty around consumer behaviour and the extent of implementation of regulations. Readiness of distributors still remains a challenge as a-la-carte customization will entail significant capex for LCOs/ MSOs. We believe that though ARPU could increase marginally initially, the revenue sharing, limited media discounting and bouquet offerings will take time to stabilize. As this will be a journey of price discovery, we anticipate some recalibration in pricing from the distributors' and broadcasters' end over time as consumers will not be ready to pay significantly higher than what they are currently paying. In our view, the transient disruption in the system will come due to implementation and not due to regulations."
EDUCATING THE CONSUMER
While most broadcasters believe that the dust will settle anywhere between six months and a year from now, all the players are coming up with massive campaigns, to drive a conversation around the new regime. Along with announcing their individual pricing, broadcasters are also trying to spread awareness among consumers, while also wooing them with their value plans.
Star India has come out with a high decibel campaign, featuring a range of celebrities such as MS Dhoni, Aamir Khan, Mohanlal, Kamal Hassan and Nagarjuna, among others. The #SachMein campaign has been released across eight languages and promotes the Star Value Pack.
Meanwhile, keeping in mind the topicality of the upcoming elections, Zee has come up with its campaign 'Channels Ka Chunaav 2019' which will aid the massive behavioural change that the new regime will bring about in the ecosystem.
Viacom18 and TV18 launched a multi-media marketing campaign, titled 'Ek Me Hai More Yahaan' that advocates the comprehensive value for money that the 'Colors Wala Pack' provides to the Indian viewers. The campaign highlights the concern of Indians over the rising costs of entertainment and packages top channels across genres so that the entire entertainment and news needs of an Indian family are taken care of.
Sony Pictures Networks India (SPNI), has also launched a comprehensive consumer education campaign that talks about the new MRPs of their channels. The campaign, #RishtaPakkaSamjho, features actor Amitabh Bachchan.
LONG-TERM EFFECT ON REVENUES
While the overall effect of the impending changes will only be felt once the new regime is implemented, experts feel broadcasters will benefit in the new ecosystem.
Explains Roy, "We believe subscription revenues of leading broadcasters will increase as on net basis, the new regime benefits them by fetching a higher share of MRP. Additionally, broadcasters with leading viewership channels will be at an advantage as they have flagship channels with significant marketshare, enabling them to bear lower carriage costs."
He further adds, "Carriage costs reduce significantly for a channel if its subscription as a percentage of the target market defined for that channel is greater than 15%. Hence, subscription revenues of top broadcasters such as Zee, that has a strong viewership in almost all regional markets, is likely to increase." He predicts that broadcasters with channels having lesser viewership will have to shell out more carriage and hence will receive less subscription revenue on net basis.
Speaking about how ad revenues might be impacted in the long run, Sodhani says, "Networks will not allow their subscription revenue to fall. However, if consumers exercise their right to choose specific channels, reach will fall for many channels standing on the periphery. This may impact their advertising revenues in the long run."

SANJAY GUPTA

Managing Director, Star India

It requires a lot of communication and education to inform the consumers that the shift is happening, and it's critical. We have different prices for different markets on the strength of our bouquet and content. This has never been done before. We need to have complete re-understanding within the organization and brief our partners. The transition will be a little chaotic, but it will settle down.



SUDHANSHU VATS

Group CEO & Managing Director, Viacom18

TRAI's new tariff order is a pioneering move that will benefit players across the broadcast value chain. Consumers can select channels of their choice, while broadcasters can see greater transparency in the value chain with under-reporting getting curtailed and distributors stand to benefit from the commissions and incentives they will earn. After the DAS implementation, this mandate will go a long way in bringing equity into the industry.



MK ANAND

MD & CEO, Times Network

TRAI's tariff order is a transformational shift which will lead to a coherent framework that safeguards consumer interests and strengthens the offerings of broadcasters. As we transition into this new phase, we see this as an opportunity that enables transparency and flexibility to the TV viewing experience and benefits the entire TV ecosystem.



PRATHYUSHA AGARWAL

Chief Marketing Officer, Zee Entertainment Enterprises Ltd

For the longest time, the broadcast industry has been a low-involvement category where pricing would decide the way you consume. But with TRAI's new regulation, the power will now shift to the consumer, making it a high-involvement category. People will start evaluating what they are paying for, and why. It will be a great opportunity for everyone to build value with the services they offer and attune better with the consumer.
'Broadcasters may see a reduction in the carriage fee for their popular channels'


BY GIRISH MENON
Partner and Head, Media & Entertainment, KPMG India

Implementation of the Telecom Regulatory Authority of India (TRAI)'s tariff order is likely to bring in more transparency across the industry value chain, which would potentially mean a fairer distribution of the end consumer revenue across the value chain. On the consumer side, the tariff order allows the end user to have complete control over what they may want to watch, with transparent pricing for each channel chosen.

POTENTIAL IMPACT ON BROADCASTERS
• The broadcasters could potentially realize a fairer share of revenues, which are likely to accrue across the value chain on account of every subscriber and their choices being tracked and addressable.

• Broadcasters could potentially see a reduction in the carriage fee for their popular channels, as the carriage is linked to the subscription for that particular channel. However, as the tariff order is silent on the placement and marketing fee, the industry participants are of the view that this could effectively replace and become an alias for carriage in the future.

• Some channels, which are not very popular in terms of viewership or are niche in terms of the intended target segment, may struggle in terms of a-la-carte subscription by users. Therefore, broadcasters may need to relook at their pricing strategy and could opt for very low MRPs or even convert some of their underperforming pay channels to FTA channels.

• Another approach for broadcasters could be to potentially price most of their channels at the higher end of the MRP cap, and offer a significant discount on bouquet pricing, which may not result in a significant change for the end user, as far as the choice of channels is concerned. Such bouquets could also have smaller and niche channels integrated in them, as is the case currently. Going forward, broadcaster packaging strategies would need to be relooked at and realigned to capture the potential change in consumer choice and behaviour.

• The internal CRM systems of broadcasters would also need to be realigned to capture the potentially infinite combinations of channels that a user could choose.

POTENTIAL IMPACT ON DISTRIBUTORS
• The distributors are likely to benefit as their unit economics could significantly improve on account of Rs 130 being established as the commitment from an entry level subscriber for just viewing the FTA channels.

• Further, with the order mandating a 55:45 sharing ratio between the MSO and LCOs in case a mutual agreement isn't arrived at, the same will help MSOs alleviate some of the challenges they have been traditionally facing with the LCOs on fee sharing.

• While distributors can capture the value from each subscriber due to the increased transparency, the carriage fee charged by broadcasters, which still forms a significant part of their revenues, could see a moderation going ahead.

• The distributors would need to make fresh investments in their internal subscriber management systems, across phases, to ensure that they are able to effect monitoring at a single subscriber level. This will entail significant time and cost.

• The end consumer, till date, has been habituated to choosing a bouquet of channels. Educating the consumer on the a-la-carte regime and capturing the impact of consumer choice on a monthly basis will be an initial challenge.

• It is expected that the full implementation of this order will usher in a new era of change across the Indian broadcast and cable value chain.