The first week of February saw Mark Read, Chief Executive Officer of WPP, at the WPP Stream 'unconference' in Jaipur, India, interacting with the company's leadership and ranks, as well as top clients. India had always been a crucial market for his predecessor, Sir Martin Sorrell, and it is high on Read's priority list too. In fact, just before Read became CEO, WPP had announced increased investments in India. According to the announcement, among other things, GroupM would move to full ownership of the mobile marketing agency Madhouse, from its then 50% interest. WPP companies Sudler, Wunderman and Y&R, which operated as joint venture agencies with Rediffusion, would be developed as wholly-owned agencies, with WPP selling its stakes in the Rediffusion JVs.
Currently, all WPP companies in India are set to move into 'campuses' in Mumbai and New Delhi, in line with streamlining operations, even as Ogilvy veteran Piyush Pandey has made the country proud by being appointed Global CCO of the agency.
Soon after his appointment as CEO, Read had set out to reposition WPP as a 'creative transformation company' and sought to simplify both its structure and offerings for the benefit of its clients. He then unveiled his 'radical evolution plan' in December, with more investments in creativity, technology and talent, to sharpen WPP's services and return the business to growth.
Here are excerpts from a free-wheeling chat that
Mark Read
had with
Nawal Ahuja
, co-founder of the exchange4media Group, on WPP's growth, the mandate for India chief CVL Srinivas, what veteran adman Piyush Pandey's appointment as Global CCO, Ogilvy means, growing strong brands and nurturing talent within the company.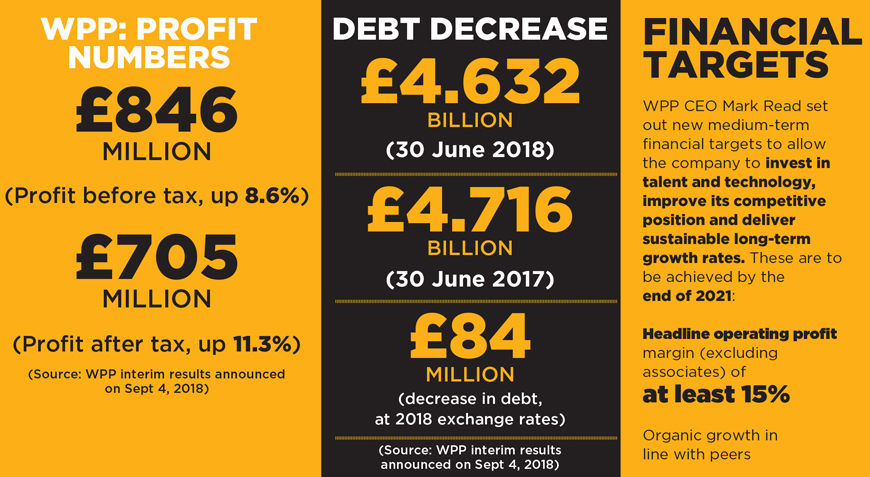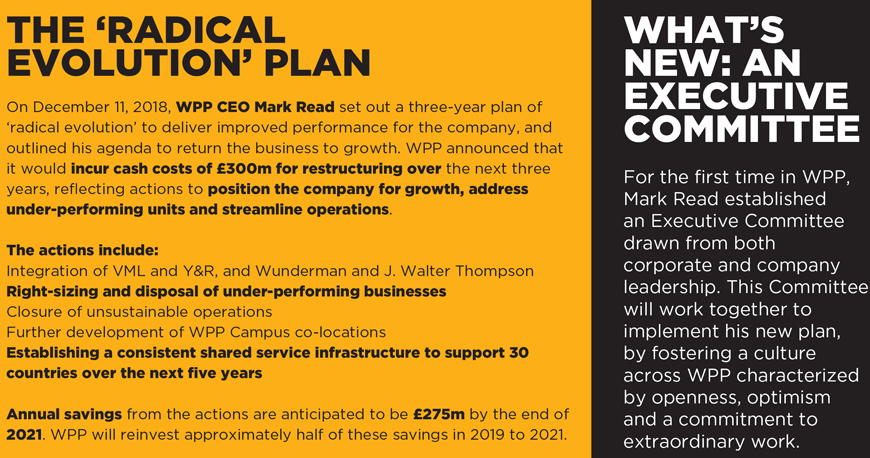 Q]

You recently appointed CVL Srinivas as operational head of WPP in India. What is he supposed to deliver for the company? And how will you make it happen, given that structurally you already have very strong leaders across agencies and various business units?
If you take a small step back, you know I want to have a strong WPP, and strong brands inside WPP, so strong WPP, and strong Ogilvy, and a strong GroupM. Maybe we need to have fewer brands like we did in the past, but we need to have strong brands inside WPP. Srini's job is to do in India what we are doing globally for WPP, and to work with me and the global leaders of those brands, and the local leaders of those brands in India, to strengthen them. There is a really valuable role that Srini can play. India is the seventh biggest market for WPP; this year India was the fifth biggest economy, and there is tremendous potential for us to grow. Srini's job is not to do what the leaders of the brands are doing, but really to help make WPP collectively, extremely successful in India. It's about making sure that we have the best leadership, that we work together for the benefit of our clients. Some of that requires someone closer to the ground. Having someone like Srini in the market will make a lot of these things easier to do. I have been talking to many of our bigger multinational clients, and they want us to coordinate activities in India and to resolve inevitable issues that may come up.
Q]

What are the granular aspects of Srini's role? Do you see any overlap as there already are strong leadership teams across units?
I don't think so. His job is to help us find the best people, help us try and make sure they get the best service, help attract talent into WPP, help us look for acquisitions, help us make sure that, actually the people in the rest of WPP, outside of India, know what's going on. India has a really important role to play for us creatively; you know about Piyush's global role. From a technology perspective, the aim is to bring technology back at the heart of WPP; we have tremendous technology assets and Srini can help make those visible. It's a positive role that will help people be more successful.
Q]

At some stage, would you look at a structure where the WPP country head is also the operational head of all the units?
No, I don't want to go that far. I think both having a strong WPP and having strong grounds, strong cultures, is very important in this context. We said we want our culture to be open, optimistic and extraordinary. We focus on the word 'open', meaning we should partner with our clients, with our partners and with each other. So, if we have a culture of people working collaboratively, there is no conflict.
Q]

Roughly 20 years back, the creative and the media ecosystems split. A lot of people talk about these ecosystems getting back together. Clients want that. How do you see that shaping up, because it is not possible to go back to that era… and what is the best model for the future, in the best interest of a client?
The future is that creative and media need to work more closely together. But, that doesn't mean that they need to be merged or combined. They're all a part of WPP, and therefore, in a team we need people who are coming out with ideas, and the people that are thinking about the media, to work together. And it's even more important, given the change in technology, because if you are trying to find an idea that lives in a Facebook channel, you need to know that before you write the brief. It's not like the old days where you knew the media choices were either 15 seconds long, 30 seconds or 60 seconds. The media choice becomes much more important in the creative idea. So, it's up to us to find ways of making them work more closely together. Actually that's part of Srini's job. I would expect him to make sure that in WPP, India, our media agencies and creative agencies work well together.
Q]

If you have separate units, separate P&Ls focused on their own jobs, is getting them to synergize and think together a tad difficult?
Just because things are difficult doesn't mean they are not possible. They are the right thing to do, is what I am saying. So one of the ways to make that happen is through leadership and talent. You want to have leadership that leads in it and talent that works together. A part of it is about culture, having a culture of collaboration. A part of it is about location, and we are in the process of moving our people into WPP campuses. I have seen all around the world that the moment you put five WPP companies together in a campus, the level of collaboration grows exponentially. Part of it is technology, where we need to use technology to collect the data. That's ultimately what clients want - to understand how the data insights drive strategy. From those insights, what's the best creative idea? How do I target my creative, and how do I use data to measure the results? So, we need to have a technology strategy that integrates the companies so they can collaborate. I don't want three people doing the same thing all the time. It's understanding the different roles, and then understanding when to come together. The P&Ls are much more about measuring the success and the growth and knowing where to invest; also rewarding people. We should have a much more collaborative way of rewarding people in general across WPP. At a leadership level, the leaders of WPP companies will sit together and work together to helm WPP. That will over time cement a culture of collaboration. It's not going to happen overnight, but with the changes we are making, with Srini's leadership, the campuses, the technology, we will collectively work so clients see the results and get benefits. Then, we win. When people see that they win by working together, they will do more of it. That's what I observed when I was running Wunderman, when we worked without the parts of WPP in one place. We just won the VW creative business in North America with a totally integrated team from 10 or 12 different WPP companies collaborating. Change in our industry has too often been made by clients. But clients want an integrated list of solutions. So, that's what we are trying to sort out.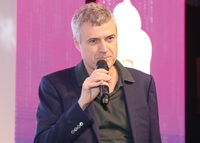 Q]

The Digital change has swept the industry completely, and run ahead of the advertising agencies' agenda. Thirty years back, advertising agencies were the ones that used to set the agenda for the client's communication needs. That is no longer the case. The client's understanding has grown significantly. Agencies are now involved in only one part of the business. There is a lot of scepticism and pessimism about the future of the advertising business. Looking ahead 5-7 years from today, what would companies like Facebook, Google be doing? What do you see advertising agencies morphing into to keep themselves relevant and also the business sustainable at a large enough scale?
We define that for WPP. WPP is an advertising agency, and a lot more than that. We set out this vision of how we will be a creative transformation company and offer a broader range of services, not just advertising but the full range of communications, experience, technology, and help clients in that transformation, which involves all of those things. We can grow strongly. The irony is, while people inside the industry sometimes get too pessimistic about the future, that has in a way attracted consultants and the likes of Facebook and Google. So, they see something in it that we don't. We have to recapture our confidence. Confidence is not the same as arrogance or competency; we have to change then we can do a lot more. I talk to lots of our clients around the world. And they really value what we do. They want us to change, to be simpler to navigate, more collaborative, invest in more creativity, invest in more technology. I am not pessimistic. I think our industry is going through a structural change, not structural decline, much like any business, and these too have evolved. I think it's an exciting time.
Q]

WPP has significant scale in India already. If you look at the media agency part of the business, GroupM, the numbers say you already have a 47-48% marketshare, which is fantastic on one hand, but how do you grow beyond that, in terms of bringing in clients who are in conflict with existing clients, growing in a market where there aren't too many new clients coming on the radar… what do you do?
We have a strong business, but there are still areas where we can grow. We've made important steps, but we haven't taken as much advantage of the various technology skills we have in India – MSC, Hogarth, our production centre in Chennai, Ogilvy, PennyWise… when we think of India as a technology base for the world, like others have done. That's a big opportunity to grow our business in India.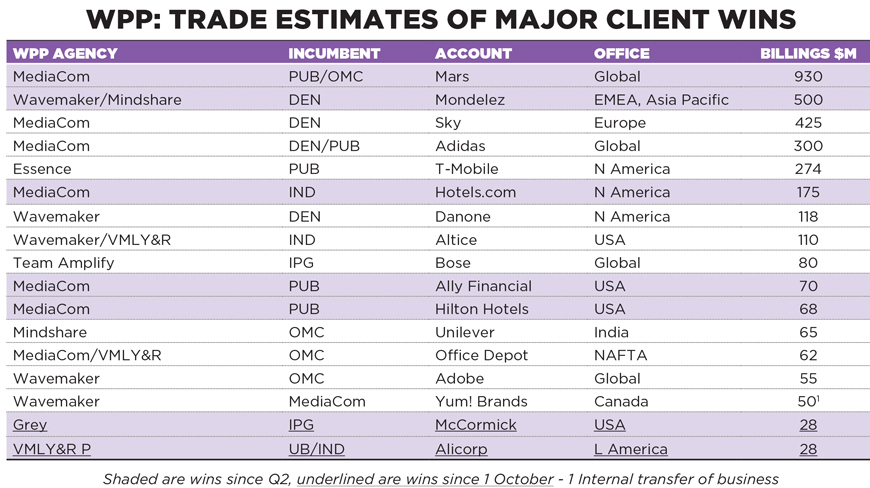 Q]

Does that hold true for all the WPP agencies?
We can't duplicate resources, so yes, we will work over the next year or so to have one platform that supports all our WPP companies globally. There's also the growth of Indian multinationals outside the UK. India has a really important role to play creatively. Piyush taking on a global creative role at Ogilvy – I think that's fantastic. As we grow, if our traditional business is in communications, there are other areas of experience like e-commerce, technology, where I think we can help clients – particularly on the commerce front, and I call it commerce, not e-commerce, because it's both thing. That's an area where traditionally we've been focused on marketing, where we can help our clients with sales. As sales and marketing are becoming more integrated as they take place on the same devices, there's big opportunity for us.
Q]

You mentioned Piyush Pandey. Tell me a little more about his role within WPP…what is your expectation from him?
Every CCO approaches it differently, depending on their personality and skills and I think Piyush will bring a great sense of creative energy to Ogilvy, help rejuvenate their creative culture and he will be a role model that will attract talent to the business… that's hopefully what we're looking at.
Q]

And what about his involvement in running various parts of the creative business across the world?
We all share equal responsibility for making the organization great, you can't pin that on one individual. I think he's going to chair Ogilvy's creative council and help them collectively direct Ogilvy's efforts.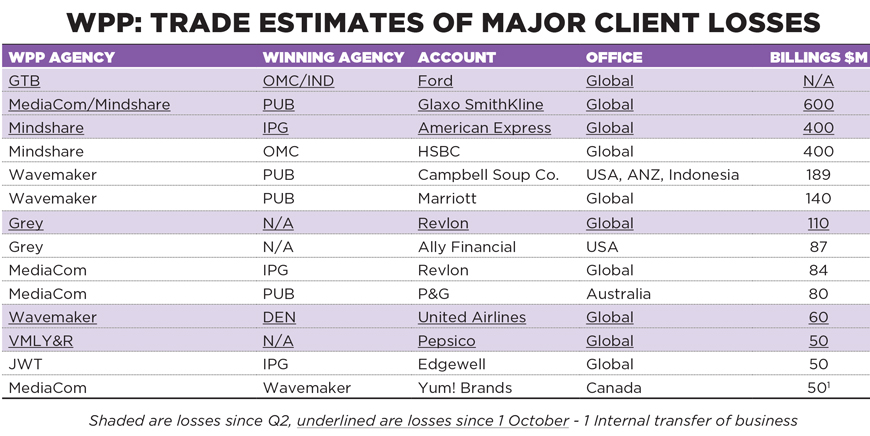 Q]

Talking of the competitive scenario that has been shaping up, especially in India, where agency groups have been on a buying spree of smaller Digital set-ups, WPP has been a believer in building things ground up though there is an advantage in buying an entrepreneur-driven show – you get a readymade team, clientele and it is up and running. Over the last few years, some groups in India have managed to create a perception of having taken the lead when it comes to the Digital business, which is what most clients today want to talk about… what is your strategy in countering that?
I think organic growth ultimately is the best way to break out of any business. The faster we can grow the business organically, the better. I'd rather grow things internally, than make acquisitions. We've made a large number of acquisitions in India over the last five years, most recently The Glitch. Organic growth and acquisitions play a role, so you have a strong business, there are times when business moves outside and there are times when it comes back. It's not my job to be happy with where we are, so I'd like us to do even more. We have a strong Digital business and the one thing we're trying to get rid of, here at WPP, is this word Digital because I don't think it is helpful to understand the world. We don't have analogue consumers and Digital consumers.
Q]

Why is that?
I think ideas have to go across analogue and Digital. We're trying to bring businesses together, such as JW Thompson and Wunderman. It's to integrate the solutions, so they don't need to go a certain Digital agency. If they go to a so-called Digital agency, who is going to do the so-called analogue marketing? So the world has become much more integrated and consumer experiences move from analogue to Digital very quickly, and the time has come to bring those two worlds together. Eliminating the word Digital is a good way of getting them to think about how they should be much more integrated.
Q]

You've hired Sameer Singh to head GroupM – he comes from a completely Digital business, tell us about that…
Any company needs to be oriented towards its growth and future. Having people with experiences of where the growth is, is a valuable thing. You typically find people who have a lot of management experience, but I'd rather take a risk of bringing someone in, who may not have the 'management' experience, but has the understanding of the future and growth. You give them the opportunity, I think that's a good thing to do.
Q]

What is the future of the media agency business when you're playing at small margins? These days, there are pitches where clients expect you to work on 2% commission. There's hardly any money to go around. Does the business and remuneration model need to be fixed and how do you fix it?
If I look at the business globally, there's no doubt that the business has gone from media buying scale being competitive advantage to technology differentiation, understanding and scale put together being an advantage. When you look at Digital platforms, ironically there's quite a lot of technology involved, and that requires more people to optimize, plan, coordinate traffic, analyse than the traditional media does. I think our media business around the world has been robust and we operate a number of business models. We work with complete transparency with our clients. I believe if we invest correctly in technology, and work well and partner with Google, Facebook and others, we'll be successful.
Q]

How do you partner with Google and Facebook? A small client can go and buy ads directly on Facebook today.
Already in Essence, we buy all of Google's media on Google for the world's largest companies. How we do support smaller clients… there's really an interesting opportunity for us. We have the expertise. We understand how to use the channels. They are complicated. It does require an integration of creative and media and serving solutions to the more sophisticated clients, where we can demonstrate the value of working with the partner. For instance, clients often need to decide whether they want to spend on Facebook or Google. It's a tough decision and we can give people who work in the business training, but it's easier for us to do that for clients.
Q]

In December, you unveiled your plans for WPP's transformation. You said you wanted to achieve an operating profit margin of at least 15% by 2021. What are the sectors that will drive growth to get you to that number?
Each of the pillars of our business can grow. But we are seeing the fastest growth in those that are more technologicallyenabled. Where we're helping clients understand how to use new technology, whether that's for a campaign or experience manager or buying media, those are the parts of business that are seeing the fastest growth. The parts of the business that are most challenged are those that sit on the analogue channels, TV commercials, maybe not in India, but elsewhere in the world. We have to shift those resources and those parts of businesses, particularly commerce, technology, experience is where we will see faster growth than the traditional communications industry.
Q]

You've also spoken about consultancies, the likes of Accenture and McKinsey, they are also doing business consultancy for clients which overlaps with what advertising agencies do. How do you ward off the threat from these companies because there was a time when advertising agency CEOs, for instance, would be involved in the entire marketing communication plan of a client. Today, that role is restricted to advertising communication largely.
I don't think that's totally true. The WPP client team made up of our agencies is overseeing the entire marketing mix for clients. The industry is making special efforts and we're trying to bring that back. We are in that position with many of our clients and that's one of our responses. McKinsey and Accenture are very different organizations. In fact, we work collaboratively with McKinsey on a number of clients and I'd say they have an expertise that we don't have and we have an expertise that they don't have. We bring creativity, innovation and understanding of the future that consultancies can't do. Consultancy companies can tell you there are two arguments - that I have studied the data and it tells me this or I've observed that 25 other people have done something, therefore you should do it. That's the basis on which they make recommendations to clients. We tell clients that we should launch this brand because based on our experience, it will resonate with consumers, or we tell them that we feel a creative idea is the best idea, if that's what we believe in, and I think we are much better able to envision a future and those are things that drive growth for clients. Now on the Accenture front, the way I see it, either Accenture could become a little bit more like us or probably we will end up becoming a little bit more like Accenture. I don't think we'll ever be the same organization. We have WPP creativity in our DNA in a way that consulting companies never will and there are other things in their DNA that we don't have.
Q]

Do you think that clients' trust in advertising agencies has gone down?
No, I think that we do fantastic work for clients. Actually, we can also do a lot of this more technologically-enabled work. We actually do have a much greater depth of technology expertise than clients realise, and more often than not, we are not marketing it well enough, and that's our fault. That's why we're trying to reposition WPP in order to help clients understand what we can do. So I don't think the trust in agencies is declining. I think there is a trust issue in digital media that we all as an industry must try to address. Agencies have to play a role in that, as do media owners and technology platforms.
Q]

So what's at the heart of the trust issue, according to you, on the Digital media front?
I think it goes back to that famous cartoon in the New Yorker – 'No one knows you're a dog'. There is this sort of illusion of measurability. There's issues around brand safety, issues around accuracy of measurement, bots – there's a huge number of industry issues and I would say that GroupM has taken the leadership position over the last 3-5 years on brand safety, piracy, driving higher standards; so advertisers know what they are getting. Sometimes trust breaks down when there's an unpleasant surprise. There have been too many unpleasant surprises in Digital media, and that's something we need to fix.
Q]

At the heart of this issue is the concern of measurability. We have seen apologies issued by large platforms about incorrect data and so on. Yet, year-on-year, companies are increasing their spends on Digital.
Because Digital works. Otherwise, companies wouldn't invest in it. One of the great successes of Google and Facebook is their ability to grow small businesses, in particular.
Q]

For the larger businesses, however, how do you address the problem of measurability? What do you seek from Digital platforms?
We seek what we've asked for so far – accountability and meeting basic standards. On that front, they have made significant strides in the past couple of years.
Q]

As the new head of WPP, what is it that you would ask of your clients, to do or not do for you?
We should have and aspire to have an open and transparent relationship with our clients where they tell us how we are doing and what we need to do better, and solve problems collaboratively. Our industry is tough for young people and we need to work with clients and celebrate the good things that we do and the achievements that we have. We need to have a partnership that is strong.