A dramatic judicial battle involving the regulator, broadcasters and distributors in the television industry finally came to an end last week, when the Supreme Court dismissed Star India's appeal challenging the new tariff order of the Telecom Regulatory Authority of India (TRAI) passed in 2017, paving the way for its implementation. Now the question being asked is, how will the regulatory authority ensure compliance, and whether the new tariff regime will actually impact bottomlines in the broadcast sector.
HOW THE BATTLE RAGED
While passing the judgement, the two-judge bench of the Supreme Court comprising Justice Rohinton Fali Nariman and Justice Navin Sinha explained that the issue of Copyright Act and TRAI Act did not infringe on each other – as argued by Star India - and that in the public interest, the former shall give way to the latter.
TRAI had implemented the Telecommunication (Broadcasting and Cable) Interconnection (Addressable Systems) Regulations 2017 on July 3, 2018 after it was upheld by the Madras High Court with an exception. Star India had approached the Supreme Court questioning TRAI's jurisdiction to frame a tariff order on the grounds that the authority has no jurisdiction on content as that actually comes under the Copyright Act and not TRAI Act.
The order prevented mixing of pay channels and free to air (FTA) channels in a single bouquet. It also restricted placing high definition (HD) format and ordinary format of the same channel in the same bouquet. Another restriction was that a bouquet of pay channels should not contain any pay channel where the maximum retail price (MRP) is more than Rs 19. While bringing the order into effect in July 2018, the regulatory authority prescribed timelines for the stakeholders. The deadline for the implementation of the order was August 31. Most major broadcasters – with the exception of Star India - have already published their Reference Interconnect Offer (RIO) along with the Interconnection Agreement as required by TRAI.
The most important aspect of the tariff order is "control to the consumers" with the "balance of power" shifting away from broadcasters and distributors. However, the judicial consequences in relation to the tariff order dispute shall have far-reaching implications than what meets the eye.
THE 15% DISCOUNT CLAUSE
The initial tariff order stipulated that the discounts on MRP of a bouquet should not exceed 15% of the cumulative individual channels' cost. However, this clause was rejected by the Madras High Court and was not challenged by TRAI in the Supreme Court. Hence, the clause of 15% discount cap on bouquet compared to a-la-carte price has been rejected. It may be noted that most broadcasters who have declared RIO rates are offering discounts much higher than 15%, as it is now allowed. This would mean that the tariff order would eventually not have much impact on the overall regime.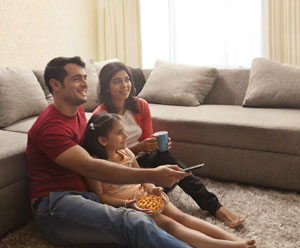 "Although most regulations were largely neutral to broadcasters/distributors, the removal of the 15% discount cap on pricing of channel bouquets would mean that the new TRAI regulations particularly pertaining to bouquet pricing are practically futile and the old regime would continue on broadly similar terms in the new tariff regime," says Rohit Dokania, Research Analyst, IDFC Securities Limited. "Subscription revenue for broadcasters would be largely unaffected in the new regime (given no discount caps). However, in implementing the new order, there could be disruption in subscription revenue over one or two quarters (implementation from FY2019 onwards in our opinion). On a full-year perspective, nothing much would change," he adds.
Kerala Communicators Cable Ltd (KCCL) CEO Shaji Mathews thinks that the 15% discount cap would have been instrumental in ensuring that the a-la-carte rates are affordable to consumers. "Today, when there is no 15% cap on discount that can be given for the bouquet, the broadcasters are free to price the a-la-carte rate of a channel only up to Rs 19, which is unrealistic. I think the whole purpose of the tariff order is defeated as these vital clauses are removed. Hence, this won't bring any major changes as far as the consumers are concerned," he says.
"Without the a-la-carte price cap, the consumer is the primary victim. The only significant gain for consumers through DAS was the promise that consumers can pick and pay for only the channels they wanted. With the cap removed, broadcasters will once again declare grossly inflated a-la-carte prices, forcing consumers to opt for large broadcaster bundles of pay channels. With no restrictions on a-la-carte price or its discounting, broadcasters seem to have lost the battle but won the war," says R S Raju, MD, Sky Vision Network.
STRATEGY FOR BROADCASTERS
The upcoming months would witness increased media investment, wherein broadcasters would spend a lot of money to become a channel of preference for viewers, and the money will be directed towards refreshing content, promotions and placement on the top band. (See box: Implications of the new tariff order)
GECs, which were sitting on abnormal profits, will see correction soon. The pay channels will have to be priced very carefully. With carriage fees slated to increase along with reduction in subscription revenues, broadcasters are hoping that ad revenues will somehow catch up. However, according to Karan Taurani, VP and Research Analyst (Media), Elara Capital, smaller niche channels could be negatively impacted as carriage fee is directly linked to the number of subscribers; hence eventually a lot of smaller channels may shut down due to higher carriage cost.
Reach and ratings of non-driver channels will go down. Channels offering relevant programming to viewers will be picked up while others will take a beating. The bundled sale of channels and bundled advertising which broadcasters used to benefit from will disappear.
Pay channels usually air original TV programmes while free to air (FTA) networks mostly rely on re-runs of old shows. The strategy would be to make up for fall in subscription revenues through advertising revenues propelled by high ratings of FTA channels infused with original programming.
News channels will not be affected because most of them are free to air. The real casualty will be non-news pay channels. If subscribers refrain from opting for a large number of pay channels, the fall in subscriber base will generate a sequential fall in reach, channel share and revenue prospects.
The natural fallout of such a development would be the conversion of pay channels into FTA, which is where the "shift to DD Free Dish" - the free-to-air digital direct-broadcast satellite television service owned and operated by the state-controlled public service broadcaster, Prasar Bharati - could take place. For example, ZEEL, in its recent announcement of MRP for channels as per the new tariff order, decided to offer all its news channels along with its other channels like Zee Anmol, Big Ganga and Big Magic, as part of these pay bouquets. As a result, these channels would not be available in the FTA pack of private cable and DTH operators. However, these channels are likely to be available free of cost on DD Free Dish.
Now, Free Dish is successfully reaching out to smaller towns, where it is enabling subscribers to watch general entertainment, music, regional and news channels at zero cost. According to an industry expert, broadcasters stand to gain by forging an alliance with Free Dish through the payment of reserve price, which stands at Rs 8 crore and Rs 6.5 crore for non-news and news channels, respectively. FTA channels which are available on Free Dish can air old programmes, which would mean incurring negligible content cost. Distribution cost is already taken care of, and marketing budget may not be required either. On top of that, the channels can make money through advertisement – a strategy that can be devised to curb costs and create revenues by going to Free Dish.


"The Supreme Court's order has empowered consumers across the nation. While the overall media and entertainment landscape has been evolving at a rapid pace, it is for the first time in 26 years that such a strong and positive step has been taken to eradicate the lack of transparency in the entire value chain of the broadcast and cable industry. It will certainly help the LCOs, MSOs and the broadcasters."


SHRI SUBHASH CHANDRA

Chairman, Zee & Essel Group



"This is the watershed moment we all have been waiting for. The new framework will bring in much-needed transparency and parity and promote exercising of choice for the consumer and ensure orderly growth of the sector. The onus is now on all service providers to put their best foot forward and comply with the required initial timelines and activities at the earliest."

RAJAN GUPTA
President, All India Digital Cable Federation (AIDCF)



"It is hugely positive for the end consumer and democratization of content selection. Increasing percolation of customer choice will make the sector more responsive and accelerate the pace of evolution. Content cost will be linked to subscription income and customer choice and will be a pass-through. This will lead to moderation in content cost growth for distribution platforms."

RAJESH SETHI
Chief Business Transformation Officer, Siti Networks Limited



"The TRAI tariff order will improve transparency in terms of pricing, carriage fee, HD channel pricing. Also there will be better balance of power which is currently more in favour of LCOs. This will also give customers more choice. It will lead to consolidation in favour of strong TV broadcast networks and weaker channels will find it difficult to maintain revenues. LCOs may not have big incentive to go on ground to do all these changes. Also, customer awareness will be a big challenge. Strict implementation and penalties will be the key."

ABNEESH ROY
Research Analyst, SVP, Institutional Equities - Research, Edelweiss Securities Limited



"Subscription revenue for broadcasters would be largely unaffected in the new regime (given no discount caps). However, in implementing the new order, there could be disruption in subscription revenue over 1-2 quarters (implementation from FY2019 onwards in our opinion). On a full-year perspective, nothing much would change.

The TRAI tariff order is mildly positive for MSOs/DTH players (distributors) as content costs would become a pass-through expense for them. However, the positive impact of this would be mostly negated by a fall in net subscription revenue as infrastructure fees have been capped in the new regime. Everything depends on how they are able to scale up placement/marketing fee which has been left to market forces."

ROHIT DOKANIA
Research Analyst, IDFC Securities Limited



"Overall, except for the carriage fee regulation, other key recommendations are a negative for niche channels, ARPU and pricing of channels of broadcasters.

Negative: With no bouquet channel being priced above Rs 19, it could negatively impact subscription revenue due to such a price cap; as most of the transactions with MSOs which were earlier done on a negotiable basis, will now be done on MRP only.

Positive: Regulation of carriage fee is a positive for broadcasters and it will bring more certainty; however with higher dependence on DTH, carriage fee amount paid by broadcasters to MSOs have dropped.

Negative: Smaller niche channels could be negatively impacted as its carriage fee is directly linked to the number of subscribers; eventually a lot of smaller channels may shut down due to higher carriage.

Negative: The ARPU for base 100 channels pack would move upwards to Rs 130 which could impact subscription revenue from Phase III and Phase IV digitisation."

KARAN TAURANI
VP, Research Analyst (Media), Elara Capital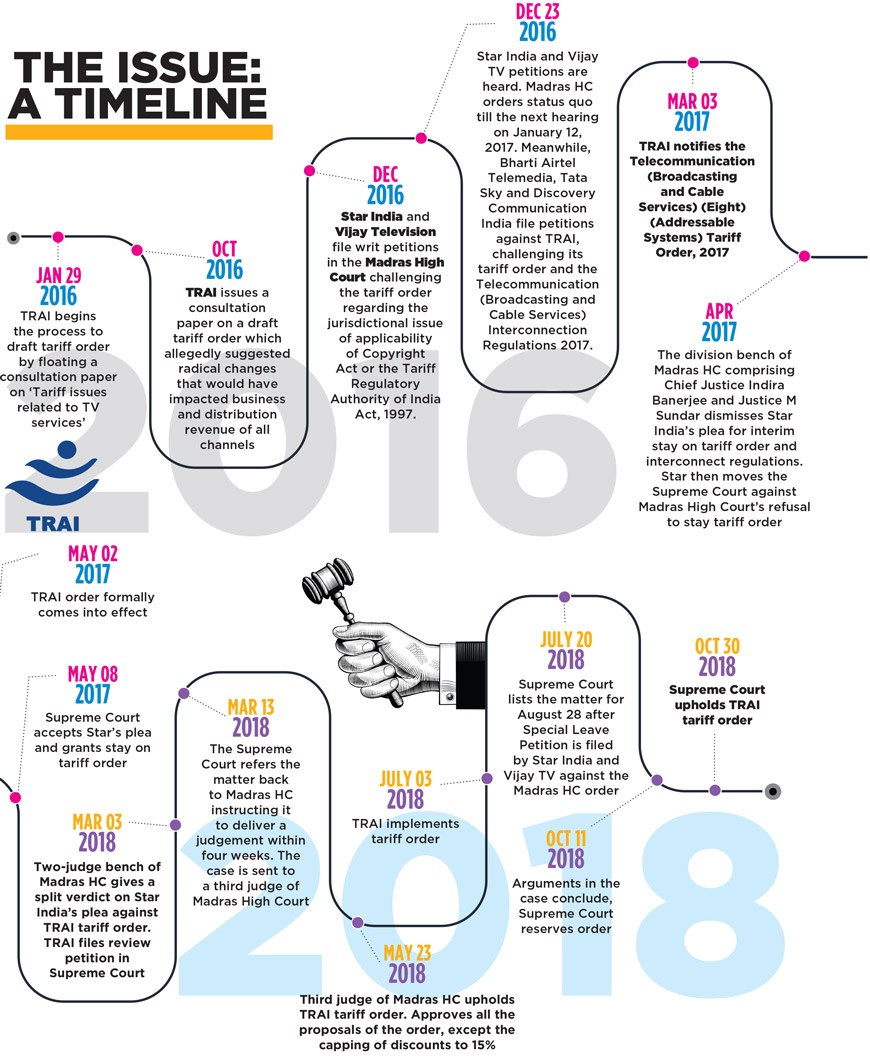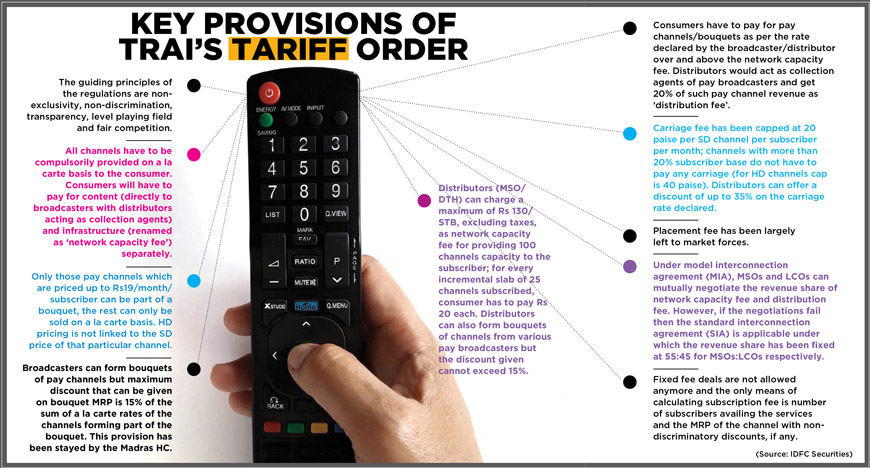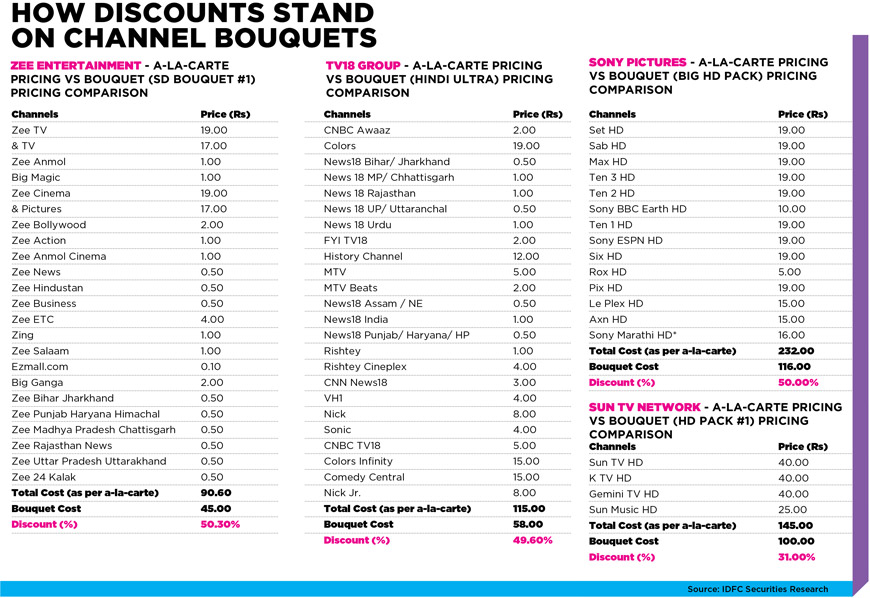 THE JUDGEMENT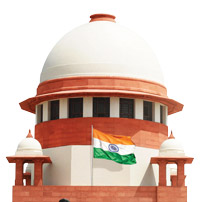 "We are clearly of the view that if in exercise of its regulatory power under the TRAI Act, TRAI were to impinge upon compensation payable for copyright, the best way in which both statutes can be harmonized is to state that the TRAI Act, being a statute conceived in public interest which is to serve the interest of both broadcasters and consumers, must prevail, to the extent of any inconsistency, over the Copyright Act which is an Act which protects the property rights of broadcasters.
We are, therefore, of the view that, to the extent royalties/compensation payable to the broadcasters under the Copyright Act are regulated in public interest by TRAI under the TRAI Act, the former shall give way to the latter. As there is no merit in these appeals, the same are, therefore, dismissed.
"The interest of the end user or consumer is not the focus of the Copyright Act at all. On the other hand, the TRAI Act has to focus on broadcasting services provided by the broadcaster that impact the ultimate consumer. The focus, therefore, of TRAI is that of a regulatory authority, which looks to the interest of both broadcaster and subscriber, so as to provide a level playing field for both in which regulations can be laid down which affect the manner and carriage of broadcast to the ultimate consumers."

"We live in dynamic times in Indian media. Large changes are happening in the distribution ecosystem starting from digitisation a few years back. Our system is geared towards reflecting such changes as and when it gets implemented."
PARTHO DASGUPTA
CEO, BARC India