The partnership between Reliance Jio Infocomm Limited and Facebook as well as the reported interest of Google in Vodafone-Idea and Amazon starting early investment talks with Bharti Airtel (although both telecom companies denied the reports), are developments poised to blur traditional boundaries between technology, media and telecom companies to create unique new and disruptive business models in the media and entertainment industry.
This convergence of Technology-Media-Telecom is termed a natural order of evolution of the industry. A technology company which is well funded can extract more revenues, market-share and share of mind by actively participating in more than one part of this convergence chain, while the telecom firms are keen to build an ecosystem of services to engage, retain and derive value from their existing customers.
What better battleground can these strategic investors find than the burgeoning Indian telecom market with around 600 million Internet users? In the last few weeks, RIL's Jio Platforms received 11 investments from 10 global technology investors. As of June 18, 2020, RIL had divested 24.7% in Jio Platforms for Rs 1,15, 693.95 crore.
"Jio's blitzkrieg launch in 2016 fostered the growth of online video in India. The late 2019 foray into home broadband is already altering the dynamics of the traditional pay-TV business in urban India. With e-commerce and a suite of scaled digital services (housed under Jio Platforms), the telco major will soon make a big splash in the vast digital advertising arena," says Mihir Shah, Vice President, Media Partners Asia.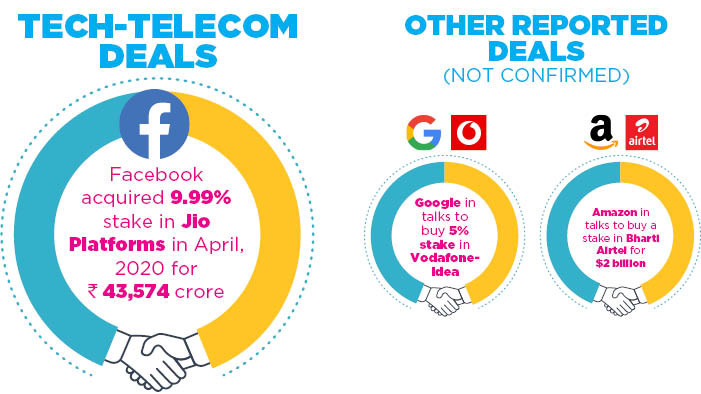 WHAT THE DEALS MEAN
Financial integration of value chain

Deep pocketed giants will bring

liquidity for telecom players

Consolidation will help larger players

Can freely invest into content


KEY STRENGTHS OF BIG TECH COMPANIES
Backend technology driven by AI/ML

Data Analytics

User adoption

PIGGY-BACKING ON TELECOM
The telecom companies have access to consumers, so the handshake is actually happening through them and with the concept of net neutrality, telecom operators are obligated to provide equivalent services to the consumer. The advantage that some of these big technology platforms bring by partnering with telecoms is that they will be able to get a better understanding of the customer. And depending on usage patterns, demographics, the geographical dispersion of the audiences they can define and customize better products to appeal to those audiences.
So, there is a value proposition in many segments like digital e-commerce, physical commerce, entertainment and news content consumption, where big technology companies can gain by actually riding piggyback on the telecom network.
"There is an opportunity to disrupt a lot of existing business models, in logistics, distribution, pure play content consumption or even creating new forms of content that can be consumed by audiences in different ways. For example, a news app similar to TikTok, which provides 30-second bytes of news as a stream, continuously on a channel. It could be around sports, entertainment or music," says Pradeep Dwivedi, CEO-India, Eros International Media Limited.
"It also provides a brilliant opportunity for a very large start-up ecosystem to flourish, because even though this combination provides a lot of vanilla services to the consumers, there will be opportunities for specialized solutions to emerge," adds Dwivedi.
Also, telecom companies in India are under various adjusted gross revenue (AGR) obligations and struggling due to huge financial liability. Investments in new business models could also allow them to perhaps defray and pay off some of the existing obligations and ensure their own survival and sustainability in the long run.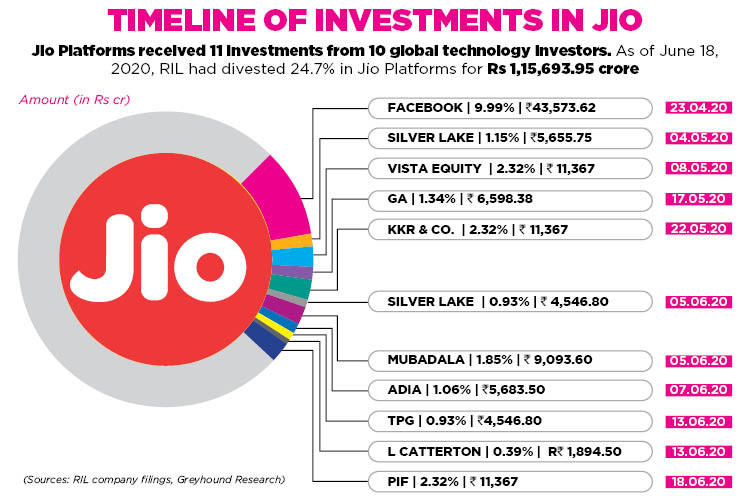 CONTENT WITH CONNECTIVITY
The more content that each of these combined entities will have within their walls or gateway, the more successful they are likely to be. While the entire focus of the content right now is primarily entertainment content, it is going to go to the informational and educational learning content very quickly.
"Content will become a baseline for these Tech-Telecom behemoths, like connectivity. The more subscribers a network would have, the more will be its likeliness to take those subscribers to the five Cs of Community, Content, Commerce, Currency and Capital. Customers slowly will start expecting content alongside connectivity and companies will need content to attract new customers and keep them. It is going to be a powerful combination," says Sanchit Vir Gogia, Chief Analyst, Founder & CEO, Greyhound Research. "The only difference right now is that a lot of these players haven't explored content out of the entertainment perspective. But soon, they will go to gaming, learning, music, news, entertainment and educational content. For example, it is only a matter of time that Network18, etc., become premium and are accessible to Jio customers," he adds.
It is going to be a two-way advantage in terms of content. "If we look at just the OTT content space, big tech OTTs which haven't seen much success in terms of content, will get access to local and regional content and the local OTT players will get an advantage of technology and money to scale up and invest further in content," says Karan Taurani, VP - Research Analyst (Media), Elara Securities (India) Private Limited. "However, it will have a negative impact on broadcaster OTTs, which have been struggling to bring in catchy fresh content and much of their success in terms of revenues so far have come from sports and catch-up content. With these deals, they may have to ally their content with partnership of telecom majors and large tech giants," adds Taurani.

Content which is

focused on entertainment right now

will move to educational and informational very quickly

The big tech companies have been successful all over the world but

India is a very fragmented market

Tech companies may not have the competency to develop

content relevant to fragmented and differentiated India

Local telcos get

advantage of tech and liquidity

Tech giants get advantage of

local feel, local content and access to end consumer base that telcos have

Indian OTTs still lack the

user experience

that multinational OTTs like Netflix and Amazon Prime Video deliver

'It's good to have shared ownership of the pipe'

"Big tech acquiring stakes in Indian telecom companies has some broad objectives. The first one is access to their huge subscriber base. Jio, Airtel and Vodafone all qualify in that respect. Secondly, telecom companies probably are the best equipped on the payment backbone and hence that would be a good asset. Facebook is looking to launch its WhatsApp pay which can benefit substantially with the collaboration. Therefore, there is a definitive leg-up for their content monetisation. Lastly, each of the companies are good investments, though some of them are going through a trying time. If one has the money, it's good to take that punt. The future is Digital and it's good to have shared ownership of the pipe if you rely on it for access and content."
Timmy Kandhari
Founder and Managing Director,
Sapphire Professional Services Pvt Ltd

WALLED GARDENS, EXCLUSIVITY…
Going forward, content partners will naturally have to take a particular side and ally with a telecom-tech player, because over the course of time, telecom players will have a greater say in the entire relationship. "The deals will create walled gardens but not immediately. It may shift power in the hands of the tech giants and would not want local broadcasters to scale up," says Taurani.
However, Avinash Pandey, CEO, ABP News Network believes that the merger activities will allow broadcasters to achieve scale, acquire technology, talent, and new production capabilities. "Internet will be the new electricity and therefore telecom will not dominate distribution, instead converge with media and technology companies to address the market opportunity holistically. For linear TV, this will be an opportunity to create an absolute direct-to-consumer relationship across multiple screens without the baggage of a linear distribution model. The merger activities will allow broadcasters to achieve scale, acquire technology, talent, and new production capabilities," he says.
"The big tech companies are consumer tech companies in reality. Their product differentiation strategy depends on the innovativeness and uniqueness of three things - back-end technology driven by AI/ML, data analytics and user adoption. In contrast, pure content companies will always focus on creating news, stories and ideas that impact or influence end consumers' lives. This unique value proposition cannot be replicated by consumer tech companies," adds Pandey.
"Given the new reality that the current pandemic has created, Digital is expected to be the dominant force going forward and in FY23, it is likely to be the second largest segment after TV and attract the highest marketing spends among all media formats. As Digital behaviour evolves, there seems to be a growing consensus that in the future, subscription models will have a greater role in monetisation of Digital platforms. The new tariff order and its impact on the industry is a prelude to the trend that is likely to emerge going forward – any increase in subscription fees for TV may result in some early adopters shifting to OTT for their entertainment needs. The virus outbreak has magnified the already apparent shift from laptop/ smartphones viewing to large screen TVs – providing a significant fillip to broadband Internet and Fiber to the Home (FTTH) companies," says Satya Easwaran, Leader- Technology, Media and Telecom, KPMG India.
Till date, entertainment applications, primarily video, have been a major driver for data traffic for telecom companies. The next wave will be centred around 'phygitization', connecting India's informal sectors to online platforms. This will give a major fillip to India's start-up, small and medium businesses (SMBs) and the Digital economy at large.




'Tech-telecom relationships will neither be friend nor enemy, but frenemy'

Collaborations between tech and telecom will become a lot more important going forward and TV and OTT platforms will join some of these alliances as content partners or distribution partners. Sandeep Goyal, Founder, Mogae Media and Chairman of the Forum for Ethical Use of Data (FEUD) discusses how the coming together of Technology-Media-Telecom will play out
Q] What is your view of the Big Tech companies acquiring stake in Indian telecom majors? How do you think it will change the Media & Entertainment landscape in India?
It is all the quest for The Next Billion. India is the most fertile, commercially productive and consumer-ready market in the world for the Western world's Big Technology behemoths. China has all but shut out all Western brands in this digital domain. They have incubated, ideated and birthed companies in the 'hi-touch consumer digital' area that are larger, at times more versatile and even more tech-savvy than the FANG companies. Japan as a market is insular, and Japanese consumers are very inert. So Japan has its own ecosystem in Digital with large home-spun players, very strong in the local language and steeped in local culture. So, tough market to crack for the Silicon Valley gang. European markets are saturated, and also getting older. Africa has problems still with broadband penetration. Also South America. So that leaves India as an even more desirable destination to invest in, and grow.
For India, the implications are profound. These big companies will help pave the way for a more digitally connected India. And 'connected' doesn't mean broadband only but a seamlessly connected digital footprint for most users… between social media, e-commerce, payments, communication, even education and governance. One customer-one-relationship-one click. The marriage between Big Tech and the dumb-pipe of the telco means imbuing the dumb with intelligence.
Q] The Big Techs have become content companies and telecoms control the distribution pie. How will these mergers impact TV and other digital platforms?
In today's day and age, there are no real competitors, actually more collaborators, co-creators and co-sharers. TV and OTT platforms will join some of these alliances as content partners or as distribution partners. The accent in the future will not be on bettering deliveries, but on multiplying deliveries. That is what will make collaboration so important. Future relationships will therefore be neither friend, nor enemy, but 'frenemy'. The landscape is still work-in-progress, and evolving.
Q] The huge data mine that the telecoms have will be accessed by the Big Tech, on merging. What advantage, scale and new avenues is it likely to bring up going forward?
For Big Tech, the customer database of telcos is nothing short of a goldmine. It makes addressability, the biggest hurdle in digital, surmountable, which is why these marriages have been consummated. Each telco brings in precision data on 300 million subscribers with 400 active data points. I have done this business for a decade, so I know.
For the customer, there is both the joy of a better product; but also the fear of a severe loss of privacy. Data laws in India are still in the nascent stages. The Government's responses have been jerky, and not always pre-emptive or preventive. Which is where I have voiced big fears. Big Tech is big but it also doesn't have a very clean track record on ethics. They are well known to be prone to bending the law. And if laws don't exist, then there is nothing to break! You can have a field day. Hence, the dangers.
Q] Will these mergers create more walled gardens or will the factor of net neutrality come back?
This is no longer the net neutrality battle. It is the identity battle. How much of their customer identity will the telcos reveal? Anonymisation of data is all humbug. Telco customers need to be asked to do an explicit opt-in, not have a default opt-out with relation to any and all current and future products of both entities in these marriages. Telcos should not even be allowed to share ad ids of customers, let alone details of past usage of financial products by customers. Data is the only raison d'etre for these marriages and mergers.

WHAT EACH INVESTOR BRINGS TO JIO
FACEBOOK: Brings muscle on user base, data analytics, leading community platforms like Instagram, Facebook and most importantly has shared goals with RIL on targeting Indian retailers to build a thriving commerce and currency business.
SILVER LAKE PARTNERS: Can help with overseas listing of Jio and emulate the success it had with Alibaba Group in 2014 but more importantly it brings to Jio deep understanding of tech incumbents and new-age industries like e-Commerce, sharing economy.
VISTA EQUITY PARTNERS: Has a hands-on approach to its investments (mostly SW firms) and can help extensively both in improving existing Jio apps and helping it kickstart its software business especially with enterprise customers, in areas of F&A, SCM, adtech and more.
GENERAL ATLANTIC: Brings deep understanding of digital consumer businesses especially in new age industries via its investments in category leaders across FinTech, EdTech and Retail in India and is known to offer an extended lifeline and not rush into exits.
KKR & CO: Brings expertise in managing and running telecom towers business, scaling consumer apps (TikTok, Gaming), shared mobility companies (GoJek, Lyft), managing healthcare assets and services and financial services (Max Healthcare/ Fin, Policy Genius).
MUBADALA ABU DHABI: Has investments in Telco, Data Centre and IT Services companies in UAE and can help Jio jumpstart its international expansion and alongside offer Jio the ability to leverage its investment in AMD (Intel Compn) to build out data centres.
ADIA ABU DHABI: It is primarily a financial investor in Jio Platforms and has been identified as a strategic investor in India by the Government with a focus on key industries such as Petroleum, Infrastructure, Land, Real Estate, Insurance, among others.
TPG CAPITAL: Along with TPG Growth & The Rise Fund can help Jio leverage its investments in Education, Energy, Agri, Fin Services, Fin Tech, Infra, Tech, Media, Telco, Healthcare and emulate its success with Baidu's FinTech firm, Du Xiaoman Financial.
L CATTERTON PARTNERS: Can bring to Jio Platforms deep understanding about delivering customer experience in consumer technology businesses and alongside give access to tech from its portfolio to help deliver customised CX in new retail formats.
PIF SAUDI ARABIA: Has a deep relationship with RIL with mutual interests in Oil, Tech, Telecom, Retail, Media, BFSI, Hospitality among other areas and can borrow from their working experience with SoftBank, and investments in Uber, Tesla, Facebook & others.
Source: Greyhound Research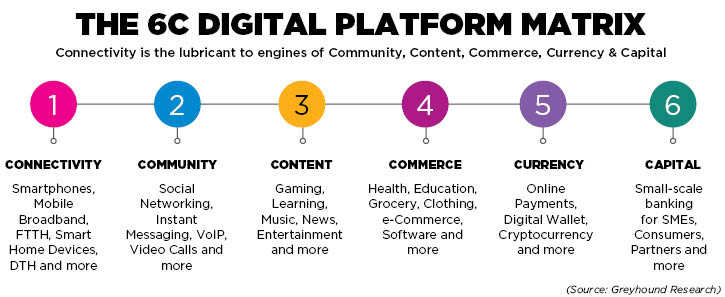 "Tech-telecom mergers will bring complementary businesses together to enhance core business, enter high-growth markets, and aggrandize service offerings. Internet will be the new electricity and therefore telecom will not dominate distribution, instead converge with media and technology companies to address the market opportunity holistically. For linear TV, this will be an opportunity to create an absolute direct-2-consumer relationship across multiple screens without the baggage of a linear distribution model."
Avinash Pandey
CEO, ABP News Network

"I foresee these big forces bringing in a lot of disruption in the whole media content and distribution landscape and possibly lead to newer models, whether it is in the content consumption space or even in the media buying space. Only thing we'll have to see is how do we keep the consumer at the core, especially with things like privacy laws and data regulations as they will become important from a consumer lens."
Vasuta Agarwal
MD, InMobi- APAC

"Big tech majors and their desire to connect with consumers compounded by having access to the pipes that actually provide the handshake with consumers will transform and impact every sector right from media, healthcare, education, commerce to even banking. It will also provide a brilliant opportunity for a very large start-up ecosystem to flourish, as there will be opportunities for specialized solutions."
Pradeep Dwivedi
CEO-India, Eros International Media Limited

"Jio's blitzkrieg launch in 2016 fostered the growth of online video in India. The late 2019 foray into home broadband is already altering the dynamics of the traditional pay-TV business in urban India. With e-commerce and a suite of scaled digital services (housed under Jio Platforms), the telco major will soon make a big splash in the vast digital advertising arena."
Mihir Shah
Vice President, Media Partners Asia

"Content will become a baseline for these Tech-Telecom behemoths, like connectivity. The more subscribers a network would have, the more will it be able to take those subscribers to the five Cs of Community, Content, Commerce, Currency and Capital. Customers will start expecting content alongside connectivity to attract new customers and keep them. A lot of these players haven't explored content out of the entertainment content perspective; they will soon go to gaming, learning, music and news."
Sanchit Vir Gogia
Chief Analyst, Founder & CEO,Greyhound Research

"Content will become a baseline for these Tech-Telecom behemoths, like connectivity. The more subscribers a network would have, the more will it be able to take those subscribers to the five Cs of Community, Content, Commerce, Currency and Capital. Customers will start expecting content alongside connectivity to attract new customers and keep them. A lot of these players haven't explored content out of the entertainment content perspective; they will soon go to gaming, learning, music and news."
Satya Easwaran
Leader- Technology, Media and Telecom, KPMG India

"It is going to be a two-way advantage. Big tech OTTs will get access to local and regional content and local OTT players will get the technology and money to scale up and invest further in content. However, it will have a negative impact on broadcaster OTTs, which have seen much of their revenues come from sports and catch-up content. They may have to align their content with partnerships of telecom majors and large tech giants."
Karan Taurani
VP - Research Analyst (Media), Elara Securities (I) Pvt Ltd