Sports marketing witnessed some of its biggest opportunities dampened by the global catastrophe. The empty seats at the otherwise grand, Olympic Games were one of the many indications of an aching industry, one that was caught off-guard by the Covid-19 pandemic. Before the onset of the pandemic, the business of sports was one of the better performing sectors in the economy with 12.8% CAGR. However 2020 was the anomaly of the year where major tournaments got cancelled or postponed. But 2021 has an exciting line-up of sporting events, and IPL coupled with ICC Test Championship & ICC T20 World Cup, Olympics 202O and Euro 2021 can ensure a high scoring year in the business of sports.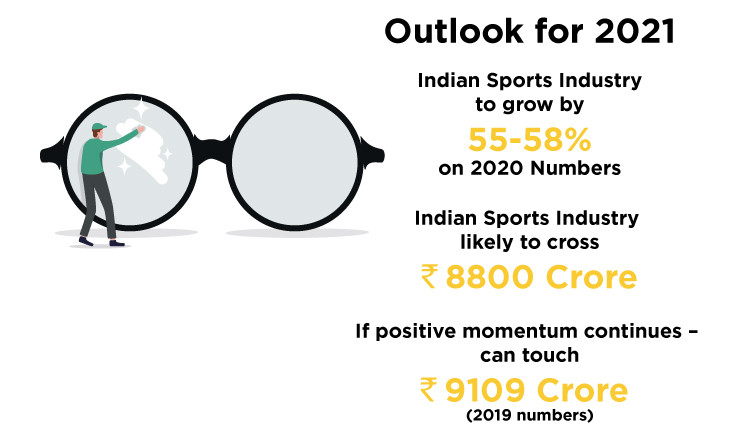 As per a joint study by exchange4media and GroupM's ESP, Indian Sporting Industry is expected to grow by 55-58% on 2020 numbers to reach Rs 8800cr, in fact if the positive momentum continues it is also likely to touch the 2019 numbers i.e. Rs 9109 cr. Bio bubbles and lack of fans cheering from the stadiums was the new normal after IPL 2020, which led to ground sponsorship and activations suffering in a big way. But the good news is that on-ground sponsorship will be up by 60-65% in 2021 with cricket being the major contributor as per the study. Media spends are expected to grow by 45-48% while endorsement will go up by 12-14%. Cricket again happens to be the towing hook for India's pandemic-induced sluggish sports sponsorship industry with it contributing 85-87% of total Sports' AdEx due to IPL and the World Cup while emerging sports will contribute to 13-15% of the total sports ad expenditure.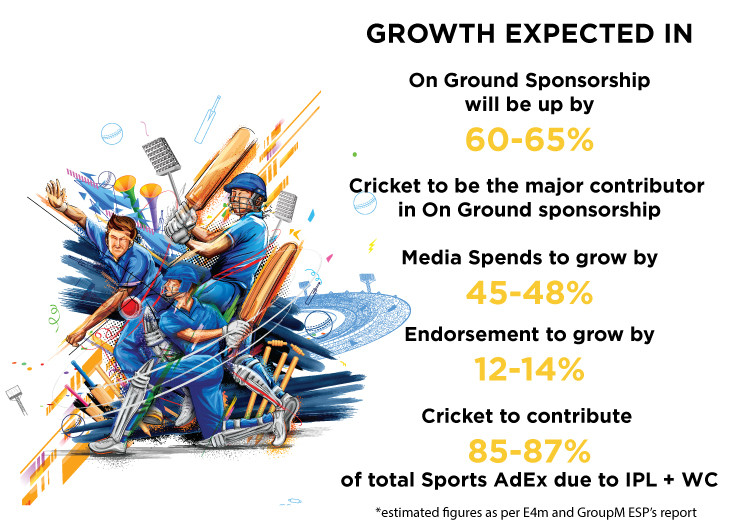 Talking about what is the big difference in pre-Covid and post Covid approach for brands when it comes to spending on sporting events, Vinit Karnik, Head - Sports, esports and Entertainment, GroupM South Asia says, "With emergence of OTT, only Sports remains as one of the sure bets for appointment viewing. On-ground spends and media spends are likely to grow in the coming years. Cricket will remain to be the advertisers' first choice considering the fan following and format of the sport. At the same time emerging sports will bounce back creating a year-round supply of sports content. For e.g. PKL is likely to return in December 2021 and new leagues like KhoKho and new Volleyball league are all set to begin. Participative sports like Marathon & Golf are likely to gain momentum. I feel Phygital – Physical + Digital will be the new way to organize these events."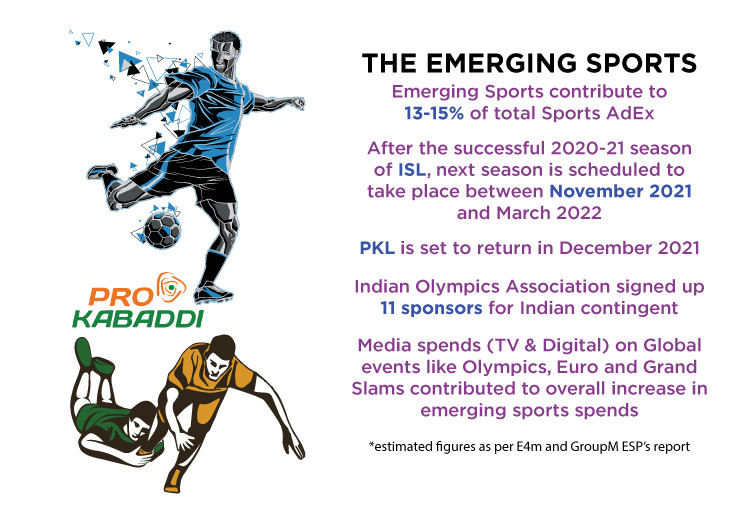 Once the pandemic struck, back to back cancellation and open-ended postponement of sporting events triggered a domino effect spelling doom. Football Durand Cup, domestic seasons with the Badminton Association of India (BAI), both 2020 and 2021 editions of the ICC Men's T20 World Cups along with the Indian Open were some of the many tournaments that could not be held because of the pandemic. The direct impact of these 'red cards' was on revenue. No sports events meant no benefits for sponsors from live events. Further, no live sport equaled no live coverage and therefore sponsors did not have the foundations from which to launch their marketing, fan engagement, and all other activities associated with the rights and assets they had acquired. It thus came as no surprise that the size of the Indian sports industry in 2020 was estimated to be Rs 5894cr, a fall of 3215cr from the previous year, as per GroupM ESP Sporting Nation Report 2021.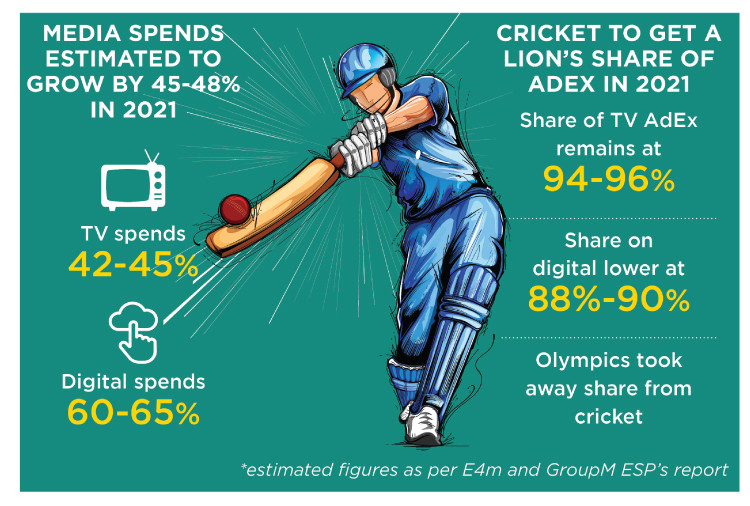 It must, however, not be assumed that the effects were unilateral. Some brands emerged as outliers. "We are glad and proud to be associated with sports. In fact, we feel

we are still getting the same visibility, or perhaps more. And demand for our products continues to flourish," says Dr. Mahesh Gupta, Chairman, Kent RO Systems Ltd.
There are other brands who are looking at the longer run. "We believe that brands must continue their associations with sporting events, and focus on long-term brand building and partnerships within the limitations of the current environment. Our organizational culture has always been to keep brand values and customer-centricity at the core of all our initiatives, and we will continue to do the same," says Komal Mehra, Head, Sports Initiatives and Associations at

Usha International, official partner of Mumbai Indians. Visualizing a marathon despite the unprecedented short-run troubles prompted brands to bring about swift changes in the way they conceptualized marketing.
Strategic shift
Laying out the challenges brands faced in terms of planning post Covid-19, Vijayaraghavan Venugopal, CEO, Co-Founder Fast&Up, says, "It's tricky

because we don't know what events will happen and what will be their magnitude. For example, what can one do when an event is cancelled? How can I make sure I don't face a huge loss? This was not the scenario pre-Covid for a brand. No one thought of loss. Earlier, it was making the most of plan A. Now you have to have a plan A, B and C."
Some brands also witnessed stark fluctuations in monthly budgets, drop in overall expenditure and revamping of board-room discussions. Vikram Sakhuja, Group CEO Media and OOH - Madison Media says, "Annual plans gave way to tactical campaigns. National plans gave way to more regional/ local plans consistent with where the lockdowns have been lifted. Campaigns dialed up reassurance and authenticity."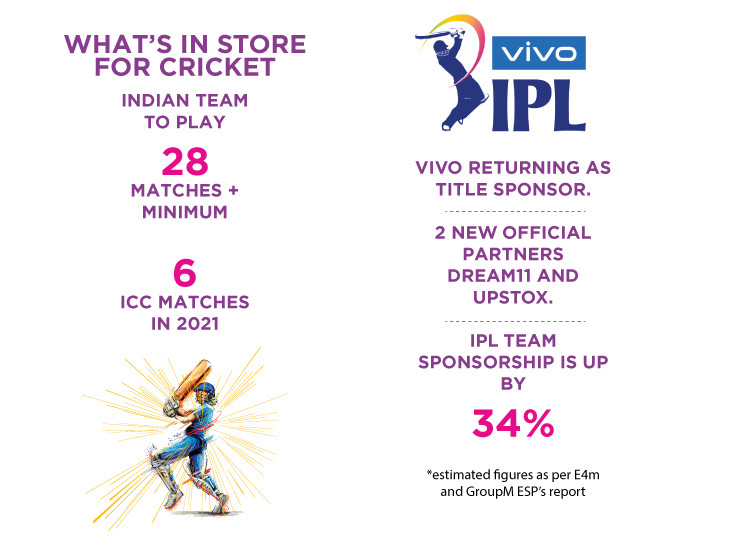 However, one brand which has spent on sports marketing in double digits consistently over the past three years, especially on cricket because of the kind of impact and

reach it has across both TV and Digital, is Policybazaar.com. Sharat Dhall, COO of the brand says, "Our sports investments didn't drop even in 2020. We are considering both the upcoming IPL as well as T20 World Cup. Talking about whether this would be a great year for Sports Marketing he says, "In addition to the cricketing properties there was Euro 2020, Olympics etc. To some extent the risk factors are reducing, you're seeing the economy respond in various areas. So I would think that the spends would be back this year. Also as far as the risk of cancellation of such events is concerned like the IPL earlier this year, I think it can be worked around. If you are a consistent advertiser over the course of the year you can strike a deal with the channels. As far as Policybazaar is concerned we don't view it as a major risk."
The immediate impact of the pandemic was also visible in sports marketing firms quickly making it their business to understand and anticipate consumer needs. Real-time insights and technology that can track and predict consumer interests were adapted with agility to pivot business offerings and win the consumer's trust.
The big categories advertising on sports related properties are specially the new age ones, be it Fintech, fantasy gaming, ed-tech or short form video apps like Paytm, BharatPe, PhonePe, Upstox, Dream11, MPL, Byju's, Unacademy, MX TakaTak etc as per the joint study.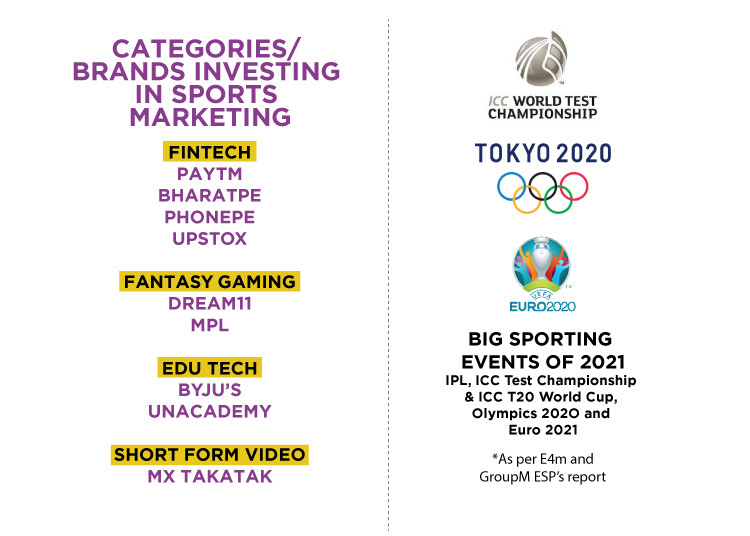 Digital demands
Komal Mehra says, "In these unprecedented times, consumers look for more mindfulness from brands. Since the outbreak of Covid-19, there has also been a rapid acceleration of digital-first strategies. This is one major change in the pre & post COVID approach for brands participating in sporting events, as building virtual experiences and ramping up engagement on online platforms has seen increased focus in the past year and a half."
However, some brands by virtue of being associated with the health sector as well, reaped benefits. "Well, we are a brand that believes in the safety of the people, from our products to marketing campaigns, everything is centered on this concept. Also, our biggest USP is our products and innovation that the product sells. So, it will not affect a brand like ours that there will be no fans in the stadiums/playgrounds due to Covid-19. And let's not forget it's a digital world. The viewership has gone up for sports during the pandemic. So, brand sponsorship will in fact get more traction," explains Dr. Mahesh Gupta, Chairman, Kent RO Systems Ltd.
The increased focus on Digital is evident, the ESP report suggests that there will be a 60-65% growth in the digital ad spends while that on TV will go up by 42-45%. Undoubtedly cricket will get a lion's share of the ADEX with that on TV to be between 94-96% and on Digital to stand at 88%-90%.
A survey by McKinsey & Company found that responses to Covid-19 have speeded the adoption of digital technologies by several years, and that many of these changes could be here for the long haul. An extension of the same survey said that industries across regions experienced an average of 20 percent growth in 'fully digital' users in the six months ending in April 2021.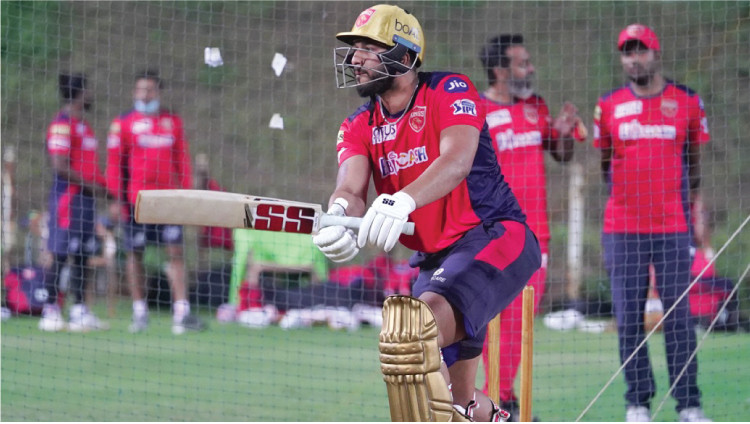 Therefore, despite the gloom, digital prospects emerged as an incredibly dependable 'night-watchman', holding on to the team till the viral storm was tamed. "Convenience being a huge factor, there is a definite shift towards digital and OTT. There is a lot of money being spent there. Share of TV is becoming lesser where brands feel they can connect to audiences through these two platforms. They have access to digital which is literally a click away and, on their fingertips," says Vijayaraghavan Venugopal.
The shift has also resulted in more and more brands investing their advertising and promotional spends on digital strategies as they see value in spends across paid search, email campaigns, and social media ads. "We are confident that the viewership of sporting events is going to surpass all previous viewership numbers with matches/games being aired across TV, Digital, and OTT platforms. Covid-19 induced lockdowns and restrictions have led to a high level of digital engagement especially as fans are now connecting and expressing themselves on social media platforms. This gives brands a great opportunity to further strengthen consumer connect by creating unique experiences for them," says Komal Mehra.
The IPL in 2020 was a classic example which demonstrated how sports and digital mediums came together to produce numbers. OTT platforms witnessed a 32% increase in the user base for the IPL week over the previous week, primarily driven by massive gains seen in official streaming platforms of the league Disney+Hotstar. Usage of fantasy apps also witnessed an 80% increase in users during the first week of IPL over the previous week. This is based on data on Disney-owned ABC, 15–45-year-old Android smartphone users across urban markets in over one lakh towns/cities.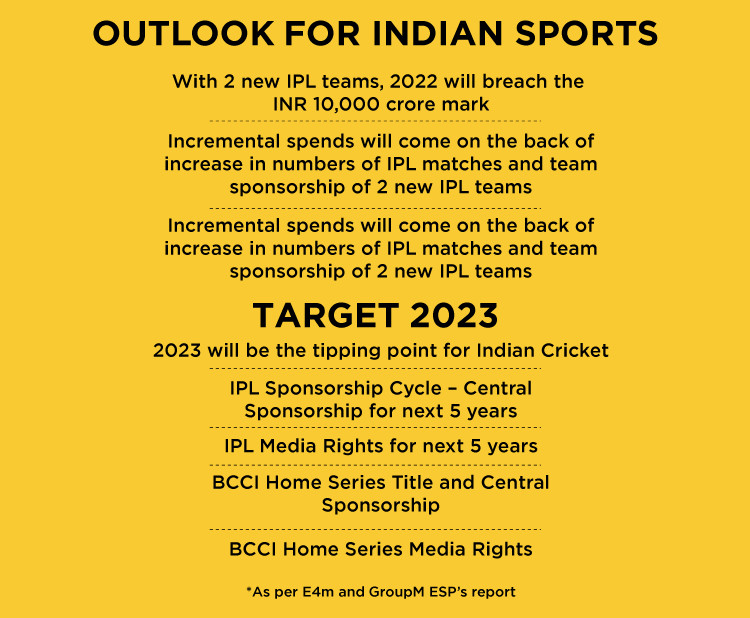 Outlook for the future
The pandemic has also altered sports sponsorship, accelerating trends hybrid events and rising importance of player advocacy. According to the Nielsen Sports 2021 Global Sports Marketing Trends report, live and virtual sporting experiences are increasingly merging. The health crisis that saw stadiums empty of fans meant events had to change and broadcasters needed to innovate. As fans gradually return to live events, these virtual upgrades will be retained, with further investment into broadcast innovations expected, Nielsen predicted. According to the global report, 53 per cent of fans said they are more likely to consider brands that enhance the way live sports are viewed at home.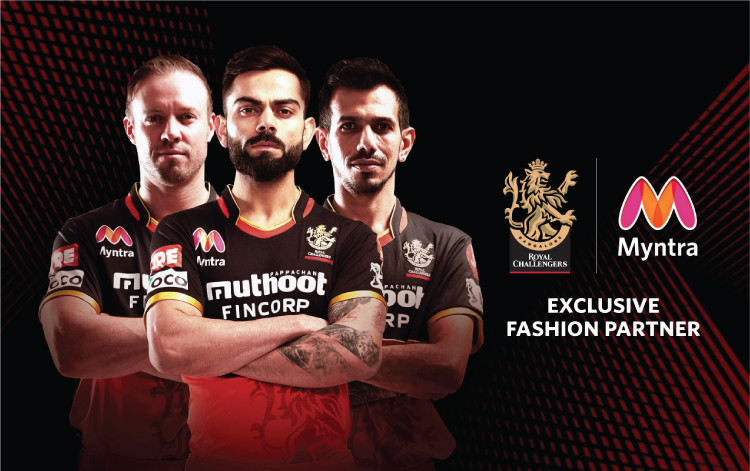 If 2021 is expected to be a good year for Indian Sporting Industry, 2022 will take it a step further. Vinit Karnik says, "With two new IPL teams, 2022 will breach the INR 10,000 crore mark. Incremental spends will come on the back of increase in the number of IPL matches and team sponsorship of the two new IPL teams." Coming back to 2021 he says, "Indian team will play 28 matches + minimum six ICC matches in 2021. As far as IPL is concerned team sponsorship is up by 34%. While Vivo is returning as the title sponsor, the League has got two new Official partners – Dream11 and Upstox. Meanwhile ICC T20 World Cup has got on board three new sponsors--Byju's, BharatPe and Upstox from India."