Shereen Bhan, Managing Editor, CNBC-TV18, Network18 Group has topped IMPACT's 50 Most Influential Women in Media, Marketing and Advertising List, 2022 for redefining the business news broadcast landscape through shows like 'India Business Hour' and 'Young Turks'.

India Today Group was the Gold partner and Bobble AI was the Awards Partner for the tenth edition of IMPACT's 50 Most Influential Women List which was co-powered by SCIBIDS. This year, the list saw a healthy representation of women leaders from across domains. The eminent jury has handpicked 21 new faces and voices that are shaking up the industry right now. The number of women on the list from media companies is 13, which is one less than the 2020 tally. 24 are from the agency side like Creative, Media, Digital, Design. The remaining 18 are from a marketing background, out of which 6 are from Digital first businesses. Along with the 50 women achievers on the list the jury singled out five professionals for 'Special Mention'.

The list was put together by a jury of most esteemed industry leaders, led by Sam Balsara, Chairman and Founder, Madison World. Other eminent names on the jury this year were Avinash Pandey, CEO, ABP Network; Vaishali Banerjee, MD, Platinum Guild International – India; Pradeep Dwivedi, ED & CEO, Eros International Media Ltd; Priya Nair, Global CMO, Beauty & Wellbeing, HUL; Angelo George, CEO, Bisleri; Kavita Nair, Independent Director & Board Member, Bluedart Express; Shefali Chhachhi, Co-Founder & Managing Partner at Hearth Ventures; Sunil Lulla, Founder & Chief Evangelist, The Linus Adventures LLP; Rajeev Beotra, Executive Director, HT Media Ltd.; Neeraj Bahl, MD & CEO, BSH Home Appliances; Nitin Gupta, CEO, Xapads Media; Gulshan Verma, CEO, Jio Ads; Gurmit Singh, General Manager, APAC, Quora.

Past toppers of IMPACT's 50 Most Influential Women List include Kalli Purie, Vice Chairperson, India Today Group (2020); Tanya Dubash, Executive Director and Chief Brand Officer, Godrej Industries (2019), Nadia Chauhan, Joint Managing Director & Chief Marketing Officer, Parle Agro (2018), Malini Agarwal, Founder & Creative Director, MissMalini Entertainment (2017), Ekta Kapoor, Joint Managing Director and Creative Director, Balaji Telefilms (2016), Kirthiga Reddy, then Managing Director of Facebook India (2015), Rama Bijapurkar, market strategy consultant and acclaimed business author (2014), Shobhana Bhartia, Chairperson and Editorial Director HT Media Group (2013) and Vinita Bali, then Managing Director of Britannia (2012).
---
The Jury Chair on #IMPACT50WOMEN list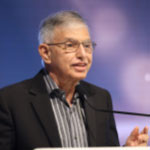 "Women demonstrate a certain amount of empathy, which is very essential in today's day and age to build a vibrant organization that is well knit and stays together. They say that women are actually better at crisis management and in times of crisis, actually, they're cooler, calmer, they're more collected. Now, I wonder with all this kind of information floating around if these are just platitudes or what, I don't know, but you know, according to a Stanford study that I came across, only 25% of the Fortune top hundred list actually feature or those organizations have only 25% women in their CXO positions."

'Women, by the way, are also supposed to be much better communicators than men. So, I'm sure in the years to come, you are clearly going to dominate the A & M world. We are here today to celebrate your achievements. IMPACT, hopefully, is going to write about those achievements, and we hope that your lives and your stories and your careers will inspire more and more women to join advertising, media and marketing. You have an important role to play, a charismatic role, I would say in helping them, leading them, and showing them the path of how they can quickly get into your shoes.'
---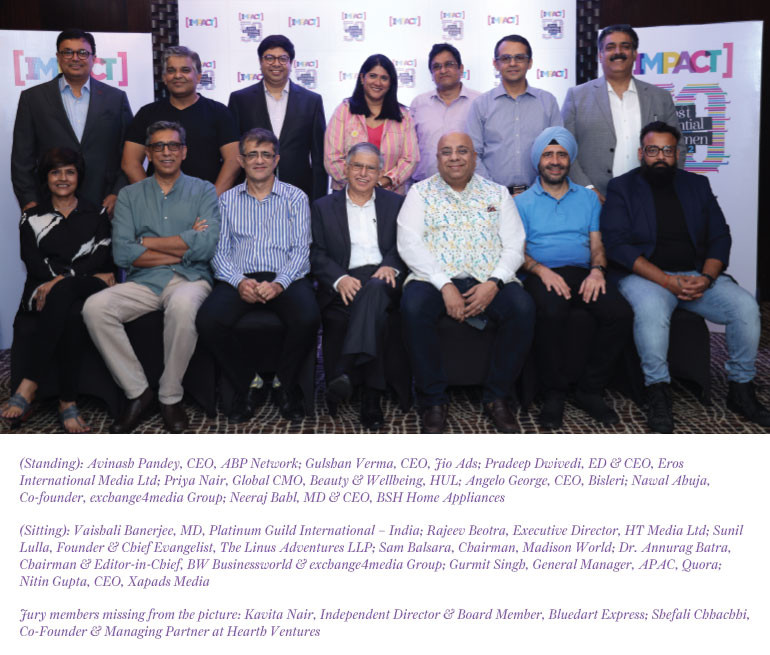 THE INITIAL LIST
The exchange4media Group called for nominations and at the end of the extensive nomination period, received close to 400 entries. The IMPACT editorial team created the first shortlist of 110 names which was presented to the esteemed jury. It included new nominations, names drawn from last year's winners (if relevant), and had leaders who have truly been the talking point this year, for their body of work. The jury was presented with comprehensive profile information about each nominee on this shortlist.
THE JURY PROCESS
While reviewing our shortlist, the jury members added some more deserving names which were further voted on. The jury was then faced with the formidable challenge of reviewing the nominations and ranking each nominee in the list keeping in mind the pre-decided parameters (listed below).
THE PARAMETERS
• Contribution to her role
• Size of business she heads/leads
• Impact of her work on the profession/industry
• Any other notable achievements
---
The Topper Speaks
Shereen Bhan
Managing Editor, CNBC-TV18, Network18 Group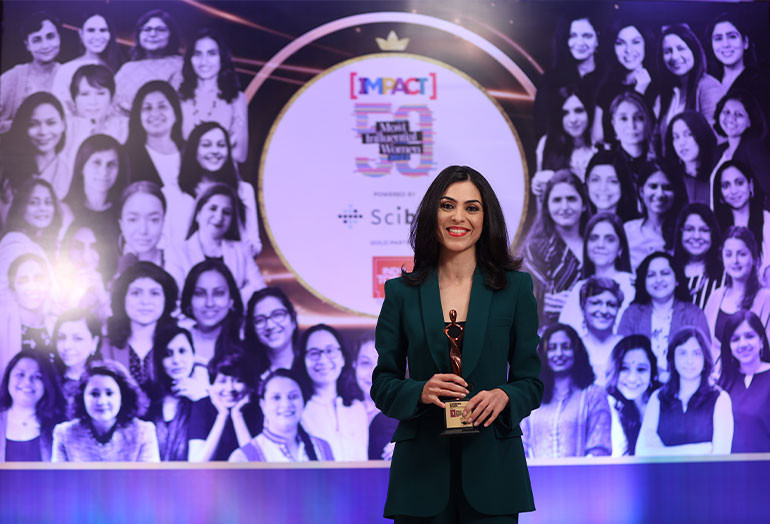 It is fabulous to be back here. I have been a part of this list for several years, and I have always made a point to come back because I enjoy the energy, the connection, I enjoy the fact that there are women celebrating other women's success, and there are men celebrating our success. I think that really is a testimony to the ten years that you've put this together. So congratulations to the e4m, and the IMPACT team as well.

So somebody outside was asking me where I work, and I said CNBC. He said how long have you been there, and I said 22 years, and he replied, "Oh! Aren't you bored yet?" I said no, I have been very fortunate to actually have been able to marry my purpose with my passion. I'm a big news junkie. That is what I know and that is what I do. I'm also very lucky to have had a very privileged background and listening to all the women here who came up on stage, I think it's important for each one of us to acknowledge that privilege. We've had supportive parents, supportive family structures, supportive mentors, who've helped us along our journeys but that is our privilege and that is not a lived reality of a large majority of women in this country. And we recognize that we are the visible minority but we are a minority nevertheless. And hence, it is incumbent on each one of us to push the boundaries a little bit more.

I was at an event in Bangalore and it was very different from what we see here today. Today, I see a sea of women here, and yesterday, I was surrounded by a sea of men. It was making me uncomfortable because I felt we had 14 male CEOs there, and we should have had more women. It wasn't for the want of trying, Bangalore unfortunately, doesn't have that many women CEOs, something that needs to be corrected. While I was feeling uncomfortable about it, a young producer of mine sent me a picture from that programme that was on TV, and said that it is such a powerful image. And then it made me think about the fact that every little bit of representation matters. All of this matters, whether you're standing along with men on stage, or you actually have women CEOs with you on stage, every little representation matters, the diversity of representation matters.

I remember a conversation that I had with a woman CEO, many years ago, which actually forced me to put my thinking cap on and launch a series on CNBC TV18, 'What a woman really wants,' and this was way before people were talking about inclusion and diversity. The reason why we did that was because when I spoke with this woman CEO, she said when we were growing up, we had only two kinds of role models - It was either Mother Teresa or Katrina Kaif, and there was nothing in between. And that has been the endeavour and effort on our part at CNBC TV 18 to really try and broad base the way people look at women.

I think the biggest lesson that I have learnt now that I have spent the last 22 years in my job doing what I do, is not to let other people's opinion define you. Don't shrink yourself into boxes, don't shrink yourself into labels. If you have a voice, don't silence it. Use your voice in whatever possible way that you can, I mean the wonderful women in Iran are teaching us a lesson today that such is the courage that women have, the courage that women have to change the way that we live, to change the world and the way that it operates and that is what we must exercise. People are going to judge you and scrutinise you, they are going to talk over you and about you, so it doesn't matter, go out there and be the best version of yourself."
---
"I feel privileged and honoured to be standing here amongst all these incredible, fearless, courageous, unique women, whose work I have admired for so long. Thank you so much for blazing the trail and keeping the doors open for us to come in."
Aparna Purohit
Head of India Originals, Amazon Prime Video India
---
"I am extremely honoured to receive this award and in the company of such an incredible group of women. Congratulations to all of you and may this tribe only keep growing. This award is the reflection of the hard work and support of my family, friends, and the incredible organisation that is HUL."
Prabha Narasimhan
Managing Director, Colgate-Palmolive India
---
"If each one of us go past our biases, some of it conscious, some of it unconscious, and each one of us practised equity, I think we would have done ourselves far beyond just this annual affair. So, that's my call out and thank you so very much and congratulations to each and every one of you."
Divya Karani
South Asia Chief Executive Officer - Media, dentsu
---
"Thank you so much to the Impact team. I humbly accept this on the behalf of the incredible, 2,500 women that work at Sugar. "
Vineeta Singh
Co-founder & CEO, SUGAR Cosmetics
---
"I think I've been very lucky because I realized that I have never been held back because of my gender, and I have never been pushed ahead just because I'm a woman, and I really find that to be a stroke of luck."
Kainaz Karmakar
Chief Creative Officer, Ogilvy India
---
"I just wanted to say that for me, impact means to bring about a positive change in the society, however little it may be, from the brands and businesses that we handle. And for that, I really truly want to thank my organization, Hindustan Lever."
Harman Dhillon
Vice President, Haircare, HUL
---
"This just makes me so, so, so happy. I'm kind of sad that I couldn't be there. I've never managed to be there in person, but next time for sure. So, put me on the list next year too."
Swati Bhattacharya
Creative Chairperson, FCB India
---
"I had to work eight times harder to get to the same place as my male colleagues, and I had been scrutinized about 25 times more. I remember what Hillary Clinton once told me, she said, "If you are going to be an independent, successful woman with a mind of your own, develop a skin as thick as that of a Rhinoceros."
Barkha Dutt
Editor-in-Chief, Mojo Story
---
"I regret the fact that I'm not able to attend the felicitation ceremony, but thank you so much. I'll try my best to live up to this honour by paying it forward and continuing to invest time, mentoring and creating a community of empowered women leaders."
Deepika Warrier
CMO, Diageo India
---
"This is truly an honour. All the lovely women who are a part of this list, it just gives you gooseflesh to see that there are wonderful women leaders who've achieved so much and that you have come to a stage where you've become a part of it."
Monika Shergill
Vice President, Content, Netflix India
---
"My message to the many women out there will always be to dream big, have faith and courage and go all out there to make it happen. Embrace yourself for who you are. Thanks once again, and many congratulations to all the winners tonight."
Vaishali Verma
Chief Executive Officer, Initiative India
---
"Thank you Impact Magazine for creating this wonderful space to highlight the achievements of the women in this industry. I want to especially thank Impact for nominating me despite playing hard to get in this big group of absolutely illustrious and capable women."
Mariam Mathew
CEO, Manorama Online
---
"I would like to start by thanking the Lord Almighty for his grace and my family's unconditional love and support, especially my daughter Anushka, who's here with me today. I hope all of us here in this room are able to inspire many more young Anushkas."
Nina Elavia Jaipuria
Head – Hindi Mass Entertainment & Kids TV Network, Viacom18
---
"I think it's really important to see and acknowledge my own women tribe across the years and to follow. Thank you. I also want to acknowledge my men tribe for partnering with me, for respecting me and for acknowledging and working with me on this journey towards the same goal."
Anusha Shetty
Chairperson & Group CEO, Grey Group ( Grey & AutumnGrey)
---
"I feel that a recognition like this is more a reflection of the organization that we work for and work in. So, congratulations to everyone over here. I do believe as women, the glass ceiling does exist only in our minds. So, thank you so much once again and all the very best."
Lara Balsara Vajifdar
Executive Director, Madison World
---
"I think what you guys are doing here as an initiative is phenomenal. The most important thing this industry has given me is a chance to chart out my own course, take bold decisions, feel empowered, and I'm just really happy that I could do so and push other women also to do this."
Chandni Shah
Founder & COO, Kinnect
---
"Apologies, I could not be there in person today. Thank you so much to the jury and everyone at Impact for this award. It's been a privilege to be a part of this esteemed list for the last four years. I want to congratulate everybody, who's a part of this list."
Vasuta Agarwal
SVP Consumer Platform Advertising, InMobi
---
"Thank you so much Impact team for this honour. I'm really, really grateful for this. Wish you all the best, and I really wish I could have joined you all in person, but sorry, my deepest apologies."
Sukhleen Aneja
CEO, Beauty, The Good Glamm Group
---
"My heartiest congratulations to everybody who's on the list today. My own journey over the last three decades across four different sectors, starting with the pharmaceutical industry to FMCG to banking, and then back to FMCG, and now to retail, I think has been a very, very enriching one."
Sangeeta Pendurkar
CEO, Pantaloons
---
"I'm completely humbled and full of gratitude, standing here today, because of my team. They make me shine. They make me stand tall every single day when I work in my professional career. So, thank you so much to all of them."
Anita Kotwani
CEO, Carat India
---
"I am a result of women empowering women and which is why I'm here, for the fourth time now. Magic happens when women are fearless and when women are empowered and I have seen that as I've built Glitch."
Pooja Jauhari
Group CEO, VMLY&R India
---
"I want to really thank my entire team at Elephant Design and a special mention, special thanks to my friend, co-founder, husband, and co-conspirator at Elephant, Ashish, who's right here."
Ashwini Deshpande
Co-founder & Director, Elephant Design
---
"A big thank you to everyone here. It's a privilege to be amongst all of you. A big round of congratulations to all the ladies out there. I owe my leadership, I must say, to Hindustan Unilever, as they made me the leader I am today."
Vandana Suri
Vice President, Skin Care & Colour Cosmetics · Hindustan Unilever Limited
---
"Whatever I am professionally, I owe a lot of it to Sam Balsara, he is my role model professionally, though, I have many other bosses and I feel good that I learned so much from them."
Vanita Keswani
CEO - Madison Media Sigma, Madison Communications Pvt Ltd
---
"This is a hattrick for me on this list. A lot of amazing women, some of you are here today with me. Also, some extremely strong and secure men, who are really the wind beneath our wings, as many people have said before."
Aditi Shrivastava
Co-Founder & CEO, Pocket Aces
---
"Thank you so much for having me on this list of Impact 50 most influential women. A big, big, big congratulations to all the amazing women who've made it to this list. Thank you."
Sonal Chhajerh
Executive Creative Director, Leo Burnett
---
"I'm absolutely humbled to be a part of such an august group, and at the same time also very excited. I think this is an opportunity, and hopefully also a chance for all of us to do much more. Thank you everyone."
Aditi Mishra
CEO, Lodestar UM
---
"To all women here and women out there, I think we tend to be our worst critics and that stops us from being who we can truly be. So, be good to yourself, be nice to yourself. Every woman is a diamond. I'm not putting in a plug here, but everyone is truly a diamond, and keep shining."
Ranjani Krishnaswamy
General Manager -Marketing, Tanishq, Titan Company Limited
---
"I started working over 20 years ago with a real passion for marketing. That passion continues today. But what was interesting is that I was largely the only woman in a leadership team in the sales teams in off sites. Today, I'm so happy to see that there are so many more women in the workplace."
Sujatha V Kumar
Head of Marketing - India & South Asia, Visa
---
"I am overwhelmed, but this is an absolute pleasure. My family is right behind there and again, they're the reason I am what I am today, and most importantly, thank you to Essence for recognizing my potential and thank you to GroupM for all the opportunities."
Sonali Malaviya
Managing Director, India, Essence
---
"Would like to thank the Hershey Company for really entrusting me with the India business and all the mentors in the past, I think we do stand on the shoulders of giants to be where we are today. The most important thanks I would like to give is to my family."
Geetika Mehta
Managing Director, Hershey India
---
"Truly overwhelmed right now and would love to thank Impact team and the jury members, but more importantly, Godrej Consumer Products where I was literally born and brought up in the professional world since I joined as a management trainee."
Somasree Bose Awasthi
Chief Marketing Officer, Godrej Consumer Products Ltd
---
"It's so energizing to be in this room tonight. I think that being here is ready testimony to learning opportunities that one has had. So, it would not have been possible without the time I spent at Unilever, or now the opportunities I have at Tata Consumer."
Deepika Khattar Bhan
President - Packaged Foods, Tata Consumer Products
---
"It's said that it takes a village to raise a child, and it's exactly true for even our corporate careers. Having spent the better part of two decades at ITC, my village is ITC and I'm extremely grateful for having the opportunity to have worked on creating and nurturing some of India's largest brands."
Kavita Chaturvedi
Chief Operating Officer- Snacks, Noodles, Pasta, ITC Limited
---
"Both my ex bosses are standing right here giving me the award, and it can't get any better than this. Both of whom have been mentors, so thank you so much. All I can say is that may our tribe grow and may there be many more people in this list next year. Thank you so much."
Monaz Todywalla
Chief Executive Officer, PHD Media India
---
"The thought that I would like to leave all of you with is that the only thing stopping India from becoming a $5 trillion economy and beyond, is the unlocking of this massive resource of women, bringing them into the mainstream. I think such initiatives help that."
Kranti Gada
President - New Business Opportunities · Shemaroo Entertainment Ltd.
---
"I'm hoping that stories like mine and many others who will be awarded today continue to inspire many more women to come out into the open and make sure that they are living up to their potential and living up to their dream."
Anurita Chopra
Chief Marketing Officer, India Sub Continent, Haleon
---
"I really love the vibe in the room. I think after a very long time, we see so many women together under one roof with such high energy, such positive mindedness. It's really awesome. Thank you for that."
Neha Ahuja
Director, Head of Marketing, Spotify
---
"Most of my professional journey has been about zero fear. I am what I am because I don't hold back, that's one reason potentially also, why I'm standing here. And congratulations to everyone in this room. You all deserve it."
Anisha Iyer
Chief Executive Officer, OMD India
---
"This award gives you an opportunity to step back and say, are you really influential and what does that mean to you? The question I asked myself and to that I heard myself saying that I think to me influence is empathy, and when you empathize, you know exactly what works for the person in front of you."
Chandrika Jain
Director Marketing, Lenovo India
---
"I come from a family where my grandfather gave back my first salary saying that you need to stop working and get married. From there to where I am today, he's proud. He goes to every family member and says that this is the girl who went ahead fighting against all odds."
Shradha Agarwal
Co-Founder and CEO, Grapes
---
Special Mention
---
"This truly means a lot to me. From survival instincts to achiever's instinct is coming a long way, and thanks to the organization that I work with, for never allowing gender inequality. Kudos to IPG Mediabrands."
Hema Malik
Chief Investment Officer, Mediabrands India
---
"Thank you to exchange4media and the eminent jury, for recognizing me. And a big shout out to my team who's there, who's been really the wind beneath my wings. But most importantly, I would like to thank my bosses and mentors for putting me up here and making me the person I am."
Pavithra KR
Head – Revenue, COLORS, Viacom18
---
"Unfortunately, I could not be there in person to collect the award, but I do look forward to connecting with the other winners so we can exchange notes, learn from each other and truly collectively be the firepower agents of change who define the course of how we see the industry in the coming future."
Goodies Narayanan
APAC CMO & D2C Business Head, Coursera
---
"I was pleasantly surprised to be on this list. I'm also glad that this list of women influencers even exists because it shows that women are in senior positions in advertising, marketing, and media, which also means that the female perspective is getting factored into the work that we put out there."
Ayesha Ghosh
Managing Director, Wieden+Kennedy