For Hindi news television channels in the country, the biggest festival is not Diwali or Christmas, but the Great Indian election fiesta - the festival of democracy. With five State elections on the anvil and a mega General election on the horizon early next year, the channels are doing all they can to outdo one another and ride the poll wave.

Talking about the kind of money that is at stake here, Priti Murthy, CEO, OMD India says, "Considering we have State and national elections, it should be in the range of Rs 2000-2500 crore, which will include the traditional media, Digital, Social and Out of Home. During the last general elections, the BJP alone had spent around Rs 500-600 crore. This time, the States that are going to polls are largely the Hindi-speaking ones and then of course the overall General elections will take place later, so the ads would largely be focused on the Hindi television channels, which would be in the range of Rs 1200-1500 crore." Given the estimated spends, it remains to be seen how much the Hindi TV news channels actually benefit from the election blitzkrieg.
AD RATES TO GO UP
It is not just political advertising that shoots up the ad rates or revenues during elections, the volume and rates of corporate advertising also go up substantially, with sectors like FMCG, BFSI, Food and Beverages, Auto taking centre-stage. As per an industry veteran, a typical 10-second ad spot on a top Hindi news channel on a regular day may cost around Rs 3000, but the same ad rate on a poll day goes up by around 3-5 times, and on counting day, it can go up 50 to 100 times based on the time when the inventory is sold, negotiation and auction process.
Elaborating on that, Avinash Pandey, COO, ABP News says, "During the previous General Elections, ABP News sold a 10-second ad spot for as high as Rs 3 lakh and many other spots for over Rs 1 lakh per 10 seconds. The pricing depends on a lot of factors - when a brand has decided to purchase the spot in the buying cycle, when they want to air their ad on the big day and what kind of exclusivity are they looking at. We at ABP provide the option of an exclusive break, one minute, three minute break, no-competition blocking option, etc."
Estimating the overall boost in revenue to news channels during elections, Vivek Khanna, Group CEO, India Today Group says, "Businesswise, the jump will be around 15%-20%. The big jump will come in the two-month period before the General elections. We will really monitor the election-related spending from December onwards, because that's when it will peak. State elections may or may not give a very good boost to revenue depending on which State is going to polls."
Ritu Dhawan, MD & CEO, India TV says, "Since the upcoming elections will choose the path our nation is set to take in future, news becomes critically important. TV news being the stickiest source, it is set to get most incremental eyeballs. Historically, the swell is around 30-40% but given the interest that's already building up, I expect nothing less than 50% rise in viewership by the time we are at the General Elections, expected sometime early next year."
JUMP IN VIEWERSHIP
According to the 2018 edition of BARC's Think newsletter, the TV news genre contributes 8% to the total TV viewership universe, making it the third most watched genre on television in terms of viewership, the biggest being GECs. Within TV news, Hindi news on its own constitutes 5% of the total TV viewership. Highlighting the background mathematics, Joy Chakraborthy, CEO - Forbes & President Revenue - Network18 states, "The entire Hindi news market, which is approximately Rs 1700-1800 crore strong, is comfortably out-shadowed by GEC networks. A Star Plus alone does business of approximately Rs 1500+ cr and Zee TV around Rs 1100+ crore." There is a huge gap between the viewership of GECs vs. Hindi News channels in India, which is reflected in the ad rate each commands. But that tends to narrow down during elections.
Elaborating on that, Varun Kohli, CEO, iTV Network says, "Our real Diwali will start after Diwali. Around the time of elections, the news genre starts growing and advertisers start shifting to news channels from other channels. We are expecting 30% more advertisers around elections. The year 2017-18 saw around 15-20% growth in ad revenues but 2018-19 will see almost double of that, i.e., 35% growth. Also, the Hindi TV news industry (Hindi News and Hindi regional news genres) will get upwards of Rs 100 crore ad revenue owing to the five State elections. This includes both corporate advertising and political advertising."

Talking about the expected hike in viewership owing to elections, Partho Dasgupta, CEO, Broadcast Audience Research Council (BARC) India says, "Going by the trends from previous State elections, a significant growth in the genre can be expected. Take for instance the Karnataka Assembly Elections held in May 2018, when viewership of Hindi News genre grew by almost five times. In March, the viewership doubled during coverage of the elections in the North-eastern States of Tripura, Meghalaya and Nagaland. Earlier in 2017 too, we saw the genre viewership spike four times than the usual during elections in Uttar Pradesh and three times during election coverage in Gujarat. The fact is that the Hindi News TV genre itself has grown by 34% compared to Total TV viewership which grew by 20% in 2017 over 2016. The contribution of Hindi News to Total TV, too, has grown by 20% during the same period."

Meanwhile, news channels like Aaj Tak, ABP News, News18 India, Zee News, India News, News24, etc., are already on an overdrive, having launched election programming well in advance. Ashok Venkatramani, CEO, Zee Media Corporation Limited, says, "Markets and viewership will certainly grow during elections. We see a significant growth of interest in news content by the masses in the past – upto 50% increase in the news genre share." Talking about the larger picture, he says, "Hindi Television News can more than double up in the next five years if we can engage and empower the right viewer. The economy and education levels are growing and people want authentic content. We have a politically conscious and active populace. There will always be room for growth in the years to come. Overall, Hindi News Television is a promising space for investors and viewers alike. I think a 15-20% growth over the next two years is very much possible."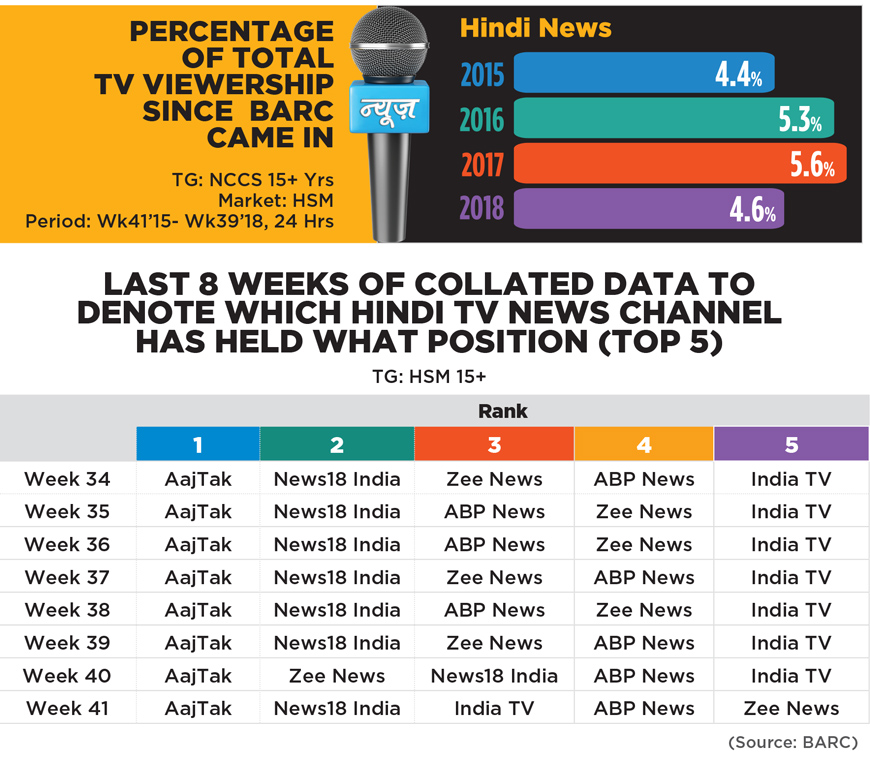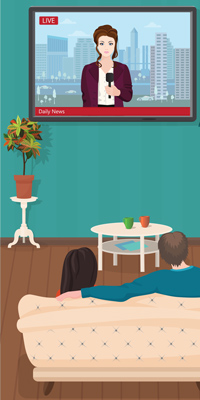 OTHER CHALLENGES
Hindi News contributes 5% to the Total TV viewership (Wk 01-38, 2018- BARC) while the industry is roughly pegged at Rs 1800-2000 crore in size. BARC has significantly added to audience mapping in terms of measurement and expanded the overall universe, but experts say the growth in revenue and advertising is slightly disproportional to the growth in the audience share over the years.
Avinash Pandey explains why he feels news channels are still not getting their due: "Even now CPRP (Cost Per Ratings Point) is the mechanism used by agencies to measure Television audience as opposed to CPT (Cost Per Thousand) system; the latter is more apt for a complex and large country like ours. And I do not know what is that compelling reason for the agencies not to adopt CPT. For newspapers and digital media, the cost per thousand logic is used, while in Television, you are looking at a percentile of the overall market-share, which is not the right way because the percentile is bound to go down because the number of new players joining any business will keep increasing," Pandey states.
News is not a very heavy-time-spent category, while people do consume news at some point. Unlike a typical film show or movie where content is consumed at a stretch for many minutes, audiences keep flitting in and out of news channels. The challenge for news channels is showing differentiated content, which is very hard to produce on an everyday basis. For example, how differently can you show Vladimir Putin being received by External Affairs Minister Sushma Swaraj on his visit to India? The lack of differentiation in the content between news channels leads to their inability to command a premium and claim the rightful price from the viewer.
THE DISTRIBUTION DILEMMA
Another recurring problem that the news channels, especially standalone channels, face is distribution. Anurradha Prasad, Chairperson and MD of BAG Network, whose channel News24 pays around Rs 30-40 crore every year for distribution, says, "We are a Free-to-Air (FTA) channel and we pay the cable operators for showing the channel to viewers and the viewer pays the cable operators for the basic pack. We don't get a penny out of what the viewer pays. The price for carrying the channel and placing the channel are also different, making us totally dependent on advertisers. Therefore, you see so much of clutter on every news channel, with 20-25 minutes of advertising in an hour because we have to recover the money."
Similarly Sanjay Kulshreshtha, Editor-in-Chief, News Nation says, "It was believed that the transformation from Analog to Digital Cable Television will in a big way reduce costs, on the contrary costs went up. The distribution costs needs to be reduced, we end up paying a bulk of our revenue on it and we are a FTA channel. FTA channels should be treated differently from paid channels. When Ambika Soni was the I&B Minister she had proposed a one rupee token money for free-to-air channels. The government & Doordarshan must take initiative on this. There should be a nominal fee on the free-to-air channels."
News channels complain that distribution completely eats away the money required to produce good content. While money is exchanging hands, the content producers get the basic minimum share. Not surprisingly, several news channels are running in losses, even some of the top channels are still struggling to keep their head above water. What's intriguing is that despite that, many new news channels are being launched in a business where it takes 10-12 years to see results. Recently, there was buzz about Republic and Times Now wanting to enter the Hindi news domain even though upping revenue remains a challenge.
Summing up, Joy Chakraborthy, whose News18 India has done phenomenally well, jumping up from 6% market-share two years ago to approximately 13.9 % market-share this year, says rate correction is the need of the hour. He adds, "Today there are around 12 major Hindi national news channels. It is a grossly underpriced genre where all ad campaigns come to every player, so people are desperate to take business, play and drop rates or hold them, so that it appears that they are not increasing the rates. Similarly, when business shifts into a new hand from one agency to another, the new agency wants to better the deal from the previous one, which the channels agree to, and this is practised to ensure that the rates don't rise. Earlier, ad plans were made much in advance, but today a lot of clients come to the news channels at the last minute and many channels, in desperation, even drop rates to keep them happy, as it is easier to retain an old customer than to get a new one. This desperation has greatly affected the genre. If people start thinking about tomorrow, and correct the rates today, we will all benefit. This is a genre where inventory is not a problem at all, but rate correction is essential."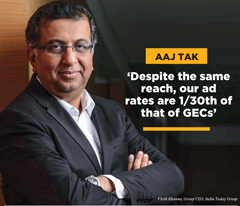 Aaj Tak has been the undisputed leader in the Hindi News TV genre for 17 years, and is perhaps one of the few news channels that has on occasion commanded more viewership than GECs. The channel has 0.3 crore more viewers compared to the No.1 GEC Star Plus as per IRS 2017 (*Most watched TV channels). And now with elections on the horizon, the channel is expecting a further jump of 30% in viewership.
Vivek Khanna, Group CEO, India Today Group, says, "Aaj Tak's monthly reach is about 26 crore. And that puts us almost in line with the kind of viewership GECs get. But if you look at the kind of rates that we get for advertising, it's about 1/30th of what some of the leading GECs would be getting. It's really very cost-effective to buy on Hindi news, especially Aaj Tak, because you can reach 25+ crore people at a fraction of the cost of what it would take you to reach the same number of people on a GEC. Ultimately, it's a question of demand and supply, the strength of your brand and product. As far as Hindi news is concerned, there is a lot of inventory available. And to a certain extent, that also impacts the pricing."
Starting a month ago, Aaj Tak had announced an ad rate hike of a minimum 25% across all slabs, while lowering inventory levels to make for an uncluttered viewing experience. Sources say Aaj Tak's average ad rates fall in the range of Rs 6000 to Rs 7000 for an ad spot which obviously will go up manifold during elections. The channel has shows like Political Stock Exchange which gives a weekly opinion poll, State-wise, to gauge the mood of the nation, Kavi Sammelan with Kumar Vishwas, Raj Tilak which will lead up to the counting day, etc., to keep the audience hooked during this period.
At the close of the 1990s, there were 58 million TV sets in the country which has risen to 298 million in 2018, as per BARC, and the number of Hindi news channels in the fray has also gone up substantially. There are around 58 Hindi news channels today, out of which 22 are national. So naturally, the market-share over the years for Aaj Tak has gone down from a 50-60% when there were just a handful of news channels to 17.9% today. Talking about which channel they see as their closest competitor, Khanna says, "See, when you are 40% ahead of the Number 2, and the difference between Number 2, 3, 4 and 5 is so close to each other, it's unfair to say who you look at as the Number 2 player and competition. India TV is strong in UP, ABP News may be strong in another State and so on and so forth."
Aaj Tak is a paid channel that is distributed by Sony Pictures Networks India (SPNI) as part of a bouquet and is also available on DD Free Dish. In October this year, Aaj Tak was taken off air by Tata Sky over differences on pricing with SPNI. Khanna talks of the impact it has had on the channel. "We are distributed as part of the bouquet and that's part of the reason why we have had some issues with Tata Sky. Let's see how that pans out, but the money that we get out of subscription is not very significant. So, in either case, it doesn't really impact us too much financially," he points out.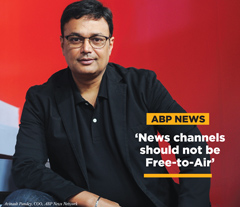 Around six years ago, a split with Rupert Murdoch-owned Star India led to this Hindi News channel dropping the 'Star' tag from its name. But the question being asked then was how far could Ananda Bazaar Patrika (ABP) make it on its own in the TV News business and whether it could do a good job of retaining its viewers. Years later, ABP News has emerged stronger than ever. ABP News Network's net profit for the fiscal ended 31 March, 2018 has gone up 61% due to strong performance by Hindi and Bengali news channels ABP News and ABP Ananda.
Avinash Pandey, COO, ABP News Network, says, "We are the only channel other than Aaj Tak which has a reach of 100+ million (125 million reach) and we are a close Number 2." But when do they see themselves bridging the gap? Pandey responds, "There are many who claim to be Number 1, but Aaj Tak without doubt is the market leader. And we are definitely in competition and would like to move in that direction. Unlike us, some of my competitors are getting ratings by not running ads at 8 pm, 9 pm or 10 pm. But the day they start running ads, the ratings will fall. The subscriber is anyway not paying to watch you and you are not running ads during the top shows. That is a business model I don't understand." Talking about ABP News, he adds, "We are a very balanced channel and run the same amount of advertising on primetime and off it. Because we do this, we add immense value to the people who advertise with us. When they run their ads during our programmes, they get a share of the ratings we generate. That's how we have stood the test of time for so many years." ABP News is an FTA channel which depends on advertising for its revenue.
Calling themselves the trend-setters in the Hindi News space, Pandey says, "When it comes to creating unique programming ideas, ABP has always been Number 1. We were the first channel to do a news programme out of the newsroom, first to do a Presidential-style debate between different MLAs from the ground in a State election, first to start a crime programme called Sansani, first to start commentary on the television soaps called 'Saas Bahu Saazish'. Today, there are copy cats across channels."
ABP News has given a boost to its programming with a strong body of election-based shows like 'Desh ka Mood', 'Siyasat ka Sensex', in addition to the all-time hit, 'Kaun Banega Mukhyamantri'. "If you look at the last general election or the previous UP election, a single day viewership of any news channel was higher than any GEC. So, obviously election season delivers huge ratings. And this applies not just to TV but also to Digital. On the Gujarat election counting day, on Hotstar, we clocked over 18 million minutes watched in a single day," says Pandey.
Talking about the steps that need to be taken at an industry level, he says, "Hindi News TV is a very cluttered market and most players are at a different stage of their business. Hence, it is difficult to say what we should do collectively as an industry. But for starters, news channels should not be free-to-air, and there needs to be a rate correction as news channels are grossly underpriced. All market leaders should take up the lead to hike prices.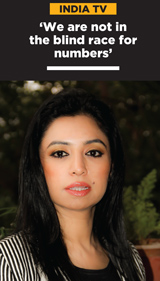 India TV entered the Hindi News market in 2004 – many years after Aaj Tak, NDTV India, Zee News, Star News did - but it has managed to hold its own, commanding a sizeable market-share since then. It has had its ups and downs - by founder Rajat Sharma's own admission, he was forced to sell off his property to raise money for paying salaries in the first two years when the company was really bleeding - to now when despite demonetization, Independent News Service, which owns India TV, saw a growth in topline and bottomline for the fiscal ended March 31 2018.
Talking about what kind of hurdles the channel faces in upping revenues, Ritu Dhawan, MD & CEO, India TV says, "Despite huge increase in viewership, advertisers and agencies are being tough on rate hikes, but our teams have been successful in breaking the juggernaut across the spectrum. It's a demand and supply game and our teams are playing it smartly. Amazing opportunities to improve further lie ahead because of upcoming elections and we expect to do well."
India TV has had an interesting 14year journey from showing 'serious' news to 'popular' news in the late 2000s to boost ratings and now back to 'serious' news. Anyone who has followed the channel closely over the years can say that India TV has been vying to change its earlier image of being synonymous with superstition and mythology to hardcore news for the past 4-5 years. Dhawan says, "We effectively reach around 100 million individuals across the Hindi-Speaking Markets. As far as numbers are concerned, we aren't too much focused on how to better them; rather our emphasis is to clearly keep standing out as a credible news source which has been our mainstay for the last few years. Numbers are healthy, focus is on quality and zero tolerance for any compromise on the content front is the path we have chosen."
Despite popular shows like Aap Ki Adalat that have repeatedly guaranteed the channel good viewership, India TV has not particularly been on top of the BARC pecking order of ratings. Dhawan explains, "We are only focusing on quality and are not in the blind race for numbers. We have no targets set for ourselves and refuse to enter this race. We have occupied the Number 1 space when we were targeting it. When we needed numbers (around 10 years back), we got them. Getting numbers isn't difficult, maintaining credibility and quality with healthy numbers is, and that is what we are focusing on."
So what are the challenges for India TV? "Though we are well into the mature stage of our life-cycle, distribution impacts us by being irrational. It's the magnitude of distribution as a cost-centre that impacts a broadcaster. Irrationality prevails in deciding the carriage fees which tend to increase every year without any basis. The benefits expected in terms of cost-cutting as the nation moved towards digitization are still far from optimum. We strongly feel that the FTA channels should be segregated from pay ones for fixation of carriage fees," Dhawan asserts.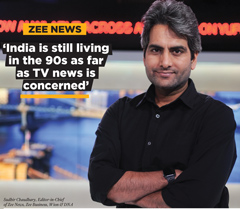 There are four national news channels operating under the Zee Media banner, namely Zee News, Zee Business, Zee Hindustan and Wion, but Zee News is clearly the captain of the ship as far as revenues are concerned. The media group thus can't afford even the slightest fall in ratings for its flagship property. The past eight weeks, however, has seen a neck to neck battle between Zee News, News18 India and ABP News for the top 2 & 3 positions on BARC's TRP charts. But they are banking on their election programming to take them a notch higher.
Sudhir Chaudhary, Editor-in-Chief of Zee News, Zee Business, Wion & DNA says, "Out of the entire news genre, 90% is being captured by Hindi. If you ask about the entire TV universe, then around 10% people are watching news. And elections give us an excellent opportunity to increase this percentage. If 10% of overall TV viewership is news (including Hindi, English, regional news) on a regular day then during elections the size of the universe goes up to 15% and around 12% of that is captured by Hindi News media. So polls are definitely the most important event for us as most of the country will be watching news channels to know the latest about politics, election updates, etc. The challenge at such a time is, how can you differentiate your programming from the competition, when debate shows and election ground reports have been done to death."
Zee is bringing to its viewers shows like 'Bhai vs Bhai' where Tehseen and Shehzad Poonawalla, brothers aligned to two rival parties, talk about UPA and NDA politics in a simplified manner. It is a political show for the family. Chaudhary adds, "The kind of people who appear on TV as experts analysing elections have never fought elections themselves; thus they give a very superficial idea about what's happening on the ground, because they have never been there. So, to break this monotony, we decided that this time we will have people who have fought elections, been policy-makers or Ministers in the past to analyse elections. We will have a unique panel to give the real picture."
Talking about the challenges his channel and the genre faces, Chaudhary says, "There may have been a time when Aaj Tak had 50%-60% market-share, but the Hindi news space back then had only 2-3 players. Now we have more than 10 big players competing for national space. The biggest problem with news channels is that all of them look alike. And nowadays every story is broken on social media first, and later it comes on TV. The competition has increased not in terms of satellite channels but also from digital platforms. I would say in TV, we are still living in the late 90s or early 2000s. We have really not changed - the studio sets look the same, style of anchoring is same, the kind of packages we run and reporting we do is also almost the same, add to that the debate and breaking news culture. Isn't it sad that more than 20 years after the first news channel was launched, the genre commands less than 10% of the Total TV viewership? There is nothing new to offer. We want to push a different ideology. We want to challenge those 50-60-year-old habits of the people and how we approach a story."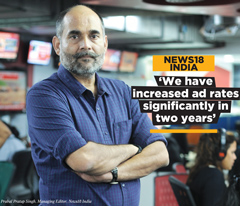 If there is one channel that can boast of having skipped two steps at a time while climbing the BARC ratings ladder, then it has got to be News18 India. When the network re-launched IBN7 as News18 India in November 2016, it was floating around 6% market-share and in two years' time, the channel has touched 13.9% market-share.
Prabal Pratap Singh, Managing Editor, News18 India, who took over the role in 2016, says credit goes to their strategy of airing back-to-back debates during primetime and their ability to not 'sensationalise' news. "Our performance has been consistent in the past two years. We were the first ones to start back-to-back debates for two hours during primetime. Initially, we were a little confused about how the viewers would react, but we realized we were getting good traction. Then we introduced the third debate, called 'Bhayaji Kahin' between 6pm to 7pm, which is not studio-based. Again, the viewers loved it. In primetime, our numbers are very attractive. In metros, we are ahead of Aaj Tak for the past 6-7 months. I think viewers want to watch debates and that's why they are watching our channel. If you look at the difference between Number 1 and Number 2 channel, it's just 3%. So, it's a good opportunity for us," Singh says.
Reliable sources claim that the increase in News 18 India's market-share has pumped up the channel and pushed ad rates higher by more than double, over the past two years. Talking about it, Joy Chakraborty, CEO-Forbes & President, Revenue-Network18, says, "We are a clear Number 2, holding the second position the entire day and the leader holding the 1st position at primetime. Ad rate increase has a legacy factor and there are special agencies and audit committees which monitor the particular kind of rate a client is paying in continuation, quantifying their readiness to pay an inflated rate for your performance increase. Rate correction is a process, it is continuous and likewise even rate drop doesn't happen at constant speed. So in comparison our competition may have lost channelshare, but they hold on to the rates which is as good as a rate increase and this the audit agencies don't catch. We have still managed to increase our rates pretty significantly."
Chakraborty claims that the news genre overall is slated for at least 20% more than the normal growth this year, with elections providing a big boost to revenues.
On how News18 India hopes to cash in on the election wave, Singh says, "We have introduced an interesting show called 'Lapete Main Netaji' where poets make fun of representatives of all political parties who come to the show. Every channel, including Aaj Tak, Zee and India TV, started copying our concept of Hasya Kavi. Then there is 'Bhaiyaji Kahin', 'Desh Ko Jawab Do' and couple of more plans to outsmart competition." News18 India has recently launched two shows 'Ye Desh Hai Humara' and 'Akhada' anchored by Amish Devgan and Anand Narasimhan respectively.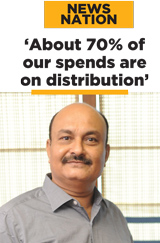 For this five-year-old channel which went on air a year before the previous General elections, the 2019 elections would surely be a test of how far it has come on the popularity and credibility meter. Sanjay Kulshreshtha, Editor in Chief, News Nation Network, says, "The period when the Modi government was in the process of being formed, all news channels were worried that there would be no news because of a stable government. But the last four years were just the opposite. Plus we have a Hindi-speaking Prime Minister. Earlier, elections in the South were only covered by regional or national channels; this time even we did. So, there was a lot of big news which led to the growth of the news channels."
Kulshreshtha takes pride in his channel for its distinct thought process. At a time when most news channels outsourced their exit and opinion poll surveys, News Nation, launched as a reporterled channel, decided to come up with its own poll by talking to people across the country within a year of being in business. Kulshreshtha claims the survey was carried by many other newspapers too because it was 'trustworthy'. "When several Hindi news channels are running shows on astrology, black magic and ghosts, I started a show on 'jungle news', where we show news on wildlife and environment. Other channels also started copying it and are showing similar news in the same time slot. Likewise, we also started a documentary show on mysterious and unknown subjects which has also become very popular," he points out.
Talking about the challenges the channel faces, Kulshreshtha says, "It was believed that the transformation from Analog to Digital Cable Television will in a big way reduce costs, on the contrary costs went up. The distribution costs needs to be reduced, we end up paying a bulk of our revenue on it and we are a FTA channel. FTA channels should be treated differently from paid channels."
Their regional channels News State Madhya Pradesh-Chhattisgarh and Uttar PradeshUttarakhand are already doing well in the respective markets. But do they see their national channel News Nation cementing a secure position in the top 5 Hindi news channels list soon? Kulshreshtha responds, "The channels in the Number 3, 4 and 5 positions are almost similar with similar market-share of about 12%. We come after that, many a times we were in the Number 5 or Number 6 position just because of a difference of 0.5%. So ratings don't matter to me, feedback is more important."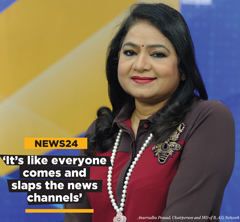 Earlier this year, News24, an FTA Hindi News channel owned by B.A.G Films and Media Limited, underwent a massive revamp. Their 10-year journey in business was brought alive by their tagline '10 Saal ka Bharosa'. To tackle the growing disconnect between TV audiences and news channels, News 24 started shows like 'Sach ya Jhooth' which investigates fake news, and with a fresh look also managed to increase ad rates by as much as 20%.
Anurradha Prasad, Chairperson and MD of B.A.G Network, says, "Sab se tez, Sab se Behtar… such taglines are outdated now, what matters is credibility. You need to strive to make the viewer believe what you are saying is true, but it does not mean that you have to be like ozone gas - odourless, colourless, to be true. You can show trust with colour. Your news should have views, but there should not be lopsided views."
Interestingly, a year after the launch of News24, the country went into recession. It was a testing time for the entrepreneur in Prasad, but they sailed through. Talking about business, Prasad says, "We recently increased ad rates and added a lot more advertisers. We penetrated deeper into India, Hindustan and Bharat - all three. We reach 92% of the Hindi heartland market, all homes, are on almost all major platforms and in rural India, we are on DD Direct because of which there is a lot of penetration in rural India. Also, the election season is closing in. This is the most important time for news channels. In fact, from 2011, there has been no dearth of big news stories in India, starting from the Anna Hazare agitation. Hopefully it will continue." News24 is bringing back shows like 'Itihaas gavah hai' which did well around the 2014 General Elections, and also the ground reports 'Mahoul kya Hai?' and 'Paanch ki Panchayat'.
News24 typically pays around Rs 30-40 crore per year on distribution. Prasad says, "Distribution is a big challenge, we have to pay the cable operators who also get paid by the consumers. We don't have a problem in paying DTH operators but at least we should get something back. Additionally, we have to pay extra as carriage and placement fees. We have to reach out to the public at large, so we don't really have a choice there. All this makes us totally dependent on advertisers. But look at how much GECs charge for a 10-second spot - what we news channels get in comparison is miniscule. Therefore, you see so much of clutter on every news channel that, with 20-25 minutes of advertising in an hour, because you have to recover the money. It has been a recurring problem for the past decade or so. If we are even expected to keep a cap on advertising, how will we generate money? So, it's like everyone comes and slaps the news channels."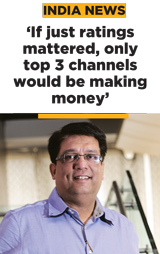 iTV Network has been steadily expanding into the regional markets in India over the past two years, from India News Punjab, Gujarat and the more recent News X Kannada, which are expected to take the network to the next level of growth, but their national Hindi News channel India News, led by Deepak Chaurasia, continues to be the most important for the Group as far as impact is concerned.
Varun Kohli, CEO, iTV Network says, "We have always measured the success of India News through the kind of impact our stories have had and not ratings. As a group we reach around 43 crore viewers every day. The 'average time spent' factor is more important because that shows the stickiness of the channel because as per BARC ratings, even if you stay on the channel for a minute, you are counted as a viewer. We are always at the top 3 or top 4 number as far as Average Time Spent (ATS) is concerned. It's simple, if a viewer trusts you, he will not change the channel."
But India News, being an FTA channel, depends heavily on advertisers for its revenue and advertisers use BARC ratings as a common currency for measuring a channel's popularity. Kohli has a different view: "If ratings was the only criteria, only the top three channels would have been making money, and rest would not. Every advertiser has an opinion about news channels and a preference unlike in the case of GECs. And we at India News have factually created our own niche," Kohli says.
Talking about BARC, he says, "For a complex country like India with a population of 125 crore, 33,000 panel homes cannot define the viewing habits. It has to go up to at least 80,000-90,000." He adds, "News is one genre which will never go out of business, be it recession or demonetization. The latter did affect us to an extent but our revenues didn't go down. As a company, we didn't de-grow, the same happened when GST came in."
On the channel's preparation for the upcoming elections and also the impact of the growing prominence of social media and Digital on TV viewership, Kohli says, "We have introduced 8-9 shows ahead of the elections like 'Kissa Kursi Ka', 'Poll Yatra', 'Nukkad', etc. The market for TV is growing, metros may be saturated, but Tier II & Tier III cities are not. And there is a lot of scope for TV penetration to increase. So TV will still be the main medium for the next 5 to 8 years despite the rise of OTT."