For years, Mumbai had been the undisputed hub for advertising in India. In the last few years, some large advertisers like Oppo, Vivo, Uber, etc., emerged in Delhi while Flipkart, Amazon, etc., made their presence felt in Bangalore. Now, experts say the next phase of growth for advertising is expected from the non-metro cities and the smaller towns, and not from Mumbai, Delhi, Kolkata, Chennai or even Bangalore. The reason - more and more regional brands are making their national advertising debut, and some are spending in the vicinity of Rs 100 crore.
Explaining the reason behind this, Anand Chakravarthy, MD, Essence India says, "In India, traditionally most factories were based near a big metro or they had a corporate office in a big metro. As a result, the A&M industry also ended up in the main metros, because that's where the client was. Over a period of time, there were a large number of large and medium scale clients, basically Indian proprietary firms, that were starting to get scale and go national. They got more and more investments, and with the new generation of their families taking over, they became a lot more ambitious. They are growing their business in a big way and the moment they move out of the region, they start looking for media partners and creative partners who can help them build a national brand."

Indian businesses based out of non-metros are doing exceptionally well today, be it Haldiram's, Hidesign, Nirma, Cycle Agarbatti, Vini Cosmetics or a plethora of others. For every Surf Excel, there is a competitor in Ghadi detergent from Kanpur; for every Kwality Walls, there is a challenger in Havmor from Ahmedabad and for every Tanishq, there is a Joyallukas from Kochi. These brands from non-metro towns have changed the competitive landscape and become a major thorn in the side of big consumer product companies by capturing a disproportionate share of growth and, in some cases, radically disrupting profit pools. Even a brand like Patanjali from a place like Haridwar managed to rewrite the marketing rulebook with its sudden and unconventional rise.
Bobby Pawar, Chairman and CCO, Havas Group India says, "If you follow the arc of India and map it with the arc of the United States, at the beginning in both countries, the companies mushroomed on the coast - that's why the metros became the hub, but now you are going to see big companies with big ideas in smaller locations; some of them already exist. They will grow and become powerhouses in their own right. Some of them might migrate the marketing departments to the big cities, but there will be the rise of the regional brand and there will be many more Kalyan Jewellers and Muthoots. If India has to grow as an economy, it is imperative that all cities start firing and not just the metros."
HOW IT IS EASY TO GO NATIONAL
Meanwhile, the Government's 'Make in India' push has not just forced multinationals to set up production units in India, but also led to the development of several pockets within India. Add to that digital connectivity that has made it possible for a brand which is set up in one corner of the country to sell its products elsewhere with as much ease. Thus the canvas for the sale of products and services has increased manifold for brands even from smaller towns and so has their desire to become visible nationally. This has led to more business for creative agencies emerging from these non-metros.
Sandipan Bhattacharyya, CCO, Grey Group India, says, "We have a client called 'Lactalis' which is a French dairy company. It bought over Tirumala, one of the top three milk and dairy product players from Hyderabad. They are a small town company but are now huge in terms of their influence. The same Lactalis Group bought Anik, which again is a milk and ghee brand based in the West of India primarily. It never had a national influence. Now, with these brands forging ties with MNCs, they are growing. So, if Anik and Tirumala are any examples to go by, then yes, home-grown, smaller city brands are becoming big today. Their zone of influence is expanding. Similarly, we had a client called the Parakh Group out of Pune. In fact, we did one of their most memorable campaigns for Samrat Atta, which got some 80 or 90 million views. This Pune-based Group was essentially contained to three or four cities in terms of their communication influence. Today, they have grown and how. They invested in communication with us as partners back in 2015-16, and I think that really worked for them."
For Anil Nair, CEO and Managing Partner, L&K Saatchi and Saatchi, regional advertisers such as Kalyan Jewellers from Thrissur now mean big business. "Kalyan Jewellers is my fifth largest client as far as volume of business is concerned; similarly Muthoot Group from Trivandrum is a big client. Where did my 2017-18 growth come from? It came from clients like Kalyan Jewellers and Muthoot Group, which are not from Mumbai or Delhi or Bangalore. While they contribute to less than 20% of my revenue, the fact is that the 20% is growing faster than the 80%. That 20% might have a 30% to 40% growth rate, while the remaining 80% has a 10% growth rate," Nair says.
Ashish Chakravarty, Executive Director and Head of Creative, McCann WorldGroup India, who was previously the CCO of Contract Advertising, says, "Right now Delhi is booming. Mumbai has always been a difficult market to get growth in, because clients are fairly fixed. In the past, we had some fabulous years when we got on board this Kanpur-based client, Ghadi Detergent, which works only with top creative people. Similarly, we won the account of Red Chief, the shoe brand from Kanpur. Sugar Free, which is from Ahmedabad, is one of the top businesses we handled out of our Mumbai office at Contract. I am talking only of the Tier II, Tier III towns. Then we had a big client for whom we did some fabulous work - Cycle Agarbattis. It was Mysore-based, we used to handle their premium agarbatti brand called Lia. Then from Hyderabad, we were getting our business from online gaming sites – Poker, Rummy, etc."
Eyebrows were raised earlier this year, when the Ahmedabad-based Zydus Wellness bought Complan, outbidding metro giants like Coca-Cola, ITC and Wipro. Similarly, today when we think of chips and snacks, it would be myopic to think only of brands like Lay's, considering that regional brands like Haldiram's, Bikaji, Balaji Wafers have managed to capture a sizeable part of the market. Many agencies believe the future of the industry depends on such brands that are ambitious and want nothing short of the best work for them. Some of them are actually taking the effort to alter their business framework to accommodate bigger agencies, bigger research agencies, media agencies and designers to be part of their ecosystem. They are well-informed and are not different from a big Delhi or Mumbai-based brand at a knowledge and capability level. Yet they differ as far as ambition and appetite are concerned. They are really ambitious and impatient to grow.
Talking about such brands, Sathyamurthy Namakkal, President & Head, DDB Mudramax-Media, whose agency garners one-fifth of its revenues from small-town clients like V-Guard, Kalyan Silks, etc., says, "Jyothy Laboratories was a Keralabased brand a decade-and-a-half ago. Today, they are giving a tough fight to many MNC brands. Then there is TTK Group, which was once a pressure cooker company restricted to the South. Now they are a national brand with about 60+ different products. Their market valuation, stock market prices, are all 3x to 5x compared to what they were five years ago. They all could grow because of scientific identification of markets based on potential, promotion, distribution followed by advertising. Historically, if a brand is selling in Rajasthan, they believe Rajasthan is their priority. We help brands change that belief, through scientific analysis."
COST OF ADVERTISING HAS DROPPED AT ENTRY LEVEL
Another aspect is that the entry cost of advertising, as far as Television is concerned, has dropped over the years. Earlier, you had to spend at least a couple of crores to advertise for promoting your product on TV; today you can do it in a few lakh rupees by starting with specific regional markets. Even within markets like the South, you have a lot of second level, third level channels which can be tapped at very low entry cost. There are movie channels and news channels where you can buy a 10-second spot for as low as Rs 1000. Similarly, you can look at Bhojpuri channels, Punjabi channels, Kannada channels, channels in the North-east, Orissa, etc. A good example is Milky Moo from Orissa, which is now moving to other markets.
But is the kind of fee these small town brands pay the creative agencies on par with others from the metros or do agencies need to compromise to get them on board? Amer Jaleel, Chairman and CCO, MullenLowe Lintas Group, says, "It goes both ways. Some of the brands are actually very grateful for the size and stature of a Lintas. And therefore, they pay either a pretty penny or they pay a prettier penny than some of our more established brands. Some of them come with a very clear request saying that they are here for the long term, they could have gone to a small agency, but they are coming to us with the expectations that we will help them grow. And as they grow, they will make the size of the business and the account grow, they say. And it really works out for us because we see a rapid change in their fortunes once they start advertising nationally."
Talking from the perspective of a media agency, NP Sathyamurthy says, "The idea is to make clients experience investing and once it translates into tangible growth and sales, momentum is gained. You help them start small, may be just a small market, and then slowly get them to grow to other parts of the country. Most of them are then willing to invest substantial amounts of money, provided they see value and returns. Once this happens, they are happy to remunerate us well. Additionally, if you also bundle creative and digital services for them, then earnings for the agency can be attractive. Otherwise, they pay us as a monthly fee, or a project fee, which is still far more lucrative (12-15% of investments) for agencies like us than working with larger clients who pay just two odd percentage of commission."
REGIONAL ADVERTISERS WILLING TO EXPERIMENT
Another reason why agencies like working with such regional clients is because they are willing to experiment. Santosh Padhi, Co-Founder & CCO, Taproot Dentsu explains it thus: "We often say smaller agencies are doing better work than some of the network agencies because when you are starting your own culture, you have a command on things, you can set the pace and decide what to do. The same goes with smaller brands from non-metros. When smaller brands are starting up, because of the non-legacy factor, they can decide where to pitch, what to launch, what not to launch, how many products to launch, etc. And their size hasn't stopped them from hijacking the market; in fact, they are more dynamic and aggressive. If a regional or tactical campaign is the need of the hour, then such small brands can do it quickly, because we are dealing with their co-founders or owners directly. We can quickly get a go-ahead from them. I think that's a big advantage."
It would be fair to say that not all clients from metros are big and not all clients from smaller towns are small, we have seen 'Bharat' throwing up excellent examples of that. The question now is, how soon will these brands from non-metros start making their presence felt in the balance sheets of the network agencies? Explaining how matters stand, Mausumi Kar, MD, Motivator India says, "As per our GroupM (TYNY) 2018 report, we expect India's advertising investment to be upwards of Rs 69,000 crore this year, which is a 13% growth for the calendar year 2018 over the corresponding period in 2017. As per various estimates Delhi (includes NCR and East) and Mumbai Zone (RO Mumbai/Gujarat) contribute to about 60-65% of advertising revenue. The Southern cities of Bangalore, Chennai, Hyderabad and Kochi contribute to another 20% share. The advertising revenue growth has been a bit more democratic in the past decade with metros, other than Mumbai and Delhi, pitching in. The non-metros are smaller in their current contribution to the advertising pie, but growing steadily. As rapid urbanization is leading to creation of more metros and mini metros, the scenario is likely to become more eclectic in the future."
MORE POWER TO REGIONAL BRANDS…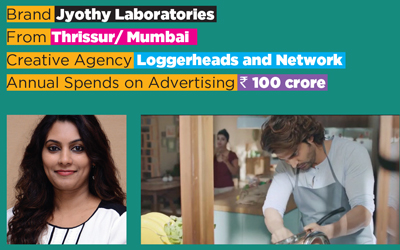 M R JYOTHY
Chief Marketing Officer & Director, Jyothy Laboratories Ltd.
"The first market for us was Kerala - we started from Thrissur after which we spread to markets across the country. Earlier, our advertising was Print-centric and then in the 90s, we got on board Situations Advertising to make TV ads which were first aired in Tamil Nadu. Then in 1997-98, we made a national one for Ujala and the 'Chaar Boondon wala' line is still fresh in people's minds. Unlike today, it was a lot easier to advertise in those days because there was only one channel, Doordarshan, and everybody watched that. Today, there are so many channels and a company needs to have deep pockets to make its presence felt on such a diverse mediascape. Currently, we work with Loggerheads and Network, both Mumbai-based agencies, and not a JWT or Ogilvy because I feel it makes us more nimble-footed. Big agencies come with big cost. Smaller agencies are much more willing to listen to you and there is a lot of mutual respect. So far, this has worked for us. May be there will be a time when we go to those big names of the ad world."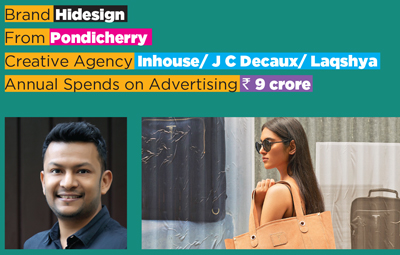 DIPEN DESAI
Marketing Director, Hidesign
"In 2000-2001, when we started advertising, for the first few years we worked with Contract Advertising. Of course, a lot of the impetus for what the communication was, the quality, the tonality, etc., came from us because they had to understand who we were. So, the team came down, spent a few days with us, understood the lifestyle, understood what the brand stood for and went back to give us an interesting campaign. But two or three campaigns later, we realized we were not able to recreate the magic. Most agencies are well equipped to deal with FMCG goods, but not luxury. Since then, we do our own marketing, media buying and creatives. We don't have any agency. We bring in independent external talent - such as art director, copy specialist, illustrator, etc - as and when required, depending on the project. We have worked with companies such as JC Decaux and Laqshya for outdoors. We continue to reach out to agencies and design houses as per the project."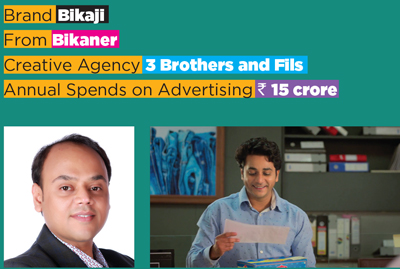 DEEPAK AGARWAL
Director, Bikaji Foods International Ltd.
"We are a half-decade old brand, but in 1995, my father realized we were doing well in some markets outside of Rajasthan like Bihar and the North-east, where we were leading in the traditional namkeen category. We advertise in a big way on Television, and have partnered with films like Zero, Veere Di Wedding, and even associated with the IPL. Coming from a place like Bikaner, communication, logistics and connectivity seemed a big issue. Until recently, there was no airport in the city. If you want to promote your brand, then it is difficult from a small city like Bikaner. So we opened our branch office in Mumbai and our agency, 3 Brothers & Fils, is also based there. We have more than a twodecade-long association with them. When my father started off, I don't think there were any good agencies in Rajasthan or Jaipur. Mumbai has always been famous for its creative work, ad designs and for the media, so it was a natural choice. Henceforth, we will advertise on TV every quarter, up from two campaigns in a year. Today, we are present in the US, Gulf countries and Australia."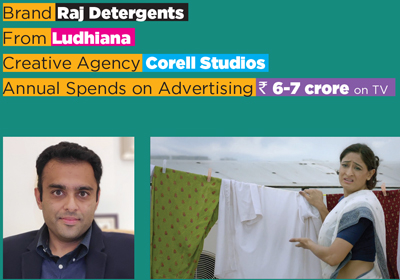 SAHIL BANSAL
Managing Partner, Raj Industries
"We are a more than half-a-century old brand in Punjab, but we have just started advertising on TV last October. The ad campaign was for Raj Super White, for which we had Hina Khan as the brand ambassador. To showcase the ad, we selected news channels like AajTak, Zee News, ETV, entertainment channels like Star Utsav, B4U and Rishtey Cineplex and some regional channels as well like Pitaara, because we are present in about 10 States in India at the moment and want to go pan-India. We have realized the effective cost of advertising on Television is cheaper as compared to Print, which is more expensive. As TV caters to the masses, and it was our first ad, we went with a local agency, but we felt we need more. So for our next ad, we will definitely go with a national creative agency. But whatever agency it is, we would like them to initially come to Ludhiana to meet us and once the deal is struck, perhaps visit once a month. Anyway, we are looking at a project-based association."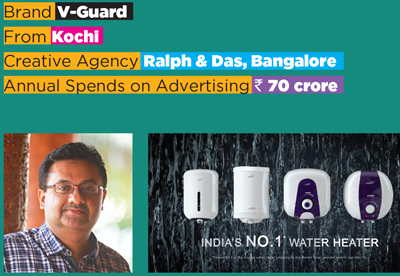 NANDAGOPAL NAIR
VP & Head, Brand & Communications, V-Guard Industries Ltd
"We are a 41-year-old brand and it has been 8-9 years since we moved out of the Southern market and it is already contributing to 35% of our revenues. When we were a Kerala-centric brand, we worked with a local agency called MediaMate, which gave us better understanding of the Kerala nuances. But, as we decided to grow wings, it became very difficult for a local agency to support us. Not to blame them, because their area of operation is really centred in a particular geography. It's nothing to do with local agencies not having the talent. We were nurturing ambitions to become a pan-India brand and it was important for the agency to also have that bandwidth of working on a national platform. So we worked with TBWA, Publicis and now Ralph and Das. For us, it was important to understand the behaviour in the North, East and West, because there are a lot of cultural differences and thus we wanted an agency that had an understanding of it as well as the expertise. We work with them on a retainer basis. We have got 13-14 products in our roster, and each of them has different demands in terms of communication."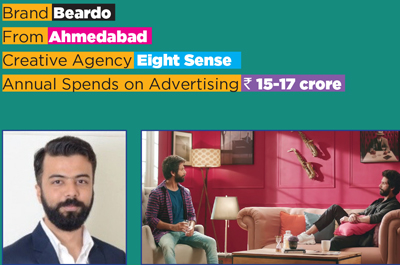 ASHUTOSH VALANI
Director, Beardo, Zed Lifestyle Pvt. Ltd.
"Our company started in Ahmedabad in late 2015. The only challenges we faced as a brand in a smaller city were lack of good manpower with experience and skillsets, but then a lot of businesses that have started from Ahmedabad have done really well in the national and international markets. So, we had no qualms about being headquartered here, as opposed to moving to a metro. Today, we are present in about 38 cities and also in the UAE. We were sure we wanted to go national and wanted to be a digital-first company; thus it was very important for us to understand the geographic impact when it comes to online purchases, online presence of all the e-commerce portals et al. We then got Shahid Kapoor to endorse our brand. We work with an Ahmedabad-based digital agency called Eight Sense, Digital is a fairly new medium. The creative agencies in the metros may have years of experience making commercials for traditional media, but for Digital, an agency in a small town can still be as good as any agency in the bigger cities."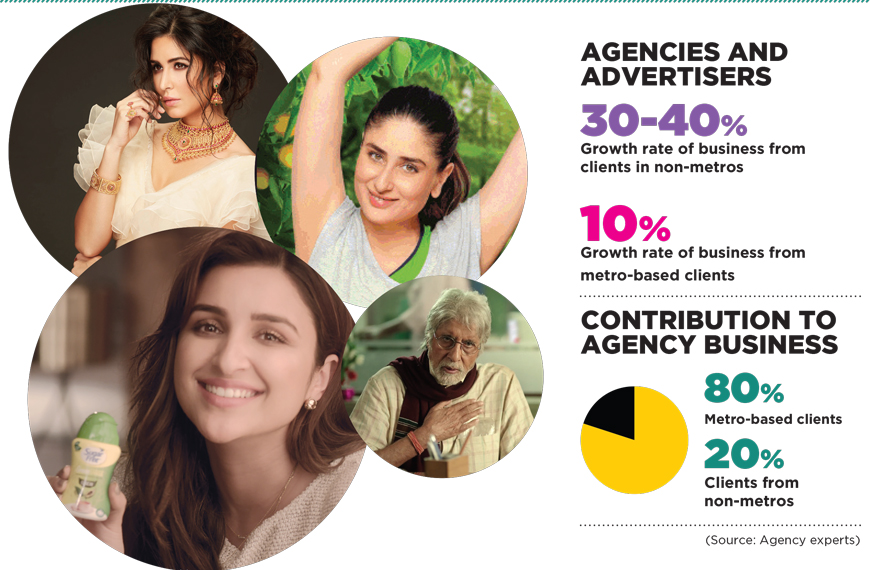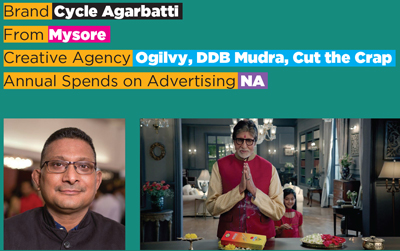 ARNAB CHATTERJEE
Senior VP, Sales & Marketing, NR Group (Cycle Agarbatti)
"We are a 71-year-old company and have been advertising nationally for more than a decade. When we had to look for a creative agency, we realized that not many good agencies are based out of Mysore, and the second best option was to go with a Bangalore-based agency. The scope of work is quite large and we didn't think a Mysore-based agency could handle it, unlike places like Ahmedabad, Pune and Kolkata, which may have some good agencies. We are on-air almost 10 out of 12 months in a year, have Amitabh Bachchan as the brand ambassador. Our current agencies, DDB Mudra and Ogilvy, both have Bangalore offices. Cut The Crap is the only agency which is based out of Mumbai, but they keep coming to Bangalore or Mysore to meet us, so that is not an issue. The moment we get into final discussions, the agencies are very much aware that they have to come to Mysore. We don't want to deal with agencies who don't want to come to Mysore, because that's a corporate philosophy. We are based in the headquarters and if a service provider doesn't want to even come to our headquarters, then why should we deal with such a service provider?"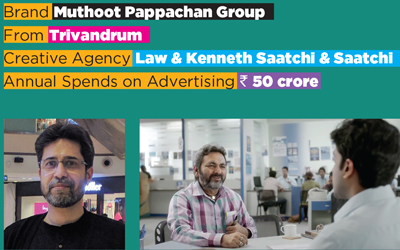 SANJEEV SHUKLA
Chief Marketing Officer, Muthoot Pappachan Group
"We have 3,600 branches across the country but the perception is that it's a Kerala-based company, and the affinity of people in North and West is not as much towards it, so that's a challenge. Plus it is a family-owned business which split several years ago. So, there is another Muthoot where the core business is common, so the second challenge from a marketing perspective is the differentiation. I feel local agencies don't have the kind of talent to take us where we want to go, thus we picked Law & Kenneth Saatchi and Saatchi. Our first ad came out in July-August and the business has been growing this year. We have seen a jump in enquiries. Also I don't feel distance is an issue, we have interactions as required, formal calls every week and within a month at least once we are travelling to Mumbai or they are travelling to Kerala, which means we meet face to face at least twice a month. Additionally, in this age of technology, you could get on a Skype call, or a simple WhatsApp video call anytime you want to interact with the agency."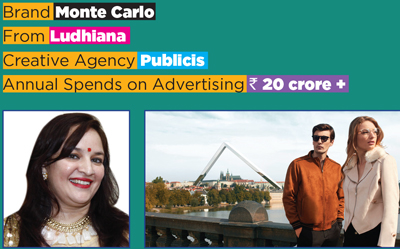 MONICA OSWAL
Executive Director, Monte Carlo Fashions Limited
"We are a 25-year-old brand, our first campaign was with Nasser Abdullah - 'It's the way you make me feel', the saxophone campaign, which was one of the pathbreaker campaigns of that time. When we started off, the trend was more towards associating with a national agency like JWT because it was a globally acclaimed agency. Also, I don't think many of the local agencies were available at that time. We even moved our ad department from Ludhiana to Delhi for ease of communication with the agency. That partnership ended last year as we wanted to try something new and now we have Publicis on board. They are already on their toes because we are a demanding client. The mental wavelength and the comfort level should match. We are lucky in that and are in a very comfortable position as far as Publicis is concerned. They are right behind our office, so whenever we feel like doing something new, immediately they pop up, and there is no space for any miscommunication. There is a direct understanding."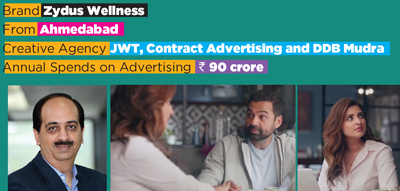 TARUN ARORA
Chief Operating Officer & Director, Zydus Wellness Limited
"Zydus Wellness is a national brand though we are based out of Ahmedabad. One of our products, Sugar Free, has 94% marketshare across the country. DDB Mudra has been our agency locally for Nutralite for several years. Sugar Free has been with Contract Advertising for more than five years and Everyuth with JWT for close to two years. We have chosen to give each brand to a different agency, and we actually don't find a challenge in working with the Mumbai-based agencies at all. Yes, it would have been great if we were also in Mumbai. The difficulties are worth taking on vis-àvis the benefits we get by working with them as we find significantly more resources coming out of the Mumbai offices of these agencies. I am less anxious about the agency being in the same city and more concerned about getting the right capability in, and having the best teams operate for us because brand challenges are more important. If there is a creative challenge, we have seen these national agencies briefing multiple teams, and sorting it out very quickly. So, I would want to work with the best teams wherever they are, Mumbai or Delhi."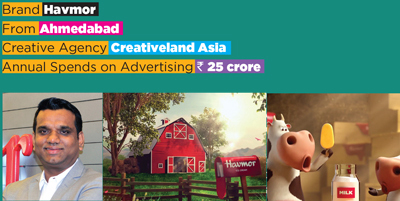 VINCENT NORONHA
Vice President-Marketing, Havmor Ice Cream (Lotte Confectionery)
"Havmor was a local brand which between the early 2000s until 2010, originated and was limited to Gujarat. It was more Print, point of sale communications and hoardings-led advertising. The expansion plan started around 2009-2010, when the ambitions of Ankit Chona inspired the entire team under him to become a national brand. After that, we started TV advertising. Today, we are present in 15 States, but most of our business comes from Gujarat, Rajasthan and Mumbai. As far as picking a creative agency is concerned, it's not about location, or whether Ahmedabad has less potential than Mumbai - it's about the kind of thought process that one agency gets with them when they come for the pitch. The first time Havmor advertised nationally was in 2016. Until then, it was managed internally. Publicis was the agency before Creativeland Asia came on board. Havmor underwent a transformation with the change in leadership from Pradeep Chona to Ankit Chona. Every generation has a different goal and path, and some of them lead to local brands becoming national."
All our creative agencies think very locally, as is our requirement:


TS Kalyanaraman
Chairman and Managing Director, Kalyan Jewellers
Brand:
Kalyan Jewellers
From:
Thrissur
Creative Agencies:
Ogilvy, L&K Saatchi & Saatchi and Local (a Kerala-based agency) Annual Spends on Advertising: ` 200+ crore (2% of overall revenue)
"We currently work with three creative agencies - Ogilvy, L&K Saatchi & Saatchi and Local (a Kerala-based agency) which jointly handle our creative mandate on a retainer basis. We have also set up an in-house creative team and studio. Kalyan Jewellers is present across 17 States and four countries. That said, we are also a very hyper-local brand and all our communication reflects this ideology. Since our largest competitor in every market belongs to the unorganized sector, we have felt the need for multiple creative agencies to work together towards specific brand requirements, while bringing in varied regional flavours and perspectives based on the markets in question. We have always followed the strategy of having localized brand ambassadors in every region to connect better with our regional audiences. Our creative calendar is equally divided between two national agencies, and for Kerala-specific campaigns, we have an agency from within the State.
All our creative agencies think very locally, as is our specific requirement. When it comes to the brand, we do not believe in differentiating between a regional or national agency. The only objective is that their communication should be in line with the brand's vision and it should be well accepted by the audiences. We brought in Amitabh Bachchan into the Kalyan family as our brand ambassador, which has also helped us touch the hearts of customers across the country, and enabled us to gain recognition as a national brand. Jaya Bachchan, Shweta Bachchan Nanda and Katrina Kaif also represent the brand. We also have Manju Warrier from Kerala, Nagarjuna from Andhra/Telangana, Sivaraj Kumar from Karnataka and Prabhu Ganesan from Tamil Nadu, who represent the brand in the respective States. Today, a significant percentage of our business comes from outside our home State. All markets put together, we would have at least 25-30 campaigns a year.
"We have monthly review meetings with our agencies. However, in a digitally connected world, our agencies are always in touch with us for ongoing, future and upcoming campaigns. We do not expect them to open a satellite office near our Head Office, because the creative agencies usually share the final version of the creative and layout with us, and our internal teams resize them and create the multiple versions that need to go to the media."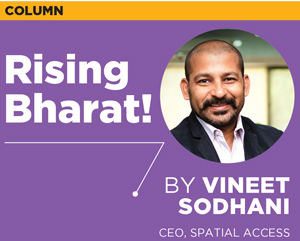 It is not that clients from smaller markets are a new phenomenon. The likes of Rasna, Rupa, Amul, Vicco, Ghari, etc., have been there forever. If you speak to industry veterans, there is enough ad-folklore on clients from smaller markets: the Marwaris who would offer nice lunch but take away much more when they negotiate, the Gujaratis who would turn your ERs and CPRPs upside down and the Tamilians who would rather deal with one of their own.
But the spends from smaller markets have been on the rise. Earlier in the decade came Vini, Kalyan, Lovely University, Cycle Agarbattis, etc. In recent years it has been Patanjali, Syska, Wildstone, Saravana, etc. It is just that now the breed of advertisers from small towns is growing noticeably enough not to be ignored. Munch on this.
Last year, Vini spent more on Hindi Movie channels compared to Amazon; Roop Mantra spent more than Mondelez on Hindi Music channels; Patanjali spent almost twice that of Coca-Cola on Hindi GECs and Torque Pharma's spends on regional news was higher than Heinz, Hero MotoCorp and Google put together. With such investments, small town advertisers attract the attention of many media houses and agencies. One cannot ignore this by any set of imagination. The following factors, both pull and push, could be at play:
Generation effect – The new generation has taken reins from their parents and founders, and want to glamourize and scale up the business. You would often see these brands getting celebrities to improve brand recall and develop scale. Consequently, spends grow and they feel the need to have more significant, professional partners who can help them grow.
Valuation effect – The spends are also high because some of these businesses are looking for valuation either to sell out or to issue an IPO. Prakash Snacks from Indore and Havmor and Sesa Hair Oil from Ahmedabad are some recent examples.
Margin Effect – Owing to intense competition in metros, many agencies and media houses are looking to expand their client base from smaller markets. Some have even opened offices or operate special teams that cater to just these markets. The margins are also better since many clients are relatively unaware of the widespread media practices and pricing.
While overall growth may be higher in larger markets as categories such as Handsets, e-commerce and OTT - the fastest growing in recent years - are all germinating from larger cities, there is enough traction in smaller towns that calls for special attention. Ignore them at your own peril.
SHOULD AGENCIES OPEN OFFICES IN SMALLER TOWNS?
The case for a dedicated office in close proximity to a big client versus access to a larger talent base located in a metro hub
Ahmedabad has traditionally given rise to big enterprises, such as the Adani Group, Reliance, Rasna, etc, but now other regions are also churning out entrepreneurs with equal ease, be it the online poker players of Hyderabad or jewellery brands from Thrissur and Trivandrum or snacking brands from Rajasthan. Ditto for places like Kochi, Coimbatore, Madurai, Indore, Bhopal, Ludhiana, Jalandhar, Nagpur, Bhubaneswar, Cuttack, Guwahati, etc. Around 19972009, creative agencies like Grey Group had offices in Ahmedabad and Chennai, set up to service their local clients. But now the agencies feel it makes more sense to have just three power centres - Mumbai, Delhi and Bangalore - and make clients come to them for work, rather than assigning talent to one small satellite office anywhere.
Anil S Nair, CEO & Managing Partner, L&K Saatchi and Saatchi India says, "I don't want to replicate a Mumbai office in any other city; no point having a sub-optimal office in Bangalore where I will not get the best talent. Sometimes even the best talent from a city like Bangalore is hoping to move to Mumbai. Why would they want to be in a small satellite office for another agency where their potential won't be used to the maximum? So, talent-wise, it doesn't make sense."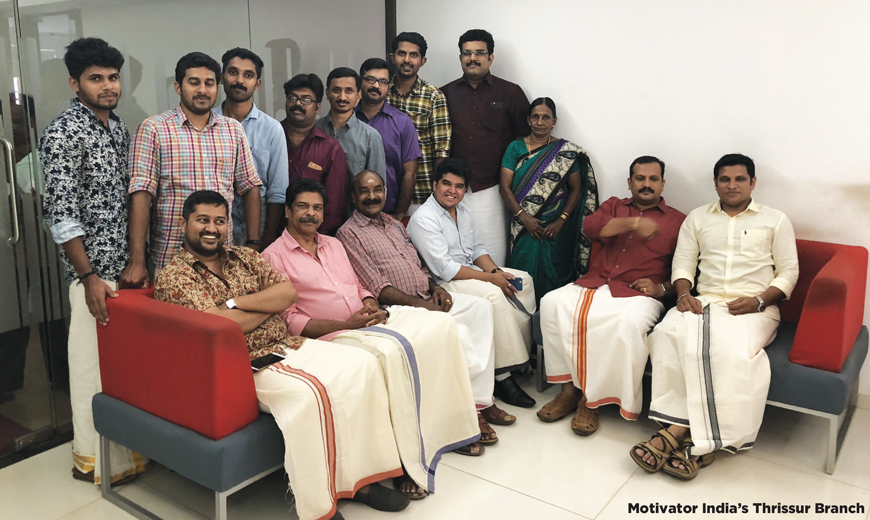 Adding to that, Saurabh Varma, CEO, Publicis Communications India says, "The client's business is very different from the agency's business, which is about a pool of talent. Where the talent exists is where we will create offices. For example, when you look at the IT business, the talent is in places like Bangalore or Hyderabad, which is where the IT hubs have been created. When you look at the communication business, the talent exists in Delhi or Bangalore or Mumbai fundamentally. We don't want to compromise on talent. You can always create a hub and bespoke model which essentially implies that you might have your operational efficiency, created by embedding some talent in that city, or with the client, but fundamentally the creation work or the ideation work will come from where the best talent exists."
But do advertisers, especially the big ones from the regional areas, expect the agencies to have a satellite office to service them? Nair replies, "Let me give you an example, I have a 42-member team in Kolkata to service 4-5 clients including ITC. But when it comes to a big project, ITC knows I would want the best talent from the agency to work on it; doesn't matter where they are based. We have Kalyan Jewellers in Kerala and if they demand that we open a Kochi office, I can get them what I can afford to get in Kochi, but I certainly will not get the best of L&K Saatchi & Saatchi there. Clients today are aware of that. My biggest client today is Delhi-based – Renault. The Delhi office gives them operational support but they are serviced by a 40-plus team from Mumbai. Likewise for Hero. Regional clients are no different. I don't think they care for a satellite office in the same city anymore."
Subhash Kamath, CEO, BBH India agrees, and says, "A Delhi agency some time ago had begun to look for some office space in Chandigarh to service a client there. But it was still going to be attached to the Delhi office by and large. There may be a client in some of the smaller cities, but I don't think the business is big enough for an agency to open up an office there yet. Agencies will find a way to service it from the hubs."
On one end, a media agency like GroupM has set up a satellite office in Thrissur to service two-three of their big clients including Kalyan Jewellers. On the other, Taproot has handled Delhi-based Times of India, Pepsi or Airtel from their Mumbai office, proving physical proximity doesn't matter. Most offices today are investing heavily in technology, telepresence and web-conferences which have melted distances. In fact, Sandipan Bhattacharyya, CCO of Grey Group India, says he has in the past suggested to clients that they work with their Bangalore team which might be geographically closer and more accessible for them, to which they replied that they were interested "only in working with the Mumbai office" indicating the perception that Mumbai houses more talent for networks.
Bhattacharyya adds, "It might not make much economic sense for small town clients to actually get an agency to set up an office there, because they will have to pay a higher retainer. The movement now is towards having very lean retainers. The cost would significantly go up if you want an agency to set up an office primarily to service your business. The economics won't work out."