At a time when Ministry of Information and Broadcasting is fighting battles on multiple fronts, be it with news companies, digital platforms etc., the Modi government reshuffled the cabinet entrusting Anurag Thakur with the crucial MIB portfolio. Thakur, a four time BJP MP, former chairman of the IT Committee and President, BCCI; is amongst the six junior Ministers who have been promoted to the union cabinet. Previously the Minister of State for Finance, Thakur was amongst the NDA government's main defenders on the economic front especially during the pandemic.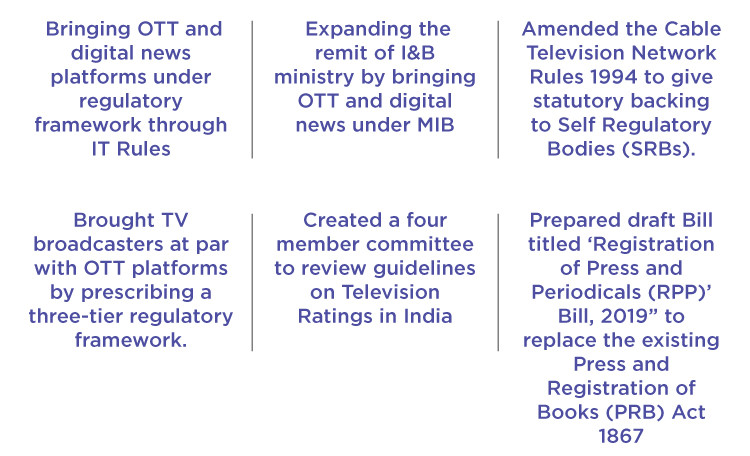 During his predecessor Prakash Javadekar's regime, the government was accused of 'overregulation' by media companies thus Thakur's job will entail diving straight in to douse the fire. Under Javadekar, the I&B ministry took several key decisions like bringing OTT and digital news platforms under regulatory framework through IT Rules, amending the Cable Television Network Rules 1994 to give statutory backing to Self Regulatory Bodies (SRBs) bringing TV broadcasters at par with OTT platforms by prescribing a three-tier regulatory framework, forming a four-member committee to review guidelines on Television Rating Agencies in India etc, some of which are still burning issues.
Between a battered economy, hampered growth and new IT rules which many in the industry believe borders on 'stifling the media' the change of guard brings with it new

hope. The M&E industry is eager to find out if the young Minister, who will also handle the Sports portfolio will be able to provide a level playing field for everyone in the value chain. Talking about his appointment, Avinash Pandey, CEO, ABP Network said, "Our industry has witnessed a paradigm shift and a multitude of policy changes in the past few years. With the versatility of his experience and his policy dexterity, I'm confident that Mr Thakur will take the Indian media industry to new horizons. I'm looking forward to his dynamic leadership in uplifting the broadcast industry and also making invaluable contributions to our country's development."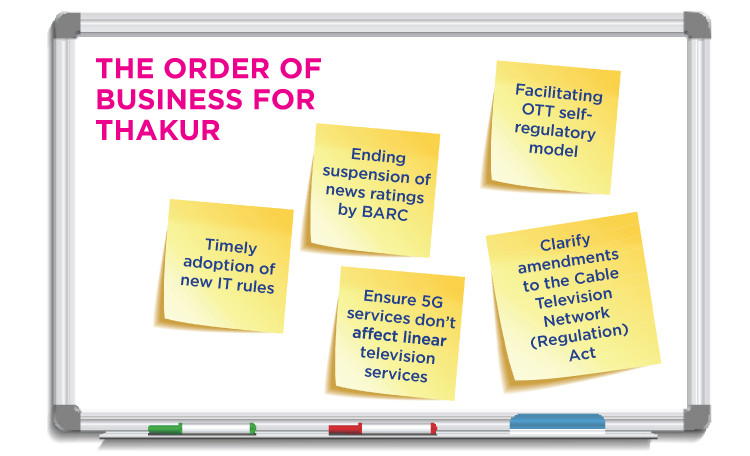 Remember just last year, the Indian Broadcasting Foundation (IBF) had sought a stimulus package from the government in the form of economic relief and regulatory flexibility so that all broadcasters, especially the smaller businesses, can be helped to get back on track. Broadcasters are hopeful that Thakur will address all their

concerns and bring positive changes to the television ecosystem.
Harit Nagpal, MD & CEO, Tata Sky says, "Anurag Thakur is known for his clear articulation. Hence, we hope that under his leadership, policy statements will become unambiguous, and a level playing field will exist across various distribution channels."
The print media companies have their own share of issues like rising costs of newsprint and drop in ad revenue due to the rise of tech giants like Google, Facebook and Twitter. Elaborating on his expectations from the newly appointed I&B Minister Sivakumar Sundaram, Chairman of Executive Committee,

BCCL says, "We hope, and, believe that under his dynamic leadership, the sector will play a key role in the post-pandemic resurgence that the country is looking forward to. We are looking forward to working closely with him and making India growth story an example for the rest of the world to follow."


Girish Agarwal, Director, DB Corp says, "We convey our Best wishes to Union Minister Honourable Anurag Thakur for taking charge of Information & Broadcasting ministry. We hope that the policy decisions and implementation under his guidance will have amplifying and far-reaching positive effects on the sector."
The FM radio operators, who are amongst the worst affected due to the pandemic, have been demanding that the government allow news on private

radio stations besides a liberal FM radio policy. Prashant Panday, MD and CEO, ENIL says, "We welcome Anurag Thakur to the media and entertainment world! The FM radio industry has been battered by COVID-19, far more than any other media industry. We hope that the new honourable minister meets with industry representatives to discuss urgent relief measures. Without these, a lot of radio broadcasters could go under."


Nisha Narayanan, Director and COO, RED FM and Magic FM says, "We look forward to working with the ministry and Anurag Thakur to take the radio industry to greater heights."
Thakur has been in politics for well over a decade now, with pressing issues to address this appointment is sure to be a test of his statesmanship while for the broadcasters and Digital players it is clearly a ray of hope in such troubled times.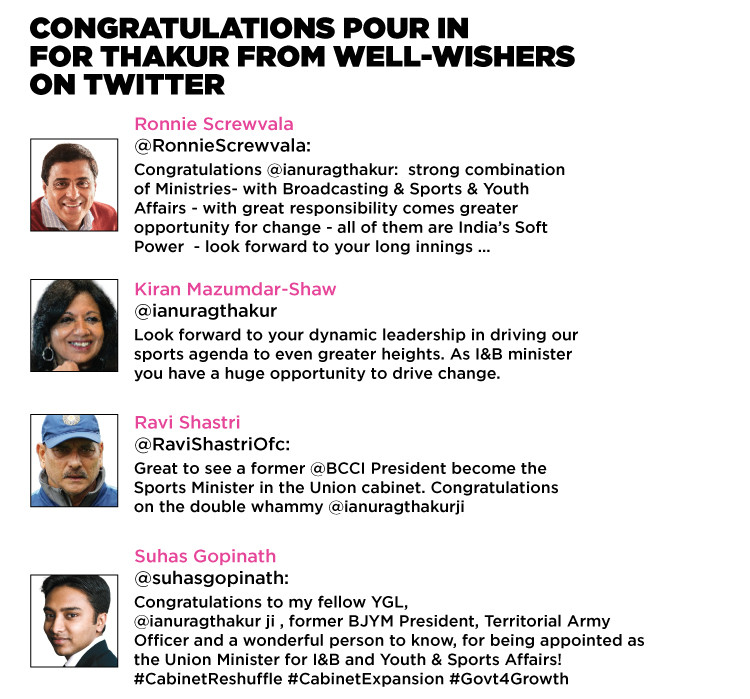 The immediate concerns for the I&B Minister
Adoption of IT rules
Prominent platforms such as Telegram and LinkedIn, ShareChat and Koo have toed the line but fireworks still continue as far as Twitter is concerned in connection with the new IT rules introduced by the government in March this year. Remember the social media platforms, digital media publishers, OTT players etc were given three months to implement the changes and furnish information about themselves and their self regulatory mechanisms. It was also opposed by the various media associations following which many organizations moved Court. The new minister will be expected to handle the crisis at the earliest.


Solution on suspension of BARC news ratings
After the TRP scandal the BARC ratings for news was suspended in 2020, post which a committee was set up chaired by Prasar Bharati CEO Shashi Shekhar Vempatti and had three other experts on board to review the guidelines of television rating agencies. While the committee submitted its report to the ministry by the end of January 2021, the ministry had written a letter to BARC, asking them to maintain 'status quo' on the ongoing issue of blackout of TV ratings for the news genre. The news broadcasters are awaiting a decision from the Ministry on this.

Clarity around amendments introduced to the CTN Act
The government amended the Cable Television Networks rules prescribing a three tier grievance redressal mechanism to bring TV broadcasters at par with the over the top (OTT) and digital news platforms. While some believe that the move will guarantee uniformity between TV and OTT and will give more authority to the SRBs, others are unsure whether the level of content self-regulation that may be achieved through these rules is constitutionally valid or not. The minister is expected to provide clarity around this.
Facilitating OTT Self-regulatory model without government intervention
The New IT Rules apart, MIB has always insisted on maintaining a clear mandate for the OTT industry and self-regulation. The ministry has consistently maintained its stand on not introducing a statutory body but helping the players set up a self-regulation process. Last year, MIB had also asked OTT players to set up an adjudicatory body and finalize a code of conduct. The new MIB ministry will be expected to take up the issue and help players adopt self-regulation on mutually agreeable terms.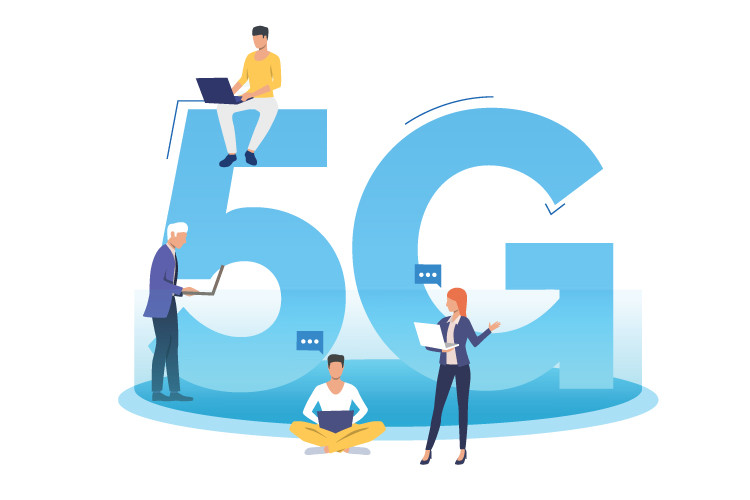 Ensuring 5G services don't disrupt satellite television services
Broadcasters are apprehensive that 5G services may lead to potential disruption in satellite television services as mostly all C-Band satellites use the band of frequencies between 3.7 GHz and 4.2 GHz for their downlinks. Since most television channels operate between 3.7 GHz and 4.9 GHz, broadcasters fear interruption in signals as spectrum in the range of 3.00 GHz to 3.6 GHz has been identified for 5G usages in the country. Government has to allay their fears and secure their bands to ensure there is no clash.