Last week, in a move that sent ripples across the broadcast industry, Zee Entertainment Enterprises (ZEEL) announced that its board approved a merger with rival Sony Pictures Networks India (SPNI), a subsidiary of Japan's Sony Corporation. The combined entity will have Punit Goenka at the helm as CEO & MD, with an estimated consolidated topline of about Rs 14,000 crore based on FY21 results and a viewership market share between 25 to 30%. After the merger, SPNI will hold a 52.93% stake in the entity. Zee shareholders will take the remaining 47.07% stake. The shareholders of SPNI will also infuse growth capital into SPNI as part of the merger such that SPNI has approximately USD1.575 billion at closing, for use in pursuing other growth opportunities. The merger also comes as respite to ZEEL's board, which has been under pressure after its foreign portfolio investors – Invesco Developing Markets Fund and OFI Global China Fund – had sought removal of directors, Punit Goenka and non-executive directors Ashok Kurien and Manish Chokhani. Eventually, Kurien and Chokhani had stepped down from the board.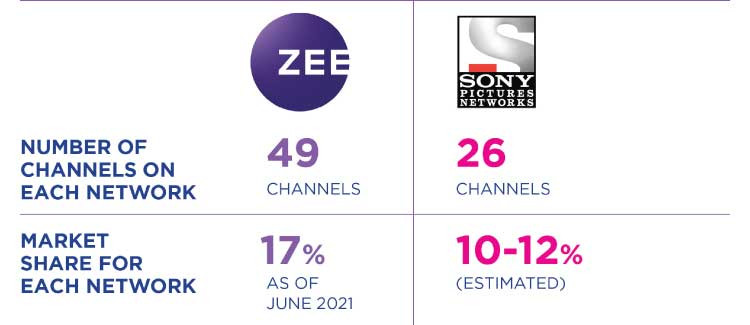 Following the merger, the ZEEL promoter family's shareholding will fall from 3.99% to 2%. However, the promoters will be able to maintain 4% shareholding in the merged entity as they will receive an additional 2% stake from Sony in lieu of a non-compete arrangement between Sony and the ZEEL promoters. The additional 2% stake for promoters will come from SPNI's 52.93% stake.
As per legal and regulatory guidelines, at the required stage, the proposal will be presented to the shareholders of ZEEL for their approval. Once the proposed merger takes place, the value of the combined entity and the synergies from both conglomerates are expected to not only boost business growth but also enable shareholders to benefit from its future successes.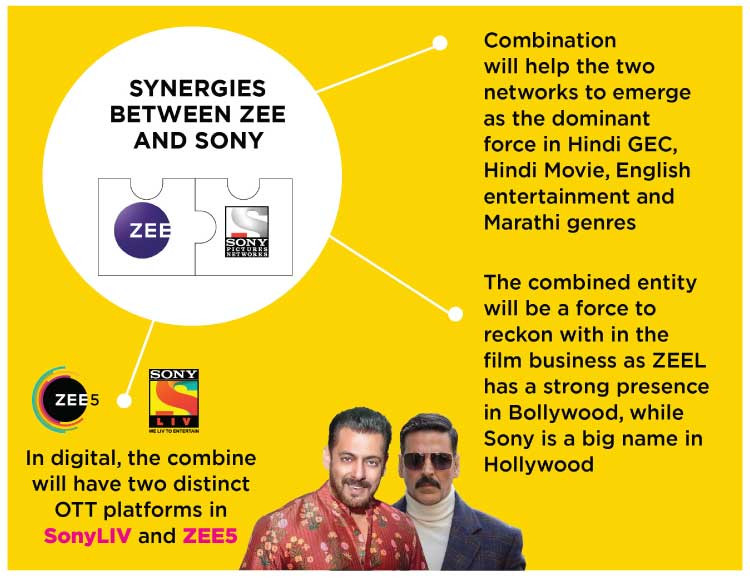 A dominant new entity
The merger deal between ZEEL and SPNI will allow the two companies to achieve economies of scale in a rapidly changing media landscape marked by the rise of digital. ZEEL and SPNI are the second and third-largest TV broadcasting companies in the country by revenue. Their merger will create a media behemoth that will transcend linear channels, video streaming, and film production. It will emerge as the main challenger to Disney-owned Star India, which has become the top M&E company in India, thanks in part due to its acquisition of Indian Premier League (IPL) media rights and a profitable TV entertainment business.
The combined entity will also mean an offering of 75 TV channels spanning popular channels across genres and therefore it will be a must-have bouquet in pay-TV homes. The new media entity will also have a significant leverage when it comes to negotiating ad deals with clients. The presence of two strong OTT platforms — SonyLIV and ZEE5 — will help the merged entity to put up a strong fight against the likes of Netflix, Amazon Prime Video, and Disney+ Hotstar. The merged entity will also have a strong movie business, with a healthy mix of Bollywood and Hollywood movies, which will come mainly from the Sony Pictures stable. Compared to SPNI, ZEEL has been investing aggressively in films due to the strategic value that it brings to the company's TV, streaming, and music businesses.
During a conference call with analysts last week, ZEEL MD and CEO Punit Goenka, who will also lead the merged organisation, had made the entity's focus on sports abundantly clear. Three major cricket rights — IPL, BCCI, and ICC — which drive the sports broadcasting economy in India are coming up for bidding in the next 6 to 12 months. The Sony-Zee combo will be up against an aggressive Reliance-backed Viacom18 and the incumbent rights' holder, Star India, for the three cricket properties.
ZEEL Head – M&A and Business Development Vikas Somani, who was also part of the conference call, had said that the deal will get concluded in 6-8 months once all the approvals are in place. "Any merger scheme takes 6-8 months and that's our estimate for this deal," he stated.
Somani also said that the company will follow the normal process which is followed in a merger scheme. "We have entered into exclusivity with the other party for 90 days and we will be conducting our due diligence. Post that we will be taking the scheme to National Company Law Tribunal (NCLT) and Securities and Exchange Board of India (SEBI) and of course shareholder approval is required. Whatever timeline is required to get all these approvals will be followed," he stated.
The Competition Commission of India (CCI) approval is part of the process. "Our internal assessment is that it might not be a problem but I don't want to stick my neck out on what will happen," Somani said. Goenka added that CCI norms differ for different sectors. "In this scenario, it has to be a national-level evaluation and that's my initial assessment of the situation."
Somani also said that appointment of Punit Goenka as MD and CEO of the MergeCo is an integral part of the deal. Goenka noted that the conditions for his appointment are the same as what was approved by the shareholders of ZEEL. "There is no change in that. Any change in my remuneration would be subject to board approval or whatever approvals are required," he said.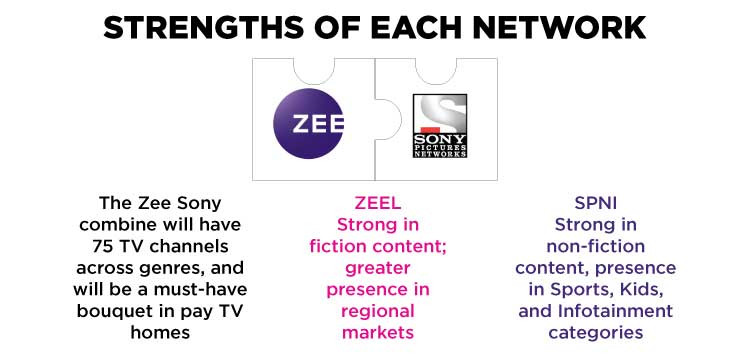 Synergies between Zee and Sony
Overall, the sentiment across the industry is that ZEEL stands to benefit from the merger, though there are big opportunities in terms of synergies for both. Karan Taurani, Senior Vice President - Research Analyst (Media, Consumer Discretionary & Internet) at Elara Capital explains, "In terms of synergies, Sony is doing well in sports and mainstream GEC whereas Zee has a strong recall on regional genre, which is less or absent for Sony; both have a very strong movie catalogue which can be used for OTT and TV offering."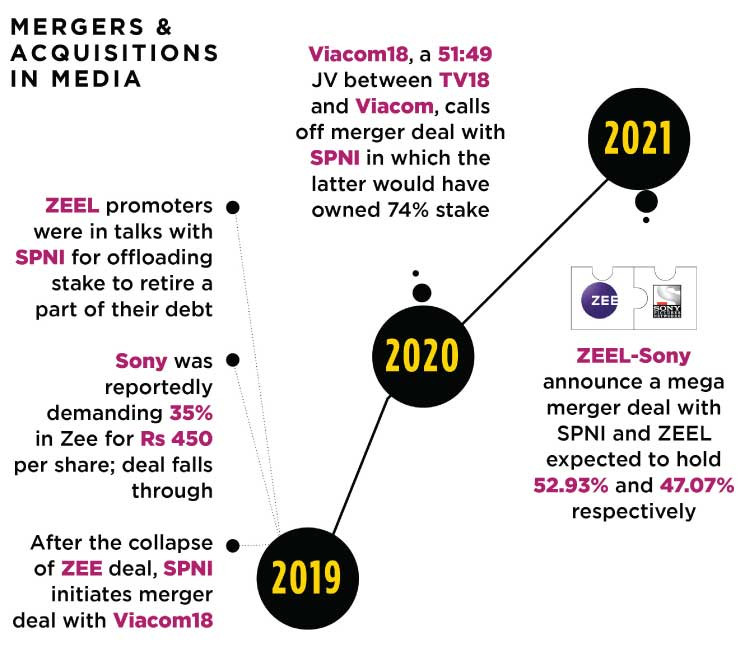 According to industry watchers, what makes the Zee-Sony deal lucrative is the fact that the two entities complement each other with minimum overlap in terms of audience, channels and viewership. ZEEL's strength is its wider pan-India footprint, particularly in rural India, whereas SPNI derives its strength from the urban market. The merger allows both ZEEL and SPNI to fill in the white spaces in their respective portfolios. ZEEL doesn't have a presence in sports and kids genres, whereas SPNI is the second-biggest sports broadcaster in the country and has a kids' channel called Sony Yay!. Likewise, SPNI doesn't have a presence in regional TV markets barring Marathi whereas ZEEL is among the top three players in markets like Marathi, Bangla, Tamil, Telugu, Malayalam, and Kannada. ZEEL is also a dominant player in Odia, Bhojpuri, and Punjabi markets, which are comparatively smaller but are significant markets, note industry observers.
"The merger will have ramifications for the advertising market due to the bouquet strength. The best thing about the merger is that both the networks complement each other. They don't have any competing products, so everything gets added. ZEEL is strong in regional, while SPNI doesn't have a presence in regional. The merged entity will virtually capture the Hindi movie genre. In Hindi GEC, ZEEL is strong in fiction while SPNI has great non-fiction properties. Plus, SPNI has sports and kids, whereas ZEEL doesn't have these channels," a senior TV broadcasting executive says on condition of anonymity. "In OTT, SonyLIV and ZEE5 will complement each other as the former has live sports while the latter has originals and regional content. Plus, it's better to have two OTT platforms rather than one," the executive points out.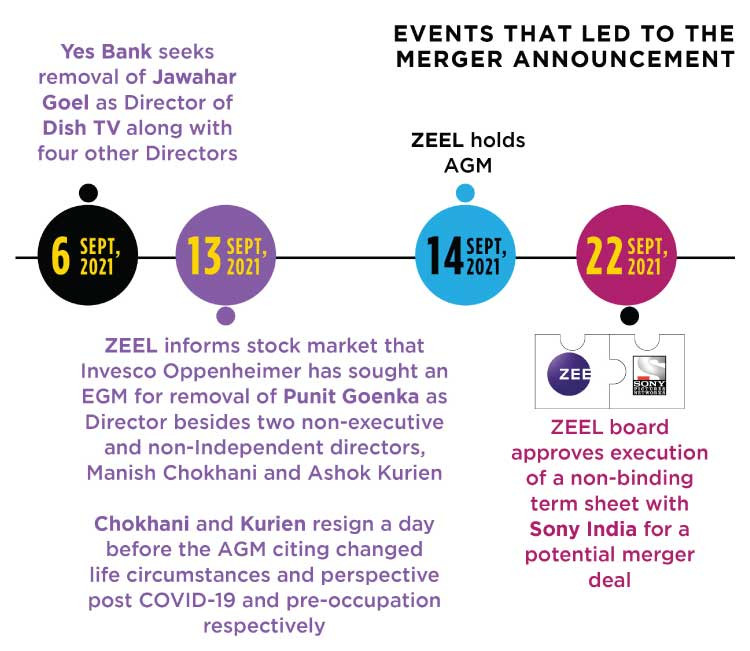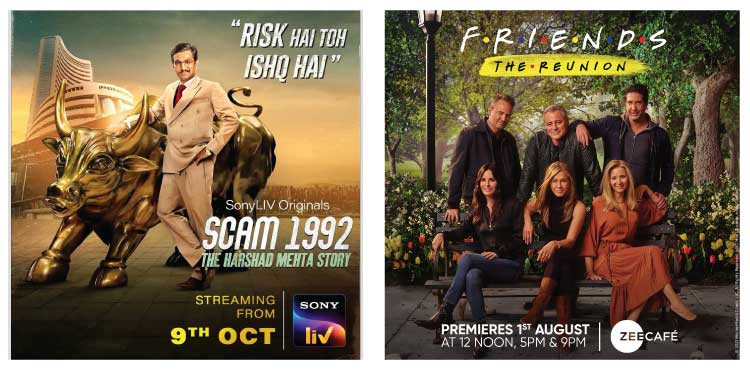 Stronger OTT offering
Experts believe that the merged entity will also be a force to reckon with in the OTT space with two platforms, SonyLIV and ZEE5. ZEE5's global monthly active users (MAUs) increased to 80.2 million in June, compared to 72.6 million global MAUs in March. The global daily active users (DAUs) rose to 7.1 million from 6.1 million. Watch time per viewer per month increased to 190 minutes from 156 minutes. SonyLIV's MAUs jumped from 130 million to 200+ million+ in FY21. Total time spent saw a 25% jump to 75 minutes in FY21 from 60 minutes in FY20. Video views almost doubled to 4+ billion from 2 billion.
The two platforms are distinct in their content offering as well. ZEE5 has a strong focus on original content in Hindi plus regional languages, while SonyLIV's unique content offering includes Hindi originals, kids, sports, and Hollywood content. ZEE5 is strong in regional content, while SonyLIV doesn't have much of regional content. Similarly, SonyLIV has live sports and Hollywood, both areas where ZEE5 is virtually absent.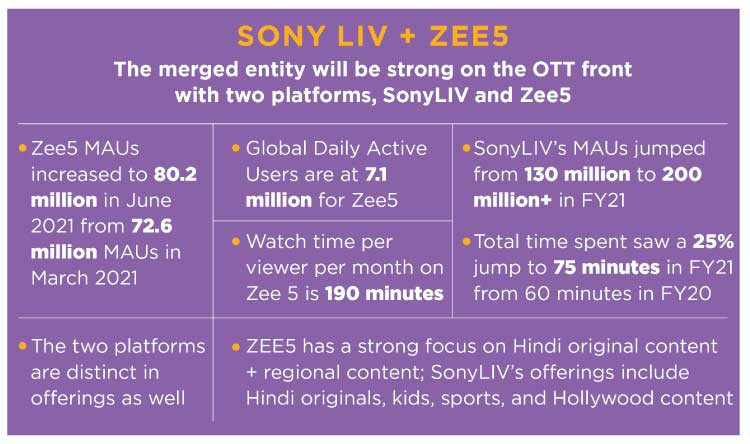 According to a veteran media executive, the merger has also been necessitated due to the changing landscape where Digital is gaining prominence. Scale, he states, is very important for any company that wants to compete with the emerging giants in the media space. "The merged entity will have lots of synergies, but the main game is about Digital, as linear television is on the dip. In the next few years, the landscape will completely change. It's no longer only about aggregating channels, now content aggregation on Digital is the name of the game," the executive insists.
"Both companies can go to market together with their merged OTT offerings, which are slightly different in content. Sony is more into sports and main stream shows (Scam), whereas Zee is into regional web series and hence the content strategy can augur well to create a platform, which have all of offerings. They may emerge the second largest home-grown OTT after Disney+ in India," notes Taurani.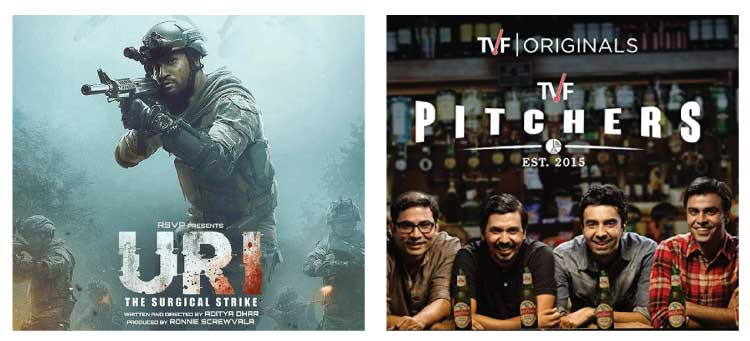 Greater reach and advertising leverage
A larger bouquet of channels and a good 25-30% of the viewership pie gives the Zee-Sony combine greater leverage when it comes to ad rates. The biggest impact of Zee-Sony merger, according to industry sources, will be on the Hindi GEC and movie genres, which collectively control Rs 6,000-7,500 crore of total TV ad spends. Industry pundits estimate that the Sony-Zee entity could possibly dominate with a total 27% market share, overtaking Disney Star India. "The merger could mean significant distribution clout and a robust ad wallet. We'll have to wait and watch how the merger plays out, but by the looks of it, the Zee-Sony combine will be a formidable player," said a media agency head on condition of anonymity. Additionally, he adds that the digital streaming platforms will take on Disney+ Hotstar, and will drive up competition in the OTT space. With the new entity also covering all the key genres, industry observers believe it will have greater bargaining power.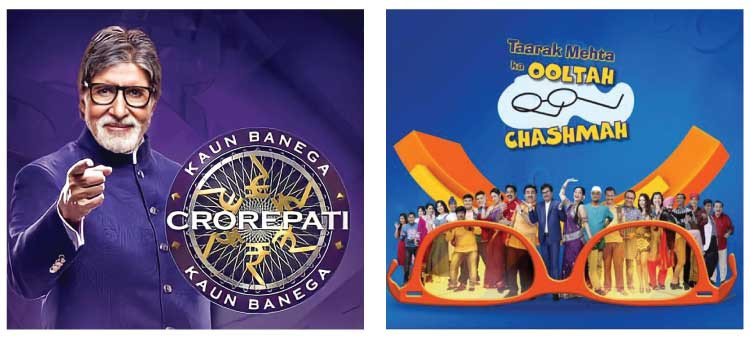 In FY21, the combined revenue of Sony and Zee stood at Rs 13,451.5 crore which included Rs 6311.8 crore of ad revenue and Rs 5572 crore of subscription revenue, as per company filings. In FY20, Star India's revenue was Rs 14,337.46 crore which included ad revenue of Rs 7901.30 crore and subscription revenue of Rs 5262.81 crore.
On the distribution front, the CFO of a DTH company observes that the Zee-Sony merger only means that distribution platform operators (DPOs) will have one player less to negotiate with. He further stated that the Zee-Sony merger is akin to Vodafone Idea merger in telecom and the success of the merger will depend on how well the new entity adapts to a new culture. "What happens typically when two players integrate is that there is a lot of synergy. In this case, they have synergies, but they will not become a monopoly since there are other strong players in the market. In a non-monopolistic scenario, the benefits of synergy will pass on to the rest of the chain. The combined entity will have huge scale, but for distributors there is nothing to worry about," he remarks.
Integrating two conglomerates
While Punit Goenka will continue to be the MD and CEO of Zee-Sony combined entity, SPNI MD and CEO NP Singh is expected to hold a leadership role on the combined Sony-Zee entity's board of directors, according to an internal email shared by Ravi Ahuja, Chairman, Global Television Studios and Sony Pictures Entertainment Corporate Development. In his email, Ahuja added that the agreement with ZEEL would not have been possible if not for the strength and market prominence of SPNI, and Singh's outstanding leadership. "NP has been with SPNI for over 20 years and has worked tirelessly with his excellent teams to build SPNI into what it is today," he had said.
With SPNI and ZEEL entering into a 90-day exclusivity period during which due diligence will be conducted and the agreement finalised, speculation is rife about what happens once the merger is formalised. During the conference call with analysts last week, Goenka said that the first priority as a merged entity will be to look at revenue synergies rather than cost rationalisation. The revenue synergies will be looked at in areas like advertising, subscription, films, and international. "Globally in these kinds of mergers, the synergies are 6-10% on the revenue side, the cost is secondary in my view because you should focus on growth aspects rather than cutting costs. I will first attack the revenue synergies before attacking the cost synergies. Our first objective will be to increase and optimise the revenue for the combined entity and then look at the cost line," said Goenka.
There is also the question of integrating two large conglomerates with distinct cultures. Speaking about how that will play out, a top executive from a leading media company points out that the merger will lead to cost rationalisation even as it will bring synergies. "The two companies don't overlap from a product point of view, but there will be overlap from a people point of view. This will necessitate rationalisation since you can't have separate offices or two different sets of people running the same business whether it is ad sales, distribution or programming," the executive notes.
Another senior ad sales executive states that it is too early to talk about the synergies since these are two very different companies. "Cultural synergy will be an important factor apart from cost and revenue synergies. On the face of it, you can say that there are 75 channels therefore there is an aggregation and there is merit in this, but that's the end product and not the beginning of the synthesis. In order to get the maximum value from the merger, the two companies should be allowed to run independently for some more time and identify which is the model that you want to take and then universalise that model," he suggests, adding that there are cultural similarities between the two organisations. He observes how both organisations have people who have been working there for many years. Moreover, he notes that both operate with an owner driven mindset. ZEEL is promoter driven, but even Sony is very owner driven, although it is owned by an MNC.