Media agencies today find themselves in a situation where clients are demanding more from them than ever before. A competitive, dynamic market, the emergence and growth of big data, greater need for customization, and growing consumer demands have forced media agencies to re-look at the existing model and seek future-ready solutions for clients and consumers. As Ashish Bhasin, Chairman & CEO- South Asia, Dentsu Aegis Network puts it, the agency model has come a long way from the time that he first started his career, a time when the industry was in an 'era of generalists.' He reminisces about the years when he started out. "As a client servicing person or as an account executive, you could be taking a media brief one day and a creative brief the next," he remarks. "Then life changed with specialization coming in. Today we are in an era of super specialization. If it is a Digital requirement from the client, they will speak to the best Digital expert. Even within the Digital space, the client can choose to speak to an expert in perhaps social media or search optimization. In the process, the various functions become fragmented," he explains.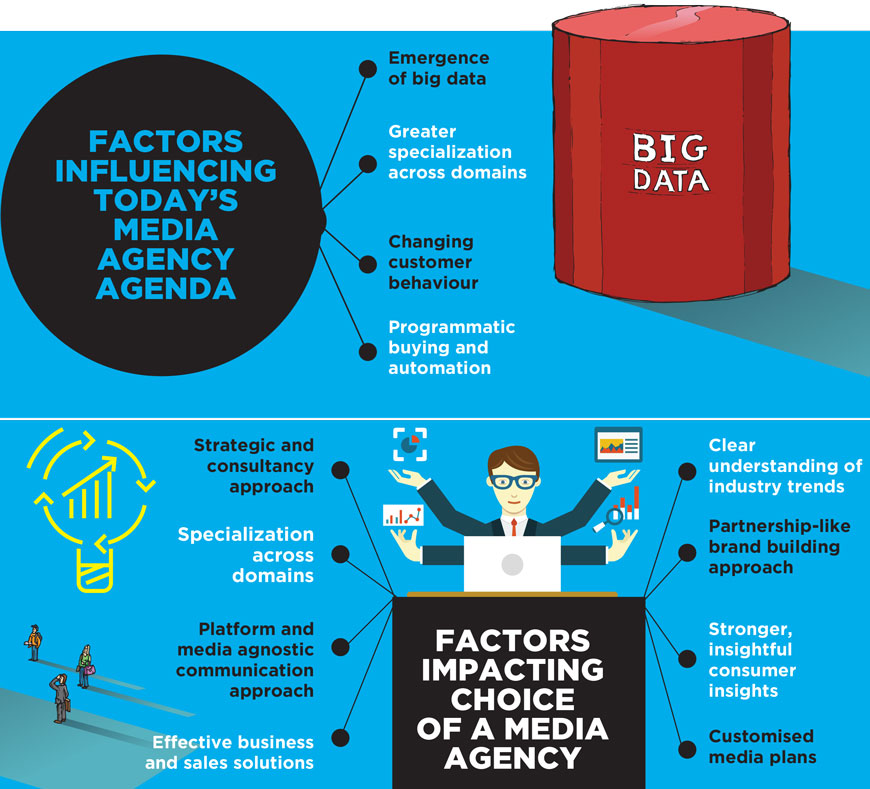 THE ERA OF SUPER SPECIALIZATION
The growth in Digital, coupled with the emergence of new age media tools and data analytics have caused a great deal of disruption in the industry. This means marketers are looking to deal with specialists all the time to address specific needs and adapt to changing customer journeys. Uma Talreja, Customer Care Associate, Chief of Marketing & Customer Officer, Shoppers Stop explains the need for agencies to adapt to changing customer behaviour patterns and become future ready. "The new agency model should incorporate three key areas – a strategy and consultancy approach to the clients' business and consumers, a specialist cell for technologyled initiatives and an evolving specialization on content, which has the ability to adapt to changes in platforms and to new platforms, and possibly also think about experiences for consumers, and not just traditional communication," she says. Talreja further adds that integration will be key, as media agencies will have to learn to optimise spends. Anupriya Acharya, CEO, Publicis Media India agrees, while maintaining that it is important to create an ecosystem where there is a balance between silos and collaboration, to develop mutual respect for the diversity in the generalist and specialist talent. She adds, "Our business has doubled in the last three-four years. But our journey has not just been one of scale, but has also witnessed an increase in the number of people. In fact, it is our structure and talent that has led to this spectacular growth. Clients today need specialists and structures that drive strong, personalized, data-driven communications. Our global practices help incubate and nurture such expertise, ushering in innovation and transformation for brands. Today, we are one of the top networks in India, as well as one of the preferred partners for leading, blue-chip companies. More than 50% of our revenues come from future-facing streams like Media Tech Consulting, Data and Analytics, Performance Marketing and E-Commerce."
For agencies to be future ready, they also need to become highly data-driven. Moreover, their creativity needs to coincide with data and logic-driven left brain thinking. Amit Shah, Group President & Head – Marketing, Corporate Strategy & Communications, Yes Bank explains the need for agencies to meet ultimate business objectives for the brands through specialization. "Our knowledge banking teams comprise not just bankers, but also industry specialists for specific consumer verticals. These specialists look at identifying consumers' business requirements and problems from a non-banking lens and help deliver banking solutions that have worked well for customers. Similarly, media agencies need to place themselves in their brand partner's shoes and arrive at optimum solutions in terms of customer communication, media as well as cost; not just by intuition, but by intuition empowered with analysis."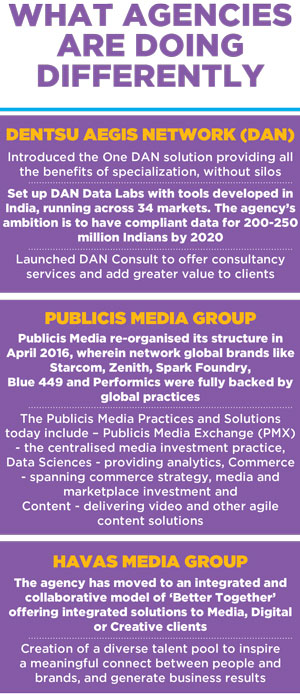 BREAKING UP THE SILOS
One of the things agencies must consider while offering the benefit of specialization, is doing away with silos. As marketers move towards greater transparency in the advertising and media planning process, they are also demanding that agencies simplify processes while still delivering a complex array of marketing services, specific to their needs. They want to cull agency line-ups, using fewer agencies or at least a single agency or entity to lead the advertising and media planning function. One of the agencies that seems to already be working in that direction is Bhasin's Dentsu Aegis Network (DAN). Bhasin explains the way his agency model functions. "We introduced the One DAN solution that provides all the benefits of specialization, without the hassles of silos. We took the best agencies in each sphere and brought them under the One DAN umbrella. So for example, for Search and Performance, we have agencies like Sokrati and iProspect. For Out of Home, we have Posterscope and Milestone. Such a model means that I am not bound to push only Television or Print or Digital or Outdoor. As per the brand need, I can put together a team for the client and provide the best of those specialists, all under one umbrella," he tells us.
Brands, too, are looking at agencies that will consolidate services, offering a host of integrated offerings under one portfolio. Explaining that marketers today operate in a very different world, Atul Garg, Head, Marketing, E-commerce and Visual Merchandising, Baggit India, points out, "For a retail brand like ours, we look at the kind of traffic generated, the people who got enrolled for CRM, and the convergence that took place, as a result. Moreover, we also look at a whole lot of parameters to determine an agency's effectiveness. Agencies need to offer more than what they did traditionally, actually impacting business and sales objectives of the brand. That is when a brand can genuinely measure ROI."
While agencies are grappling with the rapid changes in consumer behaviour and media consumption, most of them still work in silos when it comes to offline and online strategy. As media landscapes and consumer journeys evolve, the ability to zoom in on consumer data, which is actionable and has the ability to fuel powerful stories will be a valuable one for agencies to cultivate. A spokesperson from Marico points out that the media planning process needs to become platform agnostic. "With the consumer purchase journey having changed dramatically, media is no longer restricted to driving only the upper funnel metrics for brands. Digital plays an increasingly important role in being able to do so, but now more than ever, media agencies need to ensure journey planning is orchestrated to maximize the effectiveness of the multiple touch points where brands interact and engage with their consumers going forward. Taking this a step forward, agencies need to be structurally ready to partner with brands on their ability to handle the everincreasing data deluge, to be able to jointly build data strategy."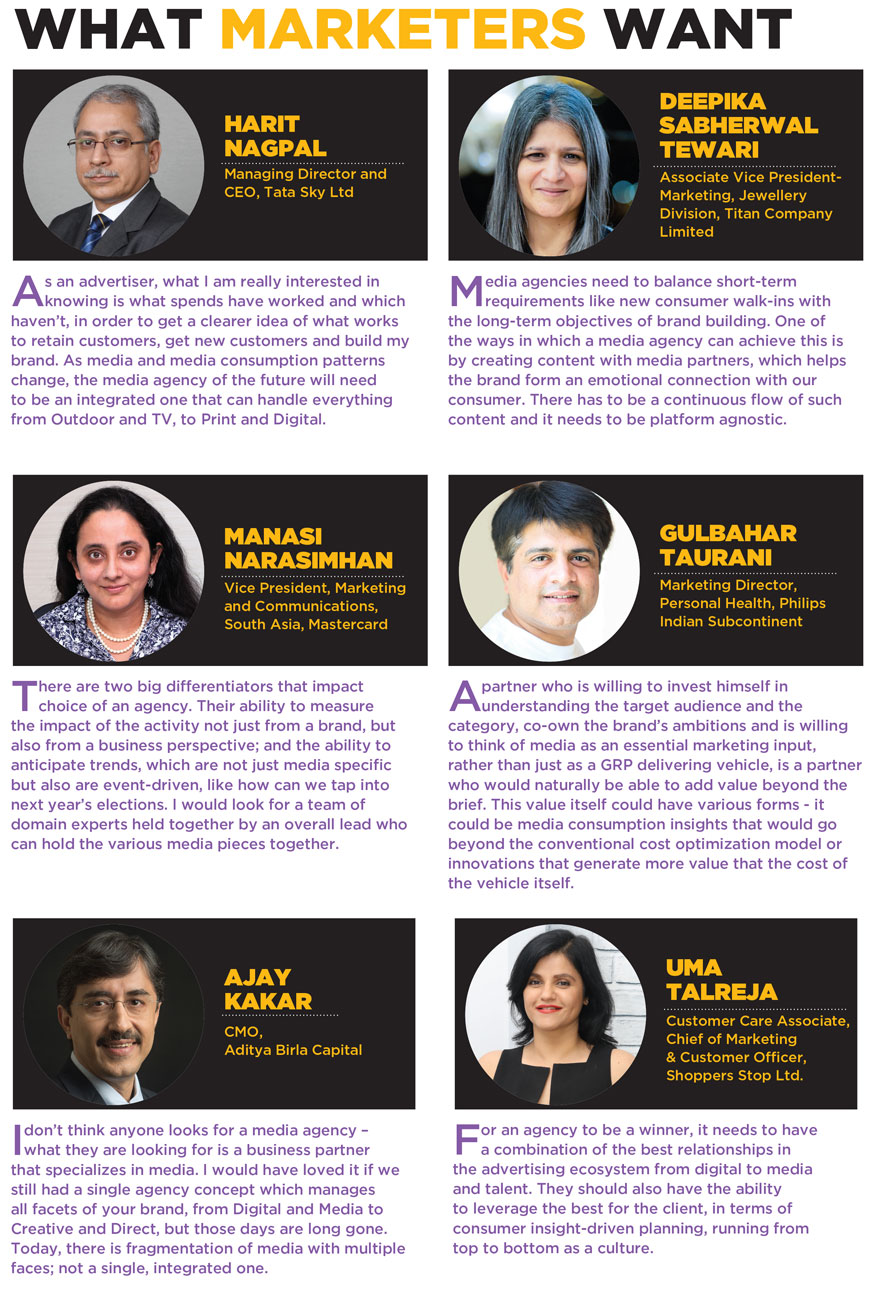 Pankit Chheda, Executive Vice President, Mitashi believes that agencies must equip themselves to get the most out of the data that is available to them. "As the world goes digital, companies arming themselves with data analytics are going to be the big winners. Understanding the numbers and giving insights to stay ahead of the trends is going to be key," he remarks.
Brands are also increasingly looking at onboarding agencies that can straddle the creative and media function with ease, while also being economical when it comes to cost structures. Riding on current trends and out-of-the-box thinking still remain key criteria when awarding a media duties mandate. Rajat Girdhar, Head of Marketing, ShopClues says, "The lines are blurring between Creative and Media, as Digital now and very soon TV, offers or will offer personalization and experimentation which requires constant tweaking of the creative. Media agencies that have some creative and technological skills in-house will do well."
One of the areas agencies will also have to focus on in a big way is talent. With the Digital landscape changing as quickly as it is, and with the limitless possibilities that data offers, agencies are looking for the right people to leverage the available tools. Pointing out that an agency is only as good as its people, Abraham Alapatt, President & Group Head - Marketing, Service Quality, Value Added Services & Innovation, Thomas Cook says, "For agencies to equip themselves for the future, I think it's really about getting the right people and retaining them in a very competitive environment. This is a real area of concern because most agencies are grappling with trying to find cutting edge talent in an environment that seems to change every six months."
DRIVING AUTOMATION IN PLANNING
Media agencies are looking at recruiting people with diverse skill sets to run the media business because of the diverse, rapidly evolving landscape. But is that enough? With the wide canvas that the industry offers, marketers and agencies are spoiled for choice with the kind of robust data available to devise customised plans for their target consumer base. At some point, there will be a challenge agencies will face in terms of getting enough talent on board to leverage the tools and data available. Navin Khemka, CEO, Mediacom South Asia, is of the opinion that automation will therefore play a big role in making agencies future ready. "In order to be future ready, media agencies need to start focusing much more on automation. A lot of the work involved in planning is still being done manually. If we can seamlessly integrate a majority of tasks into an automated process using technology, a significant amount of time and effort can then be put into devising more effective media plans. Going forward, therefore, we need to create planners who are platform and media agnostic. Every media planner must then become a jack of all trades with awareness of every media option that is available," he opines.
At Publicis Media India, Acharya tells us that in the years to come, in the new environment, media agencies will play a far greater role in the marketing communications value chain. "There is a constant need to learn, unlearn and re-learn. The sheer quantum of consumer data that is generated means that increasingly, it is the machine-gleaned insights that have to be tied to sound strategy, consumer engagement and content. All of this needs heavy investments in areas such as martech, automation, machine learning, platforms, research, talent, training and systems. And clients do understand this and the value it brings to the table," she points out.
That said, while a lot has been mentioned about the change in the media planning agency over the past few years, and while the introduction of new age media and tools have created complexity and challenges, the evolution of media planning itself presents an opportunity to media agencies like never before - whether in terms of offering brand experiences, or in impacting actual business goals. MA Parthasarathy, President, Product & FAST- South Asia, Mindshare elaborates on this opportunity at hand. "Ours is, above all, a people's business. To exploit all these opportunities available, we had to re-craft our talent strategy. We brought in a sharp focus on the 'holy trinity' of Data, Digital and Content. Today nearly 45% of our talent pool is from these disciplines, with diverse backgrounds – big data companies, content programming, consultancies and the IIMs. Three years ago, this number was around 15%," he tells us.
Shekhar Banerjee, Managing Partner – Wavemaker India talks about how the birth of Wavemaker came about in a bid to reimagine what the new media agency model should look like. "We centred our offerings around unlocking the client's growth. Moreover, our global framework of Rapid Growth Planning helped us to identify growth opportunities and further strengthen the brand in the consumer's purchase journey. To make this journey seamless, we have a diverse talent pool, ranging from media experts to data scientists. We are also the only media agency to have a creative technology arm, studying consumer trends and applying technology to solve challenging problems for some of the world's most established brands," he says.
The world is changing quickly, and the consumers of today have a shorter attention span. Brands thus have limited time to react and respond to customer needs. And as consumer needs keep growing, there is an urgent need for agencies to implement and execute communication swiftly. Anshul Punhani, Chief Marketing Officer-APAC and Gulf, Monster insists that tools that were being used five years ago, have today become redundant. "New age audiences largely consist of millennials. Even the older set of consumers behave pretty much like the millennials and therefore brands must keep that in mind when approaching target consumers. Media agencies need to move on from their current comfort zones and become more innovative. They must look for newer tools and think outside the box," he remarks.
INTEGRATION AND PARTNERSHIP: THE WAY FORWARD
Digital media is now creating new ways for clients to reach out to customers, forcing media agencies to evolve from traditional media advisors to technology advisors. According to Asha Kharga, CMO Axis Bank, media agencies must help clients navigate through an increasingly complex ad-tech marketplace. She says, "Media agencies today need to stay on top of emerging formats and help find a convergence model that integrates data from different media platforms to enable a unified view for clients. In current agency structures, offline and online media teams are split. Hence it is imperative for a more integrated structure to emerge."
The future will be about marrying creativity with data. The ability to zoom in on consumer data which is actionable and has the ability to fuel powerful stories will be a valuable one for agencies to cultivate. Anand Chakravarthy, MD, Essence India says, "The clear need of the hour for marketers is to have partners who can think and execute platform agnostic. This called for the need to move from offline / online split teams to single integrated teams. That's one of our key initiatives at Essence – to build platform agnostic teams that can build strategy, plan and execute platform agnostic strategic plans. The effectiveness of communication is waning with the separation of creative and media thinking." Chakravarty further adds that there is a need for agencies to combine creative and media capabilities. "At Essence, we are also creating a communication strategy and business planning practice that will work right at the beginning of the marketing cycle process along with our clients and build truly integrated plans beginning with a communication platform," he explains.
The relationship most brands share with their media agencies is one of partnership. Agencies are therefore expected to go beyond their brief, understanding the brand's ethos and contributing towards its business objectives. Srinivas Rao, Senior Vice President, Marketing, Lifestyle, believes that the brief before every agency today is vastly different from what it was about five years ago. He says, "Agencies should understand the entire spectrum of a brand's audience and be able to segment and map out cost-effective solutions to target them. As far as the future goes, it is not really set in stone because at every turn, we find something new. The new age media agency model is one that is designed to keep up with the times and should be designed to think ahead, as well."
Anita Nayyar, CEO, India & South Asia, Havas Media Group, believes that there is a very clear approach for an agency to be future ready. She concludes, "If agencies were to bring together the best of traditional and new age media planning and buying, the important things for them to do are – focus on insights, be digital at the core and marry data and content."

"One of the things that we did differently as compared to others, which I think has really worked very well for us, is what we call the 'One P&L, One DAN'. We took the best agencies in each sphere and brought them under the One DAN umbrella. This journey started ten years ago with 40 or 50 people, but today we are 3,500 people. So for example, if Carat has done very well but DAN India doesn't meet its numbers, then even Carat will not get its bonus. All our bonuses are linked. We sink or swim as a team. We put our money where our mouth is."

ASHISH BHASIN
Chairman & CEO- South Asia, Dentsu Aegis Network (DAN)



"In the past three-four years, we have taken a concerted effort towards specialization. We have specialists in data, martech, search, content, e-commerce and web analytics, to name a few. Today, we are one of the top networks in India and a preferred partner to leading blue-chip companies. More than 50% of our revenues come from future-facing streams like Media Tech Consulting, Data and Analytics, Performance Marketing and E-Commerce."

ANUPRIYA ACHARYA
CEO, Publicis Media India



"A lot has been spoken and written about the quantum and velocity of change in our industry in the past few years. It has obviously created unprecedented complexity and challenges. But much more than that, I believe it has created opportunity like never before. To understand consumers like never before. To give them brand experiences like never before. To impact real business and profitability like never before. Powering all this is the explosion of data and the incredible convergence of media."

MA PARTHASARATHY
President, Product & FAST- South Asia, Mindshare



"We have moved to an integrated and collaborative model of 'Better Together' where we offer integrated solutions to our clients be it Media, Digital or Creative. We believe in building meaningful brands by inspiring meaningful connections between people and brands, which in turn generate business results."

ANITA NAYYAR
CEO, India & South Asia, Havas Media Group