In what could be dubbed as a historic moment in Indian politics, the Bharatiya Janata Party (BJP) in a landslide victory in Uttar Pradesh will form its government for the second time in a row. The magic of brand Modi and Yogi continues to favour the BJP in Manipur, Goa, and Uttarakhand. In the earlier stages of elections, several political pundits were convinced that these elections in five states will be a tough challenge for the BJP. However, the results have turned out to be a major victory for the BJP, and has now become a stepping stone for the mega 2024 Lok Sabha elections. Let's delve deep into the behind the scenes action and strategy that led to this moment, and how BJP clinched this iconic win in the state elections.
After a resounding victory, Prime Minister Narendra Modi said, "All exit polls have been proved wrong in Goa. BJP has scripted new history in Uttarakhand - for the first time a party has come for a second consecutive term in the state."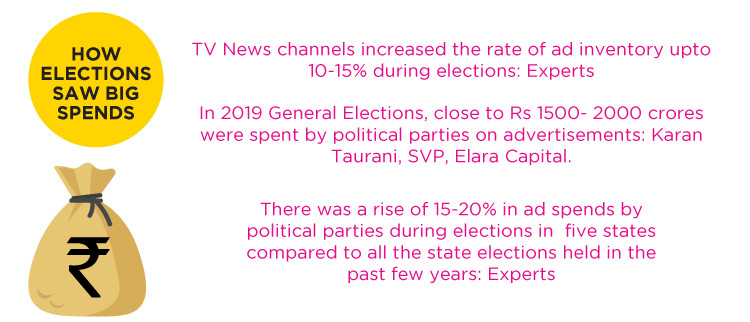 While congratulating party workers, PM Modi said, "Some party workers told me - they will celebrate Holi on March 10. They proved their promise. People of UP have understood, they don't vote on caste lines anymore. I thank all voters for participating in this festival of democracy and ensuring BJP this victory."
"Everyone had their eyes on UP, given the vastness of the state. I am thankful to the people for making us win with a majority. Under PM Modi's leadership we will be forming governments in UP, Goa, Manipur, and Uttarakhand," said Yogi Adityanath after the Election Commission of India announced results of his seat from Gorakhpur Urban.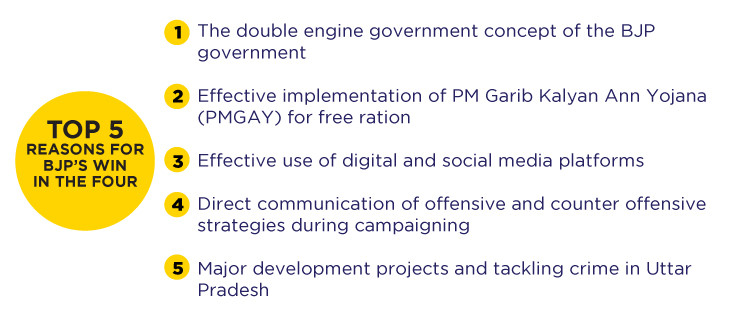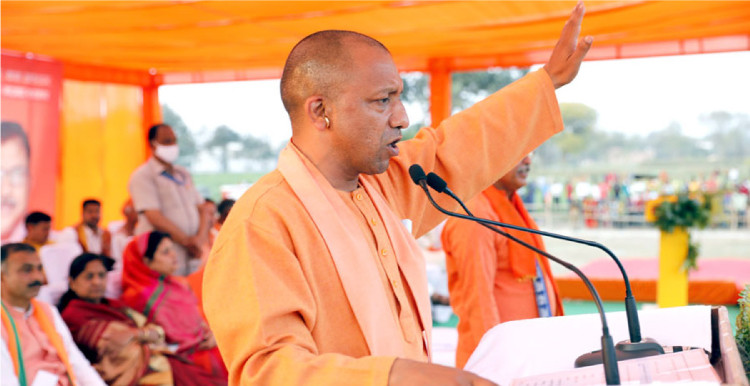 "This is a mandate for development and a blessing from the people. The double engine government created a safe environment," Adityanath said during his victory speech.
Meanwhile, Aam Aadmi Party clutched Punjab with a majority, and is now all geared up to become a National party.
Bulldozer Baba sets new benchmark
Chief Minister Yogi Adityanath, who won from Gorakhpur by over 50,000 votes has become the first CM to complete the tenure and win a second consecutive term in UP's 70 years of electoral history. Popularly trending on all social media platforms as 'Bulldozer Baba,' Yogi Adityanath's 'Anti-Bhu Mafia Task Force' had bulldozed illegal structures and vacated 64,000 hectares of illegally grabbed land, and demolished 2,000 properties belonging to the mafia. After Yogi's scathing attacks on the opposition, his followers soon started bringing bulldozers to his rallies in UP.
"If you see the narrative here, BJP comes across as a party which is vocal against people involved in illegal activities. Be it land mafias, gangsters or anti-social elements. The law and order situation in UP became a major agenda for the BJP. This narrative changed the outlook of people on ground. Similarly, BJP was at the forefront in offensive, and counter offensive strategies. They had answers to every accusation that the opposition parties hurled at them", says a senior political analyst.
He further says, "Since the past one year, all leading newspapers from North to South of India have carried full page advertisements of CM Yogi about the developments in his state and making him a National brand, not limited to Uttar Pradesh. So, it is natural that Yogi has been projected as the next mega leader after Modi."



After a setback in West Bengal polls, the BJP during its campaigning heavily focussed on the concept of 'double engine government,' which was first used in 2014 during Maharashtra and Haryana State assembly elections. Further, BJP came out with successful and trending campaigns in UP and other states, including Manipur, Goa and Uttarakhand like Fark Toh Dikhta Hai, Fark Saaf Hai, BJP Saaf Hai and UP+Yogi, Bahut Hai Upyogi, Soch Imaandar, Kaam Damdaar, etc this year.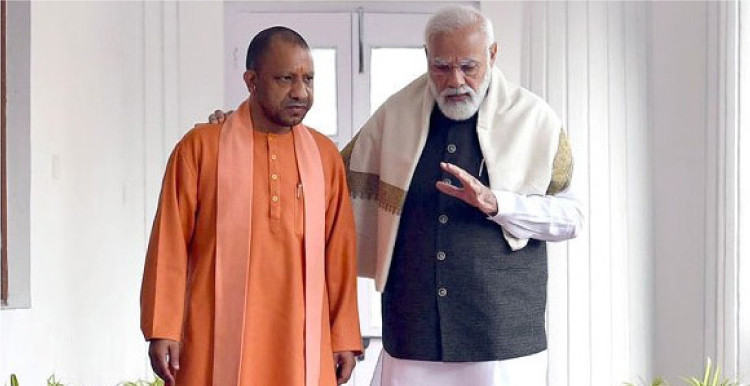 Tushar Panchal, founder of WarRoom Strategies in 2018 had designed and implemented campaigns for BJP in UP and Madhya Pradesh. Describing in detail about BJP's political campaigns, he says, "Campaigns have a brand recall and it reminds people of certain things which a political party has done in the past. The Farak toh Dikhta hai campaign this year was an extension of a campaign we did for BJP in 2018. The thought process was the same, we designed and implemented the campaign 'Sarkar Sarkar Mai Farak Hota Hai.' comparing the Congress regime with the Shivraj Singh Chouhan regime of the BJP in 2018. Our campaign was appreciated and applauded at that time and we got great feedback. Campaigns add an icing on the cake but the real strategies take place on ground and involve other factors as well."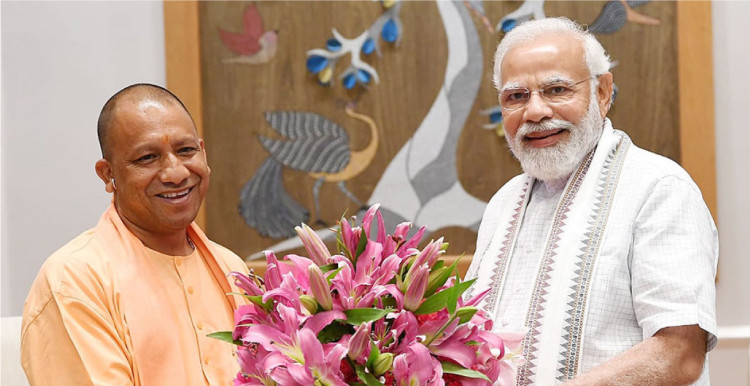 While Congress focussed on Priyanka Gandhi Vadra's campaigning in UP, they conducted a campaign which was most talked about- "Ladki Hoon Lad Sakti Hoon" and "Ladega, Badega, Jeetega UP." When Congress took a jibe at Prime Minister Narendra Modi on Twitter saying 'Tum Se Na Ho Payega', the BJP amplified the counter attack on social media with the message 'Bhrashtachar Na Ho Payega' grabbing eyeballs.
Political experts say that the media narratives and strategies of BJP did not affect voter's mindset in Punjab. Aam Aadmi Party clinched a clear majority with Bhagwant

Mann as their Chief Ministerial candidate. Moreover, the protests related to the farm bills turned into a trigger point for the farmers in Punjab to vote against the BJP.
As far as Anup Sharma, Independent PR and Communications Strategy Consultant is concerned the elections in India are no more about waves. He elaborates, "The power of media has always been there to help build perception but digital platforms are not only acting like media, but also defining the message. Today the political messaging over the digital world has the potential to reach more than half the population directly, and act like a force-multiplier in political messaging. Election narratives are being set on digital media as voters are more aware and no more concerned only about the candidate. They are also curious about policy initiatives at all levels."


But for Naresh Gupta, managing partner at a Delhi-based advertising agency Bang in the Middle, the development done by the BJP government has turned out as a mega vote puller, he says, "Brand Modi today continues to create enthusiasm among the masses. But it is not just him, the party as a whole has helped in changing the narrative. The BJP government has banked upon the developments, be it the Gujarat model or now the UP model. It's more about reaching the masses and delivering what they expect."
Television news channels earn big
Aaj Tak on Thursday recorded 1 million-plus concurrent viewers on YouTube. Aaj Tak has become the world's first news channel to qualify for a Ruby Play Button, a creator award given to YouTubers for reaching 50 million subscribers. Experts say, during exit polls and result day television news channels tend to increase the cost of their advertisement slots by 15-20%. During such events, content plays a crucial role and ad slots are often less but they have more impact for the advertiser.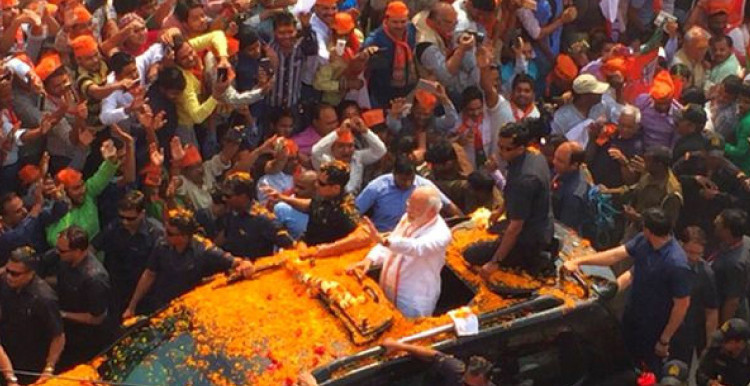 A top management official of a TV News channel says, "We can see a 15-20% rise in ad spends during this election as compared to the previous state elections held in the past few years. Every TV news channel received a fair share of the advertisement during this election. It is a normal trend of TV news channels increasing their ad inventory rates between 10-20%. The advertisers are willing to spend as they grab more eyeballs, and it's a fair deal for the news channels as well as the advertiser."
He further says, "If we see in UP, political parties like the BJP and BSP spend heavily on TV news advertisements. Government advertisements generally stop during the campaigns due to poll code of conduct. While political parties after winning the elections till the swearing in ceremony spend heavily on TV as well as Print in regional and

national genres with congratulatory messages."
Taurani of Elara Capital says, "Due to the presence of a large audience on digital platforms, majority of which are youth, TV and Digital are the two platforms where political parties are spending massively. In 2019, during the General Elections, close to Rs 1500- 2000 crores were spent by political parties on advertisements alone. While looking at the current scenario, and UP being the largest state, spending by political parties have gone up as well."


Varun Kohli, Group CEO of iTV Network for news channels NewsX, India News National, India News UP, and India News Punjab says, "Our coverage during elections was very deep, with more reporters on ground as compared to any other news channels. Regional reporters give you a deeper insight as compared to national reporters.
When asked if lack of BARC ratings affected advertisement revenue, Kohli says, "We did not get affected in any way. Advertisers who wanted to gain benefits during the election period did spend accordingly. Elections in UP give us huge revenue. TV News is essential for every audience, and people watch it more so during elections, and such national events. Brands in real estate and FMCG space spend heavily on advertisements during such events. We have a great combination of English, Hindi national and regional news channels which enables us to reach all strata of society."
CNN News18 used unique election tools like ElexA , Quadcopter and Magic Wall for providing an interactive experience for the viewers. Smriti Mehra, CEO – Business News, Network18 says, " Clients from multiple categories participated in the exciting Elections this year, There was a lot of interest in the top of the line Election programming done by CNN-News 18 this year. We had almost a 100% increase in participation of brands from the previous regional Elections. Clients were as diverse ranging from Jewellery (Joyallukas) to automobiles (Tata Motors) to Mobile handsets (Xiaomi) etc."
Talking about the trend in advertising revenue during elections, Mehra says,"Post Covid, we witnessed a renewed vigor among advertisers to participate in the first Elections post the pandemic. The revenues for Elections have witnessed a multiple fold increase with great participation from advertisers."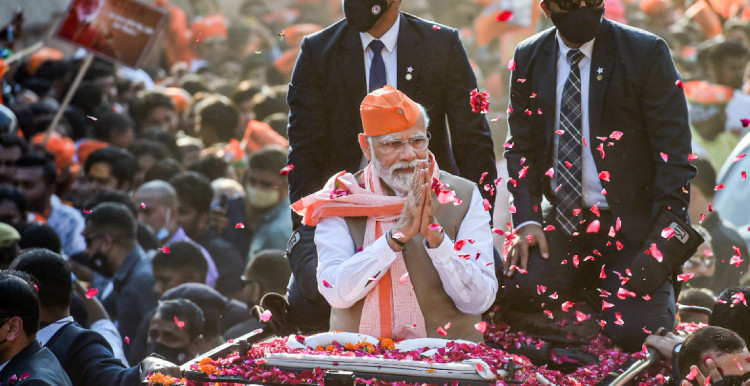 For Sandeep Goyal, MD Rediffusion, the counting day coverage was a bit predictable, and unexciting. "Earlier, watching TV news during the result day was very exciting. There was a neck-to-neck competition. But the results of UP, Goa, Manipur, Uttarakhand, and Punjab were clearly visible after the trends set in at 10 am. There was no excitement, and people stopped watching TV news after it was clearly visible that BJP will take away 4 states and AAP will form government in Punjab. Unlike earlier days where a viewer would sit from the morning till 8pm to get the clear picture of which party got the majority."
Print gains too
For newspaper Dainik Bhaskar, the editorial team started planning the election coverage four months in advance. Covering deeper areas on ground, Dainik Bhaskar team

created a network of over 100 reporters and more than 300 stringers to cover elections in Uttar Pradesh.
Girish Agarwal, Promoter and Director of Dainik Bhaskar Group says, "Any State election brings larger and extra money on the ground 6-8 months before the elections, which conventionally increases the consumption size and resultantly the media spend. Full cover page is sought after by different advertisers, well before the election dates as the number of copies and eyeballs go up significantly. This year also we witnessed high demands for premium positions especially front page and high impact advertising. Different TV channels have also occupied premium positions in our newspaper for poll coverage and exit poll advertising."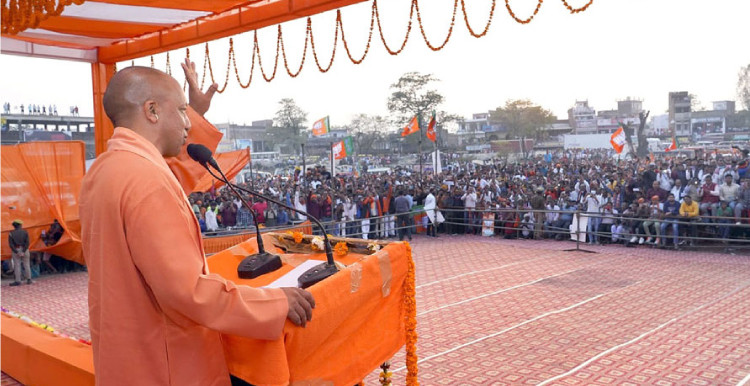 He further says, "Almost all categories have lapped on this election based euphoria since, this year also coincided with finishing of 3rd wave of pandemic and the necessity to fill the pent up demand. Besides all traditional categories like, Real Estate, Education, FMCG, Life Style, BFSI, Health Sector etc, technology led companies have been using Print in a big way since last Oct, 2021. We have been witnessing handsome volumes in the month of Feb and March."

Modi or Yogi as PM candidate in 2024?
In 2022, Gujarat, Himachal Pradesh and Jammu & Kashmir will go to polls. While the BJP will be banking heavily on the current win while eyeing the 2024 General elections, political pundits say the magic of brand Modi and Yogi will continue to create a spark for the BJP in 2024.
Political sources say that the unwritten rule of the BJP to keep senior leaders of age 75 and above in the advisory board, in order to give a chance to young party cadre is

still being speculated. Due to which, the prominent names after Modi are speculated to be Yogi Adityanath and Nitin Gadkari.
Tushar Panchal founder of WarRoom Strategies on brand Modi and Yogi says, "Today, if we look at PM Modi, he is the only Prime Minister who has put his skin in the game in all state elections. In fact, he recently went to Pune when the local municipal corporation elections were around the corner. He is one of the only top leaders who gets involved in every election. Some other top netas tend to ignore such local events."
He further says, "The best part is that brand management is done well on the micro as well as macro levels. People today see BJP and Modi not as separate brands, but as one single brand. When we talk about brand Yogi, his identity has emerged as a formidable leader after PM Modi. The biggest symbolic nature of Yogi stands

for Hindutva, and later about the developments done in UP."
Shudeep Majumdar, Founder and CEO of Zefmo Media Private Limited, one of India's largest influencer engagement companies dealing with political leaders and parties in India has a completely different narrative for 2024 General elections. He says, "From the brand positioning perspective, I feel that the pro-incumbency has been very well capitalized by the BJP machinery. From a communication point of view, the narrative played very well at the grass root level, and messaging was very well done through digital and social media platforms. They communicated a message in a language that people wanted to listen to."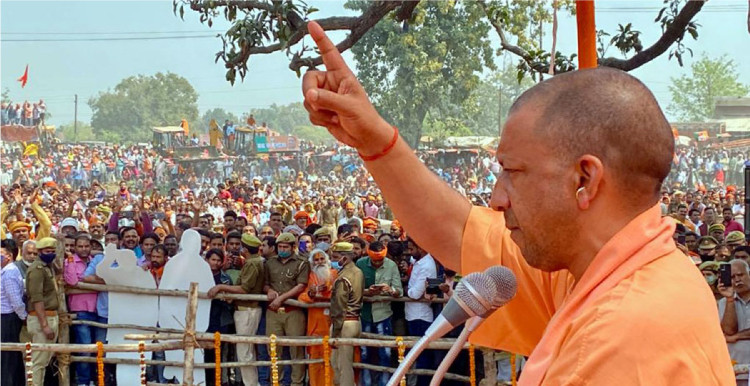 When asked if there will be a brand war between Modi and Yogi for 2024, Majumdar says, "There will be speculations whether it would be Modi or Yogi, but I believe it is important that the identity of a party should supersede the identity of an individual. Every political party in India should ensure that the identity of a political party should be positioned before an individual leader. This should be the ideal strategy for a political party, be it in India or globally."



Heavy use of Whatsapp and social media to change public opinion
Being dubbed as the third 'digital election' due to Covid-19 restrictions on physical campaigns imposed by the Election Commission, digital platforms played a crucial role in reaching out to the masses. Twitter, Facebook and Instagram were abuzz with new political trends shaping during the campaigns. With five states having completely different dynamics, a full-fledged mechanism was set in force to conquer the challenges of reaching every mile.
"Trends around the elections were very favourable for the TV news genre as a segment. TV news advertisements see a rise during election times, exit polls, and during results. It has a positive impact on the regional news channels. Earlier, the political parties used to spend a lot on Radio and Print, but now it has come down significantly. All these expenses have moved to Digital very sharply. More such advertisements are now seen on social media platforms and YouTube, but there are less or miniscule advertisement insertions on OTT platforms," says Karan Taurani, Senior Vice President, Elara Capital.
For Samajwadi Party, it was the first experience of digital campaigning in UP polls even as BJP had tried and tested its methods in West Bengal and was all geared up for amplified digital campaigns.
According to the BJP IT Cell leader, the BJP digital war room is divided into two parts. First is the social media team and the second is the IT Cell. These two teams work separately on zonal fronts. Every zone has its social media team and IT Cells. Social media teams mainly focus on data monitoring and collecting information based on their zones. While IT Cells enable and push party agendas, holding webinars, creating applications and content, etc.
"Our team is efficient at handling big data through AI, and our social media team keeps a close watch on every level. Data monitoring helps us to understand the trends while we set the agenda and push it among the masses. Both teams are interdependent on each other when it comes to managing the digital media," says the BJP IT Cell leader in UP.
He further adds, "For instance, one of the block leaders on social media was behaving inappropriately during the campaigns, when the social media team alerted the senior leaders, and they resolved the issue amicably. Data collection and monitoring have become an integral part of campaigning."
WhatsApp played a very crucial role in reaching out to the masses. Thousands of groups were created during the campaigning process. These groups consisted of common people, local leaders, media persons, people from other political parties, policemen, and other government servants.
Tanmay Shankar, media-incharge, BJP- Noida says, "Today, digital media is the fastest and biggest mode of reaching the masses. We created WhatsApp groups with people from all walks of life, from panchayats to district levels. Moreover, we also found that the other political parties were lagging behind our digital media strategies. We are way ahead in campaigning digitally. For us, the elections were fought more on the developments done by the BJP government. It is a celebration time for us."