A lot has changed in the last one year for broadcasters, with the notification of the new tariff order (NTO) by the Telecom Regulatory Authority of India (TRAI). Even the big four television networks – Disney-Star India, Zee Entertainment Enterprises Limited (ZEEL), Viacom18 and Sony Pictures Networks India - weren't spared from its impact. What pinched them the most, though, was their decision to pull out from DD Free Dish and its direct impact on the ratings and advertising revenues. However, the economic slump in the wake of the COVID-19 pandemic has brought the big four back into the Free-to-Air (FTA) game. Will the return of Star Utsav, Zee Anmol, Colors Rishtey, Sony Pal and Zee Anmol Cinema on FTA finally push the top-lines of the broadcasters' northwards? Possibly yes, say industry insiders.
It is redemption time for the broadcasters at the moment. While the big four had pulled out from the FTA platform in March 2019 to make sure that cable and DTH customers don't shift to Free Dish, the networks have now redefined their priorities due to the current market situation.
TUNING OUT
In March 2019, the four big broadcasters decided to remove their channels from DD Free Dish as TRAI's new tariff order did not allow FTA channels' inclusion in the pay channel bouquet. Subsequently, these channels saw a steep decline in viewership, particularly in the rural markets, where DD Free Dish and FTA channels were the clear choice of viewers. For example, if you were to look at ZEEL, the network was present on DD Free Dish till February last year. Zee Anmol was viewed by 144 million people in the Hindi-Speaking Market (HSM) on a weekly basis, while Zee Anmol Cinema was viewed by 147 million. Without DD Free Dish, the reach is at 50 million for Zee Anmol and 76 million for Zee Anmol Cinema.
However, in early 2020, in an amendment TRAI published a revised tariff order in NTO 2.0 for broadcasters and cable/ DTH operators to provide 200 FTA channels at Rs 153, i.e., Rs 130 plus taxes. At present, only 100 FTA channels are offered for a network capacity fee (NCF) levy of Rs 153.
RETURN TO DD Free Dish
Lower revenues and decreased viewership thus pushed broadcasters to return to DD Free Dish in an effort to simply get back the viewers and shore up revenues in an increasingly challenging economic environment.

Says Jehil Thakkar, Partner and Leader, Media & Entertainment, Deloitte India, "Broadcasters are now primarily drawing a plan to revive business and FTA allows them to reach the huge audience that the platform offers and in the process become a vehicle for advertisers who are also targeting that same audience."

Ashish Sehgal, Chief Growth Officer, Advertisement Revenue, ZEEL says that in the current situation, the decision to move to DD Free Dish seems apt. He says, "When we made the decision last year to move out of DD Free Dish, we took a risk, as the new tariff order in March 2019 did not allow FTA channels to get bundled in the pay bouquet. However, the situation today is too different. In the current economic scenario, where entertainment will be considered a luxury spend, we expect viewers across Urban and Rural landscape to throng to FTA channels. The reverse migration on account of COVID-19 is also likely to give the needed impetus to viewership of these channels. The recent surge in DD viewership is a case in point. From the advertiser perspective also, they would not want to miss out on reaching these audiences and would ensure their advertising gets the maximum reach and frequency, which these channels can help bring."

Even media planners believe that this move by broadcasters is in the right direction. Says Navin Khemka, CEO, MediaCom South Asia, "The big four have realized turning pay resulted in huge viewership loss. Hence, they are taking this route to at least get some viewership back. I won't say they are turning FTA at this point of time, as it's more of a hybrid model with them taking the step of getting onto DD Free Dish."

Concurring with this thought, Mohit Joshi, Managing Director, Havas Media Group, India says, "Viewership for these channels had dropped after they had opted to be paid channels. This is a good move as this will give them an opportunity to tap the rural audience. This will improve their viewership and hence revenue possibilities as well."

Vaishali Verma, CEO, Initiative says, "Post the TRAI order in 2019, while the channels which were FTA expected to gain sustainable subscription revenue along with advertising revenue, subscription did not pick up and they lost advertising revenue too, due to huge drop in viewership (upto 90% in Rural market). With the return on DD Free Dish, the channels are expected to get their viewership back and earn advertising revenue once the economy improves in the post-COVID world. For advertisers, this gives a cost efficient opportunity to reach out to the rural, lower NCCS and small town India."
TAKING ON The Competition
When the big four networks pulled out of the FTA space, they left a gap which was capitalised by Enterr10 Television. The network's Hindi FTA GEC Dangal TV gained significant viewers and today it is the most popular general entertainment channel in Hindi. As per the latest BARC data, in Week 21, Dangal continued to lead the top 10 channel list in Hindi GEC (U+R). The channel registered 1208418 thousand impressions followed by Star Plus in the second spot with 783816 thousand impressions and Big Magic in third spot with 700398 thousand impressions (Week 21: Saturday, 23rd May 2020 to Friday, 29th May 2020; HSM (U+R) : NCCS All : 2+ Individuals).
Dangal also continued to lead the rural market with 929350 thousand impressions followed by Big Magic in second spot with 536641 thousand impressions and Star Plus in third spot with 247785 thousand impressions (Week 21: Saturday, 23rd May 2020 to Friday, 29th May 2020; HSM (U+R) : NCCS All : 2+ Individuals).

Commenting on the return of the major networks, Deep Drona, Chief Operating Officer, Enterr10 Television says, "The more the merrier; this has happened earlier as well so it's history repeating itself. More players mean a bigger market and better benchmarks for trading of eyeballs. It's an interesting time in the market right now. There are more choices available for the audiences to enjoy and choose; a bigger marketplace for advertisers and thus bigger commerce around it. This will also put pressure on the pay channel revenue pie."
With advertising revenues severely impacted due to the pandemic, many FTA channels have appealed to the Government to waive off the carriage fee to be present on the DD Free Dish platform. With no relief in sight, some FTA broadcasters were forced to pull out their channels from DD Free Dish as they re-evaluated their business model. These vacant slots helped the big broadcasters who had the funds to make a bid for DD Free Dish.
However, in the midst of these uncertainties, an opportunity was spotted by Shemaroo Entertainment, which first launched Shemaroo MarathiBana, an FTA Marathi movie channel, in February 2020 and then a Hindi FTA GEC, Shemaroo TV, on May 1.

Giving an overview of the entire situation, Hiren Gada, CEO, Shemaroo Entertainment, says, "The FTA space is becoming popular again and has given broadcasters an opportunity to bid for it and explore the untapped markets. We, at Shemaroo, had anticipated this to happen in the next annual auction in 2021. In the current situation, a few frequencies got vacant as some existing channels could not pay up due to drop in their ad revenues following the COVID-19 pandemic. Hence, an interim auction was announced in June and we are witnessing the changes. This could not have been anticipated by anyone."
CONTENT & CANNIBALIZATION
Experts believe that with the four big networks back on DD Free Dish, it could lead to supply consolidation, compared to the current highly fragmented situation. A factor that will play a big role is content - original and quality content. This is probably where the big four broadcasters have an advantage. Sehgal explains, "When the big four broadcasters decided to exit the FTA space, a lot of smaller players entered and took advantage of the void. This helped their viewership surge significantly. Having said that, the big four have a significantly strong content collection and will be able to pull audiences to themselves after moving back to FTA. Thus, the current set of FTA broadcasters will see things returning to the erstwhile normal after the big four re-enter the FTA space. Consumers of content will benefit significantly, especially in rural areas. They will now get a wider range of content, which will have a positive psychological impact during times like these."

However, experts say it's not just the FTA channels that could lose viewers but the big networks could possibly see viewers jumping from pay channels, thereby cannibalising the pay GEC audiences. Sujata Dwibedy, Group Trading Director, Amplifi, Dentsu Aegis Network India says, "The viewership pie has expanded as much as it could already during the last 2-3 months. So, the additional gain is doubtful. These channels will be in stiff competition to each other and the others on the platform. They would probably gain back their earlier position and the others might lose mainly due to the sheer experience of viewing and the content. They definitely have better content in a free subscription though it is repeat content."
Adds Joshi, "The FTA space will now see a shift in viewing behaviour. It will have a larger bouquet of channels garnering a higher viewership pie. Currently performing channels in the FTA space will now see competition from the new channels and may lose GRPs to the channels that are supported by the big network libraries."
RETURN OF THE ADVERTISER
Backed by Unlock 1.0 and the sheer reach of FTA, experts expect the advertisers to be back on the big networks. "Having a larger FTA base is likely to shore up finances of channels at this point of time for broadcasters. FMCG, Automobiles (especially two wheelers), farming vehicles and e-commerce are the few sectors that will be the first responders in this case," says Thakkar. According to him, OTT that has become a significant category in the last few years and telecom led by the small value recharge market in the non-urban areas, are the two other major categories that will begin communications through the FTA channels as and when markets open up.
However, it could be some time before networks see a significant uptick in revenues. Khemka says, "Revenues/ad spends during this period have been dependent on lack of demand and non-availability of original content. With original content coming back but demand still not back to its full potential, my sense is we are still a bit away from putting it across confidently."
On her part, Dwibedy says that eventually the move to DD Free Dish will aid broadcasters command better rates. "These channels had completely crashed post the shift last year, this seems to be a revival plan and once on DD Free Dish, they would see the numbers coming back soon. The moment viewership reflects on ratings, they will be in a better position to demand rates. Yes, the pressure on rates will be there, even after the lockdown is over, but it is a matter of time. This is quite a strategic move and should help the channel networks gain back revenues," she says.
With more channel options within FTA space, consumers will now review the number of pay channels they subscribe to, as most of India sees a drop in disposable income due to the ongoing crisis, says Hema Malik, Chief Operating Officer, Lodestar UM. "A lot of viewers may review their discretionary expenditure. With more channel options within FTA space, consumers will review the number of paid channels they are subscribed to. FTA has both a market and a huge captive audience. I don't think anyone will ever doubt the performance of the channels on the FTA platform as it's tried and tested. It is a come-back after a year. Advertisers are not going to wait for a trial period to see how they perform now. It should revive immediately," she comments.
Drona says that with the possibility of the rural economy reviving first, the FTA space will see advertiser interest. He says, "Two years ago, the marketplace was more than twice the current size, since then markets have matured and grown further. There is no reason to believe that the interest for advertisers will be bigger than earlier as all predictions of recovery in the economy seem to be pointing towards Rural first and then Urban markets."
While DD Free Dish has always helped broadcasters get good numbers in terms of both ratings and ad sales, it has also helped the advertisers gain more visibility and returns. On his part, Sehgal says, "The advertisers also have become far more cautious about their media choices after the COVID-19 pandemic. They would not want to compromise on reach or frequency. Movement of these channels to DD Free Dish significantly improves their chances to be in the advertisers' media mix."
With the FTA platform strengthened, Gada says that many advertisers will look at the space differently and the recent development has reaffirmed the company's conviction on entering it. With a large audience and reach, he is sure that this is an opportunity that numerous brands would want to tap into. He says, "The entry of the four big broadcasters makes the Free Dish platform much richer due to better content offering. Even in the past, when the platform had expanded significantly in terms of user base, it attracted a wide base of advertisers. The DD Free Dish platform grew only when broadcasters entered that space. As a result, the content offering became exciting, which attracted audiences and advertisers." He continues, "In the short term, the viewership is certainly getting divided and the ad pie will, therefore, also get divided amongst all the players. On the other hand, in the medium term, the pie itself will become substantially bigger. This is a positive sign for us and there is enough space for every player. For Shemaroo, we already have multiple scenarios planned out and based on that we have worked on our model, structure, costs, etc."
On a final note, Verma says that this is a space that will be keenly watched going ahead. "There will definitely be a spike to the FTA viewership and we see a new genre within GEC emerging. FTA could pose a challenge in fragmenting the viewership and we could hence witness an inflationary trend. We are keeping a close watch and it will be interesting to see this space and leverage it better for advertisers," she adds.
DD FREE DISH ADDED 24 CHANNELS IN 2019
While large broadcasters' extremely popular catch-up GEC and film channels were removed during the year, DD Free Dish's channel strength increased by 24 during 2019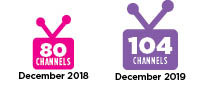 EFFECT ON ADVERTISING VOLUMES
As per TAM AdEX, ad volumes fell 4% in 2019
The main fall was witnessed in the fourth quarter of calendar year 2019, because of fears of an economic slowdown
The fall in reach due to implementation of the NTO also impacted ad volumes in February and March 2019
In addition, large broadcasters pulled out their GEC and film channels from DD Free Dish and made many of them pay channels, which also impacted ad volumes.
(Source: FICCI EY Report 2020)

THE RATINGS: WEEK 1 2019
(With all four big networks on FTA)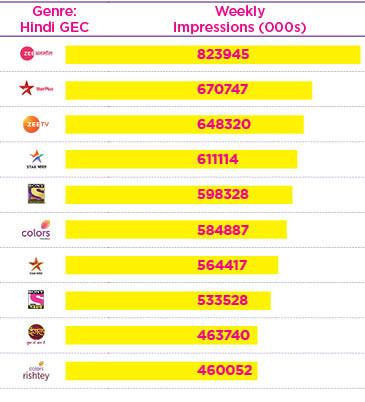 BACK TO FTA
WHY BACK?
Could help broadcasters revive business and shore up finances
FTA guarantees a reach to a huge audience
FTA attractive to advertisers as it works in Rural, Tier II & III towns and Urban+Rural cluster
Turning pay resulted in huge viewership loss
WHAT NOW?
Increased viewership places broadcasters in better position to demand rates
Drop in disposable income could see consumers reviewing the number of pay channels they subscribed to
Content key to getting back viewers
Cannibalisation of audiences from pay GECs
Will also impact viewership of established FTAs like Dangal & Big Magic
Pressure on rates will remain even post lockdown
Being on FTA a strategic move and this should help the channel networks gain back revenues. However, this will take time


THE PULL OF DD FREE DISH
The reach of DD Free Dish is the sole bait for the four broadcasters who were allotted MPEG-2 slots of DD Free Dish on a pro-rata basis for the period 10.06.2020 to 31.03.2021 after the recent auction. If FICCI-EY forecast estimates are anything to go by, the Prasar Bharati owned direct-to-home (DTH) platform DD Free Dish is expected to cross 46 million subscribers by 2020. FICCI-EY's latest report states that the state-run DTH provider is the largest TV distribution company in the country with over 24 million estimated subscribers while the large national pay TV companies clock an average between 8 million to 16 million each.
One of the key drivers for the growth of DD Free Dish was the overlap in the content played by leading broadcasters on their FTA and pay channels. The content played on the FTA channels was as recent as one to three months old in certain cases; this was one of the main reasons why the big broadcasters backed out from the platform. This move didn't go down well as most of the audiences shifted to FTA and this, in turn, brought down viewership of the pay channels, thereby resulting in a fall in both ad volumes and ad rates.
A March 2020 FICCI-EY report says that while regional channels grew ad volumes by 4%, national channels witnessed a 6% fall in ad volumes, led by some popular channels being taken off from DD Free Dish. According to the same report, approximately Rs 10 billion of advertising was pulled out from DD Free Dish when leading broadcasters removed their catch-up television channels from DD Free Dish.
As per industry estimates, channels paid an average reserve price of Rs 6 crore to Rs 15 crore per annum to be present on DD Free Dish (depending on the bucket), however the revenue earnings were anywhere between Rs 500-700 crore per annum. It is estimated that once these channels pulled out of DD Free Dish, the revenues fell drastically to below the Rs 200-crore mark.
For instance, when Zee reported their Q4 numbers, their operating revenue declined by 3.9% to Rs 1,693.5 million from Rs 1,762.2 million in Q4FY18.
However, the impact was not restricted to ad volumes only. Ad rates too suffered a massive dip. Estimates by industry experts say that the channels that were earlier free-to-air used to charge advertisers anywhere between Rs 4000/10 seconds and Rs 5500/10 seconds on the basis of huge viewership that DD Free Dish offered from a demography that comprised both Urban and Rural population. Post pulling out from the FTA platform, the ad rates reduced to as low as Rs 3000/10 seconds as the channels failed to deliver on the Cost Per Rating Point (CPRP) front.

ADVERTISERS ON BOARD
Categories and brands targeting rural pockets, small towns and specific Hindi-speaking markets will see a larger affinity for these channels. These verticals/categories are expected to loosen purse strings, at least to be present on FTA channels
FMCG

Automobiles: Farming vehicles like tractors. With safety as a top priority post COVID-19, demand for two-wheelers and four-wheelers could soar

E-commerce: these companies are increasing presence in smaller cities, and these are the cities where increase in viewership of FTA channels could be seen

OTT platforms

Health

Consumer Durables

Telecom

Foods

Education