Not since the great Dot Com crash of 2000 that resulted in massive sell-offs of tech stocks as demand waned and restrictions on venture financing increased the rate of the downturn, resulting in massive layoffs in the sector, has the tech world seen a more turbulent phase as now.

The Dot Com bubble burst when investors pumped money into Internet-based startups in the late 1990s with the hope that these fledgling companies would soon turn profitable.

There is a sense of déjà vu in the corridors of big tech today, with the dip in revenues across the spectrum, including tech giants like Amazon, Meta, Microsoft, Google, Intel, Snap, and Twitter, in the wake of a global slowdown. This after a glorious run in the previous years that saw most of these businesses register double digit growth rates.

Mega tech players like Alphabet, Microsoft, Facebook (Meta), and Amazon reported weak third quarterly results in the current financial year. Alphabet, the parent company of Google, reported a radical decline in its revenue growth from 41% a year ago to 6% in Q3. Social media giant Meta, reported a revenue of $27.71 billion which showed a dip of 4% Y-O-Y. Microsoft too reported a 14% drop in profit in its Q3 results, and the slowest revenue growth in more than five years in the quarter that ended Sept. 30.
After years of rapid expansion, a trend of freeze in hiring and layoffs has been observed among tech majors & start-ups worldwide, as they attempt to keep the ship sailing amid choppy waters. Part of cost-cutting has involved identifying positions that have started becoming redundant and providing a lower return, triggering a wave of mass layoffs worldwide. In fact, as of mid-November, more than 67,000 workers in the U.S. tech sector have been laid off in mass job cuts this year alone, as per recent reports. The downturn has sent tech stocks tumbling and companies reeling.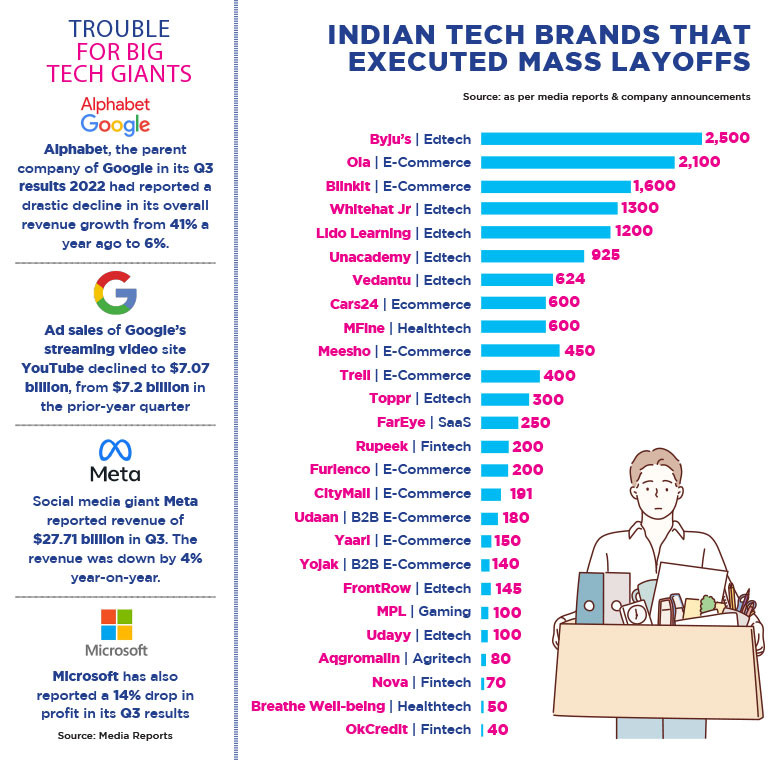 The tremors of which can be felt here on Indian shores as well. Edtech giant Byju's recently laid off 2,500 workers citing changes in "macroeconomic" factors. This is just the latest in a series of Indian tech startups that appear to be on a lay-off spree in recent months.

The two new-age sectors that have witnessed the maximum layoffs in India are e-commerce, followed by edtech. Some of the startups that issued pink slips this year included unicorns such as Vedantu, Cars24, Ola, Meesho, Mobile Premier League (MPL), Trell, and Unacademy, and the Byjus-acquired coding startup- WhiteHat Jr, to name a few. Just a year back, several of these new companies were hiring robustly, offering ambitious pay packages, having raised crores of rupees in funding, as they looked to expand aggressively.
So what happened?
Is the tech boom witnessed during the pandemic and the years preceding it, going bust? What about The Great Indian Startup Party, which saw an unprecedented growth due to the exponential thrust on all things digital post-pandemic? Have the good times come to an end too soon?

We were told that the dot com bust that happened more than a decade ago will not happen because the new tech companies had serious revenue behind them, observes Independent Brand Strategist, Ambi Parameshwaran. "But in the last one year, the stock market has over corrected on almost all tech stocks. I suppose they see a slowdown in profit growth going forward, and hence the correction. On their part, the tech companies like Meta have used the occasion to cut whatever flab they can. And so we are now in a situation where we are wondering if this is another Dot Com meltdown," he adds.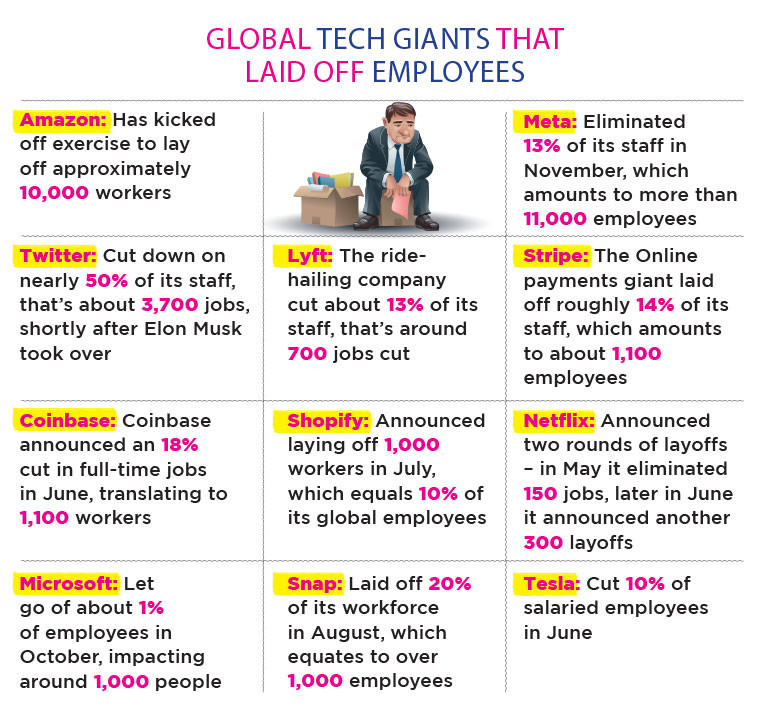 Indian tech startups that witnessed churn
The tech startup space in India saw as many as 11,833 employees in India losing their jobs this year across industries. Apart from Byju's, which fired the most number of employees in 2022 with over 2,500 workers of the company getting laid off in October, several other tech startups have been cutting staff size, citing various factors.

Factors That Led To the 2022 Global Tech Meltdown
Tech firms around the globe are fighting the storm of economic downturn and the same is affecting India as well, states Indrajeet Mookerjee, Managing Partner, dentsuMB India. "High inflation, slow economic activity, reduced consumer spends, and high-interest rates as a result of the ongoing Russia- Ukraine war have massively impacted macro-economic activities. In light of a possible recession, companies are faced with the burden of high input costs as a result of supply chain disruptions owing to the Ukraine war. Apart from this, companies have also witnessed high attrition rates. This results in hikes in staff costs and paying an unusual premium for hiring talent, thereby crunching margins."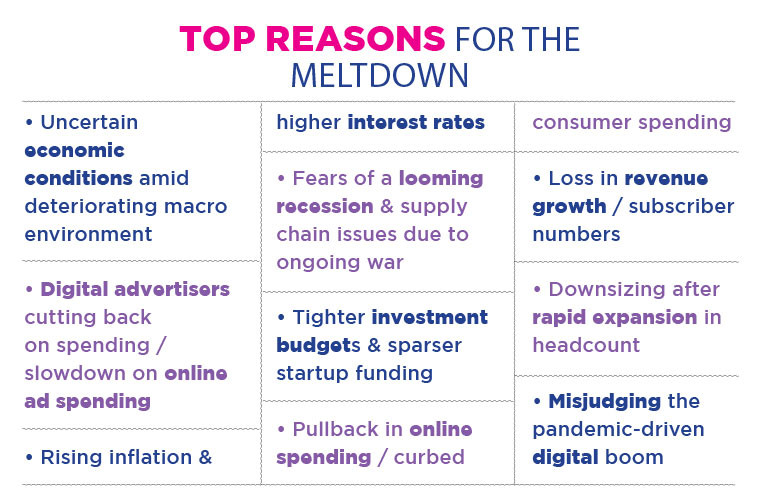 The simple rule of demand and supply is powering this surge of layoffs, says Aman Swetta, Co-founder, Id8 media solutions. "Additionally, the rising interest rates in the US are affecting the global economy. Many Fitch20 currencies, including the Japanese Yen, The British Pound, The Australian dollar, the Canadian dollar, the Chinese yuan, the Indian Rupee, and other emerging market currencies have been affected. The latest Fed move, announcing its fourth consecutive 75 basis point interest rate hike which brought the range from 3.75 to 4% is also affecting India and tech giants and global markets."

According to Kumar Awanish, Chief Growth Officer, Cheil India, the fall in the revenues of big tech, especially Meta and Google, can be attributed to pull back in advertising in certain sectors of the economy which are under duress. "Sectors like crypto currency have seen mind-boggling turmoil with their values getting wiped out. The banking and Insurance sectors have also reduced their ad spending."

"The rise of e-retail advertising has also cannoned into the fortunes of Meta and Google since a lot of advertising spending is now being allocated to the likes of Amazon and Flipkart and a lot of brand-building is happening there," he explains.

While multiple reasons like the war, rising interests, costs etc., are contributing to the changing macroeconomic landscape, Unny Radhakrishnan, CEO, Digitas India, asserts that the return to physical world after the pandemic has shown that "infinite growth is not possible for digital platforms". With reference to the mass layoffs in the new age startups, especially those in the domestic edtech, and e-commerce space, he states, "The realisation that Infinite growth and Infinite capital is a misnomer. And that 'some day we will make profit' is not a business model." He further added that in a way it was a period of 'irrational exuberance'.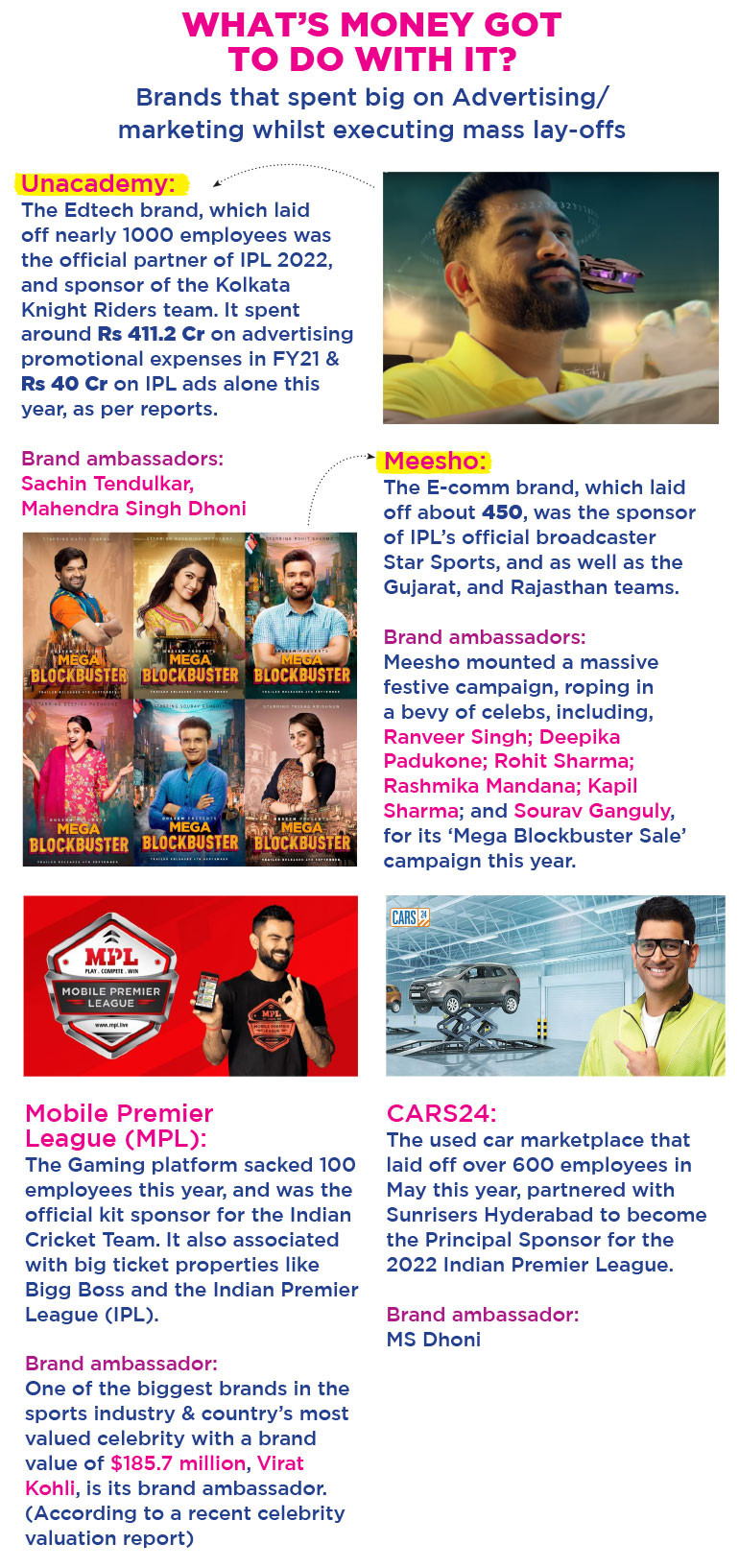 Is the Great Indian Startup Party over?
The Indian Startup ecosystem has always been focused on valuation, customer acquisition, and market share, according to Biswapriya Bhattacharjee, Director – B2B & Technology, Insights Division, Kantar. Therefore, startups were oriented towards driving valuation and share. "In the post pandemic world, investors have started focusing a lot more on EBITDA (Earnings before interest, taxes, depreciation, and amortization), which is forcing startups to relook at their business model to improve EBITDA. This is an indication of a maturing ecosystem where established business metrics drive the evaluation of business success." So, according to him, while it might seem like the end of a party, it is merely a consolidation and correction phase.

Most of the Indian companies in the internet space were funded by a lot of the larger foreign funds in terms of private equity funds, according to Karan Taurani, Senior Vice President - Elara Capital. He says, "India as a market if you see in terms of the internet, is highly under-penetrated, especially when you compare to developed markets, and most of these companies were relying on this foreign capital for funding their growth for investing aggressively over the next 3 to 5 years as profitability does take time." However, he adds that there is a shortage of fresh capital from the private equity side in the last 8 to 10 months because of the Russia-Ukraine war and the issue of interest rates in the US because of inflation. So, that has also had some sort of an impact in terms of the valuations of these companies.

As per Dhiraj Gupta, Co- Founder & CTO, mFilterIt, the tech meltdown in India happened due to two core reasons, first being the shift in technology consumption during the COVID lockdown. With the world coming back to normalcy post pandemic, the startups will have to change their business model forcing them to lay off a good chunk of their teams.

Talking about the second factor, he says, "The RBI has introduced a lot of regulations on Fintech and Crypto Exchange startups. The regulations focus on protecting data sharing, privacy, KYC compliance and a formal legitimacy of products like buy now, pay later (BNPL)."

Alongside, there are a number of restrictions that RBI has put up on Crypto exchanges forcing them to either shut down in India or lower the scale till they find solutions. This is one of the reasons for a slowdown in technology hiring, says Gupta.

Arjun Mohan, CEO – India of upGrad, an edtech which has been bucking the layoffs trend -the edtech recently made news for plans to hire 1,400 people between November and March for its India and global offices, amid the crisis being faced by the industry- expectedly has not-so-pessimistic outlook for the industry. "Edtech is at a very nascent stage with a lot of room for innovations and outcomes that will positively impact the lives of millions. Therefore, it's not ideal to paint the whole edtech under one umbrella of K12, as higher education operates differently."

The layoffs that we observe are brought on by certain startups' aggressive hiring practices and the ensuing change in plans, he adds. "Due to offline opening up, some businesses are having trouble making the shift, thus witnessing this churn, while some of them got overly funded and went on spending heavily to meet the growing demand triggered by the pandemic, without anticipating the potential challenges."

Today as people resume normal pre-pandemic lives the demand for digitization has leveled out. Additionally, AI and new tools are also reducing the need for human intervention across tech services.

As a long term outlook the tech industry will continue to grow, believe industry stakeholders. Mahadev Srivatsa, VP, Marketing and Brand Strategy, Practically, is optimistic about the future, "The fact that we have now over 100 unicorns and many more in the making is proof enough to say that the Indian startup story is far from over! Every industry goes through a transition and this is precisely what is happening in case of startups, and more so with Ed-tech in India. Companies who have their business fundamentals and vision in place will weather this turbulence," he declares.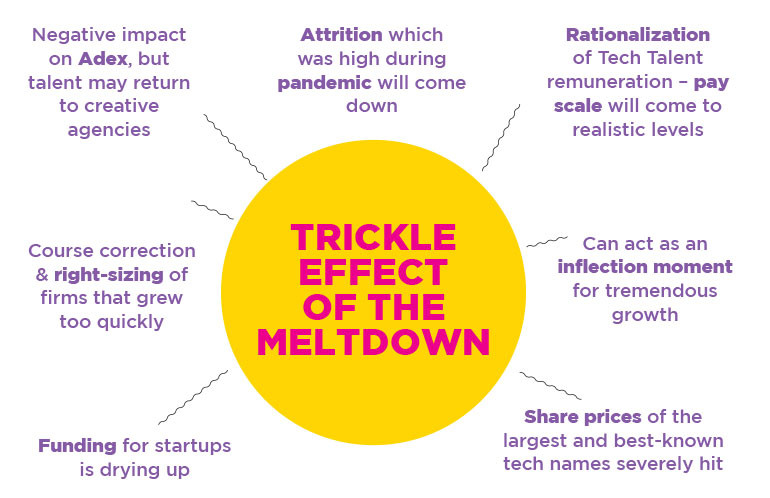 What Will This Mean For The A&M Industry?
Advertising and marketing spends would definitely see a negative impact in the domestic market, believes Karan Taurani. "If you look at the internet ecommerce start-up segment, they contribute close to 15 to 20% of ad spends for the industry. And in my view, the budgets are being cut by close to 30 to 40% by these internet companies, and the impact for digital ad revenue is going to be 4 to 5% in terms of a negative impact. For the overall industry it could be to a tune of 3 to 4% because 80-90% of the incremental ad spends are only coming by digital," he states.

"So, if we look at TV broadcasting for that matter, I think in terms of ad growth at the start of the year was towards about 6 to 8%. It is now coming down to almost 4 to 5%. And if you look at digital again, the numbers were around 28- 30% which is now coming to 20-22%. So, there is an impact everywhere across the board- as TV and digital combined contribute upto 80% of the ad spends, and both have a negative impact of the meltdown in terms of advertising budgets by the new age companies," Taurani adds further.

The marketing budget cut that all these companies have been forced to take will impact advertising spends directly, and Edtech that dominated SOV in advertising in the last two years will no longer be able to do so, believes Practically's Srivatsa. He says, "More than digital, TV might bear more brunt of these reduced spends. As these brands would want to focus on performance and engagement on digital and move away from impact properties on TV."

While people are returning to the physical world, the baseline of digital adoption has shifted up. So brands and marketers continue to invest in digital, feel industry insiders.
"There is no dearth of advertising spending in India, it is just that now the brands are allocating their budgets differently," says Cheil India's Awanish, further elaborating that advertisers in India are looking beyond traditional platforms of digital advertising.

In terms of numbers, E-commerce platforms in India are now the fastest growing medium for digital ads, outpacing the likes of social and search platforms and on road to becoming a $6-8 billion opportunity by 2030, he shares. "Home-grown brands like ShareChat and retail platforms like Flipkart and Amazon have cornered their respective share of advertising spends. A lot of advertising spending is now being allocated to the likes of Amazon and Flipkart, and a lot of brand-building is happening there."
Vserv CEO Dippak Khurana believes its more of a "course-correction" happening. "From an Advertising & Marketing industry perspective, even from an ADEX perspective, if one had to look back last year, the digital start-up world would've contributed a huge share to that ADEX and that has gotten adjusted because the start-up world pulled back. And we've seen that in July, August, September- a lot of TV channels which were relying on start-ups for sponsorships were left high and dry," he says.

But at the same time what we also see is that India is a market where there are so many different categories, he adds. "We hear that the Indian corporates in the FMCG sector in the Oct-Nov-Dec quarter have really stepped up the game. They're seeing sales happening on the ground. ADEX is like an average of so many categories. So, I feel that across categories when all of this is at play, the impact will not come out as adversely, if one just insulates. But if one just looks at the start-up world maybe that impact is higher."

According to Mitesh Kothari, Co-founder and CCO, White Rivers Media, the effects of tech giants' ad revenues plateauing are particularly evident in the ad spending in the cryptocurrency, banking, and insurance industries. E-commerce advertising, on the other hand, is still staying strong, he asserts. "Companies will soon shift their focus from simply retainer-based project work to holistic digital transformation in the coming years. Digital advertising will continue to be essential to any brand's journey. While there is short-term volatility, we expect positive long-term marketing spending," he adds.

Another effect of the meltdown, apart from that on the AdEx is that talent remuneration have come to realistic levels, feel industry observers, which possibly presents an opportunity to the local A&M industry.

Indrajeet Mookerjee of dentsuMB India explains, "For the advertising industry, which has been losing talent to Big Tech for a while now, layoffs and hiring freezes present an opportunity to win back talent." However, he says that to become a competitive alternative job place, the industry will have to compete with the sizeable salaries and exclusive perks that Big Tech offers.

Amit Wadhwa, CEO, dentsu Creative India adds to that, "As far as the talent on the tech side is concerned, we've all seen a lot of attrition in the recent past. Retaining and hiring good talent has been a bit of a challenge in the last year or so. Hence I do feel that with everything happening possibly that attrition will go down and possibly some good talent will be available." He also believes that the current situation would lead up to some bit of rationalization of pay scales.

Wadhwa believes that the impact of the slowdown may not be felt as drastically in Asia and India per se, as much as in the Americas and Europe. "Because we still have a region which is showing growth. There is a huge future potential that sits in Asia, especially in India. So, companies will still want to invest in a region which is still showing growth, no one would want to pull the plug here completely. But will it get impacted? Of course, it's an interconnected economy now and globally every region is connected somewhere or the other. So, we will get impacted, but not as much as the other countries and continents."
Impact On Brand Imagery
Byju's recent announcement of getting Lionel Messi on board as brand ambassador came under flak from several quarters. The declaration, coming on the back of first, big ticket Cricket sponsorships by the brand and then the mass layoffs were criticised by the industry and consumers alike.

It is worth noting that Byju Raveendran-led unicorn is the Indian Cricket Jersey Sponsor, and that in last couple of years, Byju's has emerged as one of the biggest cricket sponsors. The company recently extended their partnership with BCCI to sponsor Indian team Jersey. They will be paying $55 million to BCCI for partnership till 2023 World Cup in India. The edtech company is also the Global sponsor of ICC, and also has sponsorship tie-up with the FIFA World Cup Qatar 2022. The company is reportedly paying $40 million for the deal.

However, it is not the first startup to do so. A series of new age companies have been indulging in mass firing, hiding behind funding winters. But otherwise spending huge sums on advertising, marketing even as they signed on celeb brand ambassadors.

Startups have emerged as one of the key spenders in advertising expenditure (AdEx) second only to big players such as FMCG and auto. From sponsoring global sporting events to signing up celebrities for endorsements, Indian startups are spending huge dollops of sums to grab eyeballs and corner market share.

According to advertising agency Madison, India's top 50 advertisers in 2021 included 15 startups operating in markets ranging from online education, to financial services, to fantasy sports, to cryptocurrency. New age Indian startups have also roped in top actors and sports celebrities for endorsements.

This has amounted to negative PR towards the tech industry, and for the brands as well. This could naturally impact the trust factor that these brands enjoyed, more at an employee level than end consumer, believe brand strategist, Mahadev Srivatsa, adding that it sends out a message of "confused priorities and a leadership that is reactive rather than being proactive." Challenges will be seen in attracting new talent, once hiring resumes, experts further believe. Existing talent might also not continue for long unless the leadership pitches in with transparency, and demonstrates quick resolve to turn things around.

"Due to massive layoffs, loyal users of the brand lose trust. Among the internal stakeholders, there is a constant fear of losing jobs and hence, a high rate of talent outflow. Also, such massive layoffs attract a lot of negative PR, questioning the decisions of the top management," points out mFilterIt's Gupta.

A lot also depends on how the message is being sent out, believe brand strategists. For most brands, letting go of their workforce impacts their company perception and their stock prices, reducing the total value of their company. On the other hand if the news is presented accurately with the reasoning behind the layoffs fuelling the growth of the company, an approach that is very positive for the long term can be constructed by the brand.

The ecosystem we operate in today is progressing, and we are a developing country with the highest youth ratio, according to Upgrad's Mohan, adding, "Ideally, these things shouldn't happen and for a reader, it gives an impression of being tone-deaf," referring to mass layoffs while a firm goes full-gear on adspends.

He adds, "However, within this population, there are stellar entrepreneurs who are smart, and in charge of building multi-billion dollar businesses. They might have planned this route to recovery and to get on a track that is safe, revenue driven, and profitable."

Explaining brands' fascination for associating with big ticket properties, industry experts elucidate that currently brands are seeing the highest ROI when they engage with IPs that are associated with celebrities and sports personalities. BARC numbers show that these IPs have the highest viewership. In this scenario, the best option for brands is to associate with these kinds of big ticket events to connect with their customers. So, no matter what the company is going through, one must always maintain and project a positive brand identity, opine industry insiders, as it will help the organisation in the long run.