What do Ogilvy (earlier Ogilvy & Mather), BBH (Bartle Bogle Hegarty), DDB (Doyle Dane Bernbach) have in common? Each of the agency Groups are/were known by the names of their founders.

For decades, we have had some legendary partnerships successfully leading entire firms even as name partners. So sharing the top role, is not exactly an alien concept in advertising. But after a generation of ad agencies resting their powers in a single 'Chief Creative Officer' be it Piyush Pandey, Balki or Prasoon Joshi, of late we are seeing a partnership being struck even at the highest level of creative leadership at the big agencies.

The examples are plenty, be it Ogilvy's trio Kainaz Karmakar, Harshad Rajadhyaksha and Sukesh Nayak, Lowe Lintas' Joint CCOs Sagar Kapoor and Prateek Bhardwaj, Mullen Lintas' Azazul Haque and Garima Khandelwal or L&K Saatchi and Saatchi's Joint NCDs Rohit Malkani and Kartik Smetacek and most recently the elevation of Vikash Chemjong and Basabjit Mazumdar as joint NCDs of Publicis WW after Ajay Gahlaut's exit. But what led to the sudden change in the leadership pattern? Will it lead to a dilution of creative powers, and will the trend hold true for all agencies in the near future?
Division of work
While the sudden exit of a celebrated creative like Sonal Dabral raised many eyebrows, the elevation of Kainaz, Harshad and Sukesh was greeted with as much cheer in the industry circles. Talking about the need for a new model with three CCOs, Kunal Jeswani, CEO, Ogilvy India says, "We have always had strong creative leadership.

Piyush is a fantastic talent magnet and, over the years, has attracted and nurtured an incredible width of creative leadership talent. The balance we have managed to strike now is having strong creative leaders in every city we operate in and strong national creative leaders.

This has many advantages. Every city team is self-sufficient, with city office leadership teams, including strong creative leaders, driving their brands, client relationships and creative work. And Sukesh, Harshad and Kainaz have the opportunity to dive deep where they need to, knowing they have enough support from their creative leaders in every market, and can lean on each other when they need to. They still have a lot of pressure but that pressure is shared amongst three extremely talented creative leaders. And that makes it sustainable."

Rohit Ohri, Group CEO & Chairman, FCB India counters that, "With two-three heads, decision making becomes quite a challenge. Also then the creative team gets confused as to whether to follow this style of working or that, unless of course there is an art copy team leading it.

A CCO's job is to guide, for e.g. Swati Bhattacharya, FCB Ulka's CCO may not be involved in every campaign from the beginning to end, but she does a review, she guides creative and gives her point of view. Also, having two people historically has always shown that there is indecisiveness in the management to choose one. So, then you make both to keep the peace. And then generally, I think there are issues."

Industry experts also argue that it is not always the problems related to handling the breadth of work that creates these dual designations. An industry insider on the condition of anonymity says, "Recently after a very high profile exit of a CCO at a top agency, multiple positions were created in the agency at the top level, the deal there was focusing more on retention of good talent and giving them their due by offering them plum posts. It also helps in the power games."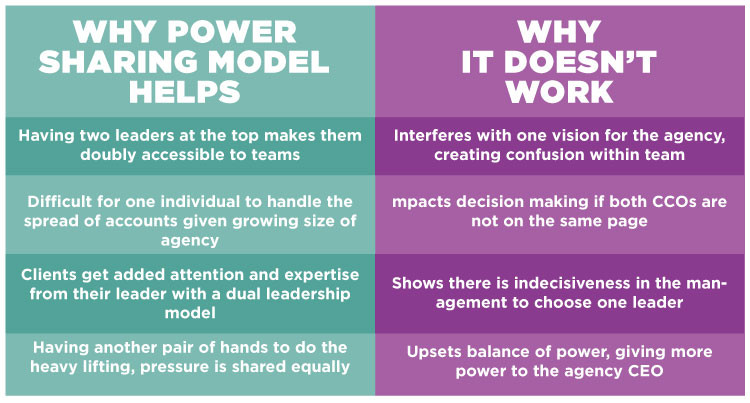 Builds strong client relationships
Another agency which has invested in a power sharing model at the top is L&K Saatchi and Saatchi. While the model was put in place before he took over as CEO of the agency, Paritosh Srivastava, MD, L&K Saatchi and Saatchi says it has worked wonders for them, "In the past I have often heard clients say, 'I hope this pitch team here will be the one I would be seeing regularly working on my business. We all have in that moment paused and said, "Yes, of course" but when an agency can't realistically make that happen, clients start cribbing.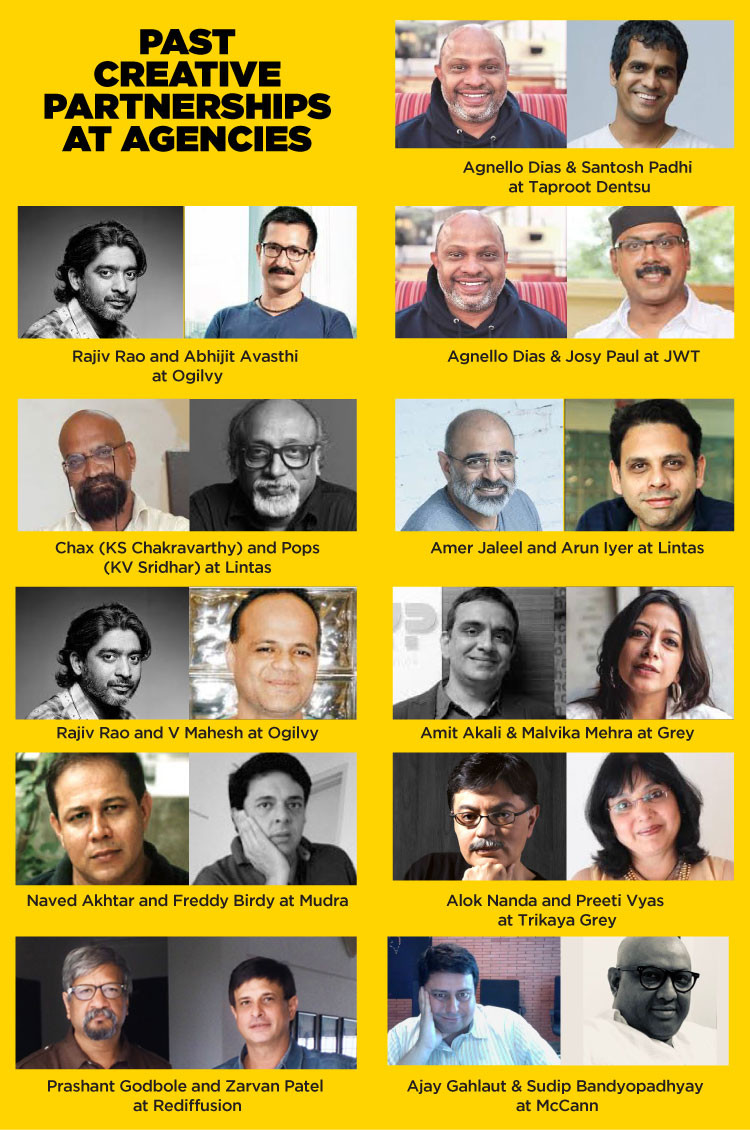 Because of this dual leadership model we are able to spread the senior resources across the agency in a far more fruitful fashion, impact businesses with better people and build relationships at the top level with clients and hold on to them.

When your CCOs or your NCDs are that hands-on, the ECDs are much more hands-on and so is the agency overall, which is very important. Versus the times when, the senior lot could have the flexibility of being slightly less involved and then the teams are running the business."

While a hands-on approach from top leaders is something that a client expects from an agency, why limit it then to the CCO role alone? Sharing his perspective on that is Tarun Rai, CEO, Wunderman Thompson, South Asia, who works with a single CCO across all the Group's agencies,

"We have one CCO for Wunderman Thompson, one for Contract and one for Mirum. It's simple, it's effective and it's working very well. It is true that clients want senior level involvement. And, therefore, the CCO has to lead from the front. He or she has to be hands-on.

This requires an amazing amount of energy. But that's not limited to Creative. It is the same for Strategy Planning where the CSO has to be involved with their key clients' businesses. The same for the CEO. All of us have to lead from the front."

Another agency that was early to adopt this power sharing model was the MullenLowe Lintas Group. Talking about the logic behind having joint CCOs at the agency level and yet keeping a single CCO at the Group level, Amer Jaleel, Chairman and Group CCO, MullenLowe Lintas Group says, "Earlier both Arun Iyer and I were jointly heading Creative at Lowe Lintas.

Having been trained by Balki, both of us enjoyed working hands-on. The greatest sort of successes and the best years in terms of brand building, fame and awards came to Lowe Lintas at that point. So when I had to move on and take more responsibility, I wanted to duplicate that model in both our agencies." Elaborating on why it is almost a necessity today, he says, "It is not possible for one person to handle the amount of work that clients expect agencies to do today.

Today we are a digital forward agency, we're thinking of voice engagement, content, etc. and to be doing so much work you need more than one person at the top, otherwise the person will get disengaged from that work. Years ago when I was doing half of that job I felt burdened so I couldn't possibly ask anyone to take that one up all alone."
Affordability, an issue?
Most of the agencies with twin CCOs have divided work on the basis of geographies to also save on travel time between cities. But by that logic does it mean as the number of clients grows, more offices are launched and scope of work with it goes up, further divisions can happen, instead of two, four CCOs may be heading a big agency.

Also what happens to remuneration in such a case? Does having two instead of one put further pressure on agency revenue or vice versa? Paritosh Srivastava explains, "There are enough and more examples where a single high profile creative head might cost you a lot more than two people, or the two people might cost the agency more, but it depends.

I mean, there is no fixed rule. I can only say that what we have currently at LKSS is working for us just fine."
Rohit Ohri, whose Group has one CCO each for two of FCB agencies Ulka and Interface, says, "Financially even if it makes sense to get two instead of one I would take the brilliant one over two mediocre ones any day."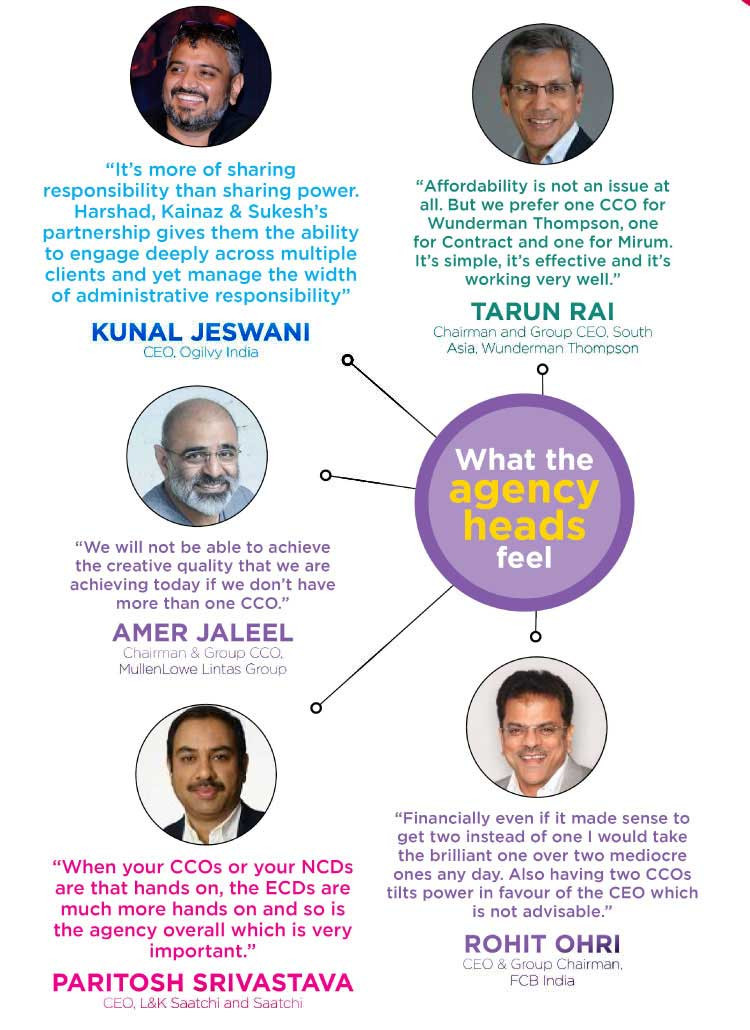 Imbalance of power
The agencies that have embraced the power sharing model say that it is impossible for a single person to keep an eye on all the businesses and having a twin leadership model is very important for quality control and yet there are cases where it hasn't worked at all. An industry insider who didn't wish to be named said, "Around 2007, a talented creative leader joined a WPP agency from Brand David as the NCD while another leader who is now heading the Creative at another network agency was elevated to the same role.

Their partnership as NCDs of the agency was a complete disaster. And now they are both heading two different very successful agency set ups in the country."
Rohit Ohri says, "Why have Ogilvy, McCann and Lintas been successful historically, primarily because Piyush, Prasoon and Balki had all the power, they called the shots and created their own creative stamp, growing these agencies into powerhouses on their own.

What happens usually is when you have two CCOs, their power gets divided and the CEO becomes more powerful than the CCOs. And that creates an imbalance of power.

If you are talking about increasing size of business, then it is also logical to have two CEOs to handle that, but in which agency have you seen two CEOs? The bottom line is you have to empower the creative heads and give them complete freedom because at the end of the day you are a creative agency."

It has to be a fine balance. While some agencies may consider it important to have two CCOs more from a sharing of responsibility angle, superior client engagement, etc., it can clearly be counter-productive to the teams and the agency as a whole if there are ego wars and a lack of collaboration between the two leaders. But perhaps this new crop of co-leaders will show the way.

'THREE CCOS AND NOT A SINGLE FIGHT TILL DATE'
H, S & K as they fondly refer to each other, were appointed as Joint CCOs of Ogilvy India just when COVID-19 hit the country in full force. While Harshad Rajadhyaksha and Kainaz Karmakar have always been joined at the hip, with Sukesh Nayak added to the mix, they have become the 'awesome three' at Ogilvy after Sonal Dabral's exit, and are often quoted as great examples of team work by fellow admen across the industry.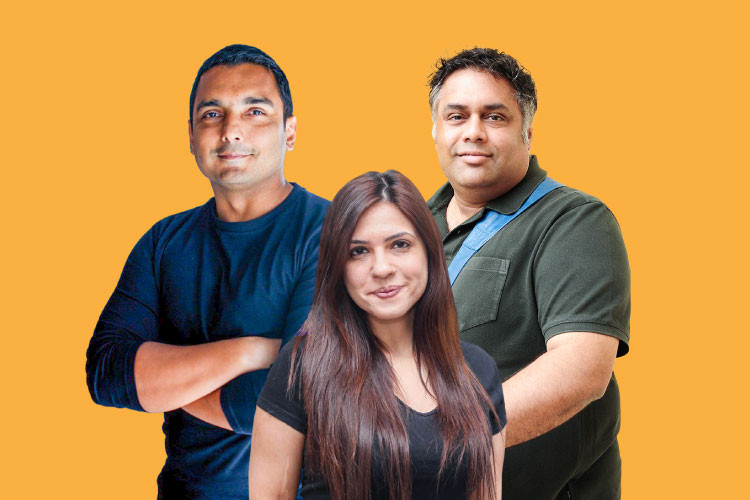 Q] Would you say Ogilvy has performed better after the three of you were given the joint responsibility versus when you had one leader?
Kainaz: The three of us are a cog in the wheel that is Ogilvy India. The agency is indeed thriving, but the credit for that goes to every team member, every leader in every department and every client.
Harshad: Ogilvy has been performing top of the class for over 25 years now. And while Piyush (Pandey) is undoubtedly at the root of this culture of creativity that's been embraced by every component of our agency,

Ogilvy has had more than one creative heads sharing responsibility earlier too. Kinu (Abhijit Avasthi) and Rajiv Rao for instance, led Ogilvy India for a considerable time. Ogilvy was doing brilliantly under them too, and we plan to do everything possible to keep up that tradition.

Sukesh: Ogilvy has always been the No 1 agency, and there are many people who make it so. Thus, to assume that only we three make it the No 1 agency would be totally wrong.

We are a great team of amazing people across our offices that make us great. Our role is very clearly defined – to continue the great run and help shape the future of Ogilvy, working with the awesome champions we have.

Q] With three CCOs, is it that much more difficult to reach a consensus on issues? What do you almost always fight about?
Kainaz: I only fight with them when they want to meet early morning to discuss something. Both the boys are morning people and I am an owl.
Harshad: We always agree upon great work. That is probably the reason why we find ourselves chosen to share this immense joint responsibility. Because, as many different brands and categories that we may have worked on over the years, what the three of us share is a similar passion and drive for the same sharp quality of work.

As for fights, you may not believe this, but we haven't had a single 'fight' to date. We are friends who enjoy what we do, and any work debates that arise are dealt with in frank, open discussions. Often over coffee, chai, and other beverages, even while on zoom calls.

Sukesh: What we agree on is the definition of brave work for sure. What we disagree on is timing of meetings. You see Harshad and I are early birds, and Kainaz is not.
Q] How do you share responsibilities and who takes the final call?
Sukesh: We have a division of clients to just avoid duplication of responsibilities. But we three are equally committed to Ogilvy and everything that will help shape the work here at Ogilvy
Kainaz: The three of us take joint ownership for all of Ogilvy. The division of clients is just to avoid duplication of operational responsibilities.

We take each other's opinions on everything that matters. Disagreements are a part of any relationship. How you resolve them decides the course of your relationship. I am proud to say that we resolve them quickly and beautifully, because when the three of us are in rhythm, Ogilvy wins. That is the win that really counts.

Harshad: Yes, shared duties are a given because despite being a trio, we are one voice at Ogilvy for all purposes.

Be it training, people policies, setting and assigning teams for new businesses, and most importantly, constantly assessing the quality of our work at an all-India level. That is where all three of us are actively involved. However busy our schedules are, we find time weekly to talk about work that is gathered from all our city CCOs.

And on the few occasions if our opinions may differ, we give each other the due to talk it out and arrive at a consensus.


Kainaz Karmakar
Along with Harshad, Kainaz Karmakar has led work that is awarded in India and globally. A powerful campaign for gender sensitivity, MLNS 'Beauty Tips By Reshma' brought home the coveted Cannes Glass Lion for their agency.

In 2018, when she flew back from Cannes, snuggled in her bag, was Asia's first Cannes Grand Prix for Creative Effectiveness. However, she says her partnership with Harshad Rajadhyaksha is more precious than any award.
KNOWN FOR CAMPAIGNS LIKE
• Brooke Bond Red Label Tea
• HUL Corporate 'The Shower'
• 'Savlon Healthy Hands Chalk Sticks'
• Titan Raga 'Don't get married',

Harshad Rajadhyaksha
Harshad Rajadhyaksha, in his cherished and long-standing partnership with fellow-CCO Kainaz Karmakar, has led work that has won international honours consisting of One Show Gold Pencils, Clio, New York Festival, D&AD pencils (including 2 special D&AD Impact White Pencils), Spikes, Asia-Pacific Effies, AMEs and Lions of all colours at Cannes.

He has soaked in varied work cultures at agencies such as Trikaya Grey, Mudra (DDB), Saatchi & Saatchi, Leo Burnett and JWT.
KNOWN FOR CAMPAIGNS LIKE
• MLNS 'Beauty Tips By Reshma'
• Taj Mahal Tea, 'Khud ke saath chai'
• Savlon Braille Bottle
• Bournvita 'Andar Se Strong'

Sukesh Nayak
Over the years, Sukesh Nayak has won over 300 national and international awards, including accolades at Effies, AMEs, Adfest, Spikes, D&AD, One Show, London International Awards and Cannes.

The one he treasures most, however, is the phone call that he received from his father after the Google Reunion digital film went viral. Sukesh is quintessential Ogilvy – all heart and full of passion for great work.
KNOWN FOR CAMPAIGNS LIKE
• Google Reunion
• Amazon Apni Dukan
• Hamam Waterproof Saree
• JSW Geeta Phogat

I only fight with them when they want to meet early in the morning to discuss something. Both the boys are morning people and I am an owl.
Kainaz Karmakar

Shared duties is a given because despite being a trio, we are one voice at Ogilvy for all purposes.
Harshad Rajadhyaksha

ACHIEVEMENTS AFTER ELEVATION
Ogilvy Mumbai office has been positioned as the most creative Indian Agency of the decade by the Cannes Lions in their recently published Global Creativity Report 2010-2020.

'THIS IS ROLE SHARING AND NOT POWER SHARING'
Who's the other guy?' was Prateek Bhardwaj's first question when he was told he would be made the joint CCO of Lowe Lintas, because he believed this was a role where you are only as good as your partner and not one where you compete with each other. For Sagar Kapoor, Prateek's other half at the agency who has been in the Lintas ecosystem for a longer time it came more as a shock as he was landed the news of Arun Iyer, then CCO leaving the agency and him being elevated in the same breath.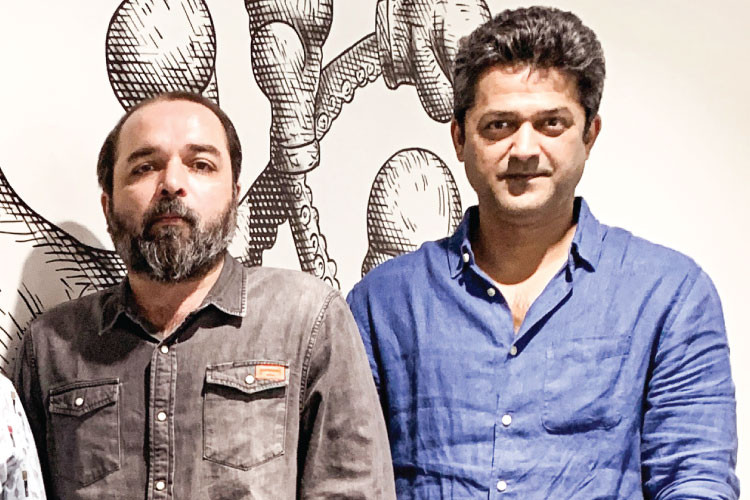 Q] When you were climbing up the corporate ladder and dreamed of reaching the top, did you ever factor in the possibility of having to share the top role with someone?
Sagar: Having spent over 15 years in Lowe Lintas, I hardly registered climbing the corporate ladder. In terms of sharing, I had already seen Amer Jaleel and Arun Iyer do it really well, so I had only positive views on it.

Prateek: Well, kind of. There's enough precedence for this set up. And larger agencies do need the joint set up to manage the workload. I've been offered opportunities to lead solo but the agencies were much smaller. With the CCO's role demanding more 'hands-on-ness', it's almost mandatory for large agencies to have partners to share the load.Q] How do you divide responsibilities at the agency, are there any shared duties and how often do you have difference of opinion?
Sagar: I look after half of Mumbai and the South offices. Prateek looks after half of Mumbai, North and West. I am sure there might be different opinions but there won't be any difference of opinions. We haven't fought yet.

Prateek: Setting the agenda for the work, deciding the people mix, developing our awards strategy, all these are agency-level goals and discussions on these need our joint attention.
Q] Personally do you think other creative agencies should have one CCO at the top or a joint leadership like in your case?
Sagar: Not just dual leadership, there are agencies with multiple leaders as well, and that is working for them.

With the ever growing scale, width and quantum of work, it is only better to have more leaders creating differentiated content with their teams going forward. Clients work with their respective leaders, so they get exclusive attention and expertise from their leader.

Since it is not about power sharing and more about role sharing, it works well for every party involved.
Prateek: It really depends on the size and the nature of the role. The bigger the agency and the more hands-on the role, the more the chances that one will need multiple leaders at the top.
Q] Would you say Lowe Lintas has performed better after the two of you were given the joint responsibility versus when you had one leader leading it?
Sagar: Even when Arun was leading the agency, he had empowered many of us as leaders in our own right. He was more of a partner than a boss as such. Before his solo stint, Amer and Arun led Lintas together. Hence, I don't see this current system as new or alien. Of course with two units now, structurally and operationally, we are different today.
Q] How do you overcome the confusion the team goes through because of having two different styles of leadership?
Prateek: Sometimes we have people helping out on each other's brands. That's when the comparisons come out. People who usually work with me come back raving about Sagar's style of work. Apparently he is more relaxed than me, or at least that's what my team alleges!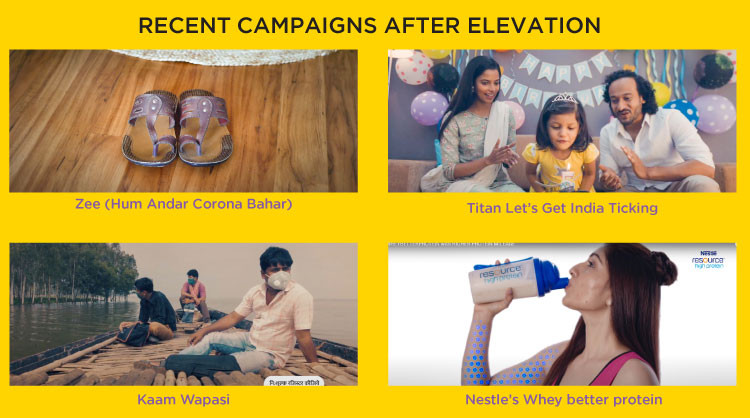 With over 20 years in the business, Prateek Bhardwaj has earned a slew of prestigious awards including the Grand Prix at Cannes Lions and Jay Chiat Awards, and the coveted Black Pencil at D&AD. Prateek has also been a creative entrepreneur and founded Eleven Brandworks in 2008. Prior to Lowe Lintas, Prateek was the NCD at McCann Worldgroup.
KNOWN FOR CAMPAIGNS LIKE
• Nescafé's stammering comedian and RJ Rishi
• Sprite - Bujhaye only pyaas
• Chlor-mint
• Ministry of Public Health, Afghanistan - Immunity Charm

Sagar Kapoor has spent over 15 years with Lowe Lintas serving various local, regional and global mandates. He is credited with some iconic and most awarded campaigns like Lifebuoy's #HelpAChildReach5, including Gondappa and Future Child that were implemented globally. He believes advertising is 'the most interesting conversation a brand can have with the consumer'.
KNOWN FOR CAMPAIGNS LIKE
• Lifebuoy- Gondappa and Future Child
• Swiggy - IPL
• Astral Pipes- Every Woman's Right
• BMC -Mumbai Ke Liye Kuchh Bhi Karega


DISTINCT FLAVOURS OF LEADERSHIP AT MULLEN LINTAS
She is methodical, punctual, responsible and a perfectionist, while he is the exact opposite, more spontaneous, not that punctual, a bit of a 'follow your gut' type of creative. The Mullen Lintas team seems to be enjoying both the flavours of leadership ever since Azazul Haque and Garima Khandelwal have been elevated to the position of Joint CCOs of the agency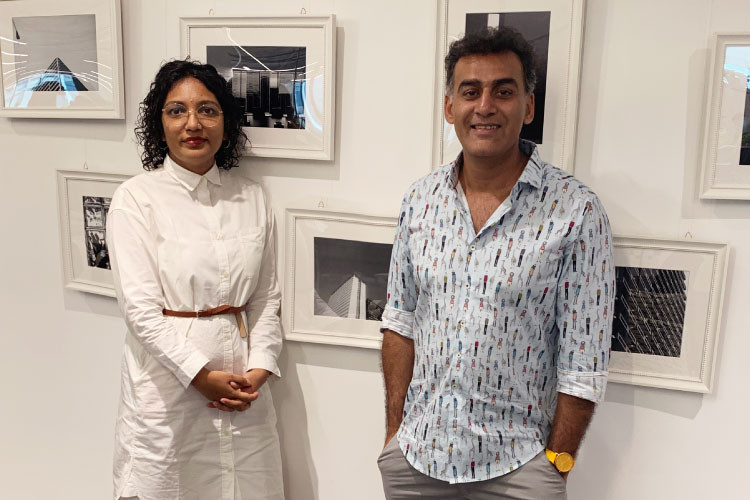 Q] What was your first reaction when you were told that you are going to be made the 'joint' CCO of Mullen?
Azazul: Amer was very clear about my role and Gari's elevation as a CCO as she was pivotal to Mullen's growth. As I was in partnership with Mahesh in Ogilvy for six years, for me it was more like a change of partner.

So my first reaction was 'Thank God!' Though leaving Mahesh as a partner was a big worry for me. But even with Gari, we clicked at the first meeting.
Garima: About the joint role, Amer had kept me in the loop of his growth plan for me.

I had worked hard to earn this elevation, and he envisioned the new structure for the agency and the group. It made the transition for me come at a pace, instead of being thrown into the deep end alone.
Q] How have the clients reacted to this power sharing system?
Azazul: Clients and brands get to benefit from two thinking tanks instead of one, so for them it's a win-win situation. It also makes sure that at least one of us is there to supervise creative output in the absence of the other for whatever reasons.
Q] They always say for the team members it is always easier to follow the vision of one leader. Have your team members ever ended up confused with two leadership styles?
Garima: I think the confusion comes in if the work is getting affected or the feedback is always contradictory or derails productivity.

Yes, the styles are different and I am sure the team has their jokes about it but they definitely hide the confusion well if they have it. We are able to pick up, value add, align quite seamlessly to each other's thoughts and build to an idea.

In fact, it's also our shared wavelength with the teams that helps to make the process easier. Of course in the team, one might identify with one of us more or prefer one's style over the other but it's all part of a day's work and so far hasn't become a roadblock.
Q] What are the advantages and disadvantages of having a partner at the top in the same seat?
Azazul: The biggest advantage is the feeling that someone has your back, work pressure is divided. Also because of partners, you can think of planning a holiday without work worries. The only disadvantage is that you have to share your vision for a place with someone else. But to me that's also somewhere a plus.
Q] Personally, do you think other creative agencies should have one CCO at the top or a joint leadership like in your case?
Garima: I can't say, there are single, double, triple CCO leaderships around us today, and each is its own success story.
Azazul: Totally depends on the type of person an agency is hiring at the top. Some people just can't work with partners.

At the top level, even if one of the partners has that temperament, then the entire agency might have to suffer. A partnership model works only if the two partners supplement each other and can comfortably co-exist. If they can, then the partnership model has its benefits.


In 2005, Garima Khandelwal moved to Prague, to work at Leagas Delaney on the Skoda account. In 2009, she joined Lowe Lintas. Six years of working across brands in the Levers portfolio and with different team leaders across Bangalore, Delhi and Colombo offices gave her immense opportunity to grow inside the system.

She was finally handpicked to be part of a team to branch out with Mullen Lintas, and a few years later made the CCO of the agency
KNOWN FOR CAMPAIGNS LIKE
• Tata Tea's 'preactivism'
• MTV beats launch
• Motilal Oswal's 'Focused at equity'
• Brotherhood day for Avengers

Azazul Haque started his career with Lintas Group back in 2001. Since then, he has worked with Bates, Publicis, Lowe, Mudra, McCann and Contract on brands like Nescafe, Coke, Nestle Maggi, Domino's Pizza, Dabur, Maruti Suzuki, Havells ICICI Bank, Bajaj automobiles, Star Plus, Milton, MP Tourism and Rajasthan Tourism.
KNOWN FOR CAMPAIGNS LIKE
• 'Khushiyon ki home delivery' for Dominos
• Madhya Pradesh Tourism
• Satyamev Jayate campaign with Aamir Khan
• Amazon- Chonkpur Cheetahs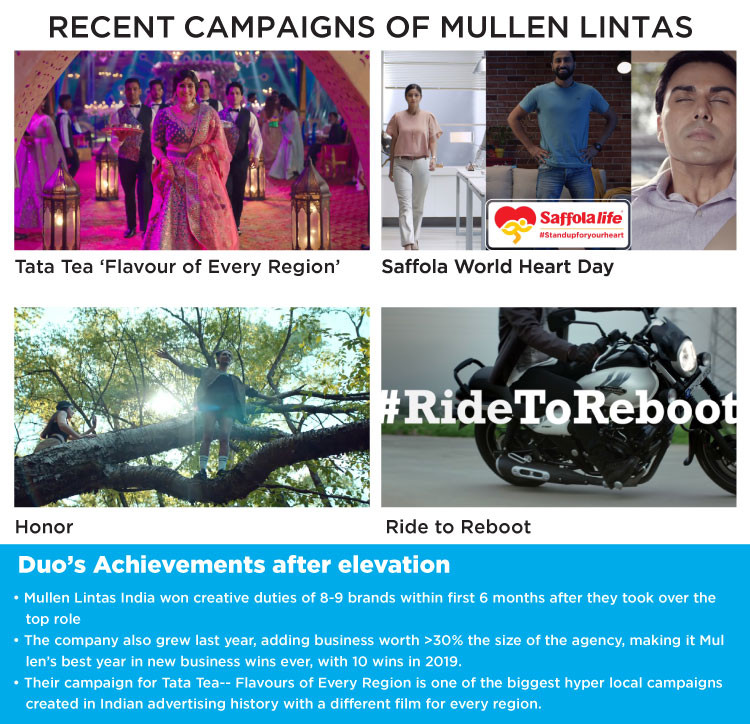 FROM PARTNERS TO BROTHERS
It was fate and to some extent Vikash Chemjong's doing that he and Basabjit 'Tito' Mazumdar became a team. Their relationship started as an art director/copywriter team at their previous agency, Ogilvy post which they became friends and now 'brothers'. Years later, they were appointed joint NCDs of Publicis WW in July, 2020 after Ajay Gahlaut's exit. Vikash explains how they reacted to the news, "To be honest, we never thought we would ever reach the top, leave alone having to share it." But today Publicis WW is a well oiled agency raring to go owing to the combined efforts of the duo.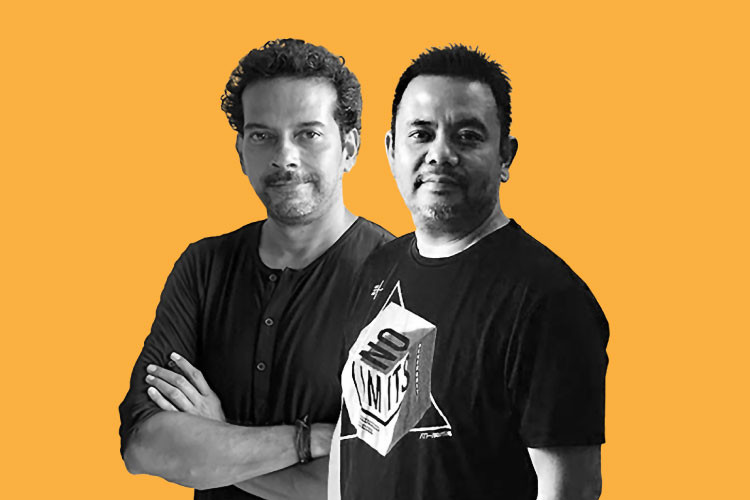 Q] When did you first work with each other?
Vikash: When Emmanuel called me to work on the Motorola business in Ogilvy, he wanted to hire Akash Das, now a Partner at Spring Capital, as my art partner. Akash was not just a brilliant art director but also a very good friend.

He had made the big leap of faith by moving to Mumbai but was thinking of returning back to Delhi. I felt that coming back was the wrong decision for him so I told Emmanuel to speak to Tito and not Akash.

I think Akash still doesn't know about this but seeing where he is today, I am sure he will be glad he didn't get the offer that would have been good in the short term but bad in the long one.
Q] What was your first reaction when you were told that you are going to be made the 'joint' NCDs of Publicis WW?
Basabjit: With the way the industry was, we were willing to do anything to keep our jobs, even take a promotion. But on a slightly serious note, when they told us, the feeling was a mix of satisfaction about landing the big role and utter panic about how we were going to do justice to that role.
Q] What are the advantages and disadvantages of having a partner at the top in the same seat? And who bells the cat when things go wrong?
Vikash: Apart from the people responsible for finance, it's a win-win for all – the department, agency and clients. With Tito in the equation, one plus one is more like eleven and about the cats and bells thing, that occupational hazard rests solely at my feet.
Q] How have the clients reacted to this power sharing system?
Basabjit: Everybody loves the concept of buy one and get one free. So no complaints... yet. But, these are early days.
Q] They always say that for the team members it is always easier to follow the vision of one leader. How are they embracing the new model?
Vikash: The team may have two members but the vision is always one. Otherwise the partnership breaks down and so does the whole creative leadership, creative process and the creative output. The team members are more than happy to have two leaders – when one turns down their leave request, there's always a backup!
Q] Personally, do you think other creative agencies should have one CCO at the top or a joint leadership like it is in your case?
Basabjit: Most agencies, as you know, have only one CCO at the top. Probably because of the word 'chief' in it! And it's working wonderfully for them. Hopefully a year or so down the line and some great work to show for it, others will reconsider...fingers crossed.


Basabjit 'Tito' Mazumdar
Tito was doing his CA in Kharagpur when one day he realised that the numbers didn't tally. So one day he left it to try his luck in ad land. And accounting's loss was a gain for advertising!

With no formal art college training, he is self-taught. He credits his craft to seven wonderful years in Leo Burnett, his 'art college which paid him to learn' as he puts it! And going by the multiple awards he has won- Cannes, One Show, D&AD, London Fests and many more we have to say that he is a natural.
Vikash Chemjong
In Vikash Chemjong's own words, "When people find out that I'm from Darjeeling they ask, "…then why did you leave it and come to Delhi?' Well, I guess everybody makes mistakes and I have made my share. But the good part of that mistake is the 20 wonderful years in advertising, 15 of them in Ogilvy.

And the remaining five that were shared between Bates, Capital, Saatchi and Rediff. What could be a better way of paying your EMIs than by getting to work with the most amazing people, shoot with stars, travel the world, get your work admired by people and then get awarded for it?!"

Campaigns from Publicis WW after elevation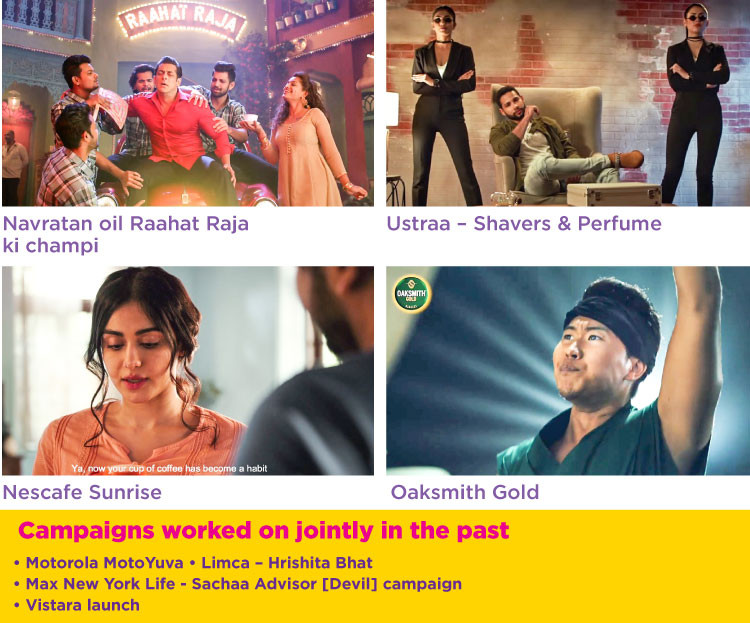 DIVIDE AND ROCK, SAY KARTIK AND ROHIT
Kartik Smetacek and Rohit Malkani were thrown in the same boat and appointed Joint NCDs of L&K Saatchi and Saatchi in Jan, 2019 after then CCO Delna Sethna's exit. "Kartik is far quieter and restrained. I am the loud, nutty one! We recently moved into a swankier, large cabin just before the lockdown, so I haven't had enough time to piss him off with my loud music!" Rohit quips about the difference in their personalities. Kartik adds, "I've always considered myself a fairly good presenter, but Rohit is a proper theatre actor. I felt like a newbie out there when we were asked to make our first joint presentation to the top management." But together they believe in 'Divide and Rock'.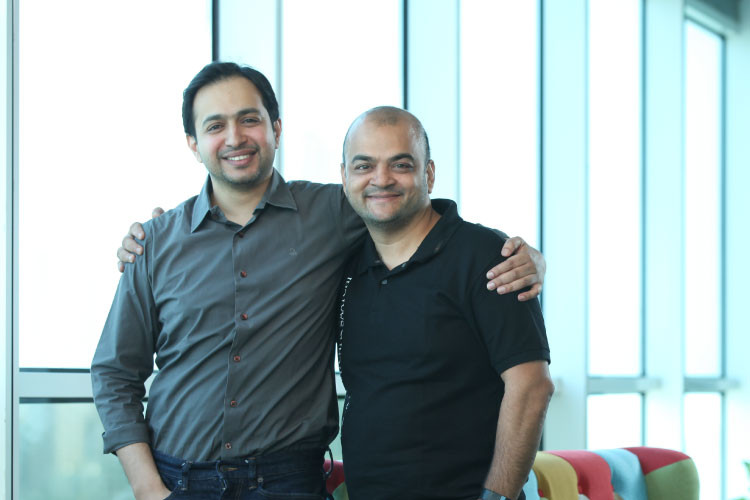 Q] What was your first reaction when you were told that you are going to be made the 'joint' NCD of L&K Saatchi & Saatchi? And did you ever think you would have to share the top role?
Kartik: To be honest the 'NCD' part resonated more than the 'joint' bit. If I recall correctly, it was surprise, joy and terror, in that order. Creative departments have often been led by more than one individual, just that in the old days it was art-copy teams that took on the role jointly. So yes, I've always seen the NCD function as a shared responsibility.

Rohit: Thrilled of course, but never nervous. It's what I always wanted and should have happened way earlier in my life but what the heck! I always thought it would be something I would do alone. I am a Leo and I love leading a 'pride' so never thought of sharing the seat.
Q] How do you divide responsibilities at the agency, who takes care of what?
Kartik: From the very beginning, there has been a clear division of accounts between Rohit and I, which are largely the clients we already handled as ECDs. This alignment extends to the business leads as well, so we function essentially as independent units that lean on each other whenever required.

Rohit: Kartik and I don't divide and rule, we divide and rock! Our lines of control are so well drawn out, they will make us the envy of armies across the globe! Kartik handles a large part of Mumbai and the crucial Renault business, while I handle another large group in Mumbai plus Delhi and Kolkata offices.

We do have some areas of expertise but with nearly 40 years of work experience between us, we have pretty much worked in every category. Kartik is the automobile rockstar, I am a sucker for FMCG and Telecom!
Q] On what aspects is there always a difference of opinion between you two, and in case of a problem who bells the cat?
Kartik: We do have joint tasks like mounting a big pitch where multiple teams are working, making joint presentations, etc. But while we have very different personalities, we actually agree on most things when it comes to creative, and there's nothing we almost always fight about. But if there was ever a cat to be belled, we'd have to turn to ace 'cat-beller' Paritosh Srivastava, our MD.

Rohit: Creative administration, awards, way forward on overall creative standards...all of this is shared and funnily we agree on most things. It is sometimes bizarre. Of course we have some differences of opinion and very few arguments, but always manage to iron those out.
Q] Would you say LKSS has performed better with two leaders as opposed to one?
Kartik: Well, no surprise, I'm going to go ahead and say yes. Having two NCDs makes us doubly accessible, both to our clients and our people internally. We've been successful in dialling back some of that legendary LKSS chaos.


Kartik Smetacek
Kartik started his career at Rediffusion DY&R in 2000. Over the last 20 years, he has worked with agencies including Contract, Publicis Ambience, ideas@work, Draft FCB, and the last six years at L&K Saatchi and Saatchi.

Some of the key accounts Kartik has worked on include Airtel, Colgate Palmolive, Taj Hotels, Lakme, Tata Motors, and more recently Renault India and Hero MotoCorp.
KNOWN FOR CAMPAIGNS LIKE
• Renault Kwid 'Live for more'
• Airtel 'Express Yourself'
• Tata Manza 'Tanuka San series'
• Pepperfry 'Diwali Campaign'

Rohit Malkani
Advertising is something that happened more out of 'elimination', Rohit promises! Rohit Malkani started his advertising career in the Account Planning department at Rediffusion DY&R, Delhi, but the call of creative was too strong.

One year down the line he parked himself in the creative department and hasn't looked back since. He has previously worked at JWT, Bates, Grey Worldwide, Publicis Singapore, etc.
KNOWN FOR CAMPAIGNS LIKE
• Virgin Mobile's Vkewl phone
• Reliance Telecom's Netconnect service
• Voxpop Clothing
• Parle Melody