Digital is not going to influence only marketing, but the entire connected world. Marketing is one of the key functions, and it's going to be impacted, but all industries and the entire value chain would be impacted in a significant way as we go forward. Just a decade ago, no one owned a smartphone, Twitter was an English word, we didn't know Facebook and we shopped exclusively in real shops. That was the kind of context in which all of us grew up learning marketing. Now, that world has changed significantly and dramatically, and the change that we have seen in the past will really be put to shame by change which is going to come in the future.
Now, of the important factors that are shaping India, one is mobile. The other important ones are urbanization and the empowerment of rural consumers. In India, unlike China, urbanization is yet to take place. We are still talking about 67% of our country living in rural areas, but these consumers would be empowered like we have never seen before. Another trend is the power of vernacular content. When Google started its vernacular services, the search spiked up by 60% in the very first week. That's the kind of power of vernacular. And, of course, another factor is how voice is going to change the world, and the role that influencers play in making consumers pick up their choice. Now, the future of the industry is already here. But, the key aspect is what technology exists today will get reshaped tomorrow. And what was best in class or a Next Gen practice last year has already become outdated today.
CHANGING MODEL OF THE FMCG SECTOR
Over the years, the business model in FMCG was built around scale. Scale and manufacturing, scale and distribution, scale and advertising – you have the scale, you get better purchasing power. Branding was the first key to consumer choice. Then we had a massive distribution set-up. Now, if we look at the classical business model, you go and do consumer research in a very traditional way, knock on doors, try to find out the unmet needs, come back, make prototypes and get them tested again through a classical market research. Then you give it for factory trials. Then once you manufacture it, you have the massive distribution machinery. Then there are the classical 30-second TVCs. Then you would pray and pray, and hope you hit the target audience. And that is how value got created.
Today, technology is going to hit the classical business model at every step of the way. Classical market research is becoming passé. Today at our people data centre, we monitor conversations happening across the world on all our brands 24x7. We know the trends that are shaping. We have consumers calling us 10,000 times a day. And they don't say 'You had promoted it in the Press but we are not getting it in our nearby shop'. They talk more about, 'I have a wedding in the family, what kind of hairdo should I have?' 'I am going out with my friends, what is the kind of make-up I need?' 'This is the kind of skin I have, so what kind of cream do I need to use?' They are conversing with us. And when you have the technology to convert voice into text, you don't need a classical market research to find out trends. When we develop prototypes today, we don't need to do real prototype because we do all the simulations on computers. Even the trial runs on plants that we used to do earlier, we simulate it on computers today. There was a time when market mix modelling of seeing which of the levers you need to play in the market would take you months to come out with results. Today, we have got a network where it is done on an iterated basis and you play around looking at different levers, and the simultaneous play in the market. Now think of a context in our business where we have thousands of SKUs, where we reach millions of outlets, but in any given outlet you will find 150 to 200 SKUs of Hindustan Unilever. The critical aspect is in an outlet out of the 1000s of SKUs, which of those 150-200 SKUs are the most relevant for that outlet. Today, technology allows you to customize your offering to each outlet: a grocery on Peddar Road will have a completely different assortment compared to a grocery in Dahisar.
DATA WILL REINVENT THE FMCG MODEL
The entire business model of FMCG is up for grabs. And whoever can reinvent it will be able to get a lion's share of the profit that would come out of the new business model. Consumer journeys were a very simple line. You watch the ad, either in Print or on hoardings, or on the TV commercial, you talk to a few of your friends, go to the store, pick up your product and you are home. Today, consumer journeys have become extremely complicated. And that is where you need to get a deeper understanding of what you need to do, where you need to go, how you intervene to make a difference to your brands, and to convert the consumers from intent to purchase. The 3 ABCs that are re-shaping marketing and changing the way are machine learning and artificial intelligence, big data and analytics, and of course in a very big way it is content. Now, under-pinning all this is data. At Hindustan Unilever, I have a Chief Data Officer who now sits on my top table. This is for the simple reason that we have a massive amount of data both online and offline, and it is all about storing data, ensuring the safety of data, and using data in the most meaningful way. It is no longer about the raw data but increasingly intelligent data that you put forth to use. Now we have got profiles of perhaps 150 million consumers. And based on 150 million consumers, you can easily group them and mimic the entire population in a very big way. So, that's where the challenge exists – where in their shopper journey can you intervene with the right kind of content? So, data becomes the most important ingredient in this entire digital landscape.


THE 5C FRAMEWORK
At Hindustan Unilever, we have a framework called 'The 5C Framework'. At the heart of this 5C Framework, there will always be the Consumer, irrespective of whether you are online or offline, whether it is a connected world or an offline world, at the end of the day you are looking at the needs, wants and desires of a consumer and doing your best to meet them. That's what our job is. That's how we create value for the consumer and that's how we create value for ourselves. Then come Content and Connect, that are so important in the new world. When we look at things from the lens of Connect, it is not just connecting it in the traditional way, but also things like geo-tagging, that's when you are able to influence the consumers in a very big way. Another C is Community, which becomes important, especially when you talk about purposeful brands. The classical stories about marketing are when they can be co-created with consumers. That is when it makes a huge impact on the business. The other C of course is Commerce. In India, Commerce is still a very small part of the total FMCG landscape though it is galloping at a very fast pace. Even globally, it is about 6 to 7%. But the impact of the 5Cs goes beyond the online to the offline. The important bit is that in the quest towards technology, if you lose the sense of consumers, then you miss the game altogether. Rather than going in the classical mass marketing way, technology allows you to do precision marketing or massive customization.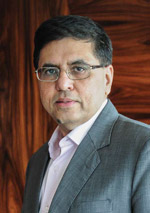 Another trend is the power of vernacular content. When Google started its vernacular services, the search spiked up by 60% in the very first week. That's the kind of power of vernacular. And, of course, another factor is how voice is going to change the world, and the role that influencers play in making consumers pick up their choice.
A very important thing is content that consumers love. As Hindustan Unilever, we want to be the Wikipedia of personal care. That's a very clear stated intent. If there is any question that a consumer has on personal care, it should be answered by one of our brands. And that's what we are working towards. When we have a Lakme Fashion Week, during the classical marketing days, a few hundred people would attend the Lakme Fashion Week. Then we would make TV programmes out of it. But, today when we run the Lakme Fashion Week and we sit in the command centre, a girl sitting in Gorakhpur can relate to Lakme Fashion Week as if she was sitting and watching it live. She can engage with the brands with the same passion as a woman actually watching the fashion show, thanks to technology.
DELIVERING RELEVANT & MEANINGFUL CONTENT
Now, content has to be delivered across different channels. There is this great example of Lifebuoy during the ball tampering scandal. Within a few hours of the scandal breaking out, Lifebuoy introduced the ad, 'Rub your hands clean with this and not with the ball'. Now that is contextual content. That is where you make a difference. A couple of years back, we had a classic one from Vim. This was when an e-commerce company instead of delivering a smartphone, delivered a bar of Vim dishwash. The consumer raved and ranted on social media. Before the e-commerce company could react, we had picked up a smartphone and delivered it to the consumer. Now, that is where content plays such a big part. At HUL, we have created a 'U Studio', or Unilever studio. So, we don't have to go outside to create meaningful content. We have started creating it ourselves, because today the time in which you need to put the content up for consumers has become very small. It has become nano seconds. If you don't react with speed, you will miss the boat. Now when we look at commerce, it is not just about selling a product. It is the entire experience that the consumer goes through. That is how it becomes very fulfilling. You get to start on converting from intent to purchase. If you are just looking at a transaction, then it is short-lived - you are not developing a relationship with your consumers. When you provide an experience, that is where the relationship gets strengthened with the consumer. To take an example from Axe, we launched Axe Ticket recently, and we did it with movie ticket buyers on Paytm. And that was an amazing success, reaching out to lakhs of people in a very meaningful way, but it was not just about the transaction.
When we talk about connect, it is not just a Television ad or an ad on mobile, giving the same kind of ad experience. Another example - it is geo-tagging whoever is within the vicinity of a Magnum freezer to get an ad to come and try out Magnum ice-cream. Now this will become a way of life. This is a way of personalizing. This is the way of targeting with precision. On 26th January this year, the Big Day for Big Bazaar, for a certain brand of ours, we considered which was the locality where the chance of conversion would be the maximum. We geo-tagged it and in those markets, the running rate went up by about 70%, because we had identified who precisely our target was, and were able to customize our approach to them rather than reaching out to all the population and then hoping that someone will buy our products. Community becomes so important, especially when you talk about purposeful brands. When they start talking about your brands, that is where you are building brand loyalties. And today what you are trying to do is build a relationship with consumers, and technology allows you to do that. When we talk about 160 million consumers whose profiles we have, we are not just looking at the width of data, we are looking at depth of data.
KEEPING STORY-TELLING ALIVE
Every day, we are asking ourselves how do we get to know more about consumers so that we can help them in their journey in a far better manner. Marketing in the new age is all about the right message at the right time in the right place to the right person. Now, this is something which you may say was there even before we started marketing in a connected world. The difference today is what technology allows you to do. Now personalization clearly stems from a belief that each individual is distinct, each one has his own quirks, distinct needs and desires. And if you can customize your message to him at the point when he is most receptive, that is when you would have the biggest impact. While talking about the market in a connected world, there are some things which don't change. First is the art of story-telling. Marketing is not just about functional needs but about traversing the emotional space in the consumer's mind. If you look at some of the great ads of today, you will see branding done in a very subtle manner. Take a brand like Brooke Bond - it is all about togetherness. When Thomas Brooke came out with the brand Brooke Bond more than 100 years ago, it was still founded on the essence of togetherness. Today, 100 years later, it is still about 'swad apnepan ka'. If you see the kind of advertising communication we have, whether it was the Hindu-Muslim ad, or the live-in relationship ad, or the transgender band, it is all about that over a great cup of tea, you come together and break barriers. Similarly, if you look at the 'Dirt is good' Surf Excel ad, you don't need to talk about what necessarily Surf Excel does because consumers know it. But, the message that you are trying to communicate to mothers is let your kid blossom, let your kid go and play. If he doesn't get dirty, he won't grow up. But, remember there is Surf Excel to take care of the stains if he gets dirty. That's what 'Dirt is good' is all about. So, the fundamentals remain very consistent though the way of communicating has undergone a dramatic shift.
Another big thing is purpose. Brands with purpose are able to impact society in a meaningful manner, and very importantly they are able to reduce the environmental footprint. Today the consumers are getting increasingly conscious about where the brand comes from. Does it come from an ethical company? Does it have a purpose bigger than meeting functional needs? We did a study to find out that for brands with a purpose, are consumers willing to pay more money? And the overwhelming answer was 'yes'. Brands with purpose grow faster, and companies with purpose are valued high.
WHAT'S THE TECH QUOTIENT OF MARKETERS IN INDIA?
At a time when the digital ecosystem is advancing at breakneck speed, ace marketers decode how new age digital tools and technology have helped marketing evolve

BY SAMARPITA BANERJEE & CHRISTINA MONIZ (With inputs from Beryl Menezes)
We are today in the midst of the fourth industrial revolution, that will fundamentally transform the way we live, work and relate to one another. The revolution is characterized by the coming together of technologies that are blurring the lines between the physical, digital and biological spheres. While technology continues to drive much of the revolution, its combination with the effective use of data will dramatically change the way business is conducted today, with the marketer at the core of this revolution.
With the introduction of new-age digital tools, be it Artificial Intelligence (AI), Big Data, Augmented Reality (AR), Virtual Reality (VR) or Voice Recognition, among others, the scope of what marketers can do with their brands is now very wide indeed.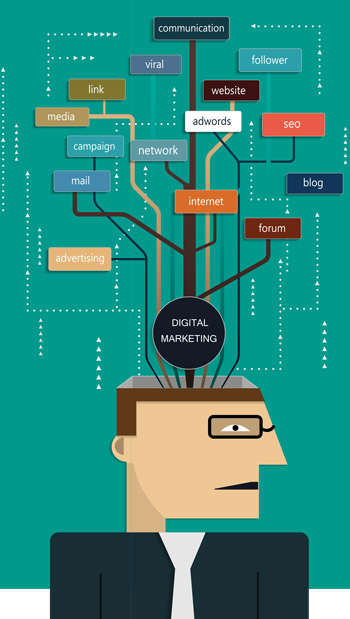 HOW TECHNOLOGY IS CHANGING MARKETING
The use of modern cutting-edge technology has enabled marketers to go beyond broad-based mass marketing. Explaining how things are rapidly changing in the marketing ecosystem, Sanjiv Mehta, CEO and MD, Hindustan Unilever Limited and EVP, Unilever says, "Today, big data and analytics allow you to play a bigger role in driving business growth and enhance the overall health of the brand. Sales is the other side of marketing. Modern technology allows you to do things like precision assortment or tailor-making an offering for an outlet. We often forget that digitization is not just about marketing because if you are able to reach out to consumers and impact them through marketing, but are not able to provide goods in an efficient manner, then your efforts are not really delivering value to the consumer. The entire value chain must be impacted by technology."
While technology and data are available to everyone, marketers need to be equipped to navigate through the sea of information before them and gather insights in a timely manner. Vipul Chawla, Managing Director, Asia Pacific, (Pizza Hut), Yum Brands says, "Everything has become real-time today and there is no time-lapse. Our ability to read many different forms of data and then simplify it so that we have insightful points of view on it and take appropriate actions is where judgement is required. Technology and data are available to everybody but how you use it and design an easy and frictionless consumer experience is what makes a difference. Platforms like Amazon, Uber and Netflix have done exactly this. They have been disruptors who have used all these modern tools and technologies and that is what has helped make them relevant, distinctive and easy."
In the food delivery business, the use of digital payments, live tracking and social media connect have changed the landscape and enabled players to make faster, effective, personalized deliveries. Explaining how Foodpanda has been using these technologies to its advantage, Anshul Khandelwal, Head of Marketing, Foodpanda says, "At Foodpanda, we are able to integrate all digital platforms to reach out to the end consumer with personalized and topical offerings. Be it the cricket season or our own campaigns like Spot the Panda, we are able to drive conversations while serving the users with relevant offerings. We are using technology to offer real time assistance through 24x7 chat on the platform to resolve issues. We are using social platforms not just for engagement but also for issue resolution owing to the demands of today's time and age. We are able to resolve all issues raised on social platforms within an average time of 15 minutes, depending on the nature of the complaint."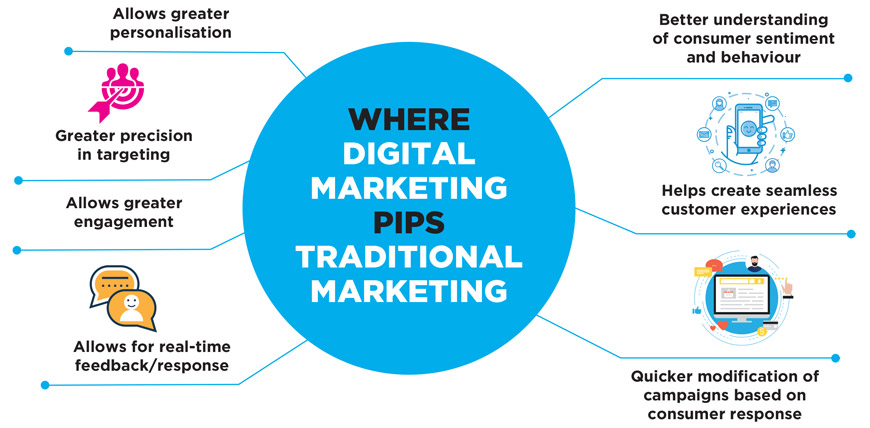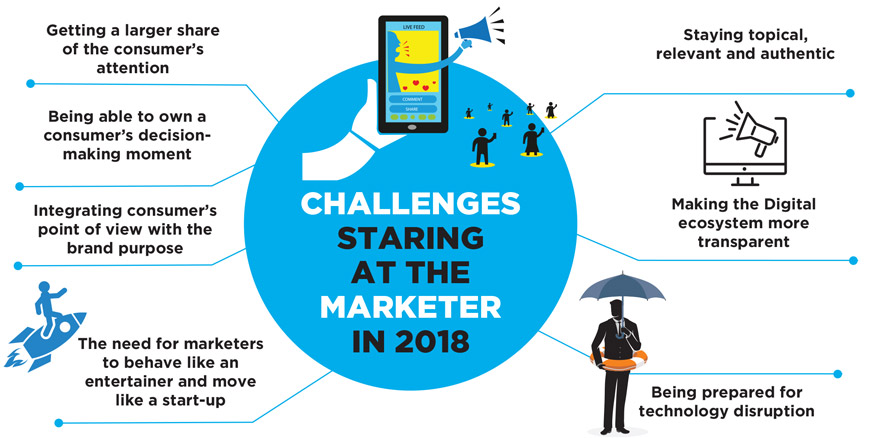 While technology has allowed for greater customization, marketers need to be cognizant of the fact that personalization could be a double-edged sword. Lloyd Mathias, Former Asia-PAC Marketing Head, HP Inc has a word of caution for marketers. "Marketers should take care not to infringe on the consumer's privacy. While consumers want a good brand experience, no one wants to be disturbed. Brands should have policies whereby the amount of contact they make with consumers is limited and not repetitive, also recognzsing the fact that consumer may have evolved. Your data may have been given to a brand at a point in time but a year later, your needs may have changed. But if you still get communication that was relevant back then, it doesn't make sense."

"Everything has become real-time today and there is no time-lapse. Our ability to read many different forms of data and then simplify it so that we have insightful points of view on it and take appropriate actions is where judgement is required."

VIPUL CHAWLA
Managing Director, Asia Pacific, (Pizza Hut) Yum Brands



"The contribution of online business to overall sales is now at 8-9%, growing year on year, because that's where the consumers are and over a period of time the lines between online and offline will blur, with omni-channels increasingly gaining popularity."

S RAVI KANT
CEO - Watches & Accessories, Titan Company

GETTING THE BEST OUT OF CUTTING-EDGE TOOLS
The introduction of new age digital tools has dramatically improved marketing efficiency. The consumer behaviour has become very complex and is no longer linear. Therefore, brands have to make their presence felt at the most relevant touchpoints, which is where technology comes into play.
Explaining how the use of technology has helped the brand see greater engagement with consumers, Rahul Gautam, VP, Marketing, Ford India says, "Recently, we experimented with chatbots and have seen some great engagement. As marketers, we have to see how best we can connect our brands to our consumers, and Digital happens to be the medium that is very relevant today. Since Digital is measurable and allows you to experiment and improvise, it has an edge over other mediums. At the same time, it also allows you to evaluate the effectiveness of your message at every step."
Flipkart has been a front-runner in India's e-commerce story, and the credit for a lot of its success can be attributed to the use of new technologies like AR and VR. Pointing out the need for integration in next-gen tools, Shoumyan Biswas, Chief Marketing Officer, Flipkart says, "New age digital tools have helped us in significant ways because they help provide customized solutions for customers at various touch-points. We can really benefit from things like social listening and re-marketing, which we previously did not have. I would still like to believe that this is just a start, because many of these tools and solutions are disjointed. The next generation tools will be truly integrated and provide end-to-end customer experiences, which is the current gap in the market. A lot of our personalization business and recommendations are created by using new technologies like AR and VR. We are experimenting with these and learning something new every time. A lot of the personalization is where we are making a real impact."
Not only is the use of these technologies helping brands connect with consumers in urban markets, marketers are now also able to address concerns of their rural consumers, while adding value to their overall brand experience. Suresh Shan, Head - IT & Innovation, Mahindra & Mahindra Financial Services says, "Technologies like chatbots have proven to be really helpful in the rural markets, allowing rural customers the ease of access to information. Through digital platforms, we engage with our consumers to get feedback on how the system can be improved. The medium has empowered our rural consumers to access information easily, while also getting quick and efficient service. This is a dramatic change from when rural consumers had to wait several days for brands to resolve issues."
While the use of these technologies have helped brands come up with targeted communications, Atul Garg, Head Marketing and e-commerce, Baggit, believes that one should not completely eliminate the human touch while working on strategies. He says, "For all our publishing on social media, we have been using Hootsuite, which allows us to analyse the publishing real-time. We are also working with CRM solutions provider Capillary for online integration. This means every morning, we go through their reports to understand our consumers, the sales, purchase patterns and feedback. But we try not to eliminate the human touch despite the availability of technology. I meet our micro-influencers regularly, because they know the community and the consumer better. These things are required to add to whatever learnings you get from digital tools. We are also toying with new tools like AI, but the challenge lies in really making integration of these tools meaningful. It is not sensible to use technology just for the sake of it. It must be well thought out and must add value."
DIGITAL MARKETING VS TRADITIONAL MARKETING
In the case of brands such as Fastrack that target younger consumers, Digital is the best medium for engagement. Pointing out that Titan today spends between 15-25% of its marketing budget on Digital, S Ravi Kant, CEO - Watches & Accessories & EVP Corporate Communications, Titan Company says, "At Titan Watches, we got into the online space two-and-a-half-years ago. In the first year, the contribution of online business to overall sales was 2%, which doubled to 4% by the second year and is now at 8-9%, growing year on year, because that's where the consumers are and over a period of time the lines between online and offline will blur, with omni-channels increasingly gaining popularity."
As the Digital medium continues to gain prominence, brands now will also need to become a part of the cultural conversation. Therefore, brands will be required to curate content that gets under the skin of the consumer and makes an emotional connect. Ankush Manchanda, Head, Digital Marketing, Bacardi says that insights are now no longer restricted to the measurement of likes, shares and views. Rather, the new measurement metrics for effectiveness are share of voice, brand recall and message comprehension. "We have taken Digital not as a medium but as an opportunity to create culture, or be a part of the current culture that is coming up. As of now, our focus is content and builing insights on the back of listening and search. About 90% of our spends are on Digital, while the remaining 10% is spent on ATL activities."

"A lot of our personalization business and recommendations are created by using new technologies like AR and VR. The next generation tools will be truly integrated and provide endto- end customer experiences, which is the current gap in the market."

SHOUMYAN BISWAS
Chief Marketing Officer, Flipkart
Financial brands like HDFC have been at the forefront of adoption of new-age technologies like AI and chatbots with the singular aim of creating a more seamless customer experience. Ravi Santhanam, CMO, HDFC Bank points out that the Digital medium should be viewed through the prism of adding value to customers. "In our view, all these new-age cutting edge technologies are being tried out to ensure that consumers have a frictionless experience when they engage with the bank. As long as that prism is taken care of, we are willing to invest and look at all the technologies that can make a consumer's life simpler. If you look at technologies like AI or the suite of products from various vendors, we have been at the forefront of adoption. For us, it's all about understanding what it does for our consumer."
However, while Digital spends continue to increase, marketers do not dismiss the role that traditional marketing plays in building brand equity. Abhishek Ahluwalia, Business Head, eCommerce, Mondelez India says, "Consumers are today looking at doing everything online – the way they live, eat and shop. Everything is changing, and that transformation is happening at breakneck speed. From a marketing standpoint, there needs to be a balance between digital and conventional media, especially because the consumer today is migrating between screens, whether it is TV, laptop or the smartphone. As a brand, therefore, we have to ensure that we are omnipresent and connecting with the customer at various touch-points."