By SIMRAN SABHERWAL

Talk of an enterprise built sans the ubiquitous e-mail communication of today, and you have Brand Republic. Arnab Goswami, Managing Director, Editor-in-Chief and co-founder of Republic – part of the ARG Outlier Media Private Limited – says he and CEO Vikas Khanchandani may have exchanged as few as one or two mails in the entire year since the launch of Republic TV on May 6, 2017, preferring to communicate through WhatsApp instead. But that did not deter Republic TV from consistently gaining top ratings in the English news genre since its launch. Now, for the company that says it has "more than achieved" its first year targets, it will be interesting to see the strategy it adopts to fuel that growth momentum in Year 2 of its existence.
What Goswami is betting on is "Digital, Digital and Digital" to take the company forward. "I am very excited about Digital, and I am steadily moving there," he says.
But operating as it does in a niche genre, it remains to be seen how Republic's Digital+TV strategy pans out. One challenge will be driving engagement and appointment viewing, as a media planner who did not want to be named mentions that the average time spent by a viewer on an English news channel is only 3-4 minutes per day.
BUILDING ON PARTNERSHIPS
Republic has been dogged with controversies since its inception, be it the name of the channel or its investors or the potential of conflict of interest and what not. Post its launch, the News Broadcasters Association (NBA) called out Republic TV for allegedly using "tactics to claim a high viewership" and sent a plea to the Broadcast Audience Research Council of India (BARC) to delay the release of its viewership data. Much drama followed in the days to follow, with all English news channels, except Republic TV, pulling out of BARC, only to return a week later.

In the midst of all this, Republic went about stitching its distribution deals. Distribution is a major challenge, especially in the competitive English news space, wherein the established channels are part of large bouquets and Republic is a single-channel network. Also, carriage fees, particularly for a new channel, can be as high as 35-40% of operating costs. Talking about distribution, Vikas Khanchandani says that the channel received immense support from both the cable and DTH partners who provided top slots in the news genre and the efforts of the distribution team, headed by Priya Mukherjee, helped take the brand across the length and breadth of the country. "Our penetration in rural markets is best in class and has been instrumental in giving us our leadership position," Khanchandani adds.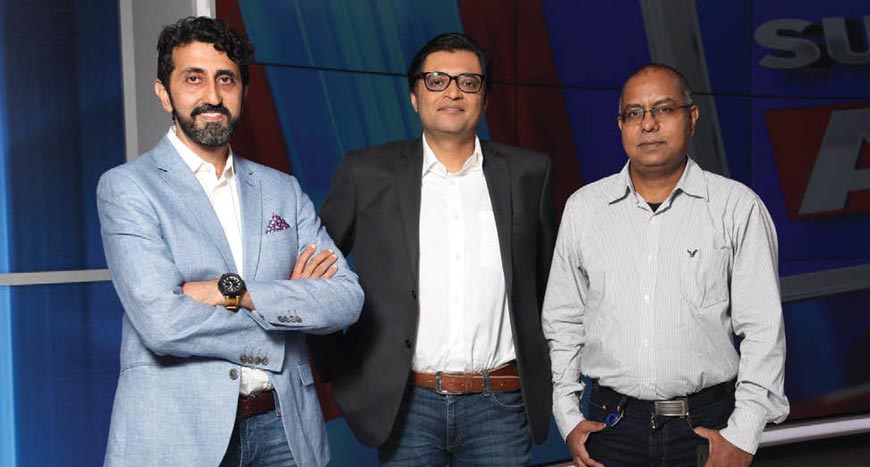 An innovate strategy adopted by Republic TV at launch was coining the term 'founding partners', and this included advertisers such as Vivo, Jio Digital Life, Renault, Hike, Ola, Star India, Yes Bank and Microsoft who had associated with the channel before launch. While most of the founder advertisers have continued their association, the channel has also locked in a few more long-term partnerships over the last quarter.
The tie-up with Hotstar, Star India's OTT platform, that had associated with a news channel for the first time, worked for Republic in multiple ways. With Hotstar being the largest OTT player, a presence here guaranteed reach and impact that was required to establish Republic on the Digital platform and lent it brand salience. Additionally, Republic was able to gain strategic insights from the platform, in terms of consumer behaviour on its content, and this was leveraged into the Digital strategies that went into its own digital platforms. Commenting on this association, Goswami says, "We launched with an innovative strategy on Hotstar and got one million people on Day 1. I remember that Star congratulated us for what we had achieved. It's not always about monetizing the content, but about making your channel and your product available."
Meanwhile, Republic has tied up with other OTT platforms, the latest being Sony Liv that has just come on board. "We have an extensive digital distribution strategy and our aim is to mirror our broadcast reach in a short period of time," Khanchandani says. Republic has also forged content partnerships with many media outlets, specifically regional players. These include partnerships with Asianet News, Suvarna News, Polimer TV (Tamil Nadu), OTV (Odia), News Live (Assam), and North East Live, amongst others.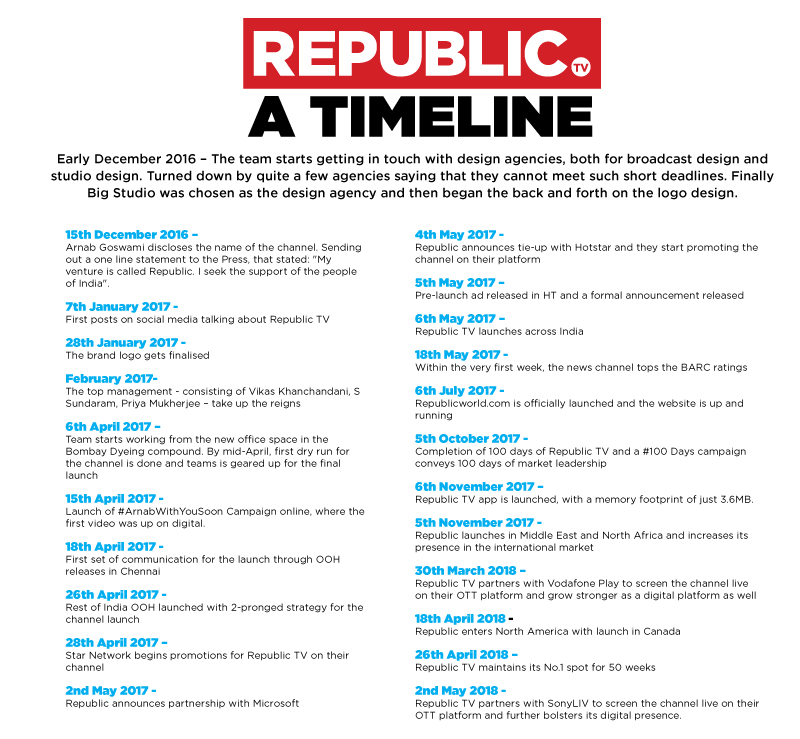 BUILDING THE REVENUE BASE
Republic TV's strategy to be a free-to-air channel means that with no subscription revenue at play, the focus is totally on ad revenues. Commenting on how revenues have panned out for the is the primetime show 'The Debate with Arnab Goswami' where Republic TV clearly has an advantage. Media sources indicate that for Goswami's own shows, the current rate would be around Rs 25,000 -30,000/10 seconds while the prime-time shows on other channels would command approximately between Rs12,000 –14,000/10 seconds. A media buyer mentions that with the launch of Republic, other English news channels that never negotiated earlier and had fixed rates are now slowly coming around.
Besides advertising revenues, Republic is betting big on Digital to increase its revenue base. Explains Khanchandani, "We are not taking the traditional publisher approach and have greater focus on video content, brand integrations and sponsorship. Since Q4 FY18, digital revenues have gained traction. 2018 is critical for us with regards to digital reach and revenue growth."
Reiterating this thought, Sundaram says, "Given the fact that this is our first year, our revenues are naturally skewed to FCT, which was the almost 90% contributor with the balance contributed by Branded Content. As a revenue segment, Branded Content has started seeing traction since January 2018. The share of Digital in our overall revenue pie is quite small during our first year."
"We had to navigate the market expectation and set the pricing year, S Sundaram, Group CFO, Republic says, "Our revenues over the last 10.5 month period surpassed our internal projections and in terms of Q0Q growth, we saw an average 20% growth in the first two quarters and remained relatively flat in the last quarter in sync with the normal seasonal slack."
As per a BARC report, 'Breaking the News Story', the news genre contributes 8% to total TV viewership, but English news is very niche in India, and accounts for only 1% share of news viewership at an all-India level. In this small space, Republic TV has managed to make an impact where the buying is qualitative and having the star power of Arnab Goswami has helped get advertisers, particularly male-skewed advertisers, on board. Media sources say that while the ad rates for Republic TV's non-prime time and prime-time slots are at par with other news channels, it norm and more importantly, to build the long-term market, acceptance for the same. We believe that our first year performance, from the standpoint of both viewership and revenue earning, denotes that the channel has been uniformly well received by the audience, advertisers and the media agencies across the value chain. We are confident that this will sustain us in future."
Khanchandani says that in a short span of six months, Republic has partnered with corporates such as Facebook, Ola, DHFL Pramerica, Sharp, Phillips, Apollo Hospitals, etc., on various strategic branded content partnerships which fall under the gamut of 'Better India'.
In addition, with the focus on innovative solutions, Republic has made several strategic media partnerships with brands such as Elecrama, Outlook, BusinessWorld, Institute of Directors, Alt Balaji, etc. Its most recent announcement was a partnership with What's Your Problem (WYP) as a content agency and partner to drive meaningful solutions for brands. "We feel these partnerships will help us create innovative ideas in the branded content space and give the clients a better ROI. This is the first of many steps towards creating a one-stop solution for brands," says Khanchandani.
THE FUTURE: DIGITAL & MORE
For Republic, the future is Digital. Its mobile-first digital destination, Republicworld.com, was launched in July last year and this was followed by launch of the Republic World app in November. Goswami claims that in the month-on-month growth in Digital, it has been over 100%, both in terms of engagement and page views.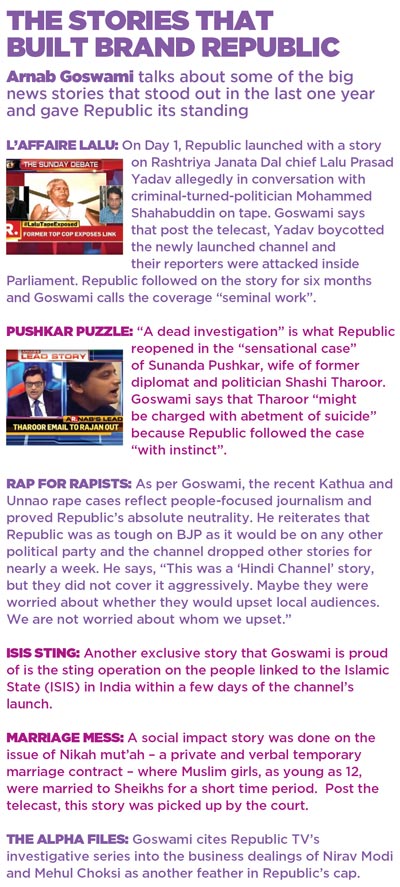 The company is now looking to unleash "a new digital first strategy" this summer with the focus on rolling out new products. Goswami says, "We have a very innovative video and distribution strategies for digital. That is going to be the next game. By August/ September we would have a very integrated approach on both television and digital." And just the way Goswami disrupted the English Television news space first with Times Now and then with Republic TV, it seems that the mission now is to disrupt the Digital news space. "The legacy players in digital should get the same kind of competition that we gave to the legacy players in TV. They are sitting on a first-mover advantage while creating nothing innovative on their individual platforms. They migrated from Print to Digital with essentially the same product and what they give in Print is what they give on Digital. I don't see any innovation there and that's where we will move in smartly," Goswami says.
The company is also looking to forge partnerships with other regional channels to build strong collaborative models across other media platforms like Print and Radio. Says Khanchandani, "We will build a strong digital business through multiple strategies which will help us become the largest and most trusted news video platform in the country. Republic and R. have built significant equity and identity as brands in a very short period and I see no reason why we cannot expand the opportunity beyond our current news business."
Goswami is upbeat when we talk of the company's expansion plans. "We are going to grow into a big network. The question is how and when and in which markets, which languages, and on which mediums. We are firming up our plans. And when we expand, we will do it fast. However, I will never go outside news. I won't make the mistake that others have made," he declares. "Republic has a recognizability that is pan-Indian today. Our expansion will have to be a planned strategy. Many people like to grow their networks to have a political voice or be influential in certain regional markets. As a media entrepreneur, I and my team have absolutely no such ambitions. We will grow where the market is and where we feel aligned editorially and in terms of business."
Goswami's ultimate ambition, which he has repeatedly spoken of, is to create a world class news organization. "Eventually I want to launch a player at the global level. The question is, when I do it. That is on top of my mind. I see all of this as a stepping stone towards one day serving global news to the world," he says.
'At the end of the first fiscal, our objectives have been met...'
Vikas Khanchandani, CEO, Republic talks about the growth of Brand Republic and why the focus is on cost as much as on revenues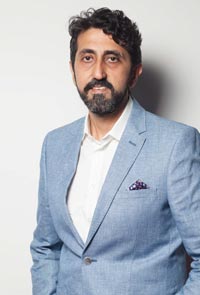 Q] This is the third time that you have been involved in building a business ground-up, after NDTV and Aidem Ventures. How would you describe the experience of setting up Republic TV?
I feel blessed to have experienced some amazing journeys working with building businesses ground up. With NDTV in 2004, we built a new marketplace especially with English news and that was exciting. With Aidem Ventures in 2010, it was about stabilizing and then building a strong services business and creating new business opportunities within technology and Digital. Republic has been one of the most exciting opportunities thus far, where I get to be part of a young, charged and driven team that keeps pushing the boundaries. I feel completely empowered to build the business with a talented bunch of colleagues and we look at opportunities as intrapreneurs. Republic has been one of the finest television launches in the country and the first year has been exhilarating. Our successful start has given us a significant heads-up and a strong base that will help us build a profitable business.
Q] Tell us about the growth in revenues and viewership?
Post launch of Republic TV, the average weekly English news genre viewership increased by 41% as compared to the 11-week period before launch, according to BARC. Republic TV broke records in the first week of its launch, and has retained its Number 1 ranking for the past 51 weeks. As a new entrant, Republic TV had to convert the audience affinity for Arnab Goswami into a sustainable news channel in the broadcast space. At the end of our first financial year ending March 31, 2018, which was a period of 10.5 months; our objective has been met. In terms of revenue size from commercial airtime sans content projects, the channel is the new leader in the genre.
Q] In terms of ad-rates, where are you placed compared to competition?
Our advertising rates are premium and commensurate with the performance of the channel. Our flagship shows, 'The Debate with Arnab Goswami at 9' and at 10 pm along with his weekend shows are monetized as impact properties and deliver a massive 50-70% market-share, thereby helping brands build visibility without having to spread their investment. We have a large gap between us and our competitors on performance and pricing. A large part of our advertising deals were long term and we have seen significant growth from last year's investments.
'I am far more reflective today, and hopefully a more mature person'
Arnab Goswami's desk is adorned with a framed picture of freedom-fighter Bhagat Singh presented to him by his son, a caricature of Rahul and Sonia Gandhi's agitated reaction to the former's famous interview with Goswami and a hand-written, framed copy of Republic TV's first ever ratings, which shows the channel at the top. While these give a glimpse into the persona of Goswami, he says that launching Republic has made him a more mature person. He also says that Republic has made him reflective and upped his ability to delegate better. Here are excerpts from a conversation with Goswami.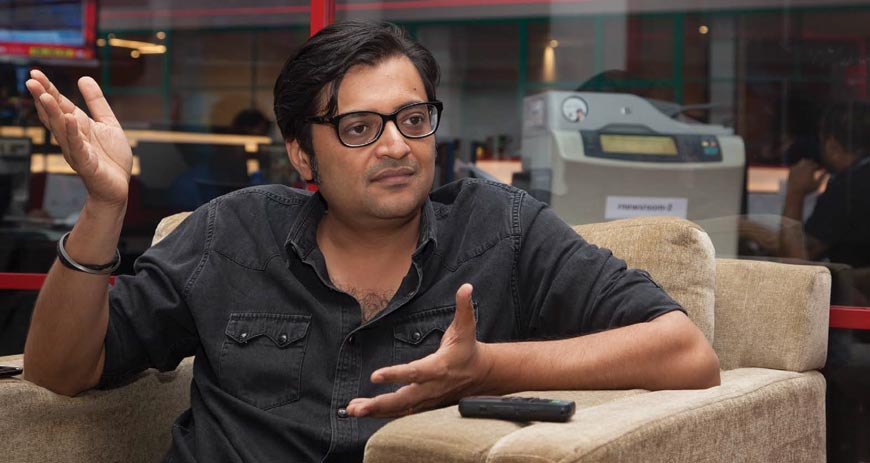 Q] If you were to give yourself a progress report on the completion of one year of Republic and Republicworld. com, how would you rate yourself?
I would give ourselves 9 on 10. There is always the 1 for what you could have done better. But, there hasn't been a launch like this, and it's also proof that good content works. We have had many more exclusives and put out an exclusive news report every 24 hours. We were Number 1 in election coverage, for example, during the Gujarat elections, and highly watched even during the Budget. We are very solid both during prime time and non-prime time. There is a lot of excitement about where we are going to go in Year 2, and the new things we are going to do.
Q] Republic TV and you have been in the news right since you revealed the channel's name; then came the news about the investors and conflict of interest; criticism from other journalists; people resigning from Republic on supposedly 'ethical grounds' and even people refusing to come on to your panels...You are the newsmaker. Your comment?
The fact is that we have been supremely successful and when you are successful then even drinking a glass of water in your office becomes news. All of this was a function of people trying to feed off on our name; unknown websites and entities would do stories on Republic or on me and hope that they get some hits, but beyond that it really doesn't bother us because we have been too busy working. Our focus is on our business, our product, our channel and what we will do digitally. As for our shareholders and investors, we are the only channel whose share-holding is in the public domain. Asianet has a share-holding of about 15.5% and my holding company (ARG Outlier Media Private Limited) controls the rest. That's as independent a news organization as there can be. It actually clearly proves that we not only editorially but also financially control the organization.

Q] There is a perception that Republic TV is proestablishment... how would you respond to that?
That's complete rubbish because nobody has been more critical of the Government than us. In fact, Kathua and Unnao (rape cases) would not have been national issues had it not been for the manner in which Republic went after the ruling dispensations hammer and tongs, both in Jammu & Kashmir as well as in Uttar Pradesh, both areas where the BJP is in power. We have had the most independent coverage on all these issues. That perception has no basis.
Q] What is your take on the I&B Ministry's recent circular on fake news and then withdrawing it at the PMO's behest?
Fake news is a problem area and if anybody says that fake news is not a problem it will be wrong. Also, what's happening is that there are certain digital news organizations, with clear political funding, who call themselves fake news busters; that's not right. If there is direct and indirect support from a politician or a political lobby, then you can't be independent and call yourself fake news busters. However, the way the I&B Ministry was looking at it, it wasn't the right way. I have not seen the note in detail, I am no fan of that note, but it was one page out of some recommendations. I haven't read the whole set of recommendations in detail.
Q] How do you maintain a work-life balance?
There is no balance! However, I am taking Sundays off now, which I didn't take during the first six months. But, have I been able to take 3-4 days off together? No. I have taken two days at the most. But, it's a startup, it's a big place, it's grown so fast. What can one expect? It's all work, but I really enjoy what I am doing and I am really immersed into it. I have become more a student here at Republic. I have understood that there is so much more to understand about people's responses to news, what works and what doesn't. In the last few months, we have just been assessing what to do next. I usually need two new things to do every year. In the last 12 months, I have done only one. So, I am getting fairly restless. In the next six months, I will do a few new things and create new brands and products.
Q] What is different about the Arnab of today compared to Arnab a couple of years ago?
I have fulfilled phase one of my dream, that's the difference. I feel very responsible as an entrepreneur. I think I delegate better now and have realized that my organization's growth will be dependent on mine and the team's ability to think strategically. I am very grateful today for what we have achieved. My whole team also feels a sense of gratitude and a blessing, because this does not happen often. We did not have some large mega bucks or mega organizations backing us and I feel very blessed that we have been able to do it. The best thing is that we have proven that we are not a flash in the pan and are a steady, growing player. One thing that I have learnt is that nothing can defeat a bunch of professionals who are driven by a honest spirit of enterprise. Secondly, there is space for new players to come in. There will be resistance from the older players, but nobody owns the media. All of this bunched together, I think, have made me far more reflective and hopefully a more mature person today.