E4m- Xaxis has released a report on the state of programmatic advertising in India and what to expect from it in the upcoming year. The report highlights the big programmatic disruption in the new age media and how more and more marketeers, legacy and new age — are warming up to the technology. MediaRadar observed in September 2020 that despite an industry-wide initial decline following the early negative impact of COVID-19 on the advertising sector, programmatic advertising saw a significant rebound. The nature of programming has proven to be both resilient and adaptable during the worldwide pandemic. As per the report, the programmatic ad spends increased year on year by 11% between April and July 2020, while there was a 36% increase in programmatic ads in July 2020 when compared to January 2020.
Businesses of all kinds, especially small- and medium-sized enterprises (SMEs), appear increasingly interested in pursuing the targeted and data-driven tactics that programmatic can provide. There have already been many discussions about data and how the deprecation of third-party cookies will allow the media sector to develop. Many experts are now looking at new methods to help companies reach their desired audiences.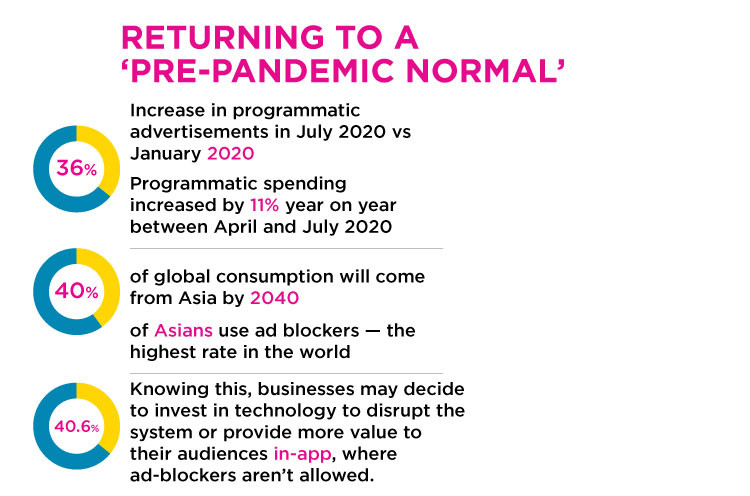 TRENDS FOR 2022
At the start of 2021, Xaxis predicted that the pace of transformation to digital-first ways of doing business will accelerate drastically. The coming year is expected to be full of exciting advancements in the programmatic media space. In consultation with Xaxis' community of programmatic experts, the ten most significant trends have been listed below. These trends will undoubtedly pave the way for brands in 2022.



The pandemic push
The pandemic accelerated the digital revolution in the country and as businesses increasingly turned to digital, programmatic spending skyrocketed, particularly among FMCG and e-commerce companies. Overall programmatic investment has almost doubled this year, says the report.
It highlights how with the rise of internet usage, several technology options may help companies increase the return on their media investments, such as manual channel filtering using keywords and other programmatic targeting solutions that guarantee all campaigns are in a secure environment. Because media planners work across platforms such as gaming and OTT, they should tailor brand fit and safety to protect brands from ad fraud and limit campaign costs above a certain threshold.
Today, new channels are driving programmatic growth in India rather than just shifting spending from one pocket to another. Platforms like online gaming have been fast to develop as media channels, particularly in 2020. Many customers are transitioning from OTT consumption on smartphones to OTT consumption on connected TVs.
Importance of first-party data in a cookieless world
The report also emphasises on the importance of first party data with third party data being deprecated across the world owing to industry challenges and changes. Also with Google's third-party cookie expiry date set to be 2023, the ad industry now has more time to experiment with alternative tracking and targeting approaches. This extra time is crucial for evaluating new creative optimisation tactics that are user-centric and privacy-focused. Brands thinking ahead of the curve are already taking advantage of this opportunity. In the cookieless future, first-party data is and will continue to be vital; nevertheless, it may be beneficial to consider second-party data collaborations to bolster a brand's data offering.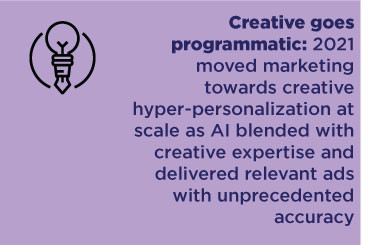 Within the advertising mix, programmatic has been a positively disruptive factor. And as more businesses direct their advertising dollars to this service, it is no surprise that programmatic is dominating the digital advertising landscape. Some reasons which have made it so popular are—the ability to target the consumer outside the search engine, real-time information and personalisation.
5G and growth of e-commerce
The e4m-Xaxis report elaborates on how growth of e-commerce advertising in the country has further propelled growth of programmatic advertising. In India advertising on e-commerce platforms' owned and operated properties is valued at Rs 100-200 crore. This is the amount spent on digital advertising rather than recorded brand fulfilment. Collaborations with e-commerce demand-side platforms (DSPs) have yielded promising results. Some e-commerce sites, like Amazon and Flipkart, have developed their own DSPs similar to Google in the past six months. Both platforms have provided a good Return On Ad Spending (ROA). They enable brands to launch a campaign and target consumers who aren't on an e-commerce platform.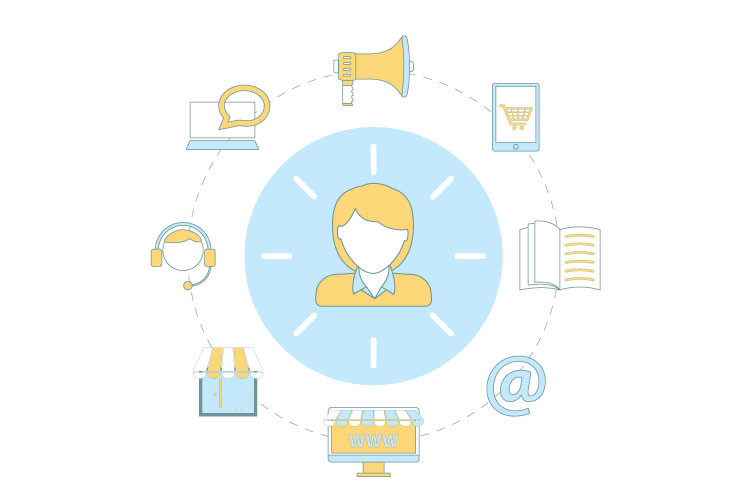 TRENDS FOR 2022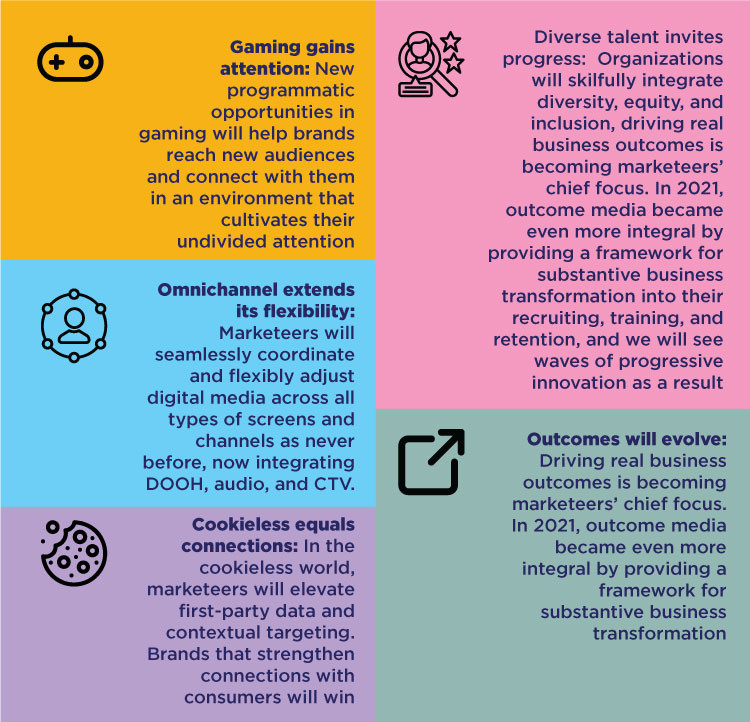 India is already a mobile-first market, and this trend is expected to continue as network performance of 4G and 5G improves. Because of technological breakthroughs and reduced latency, sophisticated features such as AR and VR will load quickly, and interactions like visual search, social media lenses, shoppable media, and immersive gaming formats will all be available soon. Ad formats such as interactive video, conversational audio, and voice search foster genuine, intent-based interactions and consumer connections. Hence, the massive potential for driving creative ideas across all channels — video, music, gaming, and commerce.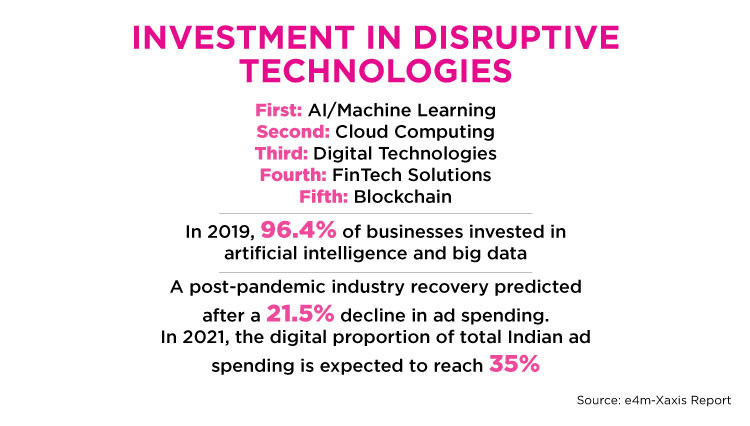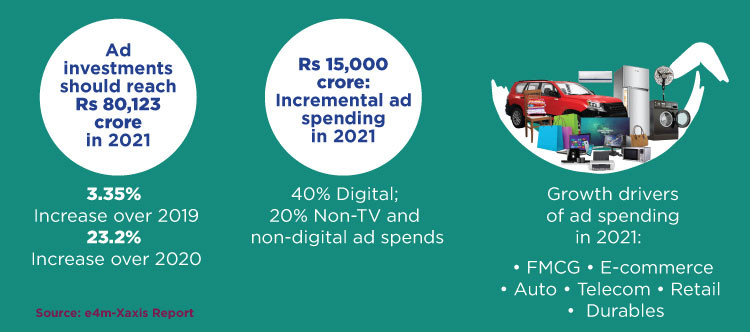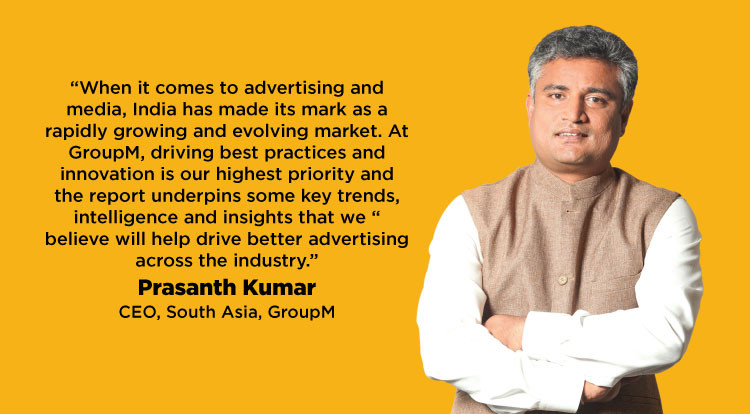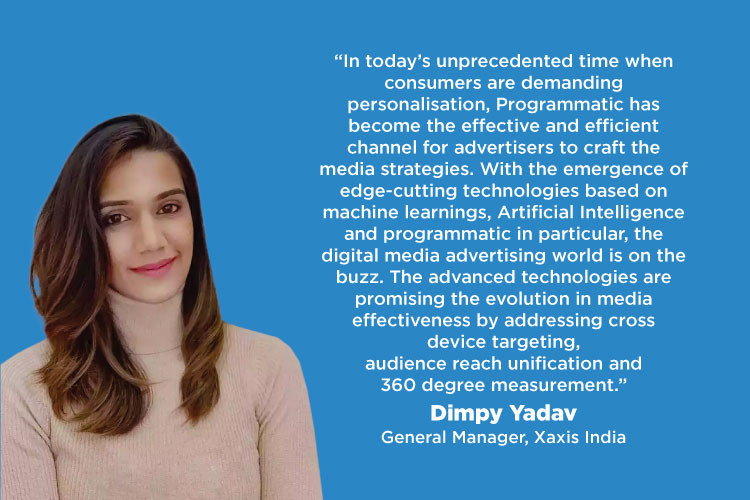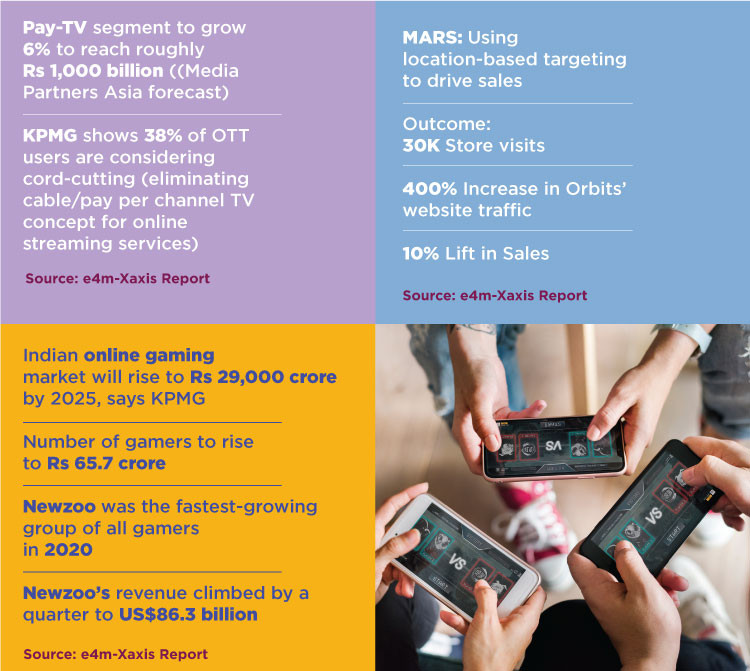 Privacy Laws
Programmatic advertising, which involves efficiently and intelligently buying ad inventory and placing ads with technology, is one method of reaching out to new audiences. While this provides marketeers and advertisers with significant ability to build their businesses, it also raises pertinent questions regarding consumer data protection. It is important for organisations to begin their preparedness efforts to include privacy as the foundation of their processing activities as soon as possible and some of the best practices to consider are transparency, consent and purpose limitation.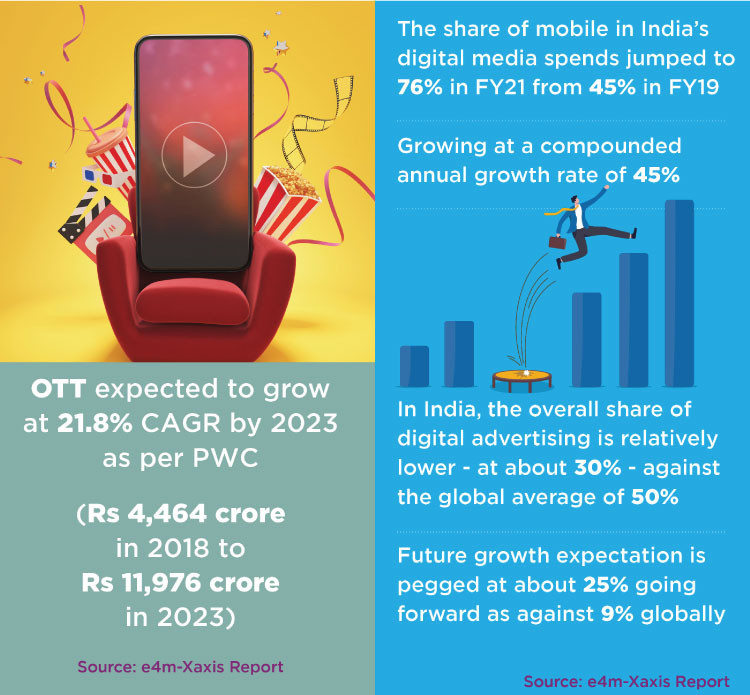 Programmatic Advertising and the year 2022
Many upcoming digital advertising trends will impact the migration to programmatic buying and assist brands in maximizing the returns on their media investments. For example, omnichannel advertising and programmatic tech can be used to customise ads for different devices that the consumer uses; digital audio can entice listeners and establish a sense of intimacy, while with dynamic DOOH content that can adjust to triggers like weather, traffic, store-level inventory data, programmatic DOOH is paving the way to help advertisers. Similarly ad fraud prevention, contextual targeting, artificial intelligence, personalisation and growth of OTT can have a significant impact on the proliferation of programmatic advertising in 2022.