AdEx has collapsed by as much as 65% because of COVID-19 in Q2. Significantly, AdEx had also contracted by 8% in Q1. In absolute terms, it means an unprecedented drop of almost Rs 14,000 crore from Rs 35,110 crore in H1'19 to Rs 21,298 crore in H1 2020. Drops are much higher for traditional media

While the Government of India has done an excellent job of controlling the pandemic in India, the unfortunate consequence has been the collapse of the Indian economy and AdEx.

Both these factors are well known; perhaps what is not so well known is the extent of the carnage in Indian AdEx compared to the rest of the Indian economy, and that Indian AdEx had, in fact, de-grown in Q1 even before COVID-19 hit the economy.

Our mid-year report estimates that in 2020 H1, total AdEx has de-grown by 39% and the traditional medium has de-grown by 47%. However, the drop is significantly higher for Q2, when AdEx de-grew by a whopping 65%. Also, traditional media de-grew by as much as 71% in Q2.

Television and Digital seem to be bouncing back in June and July, but other mediums like Print, Cinema and Outdoor have not been so fortunate.

Last year for Television, the Indian Premier League (IPL), ICC World Cup and Elections in Q2'19 contributed around Rs 3,000 crore (34% to the TV AdEx in Q2'19). However, the pandemic removed both these money-spinners from the AMJ quarter this year, which has added to the decline.

In absolute terms, AdEx has de-grown from Rs 35,110 crore in H1'19 to Rs 21,298 crore in H1 2020, a drop of almost Rs 14,000 crore. AdEx has not seen a drop as dramatic as this, in anyone's living memory. Traditional media de-grew by more than 40% in H1.

Digital media, the reigning driver of growth of AdEx in recent years, too suffered, but got by with a mere 7% de-growth.



In AMJ '20, Print de-grew by almost 80%, Radio by 90% and Cinema and OOH recorded virtually no billings. Digital, both in H1 '20 and Q2 '20 now accounts for as much 30% share of AdEx, versus 23% share in 2019, making it easily the second largest medium after TV. Television continued to lead the pack with a share of 38% in H1.

In AMJ'20, TV and Digital together account for 80% market share while Print registered a mere 18% share. Radio came down to 1%, and OOH and Cinema were virtually 'nil'.

For Indian AdEx, the months of April and May were the worst ever when TV suffered despite breaking records in viewership and time spent by audience, notwithstanding the dearth of original content.

Even lucrative discounts offered by many broadcasters failed to bring advertisers back and we saw more than half the usual number of advertisers disappear from Print and Radio and a quarter from TV compared to normal times, in these three months.

In terms of category growth, while every category shows a drop, Telecom, Travel, Clothing, Fashion and Durables were the worst hit. FMCG predictably showed up to be most resilient and its share moved up to 38% compared to 33% it had in the full year 2019.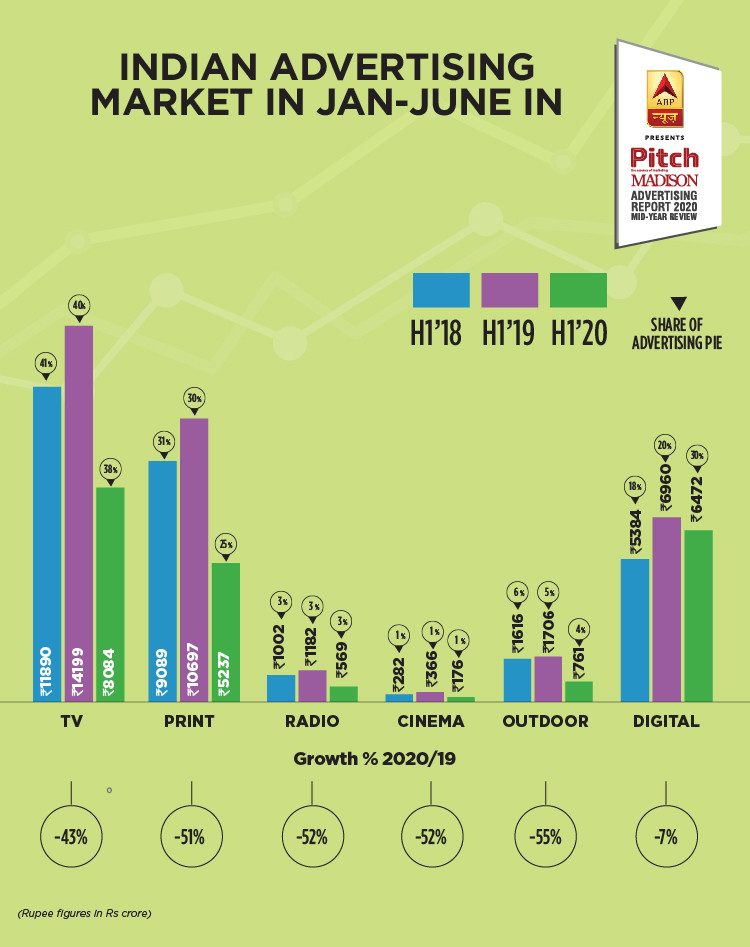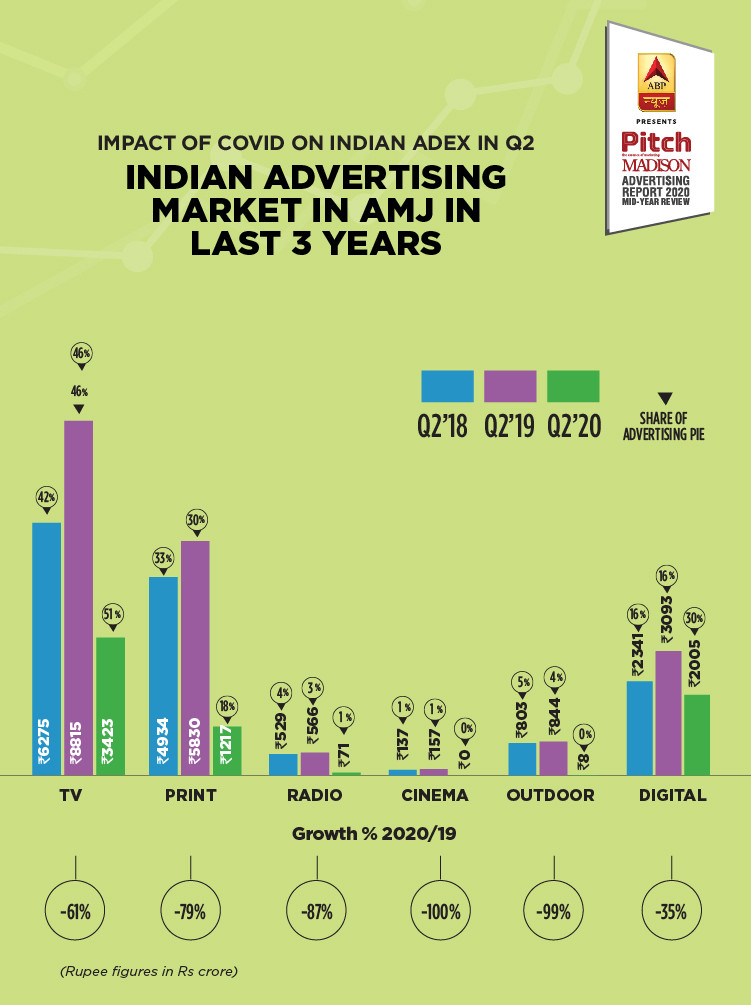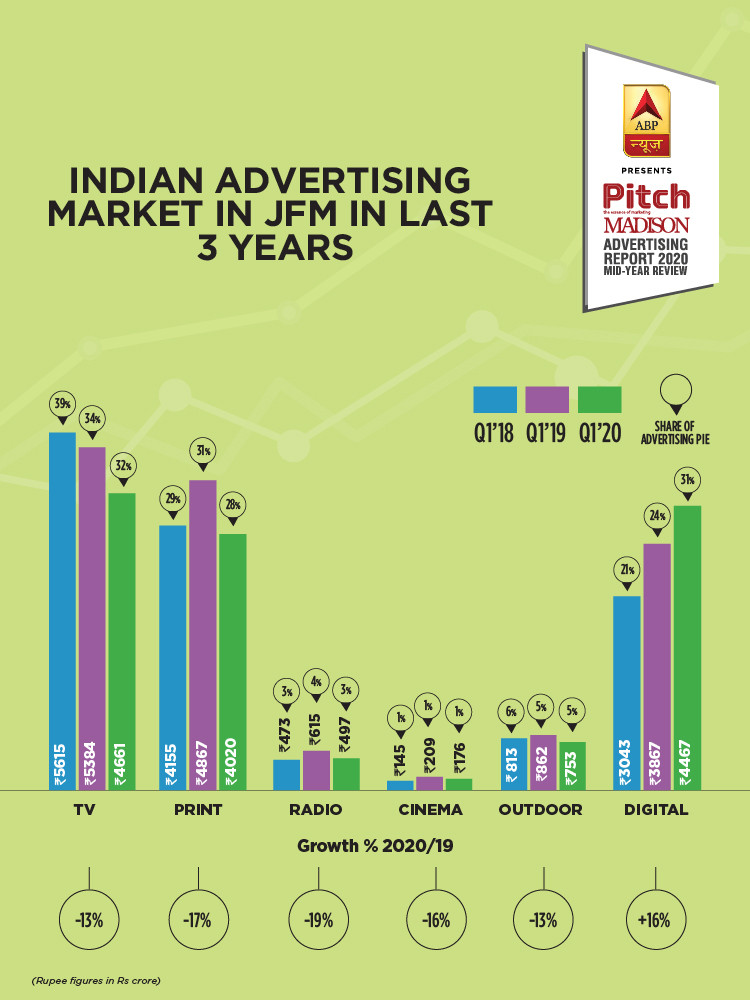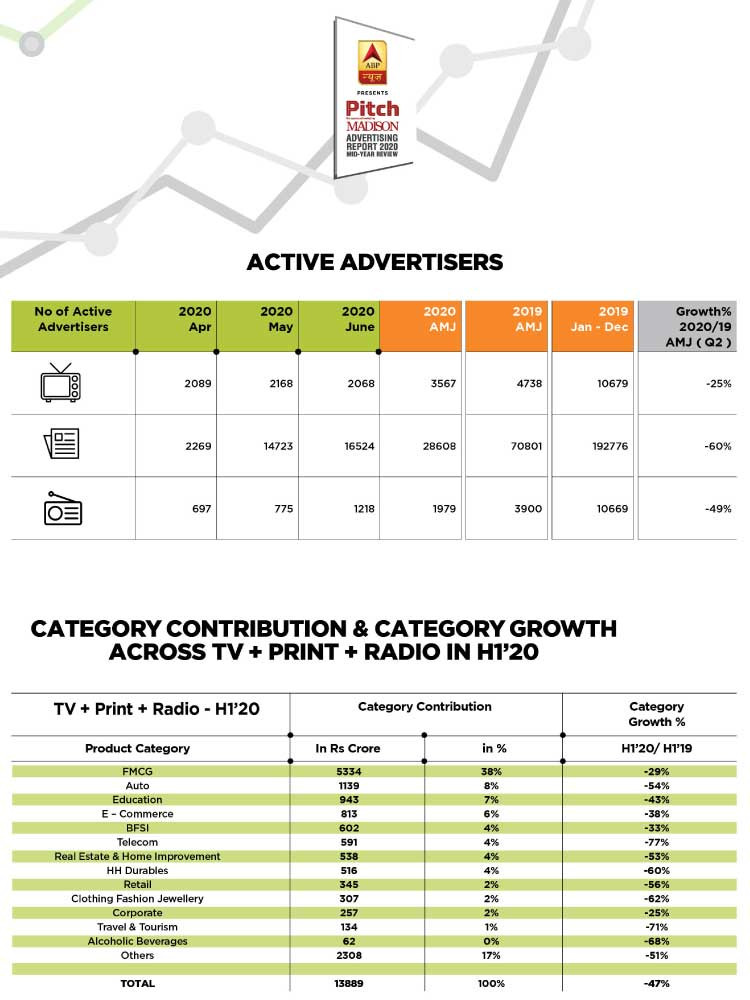 LEAST DAMAGE. QUICK RECOVERY
It is no consolation to our TV media barons that the medium suffered least damage among traditional mediums in H1 '20. However, what should bring cheer to them is that TV was the first to show signs of quick recovery – though TV dropped by more than 40% in H1'20 with a total AdEx of Rs 8,084 crore, it registered a share of 38% of the advertising pie

Understandably because of the enforced lockdown and work-from-home policies, the AMJ quarter '20 has seen a spike in TV consumption despite there not being original content on TV.
However this rise in viewership has not translated into TV AdEx.

Unfortunately, the close-down of the economy did not enable broadcasters to monetise this increase in viewership. TV AdEx dropped more than 60% in Q2 '20. It is significant that the FCT drop on TV was much less. This disparity is primarily due to the fact that broadcasters offered handsome discounts to large and regular advertisers.

This de-growth is not only because of absence of tent-pole properties like IPL and World Cup. Even without them, the drop in Q2 '20 over Q2 '19 was as much as 42%.

The sharp drop is on account of the fact that many advertisers, 1171 to be precise, skipped advertising altogether and many large advertisers who continued to advertise brought down their advertising budgets.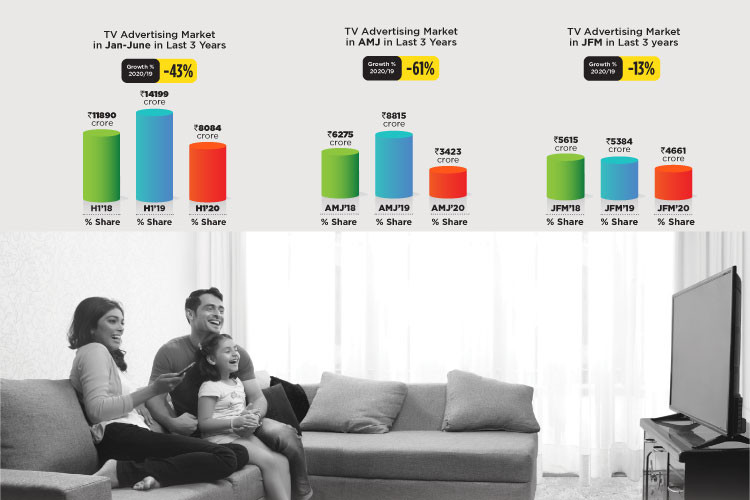 TV has been the first to get off the block and June has brought in cheer for TV AdEx, signifying that some categories cannot afford to stay away from TV advertising for too long to sustain their shares and for fear of losing share to competition.

This is also an indication that advertisers have confidence that demand will revive and advertising can play a big role in fuelling it. This revival has sustained in July and indications are that it will do so also in August.

It is also significant to note that TV AdEx in JFM quarter, pre-COVID, registered a decline of as much as 13% in Q1'20, which does not reflect well on the state of our economy, pre-COVID.
As a result, TV dropped by more than 40% in H1'20 with a total AdEx of Rs 8,084 crore and registered a share of 38% of the advertising pie, though its share was as high as 51% in Q2 '20, because of absence in spends in other traditional media.

FMCG increased its dominance in TV AdEx with a share of 56%, higher than the 2019 figure of 49%. This is primarily due to increase in advertising by newer COVID categories in personal hygiene, such as sanitiser, hand wash liquids, disinfectant sprays and multiple products related to immunity building.

E-commerce including OTT and other social media platforms also contributed to 8% in the overall TV pie.

Interestingly, every category showed de-growth in H1'20 with highest drop being witnessed in Travel, Tourism, Telecom, Beverages, Auto & Durables. The least drop was observed in FMCG, Corporate advertisements and e-commerce.

An analysis of FCT beamed by various genres shows that all genres have de-grown by at least 10-20% in H1'20 and some like Music de-grew by 44%, English Movies by 41% and Kannada, Tamil and Telugu languages by around 16-25%. This drop is much higher in Q2 '20.

Interestingly, average commercial duration (ACD) during COVID period was 25 seconds, which is highest in the last many years, as ACD was constant at 23 seconds since 2010.

News is one genre that gained maximum attention amongst audiences and TV advertisers for obvious reasons. In fact, in Week 1 of lockdown, TV news viewership increased by 250% and came down in June when it registered an increase of 75%.

Despite this impressive viewership performance, ad volume on News genre dropped by 10% when compared with Q2'19. One must remember, though, that Q2'19 saw advertising by all political parties because of Elections and Governments ads had also shot up in this period.

Sports as a genre, which predictably has been missing in action because of the lockdown, should see action resume with the announcement of IPL in September. Though IPL should attract its usual advertising, it is likely to cannibalise pre-Diwali advertising on GEC channels, including its impact properties.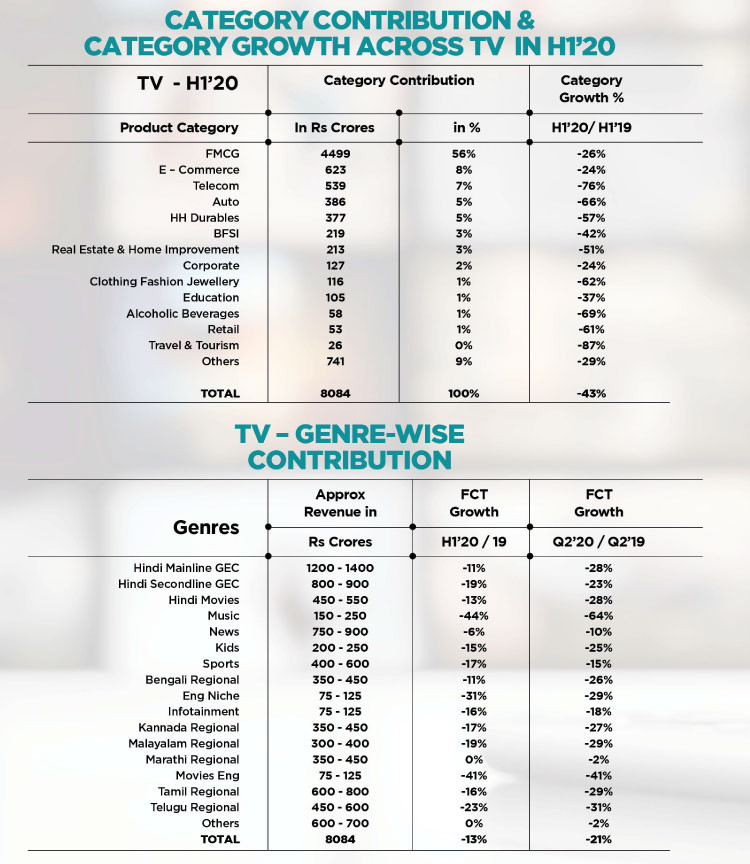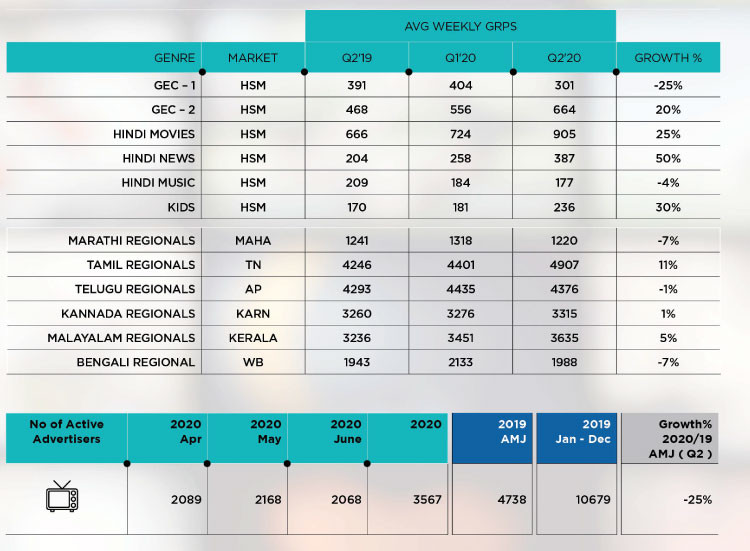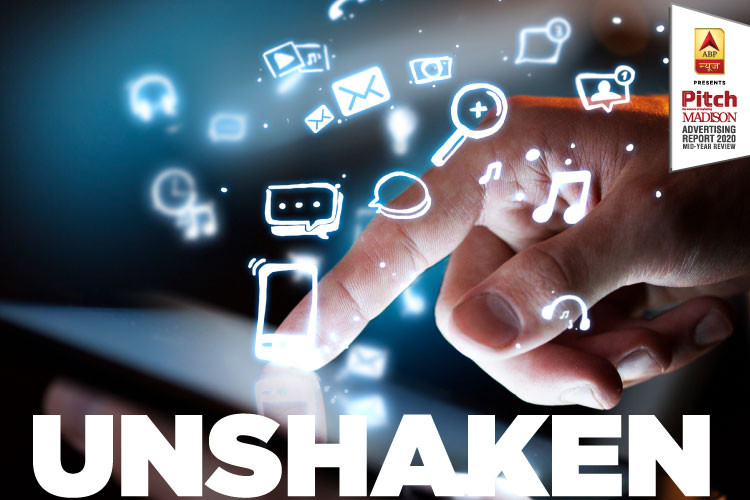 Digital suffered a minor contraction of just 7%, even as all the other mediums suffered a drop of 40-55%. Digital is also the only medium to grow by 16% in Q1 2020, when all others registered a double-digit drop. In absolute terms, Digital AdEx in H1 20 stood at
Rs 6,472 crore, commanding a 30% share of AdEx, firmly displacing Print

COVID-19 has shown that nobody can escape its wrath, not even Digital AdEx, which has had a meteoric rise from Rs 1,535 crore in 2011 to Rs 15,467 crore in 2019, growing its share from a meagre 6% of AdEx in 2011 to a dramatic 23% in 2019.

It must be said, to the credit of Digital AdEx, that the dent has been relatively minor in H1, with a de-growth of just 7%. This 7% de-growth must be seen against the de-growth of 51% in Print and 43% in Television in H1 20. In absolute terms,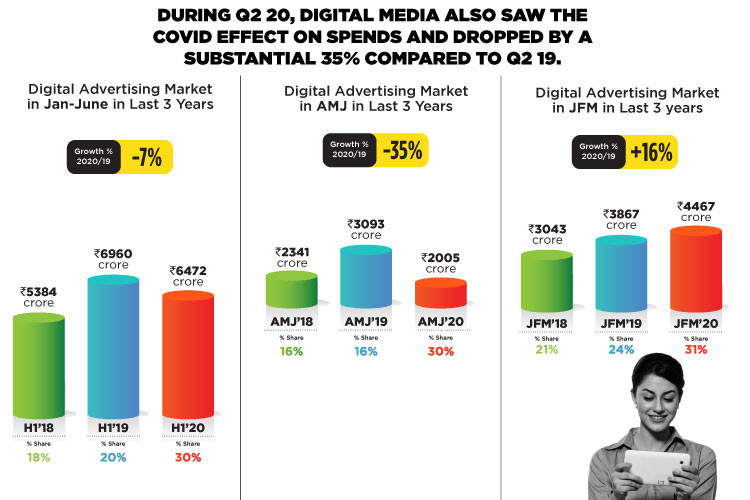 Digital AdEx in H1 20 in our estimates stood at Rs 6,472 crore, registering a 30% market-share and firmly displacing Print, which declined in share from 30% in 2019 to 25% in 2020 H1.
During Q2 '20, Digital media also saw the COVID effect on spends and dropped by a substantial 35% compared to Q2 '19.

Of course, this 35% drop must be seen in comparison to the drop of 79% in Print and 61% in TV compared to Q2 '19.
Looking at Digital AdEx by various verticals, we find that it is it is more or less equally divided between four major segments - Search, Social, Video & Display - with each contributing between 20% to 30% to the total.

While we saw an explosive spike in video consumption, this did not translate to ad spends and video only maintained its share of 30% of Digital AdEx, continuing to be the largest contributor. Video was followed by Social media which came in next with a share of 26%.

We have seen a spike in social spends in Q2 2020 as more brands used social platforms to maintain saliency in the absence of other traditional media. Interestingly, Display advertising took a sharp hit whereas Search maintained itself in third position.

E-commerce advertising platforms have made their presence felt, maintaining a 10% share. Affiliate networks have the balance.
Categories that have out-performed through COVID-19 period were EFGH
E – E-com, Entertainment, & Edu tech
F – Food tech, Fin tech, FMCG
G – Gaming, Groceries & Government
H – Health Tech & Health Care
Due to lockdown and fresh content on OTT platforms, it has seen a surge in user base and time spent, not only through mobile phones but also through connected TV. Interestingly, channels have started offering advertisers a combined deal for Video, covering both TV & OTT, as TV-plus, especially for their impact properties.



DISMAY

Print AdEx suffered not just because of lack of advertising money in the market, but also because of the lockdown, as newspapers could not be delivered to households. While most readers could lay their hands on the e-version of their favourite titles, widely in circulation over WhatsApp, quick monetisation of this phenomenon was difficult. In absolute terms, Print AdEx stood at Rs 5,237 crore in H1'20

The second largest medium in AdEx, Print suffered a major setback in H1 '20. Not only did Q2 see a drop of as much as 80% because of lockdown of the economy when newspaper distribution stopped in many parts of the country, but Q1 also saw a drop of 17% because of a slowing economy. H1 '20 in our estimate has de-grown by 51%.

In absolute terms, in H1'20 we estimate Print AdEx to be at Rs 5237 crore, of which Rs 4020 crore came from Q1'20 itself. Q2'20 saw only a marginal AdEx of approximately Rs 1200 crore.
As a result, the Print medium which has historically always contributed a minimum of 30% to the total ad pie, has dropped its share to 25% in H1'20. Its share in Q1 '20 dropped marginally to 28% but in Q2 dropped dramatically to 18%.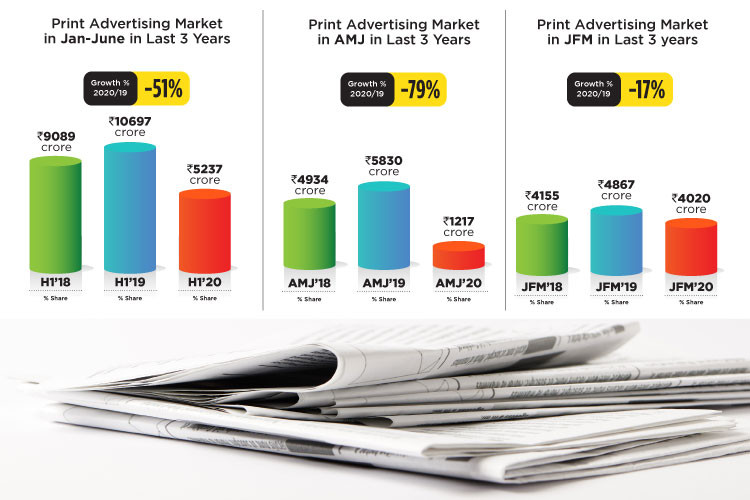 In terms of volume or space consumed, there is a 53% decline in H1'20 and 77% decline in volume in Q2'20 itself. Categories like FMCG, Auto and Education continue to be the main cash cows and contributed almost 45% to Print AdEx in H1'20 (38% in 2019).

Education, with 16% contribution, overtook FMCG as the largest contributor to Print AdEx, dethroning FMCG which came second at 15%. Despite the setback faced by the Auto industry in the market, it ranks third in contribution to Print AdEx at 14%.

Publications across languages show a drop in space consumed, of more than 50% in H1'20. English and Hindi publications continue to contribute close to 60% of the total volume like in recent years.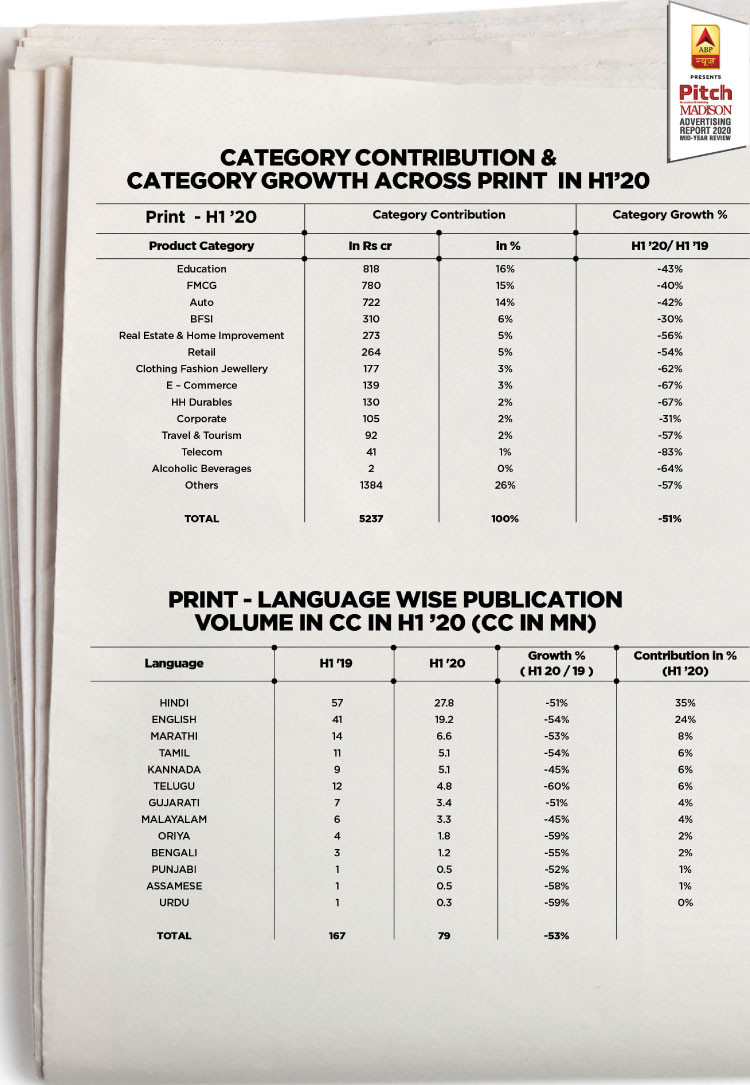 Weak Signals
Like other traditional mediums, Radio too suffered a 19% drop in Q1 '20 and a dramatic 87% drop in Q2 because of no advertising money in the market. In absolute terms, Radio AdEx stood at Rs 569 crore for H1 '20

Like Print, Radio has also been severely hit by the slowing of the economy in Q1 and by the lockdown in Q2. Radio AdEx in Q2 virtually collapsed, while billings dropped by as much as 87%. In Q1 too, AdEx dropped by 19%. The cumulative impact of the drop in both these quarters in H1 is that Radio AdEx has dropped to half its size, down by 52%.

In absolute terms, Radio AdEx stood at Rs 569 crore for H1 20 and in Q2 did business of just Rs 71 crore. With this drop, Radio's market-share in AdEx dropped to just 1% in AMJ '20 but it has held on to its market-share of 3% in H1 '20, same as H1 '19, other media also having dropped in size.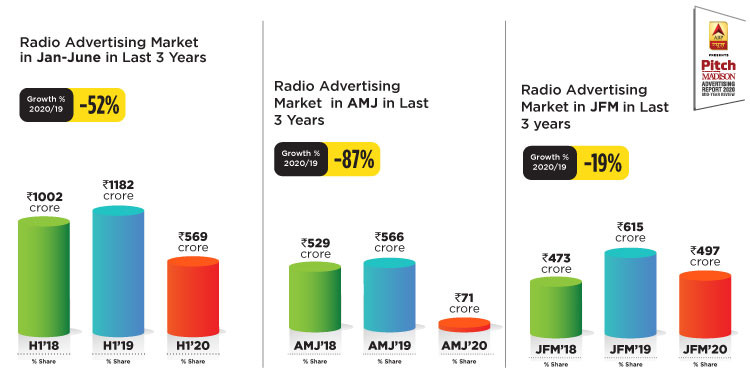 Category Contribution & Category Growth across
Radio in H1 '20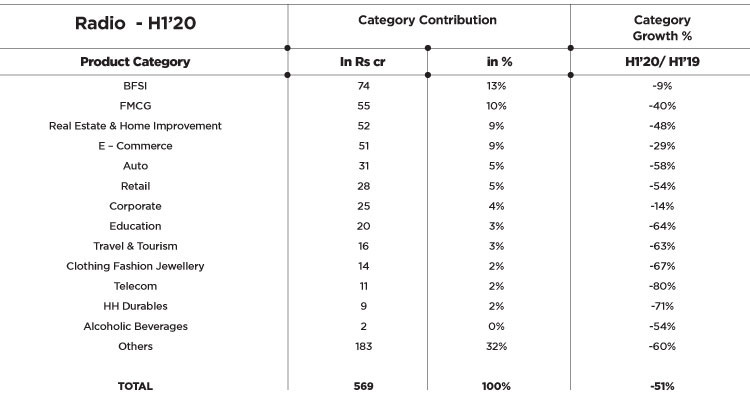 Like TV, Radio listenership too has increased in the last few months, but the Radio industry could not monetise this increase because of the lockdown.

Almost every category on Radio seems to have got affected by the lockdown. BFSI, Auto, E-commerce, FMCG and Real Estate stand out. In terms of category contribution, BFSI leads the pack contributing to 13%. Followed by FMCG at 10%.

In order to minimise the losses, most of the radio stations got into partnering with OTT music streaming apps and made their content available on these platforms. Many stations also promoted heavily their digital assets and extensively used social media to entertain people through digital concerts and live chats with celebrities.

Resumption of economic activities in Tier II and Tier III markets with Unlock 1.0 in June also attracted attention of some local advertisers to Radio advertising.


EMPTY ROADS
The months of April and May were characterised by empty roads, which predictably led most advertisers to avoid Outdoor altogether in Q2. In Q1 too, Outdoor had registered a drop of 13%. Overall, OOH advertising stood at
Rs 760 cr in H1 '20

The nationwide lockdown due to the pandemic has led to empty roads. Though this may have delighted photographers, who flooded Facebook and WhatsApp with rare sights of famous locations like Flora Fountain and Connaught Place which were much appreciated by viewers,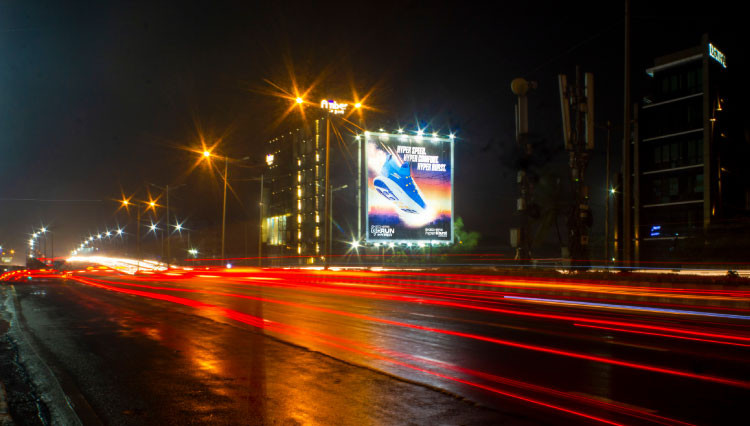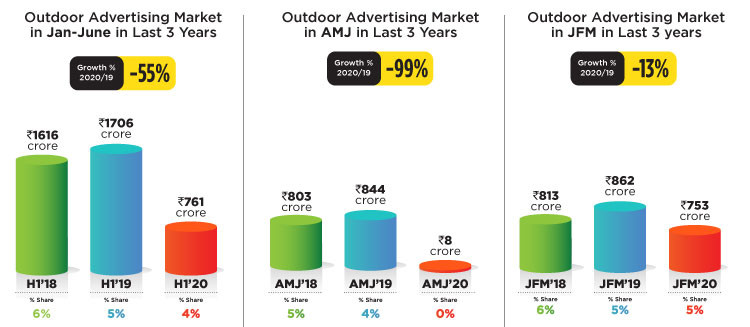 it proved to be the nemesis of the OOH industry. The pandemic has hit the core of the OOH business and the industry recorded almost nil billings in Q2, with some campaigns trickling in towards the second half of June'20. Even Q1 did not see very impressive business,

having de-grown by 13% in JFM '20 compared to the same quarter last year. Overall, OOH advertising in India declined by 55% in the first half of the year and closed at Rs 760 crore. On account of this, OOH's share of total AdEx, which has always been above 5%,

has come down to 4% in H1'20. While lockdown led to no spending on OOH, many municipalities mandated site owners to display Coronavirus awareness messages free of cost, adding to their woes.


BLANK SCREENS
Since Cinemas have remained shut since the start of the lockdown, this medium registered nil ad spends in Q2. It also contracted by 19% in Q1 '20, registering an estimated billing of just Rs 176 crore

The nationwide lockdown due to the COVID-19 pandemic, under which all cinemas were ordered closed, has brutally affected the medium which was trying its level best to break the 1% barrier for good. Cinemas have remained shut for over four months now and this has brought Cinema advertising to zero for Q2'20.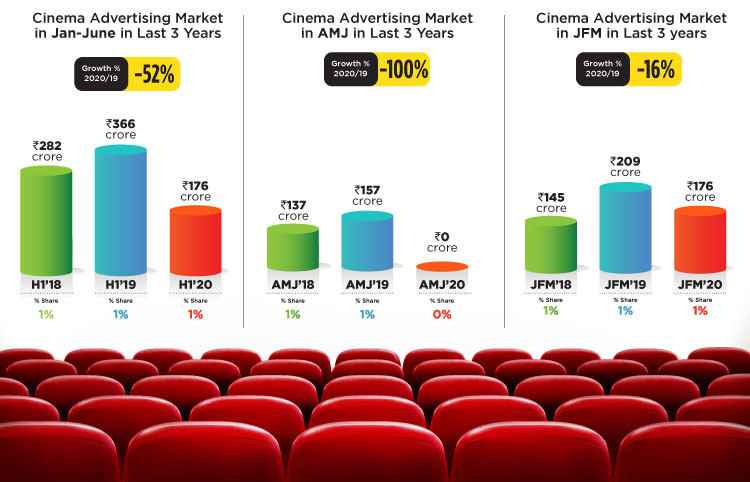 In Q1'20 too, Cinema put in a lacklustre show, AdEx having dropped by 16% to end Q1'20 with an estimated billing of just Rs 176 crore. With Q2 '20 being nil, AdEx in H1'20 dropped by 52% as compared with H1 '19.

Even today, Cinemas remain closed and indications are that when they open, they will be allowed to operate at only 25% capacity for a few months, which will no doubt add to the miseries of cinema owners who have invested substantially in expensive real estate,

buildings and equipment and the entire Bollywood and regional Films industry, considered to be the largest in the world. Cinema's pain has been OTT's gain, with some films having taken the plunge to cut their losses or sacrifice their profits by launching on OTT.




H1 '20, OUTLOOK H2 '20 AND FULL YEAR '20

Back with a vengeance
We expect AdEx to recover in H2 '20 and grow at a dramatic rate of 60-72% of the collapsed H1 or grow 6-13% versus H2 '19. This will lead to overall AdEx in 2020 contracting by 14-18%, and its value to be pessimistically just over the 2017 level or optimistically a little below the 2018 level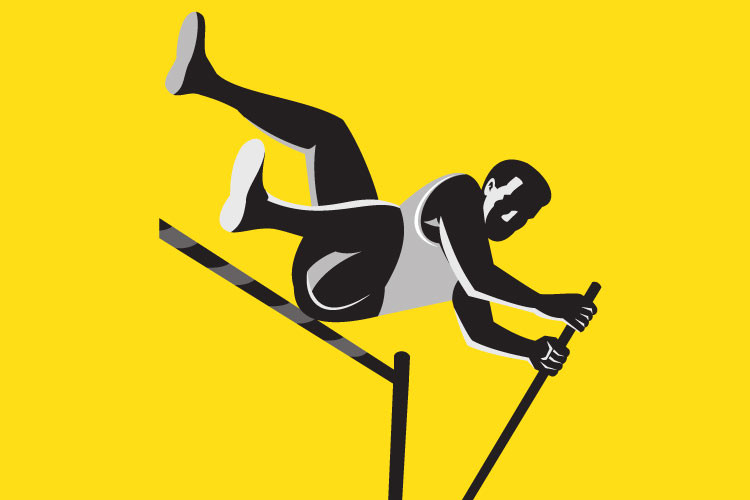 While TV and Digital have shown early signs of getting back to normalcy and should get back in full form by September or October, aided by the launch of IPL, Bigg Boss and KBC, we believe it would be foolhardy to put out a specific forecast for H2 and thereby a full year forecast for 2020, as has been the practice in all earlier Pitch Madison Advertising Reports.

This is especially true because Radio, Outdoor and Cinema have not yet shown signs of coming back to normalcy.

H2 AdEx will primarily depend on demand coming back in markets which will depend on sentiment and consumers' outlook of the immediate future, which in turn will depend on when Government and private offices are allowed to open and work on regular basis.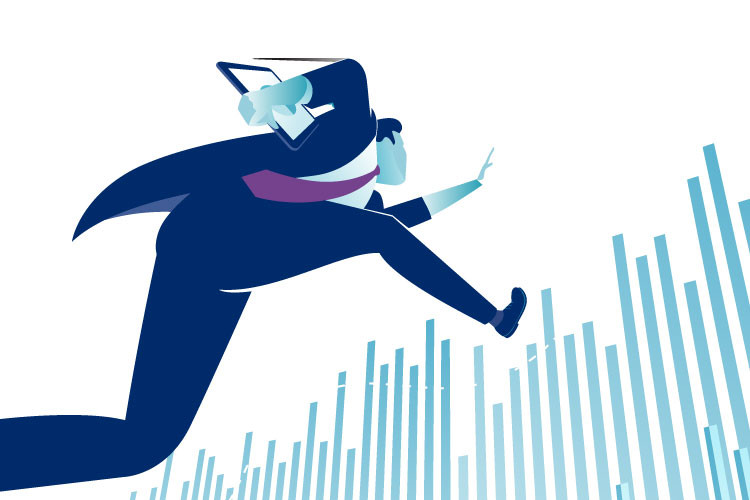 Given the nature of COVID, it is difficult to estimate this. However, we would venture to suggest it is now reasonably certain that the full year 2020 will show de-growth. If offices open in September, in our estimate, H2 '20 in AdEx should grow by 60-72% compared to H1 '20 and grow by 6-13% of H2 '19, leading to an overall de-growth in AdEx, ranging from -14 to -18%.

The steep decreases that have taken place in H1 '20 in the major mediums - Television and Print - will signal to these media barons that for their long-term sustainability and robustness of business plans, they should seriously and urgently consider increasing cover and subscription price of newspapers and rely more on pay channels.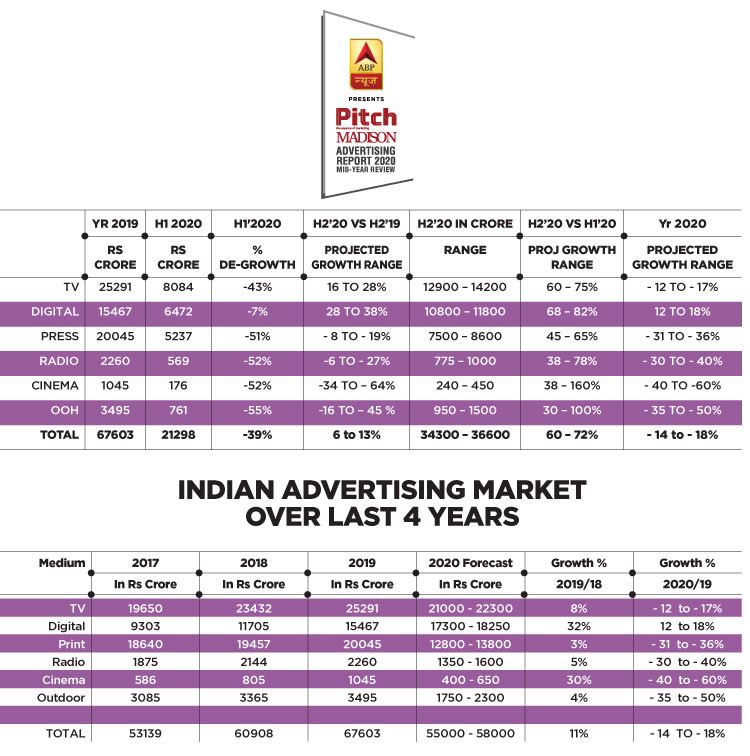 After all, a consumer base of 1.3 billion or even a consuming class of 300 million could be considered more robust and reliable than about 20,000 advertisers of some size. This report would remind viewers that until the 1970s, newspapers had a double barrel revenue with both circulation and advertising revenue contributing equally.

Digital, the fastest growing medium, we believe is all set for a V-shaped recovery. We expect Digital to continue its growth path unabated, and forecast a growth of 28-38% in H2, leading to a full-year growth ranging from 12-18%.

It is significant that no other medium will achieve growth in 2020, although Digital AdEx growth will be much lower than our original projected growth rate of 32.1%, made pre-COVID in February 2020. Fuelling this fierce growth in H2 will be FMCG, Telecom, BFSI, OTT, e-commerce and of course online gaming. E-commerce and Gaming have become the backbone of Digital AdEx.

In a broader sense, while COVID-19 has dented Digital AdEx by 7%, it has also given a tremendous boost to the Digital adoption rate by consumers in general and given a push to Digital Marketing in particular. This will translate to higher AdEx in the coming years.

The year 2020 could well be a turning point for Programmatic to achieve scale. We expect Programmatic to further grow, not just for Digital advertising, but also through Connected TV and Digital Outdoor.

Digital has moved beyond Tier I and Tier II cities and we expect further penetration in Bharat in 2020 on the back of Video. While smartphone sales dropped during COVID-19, the time spent on smartphones by users went up dramatically.

The Aatmanirbhar Bharat move under which India banned Chinese apps has provided a big fillip to apps like ShareChat and Roposo which compete with TikTok. These apps have benefited from the 'Revenge Download' phenomenon and will continue to do so in the near future.

Among traditional media, TV has been first off the block, showing substantial recovery in June and consolidated this gain in July. Aided by the IPL, Bigg Boss and KBC, we believe TV should be back to normal by October and therefore project a full year's de-growth of only 12-17%, taking it to just a bit below the 2019 level.

The number of advertisers on TV should also return to the pre-COVID number by September 2020. Most TV advertisers are regular advertisers and depend on high salience for their offtake and therefore cannot afford to be off advertising beyond six months.

Print, until 2019 the second largest contributor to AdEx, will come under pressure from Digital on the one hand and TV on the other. Many small and large advertisers are making Digital their first port of call on the one hand and on the other advertisers with growing budgets, who use Print when budgets are small, move over to TV as budgets grow larger.

However we do expect Print to recover substantially by the festive season and expect recovery in Tier III and beyond markets to be faster than in metros.

Most print titles now offer a Digital option and to protect the brand equity of the title, must offer a common space in both the Print and e-version, in a combined package, thereby capitalising on the larger audience that the e-version offers. A combined rate, notwithstanding the challenges of integrating two sales teams and establishing a common measurement yardstick, in our view would work wonders.

We expect Radio and Outdoor too to recover by the festive season, although Madison OOH's traffic count data released recently as an extension of its Site Rating system shows that traffic in major junctions across cities has already resumed by end of July to the extent of 50%-60%.

Advertisers would be well advised to use Outdoor heavily in August and September and experiment, with the medium taking advantage of subdued rates.

Even as there is some talk of the Centre allowing cinemas to open with just 25% capacity (alternate rows and alternate seats) over the next few weeks, advertisers are likely to return to the medium only when restrictions are totally lifted, which we hope will happen by October.

The closure of cinemas has already forced some producers to launch their titles on OTT platforms and this should accelerate OTT adoption by more viewers as also make more mainstream producers look at OTT to launch their films - all of which do not augur well for the Cinema medium, coming as it does just as it was getting ready for rapid adoption by advertisers on the back of granular data.

Summing up our estimate, the COVID-19 pandemic will set us back three years if our pessimistic forecast comes true, and two years back if our optimistic forecast comes true.

COVID-19 has forced many companies to re-evaluate their strategies and that includes advertising and media strategies focusing on higher ROI and greater accountability from media owners.

The impact of this change is bound to be felt by AdEx in the short and long run, and media owners would be well advised to be nimble and flexible with existing advertisers and spare no effort in helping local and regional brands to become national brands and help hitherto unadvertised brands taste the power of advertising.

TOP ADVERTISERS OF INDIA in H1 2020
Who makes it to the list of our Top 50 Advertisers in these tumultuous six months, when more than half the usual number of advertisers disappeared from Print and Radio and a quarter from TV compared to normal times? 13 new players enter the list

Predictably, more than 20 advertisers of the Top 50 and 8 of the Top 10 are from the FMCG sector. The only two non-FMCG advertisers in the Top 10 are Amazon, which has dropped in rank from 4 to 2 and Maruti Suzuki, which maintains its rank at No. 5.

HUL continues to top the list comfortably with spends of about Rs 1300-1500 crore, followed by P&G, Reckitt Benckiser, Amazon and Maruti. Among the Top 50 players, 24 players have gained in rank and 10 have dropped in rank. Thirteen new players entered the list. These are Hotstar, Pepsi, Rohit Surfactants, Shaadi.com, SBI, Abbott, Ultratech Cement, Nivea, Vicco Labs, Unicharm, Himalaya Drug, Torque Pharma and PolicyBazaar.

Many advertisers like Amul, LIC, Kia Motors, Tata Motors, L'Oreal, Glaxo Smithkline, Byju's gained many ranks on the list, while Vivo Mobile, Reliance Industries, Vini Products, Apple and Mahindra & Mahindra dropped many ranks in the list. Surprisingly, Dream 11, which was part of the Top 5 advertisers in our list of 2019, doesn't feature in Top 50 in H1'20, perhaps due to absence of live sporting events.

The Top 50 advertisers account for 31% (last year it was 33%) of the AdEx. Interestingly, Top 10 advertisers continue to account for as much as 16% and contribute to 53% (last year it was 43%) of the ad spends of the Top 50 list. By the time you reach rank 50, you are down from Rs 1500 crore to Rs 50 crore. The Top 50 advertisers now spend 83% (last year it was 78%) of their budgets on Television and Digital combined, the two largest mediums in AdEx.

A note of caution: Some advertisers, who in our list rank below 50, may well be in reality in the Top 50 list or vice-versa. We may mention that many Madison clients feature in this list but we hasten to add that we have not used confidential information that we are privy to in arriving at this list. The list has been arrived at using a standard structured process.