Falling short of the projected growth rate of 13.4% for 2019, the advertising industry grew only by 11%, still adding a substantial Rs 6,695 crore to Adex in absolute terms. Acording to the Pitch Madison Advertising Report 2020, the Indian Media & Advertising industry is expected to see a subdued H1 but buoyant H2, and grow by 10.4%, adding Rs 7,048 crore to Adex to reach a size of
Rs 74,650 crore this year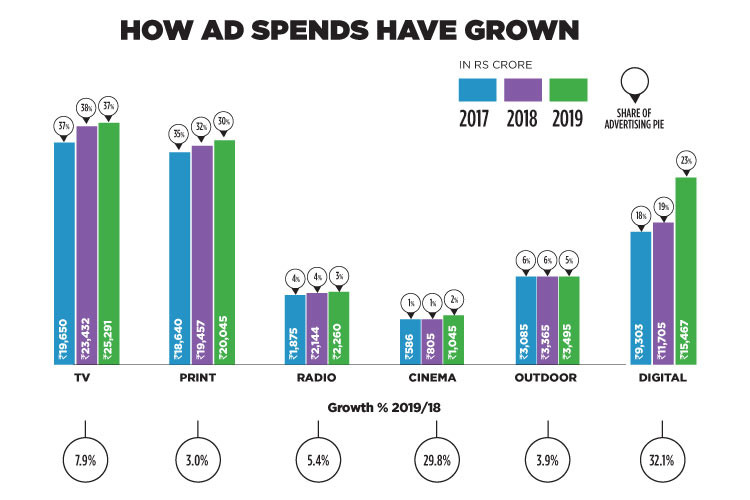 The Pitch-Madison Advertising Report 2020, released in Mumbai on February 13, brought with it mixed reactions and a muted growth forecast for the advertising industry in 2020. It predicted that in 2020, the market is expected to grow by 10.4% overall, adding Rs 7,048 crore to Adex, taking it up to Rs 74,650 crore. Presenting the report, Sam Balsara, Chairman and Managing Director of Madison World, said, "Although I am smiling, I am afraid there is not much to smile about for the Traditional Media industry, as indeed there is little to smile for many industries particularly Adex's largest contributors, FMCG and Auto." For the first time, the report recognizes an important split amongst growth patterns of various media, that is Traditional Media versus Digital Media. Growth rate of Traditional Media is slated to be 5.1% for 2020, while Digital Media is expected to grow by 28%.

Here are some key highlights of the report

• Indian Adex grew by 11% in 2019, falling short of PMAR 2019 projection of 13.4%
• In absolute terms, Adex has grown from Rs 60,908 crore to Rs 67,603 crore, an addition of Rs 6695 crore
• A large part of the growth comes from Digital, which expectedly grew by as much as 32%
• TV grew only 8% in 2019, lower than the projection of 11%, to reach Rs 25,291 crore. This is less than half the growth rate achieved in 2018.
• TV still continues to be the largest contributor to Adex with 37% share, followed by Print at 30%, Digital at 23%. Outdoor, Radio and Cinema share are at 5%, 3% and 2% respectively
• In 2020, highest growth will come from Digital at 28%, followed by Cinema at 20% (although on a very small base), followed by TV (7%), Outdoor (6%), Radio (5%) and Print (2%).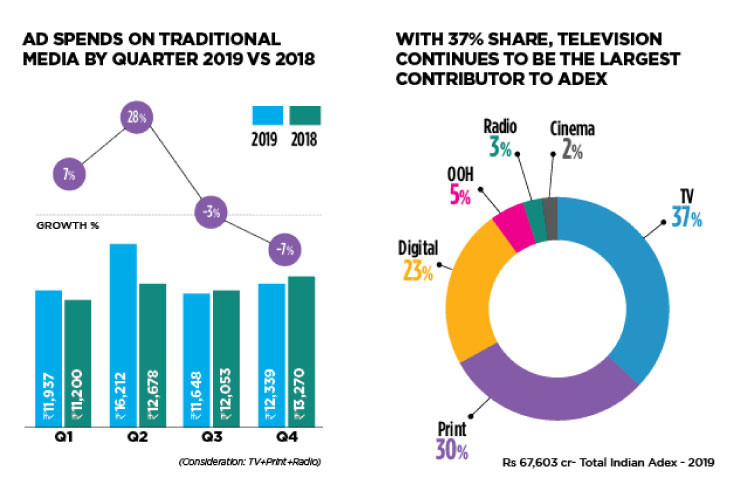 FORECAST FOR 2020 MUTED

The forecast for Adex in 2020 is muted. In arriving at the projected growth figure for the whole year at 10.4%, the Pitch Madison Advertising Report 2020 authors were guided by the expectation that the economy should bounce back in the second half of 2020 as indicated in the Government's Economic Survey published on January 31, 2020. The report predicts a subdued H1 for Adex and a buoyant H2, specially Q4

Awide variation of growth rates is expected across mediums with Digital leading the growth at 28.4% and ending the year with 27% share of Adex at almost Rs 20,000 crore (precisely, Rs 19,854 crore). TV will continue to be the largest medium with a 36% share of Adex, but will have a subdued growth rate of 6.8%. Print will lose 3 percentage points in terms of share of Adex and end up with a 27% share, registering a 2% growth. Radio and Outdoor are expected to grow at 5% and 6% respectively, and maintain their share at 3% and 5%. Cinema, amongst traditional media, will show a high growth rate of 20%, taking ad spends on the medium to Rs 1,255 crore.

Total Adex is expected to move up to Rs 74,650 crore, an increase of Rs 7,048 crore, of which Rs 4,387 crore or 62% will be contributed by Digital.
As even in a not so high-growth year, pole events did well and attracted advertisers' attention, it is expected that the Indian Premier League (IPL) and ICC T20 World Cup will pull in substantial monies. This, combined with a good festive season in Q4 and good spending by OTT, mobile wallet brands and e-commerce platforms, should make the growth estimate of 10.4% for Adex 2020 come true.
Indian Adex would then have added Rs 21,512 crore in three years by the end of 2020, registering a growth of 40% from 2017 to 2020.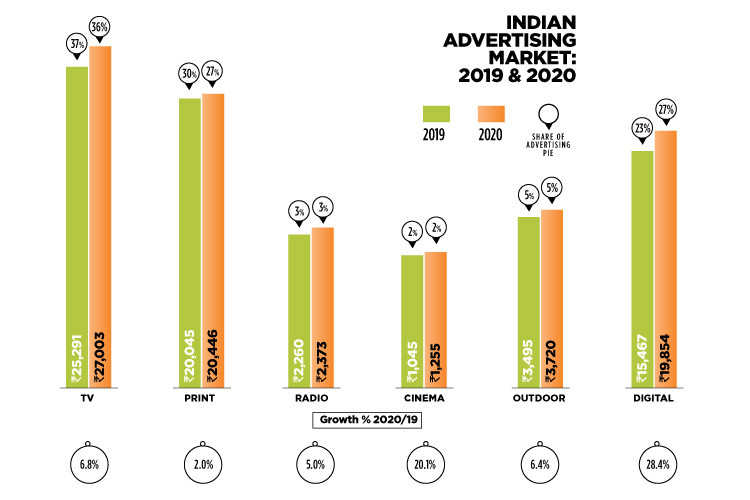 SAM BALSARA'S ADVICE TO ADVERTISERS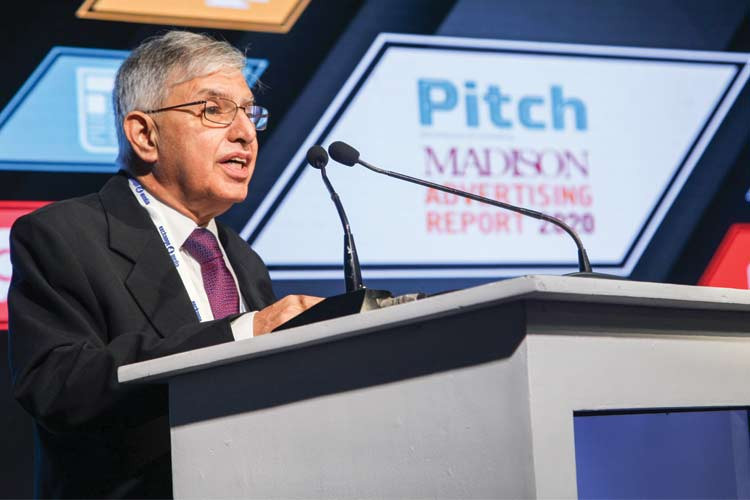 Temper Expectations from the Rural Markets
For the first time in seven years, consumer growth in rural is slower than in urban markets
Pick your Markets
Kerala, Karnataka, Andhra, Telangana, Tamil Nadu, Delhi, Haryana, Punjab, Maharashtra and Gujarat are less affected by the slowdown
Go for premiumisation
The well-heeled and the salaried are less affected by the slowdown
Focus on Modern trade and E-Commerce
Share of Modern Trade has crossed the threshold of 10%; e-commerce is expected to grow from 2% in 2019 to 5% in 2022
Invest in Brand Love
Don't succumb to temptation of running promotions, but build brand equity
Manage Brand Portfolio
Adopt brand portfolio management approach to maximize ROI
Do not Under-invest
If you invest below the threshold point, the entire advertising budget is wasted
Play E-SOV game
Excess share of voice (over share of market) has a high correlation with brand share growth
Milk Existing Assets
Most advertisers change creative too early, before copy wears out
Make TV and Digital your 'Go to' Media
Without TV, standalone ROI of Digital campaigns comes down. Digital adds to incremental reach of TV at higher frequency and lower cost.
#PMAR2020: THE TOP 50 ADVERTISERS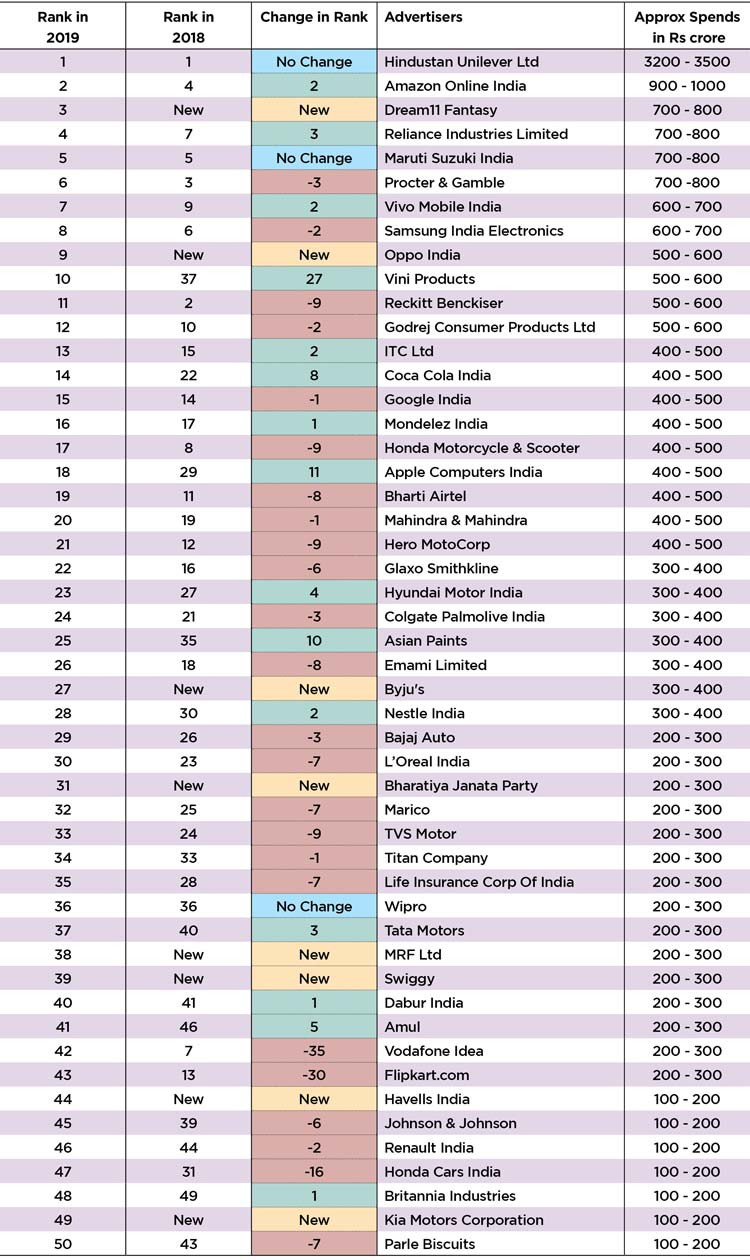 'Start-up brands will take charge of the market'
MANOJ KOHLI
COUNTRY HEAD, SOFTBANK INDIA

Delivering the keynote address at the launch of the Pitch Madison Advertising Report 2020, Manoj Kohli, Country Head, Softbank India puts forward four important observations on how businesses look at advertising, how investors look at advertising and what are the key trends to track over the next 5-10 years

At SoftBank, there are more than 20 portfolio companies, and these brands are growing very well. In the next five to 10 years, these brands will become leadership brands of India. Today, I want to share some insights and some thoughts about the next five to 10 years - how businesses look at advertising, how investors look at advertising and what are the key trends that we are tracking.

"In the long term, say over five years or maybe a little more than five years, the products which are mass products, and I call them 'sasta, sundar aur tikau' will prevail"

The first and foremost change which is happening is digitization across the world. All companies are adopting technology, digital media and the OTT space to attract customers. It's a trend which will pick up speed in the next five to 10 years, and not lose speed, because companies which are not adopting digitization are slowing down.

Companies that are adopting it, embracing it, are actually growing faster. So this is a very, very important trend where the consumer base is changing in a big way. Consumer behaviour, even in small towns, is now different from five years back.

The second major trend we see is 'youth customer versus older customer'. Older customers are showing a different behaviour. Housewives are shopping on e-commerce sites; older people are using iPads to watch news. Now, youth customers are leading to this change.

The bad news which is very important for all of us to note is that, youth customers really don't read newspapers and don't watch TV. That habit is getting more and more prevalent. We have to note that, maybe in smaller towns, the habit is still there, but in the bigger towns, the habit is going away, which clearly shows what trend youth is setting. Older customers will also follow that trend step by step.

Another point is about consumer experience. I still feel that whatever you advertise, be it advertising in traditional media or digital media, the consumer's experience finally is the key. You can say whatever you like, you can claim whatever you want to claim.

If the experience is weak, I don't think the customer will choose you, whatever advertising you do. So, companies must first focus on experience enhancement rather than invest money in advertising.

Companies that have weak brand experience should actually hold back advertisement till the experience becomes better.
Another issue is optimization of ad spends, which has been a very important goal of all advertisers, but I think impact is more important than efficiency.

We have to look at impact more closely because impact can overcome the efficiency of cost. Impact can give you a much bigger leap in market-share versus being more efficient.

So, I will go for impact more than efficiency, though this is not to say that efficiency is not important. Efficiency is equally important, and here technology will play a very, very important role. Artificial Intelligence, for example, and other technology that we now have makes the optimization of spends far more precise compared to 5-10 years back.

So by 2025, technology will actually help optimization and consumer behaviour to be very precisely tracked, so that efficiency can be improved and impact can be enhanced significantly.

All investors and business people would like to practise this very closely and please do highlight this whenever you are making business leads.
Now, I will share with you the four big changes which I feel will happen in the next five years. So, let's say if we go ahead to 2025, from 2020 to 2025 these are the four big changes I am able to forecast. I am not a marketer, neither am I a brand guy, but I think I can smell consumers.

And if you smell consumers of large towns, small towns or villages, I think you can sense these things happen. The first and foremost change which is very important, and written on the wall now, is digital enhancement.

It's very clear from all the analysis that for traditional media, the volume is actually de-growing. We heard that time spent on TV viewing has come down by 10 minutes. Even in Print advertising, the advertising volume in column centimeters has come down. Now, these are initial trends of what digital media will do.

I believe that if the global share of digital media consumption is 50%, then India is heading towards that. India is at 23% (Digital share of Adex) now, which is less than half of the global average.

In the next five years, we should definitely go to 50% or even cross 50%, because clearly, static media is something which consumers don't prefer. They prefer online, they prefer on-demand media, which can only come from Digital.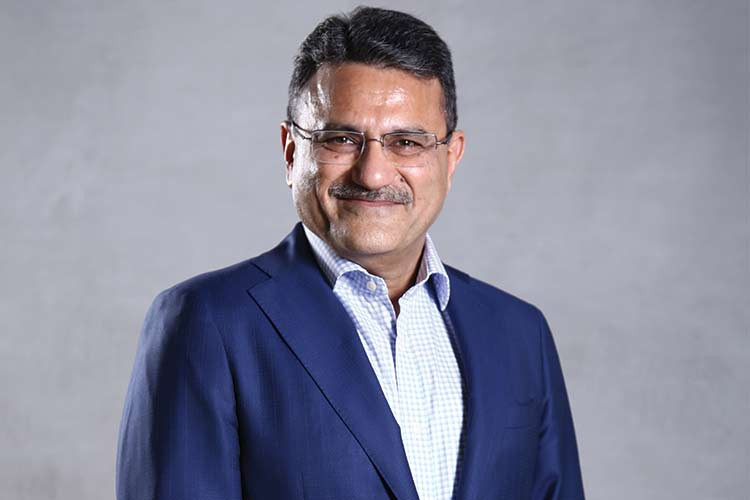 I am not a marketer, neither am I a brand guy, but I think I can smell consumers. And if you smell consumers of large towns, small towns or villages, I think you can sense these things happen. The first and foremost change which is very important, and written on the wall now, is digital enhancement."

They want media, they want news of just now. They don't want yesterday's news. They want movies, serials and whatever, just now, as per their expectations, as per their aspiration, as per their feelings, rather than as per the schedule of Television. They will not wait for others to schedule their lives for them. Therefore,

Digital gives that flexibility to the consumer to choose whatever he or she wants to see, wants to read or study or research. I am very clear that we will see a very steep rise in Digital.

The second change is that the deep markets of India beyond urban, going into suburban, going into rural, will actually grow very well. There are companies, one of which I can cite is HDFC, which have gone deep and advertised deeply, in smaller towns, small and large villages, so that the brand can actually become a leader brand.

Once you are a leader brand, you pick up a larger chunk of the wallet of the consumer. I can say with confidence that Airtel also did pick up a large share of this market in India because it picked up much more of small towns and villages. The same applies to new brands which have come up in the last few years; all those brands will grow suburban,

because they would like to catch those consumers early rather than late.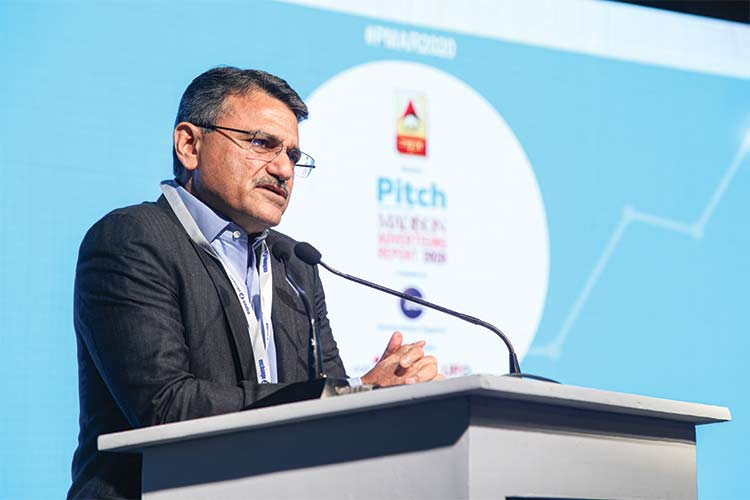 Building Airtel was a very gratifying journey, especially when you build a brand from ground zero to Number 1 across categories, and you penetrate 5,000 towns and more than five lakh villages of India. That journey of Telecom of nearly two decades for me was very gratifying, not only in India but in other parts of Asia and Africa."

The third thing I would like to predict is what kind of products will take precedence. Premiumization is okay for the short term, but in the long term, say over five years or maybe a little more than five years, the products which are mass products, and I call them 'sasta, sundar aur tikau' will prevail. It's because the Indian customer is value hungry, and he or she will go for it.

Even if the customer is affluent, he or she will still go for it. So, products which will gain will be those which penetrate the markets more, at the lower end of the product range. We see that happening, and many companies and brands are doing that already. Last but not the least, I can see a lot of start-up brands rise to the top.

Airtel was also a start-up at one point in time; it was a small company with no brand scores. The same thing applies to many start-up brands which are already picking up speed, and huge amount of market-share too; they will be majority of the Top 10 brands by 2025.

Those are the brands which will take charge of the market though some traditional brands will still be large. I am not saying traditional brands will be small, but on a competitive basis, they may not grow as well as the start-up brands.

So, start-ups in India are actually leading the pace of growth, and the momentum of growth, leading the customers' minds, leading change in customer behaviour, and how he or she is trying to get a better experience as a customer. So, these brands will really take charge of customers' minds much more than any of the traditional brands.

So, these are some major forecasts which I can make through my own personal experience and knowledge of the market. At the end, I just want to say that these times are unprecedented. This industry has done so well, and grown well, and it will keep on growing. The economy is already expected to grow by 6%+, and I am sure H2 will see better growth than H1.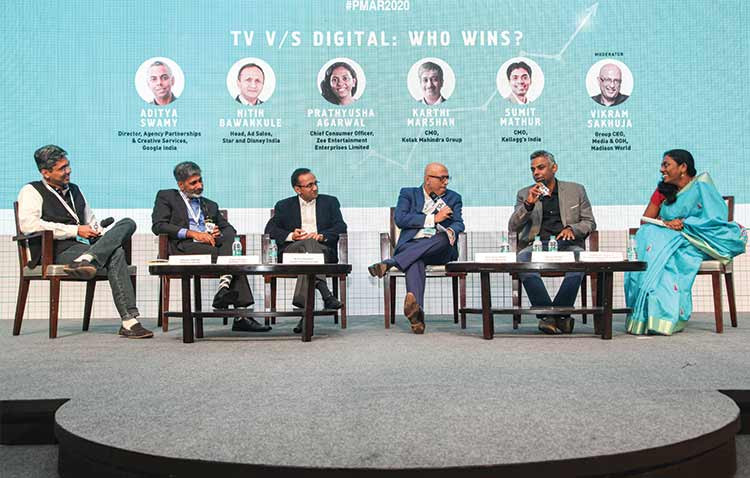 PANEL: TV VERSUS DIGITAL: WHO WINS?

The event to unveil the Pitch Madison Advertising Report 2020 saw a riveting discussion on who wins in the tussle between Television and Digital. The panel was moderated by Vikram Sakhuja, Group CEO, Media & OOH, Madison World. Sakhuja was joined on stage by Aditya Swamy, Director, Agency Partnerships and Creative Services, Google India; Nitin Bawankule, Head - Ad Sales, Star & Disney India; Prathyusha Agarwal, Chief Consumer Officer, Zee Entertainment Enterprises Ltd; Karthi Marshan, CMO, Kotak Mahindra Group and Sumit Mathur, CMO,
Kellogg's India.

Here's a look at some of the key take-aways from the discussion that had everyone in the audience glued:

• Overall watch time in India is growing, so it is a fantastic time for the video industry. TV continues to be a social habit. While TV will drive unprecedented awareness, Digital will focus on customisation.

• Flexibility is the key – the idea of advertisements can be same, but the creative needs to be changed according to digital platforms you are promoting on.

• While marketers divide advertising into Print, Digital and TV, the consumer consumes it only as video, text, experience and audio. Every advertiser has to use all the four elements to achieve an impactful marketing mix.

• The story arc has been changed in the digital advertising world. Today, a consumer can choose to watch the story in short-form or long-form.

• With its rapid rise, Digital may overtake TV entirely by 2022. Despite that, TV and Digital will both continue to have a great role to play.

• Together, the panel came to a conclusion that right now neither TV nor Digital can win against the other. They are rather going to co-exist for the next four years at least.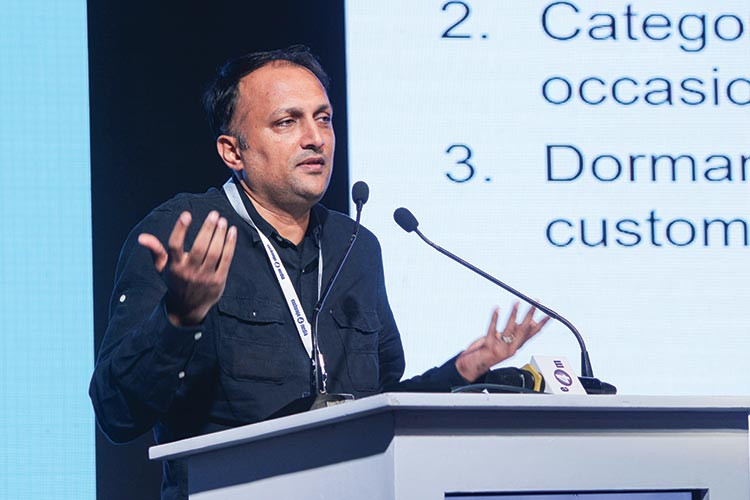 SWIGGY'S GROWTH MANTRA IS DEVELOPING CATEGORY AND CUSTOMERS: VIVEK SUNDER

In the light of the current economic situation in India, Vivek Sunder, COO, Swiggy offered insights on how advertisers can thrive in a slowdown. He emphasised that an economic slowdown is no reason for brands and advertisers to cut corners.

"If you think advertising is a peacetime expenditure, then you are causing the slowdown you are complaining about," he said. Swiggy, for instance, also didn't scrimp on ads. Instead, it cut down on discounts. "You will see Swiggy on TV, but we have cut discounts," Sunder stated. He then went on to share his past experiences in dealing with a slowdown.

"Advertisements are necessary until 100% of your target customers are using your product and are using it 100% of the time. If the number is less than 100 for either of the two, then there is something wrong. The consumer won't know your product or why to use it," he remarked. He spoke about the food delivery app's customer metrics.

"Two million consumers visit the app daily. They get their food within 45 minutes 99% of the time," he stated.

Speaking on customer development, he said, "The process of getting the consumer in, getting them to transact freely and expand the wallet is the name of the game." He added that in 2020, the brand aims to reach 550 cities with 300 delivery boys and crores of orders. Sunder talked about the food app's 'gulab jamun' surge in search after a particular ad was aired.

He shared, "After Swiggy's ad, the search for gulab jamun increased by 11,000% as people became aware that they can even order gulab jamun for Rs 50 from Swiggy." Sunder wrapped up his session outlining the way forward for Swiggy. "Category development and customers – that is the growth mantra for the brand," he concluded.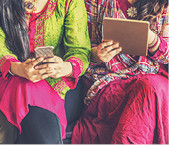 The Strategy

• Category Creation via busting barriers
• Category Expansion via expanding occasions
• Dormant Activation
(via addressing why customer lapsed)



ANYTHING WHICH GETS DIGITIZED WILL GET DISRUPTIVE: SANJAY BEHL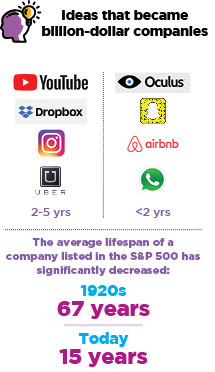 With the advent of intersecting exponential technologies, many industries, corporates and brands are getting disrupted at an alarming pace and accelerating frequency. Setting this context in place, Sanjay Behl, CEO, Lifestyle Business, Raymond pointed out how marketers must live up to this new constant and reinvent themselves to stay relevant in this era of disruption.

Using the examples of Kodak and Nokia, Behl was clear that any company, irrespective of size, reputation or market-share, is vulnerable to perishing if it does not keep up with the changing times. Both the companies were market leaders in their respective sectors.

"In 2007, Nokia had one billion customers and they were not slowing down. By 2012, Nokia went bankrupt and its $85 billion valuation fell to $10 billion. Nokia which had 80% share in India, failed," Behl said.

"It becomes important to rethink why your brand exists and to envision a clear brand purpose. The newly introduced brands are growing big time; no guarantee exists today," Behl pointed out.

Referencing companies like YouTube, Instagram and Airbnb, he also said that companies that can change and adapt rapidly are the ones that will persist in today's highly dynamic ecosystem.

He cited the case of Raymond, that is bringing in strategic direction to the brand with addition of disruptive technologies like 3D printed accessories, digital body measurement, etc.

Talking about the future, Behl added, "Almost every single thing in the world will get digitised. Anything which gets digitised will get deceptive and lastly, it will get disruptive. About 70% to 80% of things that we are consuming free today will not be free after some years," he predicted.

MEASUREMENT ACROSS MULTIPLE SCREENS ON BARC AGENDA: SUNIL LULLA

Speaking at the unveiling of PMAR 2020, Sunil Lulla, CEO, BARC India spoke about the things that are new at BARC. Recapping the key highlights of 2019, Lulla stated that the year was a record for news viewership.

Four out of five all-time high viewership weeks, over the last four years, took place in 2019 and this included events like floods, rainfalls and the General Elections. He also noted that FMCG had the highest volume of advertising on Television and over the last few years this category has achieved an all-time high with 57% share in the ad volume.

Speaking about IPL's phenomenal showing last year, Lulla further added, "IPL 12 had 424 million viewers watching live on TV, which was an increase of 2% compared with the previous edition. Also, 1.58 billion impressions was garnered by IPL 12 on live TV which is an increase of 11% compared to the previous season.

Meanwhile, 81% viewership came from vernacular and regional languages led by Hindi – up from 77% in the previous season."

Meanwhile, football saw only 3% of overall sports viewership and more than half of the viewership usually comes from Kerala, Assam, North East, Sikkim and West Bengal. "Mixed martial arts and tennis has more than 45% of women watching the games very intensely.

There are some interesting stories sitting in that landscape, which perhaps get brushed under in the larger scheme of things," Lulla noted. He also said that BARC India will increase the panel size to 55,000 homes from the current size of 44,000 homes this year. Building on a large base of data and return path data for enhancing audience measurement, Lulla said,

"There's a lot of data that some of the contemporary set top boxes are giving back to the platforms that provide the signal.

We are working with some of these platforms - both DTH and cable - to pick this data back and conduct KYC (Know Your Customer) so that we can get demographic data based on that."
Lulla concluded by saying that BARC is in the process of working on measurement across multiple screens as screens of attention expand.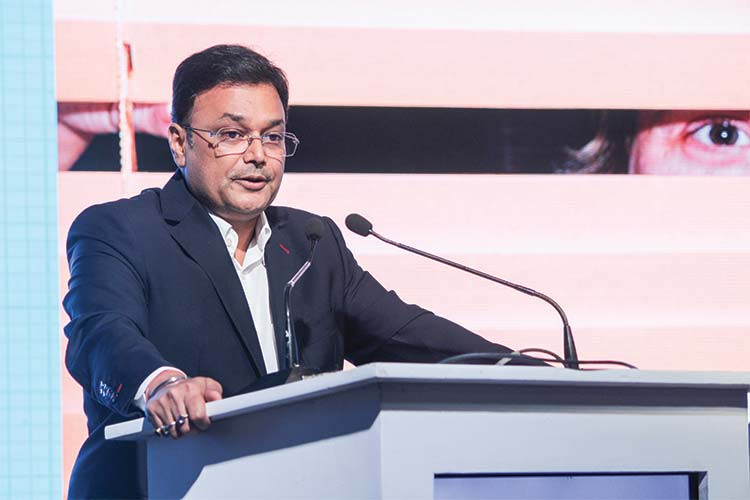 NUMBERS DON'T ALWAYS MEAN QUALITY: AVINASH PANDEY

Avinash Pandey, CEO, ABP News Network, challenged the role of data in determining the quality of a product and narrated stories where adversities led to opportunities and where data didn't have much of a role to play. Why do we judge everything with numbers, Pandey questioned. High viewership of a TV channel doesn't always mean good programming, he insisted.

Speaking about the need for understanding data better, Pandey said, "It is one thing to look at data and another to understand what goes into it. We think good creative work can only come from having a good amount of money, right? But doing good creative work requires courage."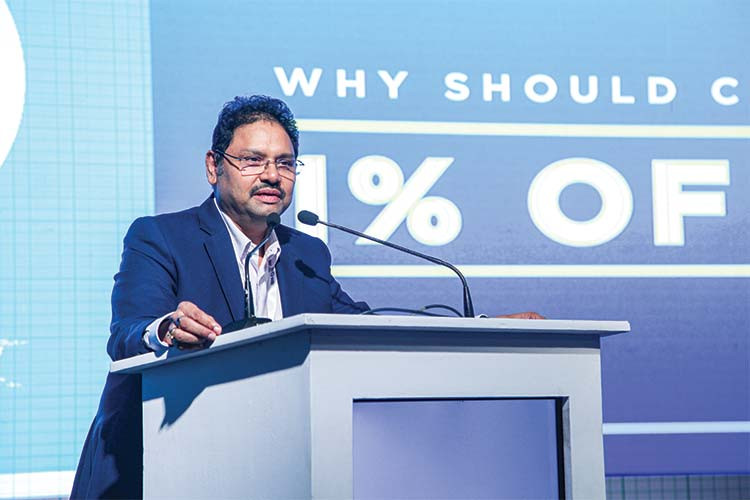 WHY SHOULD CINEMA JUST HAVE 1% SHARE OF ADEX?

Sanjay Gaikwad, Founder and MD, UFO Moviez India spoke on the topic – why should advertisers care about cinema? He started his session by noting that while TV and Digital are frequency media, Cinema is an impact medium.

"As per IRS, Cinema delivers Rs 2.2 crore admix every week. The big screen medium provides flexibility and helps brands promote according to films. Big screen also helps brands tell a story. This influences purchases." He noted that cinema is a better story-telling medium with longer duration ads.

Cinema advertising does not suffer from bought views and inflated impressions, and has a captive audience, he said.

INDUSTRY REACTS TO PITC H MADISON AD REPORT '20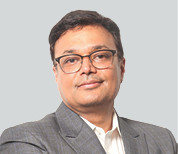 The Pitch Madison Advertising Report is a fair and balanced one. I anticipate that Television will grow even further towards the second half of the financial year. The growing interest in Bengal and Bihar elections will drive revenue for Television, especially news channels.

I expect growth to be far higher than 7% in the second half of the financial year. The regional languages in news channels will do far better than the rest. Digital is also very appropriately projected to grow at about 28% and at the network, we are aiming to grow at the rate of about 35-40% this year.

Avinash Pandey, CEO, ABP News Network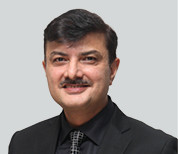 While half the world has already taken to Digital as the primary medium, India is still under-served on Digital in my view, compared to where it could be. It's currently 23% of total Adex and my sense is that it is going to ramp up to about 50% of total Adex in about three to four years from now.

So, clearly that's becoming a key medium. Print will get relegated to the Number 3 spot. Having said that, Print still continues to be very large as a traditional medium. Television will be at about 35% to 36% and Digital will reach that number in about 2-3 years from now.

Sanjay Behl, CEO, Lifestyle Business, Raymond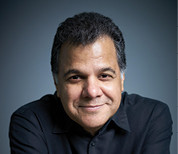 A 10% growth projection definitely looks realistic. Making projections is a bold thing to do, especially in an environment where the market is so volatile, and you don't know where the economy is headed. But, 10% looks like it's a safe bet. Last year, I believe the projection was 16%-17%, and then it had to be revised.

The 10% growth, if it happens, will be good for the industry in this kind of market. I am very buoyant about the numbers, though Cinema is one medium which needs a little bit of a push. It really has potential but gets neglected, and there is an opportunity for the Adex there to go up.

Raj Nayak, Founder & MD, House of Cheer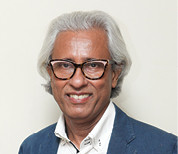 While I have not read the report in detail, the presentation that Sam Balsara made was very connected to the market currently. A muted 2020 perfectly reflects the current industry status. The other thing I liked was that despite the muted numbers, Sam was very upbeat about the industry. It was almost like he is giving a solution to combat the current slowdown.

The overall sentiment from the presentation was very optimistic. Even for traditional media, while the projection isn't very good, it is realistic and we must understand that disruption is the only way we can adapt to rapid changes in the ecosystem.

Bhaskar Das, Group President, Republic Media Network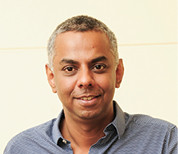 All of us who work in the advertising and media business are truly blessed. The kind of growth that we are seeing in our ad market is wonderful and going to be sustained. There is no better time to be in this business than now. The way Indians are interacting with technology and the Internet is going to power our economy.

Data, how we play with that data, how we can personalise the message we give the right audience and measurement of the effectiveness that we have on the business are going to be the three powerful levers to leverage Digital.

Aditya Swamy, Director, Agency Partnerships and Creative Services, Google India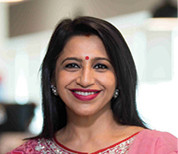 First of all, there's a growth projection and that's a good story. Yes, the percentage of growth predicted on Television seems to be on the lower side. Clearly, there was a skew towards Digital growth which seems to be true to what happened in 2019.

However, the jury is still out as there are a lot of movements taking place in spends which are moving from one to the other. Broadcasters have moved into the digital space as well, which is a smart move. This co-existence of TV and Digital is definitely the way forward, especially for players in the broadcast space.

Megha Tata, MD-South Asia, Discovery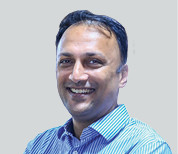 The report was quite comprehensive, and I enjoyed listening to it across different channels. Of course, the clear forecast for 2020 is that growth will be muted. However, I believe it is our responsibility as marketers and advertisers to try to ensure that the muted part of it doesn't stay too long. A lot of consumers out there are still not buying our products, whichever products we serve. So,

it would be great if we can take the forecast from the current situation which is 'if we don't do anything, it will be muted', and take it to 'let's do something so that it is less muted'.

Vivek Sunder, COO, Swiggy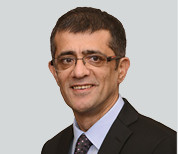 In the context of 2019, which has been difficult for the market on many fronts, this projection is a modest one. Television has been consistent and flat, both in terms of viewership and in advertising. The big growth for Television is from regional languages.

The share of Top 10 advertisers on TV has grown versus 2018. FMCG still tops and it's still the biggest player on the medium; 2020 is subject to the pace at which the economy grows, so I expect that we will see momentum from the second half of the year. Categories that were silent like Auto and Financial Services should hopefully make a big comeback.

Sunil Lulla, CEO, BARC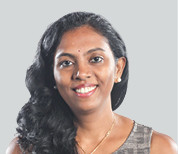 Looking at the TV projection, I think we could have been a little more bullish honestly, because last year was a year of significant change in the category. While some of that has impacted the way advertisers invested in that medium, the usage did not decline at all. Television is a medium of habit, one that is highly engaging and engaged. So, I would think if advertisers looked at their mix modelling properly, there is a huge merit in putting moneys into TV.

One of the data points that really stood out for me was that in 12 years, TV has maintained its share at 37% despite
the naysayers.

Prathyusha Agarwal, Chief Consumer Officer, ZEEL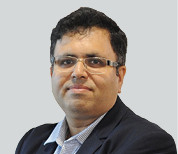 The projections are pretty fair. Also, the fact that Digital has been projected separately is a good thing; it's high time we did that. The way Digital is moving, it is actually important to evaluate and track it separately. Digital is ROI-driven. So what happens is, whenever there is pressure on the economy, ROI becomes most critical and every client tries to take the money out of media where the ROI is not so clearly defined and put it behind Digital.

This is the exact reason why it is important to have separate projections and evaluations for Digital vis-à-vis other media.

Mohit Joshi, CEO, Havas Media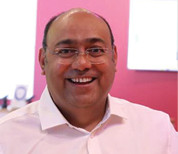 The Pitch Madison Advertising Report is an important report; all advertisers and publishers look up to it. I believe that Digital is going to grow way faster. After launching Jio in 2016, we now are a country of 400 million people using 1GB data a day! The new kids on the block like Dream11 are already on the Top 10 charts and like them, there are going to be loads of such brands coming up.

Today, we do not require a 30-sec TVC, we can do 100 videos in 100 locations purely on Digital with an impact that TV may not be able to deliver.

Mohit Kapoor, VP, Advertising & Strategy, Jio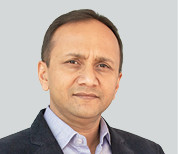 The Pitch Madison Advertising Report is bang on! Television has been growing at just about double digits while Digital has grown at about 30% for the last five years consecutively. Though the last six months have been tough, overall, the economy has picked up well, which will lead to overall advertising growth. We need to remember two fundamental things - there are about a billion Indians to watch content on Television or Digital platforms.

It is going to be a battle of the screens, going forward. So, the big question before the marketer is how to reach out to the audience.

Nitin Bawankule, Head - Ad Sales, Star & Disney India


MORE REACTIONS...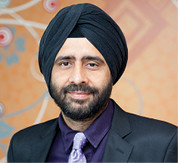 While the picture on Digital is quite good and we expect a 28% growth in 2020, there are certain things on which the report could probably focus in the years to come. One of these is the rise of programmatic advertising and the growth path for programmatic advertising.

As a digital marketer, I would like to know that. I also look forward to understanding the developments that marketers should be aware of – these are things to consider in the years to come.

Otherwise, the overall trends, mix of media, and benchmarking it with global stats is excellent and great learning.

Gurmit Singh, General Manager, Quora India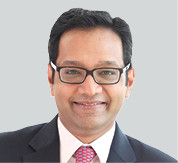 Having been a media person in Broadcast for many years, I always saw this report from the other side. Interestingly, this year, I am looking at it from a marketer's viewpoint.

I see that the traditional media growth rate is pegged to be a little lower than the new age digital mediums, but for me as a marketer, I look at which medium will connect well with my consumers and at what price and efficacy I am able to reach out to them, creating a better brand connect. So, the efficacy in each of these mediums and how those play out is something I am interested in.

Anuj Poddar, Executive Director, Bajaj Electricals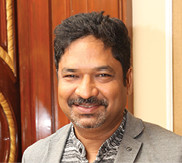 All industry projections taken together show us that we need to be cautious and we have to take global learnings and adapt accordingly. We need to recognise and understand insights from different marketers. My understanding from the Pitch Madison Advertising Report is that all these figures may well be correct and all the different mediums will survive too.

Television will also survive, but Print might come down a bit for sure. Digital might be a little over-hyped. My take is impact will work, and hence Outdoor will definitely continue to work. So, everybody will co-exist. And Print has to evolve – that evolution has already begun, in fact.

Satyabrata Das, Head-Strategic Alliances & Corp Communications, Laqshya Group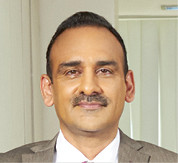 The projections are more or less in line with what happens through the year. There is a slowdown and the insight that has come out from the report is that impact is far more important than efficiency.

A few markets are supposed to do well, a few will lag behind, and that is what makes Cinema a very relevant medium in these times. The numbers that have come out of Cinema are heartening. They say entertainment does well when the economy is doing well. It does even better when the economy is going through tough times.

Siddharth Bhardwaj, CMO & Head of Enterprise Sales, UFO Moviez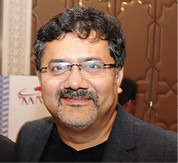 The projected numbers are pretty much in line with what's happening in the industry. The report sums up the perception that TV is holding on, Print is not doing as good as TV, while a good part of the growth is being driven by Digital. Others like Cinema, Radio and Outdoor are pretty much static. This year, a great deal of growth will come in from sporting properties, and so TV and Digital will play a critical role.

Properties like the Olympics and the T20 World Cup are big ticket ones, and as always, the IPL
is unstoppable.

Mitrajit Bhattacharya, Co-founder, The Corner Room Project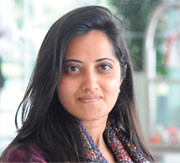 The PMAR projections are of course muted for this year, but I am hoping the industry will see some revival. TV, I feel, is really under-projected because the rate of growth definitely is bigger for this medium... so 5% growth seems really low for a key medium for the industry.

Digital looks positive and seems like it is the medium to look out for. Hopefully, with better parameters in place for measurement, we will see more spends on Digital platforms this year. If people come together and work towards cross-measurement, we might see more value in other media as well.

Bhavana Mittal, VP (Head) - Media and Digital,
RP-Sanjiv Goenka Group