The BJP campaign for the 2019 Lok Sabha elections centred around the 'chowkidar' campaign. It was one of the strongest campaigns for the party and was picked up by social media in a big way. "The Chowkidar campaign came against a big propaganda to malign the image of the ruling party and to counter it, the PMO took the allegation head-on and it boomeranged on the Opposition party," says an industry source who worked closely with the production of BJP campaigns. The agencies executed and supported the campaign with relevant content. A film was made around the theme 'Chowkidar', which became a big hit.
The teams working on the campaign decided to extend it and make it more real. So another 6-7 commercials were built around it, for example 'What is real chowkidar?' 'Real chowkidar is real Modi' and the philosophy of doing good for humanity and the country is also being a 'chowkidar'. That philosophy was further translated into TV commercials. A lot of connect was built through that campaign. And it worked as a big advantage for the BJP.
This was followed by a film putting together other issues that came up like Balakot airstrike, terrorism and the developmental issues like houses for poor, gas connections for all. This involved the party's team along with agencies Ogilvy, Moving Pixels and McCann WorldGroup. The tagline 'Phir ek baar Modi sarkar' was created. The idea came from the PMO's office and it was sharpened further. The format for Chowkidar campaign had already become a big hit. So the same format was continued with minor changes in this particular campaign. It gave the party the required recall and a fresh look.

CAMPAIGN TO GO OUT AND VOTE
The party was gradually getting feelers from the ground that people were favouring them, but they needed to give them a call to action. So another set of TVCs were created with the idea that if they praise a good work, they need to go and support that by voting for BJP. All the developmental work of the last five years was also stitched into these campaigns through Print ads. Campaigns with ideas like "Someone has brought electricity to your house, go and vote for them" with multiple versions for urban and rural were created.

MANIFESTO FIVE-SECONDERS
The BJP's poll manifesto was declared and it had a lot of points to talk about. It was the party's idea to make small 5-seconders as reminders rather than making 20-30 second single ads. The idea was to increase frequency of 5-seconders to make it more effective. So 30-40 5-second commercials with one-liners were made, for example 'Aatankvaad par kada prahar, phir ek baar modi Sarkar'. This turned out to be very effective for the party.
PARALLEL SOCIAL MEDIA CAMPAIGNS
While mainline campaigns were going on, agencies created content around the theme 'Aaega to Modi hi' which became quite popular. A series of 10-12 10- seconders were made around the theme which went viral on social media with people creating their own versions of it, and it worked out in favour of the party.
Alongside, songs like 'Modiji ko chun rahein hai', 'kar chukka faisla desh' were introduced and promoted. The theme of patriotism was picked up and commercials were made around that. Another song 'Agar chowkidar na hota toh kya hota?' was created and shared on social media.
BRINGING BACK THE CHOWKIDAR CAMPAIGN
PM Modi had been talking about his work in his first tenure of five years. Also, there was already an undercurrent among people who had received benefit of houses and gas connections. So people were already aware about the schemes and developmental work of the Government. Post that, other campaigns like 'Phir ek baar Modi sarkar' were kept soft on purpose because the 'Chowkidar' theme was so hyped up that to maintain it through seven phases of elections would not be sustainable. That is why other campaigns were tapered down and kept low key. In the end phase, with 90 seats left to go for election, the Chowkidar campaign was brought back again as a reminder 'Chowkidar ke chowkidar bano' and 'Chowkidar ki chinta hai, toh jaa ke vote karo'.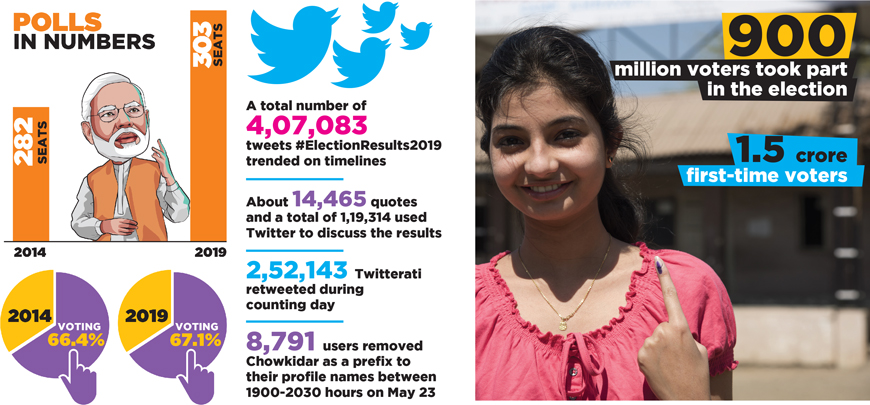 UNIQUE IN TERMS OF CUSTOMIZATION, SAVED COST
The BJP's campaign in the 2019 elections was unique in terms of customization of content as per geography and phase of elections. For example, the campaigns in Uttar Pradesh had more of Ganga into the visuals while those for Punjab and Haryana were quite hardcore in tone and campaigns for Delhi were a lot urban. This also helped the party save money on their ad spends as the campaigns were more regional rather than national. For example, the campaigns run in West Bengal were not exposed in the rest of the country.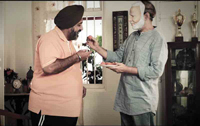 Another reason for less spends this time was that awareness of Brand Modi was already quite big and hence the party did not have to rebuild that. This also meant that the agencies did not have to overdo the concepts. They only had to give right meaning and direction, and remain positive on the party's objectives and ideas, regardless of what the Opposition party said in its campaigns. Meanwhile, Prime Minister Narendra Modi himself kept building his brand through uniqueness in his speeches and interviews, which gave a lot of traction.
OPPOSITION FAILED DESPITE VOLUME
According to an industry source, campaigns by the Congress Party and other Opposition parties were pretty strong in terms of volume this time around. "If the BJP had taken 50 spots on radio, Opposition parties had about 300-400 spots," says an industry source. 'However, Congress campaigns probably lacked the connect. The 'Nyay' campaign backfired for them as they did not have answers to the questions they were asking through it. They tried to change their way to emulate BJP campaigns - relating to the poor - but it was probably too late for them to build a connect and it looked fake and artificial," he adds.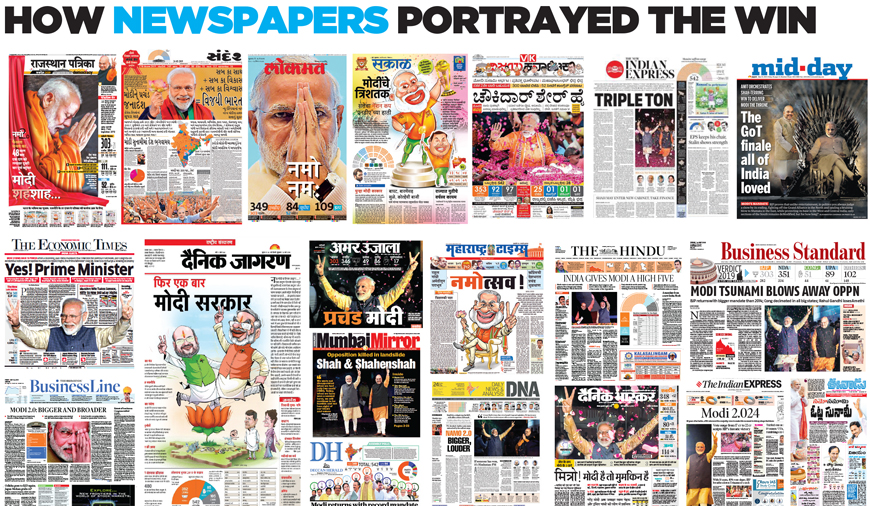 THE TEAMS BEHIND THE BJP CAMPAIGN

Ogilvy, McCann WorldGroup and Ahmedabad-based production house Moving Pixels were involved in creating content for communication for BJP. Piyush Pandey of Ogilvy and Prasoon Joshi of McCann WorldGroup wrote a song each and gave ideas for content creation, while one song was created by 82.5 Communications. The production and creation of videos, commercials and other creatives for Print and OOH were made largely by Moving Pixels, along with other agencies. Animated commercials were done by Ogilvy. The teams were stationed in Delhi with production happening in multiple places like Delhi, Mumbai and Ahmedabad.
HOW MOVING PIXELS MOVED MODI'S POLL CAMPAIGN
Manish Bardia, Chief Managing Director, Moving Pixels, along with his 130-member team, created the much talked-about Chowkidar film as well as TVCs, song videos and thematic content such as 'Aayega to Modi Hi' for the BJP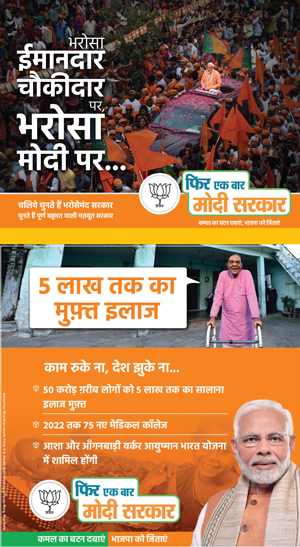 Manish Bardia, Chief Managing Director, Moving Pixels, along with his 130-member team, produced and created a plethora of videos, commercials, creatives and content for the BJP election campaign for the 2019 Lok Sabha elections. Bardia, also known as the 'man behind the Modi mask of 2007', has been associated with Narendra Modi since 2002, and has been doing projects for the Gujarat Government and BJP on a regular basis. Bardia, a fine arts professional, has contributed significantly to building up Brand Modi over the years, but is extremely reticent and avoids media attention.
In this election campaign, Bardia's agency Moving Pixels teamed up with a few other agencies to bring out TVCs, short video content and Print and Outdoor creatives for the BJP over a period of 4-5 months. The agency created the much talked-about Chowkidar film and followed it up with 6-7 TVCs. Also, campaigns on development work, song videos and thematic content - for example 'Aayega to Modi Hi' and other work was executed by the agency.
Moving Pixels was also instrumental in creating short 5-seconders on the party manifesto that in turn became quite effective in terms of communication. The agency executed and supported the campaign with relevant content in a short time period. Videos for songs penned by Piyush Pandey and Prasoon Joshi were produced by Moving Pixels too. They were also converted into short commercials and radio spots.
The agency emphasizes that clarity of objectives and concepts by the party were an advantage while developing its communication and campaigns effectively. A very short turnaround time was the only challenge that the agency faced. Often, the script and shoot for films and commercials had to be executed overnight, based on the party's suggestions and requirement.
"All campaigns were given a regional flavour, depending upon the geography it was addressing. And hence each commercial had to be converted into 11-12 languages before giving it out for distribution. For example, five commercials were to be made in 10 different languages which meant a total of 50 commercials in 3-4 days flat with no mistakes," says an agency spokesperson.
Apart from work on political advertising, the agency has very little scope for regular clients as it is piled up with work for the Gujarat Government and is also called on by other State Governments for work almost all year round. It is also involved in NRI projects like 'Chalo Gujarat' in the US, 'Bharat ki baata' in London and similar cultural projects in Canada.
Moving Pixels has in the past carried out various media campaigns for the Gujarat Government such as the Vibrant Gujarat 2007 summit, Jyotigram, and GSPC's gas find, to name a few, besides projects for Vasundhare Raje's government in Rajasthan.
WHAT WORKED IN FAVOUR OF MODI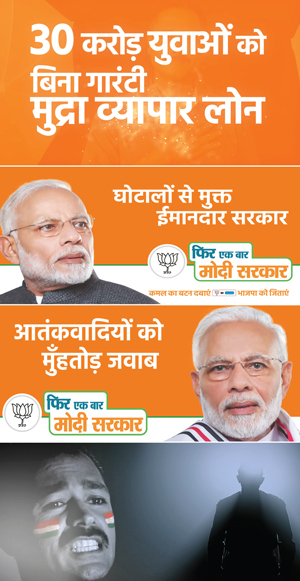 1. Ongoing engagement with young voters:
The BJP generated enough excitement before the actual voting through social media platforms such as Twitter, Facebook, Instagram, Snapchat, My Gov India (Official), Mann ki Baat, radio jingles, TV commercials, etc. The party also created multilingual content, focused pages for certain regions, working on all content formats and intelligent use of WhatsApp. Being the first mover in the digital space, Modi had a clear advantage over his opponents.
2. The main force behind the push for a Digital India:
Initiatives transitioned from being focused not only on service delivery but also the creation of a knowledge economy and a sustainable business ecosystem. With demonetization, digital payments witnessed a massive upswing, while the Jan Dhan, Aadhaar, Mobile (JAM) trinity encapsulates Modi's strategy for inclusive growth and Aadhaar-enabled Direct Benefit Transfer (DBT) is a major governance reform initiative to bring greater transparency.
3. Revamping the economy:
The BJP presented a roadmap to expand GDP to U$5 trillion by 2025 through a step-up in infrastructure investment (to 10% of GDP from about 4% now) by cutting down the cost of capital. The BJP wants to step up infrastructure investment to 10% of GDP a year (i.e, US$1,450 billion by 2024) (including agriculture investment to 2.5% of GDP) a year. It plans to develop India as a global manufacturing hub by achieving a top 50 ranking in Ease of Doing Business (up 65 ranks in the past four years.). That said, any government that introduced the GST would have faced trouble for some time, and there would have been hiccups. It's a question of holding its nerves. GST collection in April was around Rs 1.10 lakh crore, which was highest ever since the rollout.
4. Building his own and the party's image:
Fighting a negative image in people's minds – thanks to perceptions about Modi and his alleged involvement in the Godhra carnage - the party had a massive task to change its image from a right-wing party to growth-led party. The party projected growth and development as the main agenda in its manifesto and aims such as making India one of the strongest economies in the world, creating India as the next big defence spearhead and providing all sorts of amenities to Indians, majorly, home, electricity, LPG, and others. Major decisions like demonetization, surgical strike, the launch of Digital India, etc., have been masterly programmed and worked in favour of Modi. At the same time, the communication plan systematically reminded the masses of what the previous government failed to achieve, and projected that as a comparative advantage.
5. Cashing in on opponents' mistakes:
The 'Chowkidar Chor Hai' tirade of Rahul Gandhi against Narendra Modi proved to be a blessing in disguise for the BJP. Modi, the master strategist, turned this jibe in his favour by countering with the 'Main Bhi Chowkidar' campaign. The BJP encouraged Twitter users to join 'Main Bhi Chowkidar' campaign which maintained people's interest during the election period. Leaders of the party and citizens were seen updating their names on social media and thereby showing their support by prefixing the word 'Chowkidar' to their names. It is noteworthy that in the 2014 Lok Sabha elections, the BJP had turned around Manishankar Aiyar's 'Chaiwalla' jibe into a massively rewarding campaign.
6. Smart and effective poll strategy, campaigning:
The BJP regularly reached out to the voting population through various nation-wide and regional specific activities, engaging with them and slowly turning them into brand evangelists. Modi set his plans into motion soon after Diwali last year, beginning with a series of video conferences with party workers from four-five parliamentary constituencies at a time. Each interaction covered 4,000-5,000 workers and culminated with a mega interaction touching thousands of cadres on March 28.
The strategy was to attract masses towards the party's decision, awareness about its agenda and key leaders. They consistently reached out to all target individuals with customised communication plan, channelizing the emotion of masses in order to connect with the party. Modi also addressed beneficiaries of welfare schemes over video links, a process that covered close to 40 lakh people.
Compiled by RAHUL KAMAT