If MK Anand, MD & CEO of Times Network, had his way, the entire news television industry would come together with a common agenda to make viewers pay for the content they consume. "Post TRAI's new tariff order, and if the deals that we have made is any indication, I would sincerely appeal to all players in news in all languages to consider going pay, because consumers will pay," says Anand, who thinks that if the industry comes together and becomes pay, it is going to get them to a place where they will be confident about saying things that they right now may not be able to say, restricted by advertiser interest. Anand says this especially with reference to the network's flagship channel Times Now – a paid channel - that, according to him, rides high on editorial, digital and viewership success despite the loss of its critical asset Arnab Goswami two years ago and stiff competition in the English news space.
Now, Anand has made it his mission to structurally change the company on distribution and digital in order to make it competitive and relevant, and viable in the future. Here, he recounts the 13-year journey of Times Now, the experience of dealing with the exit of Arnab Goswami, until then the face of the channel, and his staunch belief that both television and digital consumers of the brand should pay for content.


Q]

Tell us about the high points of the 13-year journey of Times Now. How do you see it as a brand today?
From a group point of view, Bennett Coleman – a totally non-electronic company - getting into a major medium in news besides Print… the first high point was the launch of Times Now itself. Second, I would say was recognition - that a mixed bag of business plus social plus political is not where we need to be, but be more specific to the character of what Times Now has become today, which is a national and political issues focused channel. Amongst the coverage, I remember the rescue of Prince as a high point – we are happy and proud that we put the camera on that, did a story that nobody else was thinking of doing, and got the whole nation to take notice of us. We got the little boy rescued. Then came the unfortunate incident of the Mumbai attacks of 26/11 where Times Now was the main screen on which Indians were watching and got to know what happened. The departure then that Times Now did was from a slightly global grammar of English news, which is the BBC, NDTV kind of a feel, to a more Indian grammar of English news. We created our own grammar with our own staccato cuts, our own busy headlines, our own busy format, the introduction of yellow into the frames, and a very hurried and high-pitched questioning, that really defined us. After that, I guess we simply ruled Indian English news on prime time and otherwise for almost 10 years.
Another high point would be bringing together, or actually articulating, our purpose and what had happened because of us. The great contribution of McCann Worldgroup was coining the suffix 'Action begins here', and that was a defining thing in 2014, sort of a 'why we do what we do' explanation, because 'complacency needs a shouting at', 'why do we raise our voice', and that explanation was essential. While Arnab and his team were honestly doing what we were doing, there was a bit of sniggering around it, that you guys are just shouting at prime time. Everybody was listening to you, but people were sort of also making this backhanded comment: 'Oh, you have brought down the gravity of news and it's just noise.' So, we needed to explain that and a sort of anthem statement that we made was 'Why do we raise our voice?' It's because of this, because of that, and therefore we raise our voice and things happen, and therefore 'Times Now - Action begins here'.
The year 2016 saw a big watershed event - I won't call it a high point - we lost Arnab Goswami, a critical asset, editor-in-chief and practically the person running everything. Suddenly, we had to scramble and figure out who else was there to run it. The high point of that period was commendable in the resilience of the brand, the fantastic hard work put in by the HR department and the leaders who stayed back at Times Now, and the new leader who came in to hold the team together. Out of 320 people of that group who were there when Arnab quit, in the next 3-4 months we hardly lost about 21-22 people. That is less than 10%. That I think was our biggest achievement as a brand, because you would never be able to replicate the recipe if we had lost the cook. The confidence of the people who stayed with the brand saw us through. A prime time asset is like the hero of a movie. And obviously, the hero is central, but a hero can't be a hero unless there is a big crew, and a good story, and a whole lot more. The last two years, in fact, have been great for Times Now because of a few things - one, validation for the team that it was the team and not one superstar who is driving it; two, we were able to very quickly clone, become two channels from just Times Now to adding Mirror Now… and then Times Now World; three, the digital piece of the brand also came out of the same infrastructure.
During this phase, we optimized our back-end and moved the operations to New Delhi; for the team it must have been a huge high point - I think they are all very happy in their freedom. Finally, it was a high point last year when we closed the year with record numbers in terms of topline, a bottomline which was about 50% more than what we used to be three years ago. For us, the excitement about Times Now is the way the brand has been accepted by the digital audience – it would not have been the same if we had named it anything else. So, that's the sheer strength of the brand Times Now. I think it's as powerful as Times of India as a pre-eminent news association. Digital success, then our viewership success in the last two years with competition for the first time in that space – there was practically no competition before Republic launched. During this phase, even other competitors like India Today did quite well. Overall, the excitement in the Indian English news market has driven the whole category up, and that has been challenging and thrilling and satisfying, for this team and for this brand.


Q]

Talking of the journey of Times Now, you can't take away the contribution of Arnab Goswami, who was literally the face of the channel for about 10 years. How do you deal with the fact that now he is fierce competition?
With due respect to our other competitors, we were really peerless, but with one of our own outside, there was some competition in that space which was obviously draining physically, emotionally… but I think that competition probably was the best thing that happened in this category and to us. Today, in hindsight, had that not happened, and had we been completely peerless and totally in that zone, I don't think Indian English news viewership would have grown in the manner that it has.
Top of mind recall of Times Now as a brand, beyond its audience, is much higher because of the very virulent, vigorous competition that happened in 2017, along with a lot of marketing and general press. The refrain was, 'What is happening to them?' and 'What is happening to him?'. We got more PR, more marketing, more virality than we would have otherwise. We got the first benefit out of this during the NTO, the new tariff order. It is a true test of the brand when you say that we are going to be charging you directly, and not via some trade deals or carriages, and yet we have takers. We are now no longer IP or people dependent on the brand Times Now. We are clearly format and brand dependent, and process dependent. Our profitability has gone up between 2017 and now.
Q]

Tell us about the distribution aspect of Times Now – how aggressive is it at the moment? And would you ever consider being free-to-air (FTA)?
Currently, between 25%-30% of our revenue must be coming from distribution, which is a very healthy situation for a broadcaster. It is our internal goal, objective, target that by 2022 or 2023, we want to be only 50% ad-dependent. We want 50% revenue to come from distribution and digital.
This is a principle belief that I have personally - if you look at the social function that media does in the news space, ad-led media is not really a good thing for the consumer, and therefore for the market and therefore for the overall business. A news product which does not have the confidence to ask its subscribers to spend will never be able to have integrity. If you are 100% ad-led, if you are FTA, your loyalty is eventually going to be towards your advertiser, and your advertiser will determine your consumer, what consumer you serve, and in what context you serve.
We are proudly pay, and we will never be FTA. Free news means you will never have integrity in your coverage. Free news means you are creating a product for your advertisers, and you are not going to talk to the entire constituency. You are only going to talk to that constituency that the advertiser says, 'It's my TG'. A large part of our revenue too comes from advertising, but I would ideally look at a situation where more and more news becomes subscriber-driven and not ad-driven. Even on digital, we will make a strong effort over the next few years to convert our equity to paid subscription revenue.
Q]

What would be Times Now's share of contribution to network revenue overall?
Times Now would be now contributing approximately 25% of the Times Network overall revenue. If I add digital plus Times Now World and Times Now, it would be in the range of around 27% of the total company. We have had a stagnant FY 2018, because we launched Mirror Now, MNX, Times Now World and digital. All these products fortunately have done well. So, last year and this coming year, when the industry and the English category is practically at a standstill, growth is coming from these products.
Q]

You have just changed the logo of the Times Now HD feed to Times Now World (HD), and the content on Times Now World (HD) is different from the SD feed. Can you elaborate on this change and why it was necessary?
Times Now World is an attempt to depart a little bit because I believe that there is differentiation possible, and space and growth possible when you view slightly different content. Mirror Now is a great case in point. So, Times Now by itself, one platform doing 'x' number of stories a day and one prime time, probably may be limiting, and therefore this beginning. As of now, we have kept it a little open, but the prime time continues to be the same. There are plans to look at not exactly 'world content' but content that is more between India and global.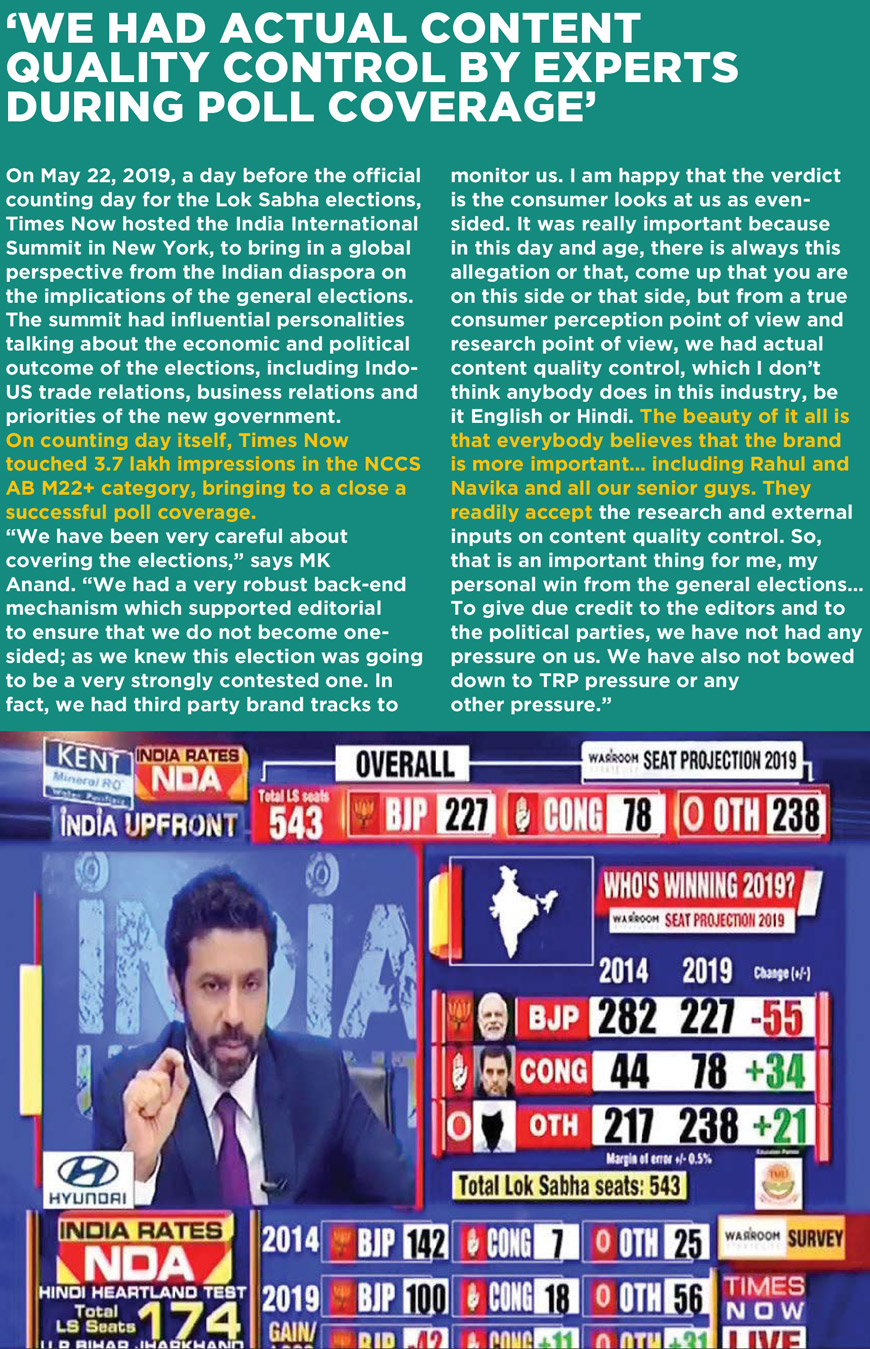 Q]

Is there any synergy with MX Player in terms of content distribution?
MX Player being internal is great, but we are looking at Times Now as a unique or premium content provider for all OTT players. Our OTT strategy would be to look at OTT as a distribution mechanism and not as a, 'I want to own the platform for the sake of it.'
Q]

What are your priorities for Times Now going ahead? Do you plan to expand to Hindi or other languages?
Right now, our immediate priority is to expand our digital footprint. There are approximately 90-100 million unique users on Google analytics. And on Comscore, we are about 60 million users. That makes us among the Top 3 in this country in English news. We must expand our digital footprint through other languages, that we have already started. Our first priority this coming year would be to expand and consolidate our digital franchise and keep it firmly in the Top 2 of this country. Right now, it's Times of India, NDTV, Times Now. Some months Times Now, some Times of India or NDTV. In the next two quarters, we would like to strengthen Times Now World, its content line-up, so that by the end of the year, we are able to clearly create two divergent and fully different fields. Getting into languages has been a thought for some time, but I don't know whether the time is opportune because I think the language space in the non-Hindi space, the scale is not large enough for us to get in and make any meaningful business impact. The Hindi space as of now is a little too crowded for comfort. Ideally, I would have loved to have a Hindi channel already, but now that I don't, I am not very sure when and whether we should get into that.