Billboards are brief moments of happiness in an otherwise dreary vehicular journey. Lined up on the side of roads, billboards in all shapes and sizes cause intrigue in consumers. They speak directly to the aspiring masses who are going about their daily duties out on the streets every day. OOH, or Out-of-Home advertising is one of the mainstays of traditional advertising, and it is currently going through a seminal change in the Digital era.

OOH has come a long way from its traditional roots of billboards and transit ads. Some even say that the concept of OOH existed in Ancient Egypt. Experts have found hieroglyphics that publicized laws and treaties, clearly a much less fun form of OOH advertising, but OOH nonetheless.
---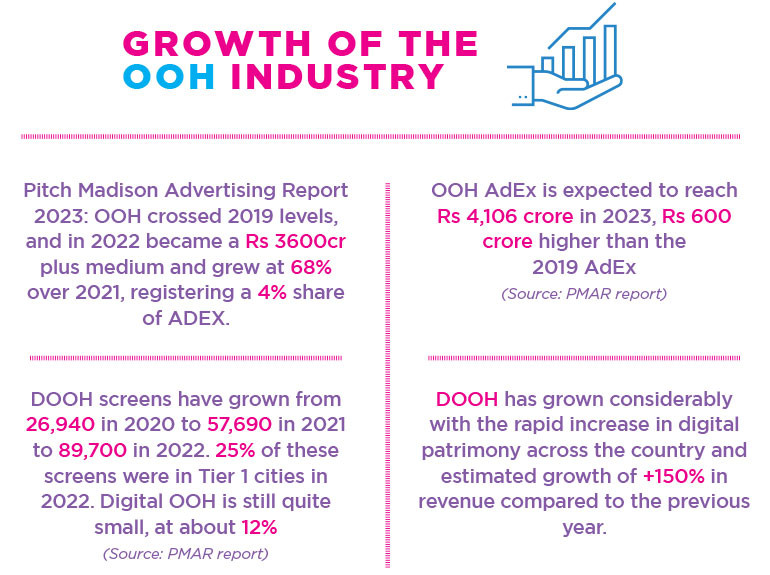 ---

In today's Digital age, the industry has undergone major transformations. New technologies have paved the way for newer ways to interact and engage with consumers. The pandemic has only accelerated this transformation, with brands and agencies turning to Out-of-Home advertising as a means to reach consumers in a more personalised, targeted manner. From interactive installations to experiential activations, the industry is pushing the boundaries of what's possible in Out of Home Advertising, creating immersive experiences that capture attention and drive engagement.



"There are several changes in the OOH space today, clients are holding agencies accountable for delivering measurable and quantifiable results. The industry itself is also preparing to take this up through a number of initiatives, including the advent of p-DOOH (programmatic Digital Out-of-Home), the evolution of DOOH (Digital Out of Home), alongside various campaign measurement systems. We are focused on bringing technology into every aspect of our processes, from planning to execution. The industry is also seeing numerous technology-led innovations such as the use of 3-D, drones, and projection technologies, amongst other initiatives," explains Ajay Mehta, MD, Kinetic India.
---

---

According to Dr. Yogesh Lakhani, CMD, Bright Outdoor Media Pvt. Ltd., OOH has been the traditional media and shall remain so. According to him, OOH advertising has always been preferred by advertisers, be it FMCG, IT, white goods, etc. He says that the formats used are still traditional with a pinch of new technology, mounting of FLEX with LED and 3D cutouts. He further emphasizes the need for unity among stakeholders, saying, "OOH has always been seen as the third preference in media planning and subject to the whims of the planner, hence it is necessary for all concerned partners to collaborate and protect their strengths to guarantee that OOH is included in every marketing plan with a significant portion of the budget."



Highlighting some key trends and explaining how the OOH industry is growing, Durba Mandal, Head OOH Business at Cheil India says, "India is projected to grow by 6% in 2023, with the government focusing on infrastructure development, and that is boosting the OOH industry. New airports, revamped older ones, expanded road and metro train networks are creating more OOH inventory. Traditional and new formats are witnessing growth. Post-pandemic, OOH media has made a strong comeback, and it is expected to grow by 12% to surpass pre-pandemic numbers. India is the most lucrative market for global players as it is the only market that seems to be containing the global slowdown, and where consumption continues."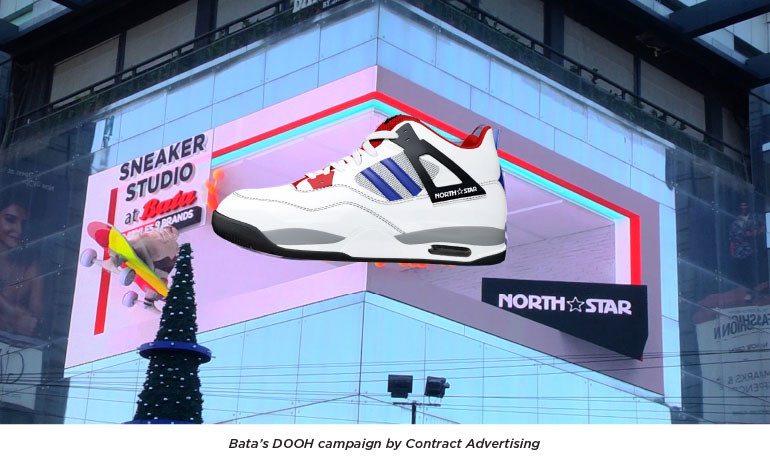 New Innovations
In the world of advertising and marketing, OOH advertising has always been a powerful tool for reaching consumers where they live, work, and play. But in recent years, the OOH industry has undergone a significant digital transformation. Today, with new technologies and innovations, it's easier than ever for brands to create impactful, interactive, and data-driven campaigns.



According to Gulab Patil, Founder & CEO, Lemma DOOH is being transformed by programmatic technology, which allows for contextual ads, real-time data-synced ads, hyper-local ads, and more. The use of hyper-realistic anamorphic 3D ads and interactive ads are becoming increasingly popular. "DOOH provides greater flexibility in content and targeting, offering immersive experiences with technologies like AR and VR. Other popular advertising formats include experiential marketing, ambient advertising, and guerilla advertising, which aim to engage audiences through unconventional and creative means. Additionally, there is a growing trend towards sustainability in OOH advertising, with more brands using green materials and renewable energy sources for their installations."

He further adds, "OOH companies are also incorporating experiential marketing elements into their campaigns to create memorable and immersive experiences for consumers, some of which include the use of QR codes, augmented reality, among others. In fact, we've executed a campaign wherein we've showcased audience tweets live on digital billboards, enabling audiences to tell their story on a bigger canvas and generate impact for the brand programmatically."
---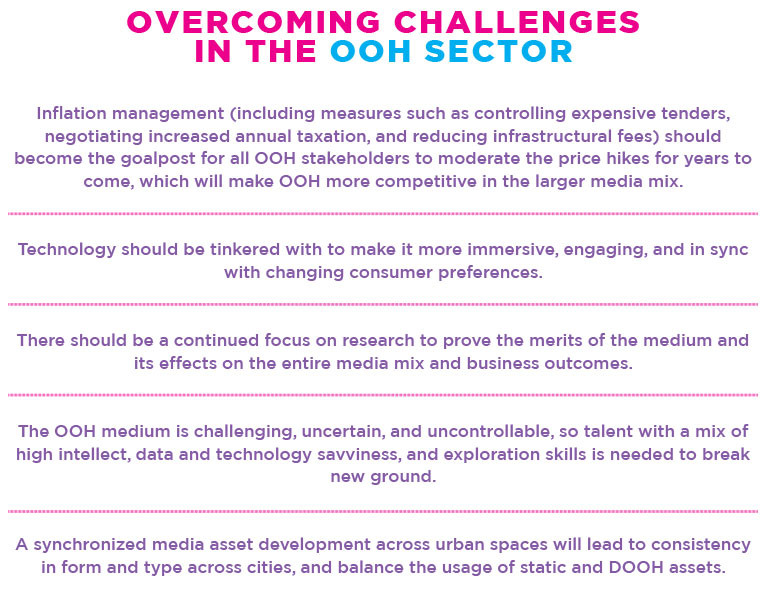 ---

Technological advancements have thrown open the door for endless possibilities. Picture this – an Outdoor solar billboard that generates electricity. That is exactly what Zest Outdoor introduced last year. The Mumbai-based agency had installed 17 solar billboards in the city. In an interview with IMPACT in 2022, Mustafa Akolawala, Founder, Zest Outdoor Media, who has developed the entire concept of solar hoardings, highlighted how the agency generates electricity and how it is helping the Indian Railways. "We are reconstructing hoardings and at the same time taking care of the environment. We are generating nearly three times the energy that the hoardings are consuming, and the generated electricity is then given to the Indian Railways. That is how the Railways get the energy that we are producing for free. If a brand books a hoarding, which has solar energy, then they are also contributing to the environment," he said.



Recently, MOMS Outdoor Media Solutions executed an OOH campaign for Araldite, which is part of Pidilite Industries. The brand has installed a road roller on a billboard along the busy streets of Mumbai & Delhi. Sharing how the campaign was conceptualized, Jayesh Yagnik, CEO, MOMS Outdoor Media Solutions said, "Araldite is known worldwide for its ability to stick and fix anything. We took this as a challenge to showcase the strength on ground by sticking one of the heaviest items on a billboard - a road roller. The brand had executed a similar campaign in the 80s in the UK, and we wanted to recreate that buzz in India. The campaign aims to create instant recognition for the brand."
---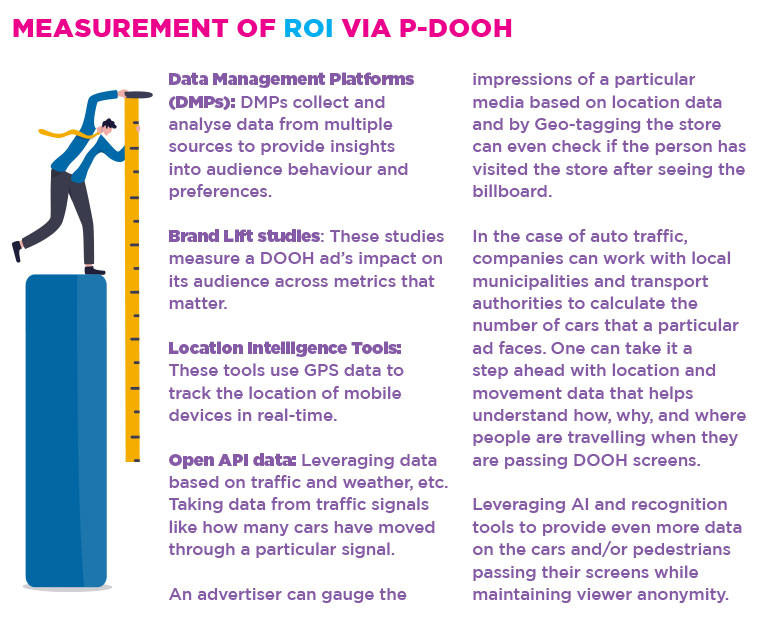 ---

Talking about another innovation, Satyabrata Das, Head-Strategic Alliances & Corporate Communications, Laqshya Media shares, "We brought 3D anamorphic in India for the first time. There were some very gutsy clients like Tanishq, Absolut, Indian Oil and multiple other brands. This technology got the brands very close to the consumers in a very interactive manner. For instance, we did an installation at Bandstand for Tanishq, where people came and clicked their picture with the jewellery and their photos came out on the screen. So, it was a good experience that the people had with that installation. Also, there's a gesture based game we did for Absolut in Bandra. We called people to create gestures in front of a screen and then it amplified in a big way."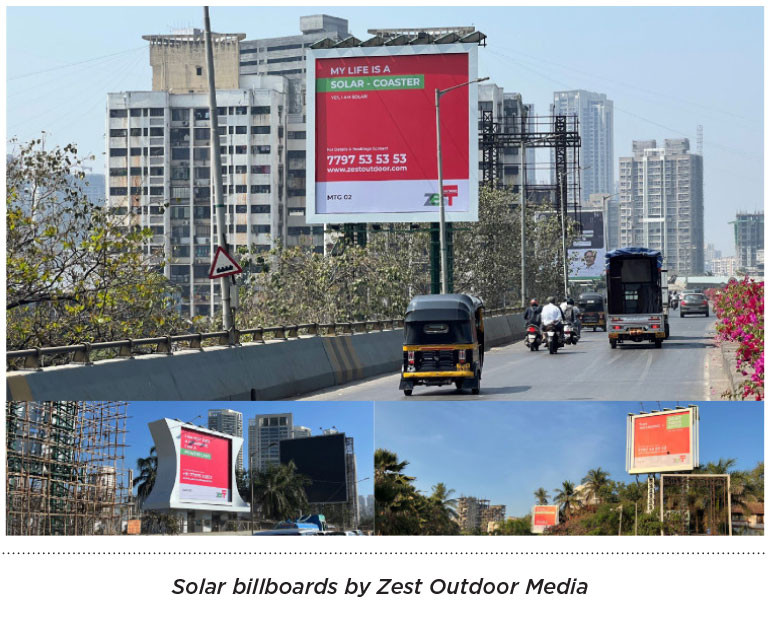 Is DOOH the future of OOH?
DOOH is a fast-growing segment that uses Digital screens in public spaces to deliver targeted, interactive content to consumers. With the increasing use of technology, DOOH is becoming more sophisticated, offering real-time data and personalized experiences. As a result, many experts believe that DOOH has the potential to be the future of OOH advertising.

Ajay Mehta, MD, Kinetic India believes that today OOH advertising is as relevant, if not more than what it used to be. "Since the COVID-19 pandemic, many people are spending more time outdoors, whether for leisure or work. Air travel has picked up, and in most cities has surpassed pre-pandemic levels. Modern transportation, such as metros and expressways also offer new and exciting OOH advertising opportunities. Although traditionally OOH has lacked data, that is changing thanks to mobile technologies. DOOH is a growing revolution, with significant investments for its infrastructure. Consumer habits, the supply ecosystem, and measurability ensure that OOH will compete effectively with other mediums," he shares.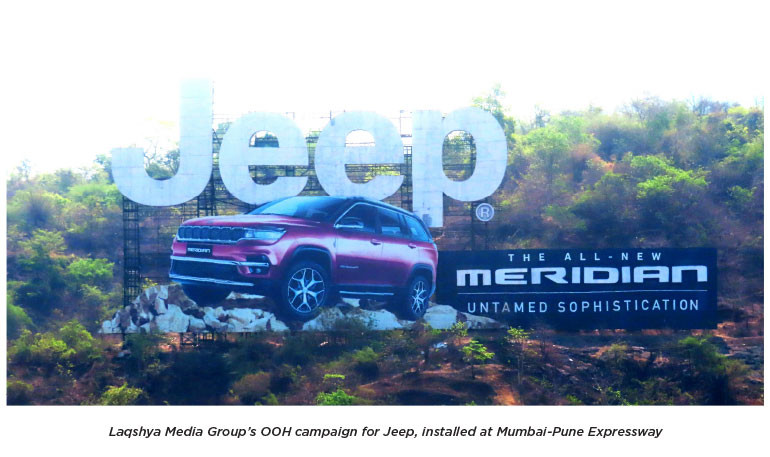 Pramod Bhandula, Executive Chairman of JC Decaux, notes that digital screens have become more widespread, especially in Mumbai where roadside billboards are being digitized. "Airports, metro rails, and railway stations are also leading the way in the digitization of OOH advertising due to their controlled environments. Digital screens offer advertisers the ability to display dynamic and interactive content, from static images and videos to live feeds and interactive displays. In the future, programmatic buying based on data, Geo tagging, AR/VR, and other advanced technologies will likely become more prevalent in the OOH industry."



Rachana Lokhande, Founder of Glocal Bridge explains that the OOH industry has been transformed by investments in Digital technology, software, and data-driven platforms. "Brands are experimenting with data and DOOH, which pairs well with social media for locally relevant messaging. OOH also complements other media to drive incremental reach and deliver impactful creatives. Data is crucial in measuring campaigns, capturing audience behaviour, and optimising future campaigns. Digital OOH is seeing massive growth, with programmatic driving automated buying and inclusion in omni-channel media buys. OOH offers a non-intrusive, brand-safe, and fraud-free solution in a Digital world that is grappling with fraud, privacy, and hyper-personalisation," she shares.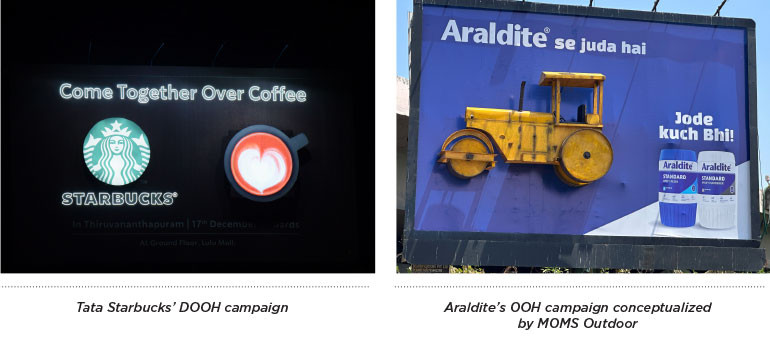 "I believe that programmatic DOOH will play a larger role in the coming years, as there is an enormous potential for synergy between pDOOH and Digital, and moving towards a single source planning and execution. OOH measurement will become an essential component of all OOH campaigns, just as campaign delivery will become an important evaluation mechanism for OOH. In addition, tech-led innovations will continue to dominate the OOH landscape in major cities," says Anna Ohlin, Country Marketing Manager, IKEA India.


Growth of OOH
In an era of incessant digital and TV ad campaigns, the significance of OOH has not diminished. Prime locations are still selling at exorbitant prices, as technological advancements fine tune the look and feel befitting for a digital audience.

Bhandula states that the OOH advertising market in India was valued at approximately INR 3500cr in 2022, with the digital OOH segment growing at a faster rate than traditional formats. He expects the industry to continue growing at double-digit rates in the near future due to various factors, including the increasing utilization of data and analytics, the growing adoption of new technologies, and the development of fresh and creative OOH formats.
---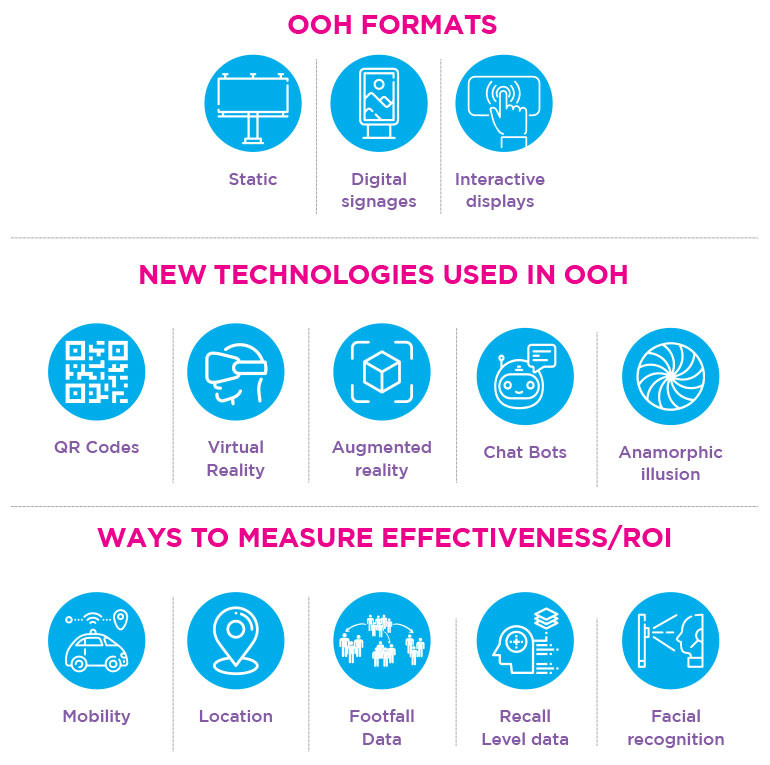 ---

Yagnik says that OOH has come a long way in recent years, evolving from just billboards and posters to various media formats such as street furniture and transit. He notes that infrastructure growth, added transit options, and an increase in DOOH inventory are the key trends driving the growth of the OOH industry.

He believes that data is crucial to gain a better understanding of customers. "With the availability of data and advanced analytics tools, advertisers and marketers can now micro-target their audience and measure their campaigns' effectiveness precisely. Real-time data and audience insights allow advertisers to optimize their campaigns and deliver more personalized messages. At MOMS, we use various tools to derive campaign impressions," he says.
---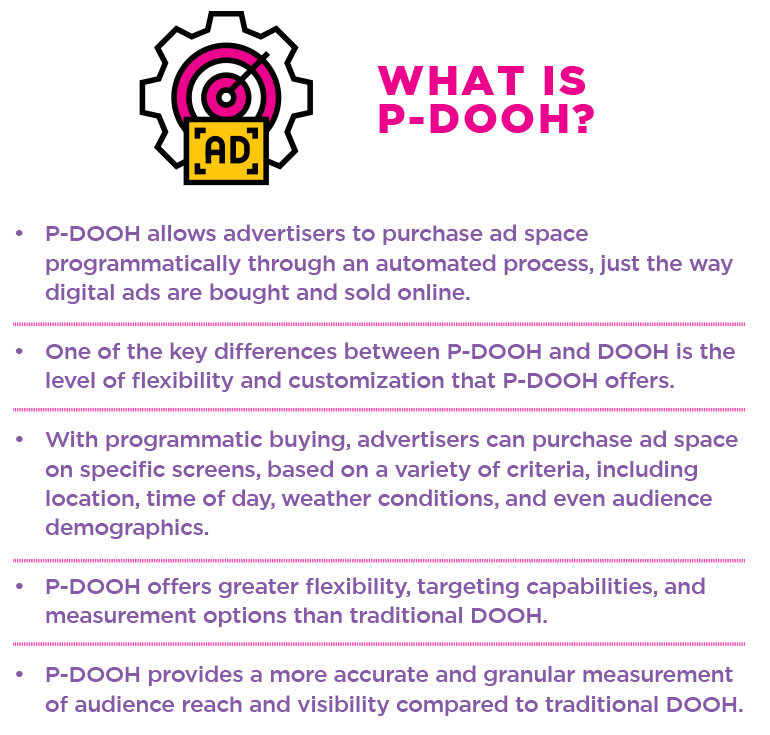 ---

Vinkoo Chakraborty, President of Rapport Chrome, an OOH arm of IPG Mediabrands India, says that the OOH advertising industry has undergone significant changes in recent years, propelled by several factors. "The government's focus on infrastructure projects and city beautification has created new opportunities, while municipal corporations are emphasizing the importance of OOH advertising. In addition, some media partners are improving their assets aesthetically and technologically, using data to enhance their performance."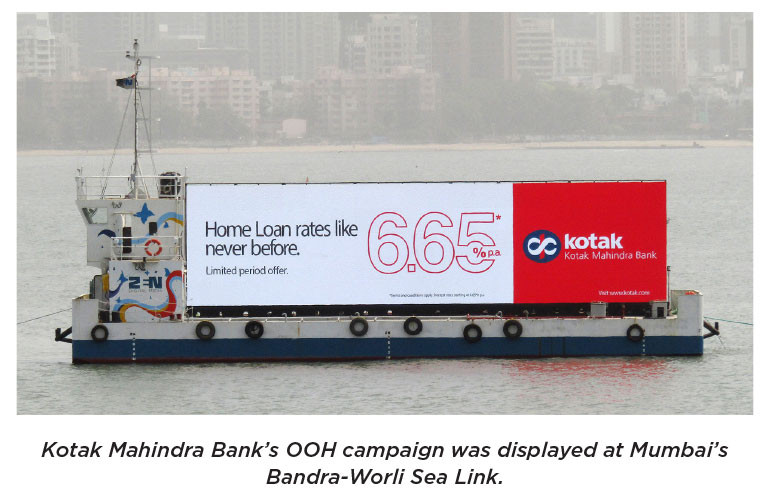 She further elaborated that advertisers demand similar data from mainline media, which OOH is increasingly providing. "Real-time proof of execution has strengthened the industry while digital screens and programmatic ads aid targeted campaigns. There is a trend towards experiential campaigns utilizing OOH, and GOI Digital public goods like UPI and Co-win apps drive technology experimentation in India. These factors work together to encourage growth and learning in the industry."
---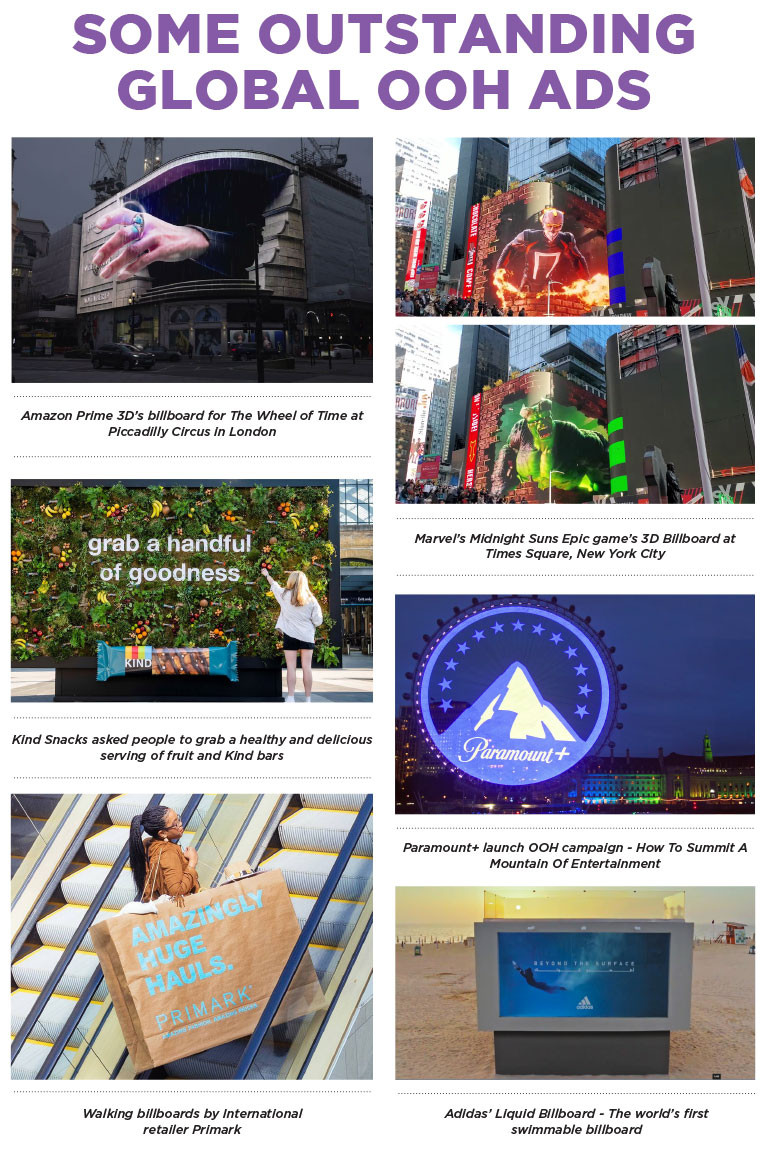 ---
OOH advertising is here to stay, but it must continue to evolve and adapt to the changing needs of consumers and marketers. The industry needs to embrace new technologies and innovations, while also maintaining its focus on creativity and delivering compelling experiences for audiences. Finally, the measurement of effectiveness must continue to improve to ensure that brands are getting the best possible return on their investment in OOH advertising.
---
How are brands using OOH?
The first use of billboards as we know it began in the 1830s. It is attributed to one Jared Bill, who wanted to advertise a circus. Over the years brands across the world developed this model to reach their target audience, and today we have a bunch of OOH advertising options. Brands can choose from billboards, street furniture, transit ads, digital displays, and experiential marketing. Add the digital factor to this, and some programmatic on top, and you have a potent medium to let the world know of your existence.

Anna Ohlin, Country Marketing Manager, IKEA India, highlights the importance of Out-of-Home (OOH) Advertising in their communication strategy for building medium-strength branding and message recall. "IKEA has effectively used various styles of outdoor advertising to establish its brand in India. The pandemic has led to a surge in digital and transit OOH advertising, while controlled areas like airports, residential societies, and corporations have also expanded their footprint. As normalcy is restored, office and commercial spaces are witnessing the highest frequency of visitors and visibility for OOH advertising. Similarly, the workplace commute has resulted in the recovery of transit as a prominent OOH touch point," she shares.

She further adds, "When we launched our new brand positioning 'Ghar Aajao' during the last festive season in September/October, OOH provided the best creative recall. To deliver the message, we used innovative formats such as lift branding, metro and bus wraps, cluster hoardings, and other innovations beyond traditional billboards."

Ruchika Malhan Varma, Chief Marketing Officer, Future Generali India Insurance Ltd, believes that technology has brought a fresh and unexpected transformation to Out-of-home (OOH) advertising. A specific example she cites is the addition of QR codes on billboards. According to her, with high internet penetration and increased mobile phone usage in India, it was logical to provide consumers with an interactive experience using OOH advertising and smartphones.

The brand's recent OOH advertising campaign was a groundbreaking one. "The campaign featured two real-life same-sex couples, Yogi & Kabeer, and Adhila & Noora, in strategic locations with high footfalls like cafes, malls, and restaurants in Mumbai, Delhi, Gurugram, Goa, and Bengaluru. The campaign was exceptionally impactful and continues to generate conversations even now with the Supreme Court currently hearing petitions to legalize same-sex marriage," she explains.

"We created a digital and outdoor advertising campaign featuring Jacqueline Fernandes, called 'Yeh Nahi Toh Kuch Nahi' and displayed it on hoardings, billboards and wall wraps in Delhi, Calcutta, Bombay, Jaipur, along with few other cities, and in semi-urban areas as well. The campaign has had a significant impact on consumers, as they recall the brand commercial after seeing the outdoor advertisements. Our point of sale advertising runs for 12 months a year, and our total outdoor advertising, including pure and hoardings, constitutes around 20% of our advertising budget," shares Saket Todi, Executive Director of Lux Industries.

He adds that the brand is yet to try DOOH, as there are very few available. "In Calcutta, for example, there are hardly four or five DOOH displays across the city, which is 0.001% of the number of hoardings. However, DOOH is a promising medium that we hope to use more of in the future."

"When we launched our first store in Kerala, we used a different message on OOH than we did on digital. We had a design that announced the launch of Starbucks in Kerala and showcased an innovation featuring latte art, which is the designs our baristas make on the cups of latte. The designs kept changing, and we won an innovation award in India for it. I believe that OOH has two objectives. The first is to use it as a medium for innovation, and the second is to reinforce your brand message." shares Deepa Krishnan, Director of Marketing, Category, Loyalty, and Digital, Tata Starbucks.

Abhik Sanyal, SVP & Head-Consumer Marketing, DSP Investment Managers, emphasizes on the importance of well-crafted creative messaging tailored for Out-of-Home (OOH) advertising. "I am confident that a well-planned and designed OOH strategy can deliver tremendous impact on awareness and consideration, sparking engaging conversations, and leading to success, both pre- and post-pandemic. Our recent 'Let's Index' OOH campaign, aimed at educating people about index funds, worked well for us. Other memorable OOH campaigns from the past that did well for us were 'Markets Fluctuate' and 'Axe Your Tax' campaigns," he says.

Deba Ghoshal, VP and Head of Marketing at Voltas, says that the merging of OOH advertising with social media has become more common. "Hashtags and other social media components are now included in many OOH campaigns to encourage customers to engage with the brand on social media and share their experiences with others. However, the fundamentals of OOH advertising have remained consistent in terms of messaging. The message should be uncluttered, with few stark elements and sharp, precise messaging that emphasizes the primary branding. We should always remember that OOH is a reminder medium with an impact on any campaign," he explains.