2020 is a year best forgotten for most brands across the world, but for MX Player 2020 has been spectacular for multiple reasons. Not only did MX Player become the number 1 breakout streaming app in the country as per an App Annie report, and overtaking Hotstar but the brand also went on to launch a host of wings under MX Player like gaming, a short form video platform called MX Takatak, MX ShareKaro – an easy to use sharing app as well as launched its OTT presence across 12 countries.
Elaborating on the vision behind the aggressive expansion plan in 2020, Karan Bedi, CEO, MX Player says, "We had a very clear vision that we wanted to build products on the platform that were relevant to our users. And in each of those products, we are now market leaders.



It wasn't a random call. It was very clearly focused on creating a value proposition based on how the user wanted different things for entertainment at different parts of his day-- from using the existing MX Player, to video streaming, audio streaming to gaming, and more recently MX Takatak which is our short video platform when we saw that opportunity. So we continue to have a set of users that interact with different parts of the app at different times of the day.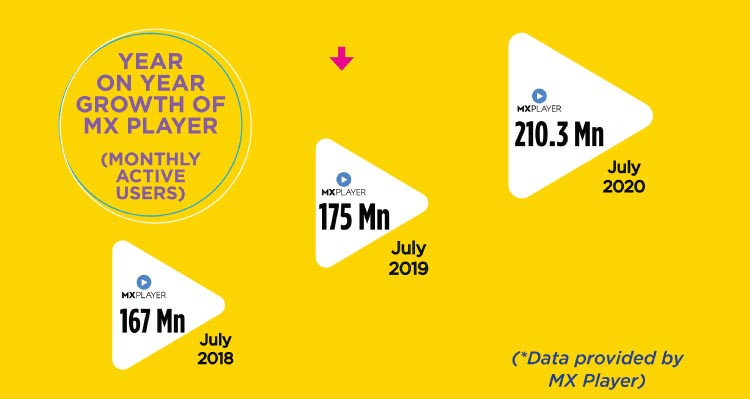 And overall both the user base and the engagement level per user has shot up over the last year."
Unlike other OTT platforms, MX Player had an advantage of 175 million monthly active users on the video playing app they had acquired for Rs 1000 crore. While the task of retaining the existing user base and converting it into OTT users was also a mammoth one, the others like Zee5, Hotstar and Voot had to struggle to get users from scratch.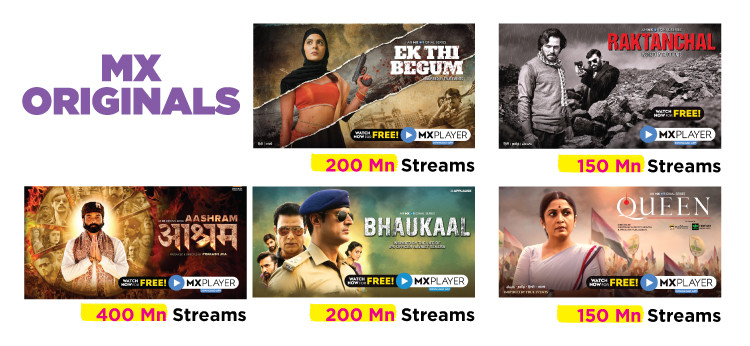 Talking about what might be more challenging, Bedi says, "Hotstar is a great company, but I think the one thing you have to always remember about them or anybody else who is connected to the broadcaster space is that they came into the picture with a huge amount of content already available to them.
We had nothing, we built every single bit of our content from scratch, whether it was stuff that we created or shows that we licensed or bought. Of course, in distribution we had a big leg up, but distribution and content are two equally important parts of the business. So I wouldn't say it was any easier for us or them.
I think everyone has their own journey. I'm just happy that we've done really well and managed to get to that spot."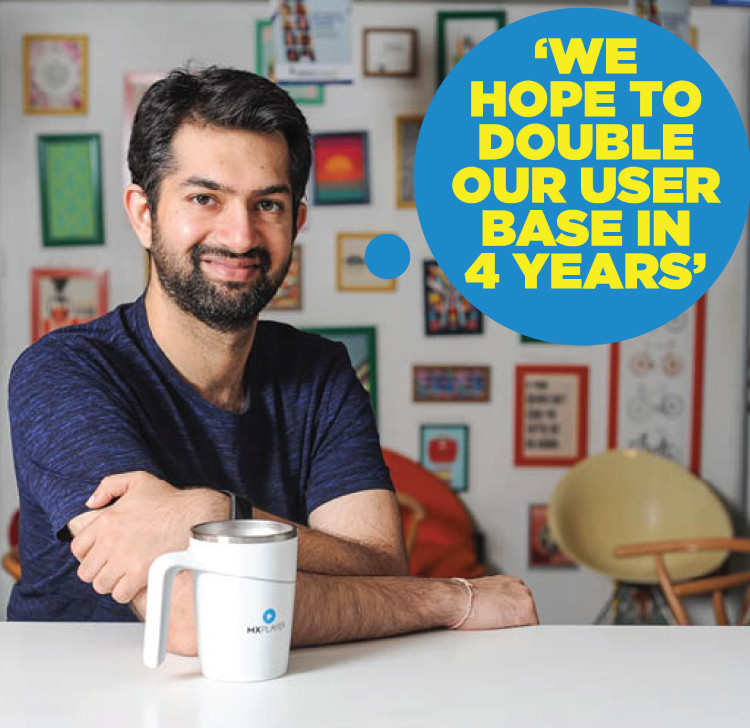 Having expanded to key segments like gaming and short form video in 2020 which are generating good returns for the brand, Karan Bedi, CEO, MX Player tells Neeta Nair if they are now ready to take the subscription leap after establishing an 'Everytainment' platform that reaches 200 million plus monthly active users
Q] 2020 has been an aggressive year for you, how much is your user base today?
We are the largest OTT player in India today, and have been so consistently for the last six months. We've very much hit our goal, and frankly have exceeded it. We had the vision to be the largest, but didn't think it would happen this quickly, we had a slightly longer term framework in mind.
It's been done on the back of starting from scratch, we didn't have any TV network backing us. Obviously Times Group brings a lot of media muscle into the business, but it was primarily a news group, not an entertainment group. Our teams and shareholders managed to hit it out of the park.
Overall the platform has close to 220 MAU (Monthly Average Users). It's a very large jump that's happened across our different media platforms and this concept of 'everytainment' has not only helped us expand our user base, but has also absolutely further retained and re-engaged our existing user base that we had at the time (175 million MAU at the time of MX Player's acquisition).
Q] One of the first offshoots of MX Player was gaming and the timing of the formal launch was great i.e. just before the lockdown. Eight months later, what is the advertiser response to MX gaming?
Gaming is a very high engagement platform and one of the best platforms for advertising as far as clients are concerned. India is still a very AVOD friendly market, and not so much SVOD friendly. So when we show an ad in video or in display the person says, 'Okay, I need to watch this ad to continue with my video'.
On gaming it's the opposite, gamers want more ads because those ads lead to different positive outcomes in their game. So if you want an extra life, or a power up in your game, the option is to either buy it or to watch an ad, and most people go with the latter. Everywhere else, people want to avoid ads somehow.
Here we have had gamers asking for more ads to get a bonus point. If you truly want your brand to resonate with an audience, the right place to put it is where people want to see it in a very friendly manner more than as a compulsion. So gaming has been a very positive rub off on both our engagement and for our revenue growth.
Q] Takatak seemed like an impulse launch just after the Chinese apps ban. Can it really replace Tiktok in India and yet stand out as a distinct MX product?
A few different apps popped up around that time and we've actually done very well, because we've had a couple of serious advantages. Out of the top thousand creators that Tiktok had, more than half of them have come exclusively to Takatak. So there's a lot of exclusive content from cool influencers.
There was a cohort of influencers who emerged out of the TikTok era and another that will emerge from our era. The power of short video is that people from ordinary backgrounds can become famous overnight.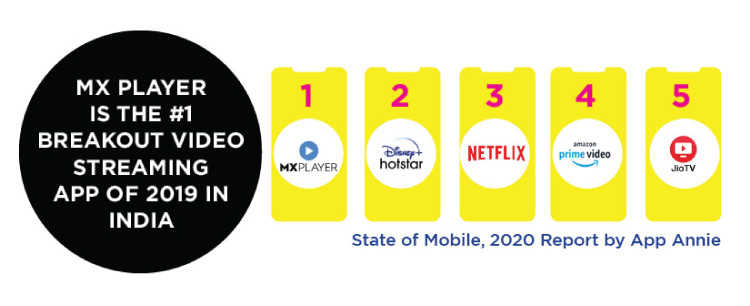 We are able to extend that even further, by saying that if you come on board you will not only become popular on Takatak, but then the next step is you star in an MX web series with some of our core Bollywood talent. So that's the unique aspect and we're far north of 10 million daily active users on the app.
We have the largest distribution of any entertainment app in the country outside of the Google and Facebook ecosystem, so we bring a lot of value to our creators. That's why I think Takatak will do really well and will be bigger than TikTok.
Q] Satyan Gajwani in an interview said that so far MX Player's priority was to fill the consumer need for entertainment, but the agenda for the next couple of years will be to figure out new ways to monetise. Will you dive into the subscription model soon?
We still continue to believe that India's large economy is an ad driven media market, but obviously as we go forward and disposable incomes start to rise, there will be pockets of demand popping up for subscription and we will make sure we are there to address them.
So we will certainly be experimenting with different ways to monetise over the next few quarters. But we also do believe that it's going to be a mixed market. There are markets in the world that are only advertising-led with very low subscription, but there is no market in the world that has only subscription. Either way, we will make sure that we have the largest user base possible.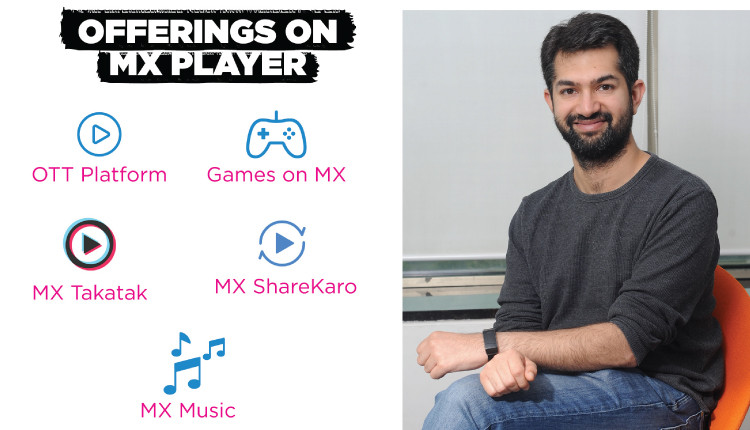 "Out of the top thousand creators that Tiktok had, more than half of them have come exclusively to Takatak."
Q] At present many big budget films are slated for release on OTT platforms, the most talked about being Laxmi Bomb. There were also Shakuntala Devi and Gulabo Sitabo but despite a big opportunity we haven't seen any releases on MX Player yet, why?
We certainly were not opposed to it in principle, but you need to be very cognizant of what the math is going to be like on this. And in some of these cases that wasn't happening. For e.g. in some cases, the platform that released the films had already paid for the digital rights of those films but in my view they had to pay a lot to convert the digital rights into all rights like one has to do when a film is up for release in a theatre.
Maybe at that time it was a win-win situation for them and the producer but in general, we found that the math was just not sitting right. Let's see how Laxmi Bomb turns up, but the view was that some of these are really large numbers in terms of the economics and it was not clear as to what the outcome would be.
But in general, what this did was it opened up the concept of films coming on to 'digital first' before theatrical release. And I think that concept is going to continue. We chose not to participate, because we didn't think that any particular deal construct that was happening at the time in terms of the economic value was suitable for us.
Q] There are one too many OTT players in the market today offering good content. How are you different from a Sony Liv, Hotstar or Zee5?
Some of these platforms have three originals, some five or eight. But we've got more than 60 over the last couple of years. I think the move away from TV content to content specifically created for these digital audiences, like we call them the mass mobile millennial is the distinguishing factor.
These audiences don't have anything to watch on TV barring one or two game shows and we are creating content specifically for them. Also, we've been there on regional from day one.
MX's user base is so large and so well represented across all our geographical spread of India that we wanted to be very clear that we will not be a one language platform. Also our 'everytainment' proposition is very powerful, there's nobody else out there that's even near it.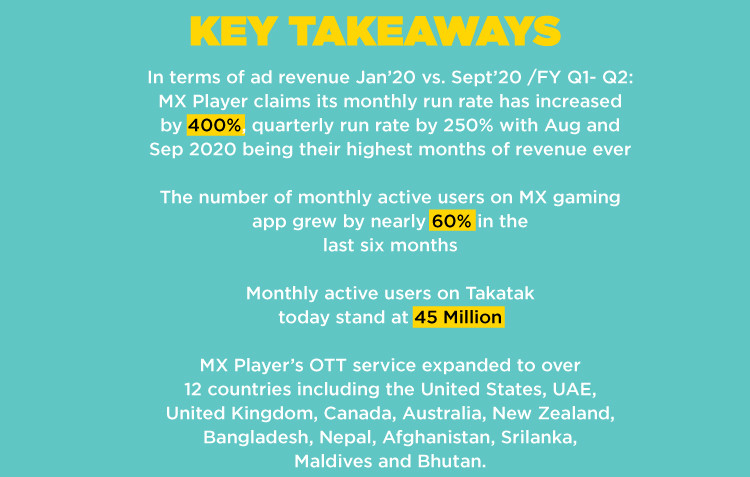 Q] MX's recent original 'High' has been correctly timed around the drug related controversies plaguing the entertainment industry. Did you advance the release to retain the topicality or was the plan always to release the show at this point?
These shows take a lot of time to create. So this has been in the works for a long time now. But I agree, it certainly was great timing. The subject is being widely talked about today and the show actually gives a very deep insight into much of what is being discussed.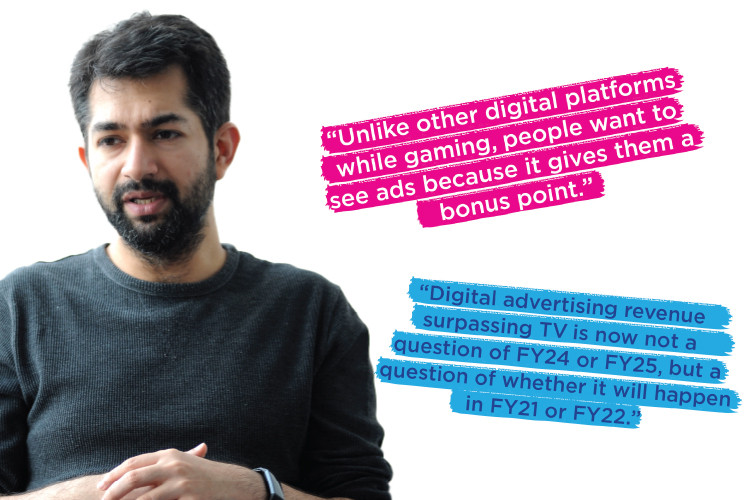 Many questions are being raised in the news about how all this happens, what is happening, is this real, etc. And obviously, while the show is fictional, you can imagine a lot of these situations are taken from real life and very well researched.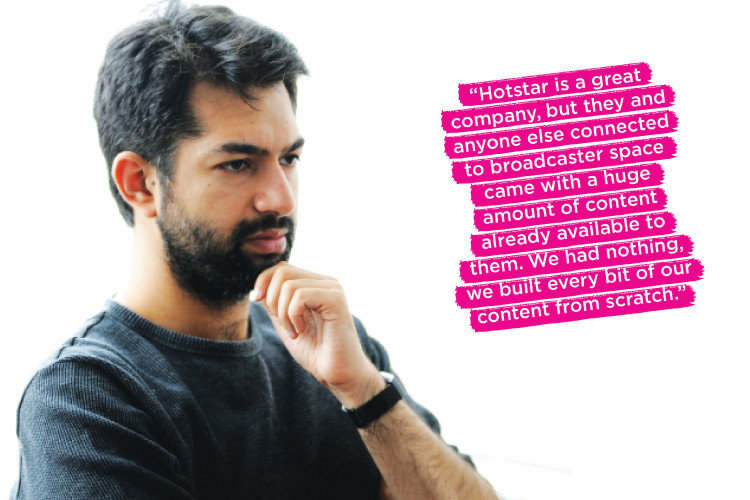 Q] How has the year 2020 been as far as advertising revenues are concerned?
We had two great months in August and September and again we expect October, November, December to be very good months. TakaTak and gaming will turn out to be very big for us.
Wherever the consumption goes, the money follows, and the money has started following our products. Overall Digital is now bigger than Print, and digital advertising revenue surpassing TV is now not a question of FY24 or FY25, but a question of whether it will happen in FY21 or FY22.
Monetisation is becoming very strong on our platforms. And as far as the growth of our user base is concerned, in three to four years India will have around 800 million broadband connected screens between smartphones, smart TVs, laptops, etc. and we expect to be on at least 500 million of those connected screens.
Currently we have roughly around 200 million users, I think there's room to more than double that in the next three, four years.