Lintas is an agency that has been the karmabhoomi of many advertising stalwarts of the stature of Alyque Padamsee, R Balki and others. But in the last two years, the MullenLowe Lintas Group faced a unique challenge – the rapid exit of some of their top leaders, that too months after Balki had stepped down. While leaders leaving agencies is not uncommon, what really added to the complexities for the Group is that Joseph George, Arun Iyer and Rajesh Ramaswamy, who had spent decades with the Group, went on to start their own agencies, competing in the same market as MullenLowe Lintas.
Talking about the phase, Amer Jaleel, Group Chairman and CCO of MullenLowe Lintas, who was elevated to the top role a year ago says, "At the end of 2018, there were a lot of naysayers and doubt creators around us who declared that 'Lintas won't do well now'. For me, my friends were leaving Lintas; we had grown up together in the agency and thus the loss of the club was there. But then there were other things to do. At one point, I stood up and surveyed it and told myself that okay, this is my ship and it is a large one, almost an institution. People like Alyque and Balki have helmed it and I am at that place now. Also, now it's larger than it has ever been. We have two of the top 10 agencies within the country in the Group. That made the size of the task a little larger in my head, but it also made it interesting."
Cut to a year later, the agency has moved into a sprawling new office in Mumbai's Bandra Kurla Complex and also exceeded expectations by incorporating some sweeping changes. Explains Virat Tandon, Group CEO, MullenLowe Lintas, "The big changes are upgradation of the growth agenda, hyper-bundling of services and agility. We are now looking into the future, into getting new lines of business, and how we can grow the revenue and profitability and build a fitter agency using our legacy. All this has reflected in the new business performance. In 2019, the MullenLowe Lintas Group has given its best performance in five years, and this in a year considered rather rough from an industry point of view."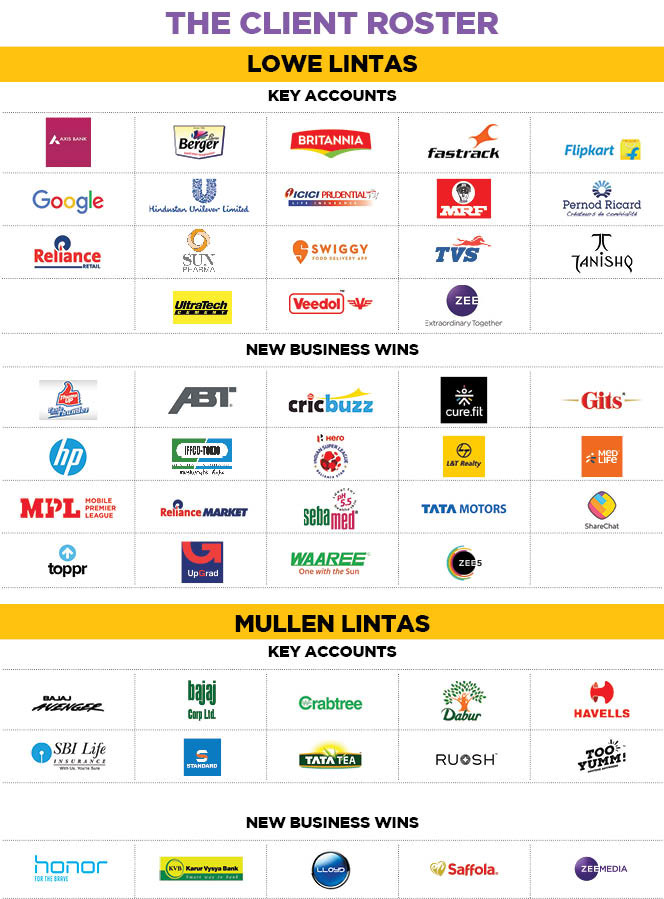 REVITALIZED BY YOUNG BLOOD
What's interesting is that Amer, along with Virat Tandon, who was also elevated at the same time, took a very unexpected approach to proving the naysayers wrong - they replaced experience with young blood. Across the two agencies, they appointed four creative heads - Prateek Bhardwaj, Sagar Kapoor, Azazul Haque and Garima Khandelwal - who had never played the full-fledged role of a CCO earlier. They were given the task of running Lowe Lintas and Mullen Lintas. Jaleel justifies his choice thus: "I wanted to show the world two things. One, that Lintas is an unending pool of talent which will never dry up. You can knock off the biggest, most fantastic icon from Lintas and you will find someone taking his place and doing it justice. Second, that Lintas attracts talent. So for our new structure, we picked Sagar and Garima who were home-grown and Azazul and Prateek who had done a fabulous job of managing Ogilvy South and McCann North. This whole thing of coming together of the old and the new for me was a very important part of this structure that I wanted for the new Lintas. Yes, I met a lot of people for the role, but I was not looking at experience or a solid portfolio alone, I was looking for qualities that connect them to the agencies which they will be heading and that is what I got. If you look at Sagar and Prateek, you will notice a certain solidity about them. If you look at Garima and Azazul, there is more spontaneity."
The gamble seems to have paid off, with both agencies between them winning more than 35 accounts in the calendar year 2019 so far, especially at a time when many agencies are struggling. The new wins include some big brands like Thums Up, HP India, Tata Motors, Zee5, Indian Super League, UpGrad, Honor Mobiles, Lloyd AC, Saffola, etc. Apart from this, the agency network has also managed to retain most of its top accounts including Lifebuoy, Surf Excel, Britannia, Flipkart, Titan, Tanishq, Berger Paints, Bajaj Avenger, Tata Tea, Dabur, Havells, SBI Life amongst others with the exception of Byju's and Clinic Plus.
Also, at a time when most big agency groups prefer to have multiple specialist agencies and also separate agencies to accommodate conflicting brands, the MullenLowe Lintas Group decided to put the toothpaste back into the tube by merging their digital-first agency PointNine Lintas back with Lowe Lintas. Tandon explains the return to a full service agency set-up earlier this year: "Since the merger, digital has become the fourth pillar of Lowe Lintas, like account, planning, creative and now digital. So, they are all integrated. Our strength has always been our client base and PointNine started as an experiment to set up processes for hyper-bundling. It was never our plan to make PointNine Lintas an independent agency on a sustained basis because that would have meant a lot of investments."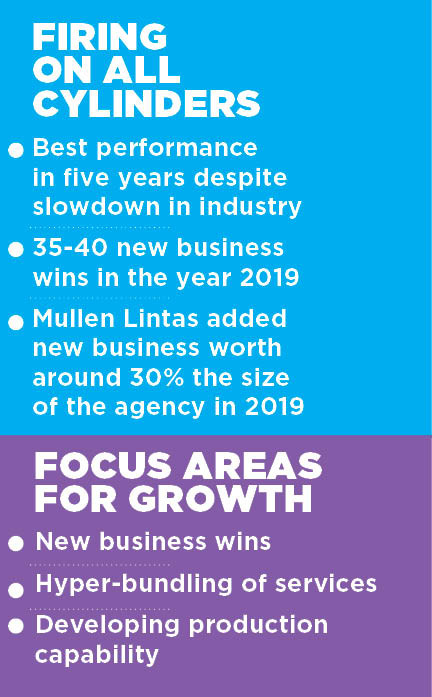 WILL THE AGENCY GO FOR AWARDS?
While winds of change are blowing over the MullenLowe Lintas Group, one can't help but wonder if their earlier policy of staying away from awards will also undergo a change. Jaleel answers, "If we were to peg our reputation and our ability to attract either talent or business on the basis of awards, then in the last two years, we have participated in nothing, yet both our agencies are in the top 10. My problem with awards is that they are too categorized, but today social media and digital has thrown up new opportunities and if awards can get a creative guy to experiment going over and above the 'format' then it makes sense. I have initiated a debate in my agency on this."
Meanwhile, like most agencies, the problems the MullenLowe Lintas Group faces is also about decreasing margins, yet Jaleel feels turning to alternatives such as in-house production units for a big chunk of the revenue is not the solution. "You can't be okay about production revenues going up while agency revenues fall," says Jaleel, adding that six-year-old LinProductions is too small and new to contribute much revenue to the Group.
Jaleel defines Lintas not as a creative agency, but a strategy company. "As a young creative, I remember telling Balki 'Here is the script, that's the idea', his response was 'That's not the idea, where is the consumer idea?' So we are strategy people and interestingly, the importance of strategy is growing in this digital era. Thus we are in a good space," Jaleel sums up.
Lintas is the place where I will retire: Amer Jaleel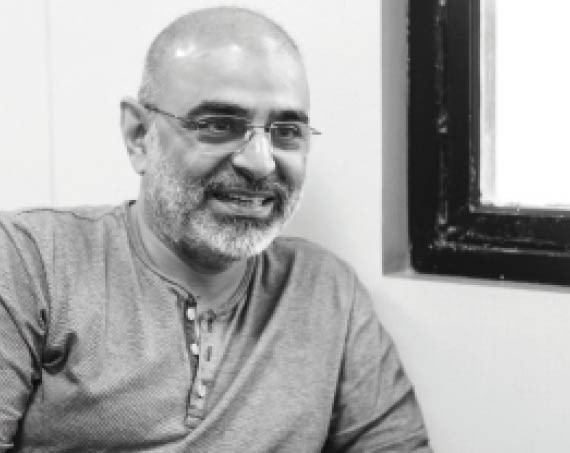 He first helped script the success story which is Lowe Lintas and then went on to build the Group's second agency, Mullen Lintas, from scratch in 2015. Today, both are considered to be amongst the top 10 agencies in the country. Amer Jaleel, Group CCO and Chairman, MullenLowe Lintas Group, talks about an agency network that he has been associated with for 17 years
Q] MullenLowe Lintas Group has most certainly turned on the aggression in the past year since your elevation. Was that your message to your new CCOs when they joined?
Yes, today the agency is alive with hunger and this is one thing I am happiest about because I personally don't have the hunger to get new business. I am not a competitive person. I am complacent. In fact, as a kid, if I won one round of table tennis against somebody, I would feel really bad, and would let the other guy win the next round. On the other hand, I find my new CCOs so hungry for work and business wins. The way they are attacking the brands and clients has resulted in an unprecedented volume of new business over the last one year.
Q] One of the first big accounts you won earlier this year was Thums Up which had been with Leo Burnett for more than a decade… can you talk about it and the other big wins?
Yes, we got a chance to do some ground-breaking work on an iconic brand like Thums Up. Apart from that, we have won 30-40 new businesses last year and we are in the process of sealing another 15. It has been a great year for us.
Q] Yet you lost Byju's and Clinic Plus, accounts that you have invested years in…
Byju's shares a very deep personal relationship with Arun (Iyer, former head of the agency). Even if Arun had begged them to stay back with Lintas, they wouldn't have. As far as Clinic Plus is concerned, the straight answer to that is Clinic Plus gave us a chance. I personally worked on that chance. They wanted us to do things differently. Then they opened up the pitch to Ogilvy and another agency. Sometimes you get caught in the legacy you have created for the brand. So, it is possible that even if we present some new work, it is judged with the legacy agency sort of background. There is a charm to freshness sometimes. It is not just the work, but also the faces that represent the work and their body language, that determines the freshness. But having said that, we didn't give up without a fight. It's one of our most loved accounts, but I guess the client saw some sense in moving to another agency.
Q] Three of your top leaders - Joseph George, Arun Iyer and Rajesh Ramaswamy - went on to start their own agencies after quitting the Group. Does the game become more interesting or tougher when ex-leaders become competitors? Do you see them as a threat?
It becomes both tough and interesting. But businesses and brands don't move along with people just like that. Business-wise, of course, everybody who goes out is a threat. But, there is a spirit behind that threat; and I feel that spirit much more than I feel that threat. People may move on from Lintas, but they don't stop singing praises of the agency. For example, Arun or Balki will never stop calling Lintas to say 'You messed up or you did a great job', or 'look, so and so was asking about this work and I told him you guys have done it'.
Q] But are they not pitching for the business of clients of Lowe Lintas, going by the buzz in the industry… No poaching?
Of course, everybody will come to pitch. One of the things about Lintas is that people have been here for a long time and thus their entire ecosystem is built from and out of Lintas. So, if you want people/clients, where will you go? You have not worked with anybody outside for the last 15 years. So you are bound to look for people inside, clients who you have formed relationships with. But are you actively hunting down people? Are you actively sort of trying to pull businesses? I have not faced that from anybody, from any of the people who have left.
Q] Vikas Mehta, CEO of Mullen Lintas, quit the agency after 15 years. Who will succeed him?
We are going to announce that soon, but the successor will most likely be from within.
Q] Lintas is one of the few agencies in India where people spend decades as opposed to jumping jobs…
When I was 28-29 years old, I never realized the depth of Lintas' work. Once somebody asked me about Lintas. My response was 'Isn't that the place where people go to retire?' And then fate brought me to Lintas. And the statement actually remains true, but is flipped on its head now. So, I have come to Lintas, and it is the place where I am going to retire, because I have grown to love it so much that I can't think of any place else to work in. That holds true for most people.
INDUSTRY CHALLENGES
ON PITCH FEE
Amer Jaleel: We charge at times, but there are hundreds of clients who say 20 agencies are doing it for free, so we have to let go sometimes.
ON THREAT FROM TECH COMPANIES
Virat Tandon: They may own the relationship at the CEO level, but we own the relationship at the consumer level.
ON IN-HOUSE PRODUCTION UNITS
Amer Jaleel: Agencies are consultants. We aren't supposed to make a big part of our money from production. It is a different business needing different skills.
The Fantastic Four
Garima Khandelwal, Azazul Haque, Sagar Kapoor and Prateek Bhardwaj
It may be the first stint as Chief Creative Officer (CCO) for Prateek Bhardwaj, Sagar Kapoor, Azazul Haque and Garima Khandelwal, but looking at the kind of new business wins the four new leaders have ensured for their respective agencies, one may well say the MullenLowe Lintas Group has got a shot in the arm by appointing them.
Heading a legacy agency, however, comes with its own set of challenges. Prateek Bhardwaj, CCO, Lowe Lintas says, "The expectation was marked out pretty clearly. To create ideas that travel beyond a television script. And to help evolve the kind of solutions we offer - by bringing teams from various verticals into the 'mainstream'. I believe our new processes have improved the offerings for all the group companies. Lowe Lintas is benefiting from having the digital and activation teams as part of their brainstorming and vice versa. We're seeing clients broaden their scope of engagement with us. Fortunately, we're also attracting some of the best talent in the industry."
His partner Sagar Kapoor, CCO, Lowe Lintas elaborates on the strategy: "Besides a conversation on the quality of work, Amer Jaleel also charted out a clear task. To keep a hyper-bundled hat on all the time. Often, with the kind and sheer amount of 'so-called' mainline work, we miss a great opportunity to stretch the idea wider. Especially with the opportunities, I was given the task of constantly working out ideas beyond TV. The good part is the client response. Most of them have shown keen interest on partnering with us in this new way of working. The challenges have been many, but a macro one has been the pressure on businesses."
While all four leaders are in sync with each other on a Group level, on an agency level, they are poles apart. Lowe Lintas moves in a more classical manner, but its directions are huge. It proposes brand ideas that live far beyond campaigns and years and marketing waves that happen inside a company. The best example of this is Surf Excel's Daag acche hai campaign. Mullen Lintas, on the other hand, has more of a challenger attitude, and is a naughtier and bubblier sort of agency. As Jaleel puts it, that is exactly how its new leaders are!
Azazul Haque, CCO, Mullen Lintas says, "We have won businesses. And we have won big brands. We have won pitches where the top agencies were involved. And in tough times, we have grown more than many agencies of Mullen's size or even the bigger ones. So the energy and the mood at Mullen is on an upswing. We are doing big campaigns which will soon see the light of day. We just need to keep the momentum going. I think we are headed the right way. It's a long journey, but we need to reach the destination fast. So we need to accelerate… in winning businesses, in creating work that disrupts, that creates conversations in the industry, that gets talked about, that's effective. It's a tough task and is equally exciting. We are an agency that's young and hungry and we wanted to make it to the top 10 not just in perception but also in size."
His partner Garima Khandelwal, CCO, Mullen Lintas, who rose through the ranks at the MullenLowe Lintas Group in the past 10 years to head Mullen Lintas, says, "Personally for me, our competition is not with any other agency, but with our own past, the year we had in 2017. It was a Midas year. The churn of campaigns literally each month of that year on different brands that broke the clutter, created conversations. So, while this year we have maintained the murmurs of our mojo intact, we need a year like 2017 again. More than growth, stability has been the key this year. We were adapting to too many changes, and the lookout was for the teams to continue feeling secure and inspired. As far as new business goes, we have added new business worth more than 30% of the size of the agency this year, making it Mullen's best year in new business ever. 10 wins 10 months in 2019 so far."

BRINGING BACK THE JOINT CCO MODEL
After taking over the top role last year, when Amer Jaleel brought in a joint CCO model to head the two agencies Lowe Lintas and Mullen Lintas, he raised many eyebrows. But it was hardly a new model at Lintas – before Mullen Lintas was even formed, Arun Iyer had been independently handling half of West and South and Amer half of West and North business. It was then that Amer says he 'naively' pitched to Balki the idea of a second agency by splitting Lintas down the middle, to which Balki's response was 'Are you mad? Don't destroy the equity of Lowe Lintas by splitting it. If you feel the need to do something different, take the hit and get fresh clients.' Amer laughs, "That is when I thought my great idea has come back to bite me. But after a lot of deliberations, I agreed to do it and that is how Mullen Lintas was formed." He adds, "We have been taught at Lintas to work with our own hands. So, if Prateek was alone and wanted to work himself on his brands, there was just no way he could handle the width of stuff that is there in Lintas. With a joint CCO model, you get to concentrate, be with the brands, and actually make a difference."

A sneak peek into 3 big announcements
The new MullenLowe Lintas Group's leadership is clearly firing on all cylinders to bring unique offerings to advertisers and there are a host of announcements on the way about which Virat Tandon, Group CEO, MullenLowe Lintas Group, talks to IMPACT.
Merging LinConsult and dCell: "We are merging LinConsult, which is into strategic brand consulting, with dCell which is into strategic design consulting and make them one entity by early next year."
Upgrading LinOpinion: "We are going to formally announce something exciting on LinOpinion, our PR firm. It will be about how we can get our PR agency to play a larger role in hyper-bundling. From corporate PR we are moving towards influencer, social, online reputation and brand PR."
Launching 'Voice Solutions': "With Internet searches and a lot of Internet experience shifting to voice, we are starting a new division providing 'voice solutions' within the Group. We will be launching it in 2-3 months."