'Nandini will beat Amul with lower prices,' 'Amul wants to finish off its lone competitor,' 'BJP wants to merge the two,' are some of the claims and allegations that have turned into a full-fledged political slugfest between the Congress, JDS, and the BJP in Karnataka ahead of the Assembly polls. The trigger being — Gujarat based Amul's announcement on April 5 to enter Karnataka to supply its milk and curd, a market dominated by Nandini — the Rs 21,000cr brand, from the Karnataka Milk Federation (KMF). This resulted in the two brands trending on social media ever since, with hashtags like #GoBackAmul to #SaveNandini, giving this business decision national attention.

Boardroom discussions have clearly reached the drawing rooms of the masses — the core consumers of the basic milk products; and political parties alike. The question is how this amplified debate or the 'white wars', has impacted the brand power of both Amul and Nandini, and does either of them stand to lose as far as the consumer perception is concerned?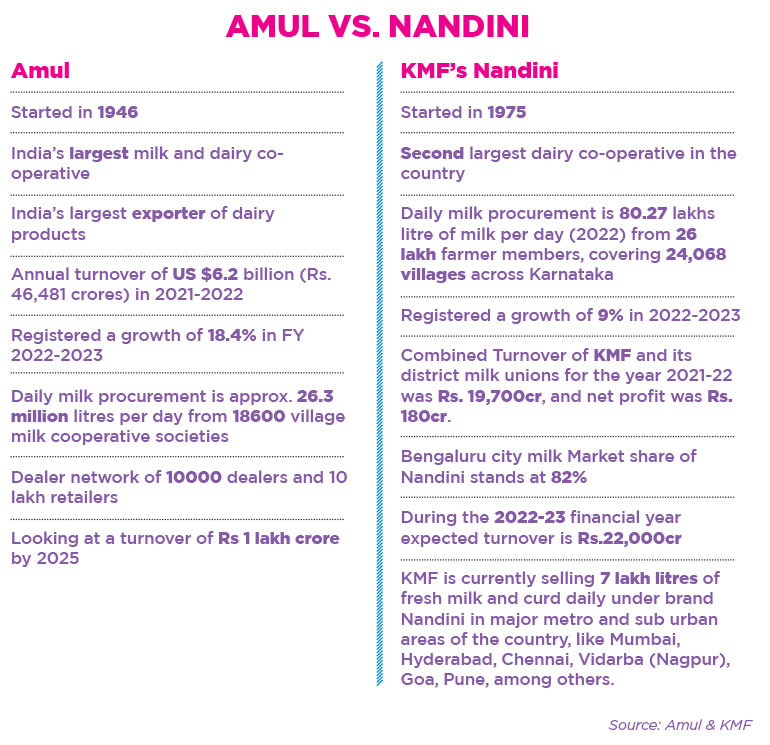 Amul vs Nandini
While Nandini is the ruling milk provider in Karnataka, it would be wrong to make this a regional versus national debate considering, KMF offers its products on demand outside of Karnataka in states including Andhra Pradesh, Tamil Nadu, Kerala, Goa, and Maharashtra in addition to Delhi, while Amul's expanse across India is well known, the company said it sells milk in over 20 states.

Defending its territory, KMF in its statement said, "It's observed in the press, social media and electronic media that Karnataka Milk Federation is getting merged with the other big Dairy Cooperative Federation and Nandini Brand has been sold to them. Further, it's also mentioned falsely that the Nandini brand will not be available in the market. Kindly note that this news is totally false, and far from the truth, and no such developments have taken place or are under consideration."

The release further stated that KMF has not entered into any agreement for increasing the milk procurement or for expansion of its markets with any Cooperative institution or Dairy Cooperative Federation. According to the statement, "KMF has become a household brand by supplying Quality Milk and Milk products at competitive prices, and thereby it has given tough competition to other brands. With the above, it has introduced Nandini milk and curds in Mumbai, Pune, Solapur of Maharashtra State, and the Vidarba region (Nagpur) in Central India, and other cities such as Hyderabad, Chennai, Goa, Kerala and all major towns and cities across the country and achieved sale of over 7 lakh lit/day."

Amid the backlash and uproar on social media, Gujarat Cooperative Milk Marketing Federation said that it's not 'Amul against Nandini', but 'Amul and Nandini' as the brand does not intend to compete but only coexist with the local dairy brand.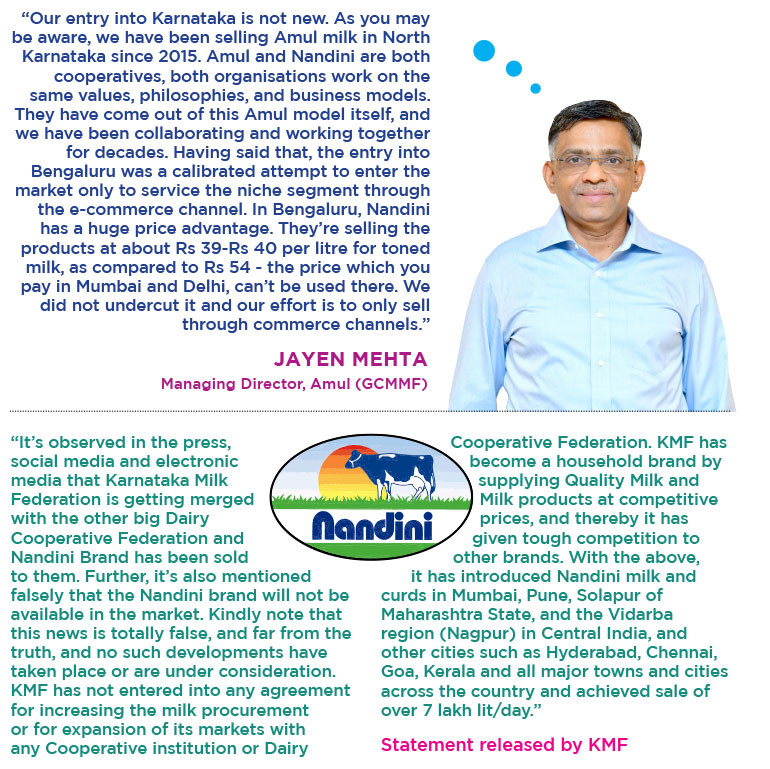 Going on to explain, Jayen Mehta, Managing Director of Gujarat Cooperative Milk Marketing Federation (GCMMF), which owns Amul, told IMPACT, "Our entry into Karnataka is not new. As you may be aware, we have been selling Amul milk in North Karnataka since 2015. Amul and Nandini are both cooperatives, both organisations work on the same values, philosophies, and business models. They have come out of this Amul model itself, and we have been collaborating and working together for decades."

He further said, "The entry into Bengaluru was a calibrated attempt to enter the market only to service the niche segment through the e-commerce channel. In Bengaluru, Nandini has a huge price advantage. They're selling the products at about Rs 39-Rs 40 per litre for toned milk, as compared to Rs 54 - the price which you pay in Mumbai and Delhi, which we can't use there. We did not undercut it and our effort is to only sell through commerce channels."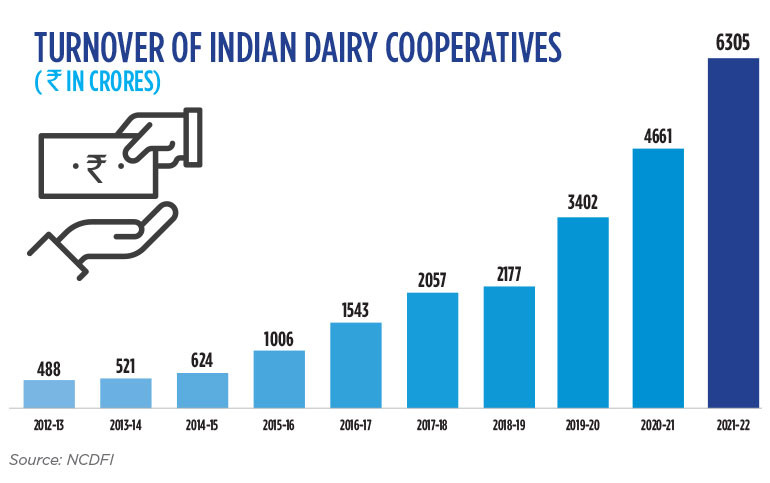 Industry divided
Amul has been available in the Karnataka market since 2015, and has also been selling packaged milk and curd in the Northern districts of the state. While Nandini as a brand has a strong presence in South, specifically Karnataka, and is much loved by locals, it also gets huge subsidies from the state and, is one of the cheapest brands of milk in the country.

In fact, both Amul and Nandini enjoy a strong brand recall and popularity in their geographies and have been in the dairy market since 1946 and 1974 respectively. Furthermore, if we compare both the diary titans' price points at which they are selling their packaged milk and curd, there's a substantial difference. Amul's 1 litre of toned milk is sold at Rs. 54/litre in Gujarat and Delhi, whereas Nandini sells at Rs. 39/litre in Bengaluru. Amul's 1 litre of full cream milk is sold at Rs. 66/litre, whereas Nandini is sold at Rs. 50 for 900 ml in Bengaluru. Amul sells its curd at Rs. 67 per kg, while Nandini's is priced at Rs. 47 per kg.



With the Amul vs. Nandini row snowballing, we asked industry experts what they make of the controversy. Dr. Sandeep Goyal, Managing Director, Rediffusion says, "The entire controversy is taking place because of a general misunderstanding. Amul said we are going into that market, no one made an effort to understand with which products they're going in. The bulk of the business is actually in selling pure milk. And that is largely a local market because fresh milk cannot be transported over long distances unless you have large refrigerated trucks and so on and so forth." According to him, Amul basically will be selling value added products, which are easier to transport, and are not as perishable as fresh milk. "So, there is no question of Amul and Nandini actually coming up as competitors. In fact, if Amul is smart enough, it will use the distribution clout of Nandini locally to distribute their brand," he added.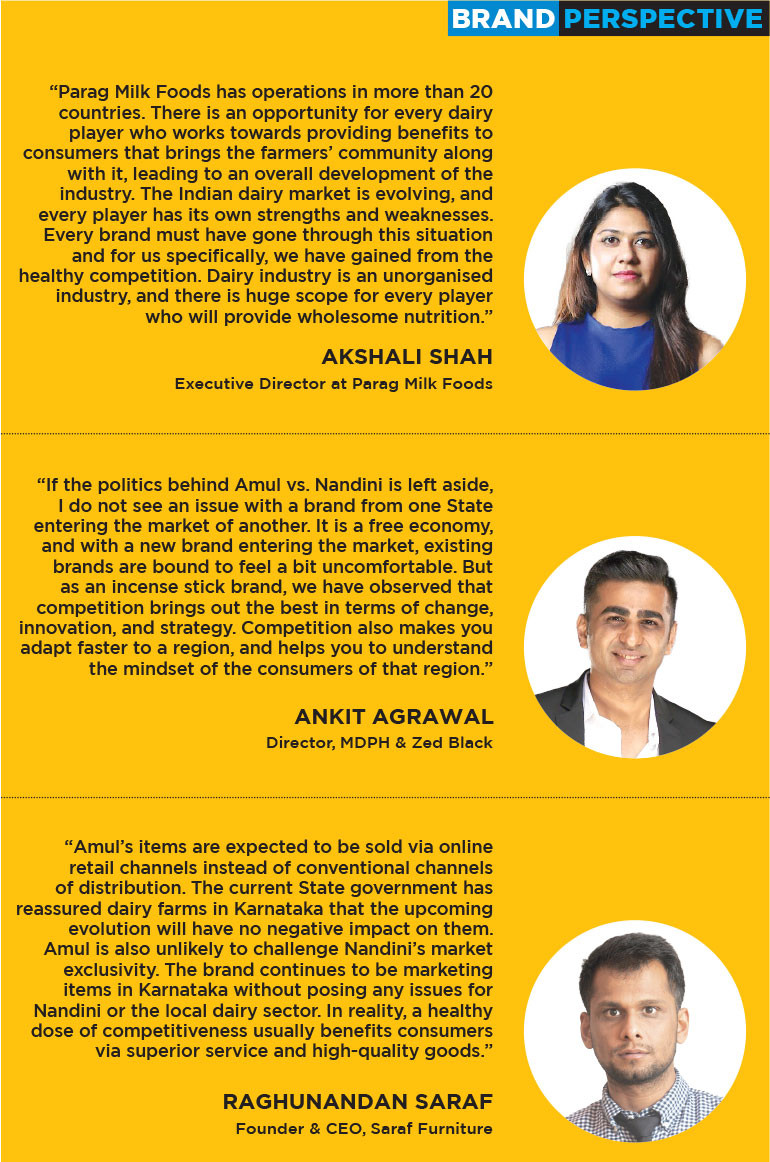 While opinions are being shared and both parties have come out with their clarifications, one can't help but wonder how hard it is for an 'outsider' brand to make its foray into a different state, even if in an open market economy, it is perfectly acceptable. Sanjay Trehan, Digital & New Media Consultant elucidates, "It may not be easy to topple Nandini as it has good consumer acceptability, and is also much cheaper than Amul. However, it's not a question of internecine war between two cooperative brands. It is about offering a choice to the customer. Let the customer choose, the customer is wise. Also, both brands can coexist as the market is huge. Amul is a great and trusted brand. While strategy and pricing may play a key role, and they may or may not tweak the price for Karnataka, it is ultimately a question of delivering value to the consumer. And delivering value based on its trusted brand principles is non-negotiable."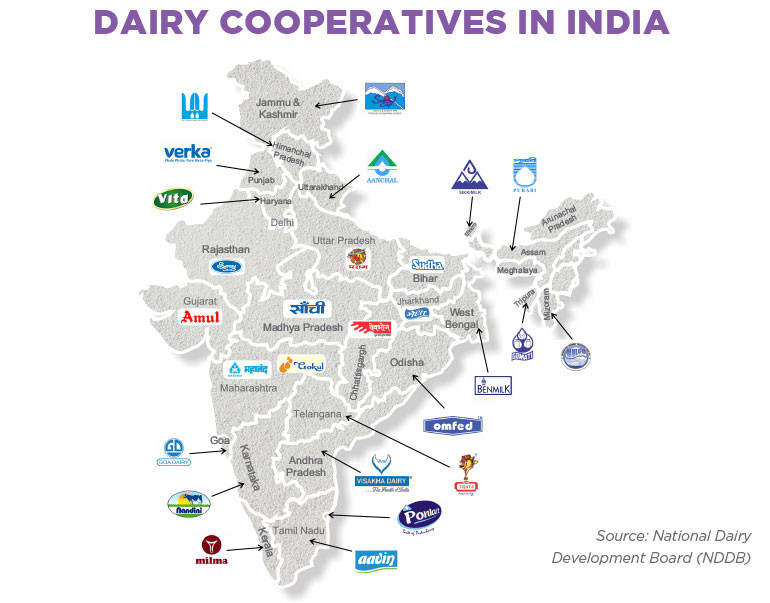 The Impact of Political Spin on Brands
The dairy giants' war has become a hot topic for primetime debates with opposition leaders questioning the motive of the ruling party. But how does becoming a part of the political agenda impact brands?



Sanjay Tripathy, Strategy & Brand Consultant believes that our politics is always driven by caste, religion, and corruption allegations. Sharing his perspective on the milk war, he says, "It is unlikely that milk will become one of the major agendas for politics in southern states. Many of the state cooperatives have not been able to take their brand beyond their states due to lack of resources. In the long term, cooperation between Amul, Nandini and all other milk cooperatives can do wonders in terms of distribution reach, logistics and Marketing. It will help farmers to increase their income and increase the export of milk products."



"I do not think the Amul brand will be affected by the controversy," says Avik Chattopadhyay, Co-founder & Partner, Expereal India. "Also, its decision to hold back its launch till after the elections, will help diffuse the situation. It is being done by a handful of people with vested interests, while the general consumer is actually quite unmoved by this. Amul is a terrific national brand and it enjoys a following in all parts of the country. In fact, there will be many people in Karnataka eagerly waiting for the brand to be available," he adds.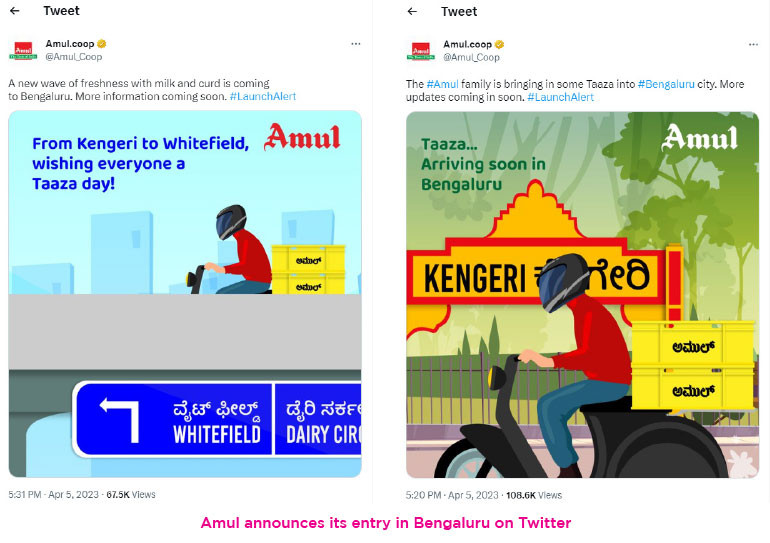 "Nandini has a strong regional foothold in Karnataka and the neighbouring states. At the same time, Amul is 'India's national dairy brand' with very strong credentials. Amul surely has the capability to make a dent in Nandini's market share. But in a price-sensitive market, whether consumers will make the transition remains to be seen as Karnataka becomes the new battleground," says Indrajeet Mookerjee, President – South & West, Denstu Creative India, while adding that Amul as a market leader would need to offer a compelling value proposition beyond price in order to compete with Nandini.

Citing Mysore Deep Perfumery House's (MDPH) example, Ankit Agrawal, Director, MDPH & Zed Black, highlights the benefits of a new brand entering a new market. He says, "If a brand entering the market has a good reputation, excellent product, competitive pricing, a sound marketing strategy, and transparent policies, then it will definitely have a positive impact on the minds of the consumer. MDPH has entered markets like Karnataka and Tamil Nadu that have original national incense stick brands. Now we are in the Top 5 companies in terms of sales in these 2 states. As long as the policies are transparent and the product is good, I don't think there should be any problem with any company or brand entering and capturing a new market."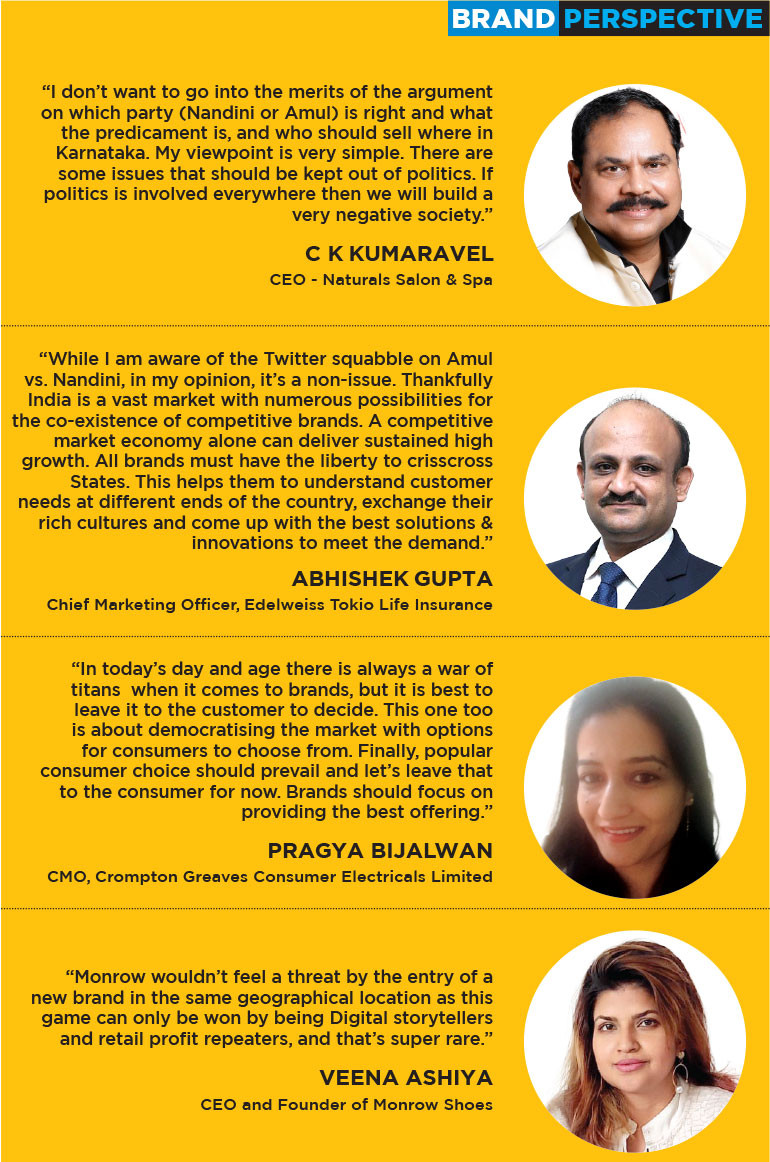 Role of Advertising
While advertising plays a crucial role in brand building and consumer engagement, it can also play an equally important role at the time of crisis. When popular chocolate brand, Cadbury landed in a controversy for selling worm infested chocolates, it was advertising that came to its rescue.

"This is a great opportunity for both brands to play to their strengths. Nandini can aim to consolidate and create a stronger recall. Amul has the opportunity to exploit some of the chinks in Nandini's armoury, and generate interest and trials," Mookherjee suggests.



"Both have their legacies and a similar business model. Amul will probably have to re-tell their story and how it changed the lives of millions, and continues to create superior products while not compromising on values. Nandini will have to talk about local pride and that its products are at par, if not better than anyone else's. If they combine forces, then it's an India story," says, Sudhir Nair, Founder & CEO, 21N78E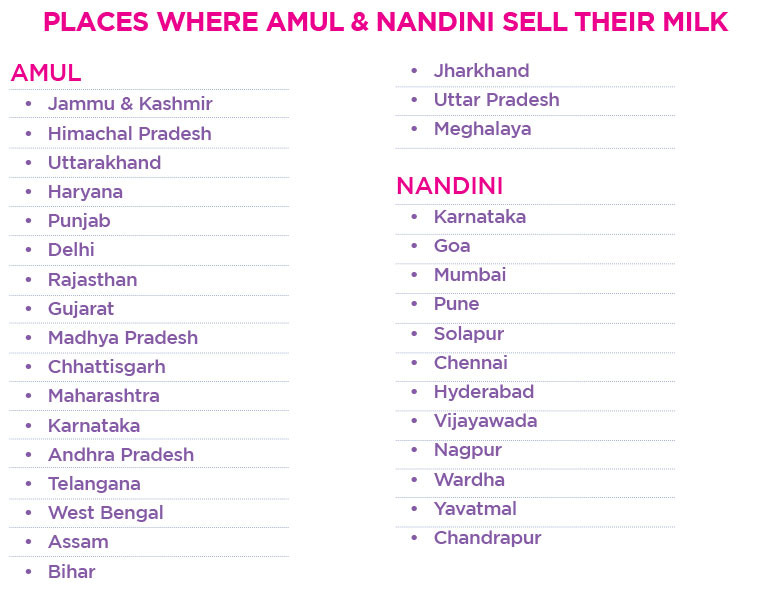 Lloyd Mathias - Angel Investor & Business Strategist shares that the most important part here is brand building, and dairy is a very competitive business. "Nandini has been largely regional, but it's very strong in Karnataka. They're quite a popular brand and have a huge market share as far as the Karnataka coast. I think for brands, controversy is never a good thing. Those might get short-term publicity. Communication is important for a brand to talk about what it stands for, its product quality, pricing and range. To be fair, Amul has done a fantastic job over the last 60 years, they have really built a solid brand," he adds.

Expansions are definitely part and parcel of any brand's journey, but is this controversy between the number 1 and number 2 players in India really necessary when Nandini itself is present in other states apart from Karnataka?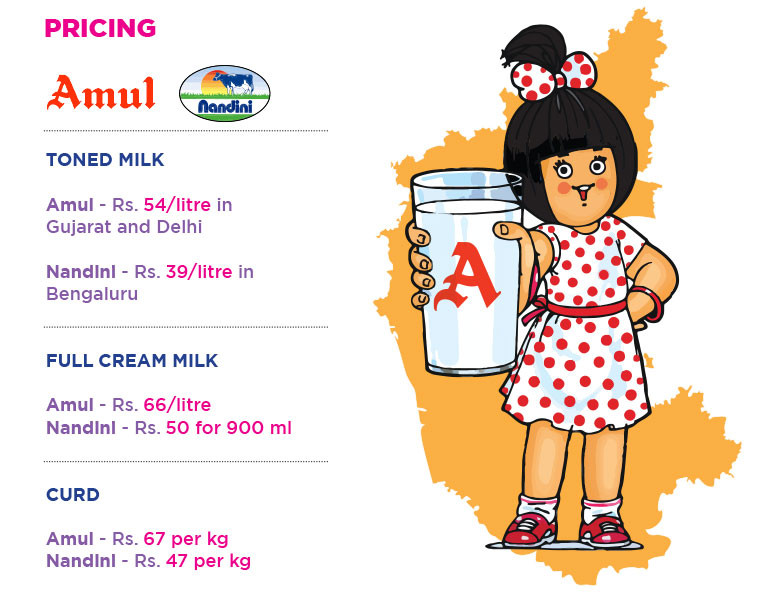 "Fear about KMF merging with Amul (GCMMF) and the consequent possible loss of subsidies to dairy farmers, politics, and bad timing have escalated this planned market entry into an emotive issue," explains Debraj Tripathy, Marketing Communication and Advertising Consultant. "Amul entering a new market, particularly where Nandini is so strong, would not have resulted in controversy under normal circumstances. There are several private brands that are present in Karnataka today, and no one raises any questions about them. There is a real fear of loss of subsidies/ benefits to dairy farmers if KMF merges with Amul. This is what has caused the current controversy. This is neither about Amul's market expansion, nor is it about Nandini being present in other markets, and hence why not Amul? It is more about the perceived threat (this could be real) to the livelihoods of dairy farmers," he further adds.

Sudhir Nair says that he doesn't see the issue as anything more than a poll plank. The initial plan that was proposed by the central government was for Amul and Nandini to jointly set up primary dairies in all villages. The merger assumptions come across purely as issues being used for political gains and for whipping up local pride."
"While both are cooperative brands, they are operating in free market dynamics, hence I don't see any diabolical plan in Amul entering Karnataka," shares Sanjay Trehan. He also adds that geographical expansion is a natural part of a brand's journey, if it is confident enough to deliver value to the customer. He concludes by saying, "If it makes sense from a cost-benefit perspective, then why not?"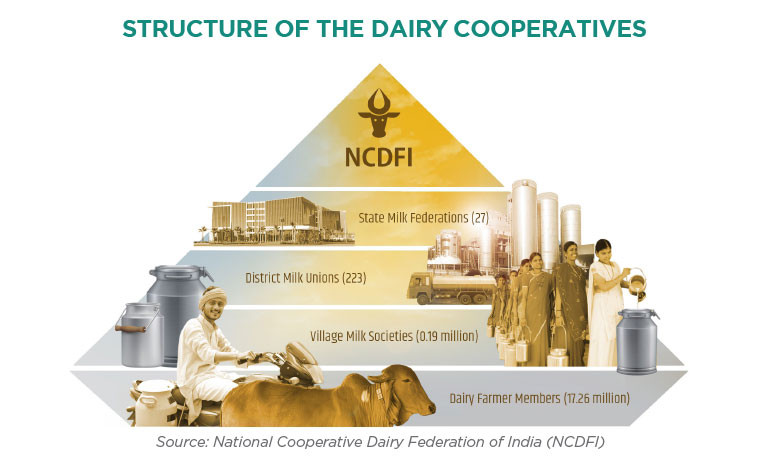 "In a consumer business, it's all about understanding the customer and having a distribution strategy in place. We should not believe in the concept of geography, but instead, we should have the concept of purpose and must continue building strong regional brands that suffice the given customer set, this will help all brands to co-exist, despite competition from national brands. The free market is good for economies where businesses and individuals have the freedom to choose as per their interests and determine fair trade for the same," shares Abhishek Gupta, Chief Marketing Officer, Edelweiss Tokio Life Insurance.

Mathias is of the opinion that it's a political feud, and will certainly fail. He says, "It might get unfortunately picked up in other states as well, and I think people are really using Amul because of Gujarat, taking pot-shots at certain political parties. So, it's a manufactured controversy, hopefully, it'll die down and long-term consumer benefit and consumer interest would prevail."