Over the past few years, influencer marketing has really cemented its place in the marketing mix, with more and more marketing budgets being allocated to it. However, with the events of 2020 and the disruption brought on by the pandemic, influencer marketing has gone on to become more than just a buzzword and in fact today constitutes as much as 10% of brand marketing spends. What's become even more evident is the role of the micro influencer in this mix. With a follower count between 10,000 and 50,000 on an average, micro influencers are considered experts in their domains and have a clear focus in terms of their content and the kind of followers they attract. With higher engagement rates and clearly defined audiences, these micro influencers have become increasingly beneficial to brands whose objective is to connect with consumers at a personal level and build credibility and relevance. And contrary to common perception, both large brands with big budgets as well as smaller, niche brands are exploring the micro influencer route to reach consumers.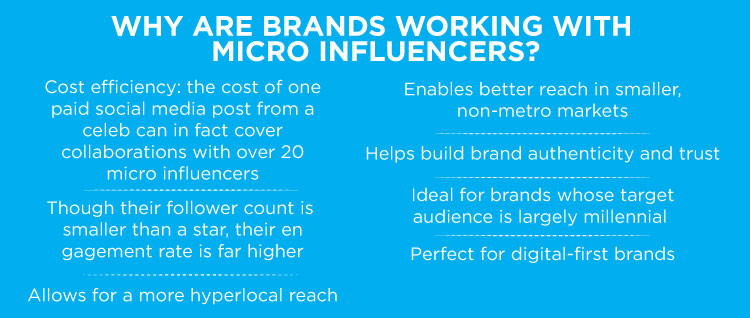 ASCI GUIDELINES FOR INFLUENCERS
In a bid to enable consumers to easily recognise advertising content on digital platforms, the Advertising Standards Council of India (ASCI) last month announced draft guidelines for influencer advertising across digital platforms. Influencers and industry experts came together to create these fresh guidelines which are expected to be implemented by 31 March 2021. The key objective of the newly proposed guidelines is to distinguish user generated content from advertisement content.
ASCI proposes that advertisements must be obviously distinguishable by the average consumer from editorial and independent user-generated content, to prevent the audience from being confused between the two. Therefore, a disclosure label must be added from the list of approved labels. The guidelines go on to cover the manner in which the disclosure should be made, keeping in mind the kind of platform and content. It also requires influencers to do their due diligence about any technical or performance claims made by them.



Driving authenticity in communication
There has been a significant rise in micro-influencers who hold significant clout over their audience, points out Komal Lath, Founder of Tute Consult, adding that they are particularly efficient for those brands that wish to create a strong foothold locally. Explaining how brands should capitalise on these micro influencers' expertise in specialised products to ensure a targeted reach, she says, "With people seeking authenticity on social media platforms, communications through influencers will also take a more organic route. You can go bigger by spending lesser, being more targeted and having pre-defined KPI's of success (not only vanity metrics) that enable this relationship to be successful."




(Source: Facebook – BCG report, Turn the Tide, released in May 2020)
Earlier the brands known to leverage influencer marketing were generally smaller start-ups or mid-sized companies with limited ad budgets. Today however, everyone from small F&B brands to large FMCG companies are capitalising on influencer marketing to drive authenticity in communication. Take for example the recent Dove #StopTheBeautyTest campaign that saw the HUL brand rope in a wide range of influencers to drive home a positive message. Likewise, Godrej's Cinthol campaign in January this year saw partnerships with content creators like Shenaz Treasury and Harish Kumar to bring to life travel experiences and adventures.
Speaking about how micro and nano influencer marketing really took off last year, Parthasarathy Mandayam, CEO – Mindshare, South Asia says, "The use of micro and nano influencers is driven by the fact that you've got to really be sharp in your targeting, and these people have very sharp targets or rather influence segments. It is about deep targeting and not just driving awareness but also perception and intent. Influencer marketing really makes a difference when it comes to driving consideration and intent. That is the reason why we saw it going up a lot last year." He also explains how GroupM's newly launched INCA, which is a completely accountable outcome based kind of approach towards influencer marketing, is addressing this need of marketers. INCA has a bank of 40,000+ influencers that are all authenticated and works with a host of brands across categories.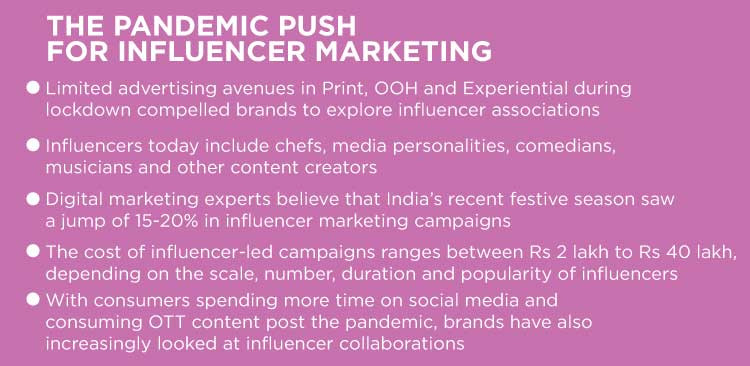 What gives micro influencers an edge?
Lath of Tute Consult also points out that investments might vary from category to category but there has been a huge rise in the micro influencer trend, which forms almost 40% of the agency's communications pie for consumer brands in particular. The investment for nano influencers begins at Rs 2,000 for platforms like Twitter and Instagram, she adds.
The 2020 pandemic also expedited the influencer and micro influencer marketing trend, as brands looked at alternate ways to communicate since experiential, OOH and Print were not relevant options during the lockdown. Julie Kriegshaber, COO, Chtrbox explains why it is important to remind brands many who have been traditionally built on celebs that in today's digital world, true influence is achieved across the influence pyramid. She says, "We define smaller influencers to be either micro influencers (generally with a following under 50K) or nano influencers or 'alpha consumers' (following under 5k). Micro influencers tend to be highly specialised or passionate about a specific field and we develop original creative content with them that looks professional – at a lower cost with great engagement. Our nano influencers are most relatable and can create great user-generated content at scale. Smaller influencers can drive fantastic ROI for brands and we like to tap into their networks for digital storytelling, community building, sampling and even research activities."
The pandemic also drove a big increase in all kinds of influencers, regardless of follower count. There was an increase in content creators across the board as well. Mike Melli, Chief Revenue Officer, MissMalini Entertainment observes that there is no advantage as such in picking micro influencers over macro influencers since both can be impactful in reaching consumers with credible and relatable messaging. "We would say that there are appropriate use cases for both and further, the most successful campaigns that we run on behalf of our clients usually deploy both macro and micro influencers within the same campaign. This is equivalent to any kind of marketing strategy where you have variously sized distribution channels to choose from," Melli points out.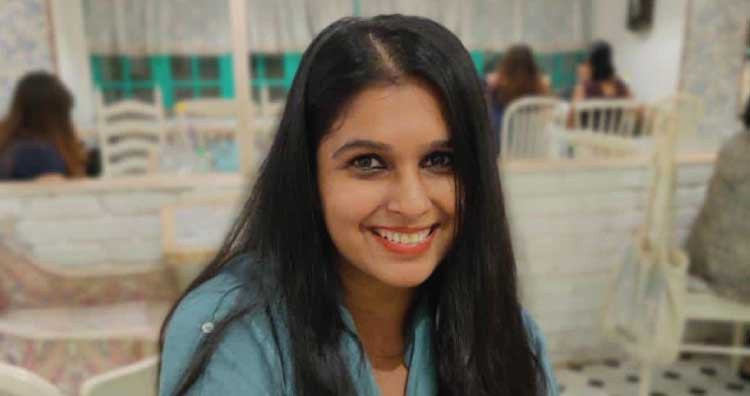 Komal Lath
Founder, Tute Consult
"Investments vary from category to category but there has been a huge rise in the micro influencer trend, which forms almost 40% of our communications pie for consumer brands especially. We are also now moving towards social commerce and are working the metrics and business to impact bottom lines for clients using our data driven approach on this."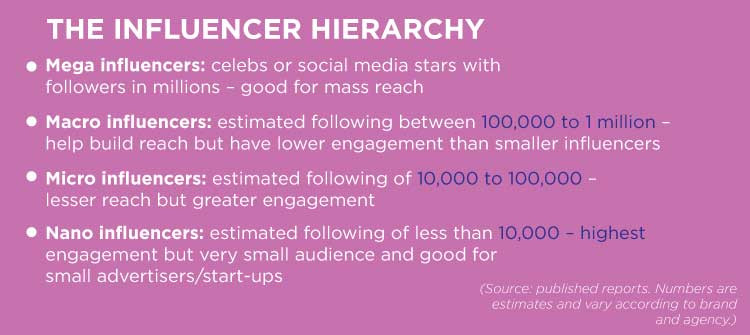 Nano influencers have emerged as important channels to build brand trust and credibility, particularly during the pandemic when consumers were more receptive to branded content that was educational, comforting and inspiring. Pointing out that agencies and brands have both noticed the ability to do quicker turnaround campaigns with nano influencers, Vishal Mehra, Branch Head, 22feet Tribal Worldwide - Delhi also observes that these are the influencers that are advantageous in crisis situations or when a campaign needs quick amplification. "Nano-influencers have more niche interests and more local relevance. They don't have many followers, but they make up for that with higher engagement, which can lead to brand trust. Cult brands like Royal Enfield regularly work with passionate riders, who might have limited followers on social media, but their commitment to 'pure motorcycling' puts them head and shoulders above any celeb for the brand. We all know how consumers today buy products based on suggestions from people they trust and respect, and are not 'sell-outs' for every other endorsement they get," he remarks. Mehra shares examples of brands like H&M, which work with influencers that they call 'brand friends' with varied follower counts. The brand does not restrict itself to big names but also collaborates with newer and lesser known artists. Likewise, Reebok and McDonald's also regularly partner with nano influencers for their latest launches or re-launches as the case may be.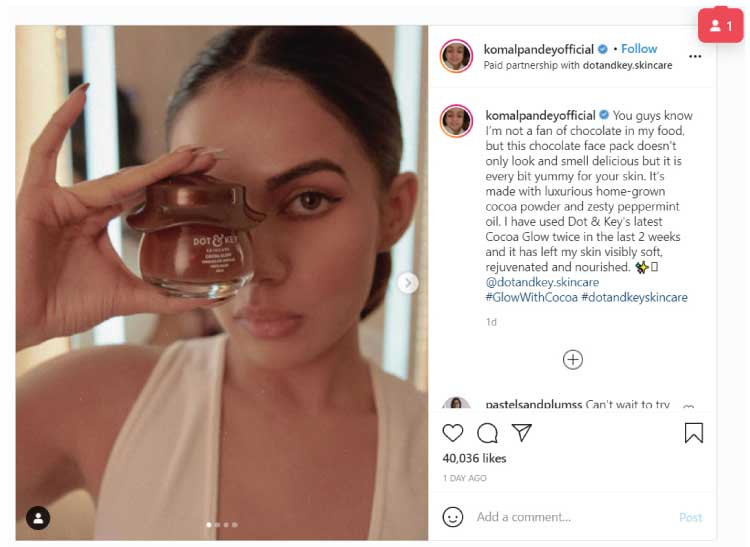 Ankit Agarwal, Founder of Do Your Thng (DYT), a branded content marketplace, tells us that his organisation has already worked with more than 80 brands on 100+ campaigns with 20,000+ creators in just a year. This is itself a testament to just how seriously brands are working with content creators and micro influencers. "In the second half of the year, brands woke up to the value to smaller creators. There was a huge adoption bump because, with these creators, the spent dollar value was minimal while the engagement achieved was considerable. To give you a reference, we closed 101 campaigns last year, working with more than 2500 creators, all of them falling under the micro-influencer category," states Agarwal.



Madhur Acharya
Marketing Head, Wow Skin Science





The age of brand-influencer collaborations
One brand that has gone from strength to strength on the back of both influencer collaborations as well as celebrity endorsement is homegrown skincare brand, Mamaearth. Being a digital-first brand, it has kept its media mix firmly centred around social media and influencer partnerships. Actor Shilpa Shetty is also the face of the brand, which allows it to build mass awareness. Varun Alagh, Co-founder & CEO, Mamaearth, explains how this strategy has paid off well for the brand. "Influencers have increasingly become an important arm of marketing, especially with social media awareness. Each influencer segment of influencer and adds value to the brand in various ways. Someone like Shilpa Shetty works brilliantly for building mass awareness giving a wider reach, whereas micro and nano influencers are increasingly becoming brand advocates and add immense credibility to the brand," notes Alagh. He adds that since the brand is largely targeting millennials, Instagram has emerged as a pivotal platform to showcase products as well as provide a seamless shopping experience.
It's not just Mamaearth, but also brands across categories like Hyundai and Cadbury Cocoa that are effectively working with Instagram influencers to lift awareness and purchase intent among their target consumers. Sandeep Bhushan, Director and Head of Global Marketing Solutions, Facebook India says, "Branded content has become a great way for brands to showcase their utility in an agile and relatable way and we saw this through 2020. For example, Hyundai Aura launched with influencers on Instagram and saw a 5 point lift in awareness. There are also brands that in a way are born on Instagram .i.e. who're prominently using Instagram to build their business, like Wingreen Farms and Bunaai. So, whether it's a big or small business, influencer marketing on Instagram is driving business impact, and that's why it's set to grow." He also adds that as per a BCG-Facebook 'Turn The Tide' report released last year, digital influence increased significantly in urban consumers – up to 70% for mobiles, 55%-60% for apparel, and up to 20-25% for the non-food CPG categories.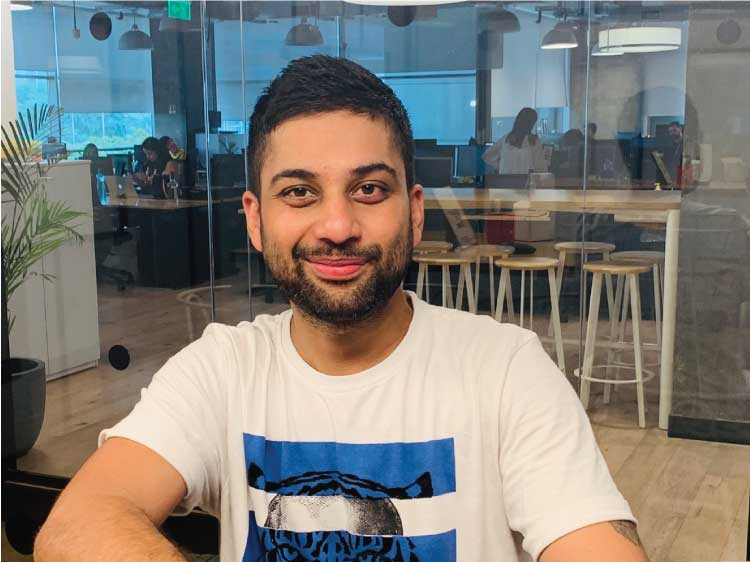 Ankit Agarwal
Founder, Do Your Thng
When the cost of one sponsored post from a celebrity influencer is the same as partnering with 20+ micro-influencers, it makes sense to opt for the latter. Particularly when it allows you to tap in a highly engaged community. If 2 out of 5 brands were partnering with micro-influencers before, expect 4 of them to do now. That's the kind of growth I expect.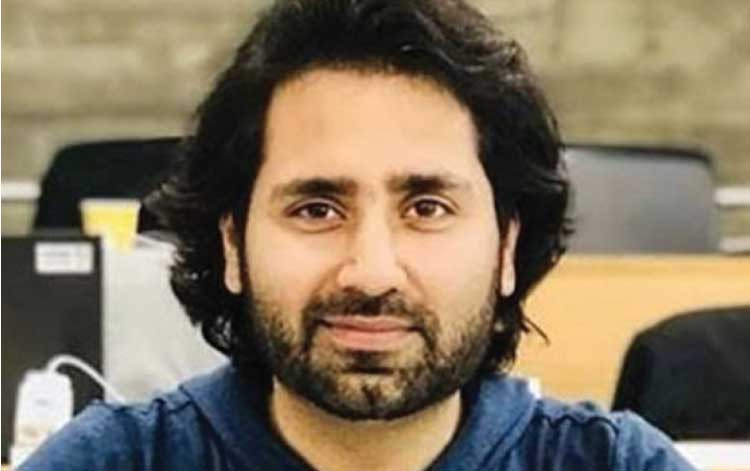 Vishal Mehra, Branch Head, 22feet Tribal Worldwide - Delhi
"There is evidence of disproportionate spends towards upcoming or nano influencers by national and international brands. Nano influencers have had zero to a handful of brand collaborations, and most importantly – their followers are yet to get tired from their product plugs. When they are passionate about a brand/partnership, they share authentic experiences and help in making a community around it."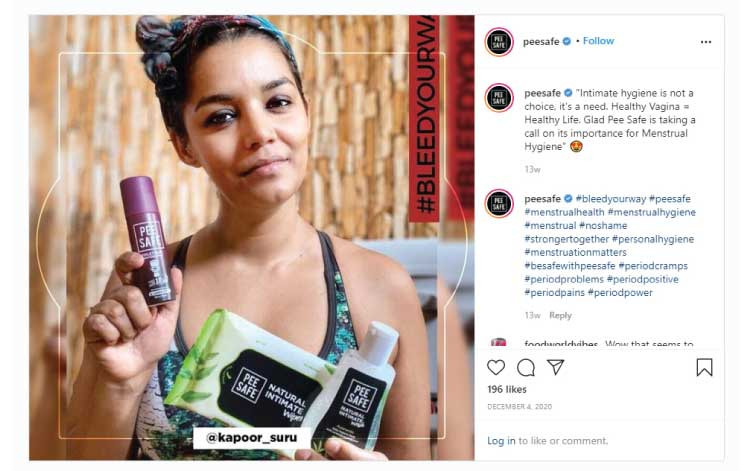 Brands in the F&B space have also capitalised on the creative space that Instagram offers through IGTV and Reels. Jai Ganesh Ramnath, Managing Director & Country Head, Lavazza India explains how the brand has built a community of 160+ influencers across F&B, travel, photography and lifestyle. "Instagram is our go-to platform currently. As a brand in the F&B sector, visuals play a key role in our storytelling and Instagram enables us to do this in the most creative way. We've run 15+ campaigns with our 160+ influencer community we've built in the last one year, with the singular objective of creating brand preference for Lavazza among our target audience," says Ramnath, adding that the company has been able to work with niche influencers who focus on coffee, which in turn has been hugely beneficial in terms of brand awareness among millennial coffee lovers (their target audience).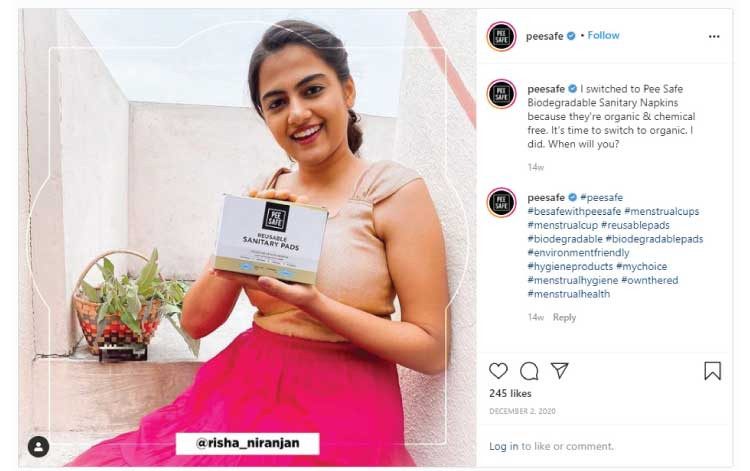 Homegrown skincare and hair care brand Wow Skin Science chooses to partner with influencers at all levels – working with celebrities like Disha Patani and Bhumi Pednekar, while also partnering with social media stars and micro influencers. Madhur Acharya, Marketing Head, Wow Skin Science asserts that each category of influencers offers a distinct advantage. "Smaller influencers are very important for connecting with vernacular customers and people in the rural and non-metro regions. We believe in quality over quantity when it comes to content versus number of followers in choosing an influencer. After all, content is king, and we prefer to work with such influencers whose number of followers have grown organically because they have been consistent with their quality of content and level of engagement," he states.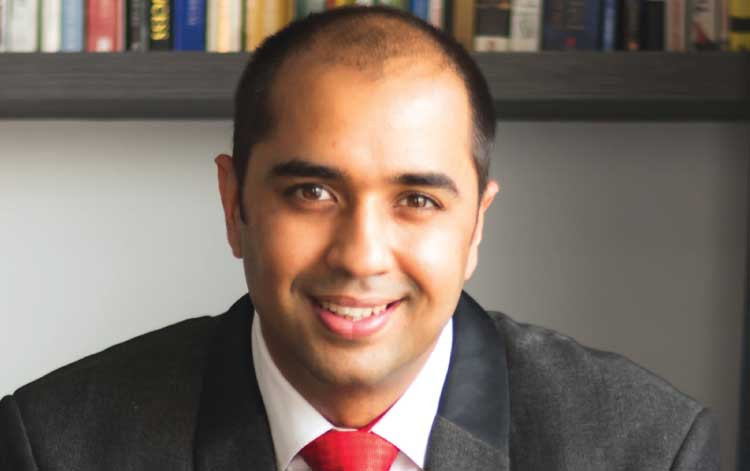 Varun Alagh
Co-founder & CEO, Mamaearth
"All our products and communications are targeted at the socially savvy millennials who care for the world around them and believe that small acts of goodness are a way of life; we identify them as the 'Generation Good'. We strongly feel that millennials trust other millennials and hence we have created a robust influencer program which serves as a great awareness channel."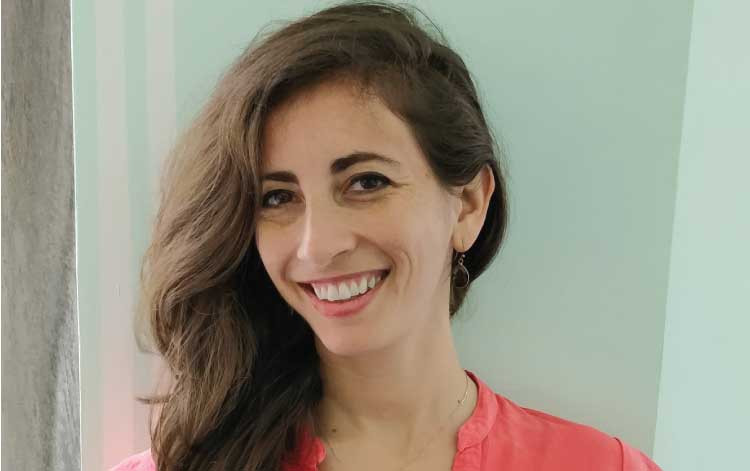 Julie Kriegshaber
COO, Chtrbox
"A large number of micro influencers come from tier-two and three cities, and many of them will be among tomorrow's digital superstars. India is such a diverse country and keeping a regional context in content is important. These homegrown micro influencers have built credibility from their followers, and are important pieces of the puzzle to keep in mind when rolling out a pan-India marketing strategy."




Ed-tech brands like upGrad in the past have created a pool of edutainment original content and has won audiences' hearts through influencer-led collaborations. The brand has worked with 100+ influencers and content creators in the last 12 months, strengthening its positioning as a new-age choice for those looking for viable education options. Of course, the COVID-19 outbreak accelerated the micro influencer trend, but experts like DYT's Agarwal believe this is a trend that will only gain momentum even after the pandemic, especially since who holds influence today has been altered forever. "Micro influencers provide a lot of options and flexibilities in the hands of marketers - it also helps spread risk. The pandemic has given a fast acceleration to the digital ecosystem, and now micro influencers are coming up with relatable content which only gets more creative than ever," says Jo Broner, a spokesperson for WIBA (World Influencer and Blogger Awards). WIBA recently made its entry into India.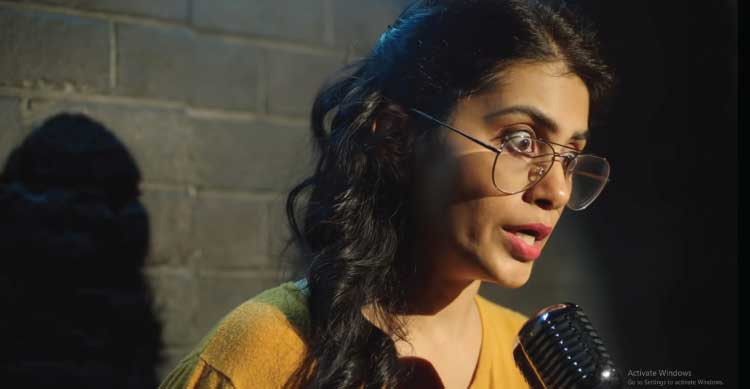 Recent examples of impactful influencer partnerships include apparel brands like Levi's and Zivame that collaborated with varied influencers to create content that strikes a chord with target consumers. Lingerie brand Zivame, through its 'No Strings Attached' campaign, collaborated with women stand-up artists to bring to life real issues that women face with intimate wear, with humour and quirk. Levi's too collaborated with seven women for its #IShapeMyWorld campaign – each of these have diverse backgrounds and different follower counts. The brand is also enabling conversation and community through live Instagram engagements in collaboration with SheThePeopleTV.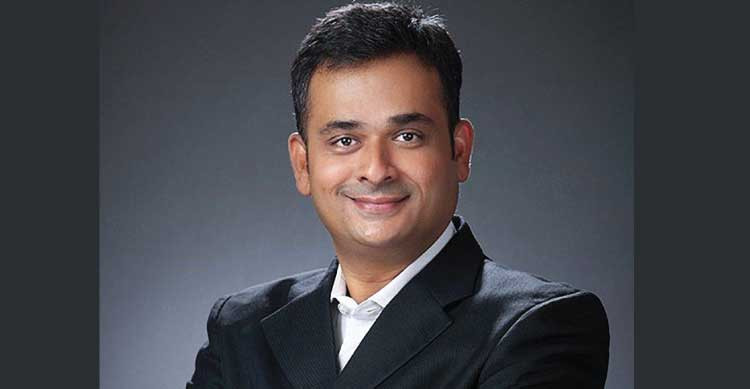 Jai Ganesh Ramnath
Managing Director & Country Head, Lavazza India
"For Lavazza, in the last one year, we've been able to build a community of 160+ influencers from across categories including F&B, lifestyle, travel and photography. We've in fact been able to explore niche influencers who focus on coffee, which has benefited us hugely with enhancement of brand awareness among our niche target audience - millennial coffee lovers."



'IF YOU HAVE THE PASSION TO DO SOMETHING, THE WHOLE WORLD IS YOUR STAGE'
Amulya Rattan,
lifestyle & entertainment creator from Chandigarh may only be 16 years old but her journey and success as an influencer prove that age is just a number
Instagram handle @amulyarattan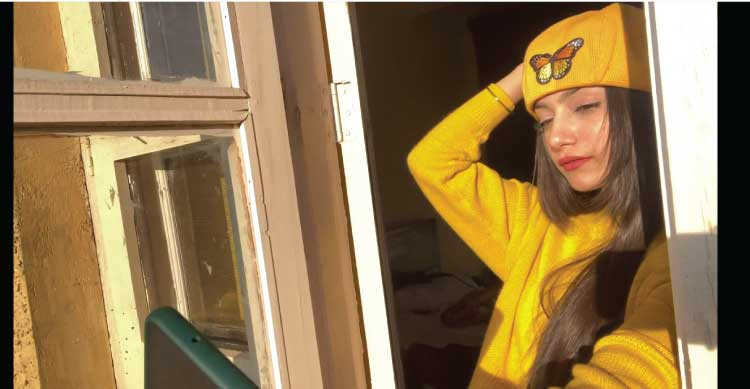 I'm just 16 and I'm still in school. In between my studies, I create content just for fun for my fans on Instagram. My sister and I have always been fascinated with art and music. My sister used to put up posts and videos, and one day I decided to do it too. My first public profile was on Instagram and once I received positive feedback on some of my posts, I linked it to other platforms that I was on. Suddenly people were discovering my content and recognising me. Fans who are my age or even younger than me send me such positive messages and give me suggestions about what content to post. It is inspiring when some of my fans come to meet me in person and take pictures with me or ask for my advice on different things. I have realised during my journey on Instagram that if you have the passion to do something, the whole world is your stage and age is just a number.


'TODAY I HAVE SUCCESSFULLY TRAVELLED TO 41 COUNTRIES'
Aakash Malhotra, travel influencer from Palampur, Himachal Pradesh narrates his journey and experiences that have led him to enjoy much success as an influencer
Instagram handle: @wanderwithsky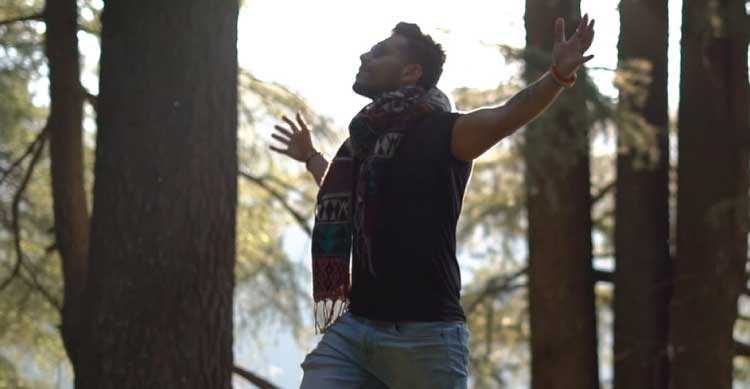 It all started with the idea to work, save, travel and repeat. In my initial days, I had to convince my bosses about this idea and I did it successfully but at the most I could travel for a weekend or a week. Eventually, my hunger for travel kept growing and finally I decided to quit my job. Before I knew it, four years had passed and I had already travelled to 21 countries! It has been a very eventful journey so far. I received a lot of exposure on Instagram, and a lot of brands and tourism boards came forward to support me. Today I have successfully travelled to 41 countries; that is before the lockdown happened. Today the community I have built on Instagram motivates me and challenges me to do more every day.


BY Sandeep Bhushan
Director and Head of Global Marketing Solutions, Facebook India
HOW INFLUENCER MARKETING ON INSTAGRAM IS DRIVING BUSINESS IMPACT

Last year we witnessed a fundamental shift in digital consumption, by virtue of the rise in engagement we saw on the Facebook family of apps. For instance, in March itself, we saw a 60% rise in Instagram Live views, on a week-on-week basis. Businesses need to communicate with customers in creative ways using digital platforms, while driving efficiency with every dollar. As consumers sought surrogate experiences, while they avoided touching and feeling a product, they could have been offered a more immersive ad unit. Similarly they couldn't ask questions at a physical store, but they could to an influencer. As per a BCG-Facebook 'Turn The Tide' report, digital influence increased significantly in urban consumers – up to 70% for mobiles, 55%-60% for apparel, and up to 20-25% for the non-food CPG categories.
As a result, branded content has become a great way for brands to showcase their utility in an agile way and we saw this through 2020. For example, Hyundai Aura launched with influencers on Instagram and saw a 5 point lift in awareness. Similarly, a 2.3 point increase in purchase intent for Cadbury Cocoa when they used influencers on Instagram. There are also brands who are prominently using Instagram to build their business, like Wingreen Farms and Bunaai. So, whether it's a big or small business, influencer marketing on Instagram is driving business impact, and that's why it's set to grow.


By Shrey Aggarwal
Assistant General Manager, Marketing, Great Learning
Creating thriving influencer campaigns
Increasing a brand's visibility and recall on social media is not a one-day job. Inculcating influencer marketing as a part of your strategy is an effective way to create social media chatter around your brand. Here is a step-by-step guide for marketers to help them create a thriving influencer campaign:
Set goals
The first step is to identify the right target audience that the brand is trying to reach and engage with. This will act as a base for setting up the plan, strategy and budget for the campaign. Thereafter, one can focus on setting the target for the audience reach that includes impressions and views.
Recognising the right influencers
Choosing relevant influencers who resonate with the brand's messaging and have a high reach is extremely crucial for a successful campaign. Picking up influencers who are well trusted amongst your target audience will help in building credibility and lead to a higher brand recall.
Pick up a Schedule
It is crucial for a brand to make hay while the sun shines. Brands should integrate traditional forms of communication like emails and press releases along with digital communication like social media posts to announce the schedule.
Offer creative freedom
If you want your influencer's voice to be heard, offer them creative freedom and let them do their magic in the most natural way that will resonate best with their audience.
Review the final content
Co-creating content will help the campaign in maintaining the essence of the brand as well as keeping the influencer's interest intact.
Evaluate metrics
This is one of the most important steps as it will not only help in optimising the current campaign effectively but also manage future marketing campaigns vis-à-vis allocating budgets and identifying the right influencers.
Influencer marketing has become an indispensable part of digital marketing especially for B2C brands. With the increasing penetration of smartphones within every age group and sections of society, brands have the scope to influence the larger section of their target market through influencer marketing.