With multiple brands fighting for consumer eyeballs today and several ads being skipped on TV or OTT platforms, brands have taken to cashing in on certain memorable moments which consumers are talking about or creating such unique moments on a digital platform. Not only is it cost-effective, but can also help brands connect with audiences in such a way as to drive both lasting engagement and impulse buying. Indeed, these are all opportunities for brands to create moments that consumers will remember long after the campaign is over, thus associating that moment forever with the brand.

While Paytm is credited with starting the moment marketing trend in a big way in 2016 with its famous 'PaytmKaro!' campaign during the demonetization wave, Amul introduced India to moment marketing through its topical campaigns right from 1966, which till date garner a disproportionate amount of brand love. In the last one year or so, Twitter has given rise to several 'moments' with a tweet often being the spark to moment marketing campaigns by brands (think #RahulBosebananamoment, Zomato tweet telling consumers to eat home food sometimes).
Recently, events like the IPL, ICC Cricket World Cup, and General Elections have given rise to a flurry of brand campaigns around them, juxtaposed with popular shows like Game of Thrones and Stranger Things, the Avengers: Endgame movie and trending moments around the Chandrayaan-2 lunar mission, Hima Das winning gold medals, FaceApp challenge, #10yearchallenge and most recently, the Rahul Bose tweet about being charged Rs 442 for two bananas at JW Marriott.
However, the question is, whether any of these momentary viral campaigns have any potential of actual brand impact, akin to the Ellen selfie at the Oscars in 2017, wherein a Samsung phone was used, for which Samsung spent $20 million. The selfie moment was viewed by 43 million viewers and generated over three million retweets in two days. Similarly, Oreo's 'Dunk in the Dark' tweet during the Super Bowl in 2013 is still regarded as a fantastic example of effective moment marketing.
So how can brands take a trending moment and use it to effectively reinforce their brand proposition in such a way as to create long-term brand impact?
MARKETING A MOMENT IN TIME
In this digital age, getting and retaining people's attention is becoming harder and an expensive proposition for brands. Brands are harnessing various platforms to share their stories with people, which is leading to increased clutter. This has led to surge in interest for moment marketing around a particular event, which offers a more effective way to focus marketing spends and engage untapped consumers.
"In today's world, consumers generally are not influenced by hard-selling brand communication, unless they are in a purchase cycle and looking for information from brands. At most other times they turn a blind eye to brand communication that tries to 'sell'. This is where 'moment marketing' makes a whole lot of sense for brands, as they can cut through the clutter by riding on the heightened interest consumers have on trending topics," explains SabyasachiMitter, Founder and Managing Director, Fulcro.
While it is important for brands to leverage this growing phenomenon of trending moments, they also need to ensure that they do not move away from their core target audience or their brand proposition. Every post or tweet put around a 'moment' should not conflict with their brand ethos. Brands should focus on building consumer connect and not just run after shares and likes, feels Sonam Shah, Founder and CEO, Treize Communications.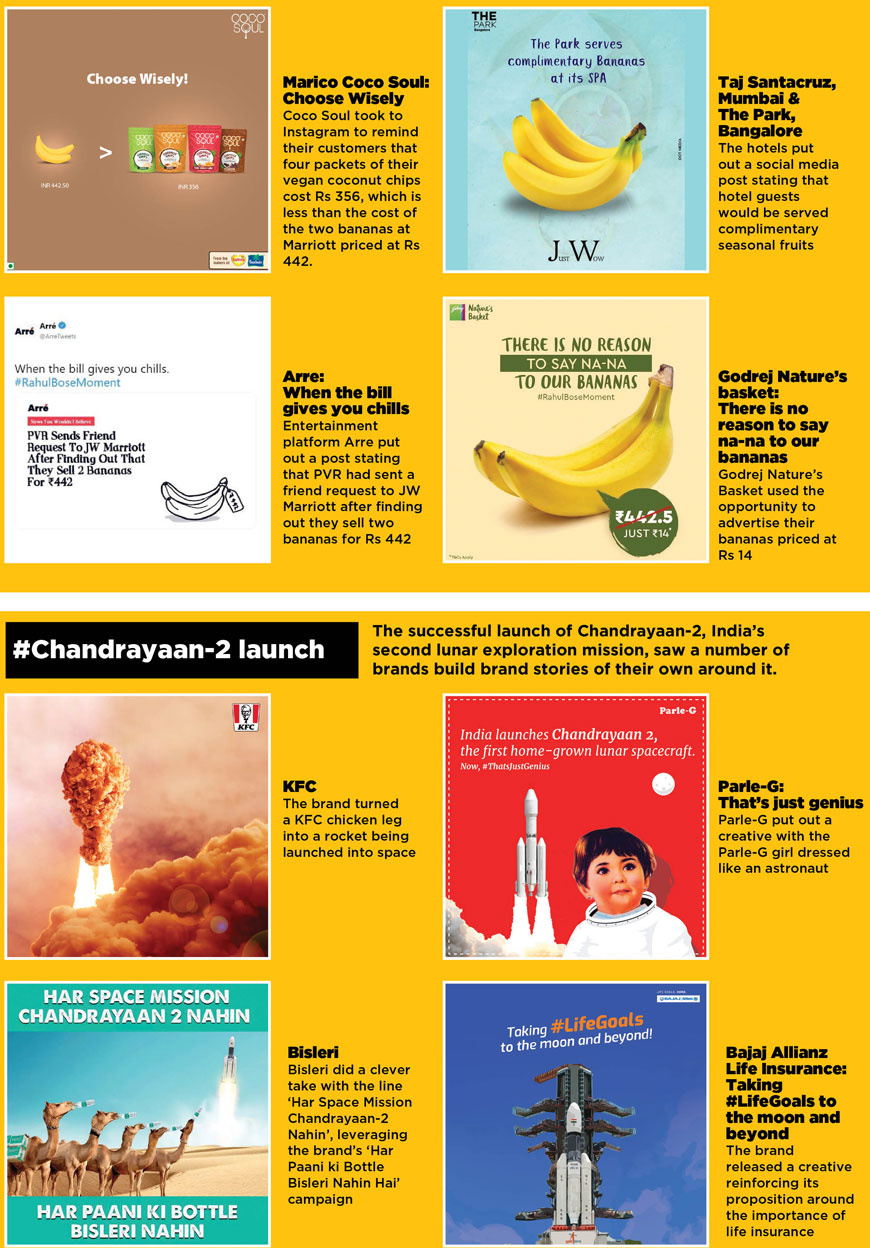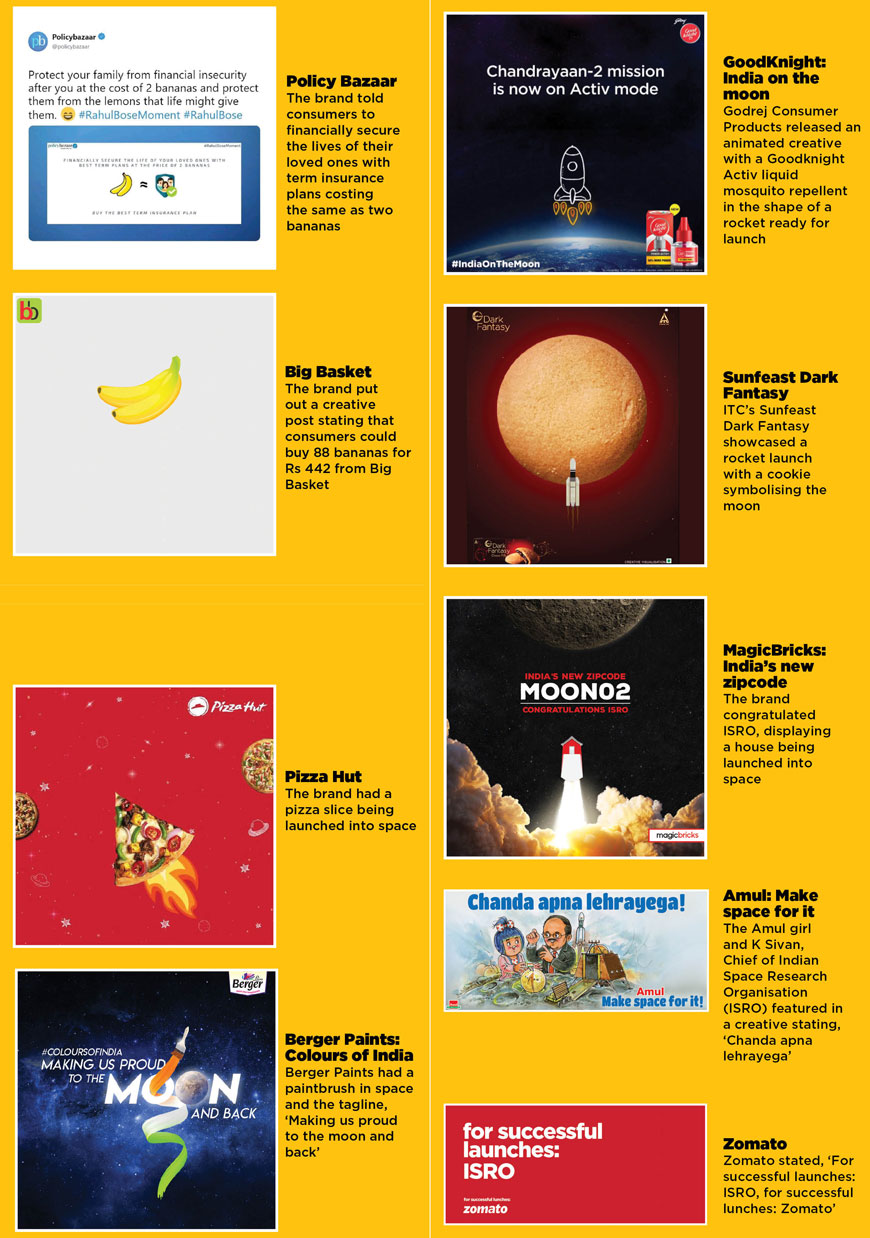 Indeed, moment marketing needs to not just leverage a moment, but create a consistent thread across a common brand value/voice that delivers or leverages the power of moments on a trend to trend basis. Anil K Nair, CEO, VMLY&R India adds that another important point is to marry 'content with context', by being the brand that has its pulse on what's cool and relevant. These interventions also communicate to the consumer that the brand cares about the same topics that the consumer cares about, thereby building exponential empathy and relevance.
According to SowmyaIyer, Founder and CEO, DViO Digital, moment marketing can be classified into three categories: 1. Latching onto the trend by contextually placing one's brand to maximise relevance for the product or brand in the larger picture which helps keep the right brand amplifiers in place; 2. Being present when the intent to buy is at its peak; this is where the brands' programmatic advertising comes into the picture. Voice searches play a very important role when it comes to intent to buy moment marketing. 3. Associating the brand with emotions.
Moment marketing works great if the brand knows and understands its audiences' emotions and expectations. This directly throws light on the importance of data analytics and planning, which even if done a couple of hours before going live, works better than blindly deep diving into a moment, which could later hurt the brand. "Planning and agility are key to make campaigns based on real-time moments feel authentic and memorable. Planning so that you have a team earmarked to take care of ongoing marketing efforts and have the bandwidth to take up and execute real-time moments. Agility, because you need to be quick in thinking and quicker in execution. It is critical to have clear insights into audiences and sentiment. Once you have that, it is easy to build upon this with context of the moment," remarks Harsh Shah, Senior Vice President, DentsuWebchutney.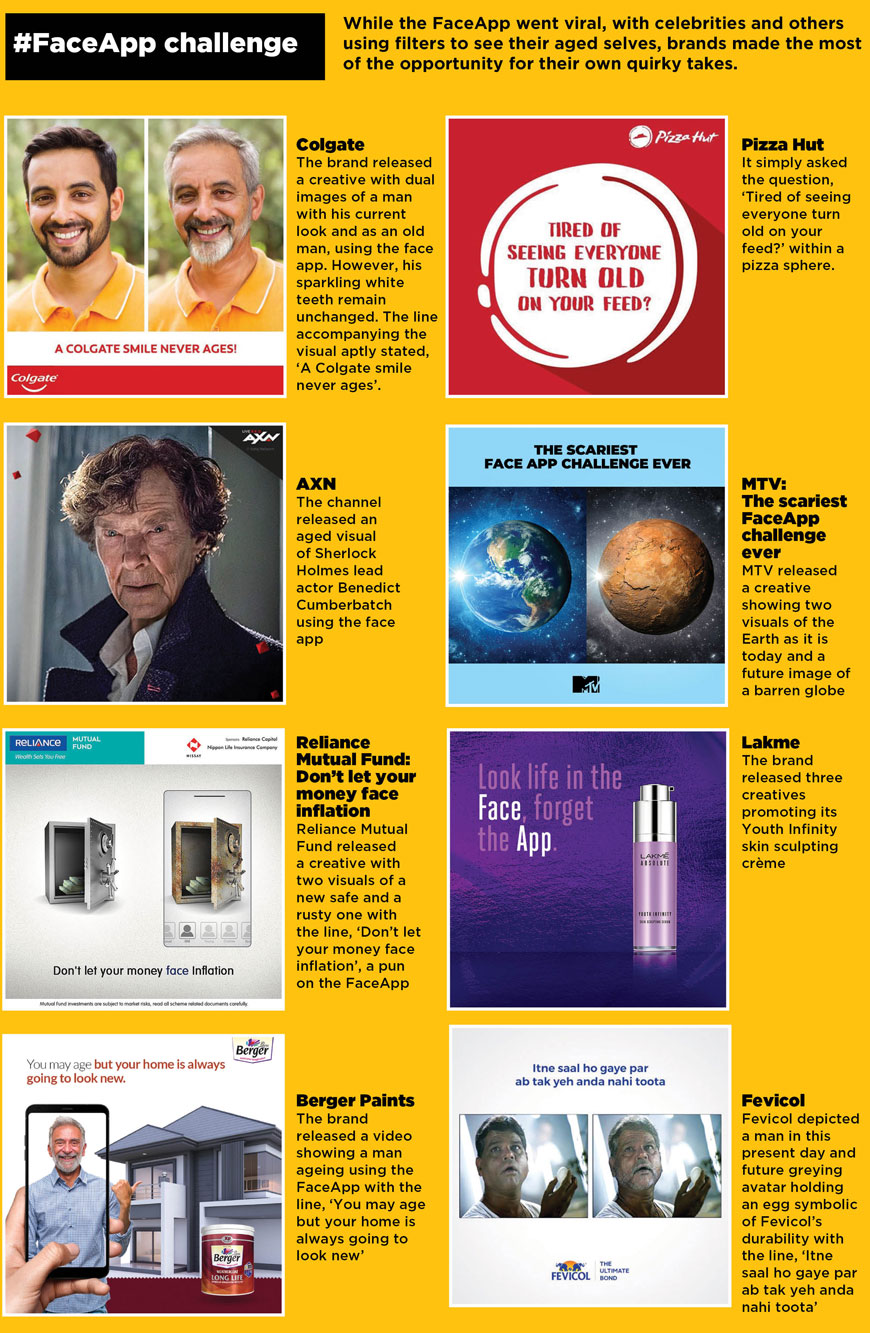 Again, simplicity of thought and execution is key so as not to confuse or repel consumers with an overdose of brand communication and product placement. Given that most big events are now watched with a 'second screen', like TV + Twitter or YouTube + Twitter ensures that the spontaneous moments that would have been just a passing reference before, now share a common platform where they are immediately talked about, made fun of, celebrated, or criticised. Thus, a timely on-brand observation about the moment guarantees immediate virality, playing a definitive advantage over traditional media. The amplification is immense and immediate as the live-watchers are always looking for fresh content, which they actively repost, thus increasing brand impressions manifold on social media.
However, with so many moments making the news today, how can a brand decide which moment to leverage and which to stay away from?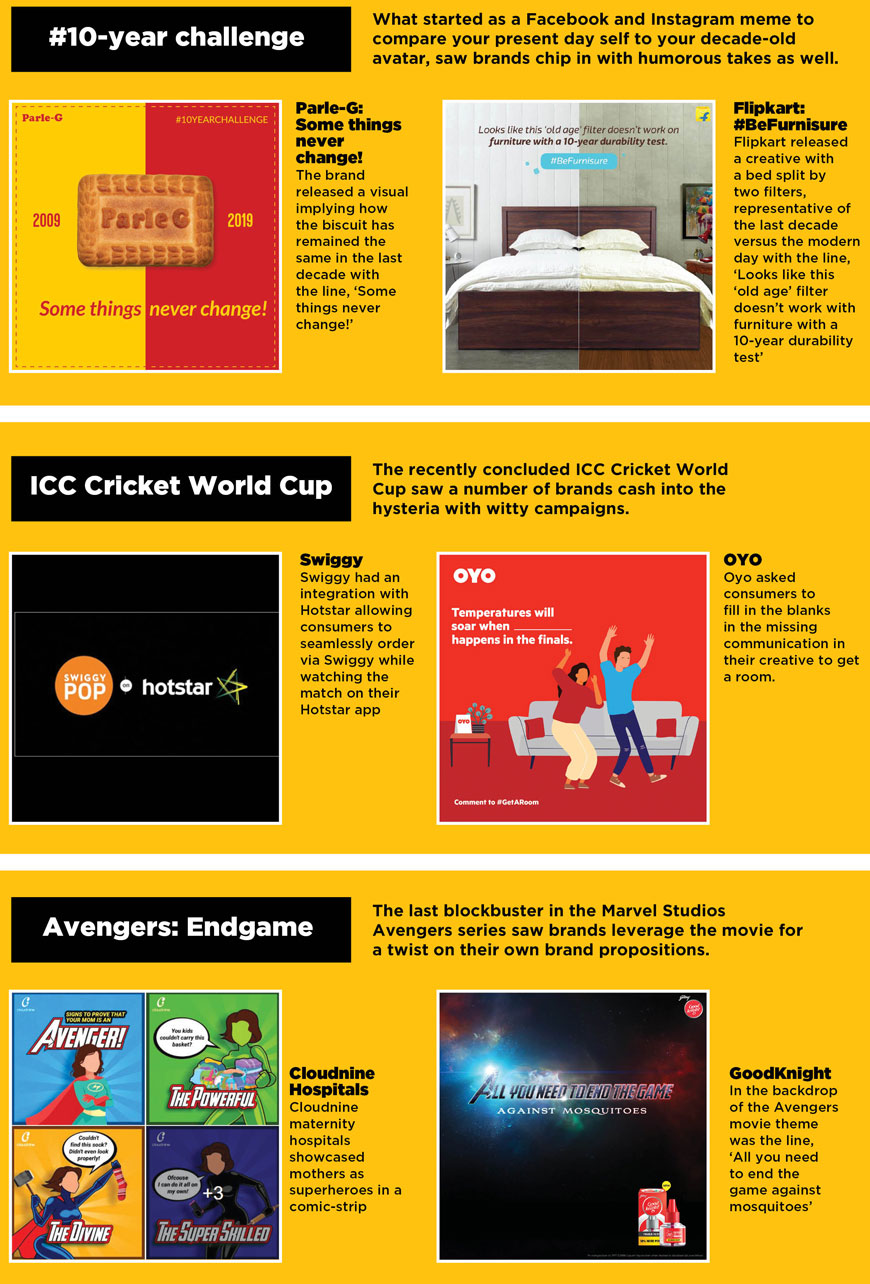 KNOWING IF THE MOMENT IS NOW
The year 2019 has been the year of micro-moments, where even the smallest topic of conversation that sparks online, offline or in other forms of media is fair play for brand connect. The only downside of moment marketing is that if it backfires, there is no way of coming back from that. Thus, good judgement is critical, and much of that comes from a thorough understanding of the brand and the current social media landscape.
The beauty of good moment marketing is a natural fit between what a brand stands for and what the moment depicts. Every brand needs to look at what moments make sense for them to leverage and which don't. This can only be done when a marketer has a clear understanding of the values of the brand and what its voice is across these values, says Varun Duggirala, Co-Founder & Content Chief, The Glitch.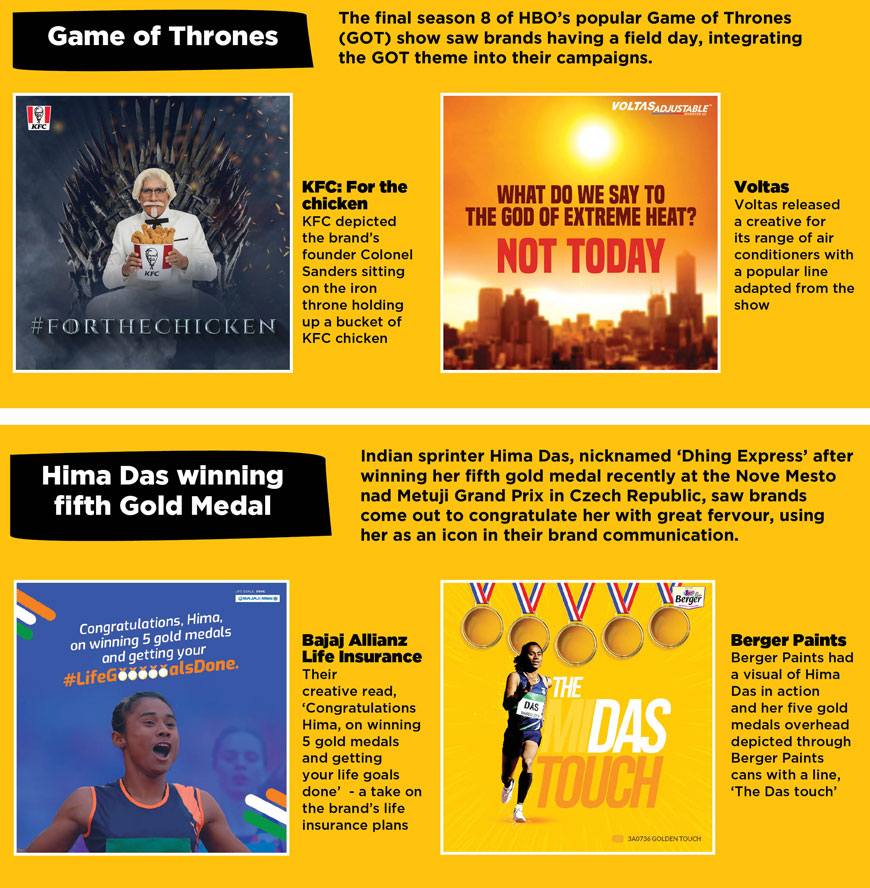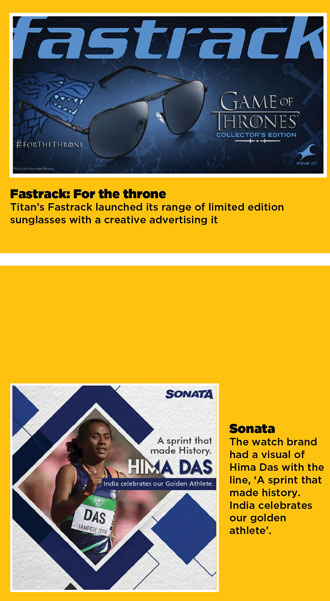 However, a brand must remain true to its essence even while being topical in joining the conversation. While having a little fun is fine, a brand must not cross the line into being derogatory or critical of another brand or person while riding the wave of the moment.
"Brands need to differentiate between which moments can be marketed or highlighted, depending on whether consumers may relate to it or whether it leads to brand recall. For example, on Instagram, moment marketing is popular today, but it is also a cluttered space with multiple brands trying to cash in on trending fads - so being able to stand out from the clutter is also important for brands using moment marketing. The moments used in moment marketing are key, because the moments become the brand," remarks Sabbas Joseph, Director, Wizcraft.
Thus, what marketers need to keep in mind is that only if the event/moment is absolutely relevant and reinforces the brand message for their brand should they dive straight in and create a storm out of it. They should not jump in to just gain some visibility, which can sometimes backfire. With the right data in hand, it's easy to differentiate between moments that make sense for the brand and those that don't, allowing moment marketing to be a powerful game-changer.
To effectively leverage the key moments, brands need to keep three E's in mind - Entertainment, Emotion and Empowerment, states Sabiha NS Khan, VP - Account Planning & Strategy, WATConsult. Brands need to ensure the way they leverage moments is in an entertaining manner that at the same time educates and empowers consumers. Story-telling, therefore, becomes key here and is also the point where emotional connection and empowerment come into play.
TECH TO TRACK CAMPAIGN EFFECTIVENESS
Speed is of essence in any real-time marketing campaign. Speed in identifying what's breaking into a trend or a key moment to leverage, as well as speed in delivering the response to that moment or the brand story with the moment as the theme, require technology that is effective.
Yet another key role that technology plays is analysing consumer insights to gauge the best time to post when the audience is most active, or even geo-targeting content to the specific audience group. Visibility is yet another advantage of moment marketing, given the number and spread of the platforms where one can connect with the same audience during a moment marketing campaign. Technology can help in narrowcasting the message, doing it in real time, building a community around it and even fostering engaging conversations that enrich the brand. Technology also helps in the rapid-fire dissemination of the message, remarks Sanjay Trehan, Consultant, Digital& New Media Consulting.
"Given the pace with which one needs to come up with and disseminate content on topical subjects, traditional media vehicles are not best suited for moment marketing. Social media becomes the default choice. Right from optimizing the content to disseminating it and having a high amount of earned media, technology helps in providing efficient reach," remarks Mayank Shah, Category Head, Parle Products Ltd.
Some of the key technology tools used by brands today to effectively plan, execute and track the impact of a moment marketing campaign include social listening with a war room for major events, analytics, artificial intelligence, programmatic and more. This not only helps in contextual targeting but also in a re-marketing strategy. "When using platforms like Instagram, as a brand it's important to make content that makes the user stop while scrolling. These could be minimalist creatives or videos that are emotion-driven. Live videos, customized filters and 360-degree posts can do wonders in content tech. With Facebook, now you have Thumbstopper videos, posts, long-form content," remarks Aanchal Arora, Founder, 1702 Digital.
In addition, one can create and test various other hypotheses to ensure success like recurrence, message cut through, filtering, mirror audiences, and more. Post-event analytics also helps one to understand which topics clicked with the audience and which didn't, so some amount of iterative learning can improve the next campaign's performance. Moreover, competition analysis helps to understand if a brand needs to tweak its delivery, timeliness, mode of engagement, brevity, tone, etc, explains Abhishek Upadhya, Vice President, Digital Innovation & Strategy, Hiveminds.
To succeed in a world of micro-moments, it is vital to win a customer's consideration and subsequent action. As consumers evolve in a diverse market, it has become crucial for brands to adopt progressive techniques to garner actionable insights, says Kartik Shinde, Associate Creative Director, Tonic Worldwide.
Now that the brand has identified and leveraged the right moment, what is the scope for measurement of impact of the campaign?

MEASURING MOMENT MARKETING IMPACT
While the most effective way to measure impact is to track sentiment as well as brand recall around the elements that define the brand's values/narrative, its consistency is what shows the effectiveness of this on a continuing basis and also helps brands analyse which pieces enhance it or not, a learning which aids in building future moment marketing pieces.
Backed by a deep understanding of the consumer journey and a long-term strategy in mind, measurable return on investment (ROI) is when one can identify an emerging trend or behaviour and convert it into a big pivot for a brand, explains Shekhar Banerjee, Head-West, Wavemaker India, which uses MESH, a real-time analytics and social command center which helps with early identification, virality of the moment and deployment at scale.
If the brand has leveraged moment marketing effectively and consistently, then anticipation from the audience on how the brand will leverage key moments becomes another scale of measure, along with likes or shares. This can be gauged from the kind of comments received or share of applause generated for every real-time piece produced.
Social media trackers and sentiment analysis tools to determine what topics are worth being talked about and programmatic ads coupled with targeting can help a brand be a part of the right moments, in the right places, at the right time.
"Today, analytics is helping us measure effectiveness of all marketing inputs towards brand KPIs. Specially in the case of digital native brands, you can track the consumer interaction by the second and hence use robust attribution modelling to ascertain the impact of your moment marketing initiative towards delivery of brand KPIs," says Mohit Joshi, Managing Director, Havas Media Group, India.
Effectiveness can be measured in terms of the mentions a brand receives, the number and nature of the conversations it generates, who is talking about the brand, and the sentiment (positive, negative, neutral) of the conversations, Ashok Lalla, Independent Digital Business Advisor, tells us. Downstream metrics like spike in number of searches for the brand, growth in traffic to the brand's website, sales impact can also be measured.
"Consumers today have a huge appetite for viral content which often is driven by newness and humour that becomes instantly shareable. Hence cut through creative and virality determines the effectiveness of these campaigns. Often, this is measured by the number of likes/shares /re-tweets/forwards and the brand trending. In effect, it is the engagement and the conversation that the campaign generates that determines the success," says Lloyd Mathias, Business and Marketing Strategist.
While moment marketing can greatly enhance a brand's appeal, especially in categories not given to repeat consumer purchase like insurance, for example, miscommunication can have an adverse effect on consumer sentiment. Case in point being the video of a Zomato delivery boy digging into a customer's order which went viral, or Ola's April Fool campaign announcing 'Ola Restrooms', which backfired on Twitter. How do brands thus guard against this?
SEIZE THE MOMENT, BUT EXERCISE CAUTION, RESTRAINT
While audiences today enjoy, and to some extent, expect a brand's quick and usually humorous take on an event, phenomenon or other cultural moments, they are also among the strongest critics, calling out a conversation attempt that just does not fit. "Making your brand relevant to the moment, sparking conversation outside of your immediate target audience and creating an experience that helps consumers relate to the brand, is how moment marketing creates a deeper consumer connect," remarks Dedeepya Reddy, Co-Founder, Fruitbowl Digital Media.
Indeed, it is far better to not have a campaign that becomes the talk of the town than to have one which can cause far-reaching damage to one's brand. Just in case things go really bad, the brand should immediately apologise and pull back the campaign across all media, believe industry experts.
"While rumours may work well in some industries like Bollywood or media, brands would do well to stay away from negative publicity, because customer trust is of vital importance. Moreover, not all moments have to be leveraged immediately – some can be leveraged in a bigger way later when the brand has more substantial communication to share," remarks Rikki Agarwal, Co-Founder & COO, Blink Digital.
Being authentic and honest to the brand promise can go a long way in guarding against negative consumer feedback. Being superficial or exaggerating a brand's communication simply to go viral, usually has its pitfall in the long run.
To be sure, moment marketing situations can become disastrous if brands do not have continuing relationships with consumers which gives them an innate and intuitive understanding of them. Unfortunately, many brands engage in consumer research based on the situation, and therefore, by the very nature of the study, the consumer engagement is contrived, and no longer natural.
"The current marketing trend on the 'moments' is more 'guesstimate' marketing, where brands rely on some metrics, not necessarily the right metrics (which would otherwise build trust and desire in consumers) often guessing the consumer's expected behaviour, leading only to a 50% chance of success. Brands instead must understand the buying propensity of consumers on an ongoing basis, such that each such 'moment' can have a brand reaction that will lead to relevant long-term outcomes for the brand," believes N Chandramouli, CEO, TRA Research.
However, creating an impactful moment marketing campaign with instant exposure is not enough to build brand loyalty. "Consumers go through various phases before endorsing a particular brand. They are constantly bombarded with a plethora of choices and advertisements, across various platforms, with the latest technology. Besides, unlike a few years back, consumers today are well-informed, hence discerning. So, to be one amongst the few in the consideration set, brands need to be seen at various touch-points, and also be extremely relevant to make the golden connect with the consumer. Moment marketing is just one of the many marketing weapons that can be used every once in a while to create that impact. But one can't rely on that one weapon to create a long-lasting dent," notes Kishore Karumbaiah, CCO and Partner, Langoor.
However, on occasion, a moment of brilliance in a moment marketing experience can be more effective than a well thought-out campaign, because the viewers have that moment to remember it by.

Consumers today have a huge appetite for viral content which often is driven by newness and humour that becomes instantly shareable. Hence cut through creative and virality determines the effectiveness of these campaigns. Often, this is measured by the number of likes/shares /re-tweets/ forwards and the brand trending. In effect, it is the engagement and the conversation that the campaign generates that determines the success,"


LLOYD MATHIAS

Business and Marketing Strategist
BRAND SPEAK
Marketers from leading brands tell us about their approach to Moment Marketing, what has worked well for them and what is key to ensuring the effectiveness, brand recall and long term impact of a moment marketing campaign, while reinforcing the brand's proposition and brand values



"Any trending issues or marketing moments that the brand addresses are often subjects that Mi Fans resonate with and are aimed at building a meaningful and lasting connection with them. We also ensure honesty in our story-telling and consumer approach, which directly correlates to the effectiveness of these brand marketing campaigns."

Anuj Sharma
CMO, Xiaomi India



"Amul championed 'moment marketing' well before this strategy became a buzzword. Moment marketing is all about leveraging an event or incident to generate contextual conversation between the brand and its consumer. This is the core of Amul's topical advertising which we started with one post a month in 1966 to now releasing a minimum of four-five topicals in a week. This strategy has helped us remain young, relevant and beloved by our consumers every day for the last five decades."

R S Sodhi
MD, GCMMF (Amul)



"In today's competitive age, it is not enough to run standardized campaigns. Digital allows us to engage with our consumers rather than simply doing one-way communication. That said, Bisleri is a 50-year-old brand and is trusted by millions in India. Hence, before we comment or create any content on a current topic, we run multiple checks about the credibility of the topic and the mass attention to it."

Anjana Ghosh
Director, Marketing and OSR, Bisleri



"We love to bring our KFC twist and point of view to conversations consumers are having - in a way that's fun, witty and light-hearted. This content has higher engagement rates and consumers connect with KFC as a person, not just as a faceless organization. It's about putting out the right message at the right time. And more importantly, not trying too hard to fit in."

Moksh Chopra
Chief Marketing Officer, KFC India



"At Swiggy, we generally pick a topic that is trending on the Internet or has the possibility of going viral. If these topics align with Swiggy's overall brand narrative, we look at creating campaigns around it. This has worked well for us, especially during cricket and other sporting events in terms of generating brand recall, and consumers on the internet look forward to engaging with us. It also aligns with our overall brand voice of being a young and witty brand."

Ashish Lingamneni
AVP Marketing, Swiggy



"We have seen tremendous positive consumer engagement when we put up fun and quirky posts on our social media handles, based on real-time events, right from Rahul Bose's banana incident to the IIT cow one. As a brand, we believe that real-time posts are perfect opportunities for us to get our creative juices flowing, while ensuring that we stay true to our brand personality."

Burhanuddin Pithawala
VP Growth & Conversions, OYO Hotels & Homes



"Parle G is one brand which is part of the daily life of most people in India. The next step for us as a brand is to be part of daily conversation, wherein topical advertising and moment marketing fits in really well, providing a deeper consumer connect and ensuring buzz around our brand. The ideal way to leverage moment marketing is to find a connect between the subject and an attribute of your brand that you would like to highlight."

Mayank Shah
Category Head, Parle Products Ltd



"We try and pick up subjects which are unique, and which can have a unique brand voice. It is also about the timing, relevance, and a link back to the product – the three factors which help us decide if we really need to have a brand view on the trending topic. For example, around the Chandrayaan-2 mission, we launched a space collection of watches which was promoted on our Instagram page."

Ayushman Chiranewala
Marketing Head, Fastrack, Titan Company Limited



"As a paints company, we cannot keep launching new products every month and are always looking for something new and innovative and moment marketing helps Berger Paints India as a brand to provide just that – fresh content around trending news and happenings that consumers are excited about."

Abhijit Roy
MD and CEO of Berger Paints



"Our primary objective is to be a part of consumers' conversations and build deeper connect with the audience. A series of such initiatives keeps the brand buzzing; impacting brand health, while keeping the marketing investments efficient. Agility, creativity and relevance are key to leveraging moment marketing effectively."

Chandramohan Mehra
Chief Marketing Officer, Bajaj Allianz Life Insurance



"Godrej Consumer Products is agile and effectively leverages the moment marketing concept across all our brands and formats like Print, Digital, Radio and TV. We have a Black Box digital command centre, a dedicated 24x7 physical facility where we monitor and track real time conversations around trending topics, our brands and campaigns. We derive actionable insights from Black Box which is used by our team to create meaningful brand campaigns and content."

Pankaj Singh Parihar
VP and Head - Digital Marketing, Godrej Consumer Products Ltd



"As marketers, all of us look to keep our brands salient in the minds of the people we serve. This is only getting harder with channels and mediums becoming fragmented even more, people's attention spans dropping and the quantum of messages out there only going up. So, when there are topics trending, they provide us opportunities to build salience in a meaningful way."

Ashwath Swaminathan
Head of Innovations, Lakmé