Three years ago, two GroupM agencies – MEC and Maxus merged to form the Wavemaker India entity. Today, the agency boasts of a market share between 12-15% as per media reports and has added marquee clients like Sun Pharma, Cargill and Chumbak. Year three for the ageny also saw some noteworthy shifts, with Ajay Gupte taking on the CEO mandate for Wavemaker South Asia in January after Kartik Sharma's exit. When Gupte took on the role, little did he realise what a rollercoaster the first year it would be for him as CEO. Nonetheless, he has steered the agency through its third year, battling tough market conditions on the back of the pandemic and clocking new business wins that are over Rs 700 crore. 2020 has also seen the agency rejig and assemble a new leadership team, with Kishan Kumar Shyamalan named Chief Growth Officer & South – Head, Premjeet Sodhi as Chief Strategy Officer, Vishal Jacob making a comeback as Chief Digital Officer and Mac Machaiah taking on the mantle of Head – ITC business & Special Projects. Additionally, what has also been a matter of pride is Sandeep Pandey's appointment as the Head – Global Analytics, Wavemaker earlier this year. Pandey leads Product and Strategy for Wavemaker, and has been with GroupM for the past 15 years. The agency also executed the media mandate for possibly the world's largest telecom integration with the launch of Vi's brand new identity. Gupte takes us through the highly eventful third year for Wavemaker, while defining its new 'positive provocation' philosophy.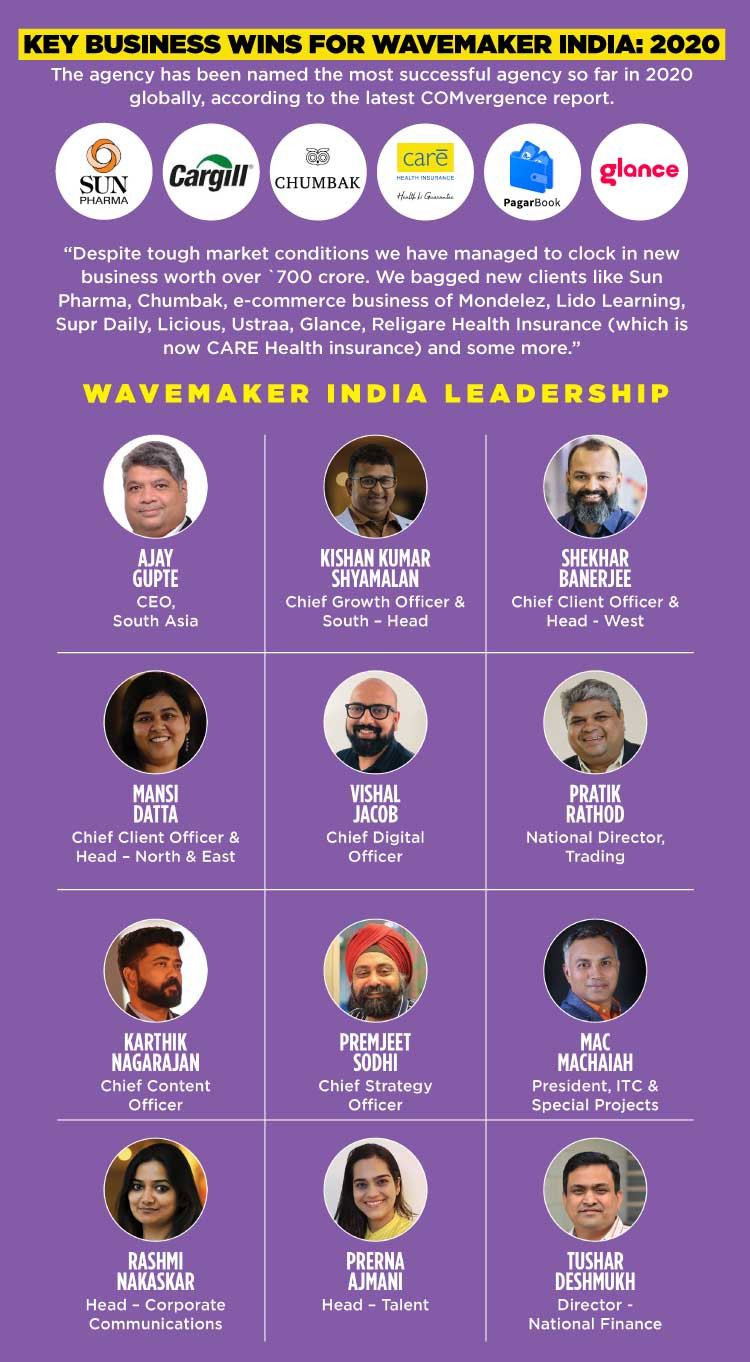 WAVEMAKER CAMPAIGNS OF 2020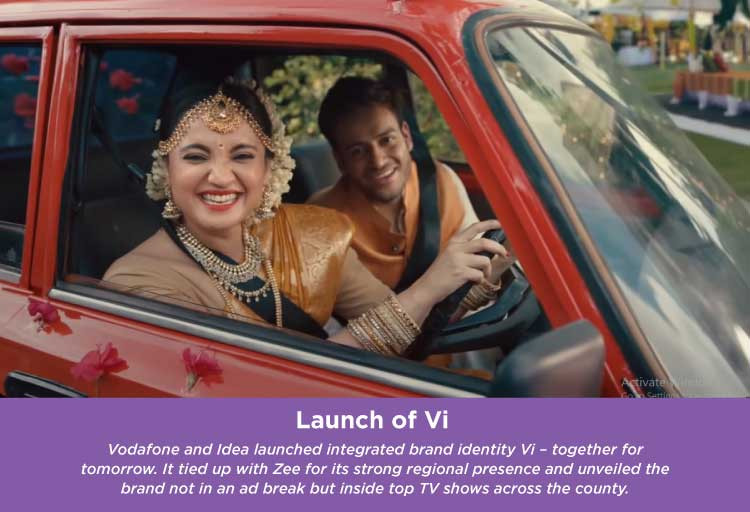 DRIVING GROWTH IN A PANDEMIC YEAR
Gupte took on the CEO mandate for Wavemaker South Asia just a month prior to the COVID-19 outbreak and the consequent lockdown. Looking back at a highly challenging and unprecedented year, he notes, "COVID-19 has changed the way we work and our beliefs about working from home. The last seven months have been extremely tough for all of us in terms of business, clients and more than anything for the people. But I am extremely proud of the team the way they have handled things since day one of lockdown. Our clients were leaning on us for information and guidance as all were grappling during the initial phase of lockdown. We had regular calls, updates, industry reports and global experts throwing light on the bigger picture, which helped us and our clients to plan better." While the year hasn't been easy for the agency, Gupte asserts that there have been new learnings and lessons and the organisation has emerged stronger than ever from it. "The biggest highlight of 2020 for us is that despite being such a rough year we have bagged new business of over Rs 700+cr and this wouldn't have been possible without the support of our extraordinary team," he states.
One of the key things he has also done as CEO is define a clear proposition of positive provocation. The mandate is very simple, according to Gupte. "Keep growing by positively provoking our clients, business and teams." In keeping with this philosophy, he also has on board a new leadership team, which has helped to keep Wavemaker on the growth track. "With Kishan (Kumar MS) taking over the role of Chief Growth Officer along with heading our South operations, Vishal Jacob making a comeback to Wavemaker as Chief Digital Officer, Premjeet Sodhi and Mac Machaiah joining us from Mindshare as Chief Strategy Officer and Head – ITC business respectively, I couldn't have asked for a better team than this," he says, adding that each member of the leadership team is equally passionate and dedicated towards their roles and responsibilities.
OF HEADLINER CAMPAIGNS AND MORE
While the pandemic saw agencies and brands regroup and reinvent their strategies, one of the things that Wavemaker has done this year is ramp up its capabilities across functions and especially in the space of content. In some of the big campaigns that the agency has executed such as the ones for Mondelez (Thank You campaign) and Mother Dairy (Maa ke Haath ka Khaana), content has been key. "We view content as a very critical tool in influencing the consumer's purchase journey. The content team at Wavemaker India is a diverse set of talent that includes creators, communication planners, media agnostic thinkers and data analysts. It is a diverse team with a vibrant sub-culture and we will surely continue to invest in it," says Gupte, emphasising that he is extremely proud of the engaging work the team has done across its client portfolio during this year.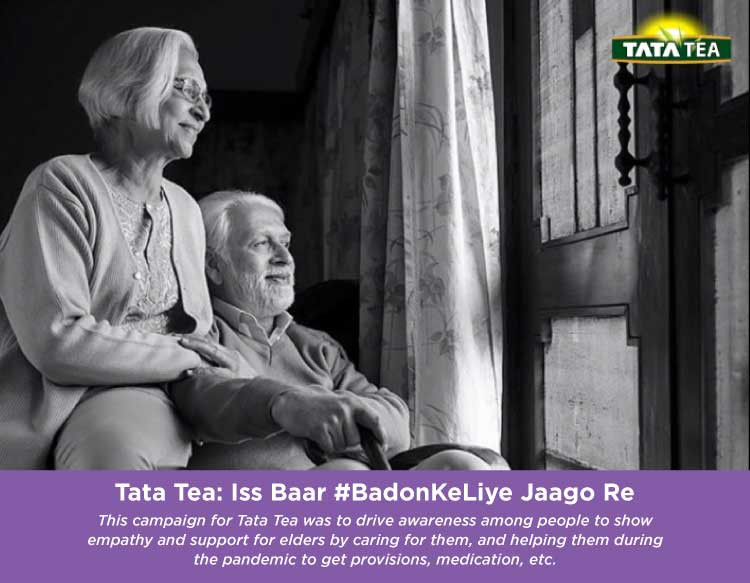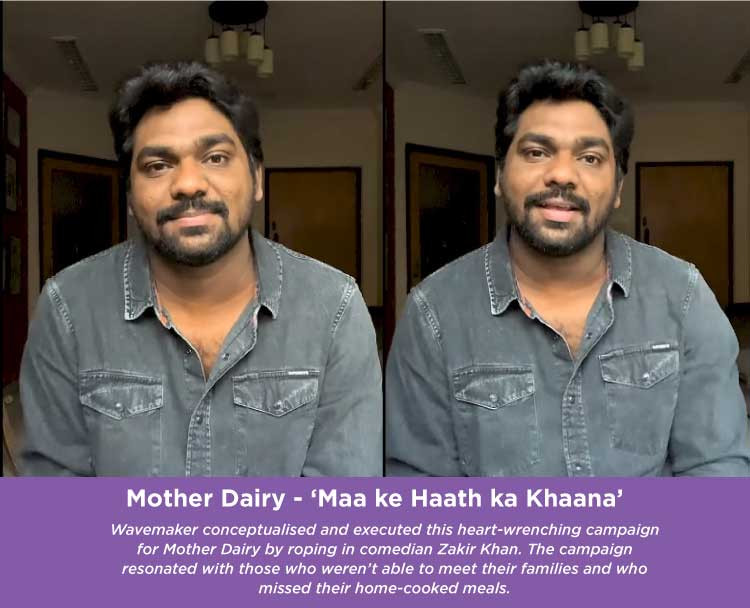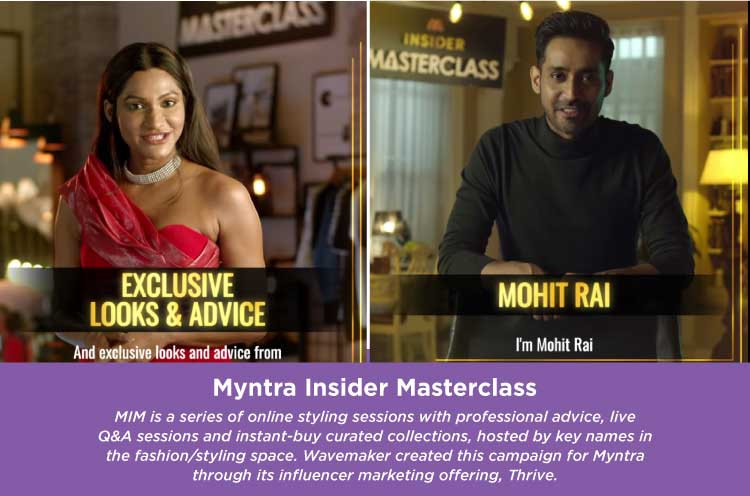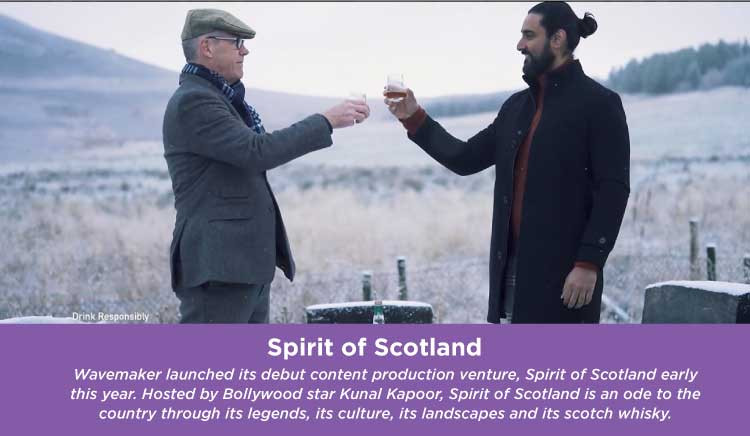 One of the agency's campaigns that made headlines and waves this year was the Vi launch and integration of Vodafone and Idea. Given that this was one of the biggest telecom integrations, how challenging was it to pull off the launch especially with teams working remotely? Gupte tells us that the Vi launch was a high point for the agency this year. "I'm extremely proud that the team managed to pull off such a large scale campaign successfully. The challenge was to make sure the entire nation know about Vi on day one of its launch. It was a mammoth exercise for us and wouldn't have been possible without the support of our partners – Zee Network, other leading news channels and leading digital platforms," observes Gupte. He adds, "The teams burned the midnight oil for almost over a month and made it possible despite working remotely from their homes. We had some crazy fun while working on the campaign despite so many challenges at hand and that's what makes such campaigns memorable. This is a campaign that will be spoken about for years and it is a huge honour to have been associated with it!"
A year of big wins
Wavemaker India bagged some big accounts like Sun Pharma and the e-commerce mandate for Mondelez this year. Gupte recounts the agency's growth story in 2020, "Fortunately, the year has been very good for us in terms of new wins. Despite tough market conditions we have managed to clock in new business worth over Rs 700 crore. We bagged new clients like Sun Pharma, Chumbak, e-commerce business of Mondelez, Lido Learning, Supr Daily, Licious, Ustraa, Glance, Religare Health Insurance (which is now CARE Health insurance) and some more. It's not easy to sit in different cities and pull off pitch presentations virtually. I am grateful to all our existing clients as well new clients who have chosen us as their trusted partners."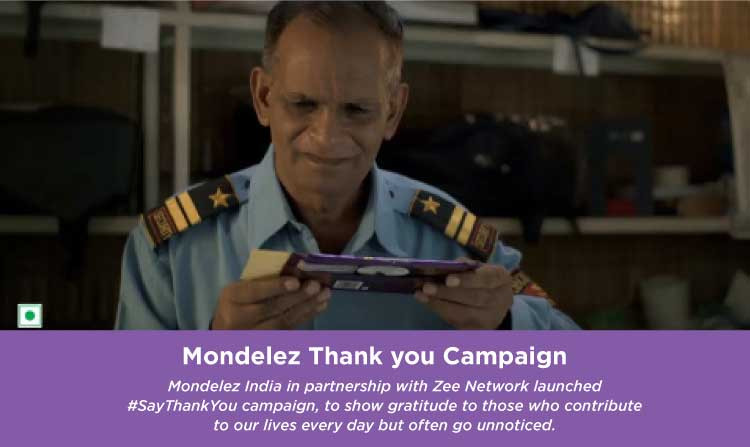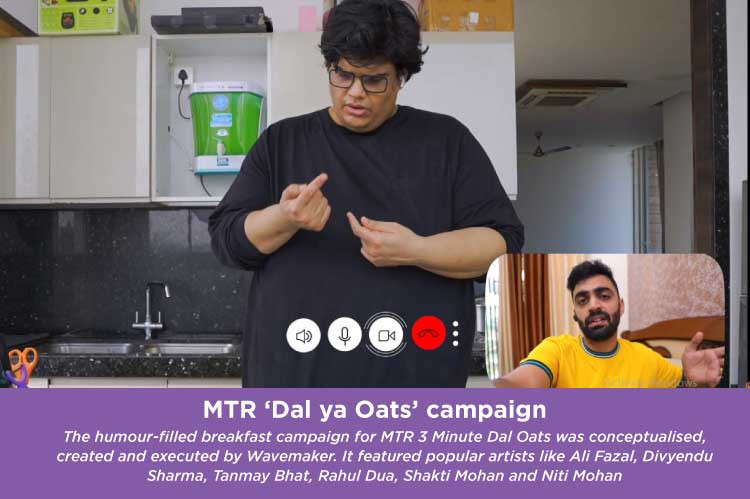 Gupte hopes to maintain that momentum, going into 2021. He is clear that the focus will continue to remain the people and the agency's clientele, while also navigating a rapidly changing and dynamic ecosystem. "Our focus will be towards continuous investments to enhance our capabilities, particularly within e-commerce, content, data, analytics, technology and measurement," he explains. He also adds that the agency's proposition this year has been instrumental in its remarkable growth journey, "In early 2020, we announced 'positive provocation' as our proposition and backed it with our operating system that consists of three major aspects – unlock, transform and maximise. Our focus is to make sure that each and every Wavemaker is equipped to 'positively provoke' our clients to maximise growth."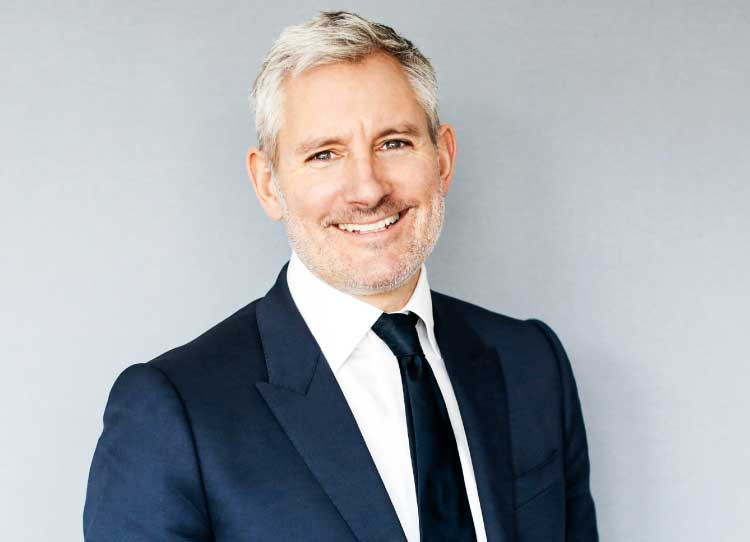 'WE'VE NEVER BEEN MORE UNITED AND EMPOWERED TO GROW OUR CLIENTS' BUSINESSES'
The impact of the COVID-19 pandemic notwithstanding, Toby Jenner, Global Chief Executive Officer, Wavemaker asserts that the agency's unwavering focus remains on growing its clients' business in India and globally. Jenner spells out his expectations from Wavemaker India and his plans to invest in data, precision, content and e-commerce capabilities as it gears up for 2021

Q] You started this year with a new CEO in Ajay Gupte and with a new leadership team too. What are your expectations from Wavemaker India and its new team?
We have a very strong and capable leadership team in India led by Ajay Gupte. Ajay has been with us for more than 10 years. In his previous stint as head of Wavemaker in Indonesia, Ajay oversaw the merger into Wavemaker and built a powerful unit. Wavemaker Indonesia was ranked #2 and was the fastest growing agency under his leadership. With Ajay at the helm in India, Wavemaker has further consolidated our position in the market. In a tough year like 2020, we have not only done some exemplary work for our clients but we have also won multiple new clients with a cumulative billing of more than INR 700+ Crore (USD 100m). The just released COMvergence report has ranked Wavemaker as #1 most successful global agency in their January - September New Business Report. Our focus is absolutely clear – to positively provoke growth for our clients and people and to become the most wanted agency in India. I am very proud to see our team in India is staying true to this ambition during what has been a challenging year for Wavemaker, our people and our clients.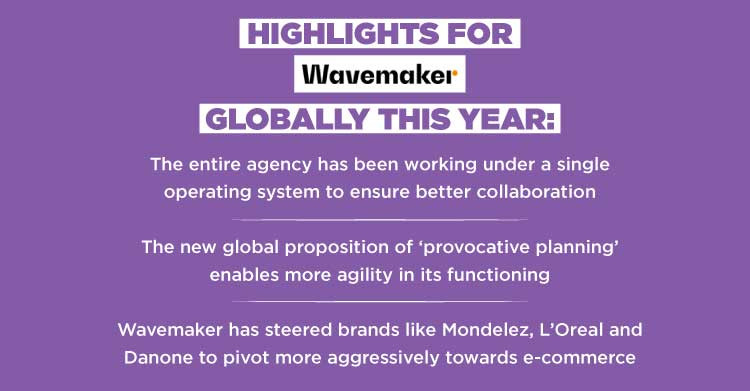 Q] How do you see things shaping up for the India business as we move towards what will hopefully be a better year?
Despite the fact that India has been under strict lockdown for almost 3-4 months of this year, the team has managed to create brilliant work for our clients. The pandemic hit traditional media like Print, TV and Outdoor, but our teams turned this challenge into an opportunity and presented our clients with strong ideas for digital and OTT platforms. Central to this was e-commerce teams as the pandemic prompted brands to scale and professionalise their e-commerce capabilities. In June, our team won the Mondelez India ecommerce business to build the brand and its products throughout e-commerce channels in synergy with the core media strategy. Other key areas that grew massively in the pandemic were content, influencer and performance marketing. The technology and analytics teams in India designed platforms for clients which kept them tuned to their business amid the lockdown, ensuring business functioned with minimum disruption.

Q] What have some of the big highlights and learnings been for Wavemaker globally this year, in your view? What are some of your top priorities for the coming year?
We've helped our people work smarter and more collaboratively by transferring the entire agency to a single Operating System, an open collaboration platform that houses all our client workspaces, our Provocative Planning modules, our data and tech capabilities into a single connected environment. We've never been more united and more empowered to challenge and grow our clients' businesses in India and around the world.
I'm very excited by the success of the launch of our new way of working, Provocative Planning. Clients are feeling the benefit of our fast, agile and modular way of organising our experience, data, technology and talent to help push them towards a better way to grow. We've learned how to move faster this year. The COVID situation has demanded a new agility of our people and the organisation as a whole to serve our clients in this challenging time. We've helped clients like L'Oréal, Mondelez and Danone pivot even more aggressively towards e-commerce, making huge changes to their marketing plans quickly and confidently.
In 2021, we will be focusing on delivering on our promise to 'positively provoke growth for our clients and our people', this will mean investing in the data, precision, content and e-commerce capabilities in our business and integrating and executing them for every client and in every market.

Q] With so much talk of digital transformation in the media agency business, how is Wavemaker looking to adapt to an increasingly digital-first world? What are some of the capabilities you're looking to build for the agency, globally and here in India as well?
We've invested heavily for many years in our capabilities in order to be able to lead clients through these changes. These 'point solution' questions from clients, asking for specific help in a single area such as analytics or addressable content creation, towards broader, integrated and business critical questions around their overall ad-tech and data strategy. Our solutions are built upon on our ability to unlock growth through our consultant grade consumer experience digital audit. This allows us to understand and improve their entire consumer experience, across paid search, content, social, sites and apps, e-commerce, audiences, programmatic and video. To further lead and deliver in these areas we've created the Wavemaker Consultancy Hub, combining our experts in the areas of data, analytics, content, commerce, precision and technology into single unit designed to work and operate holistically.