2020 saw the economy and advertising plunge into a deep recession. Sir Martin Sorrell's prediction at the beginning of the lockdown was of a 'reverse square root' recovery which means a sharp downturn, then a rapid partial rebound before a plateau at a lower level than earlier. However with the onset of the new year, experts say a 'K-shaped' recovery is more likely, which essentially means some segments of the economy may continue to do very well like technology, pharma, FMCG, ed-tech and gaming, while many others like real estate, tourism, hotels, airlines and retail will continue to languish for a longer period….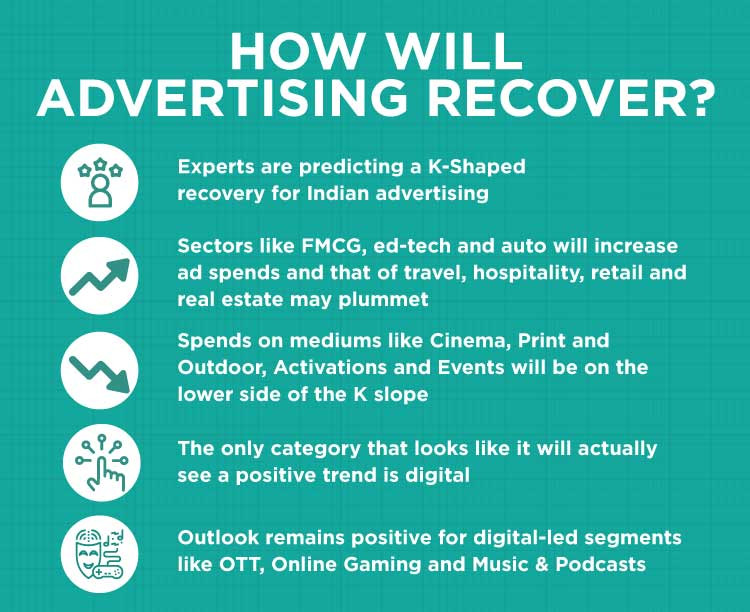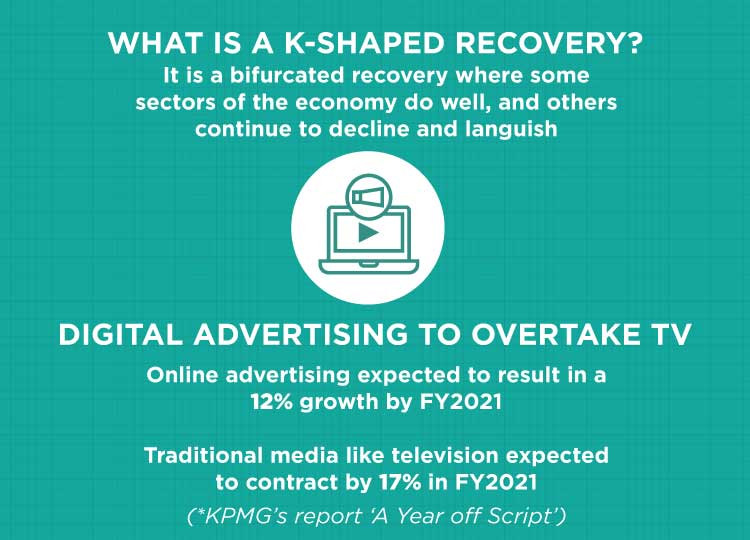 With 2020 behind us, is Indian advertising headed towards a K Shaped recovery? How long will it take for a full recovery and will there be more surprises on the way?
Navin Khemka, CEO, MediaCom South Asia says, "We are expecting a buoyant growth in 2021 after a tough 2020 due to the pandemic. The industry has definitely gone back two years at an overall level. It will take us at least two years to recover and majority of this recovery should be back in 2021. In India, we could see a sharp 25% decline in AdEx last year, in 2021 we could grow anywhere between 15-20% depending on the market conditions. Digital will continue to lead the growth followed by Television. In terms of categories we do not see much change. Retail, travel and entertainment categories' recovery will depend on the recovery post COVID."
But Priti Murthy, CEO, OMD India says that the ad revenue for India has not in itself declined in 2020 from 2019, it is just that the growth rate is extremely low, "Looking at the numbers and the impact that the pandemic has had on an economy that was already a little sluggish, it seems like it will take till the end of 2021 for the advertising industry to see holistic growth, and till mid-end 2022 for a full and complete recovery. The only category that looks like it will actually see a positive trend is Digital, especially with the leaps and bounds of growth that OTT has witnessed in 2020. TV, Print and Radio might well see a downturn in 2021 before they begin to climb back up."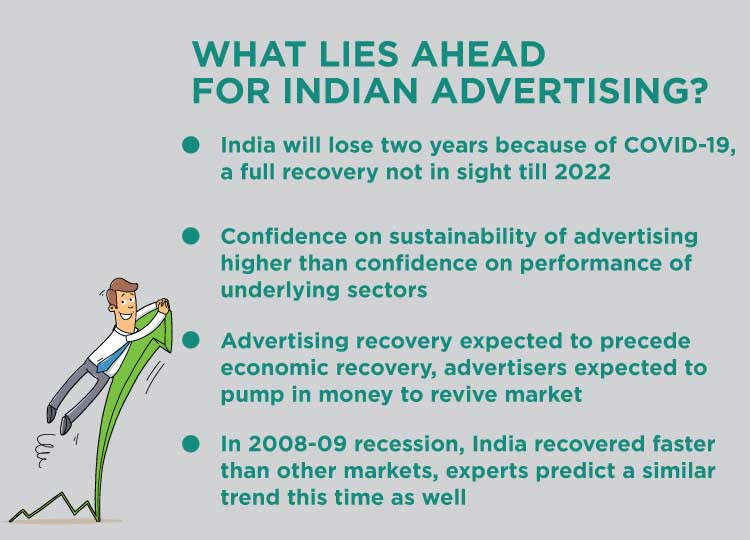 Talking about the kind of recovery advertising will see, Murthy adds, "A K-shaped recovery might be in the offing, though this can be undesirable because even though some categories rise fast, the ones that fall, fall very badly. With consumer spending rising in the first half of 2021, while a V-shaped recovery is unlikely, I do hope that the sectors which see a fall do not suffer too badly. Things will look up gradually, but the challenge in bouncing back is that despite certain mediums doing substantially well in terms of advertising, the ad rates need to see an uptick."



Girish Menon, Partner and Head, Media and Entertainment, KPMG India says, "A K-shaped recovery seems more reasonable to me, because some of the consumer sectors have started to see a fairly strong recovery in Q3, particularly because of the festive season. But some of the other sectors are still seeing some sluggishness, and therefore we may not necessarily see an even recovery. Yet there needs to be some caution as the key question is what happens after the festive season and in Q4 given the fact that there are still challenges around income levels and employment around quite a few sectors."
FESTIVE SEASON OVER, WHAT'S NEXT
A fair amount of bunching up of spends happened during the third quarter because advertisers believed they will get the most value for money then as people saved up to spend in the festive season, and to add to that the timing of the IPL was a boon which guaranteed maximum eyeballs.
A smartphone brand like Vivo after the initial hiccups saw a 25% increase in festive season sales over last year during Dussehra, the first sign of things falling back in place. Nipun Marya, Director Brand Strategy, Vivo India says, "The advertising industry, in general will not witness a big downward trend. We at Vivo have had brand campaigns around the launch of our two products. Also, overall if you look at the industry, in the last two years, automobile, e-commerce, and electronics have been the biggest spenders and these sectors have witnessed fast recovery. Hence, advertising outlook should be more positive than negative in 2021."
Srinivas Rao, SVP, Marketing, Lifestyle says, "As far as fashion retail is concerned, we are all expecting that by Q4, normalcy will get restored. Currently, the spends from the fashion retail sectors are muted. But if we are right in our assessment, we will almost get back to 100% of our numbers in Q4. If that happens, we can see trends similar to 2019-20 i.e. FY 2020 and spends similar to that coming back for 2021-22."



WHAT CAN BRANDS BET ON IN 2021?
COVID-19 has created beneficiaries and casualties amidst brands in equal measure. The last three months have been a saving grace to some extent even for mediums that have not performed well in the first part of the year. Abraham Thomas, CEO, Reliance Broadcast Network Limited observes that BIG FM has seen about 50% value growth in revenue as compared to pre-festive times. Similarly another medium, OOH which was slipping in revenues, got a firm buoy to hold on to with Manu Vats, Product Head, Times OOH saying that they have seen a jump of around 50% in brands coming on board during the festive season.
The question is with the festive season and IPL13 behind us, what are the new opportunities for brands to spend and whether they will have the desired impact in taking advertising spends to optimal levels. Priti Murthy, CEO, OMD India says, "Bigg Boss and KBC have given advertisers fresh opportunities after the end of festive season and IPL. Apart from this, the slow opening of cinema halls though not an event in itself, is also something to watch out for. Non-fiction/reality TV/talent shows are big-ticket events that in general will offer a certain level of guarantee in terms of viewership, a fact that advertisers can definitely leverage."
Adding to that, Navin Khemka, CEO, MediaCom South Asia says, "2021 is expected to be a normal year with IPL back in April and May. There are a host of cricket series lined up in addition to that. With the summer Olympics slated to begin on 23 July, it will provide a boost to that quarter. There are also a host of big blockbuster movies globally and locally planned to be released next year. This will also fuel marketing investment a big way."
From an advertiser's perspective, Ajay Kakar, Chief Marketing Officer, Aditya Birla Capital Ltd (ABCL) notes, "Events or calendar based opportunities aside, brands should be nimble and look at every opportunity, be it a long weekend for hospitality or travel industry, or like any COVID related update for an insurance industry. Financial services make for a 24 x 7 x 365 day category, from a customer perspective. And with uncertainty in the air, the customer is all the more on the lookout for health and wealth solutions. However, the need of the hour is to spend smarter, rather than more. To make every rupee spent, work. So mere brand awareness campaigns or mass media spends will remain on hold. Hand-raiser campaigns and online spends will remain the mainstay, at least in the foreseeable future."


MEDIUMS HIT DIFFERENTLY
Just like these sectors there has been a big disparity in the recovery rate even as far as advertising mediums are concerned. With social distancing norms in place Digital has benefitted the most, while OOH, Experiential, in-Cinema advertising and Print have been the casualties. As per KPMG's report 'A Year off Script', online advertising is expected to result in a 12% growth overtaking traditional media like television which will contract by 17% in 2020-21.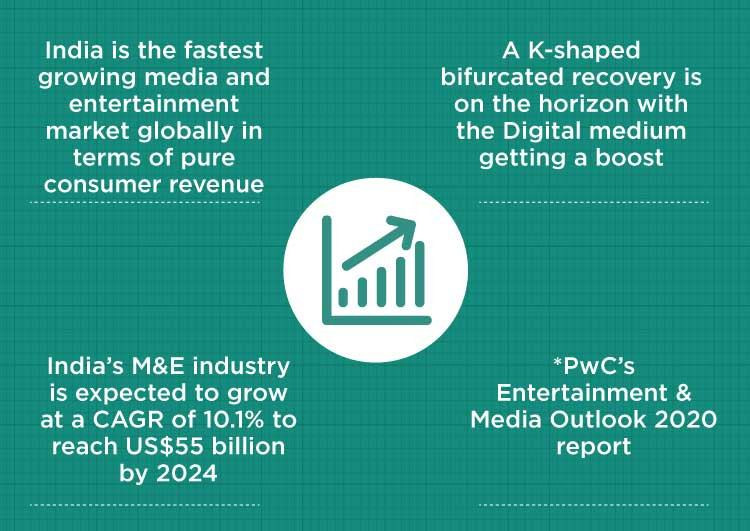 As per Rajib Basu, Partner & Leader – Entertainment & Media, PwC India, "We find ourselves in extraordinary times, and the pandemic has accelerated ongoing shifts in consumers' behaviour, pulling forward digital disruption and reaching industry tipping points that wouldn't otherwise have been reached in the next few years. Coming out of COVID-19, a K-shaped bifurcated recovery is expected in which some sectors rise while others fall. Over the next five years, the outlook remains highly positive for digital-led segments such as OTT, Internet advertising, online gaming and music and podcasts that were perfectly positioned to meet consumers where they are in 2020 – predominantly at home and online."
As per Tanmay Mohanty, CEO of Zenith India and Head Of Global Partnerships for Publicis Media India advertising revenues in 2020 are expected to see a decline by approximately 8-10% while in 2021, he is estimating a growth of 10-12% on the back of a return to normalcy, a packed sports calendar and a steady digital growth. Mohanty explains, "We believe demand is back in the market post-Diwali 2020, with an altogether different focus. Some categories are on a slow burn, but others like e-commerce, auto and FMCG are still driving demand. On the media front, Print is seeing de-growth, while TV and Digital are seeing a growth phase. E-commerce, auto and FMCG will perform well, while BFSI, retail and travel sectors might see a dip."
Another sector which was thrown off balance because of COVID-19 i.e. real estate is staring at a slow recovery. Parikshit Pawar, Senior Vice President and Head of Marketing, Shapoorji Pallonji Real Estate says, "Post pandemic, Indian advertising spends across industries have seen a paradigm shift. It certainly is following the K shaped recovery pattern. Spends on online mediums are on the rise in comparison to offline mediums. While within offline streams there are slow signs of recovery for conventional mediums like press and outdoor, mediums like activations and events are actually witnessing a very steep downward slope. At an advertising level, it is no different for real estate as the media consumption patterns across industries have remained the same."
A big surprise during the pandemic has been the automobile sector which had already for a year before the onset of COVID-19 been in a slump. From nil sales for most auto players due to stringent lockdown rules to now when coronavirus-related fears regarding social distancing and self reliance in mobility seem to be actually fuelling auto recovery, it has been an interesting journey for the auto sector. Passenger vehicle manufacturers like Maruti Suzuki and Hyundai reported a threefold rise in sales in June and since then the sector has been on an upward trajectory. One such auto player, Skoda says that in terms of both sales volumes and ad spends, the brand is back to pre-COVID levels, clearly putting the sector in the upward slope of the 'K'.
WINNERS AND LOSERS
Ashvin Vellody, Partner, Deloitte India says there will be winners and losers in the digital marketing and advertising space, or broadly speaking in the industry, "For e.g. buying of preventive healthcare packages has been on an upswing and BFSI segment has reacted well, while real estate, hospitality and tourism are going through tougher times. While globally a K shaped recovery is one scenario that could play out, in our market a V shaped recovery is being talked about more since the market data seems to point to a sharp trend upwards back to pre-pandemic levels. Irrespective of the letter of the alphabet, the recovery can be mapped to any point, and our belief is that resilient organisations who keep human experience at the core of their business and execute very well during this time will reap disproportionate benefits, or do better for all its stakeholders and others won't. In the digital marketing and advertising domain, this phenomenon is going to be further enhanced based on how consumers perceive the authentic actions of the brand during this pandemic."
While the COVID-19 vaccine is believed to be in sight, most advertisers along with consumers have not thrown caution to the winds just yet. Things are returning to normalcy slowly, but there is still ambiguity on whether the next wave can again send us and the economy spiraling out of control. On the brighter side, the recently released PwC Entertainment & Media Outlook 2020 report pegs India as the fastest growing entertainment and media market globally in terms of pure consumer revenue with India's E&M industry expected to grow at a CAGR of 10.1% to reach US$55 billion by 2024. It also lays emphasis on a K Shaped recovery.
Decoding the performance of mediums Tarun Jha, Head of Marketing, Skoda says, "Out-of-home and ambient media will be sluggish for a few more months till absolute normalcy is restored and people start coming out freely. Even right now we have so many restrictions, that the advertiser will not put too much money on outdoor media. Events and activations are not happening, mall activations are not happening so much. So these things would take some time to recover. Truth be told, the overall recovery is never immediate. But India back in 2008-09 also proved to have a faster recovery than a whole lot of other markets, which were struggling after four or five years to come back to the original numbers. However the overall economy and the overall advertising business would take several months and a few quarters to actually to come back to the pre-COVID levels."
THE ADVERTISING PUSH FOR ECONOMY
There's a rule of thumb in the advertising industry that ad spends follow any rise or fall in GDP. IMF in its report released in October 2020 has projected that India's GDP will contract by 10.3% this fiscal year and that India will not be able to regain its 2019 GDP level even in 2021. When you compare that to advertising, in the first quarter of 2020 as per the Pitch Madison report, AdEx had contracted by 8% while it collapsed by a whopping 65% in Q2 which led to an unprecedented drop of Rs 14,000 crore in absolute numbers. While a rebound was anticipated in the second half of the year, overall AdEx 2020 was expected to recede to 2017 or 2018 levels because of the pandemic hit.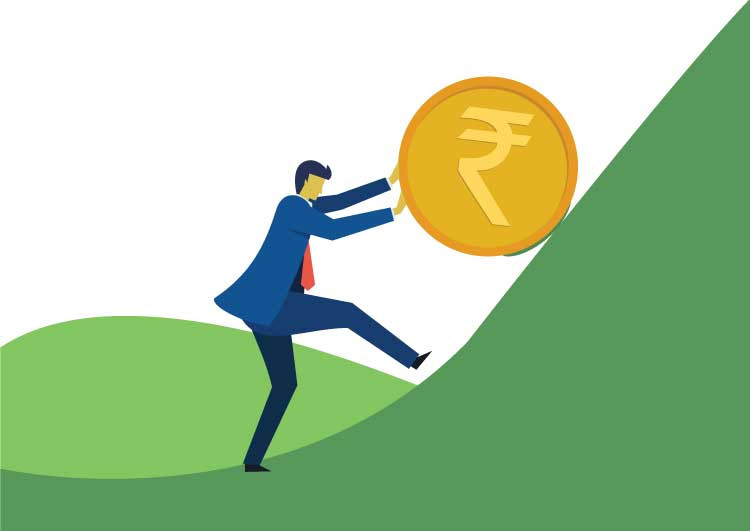 But largely the thought is that advertising for a change will not follow the ups and downs in the GDP and will instead show the way. Jha explains, "No marketer wants to lose an opportunity. If there is a little bit of optimism in the market, we will go out and advertise, because we also contribute in changing the sentiment in a way. So, it is also our responsibility. We can't sit back and wait for the economy to turn positive to start acting. We will start pumping in more money to get the market to revive itself, because at the end of the day we also have to create demand for the economy to revive. So it goes hand in hand. And which is why you see a lot of sectors including the worst hit hospitality industry trying to create demand and positive sentiment in their own small ways."
Different segments of advertising recover at different speeds, but the confidence around sustainability of advertising seems to be far higher than the confidence on how the underlying sectors themselves may perform. The festivities and IPL helped advertising in a big way but can the momentum continue in the beginning of 2021? On the one hand, the digital and online businesses have seen tremendous demand during the lockdown and have thus continued to spend, while on the other there are brands targeting rural India that has remained reasonably protected from the pandemic. It means that the demand in those markets will also be fairly sustainable.
There are demand challenges on one side because the sectors are not doing well, but historically even in tough times companies need to advertise because they need to retain customers, build and sustain the market. So while there is lesser of growth of marketing spends, sustainability spends will still continue to be important say experts. So overall, experts forecast that the ad spends will grow faster than the economy in 2021.



"Truth be told, the overall recovery is never immediate. But India back in 2008-09 also proved to have a faster recovery than a whole lot of other markets, which were struggling after four or five years to come back to the original numbers. Having said that, the overall economy and advertising business would take several months and a few quarters to actually to come back to the pre-COVID levels."
Tarun Jha
Head of Marketing, Skoda



"The advertising industry in general will not witness a big downward trend. We have had brand campaigns around the launch of our two products. Also, overall if you look at the industry, in the last two years, automobile, e-commerce, and electronics have been the biggest spenders and these sectors have witnessed fast recovery. Hence, I think that advertising outlook should be more positive than negative in 2021."
Nipun Marya
Director Brand Strategy, Vivo India



"Looking at newspapers as a reader, you notice that the ads are back and in good measure. We are seeing ad spends from categories and brands that have either experienced a sharp recovery, or are hopeful of a quick recovery. And of course, those that were consuming their unspent budgets of 20-21, before the year end. But I would say these are yet early days, to predict when and how steep the recovery will be. Media consumption habits have changed, in recent months. We first need to gauge whether these changes are short term, or long term. Accordingly media plans for 21-22 will be drawn up."
Ajay Kakar
Chief Marketing Officer, Aditya Birla Capital Ltd (ABCL)



"As far as fashion retail is concerned, we are all expecting that by Q4, normalcy will get restored. Currently, the spends from the fashion retail sectors are muted. But if we are right in our assessment, we will almost get back to 100% of our numbers in Q4. If that happens, we can see trends similar to 2019-20 i.e. FY 2020 and spends similar to that coming back for 2021-22."
Srinivas Rao
SVP, Marketing, Lifestyle



"Early 2020, DAN and E4M ad spend report estimated Rs 76,000 crore. With the pandemic's mighty blow, the industry took a severe hit and revisions were made to a scale of Rs 55,000 crore, as of today. From acknowledging-to-accepting the situation, the industry is looking at life-beyond in the forthcoming year. We witnessed a shift in marketing mix and, thus realised the underlying potential digital had to offer. So much so that going forward, the industry today is looking at channelising its marketing budgets to Digital. In 2021 (and beyond) digital advertising and marketing will be here to stay."
Shirish Agarwal
Head - Marketing Communications & Brand, Panasonic India



"For the year 2021, the new normal and trends of 2020 may change a wee bit, but it will have a continued focus on digital, health, wellness, and marketers will go on with their consumer-centric approach. The ongoing revival of demand will lead to rise in traditional advertising, with a heavy focus on digital and mobile marketing. Several brands and advertisers will choose OTT platforms to interact with their customer base with the medium's increasing popularity."
Suman Varma
Chief Marketing Officer, Hamdard Laboratories (Medicine Division)