March 2020 was when it all began – the start of this unforeseen pandemic that would change our lives and the way we work forever. Back then, most companies expected the coronavirus scourge to continue for just a few months, yet 14 months down the line, WFH is still very much a part of every organisation's culture and given the ongoing second wave, it looks set to remain that way for a few months more. So what then happens to the workplace? How is organisational culture impacted with months of Zoom calls or Google meets instead of in-person meetings?

The first few months of the pandemic last year saw organisations quickly ramp up infrastructure and put in place processes for employees to continue working from home and keep business on as usual. What was heartening to note across the industry was just how swiftly the transition was made to WFH, as agencies and brands worked in tandem to revise campaigns and messaging that was relevant and sensitive to the situation. Brand and agencies also took heart from the fact that it was indeed possible to make the shift to remote working and ensure effective outcomes all around. While the positives were clearly evident in the first six months or so, the remote working and endless video calls, coupled with stress of the pandemic and home-related responsibilities did impact people across the board. Nikhil Rungta, Country Manager, India, Verizon Media articulates the impact as he says, "One year on, WFH remains a mixed bag. I'm sure no one misses the long commutes, especially in our metros. But the changed circumstances of working through a pandemic have collectively taken a toll on us. Teams don't exist in a vacuum. Employees are also parents, balancing work while keeping an eye on children studying online. They are guardians looking after elderly parents. Many are single and stay alone." He adds that while his teams enjoy the flexibility of working remotely and choosing their own hours, WFH burnout remains a challenge as employees hardly disconnect from work. "When we noticed that employees were not taking leave due to COVID-19, our leaders and manager actively began to encourage their teams to take time off, to relax and rejuvenate," he adds.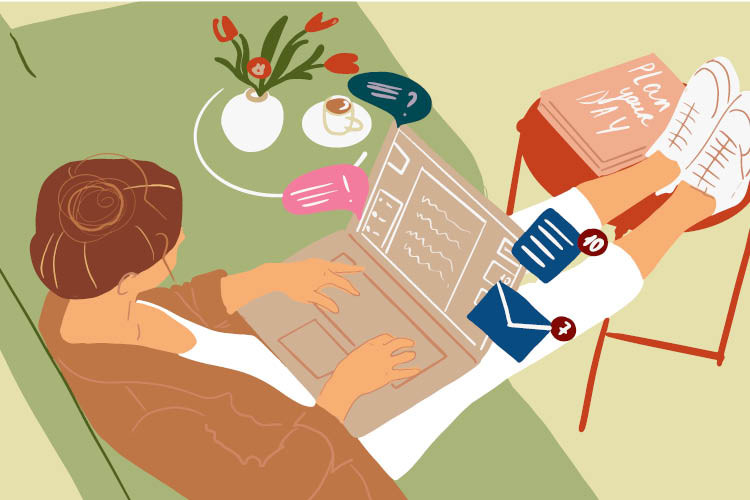 What are companies doing to keep employee morale high?
• Clearly defined work and personal time so that employees can unwind
• Flexibility in working hours
• Flexibility in meeting work targets especially during the second wave
• Team meetings and calls with a no-work/relaxed agenda
• SOS teams/ SPOCs in case of COVID or medical emergencies
• COVID war rooms to attend to medical needs during the pandemic
• Upskilling, training and learning programmes
• Access to on-call doctors and therapists
• Keeping organisational culture alive through musical jam sessions or virtual coffee chats
• Additional time off or extended weekends so employees can focus on self and family

Keeping morale and productivity high
While WFH definitely has its pros and employees have adjusted and made their peace with it, keeping morale high is a definite challenge. Anand Bhadkamkar, CEO, Dentsu India talks about how the agency is focussed on supporting employees during this time. "On the morale front, yes we realise it is tough to keep morale high when our people are working in isolation in this pandemic but our team leaders and HR are working to do that and support in whatever way is possible. We have also begun to create clear boundaries in terms of time to prevent our employees from getting stressed and overworked. Our people are allowed to maintain clearly defined working hours and personal time, and this has been communicated to clients also," he says. Dentsu recently gave its teams a day to power off from work and focus on family and self-care on May 7.

One of the big casualties of the remote working norm is organisational culture, rapport and camaraderie. It has been challenging for organisations to replicate that online but as Neena Dasgupta, CEO and Director, Zirca Digital Solutions & CEO of Aidem Ventures puts it, weekly team meetings have become more than just work-related discussions, thereby enabling people to relax and chat just like they would in office spaces. "Our HR team along with the team leads makes it a point that all employees are spoken to on a regular basis and each one of them have someone they can talk to about anything that is bothering them. Cross functional camaraderie is encouraged. Our weekly team meetings discuss much more than just work, and are used as a time and space where people can just chill like how they would in normal office space. Our monthly town halls are not business updates but rewards and recognition and our attrition rate has not gone up," Dasgupta says. She adds that a very clear testament of the Zirca team's motivation is that they have successfully increased their client base, revenue, and ROI during these challenging times.

Around six months into the pandemic last year, when it became evident that it was going to be around for a while, organisations knew they had to set in place long-term plans in terms of work policy and infrastructure arrangements. Zoo Media was one such firm that gave their teams a week off to focus on self-care, while also using the same time to put in place infrastructure and re-set their work policy. "Last year, around August when the WFH fatigue and lockdown stress had sort of reached its peak, we decided to give our teams a week off to unwind and focus on themselves and families. Everyone pushed themselves to deliver in the first few months of the lockdown and we felt it was only right to do this. That week also gave us some time to re-look at things from an organisational standpoint like infrastructure and policy," explains Suveer Bajaj, Co-founder of Zoo Media and FoxyMoron. Bajaj also agrees that keeping organisational culture thriving has perhaps been the biggest challenge amidst the pandemic.

For some agencies like Elephant Design, remote working was the least of their concerns and therefore the transition during the pandemic was a lot smoother. Ashwini Deshpande, Co-founder & Director, Elephant Design explains, "Elephant has worked from Pune all of its 32 years. Our clients have always supported us through exchanges over emails, calls and video calls with very few in-person meetings. Our close-knit culture and robust technology was already in place making WFH quite an easy transition. But design is a collaborative activity. It took time to learn to brainstorm online without being able to share coffee moments at our Palm Beach Cafe."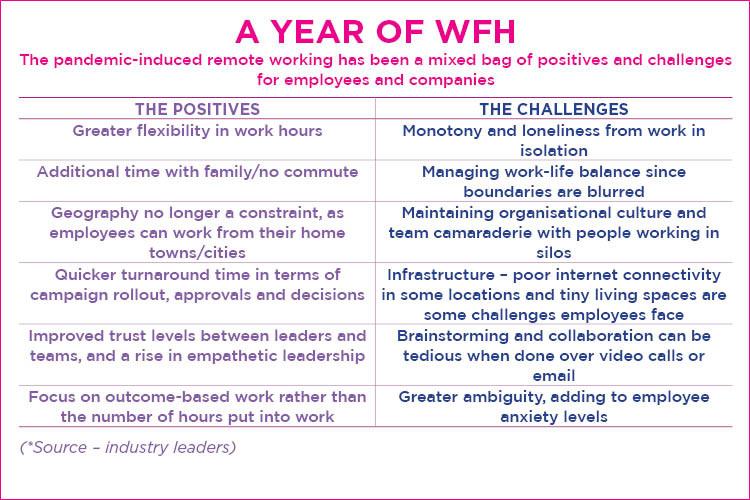 WHAT COULD THE FUTURE WORKPLACE LOOK LIKE?
• Hybrid workplace – mix of working at office and remote working
• More flexibility in working hours and schedules
• More virtual meetings and video conferencing
• Increased communal spaces rather than individual work stations
• Lesser business travel – which will be only for urgent/unavoidable meetings
• Focus on output rather than physical presence at the office
• Jobs will be more project based
• Heightened hygiene and safety protocol
• Hiring will no longer be restricted by geography or location
• Greater emphasis on employee engagement and empathetic leadership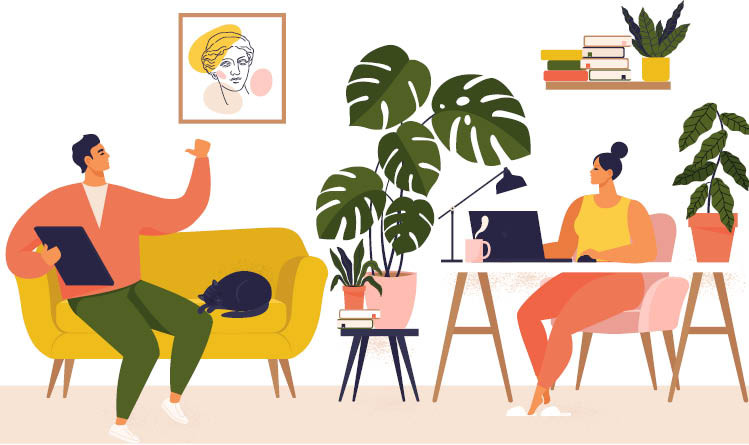 Renewed focus on mental health

Organisations will have to be more empathetic, transparent, listening, inclusive and people-first. More than they already are, notes Anil Nair CEO, India at VMLY&R India, pointing out that the pandemic has changed us all fundamentally. Speaking about the impact on mental wellbeing for employees, he says, "Phase two of the pandemic is even more challenging with cases coming closer to home. In all of this WFH what is getting affected the most is the power of the human connection. An empathetic organisation with measures like constant check-ins, one on one conversations, peer monitoring, safe room conversations, pressure relief measures, institutionalised me-time are some of the ways in which we can help people cope up with this new work world that we all find ourselves in."

The need of the hour is empathetic leadership, as employees grapple with fear, loss, grief and anxiety during these highly unusual times. Speaking about how the agency is prioritising employee wellbeing in the current scenario, Ajay Gupte, CEO – South Asia, Wavemaker explains, "We are making constant arrangements to help our employees in providing them health and medical assistance. Our utmost priority is to ensure our employees' mental and physical well-being are in good shape. We understand the current situation is very grim and can be extremely stressful and mentally exhausting. Therefore at Wavemaker we have Wavemaker Sunday (an all agency day off clubbed with a weekend) to ensure everyone gets a much deserved break to unwind, spend time with their loved ones and take care of themselves." This is also seen across GroupM agencies that are giving their people additional time off to care for themselves and their loved ones.

Navin Khemka, CEO South Asia, MediaCom enumerates the ways in which the agency is supporting employees and checking in on their wellbeing, both mental and physical. "There are regular check-ins with all teams to find out on their wellbeing etc. We have also teams across locations to help out employees and their family members in case they are infected. Team members staying alone have an 'office buddy' to reach out to in case of any emergency," says Khemka. This will have a long-term impact too in as far as shaping work culture is concerned, he adds. "Empathy will become key and employees will prefer to be with companies that are more holistic in their approach towards employees," notes Khemka.
With certain agencies also coming under fire in the media for their toxic work culture during the pandemic, bodies like the International Advertising Association's (IAA) India chapter have urged the industry (advertisers and agencies) to show empathy to their staff during the second wave of this pandemic. Through a campaign designed by Madison BMB, the IAA is urging everyone to take a breather and instead seek ways to support employees rather than putting additional pressure and targets on them.
Aside from ensuring empathy and compassion towards employees, agencies are also helping boost employee confidence through various upskilling and training programmes. Rana Barua, Group CEO, Havas Group India walks us through the steps the organisation has been taking in this regard. "We understand that the situation is unpredictable, it's important to be more humane towards each other by understanding and respecting each other's situations – we do not pressurise or put any unrealistic expectations on our employees. We've also been very thoughtful about learning and skill development. We've added several online learning courses to our Havas University online learning platform, ranging from leading through change to managing anxiety," says Barua. Since employees too have shown a key interest in learning, he adds, "In addition to weekly learning opportunities offered in Life@Havas, we started a programme called Havas ChatRooms. ChatRooms is a virtual speaker series connecting employees with experts and thought leaders. Topics have ranged from multicultural marketing, creativity during COVID-19 and leadership in this new world of work to changes in the media landscape, and more."
A hybrid future?
March 2020 now seems like a long time ago. It has been over a year since the first lockdown was imposed last year, catching everyone off guard. Today, the question both employers and employees have on their minds is when will it be safe to get back to the office again? And when we do go back, will it be business as usual? What is going to change? Most agency leaders believe the future workplace will be hybrid and one with far greater flexibility than the pre-COVID times. Tarun Rai, Chairman and Group CEO, Wunderman Thompson, South Asia points out that organisations were already ahead in terms of recognising remote working and that in the future, leaders will take the pandemic learnings centred around the WFH experience into account. "For me, a hybrid model is the ideal. A 50-50 model where we do not have more than 50% of our staff at the workplace on any given day. Similarly, employees should aim to go to their offices only 50% times in a given month. Our office design should have even more 'communal' spaces – meeting rooms, café, hangout places, video conferencing facilities – rather than individual work stations. This can and should be done," says Rai. Another important learning that he believes should be carried into the post-pandemic work culture is empathetic leadership. "I have seen our leaders being more empathetic when interacting with people working from their homes. Empathetic leadership is a huge positive of the pandemic," observes Rai.

The past year may have come with logistical and other challenges in ensuring smooth functioning for agencies and brands, but industry leaders are all praise for the kind of commitment their teams have displayed in these unprecedented circumstances. Speaking about the learnings and experiences of the past year, Lara Balsara, Executive Director, Madison World tells us that the agency has had no challenges in fulfilling work commitments and deliverables because of WFH. "Every Madisonite has doubled up to make sure that work does not suffer," she notes. As the industry looks forward to a better, post-pandemic future, Balsara also believes that the workforce will be more diverse when this is all over. "While WFH has its advantages in terms of improving productivity by reducing travel time, it is not ideal and we have learnt to live with it. I see the future work spaces, consisting of a hybrid model with both physically being in office and working from remote locations a reality. This will also help us attract different sections of society into our workforce and make it diverse," she explains.

The big plus point that COVID-19 has showed the industry is that there is flexibility and there are umpteen locations from where employees can work. Also geography is no longer a constraint, thereby broadening the horizons for employers now. Speaking about how the future will see the emergence of a 'human cloud', Hareesh Tibrewala, Joint CEO of Mirum India says, "One big organisational change is going to be a hire anywhere type of culture. So far when a company would hire, we would always think in terms of geography. We wanted people from the same city and preference would be given to those closer to the office. Now we see the emergence of the human cloud. A person can be based anywhere. As long as he has the necessary skills, it is okay to hire that person to be a part of the company. And similarly when an employee looks for a job, there is no need to look only at opportunities in your city. The whole world is now your market!"
While the pandemic has enabled the industry to showcase resilience and adaptability, ultimately this is a people's business and requires close collaboration, points out Anupriya Acharya, South Asia CEO at Publicis Groupe. Speaking about what the future of the workplace will look like, Acharya says, "Our line of work is about big ideas, creativity, brainstorming, innovation and close collaboration—all of which benefits from in-person human interaction. So once the vaccine is distributed, office will surely be the primary place of work. We don't see us working fully remotely as some of the tech and other firms are planning. Sure, there are advantages that working remotely brings in – we foresee these to be part of the post pandemic workplace – be it Teams meetings, less travel, flexi hours at the office – but surely the office will be the primary workplace. In fact, many people would appreciate a return back-to-office as there are many limitations like cramped spaces, focus and infrastructure. Overall, we will also be looking to make our office spaces more experiential!"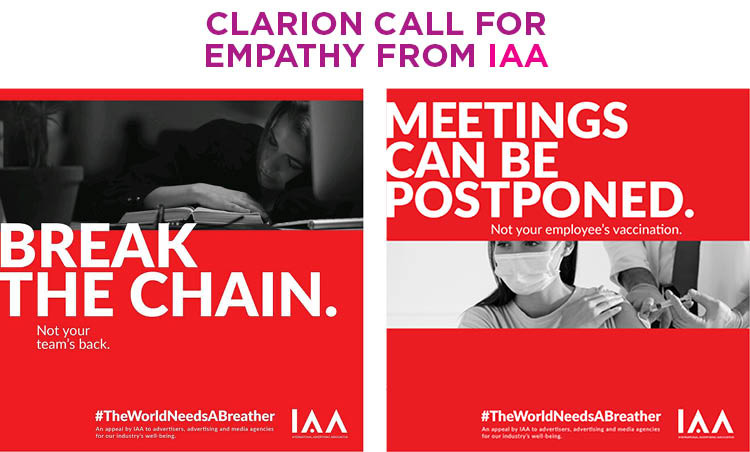 Earlier this month, the India Chapter of the International Advertising Association (IAA) appealed to all segments of the industry to pause and take a deep breath during the second wave of the pandemic. The appeal also comes at a time when certain agencies came under fire for their toxic work culture, which forced employees to be physically present at the office and also to meet deadlines when they were unwell with COVID-19. To drive home the message of empathy, the association has also released a set of creatives crafted by Madison BMB. In a statement, IAA President Megha Tata said, "As a responsible industry association with a unique mix of members, including leaders from the world of marketing advertising and the media, we are appealing to all stakeholders in our industry to deal with one another with a degree of sensitivity, understanding, empathy and kindness. It's as simple as that. And as important."

Nandini Dias, Chairperson IAA Leadership Awards Committee also added, "We need to rebuild lives and livelihoods irrespective of where you work from or whether you belong to a local or global organisation. We believe this is the time to introspect, look within, and dip into the reserves of goodness that exist in all of us and create strong foundations for long term renewal."